This post shows you the best stocking stuffer ideas for her!
If you're looking for cute inexpensive gifts for your female friends, wife, sisters, or girlfriends, this post will be super helpful.
Stocking stuffer gifts are sometimes tricky to find. They need to be somewhat small and budget-friendly, but we also want to get something she will love.
The gifts below are a good mix of beauty products and useful things like journals, mugs, and socks.
Some of these things I own myself, and I'm particularly excited about them!!
So let's get into the stocking stuffer ideas for her.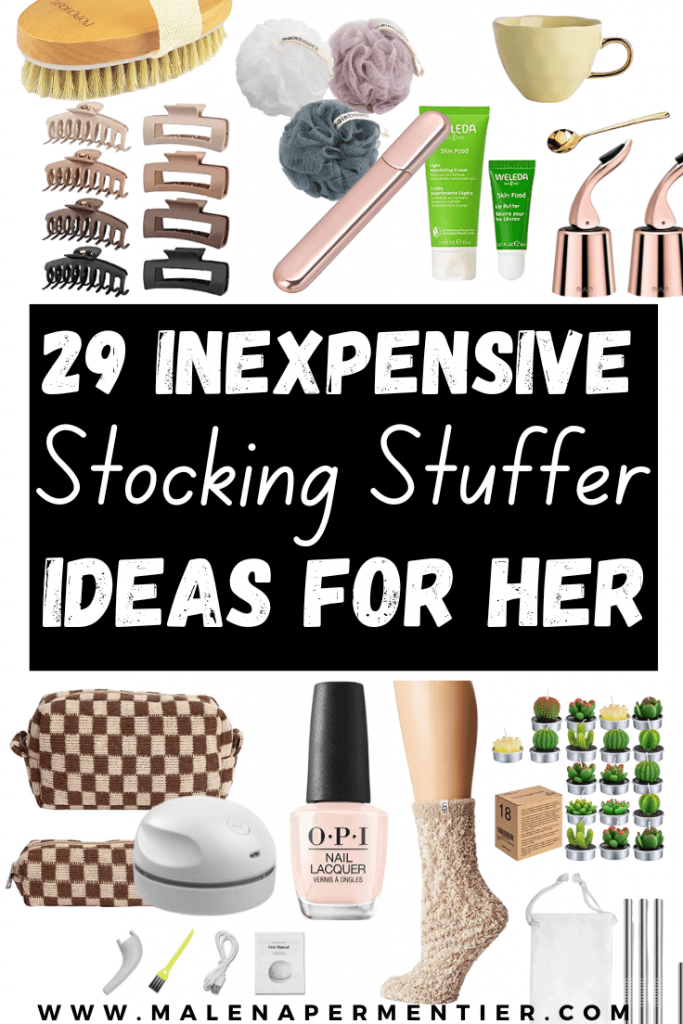 Stocking Stuffer Ideas for Her
1. Travel make-up brush holder

This compact silicon holder is perfect for storing your make-up brushes.
Ideal for travel but also to keep things neat and organized in your bathroom cabinet.
2. O.P.I nail polish

OPI bubble bath is one of those timeless neutrals that look good on everyone!!
If she's into soft shades and neutrals for her nails, this is THE one.
3. Scalp scrubber

This weird-looking thing is a scalp scrubber, and it's the best! I got one several months ago, and it does miracles for hair health.
It also feels amazing. You use it while showering after you've applied your shampoo.
4. Cute mug and spoon

This mug and spoon set is ideal to bring to the office.
Super useful, cute, and under $10. Which makes this an amazing stocking stuffer for women.
5. Initial bracelet

You can't go wrong with dainty gold jewelry! Amazon has surprisingly good quality jewelry, and this bracelet is the cutest.
6. Weleda skin food set

Weleda skin food is the best! I particularly love the lip butter. It's the only balm that helps when my lips are super dry in winter.
The skin food moisturizer for the face is great too. You only need a small quantity. Amazing for dry skin. You will love this in the winter.
7. Gua sha and jade roller

I got this set a few months ago, and I can't live without the gua sha anymore. It's so good. Put the jade roller in the freezer to depuff your eyes in the morning.
Adorable and useful gift the women in your life would love to receive.
8. Toiletry bag

Women can never have enough toiletry and make-up bags! Haha. Speaking for myself here.
This design is super chic and an inexpensive gift perfect as a stocking stuffer.
9. Beauty face mask

Sheet masks are a great gift for her! This is one of those things you can never have enough of.
It also has super cute packaging, a must for gifts :).
10. Mini hair brush

Mini everything is so handy when you're on the go. This hair brush fits in a small make-up bag, which makes it essential.
11. Scented candle

Candles are the type of gift everyone loves to receive! Preferably get one that has a chic and luxurious look.
12. Hair claw clips

Hair claw clips are super practical to have! They've become very trendy, and this set of neutrals is the perfect gift.
13. Fuzzy socks

Fuzzy socks are always a good idea if you don't know what to get someone for Christmas.
This one is from Ugg, and people are raving about the softness and warmness.
14. Passport holder

Passport holders keep your passport safe, and it also looks stylish! This a super pretty set of two that's around $10.
15. Led lighter

This rechargeable lighter is a must-have in every household.
I keep buying lighters that stop working after a few months, which is so annoying.
Super cute and practical gift everyone will love!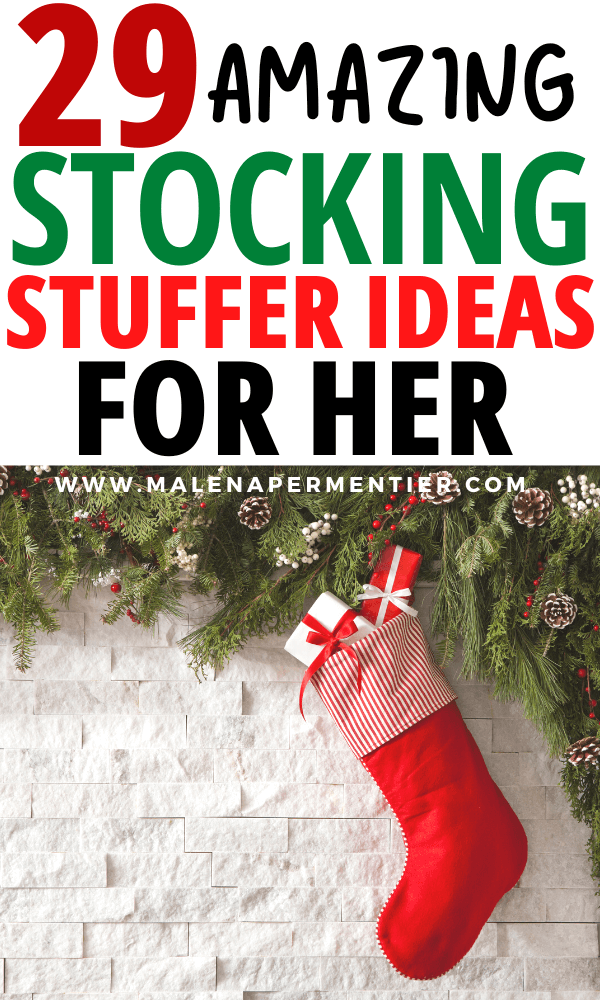 16. Nail care set

This super compact and cute nail care kit looks way more expensive than it is.
A great stocking stuffer gift if you ask me.
17. Loofahs

Gifts related to showering and self-care are a good move when it comes to finding stocking stuffers for her.
I love these loofahs, and the pastel colors are adorable.
18. Gold eye mask

This is a set of 20 collagen eye masks that look chic and do their job! Great for reducing puffiness and dark circles.
Cute little self-care gift she will love.
19. Gold hoop earrings

Some jewelry like these classic gold hoops is another great stocking stuffer.
They are the perfect size, look chic, and are inexpensive.
20. Weekly planner

We love our planners and post-its!!
This is a handy weekly planner you can place on your desk and write down all your to-do's.
Perfect for the busy and organized women in your life.
21. Cute cacti tealights

These cactus tealights are adorable!!
This super popular and cute gift comes with a total of 18(!) tealights.
22. Desktop vacuum cleaner

The dust and crumbs you can't get out of your laptop (guilty!)? this is a desktop vacuum cleaner, and it's a lifesaver.
Ideal for everyone that spends a lot of time on their laptop to help keep it clean.
23. Bookmarks

Beautiful bookmarks are an excellent stocking stuffer for women who love to read!
This pack has four bookmarks with gold flowers and looks SO good.
24. Dry brush

Dry brushing your skin is great for lymphatic drainage and blood circulation.
It's one of those things that seem weird but work!
25. Monogrammed luggage tags

This is one of my favorite gifts to give: monogrammed luggage tags.
Everyone loves a personalized gift, and these tags look super chic.
26. Glass nail file

Give a chic nail file! This glass vile comes in a rose gold case and is super compact, useful, and pretty.
27. Dead sea mud mask

Mud masks are the best for clearing up your complexion and removing inflammation.
It's the one thing that calms my skin down when I break out.
A fun and nice self-care gift the women in your life will love.
28. Wine stoppers

Wine stoppers are a great stocking stuffer for someone 21+.
This rose gold set looks chic and keeps your wine fresh.
29. Stainless steel straw set

Drinking with a straw makes your drink taste so much better! haha.
This stainless steel straw set is super nice for someone who loves making smoothies and iced coffees.
28. Journal

You can't go wrong with a journal! We can never have enough of those.
Perfect for planning, journaling, writing out new projects, etc.
29. Keychain bracelet

This cute and chic keychain is the perfect inexpensive stocking suffer girls will love!
This product comes in many different colors and looks great.
This post showed you the best stocking stuffer ideas for her.
You may also like: