Hey there! Some links on this page are affiliate links which means that, if you choose to make a purchase, I may earn a small commission at no extra cost to you. I greatly appreciate your support!
This post shows you the best gifts for mom!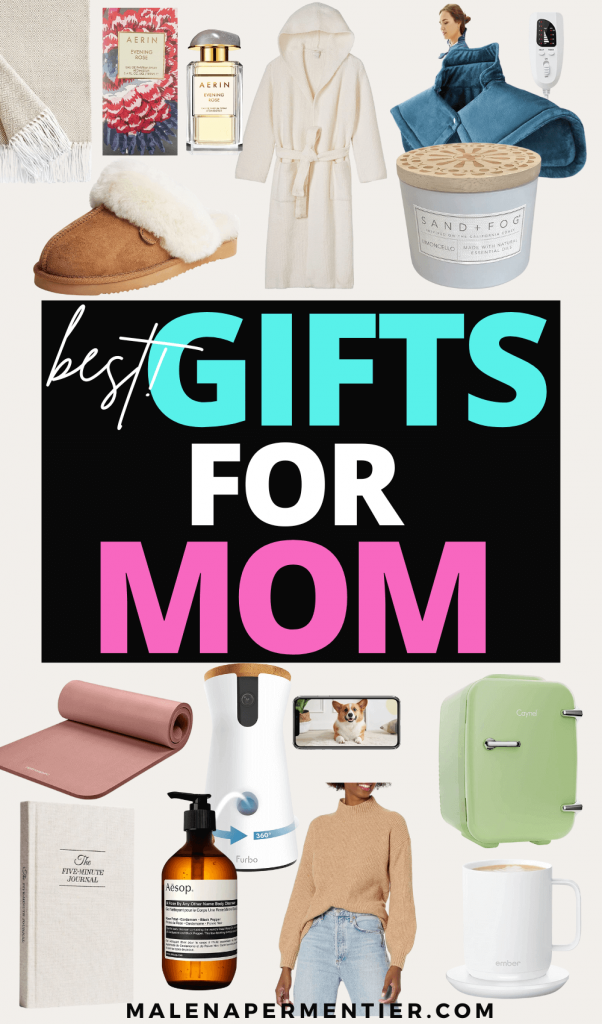 If you're looking for gift ideas for your mom and don't know where to start, this post is for you!
Every mom is different, so these gift ideas include many different things.
From skincare and selfcare gifts to fashion and cozy home decor items.
I've also included many useful (and cute) items like shearling slippers, the ultimate cozy robe, a decanter set, and the coolest mini fridge.
Let's do some gift shopping for mom.
Gifts For Mom
1. Facial steamer

If your mom is into skincare, she will love a facial gadget like this.
This facial steamer unclogs pores, detoxifies, and cleanses your skin.
Super cute self-care gift all the skin fanatic moms will love.
2. Sweater

A timeless and cute sweater is always a good gift idea!
This fit is slightly oversized and chic, so picking the right size is easy.
Super reasonably prized, and people are raving about this knit with balloon sleeves in the prettiest camel color.
3. Shearling slippers

Shearling home slippers are an item every woman should own!
Especially if the winters get cold where you live.
These slippers are other-level fluffy and warm; your mom will adore this gift.
4. Stanley tumbler

Stanley tumblers are the best.
This gift is perfect for moms who are often on the go or want help with their daily water intake.
Available in several trendy colors, like this white one, light gray, powder pink, sage green, and more.
5. The Five Minute Journal

The five-minute journal is a great gift for everyone who loves their gratitude practice and become a better person.
This journal has questions to answer every day, which makes the practice of journaling a lot easier.
It is also a perfect gift for those who have never journaled before but want to start.
6. Barefoot Dreams Robe

Barefoot dreams makes the softest blankets, robes, and socks.
Their designs are also timeless chic.
If you want to spoil your mom for her birthday, Mother's day, or Christmas, this is the gift to go with.
7. Yoga mat

If your mom likes her at-home workouts (I think everyone has gotten into this during the pandemic!), a stylish and high-quality yoga mat is an amazing gift.
8. Mini fridge

This mini fridge is the most adorable gift ever. Perfect for skincare lovers!
9. Throw blanket

Throw blanket can elevate your living room decor, which is timeless and elegant.
It has a subtle print, cute tassels, and the perfect neutral colors.
10. Decanter set

A cute decanter set like this is amazing to keep bedside.
You can also use the decanter for fresh lemonade!
The rims are gold and the glass pattern is just so chic!
11. Ember mug

Ember mugs keep your drink the perfect temperature.
This is amazing for the moms who drink their coffee slowly (or tend to forget about their coffee altogether;)).
It's the ultimate luxury to have your favorite drink at the perfect temperature until the last sip.
12. Aesop Bodywash

Those who get it get it!
Aesop has the best soaps ever that make every hand-washing moment a treat.
You can also get these in sets.
The dispensers are also super chic, making them perfect to refill after they're finished.
13. Toiletry bag

This toiletry bag is on my own Christmas list, and I love the design and cute colors.
It has different compartments on the inside, which makes this one perfect for organizing your skincare and makeup while you travel.
I've owned so many 'not quite it' toiletry bags, and I'm convinced this one is going to change my life, haha.
14. Furbo pet camera

If your mom is obsessed with her pets, this Furbo pet cam is the cutest thing ever.
It has a 360 view, barking alert, two-way audio, and even tosses treats!!!! I mean!
15. Aerin perfume

I might be biased, but I love every scent Aerin has.
I've been obsessed with this brand for years. If you're looking for a high-quality perfume that also comes in the most stunning bottle, this is it.
I own amber musk and hibiscus palm. I highly recommend both.
16. Digital photo frame

If you and your siblings are looking for the perfect gift for mom, look no further.
This digital photo frame lets family members send photos so the frame can be updated.
A super cute and personal gift that moms will love.
It's not cheap, but this gift is so lovely not to have to update your pictures constantly.
Moms usually love a fresh input of pictures!!
17. Sand + Fog candle

If you don't know what to get your mom, a luxurious candle like this is always a good idea.
I love the design of this sand + fog candle, and it has insanely good reviews.
18. Neck and shoulders heating pad
For the cold mamas out there! This neck and shoulder heating pad is life-changing.
If your mom often has sore muscles in her neck and shoulder area, this is a gift she will love.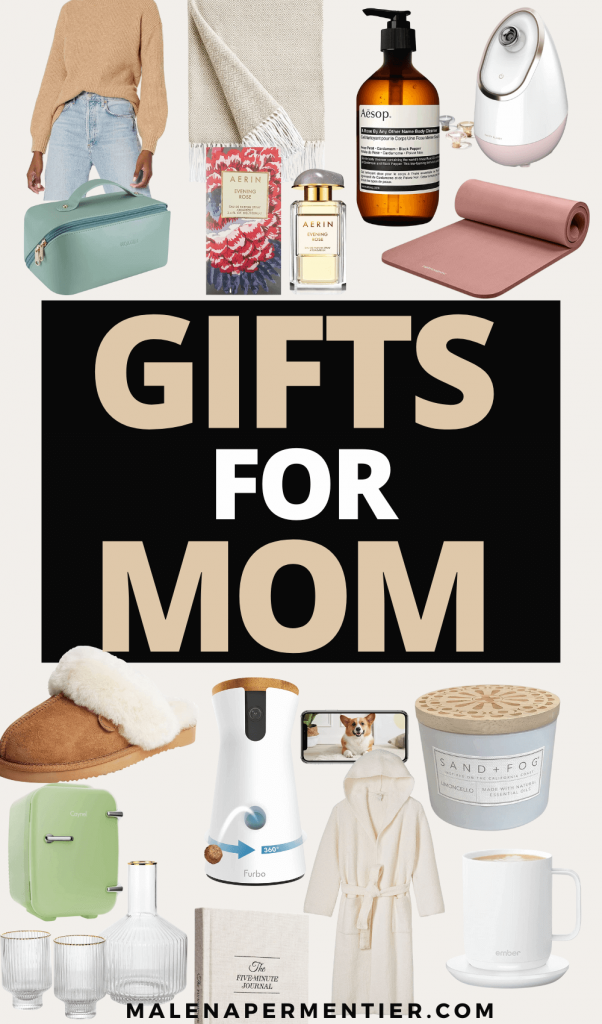 This post showed you the best gifts for mom.
You may also like: