Hey there! Some links on this page are affiliate links which means that, if you choose to make a purchase, I may earn a small commission at no extra cost to you. I greatly appreciate your support!
This post shows you the best gifts for boyfriends mom.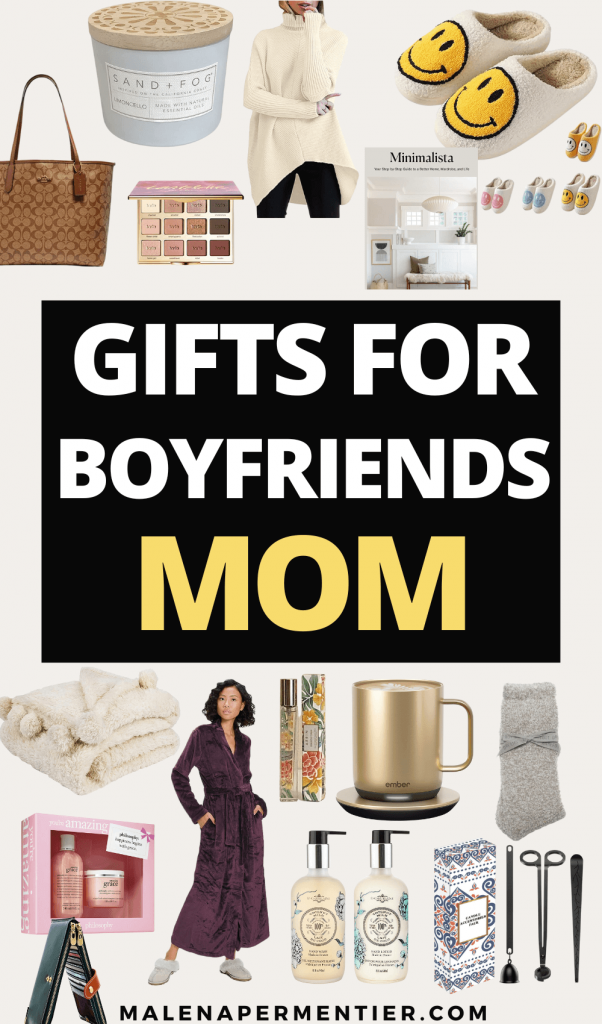 Clueless about what to get for your boyfriends mom? This gift guide has got you covered.
Whether it's for a birthday, mother's day, or Christmas, these gifts are timeless and will be so well-received!
If you don't know your boyfriends mom well, getting a gift can be tricky. In that case, I'd always recommend sticking to a safe option.
A few of my favorite "safe" gifts everyone loves are a luxurious candle, a cozy sweater or pair of socks, or a self-care gift like a gua sha set or face oil.
These types of gifts are perfect if you want to bring something for first meeting your boyfriends mom.
Knowing her better makes it easier to find a more personal gift!
Gifts for boyfriends mom
1. Beauty box

A holiday beauty box from a high-end brand like Lancome or Estee Lauder is a gift your boyfriend's mom will love!
Even if it's not Christmas time, Amazon often has good gift sets from high-end brands.
2. Cozy throw blanket

Throw blankets are a super cozy and thoughtful gift that women love.
You can wrap this nicely with some ribbon, et voila, you have an adorable gift your mom-in-law will love.
3. Home slippers

Home slippers are a must-have throughout the year. I love these cute smiley ones.
This is a lovely gift to break the ice if you don't know each other well.
4. Sand + Fog candle

A luxurious candle is a gift that can do no wrong!
If you don't know your mother-in-law well, this is a safe gift that will be well received.
5. Cozy sweater

Sweaters are a great Christmas time gift! Go for something neutral and classy instead of the usual Christmas prints.
This sweater looks chic and luxurious without breaking the bank.
6. Silk pillowcase

Everyone loves a good pillowcase! This is a beautiful and luxurious gift your boyfriend's mom will love.
7. Luxury tea set

A luxury tea set is a gift tea lovers will obsess over.
This tea set comes in a beautiful box with 40 herbal tea infusers.
8. Digital photo frame

I've only discovered these recently, but I am obsessed! This digital photo frame is such a good gift.
It easily lets you change out the pictures, and families can send each other new ones constantly to change up the picture in the frame.
9. Apple air tag

Since last summer, everyone has been talking about these apple air tags.
Many suitcases got lost in 2022, and this air tag shows you where your luggage exactly is.
10. Coconut bath soak

Bath products are a lovely self-care gift people enjoy!
This one has a tropical coconut scent and makes your skin feel super soft.
11. Aerin perfume

Aerin has been my favorite perfume for years, and I'm obsessed with everything this brand does.
Hibiscus palm is a fresh and luxurious scent your boyfriend's mom will LOVE.
For something more intense, I also recommend the amber musk. I own both.
I prefer the hibiscus palm for daytime and summer. Amber musk is excellent for nighttime.
12. Silk sleep mask

A high-quality sleep mask is a must-have if you're a light sleeper.
This one feels and looks luxurious and is a great self-care gift for your boyfriend's mom.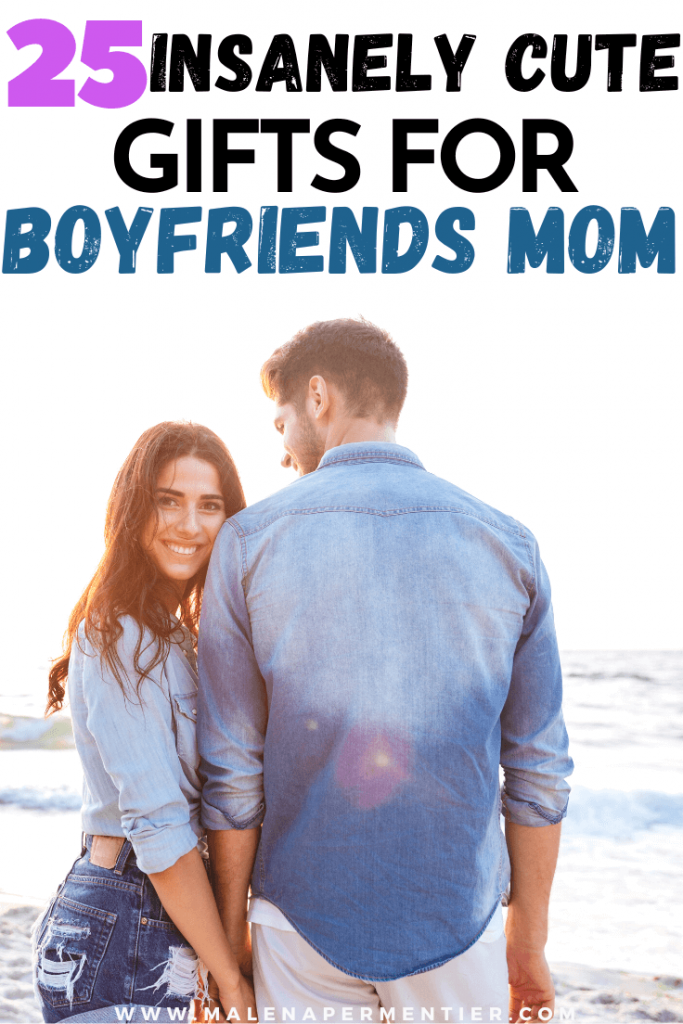 13. Ember mug

Thus mug lets you control the temperature of your beverage, and it looks super chic.
This technology is life-changing for slow drinkers. And those who have young kids and forget they even made coffee!!
14. Eyeshadow palette

This eyeshadow palette from Tarte has the most stunning warm brown shades that look good on everybody!!
I used to (accidentally) only use cold brown eyeshadows, but I think warm brown looks much more flattering.
This is one of the most versatile eyeshadow palettes out there and also looks chic to give as a gift.
15. Cute hand wash and lotion set

A good hand wash and lotion set is a great gift for someone you don't know well but still want to get a gift as a lovely gesture.
16. Smart dog food bowl

This smart dog food bowl is perfect if your boyfriends mom has pets.
Now that I think about it more, a Furbo pet camera might even be a better gift idea!
17. Philosophy gift set

This Philosophy gift set has a shampoo/shower gel and luxurious body creme.
A super cute gift that comes in a pretty package.
18. Chic and cozy robe

Everyone loves a good robe! This one from Ugg comes in several pretty colors, and I'm obsessed with this burgundy one.
This is the perfect holiday gift for your boyfriends mom.
19. Fuzzy socks

Fuzzy socks are always a winner when it comes to good gifts! Everyone loves this, which makes gift shopping that much easier.
Also, the Barefoot Dreams socks are another level of quality and softness :).
20. Coach tote bag

A Coach tote is timeless in a chic. It's the perfect versatile (work) bag for women.
I love this brown color, but you can also get it in black or other colors and prints.
21. Minimalista book

This book is about elevating your style and home with a more minimalist approach.
A beautiful book that also looks amazing as a coffee table book.
22. Leather wallet

A high-quality wallet is an excellent gift for men and women alike.
This chic wallet is timeless and available in beautiful colors.
23. Chic and simple bracelet

Buying a nice piece of jewelry for your boyfriends mom is a lovely gesture!
Go for something simple and dainty, like this gold pearl bracelet.
24. Candle accessory set

This candle set is a perfect gift if you don't know your boyfriend's mom well.
Everyone loves a nice gesture, and this candle accessory set is stunning.
25. Luxurious perfume sampler set

I love any beauty set with sample-size products!! It lets you get to know a ton of different scents and products.
If your boyfriends mom is into this kinda thing, this will make a lovely Christmas or birthday gift.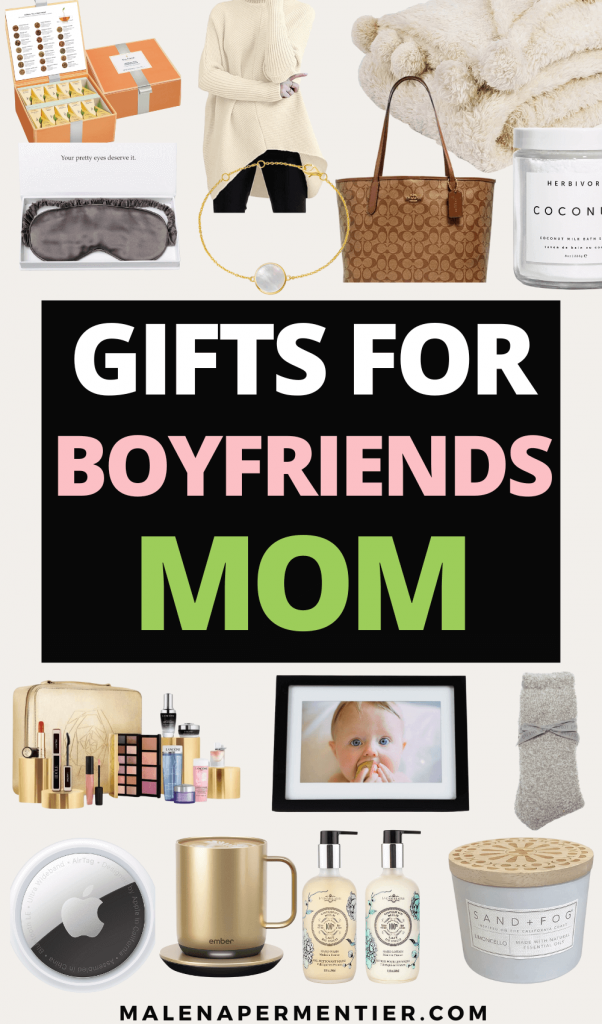 This post showed you the best gifts for boyfriends mom.
You may also like: