This post shows you useful white elephant gift ideas under $20.
White elephant gifts were traditionally impractical and funny gifts people give each other at a Christmas gift exchange.
BUT things have changed, and more and more people are now looking for white elephant gift ideas that are useful.
I think it's important not to just buy random stuff people will throw away. We don't need more waste.
There are plenty of useful white elephant gift ideas that anyone would love to receive! So this post covers the best white elephant gifts under $20.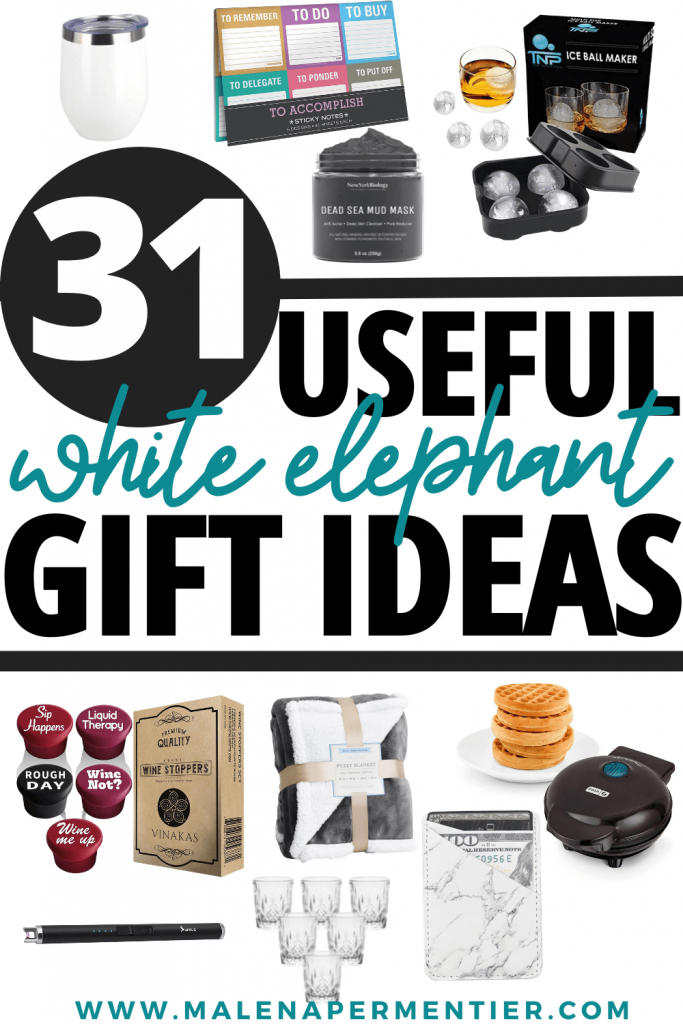 White elephant gift ideas under $20
1. Electric rechargable lighter

This lighter is rechargeable, sleek, and perfect to keep on your coffee table to light candles. This is one of those practical gender-neutral gifts that anyone would love.
2. Mini waffle maker

I've become obsessed with my waffle maker because it's much easier and faster than making pancakes on the stove! This mini waffle maker is amazing for breakfast lovers.
3. Sticky notes for productivity

These productivity sticky notes have different categories! They're great for anyone with a busy life to keep track of to-dos.
Keep them on your desk or wherever you need reminders of your daily tasks.
4. Spa headbands

Any girl with a skincare routine loves these! If you do a gift exchange amongst girls, this is a great gift idea they will love.
5. Mini coffee press

My boyfriend received one of these as a gift for Christmas last year, and it's been so handy for travel and road trips. Coffee lovers will obsess over this gift!
This French coffee press easily fits into a backpack when you go traveling. So you don't have to suffer bad coffee anymore. Unfortunately, that struggle is very real in many parts of the world.
6. Phone card holder

You can stick these cardholders on your phone. On nights out, I like to keep the contents of my purse as compact as possible. This card holder is super practical and keeps your stuff organized.
You can get this white elephant gift in many cute prints, like marble, leaf print, and rose gold.
7. Photo wall collage hanger

This photo hanger is great for decorating your office! Simply hang pictures with the clothespins for a fun and personalized look.
8. Marble print coasters

Cute coasters are always useful! These marble print coasters are trendy and look good in any home. Coasters are also nice for plants and vases.
9. Wine tumbler

A tumbler to keep your wine cool is perfect for summer picnics and barbecues. A very budget-friendly and versatile gift for anyone who loves a cool drink.
10. Electric wine opener

If you're not a pro at opening wine bottles, this electric wine opener is the best! When I used to work in a restaurant, opening a bottle of wine at the table was my main source of anxiety lol.
This practical white elephant gift for guys and girls also looks stylish on the kitchen counter.
11. Organizing Guide

Good organization makes your life so much better! Fortunately, it's a skill that can be acquired. If not, I'd be in so much trouble.
This organizing guide gives great guidance and tips on keeping an organized home. A very cute gift that also looks great on your coffee table.
12. Burrito blanket

This is the type of white elephant gift that's both hilarious and useful. And what's a better combo than that? Cozy up under the burrito blanket with wine and a blanket.
13. Milk frother

Milk frothers take your drink to the next level! This thing is great for lattes and hot chocolates with a foamy top.
I have this one, and it was a life safer when I didn't have my Aerocino yet. Milk frothers are a unisex white elephant gift that will be well received.
14. Uno

Everyone loves a game of Uno! I have friends who have a whole collection of table games, and it's the best when you have people over.
Jenga would be another good white elephant gift. So fun and a real crowd pleaser.
15. LED flashlight

Having a small flashlight in your home is a must! Electricity cuts don't happen often, but when they do, you wish you had one of these.
Save this post for later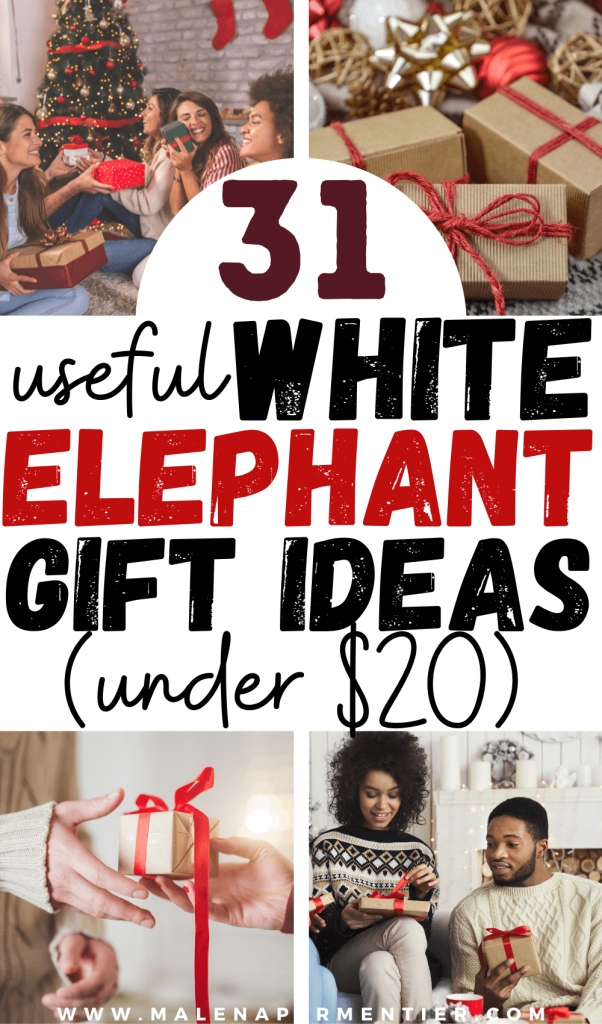 16. Dead sea mud mask

Mud masks are a lifesaver when your skin is breaking out. It's the only thing that helps me calm it down. Super nice for a self-care night, and I love that it's a natural product.
I think guys will secretly love receiving this gift too!
17. Travel pillow

I never bothered with travel pillows because they take up too much space in my luggage once I get to my destination. But this pillow is compact and comes with a small travel bag.
18. Mug warmer

There is nothing more annoying than your coffee getting cold too quick! This mug warmer helps keep your coffee or other hot beverage at the right temperature :).
19. Moon lamp

Cozy decor is always a good idea! Good lamps with ambiance light are so underrated, and this moon lamp definitely sets the atmosphere.
20. Microwave popcorn popper

This microwave popcorn popper is going to be everyone's favorite white elephant gift. Such a useful and cute gift idea that comes in handy during the colder months.
21. Fruit infuser water bottle

Spice up your daily water intake with this fruit infuser water bottle. I can confirm that water with grapefruit or cucumber (my favorites) definitely make water taste more fun.
Super useful gift that people would love to receive.
22. Ice ball maker

Something I love about going to a good cocktail bar is the attention to details. Like the shape of ice! Or the garnishes!
With this iceball maker you can get the luxury cocktail experience at home. Super easy and fun gift that hits the spot.
23. Wine stoppers

Wine stoppers are a must-have! If you want to open a bottle and enjoy some tomorrow, you need a good quality wine stopper.
These stoppers have cute quotes on it which make it a fun white elephant gift under $20.
24. Turkish towel

These cotton towels are so great to take on holiday!! They don't take up as much space in your luggage as a regular towl. They are also perfect to take to the beach.
I love finding gifts that feel luxurious yet aren't expensive.
25. Insulator sleeve for iced coffee

For the people that don't want to let go of their iced coffees in winter: the insulator sleeve. Much more necessary than you'd think haha!
26. Hug candle

Whoever thinks that candle gifts are cliche, think again! This hug candle is so creative and unique. It's almost too pretty to light up.
27. Fuzzy blanket

This gray sherpa blanket is a crowd pleaser. It's elegant, cozy, and super warm. When it comes to white elephant gifts, I think it's nice to pick safe colors that everyone will love.
28. Charcuterie board

Charcuterie boards are great for entertaining! This slide out board is great for cheeses, charcuterie, little snacks, etc. It also includes cheese knives.
29. Succulent candles

These succulent candles the cutest thing ever. They come in a set of 6 and they're the kind of gift anyone would love to receive.
30. Travel jewelry case box

Traveling with jewelry is a hassle if you don't have a proper case. This travel jewelry case looks insanely cute and has different compartments.
You can get this case in 9 pretty colors!
31. Shot glasses

Unique shot glasses are an adorable gift that would look great on a bar cart! The glasses come in a pack of 6 and don't even hit the $20 mark.
Pin it on Pinterest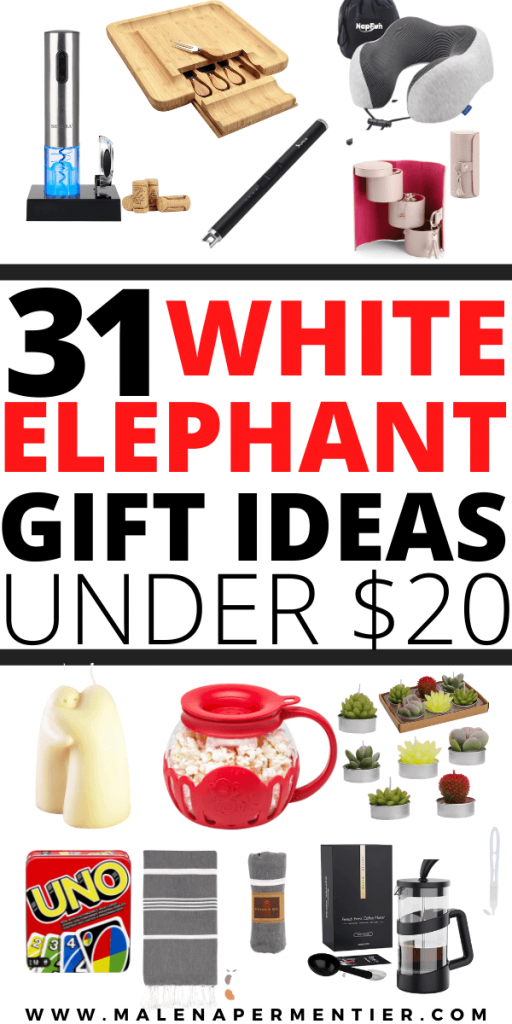 This post showed you 31 useful white elephant gift ideas under $20.
You may also like: