This post shows you the best christmas gift ideas for parents.
It's already hard by itself to buy Christmas gifts, and even harder for parents who have everything!
Great things to buy for parents who have everything is something with sentimental meaning. For example, a set of wooden cutting boards with their names, a picture framed, or custom engraved coasters.
It could also be a clever home gadget that will make their life easier! For example, if your parents like wine, it could be a gadget to keep the wine fresh or to open bottles easier.
The 32 gift ideas below are a good mix of useful and luxury gift ideas in every price range.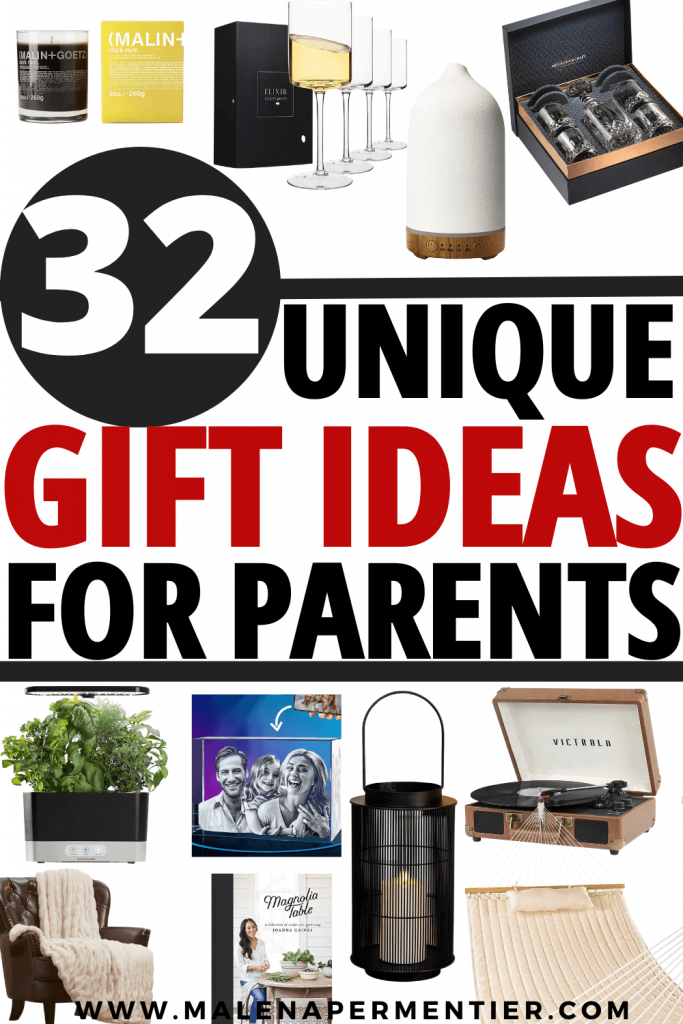 1. Echo dot

The echo dot is a good gift for parents who are a little technology forward! The echo dot is voice-activated, making it super easy to play music, for example. You can also ask Alexa to tell you a joke :).
You can also use the Echo dot to keep your home safe. For example, it can detect the sound of glass breaking when you're away from home. The options for this thing are endless!
2. Premium milk frother

If your parents are into a good hot or cold beverage, this premium frother makes it much better. It's also easy to use because you can just froth the milk while it's in your cup.
If your parents have recently traveled to Europe and loved lattes and macchiatos, this is the best Christmas gift.
3. Magnolia table cookbook

Everyone loves a good cookbook! This Magnolia Table cookbook has incredibly good reviews. The book has a lot of classic recipes with a twist that your parents will love. Examples are chicken pot pie, white cheddar bisque, and lemon pie.
4. Chic wine glasses

Gifts that elevate hosting or entertaining are great if you don't know what to get for your parents. These square wine glasses look unique and elevated.
5. Personalized cutting board

Personalized gifts like this monogrammed cutting board are a great idea! This might be a better anniversary gift than a Christmas gift for your parents, but still! This board is chic and would look great on the kitchen counter.
6. Electric wine opener

Maybe kitchen gadgets are a little cheesy as Christmas gifts, but this electric wine opener looks great and makes opening up a wine bottle much easier. Accompany this gift with your parent's favorite bottle of wine and some premium snacks to enjoy.
7. Vintage Bluetooth speaker

The best of vintage and new technology! If your parents are nostalgic about the old days, they will obsess over this vintage Bluetooth speaker.
You can easily connect the speaker to your phone to play music.
8. Essential oil diffuser

Essential oil diffusers are the new air fresheners. This is a great gift if your parents love having their home smell fresh.
Pick high-quality essential oils with only natural ingredients!
9. Insulated cooler bag

To take picnics and days at the lake to the next level, this nice-looking insulated cooler bag is the best thing to have. If your parents love being outdoors, this is a gift they would love to receive.
It's compact, so you can easily bring it along. Yet still holds enough space to keep drinks and snacks cool.
10. Coffee bean grinder

Grinding your beans makes ALL the difference in how your coffee tastes. This premium coffee bean grinder has a lot of different settings and grain sizes to brew the perfect cup of coffee.
11. Charcuterie board

Charcuterie boards are a must-have for entertaining. This one is large, chic, and has all the essentials you need to make a nice charcuterie board. You can fold it all the way open, depending on your needed space.
12. Ruched throw blanket

This is the most luxurious and cozy throw blanket you will find! The ruched style looks chic but not over the top. You can get this throw in beautiful colors like cream, maroon, dark gray, or mocha.
The throw will look amazing over the couch, but it's also super comfy for napping or staying warm during the colder days.
13. Outdoor lantern

If your parents have a patio or garden, a good gift could be something they can use there or make the space look better!
Lanterns make an outdoor space look cozy, so this could be a great gift idea for parents.
14. 3D Crystal photo

It's honestly insane how real this looks!! Maybe it's just me being easily impressed? This 3D crystal photo is the cutest gift for parents who have everything.
Pick your favorite family photo or choose a picture of their grandchildren!
15. Wireless charging station

A charging station is super convenient to charge your Apple devices in one place. If your parents own modern technology, you will make their life easier with this charging station.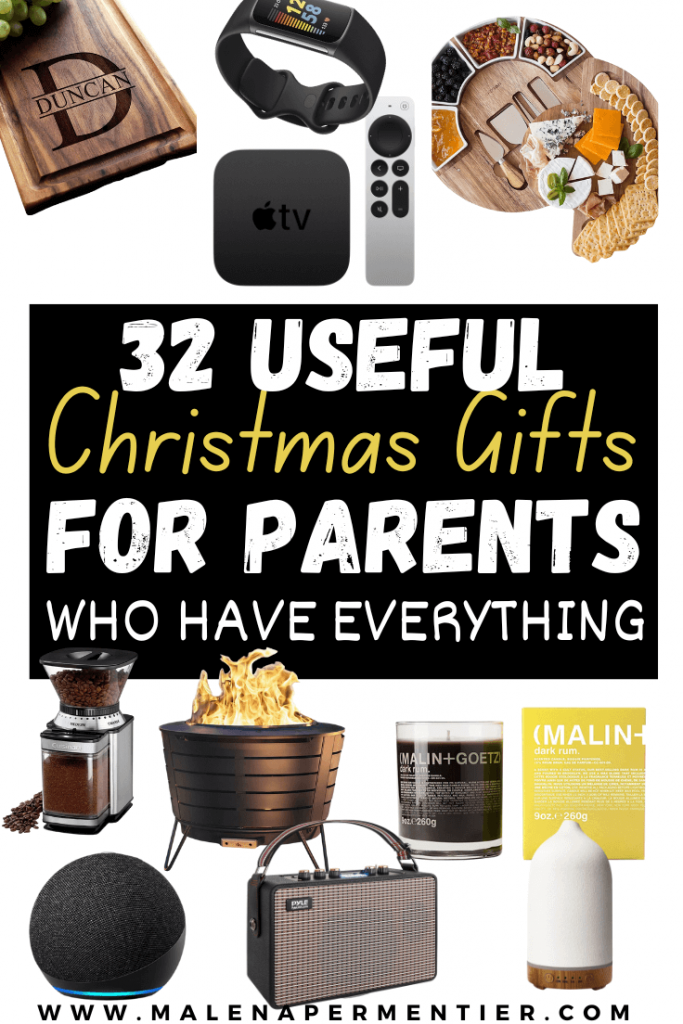 16. Massage gun

These massage guns are GOOD! I think this is a good gift for anyone who lives an active life and sometimes has muscle pain. It works great on the neck and shoulders, but also on your legs if you have sore muscles.
17. Hydro flasks

Travel mugs are a practical gift that parents love! This one comes in a pack of 2, which makes the perfect joint gift. These mugs have insanely good reviews so I think it's good value for money.
18. Wall-mounted chalkboard

This entryway organizer is EVERYTHING. It has hooks for keys, a mail sorter, and very important: a chalkboard for notes! I'm obsessed with this thing and might get one for myself.
19. Electric salt & pepper grinder

An electric sal and pepper grinder is one of those things that isn't a necessity, but it sure is a nice kitchen gadget to have. Adjust the coarsness of the grains for perfect salt and pepper.
20. Travel blanket

Do your parents love the outdoors? This travel blanket is practical and cozy to bring on any trip. Also works for the plane because it's compact and easy to store.
21. Record player

If your parents have records, this compact record player with a vintage look is the perfect Christmas gift for them. This gift is surprisingly inexpensive for the quality that it delivers.
22. Aerogarden

Aerogardens are perfect to grow your favorite herbs. This product also comes with a seed kit so you can start growing your herbs right away.
23. Indoor smokeless grill

Another practical gift for the parents that they will love! This smokeless grill is perfect for preparing meat, burgers, or even an elevated toastie.
24. Gin-making kit

This gin making kit is as creative a Christmas gift as they come! If your parents love a little DIY, this gin kit is a gift they would love to receive.
25. Gourmet gift basket

If your parents have everything and you don't know what to get them, a gourmet gift basket is always a good idea! It looks spectacular and it's an easy last-minute gift.
26. Portable fire pit

This portable fire pit is amazing if your parents have a patio or garden where they like to sit. The pit also looks super stylish and modern. This gift is not cheap, but it sure looks great.
27. Apple TV

Give your parents access to a ton of good entertainment with the apple tv. You might have to help them install this but they will love it when they know how it works.
28. Fitbit health tracker

A fitbit health tracker tracks things like your sleep, heart rate, and you can plan your workouts. This is a great gift for parents who are committed to improving their health.
29. Hammock

A luxurious hammock for the patio or even inside the home is a wonderful way to relax. This hammock looks incredibly stylish and is the perfect spot for a nap or relaxation with a book.
30. Malin + Goetz candle

If you've ever used Malin + Goetz soaps you know how good their scents are! The quality is something else. I haven't tried the candle yet. But judging by how good their soaps are, I fully believe this scented candle is going to be amazing.
31. Decanter set

I love a good decanter set. This one looks chic and elevated. Accompany a gift like this with a great quality whiskey. This gift is surprisingly inexpensive!
32. Fannypack

Parents love their fannypacks! These are small, compact, and great for hikes. They are available in many different colors.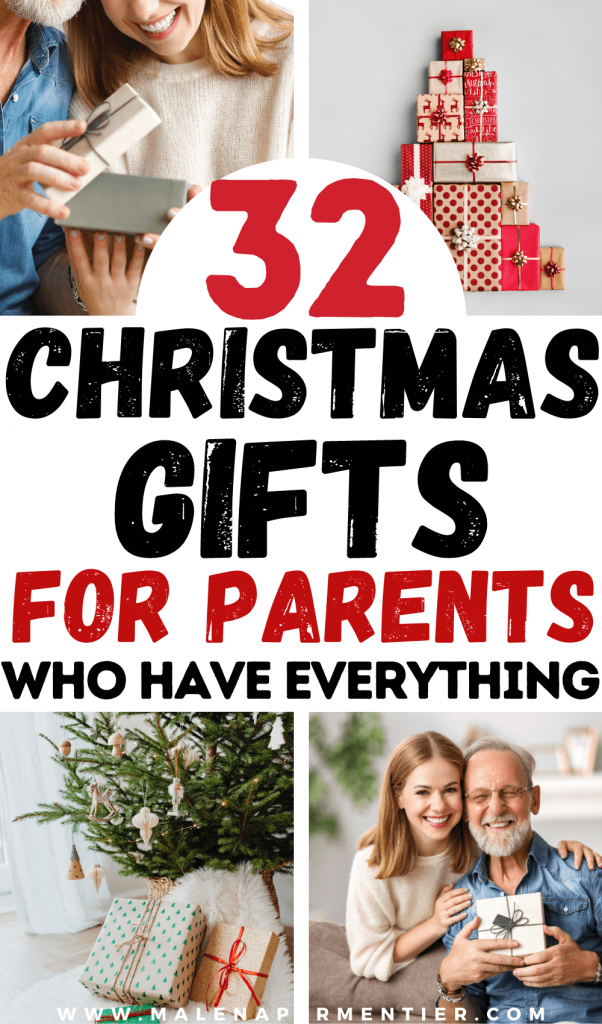 This post showed you Christmas gifts for parents who have everything.
You may also like: