This post shows you the best gift ideas for men!
The cliche is true: men are indeed hard to buy for. Year after year, it's so hard to come up with something new to give the men in our lives.
Whether it's for Christmas or birthdays, this post shows some thoughtful and useful gift ideas for men.
Here are a few gift categories men love:
Technology gifts (e.g., a new watch band for an apple watch, phone case, kindle, or noise canceling headphones if you don't mind spending a little $$).
Practical gifts (a wine cooler, a weekend bag, wallet, etc.)
Cozy gifs (things like cozy slippers or pajama pants)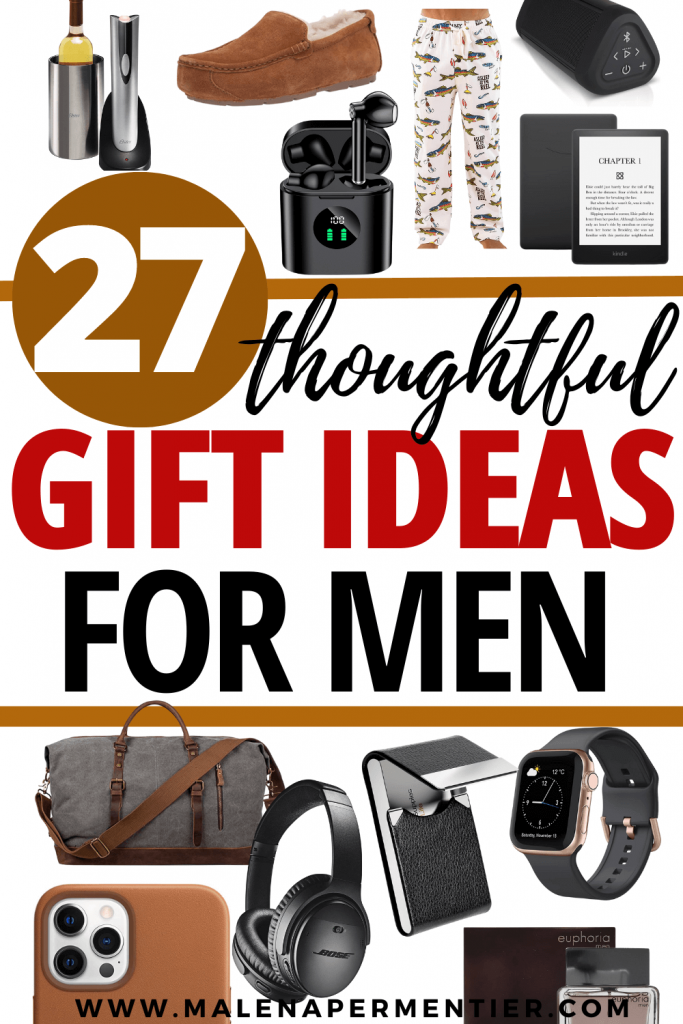 1. Duffle bag

A weekend bag is a must-have for everyone, including men! This is a useful and stylish gift that doesn't break the bank.
The bag is made from leather, and the price is especially good considering the quality.
2. Bluetooth headphones

Bluetooth headphones are super popular these days. The Apple AirPods are outrageously priced; this pair is much more affordable.
These headphones have over 25.000 reviews and a great rating! They're also super sleek and stylish.
3. Decanter set

A whiskey decanter set is a super chic gift for a man! Old or young(ish), if a guy likes a good drink now and then, this is a beautiful accessory.
This decanter set also looks incredible as decor on a bar cart. This set is surprisingly inexpensive for how it looks and has insanely good Amazon ratings.
4. Bluetooth speaker

A Bluetooth speaker is a fun, and practical gift music-loving men will love! You can use this at home or outdoors when you're hosting a picnic or backyard party.
Super practical, and this way, you will always have good speakers wherever you are.
5. Vinyl record player

This record player is definitely on the pricey side, but a great gift for the music lover.
It also looks amazing in your living room and is, without a doubt, a conversation piece.
6. Charging station

A charging station lets you charge all your apple devices at once! This is a great gift for men obsessed with their iPhones and Apple watches 🙂
7. Sporty backpack

A compact sporty backpack is great for hiking or keeping your gym supplies. This is a great gift for men who love the outdoors and are active.
8. Toiletry bag

This leather and canvas toiletry bag is a great gift for men!
Most men don't pay much attention to accessories like this. Which is why it's a nice gift to give. It also matches the duffle bag seen in #1.
9. Nespresso machine

Looking for a gift for a man who just moved into a new place? A Nespresso machine is always a good idea (if they love coffee, haha).
10. Wine opener and chiller

This is another gift in the "things men don't buy for themselves" category.
This wine chiller looks super chic and is lovely for entertaining.
11. Cologne

Cologne is a popular men's gift, and it's for good reason! If you know their favorite scents, this is easy to pick.
Euphoria by Calvin Klein is popular, but Nautica Voyage and Boss are two other great ones.
12. Beard grooming kit

A beard grooming kit is a fun gift for the bearded men in your life! A little bit extra, but these things are seriously helpful.
Good grooming makes all the difference between an average and great beard 😉
13. Watch

Give your man a stylish watch! Honestly, a watch is probably one of the best gifts one can give to a man. Whether it's your boyfriend, dad, or brother.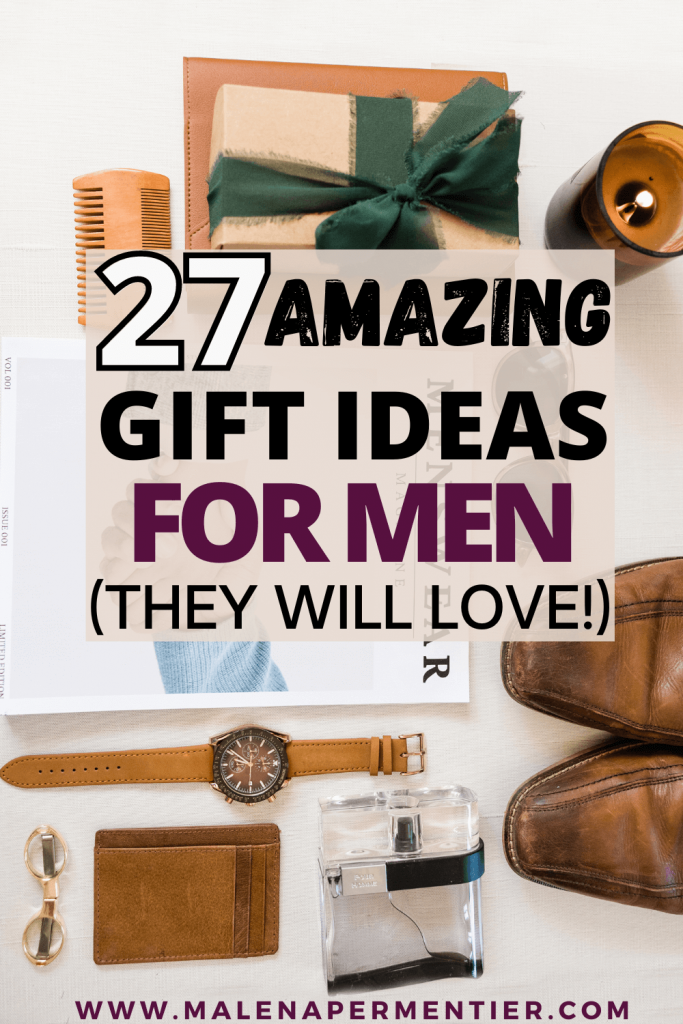 14. Beanie

Lookign for a gift for a young-ish man who is into slightly hipster fashion?
A beanie is a cute and inexpensive gift they will love. Carhartt has great quality stuff, so this is a win.
15. Cardholder

A chic business card holder is a great gift for ambitious men.
The way you present yourself MATTERS, and little things will elevate your networking game.
16. Kindle

Get a Kindle for the book-loving men in your life. I bought my Kindle several years ago, and it's one of my favorite purchases ever.
Especially for people who travel a lot, this is such a great gift.
17. Espresso maker

If they take their coffee seriously, an espresso maker is a gift they will love.
This compact silver and black machine has a beautiful modern aesthetic that will elevate your kitchen counter.
18. Leather wallet

A wallet is another traditional men's gift that always hits the spot! Go for a timeless leather style they will be using for years.
19. Noise-canceling headphones

These Bose noise-canceling headphones are a great luxurious gift for men! I bought mine as my own birthday present, and it's seriously the best thing ever.
The noise canceling on this thing is superior. I often have difficulty focusing on work because of noise, and these headphones changed the game.
20. Leather phone case

If you don't know what to get someone, a great quality phone case is a great idea.
This leather iPhone case comes in 6 different (and super stylish) masculine colors.
21. Multipack crew necks

Men love their crewnecks! This 5 pack in colors like gray and black have the best reviews and is a practical and easy gift they will love.
22. Robe

A cozy robe is a fun Christmas gift for men! Not everyone loves receiving practical gifts like pajamas, robes, and socks, but some do.
When you get any of these practical gifts, make sure it's good quality so they will enjoy it to the fullest.
23. Apple watch band

Looking for gift ideas for your boyfriend or brother who wears an Apple watch?
There are so many cool Apple watch bands. Go for something elevated or funky so they can change up their style.
24. Neck massager

Everyone who spends much time at their desk will obsess over this neck massager. Definitely a cute gift for men that they will appreciate.
25. Cozy slippers

Cozy and warm slippers to wear indoors are a game changer.
This is a great gift for Christmas time! Particularly if you live where it gets very cold during the winter.
26. Comfy Carhartt sweater

And we're back to the Carhartt stuff!
I'm not 100% sure what male demographic loves this brand, but I think the sweaters look timeless, very chill, and of good quality.
27. Funny pajama pants

Pajama pants are a fun Christmas gift idea for the men in your life!!
Spare them the Christmas prints, and go for something masculine instead. This pair of pajama pants come in a ton of fun prints.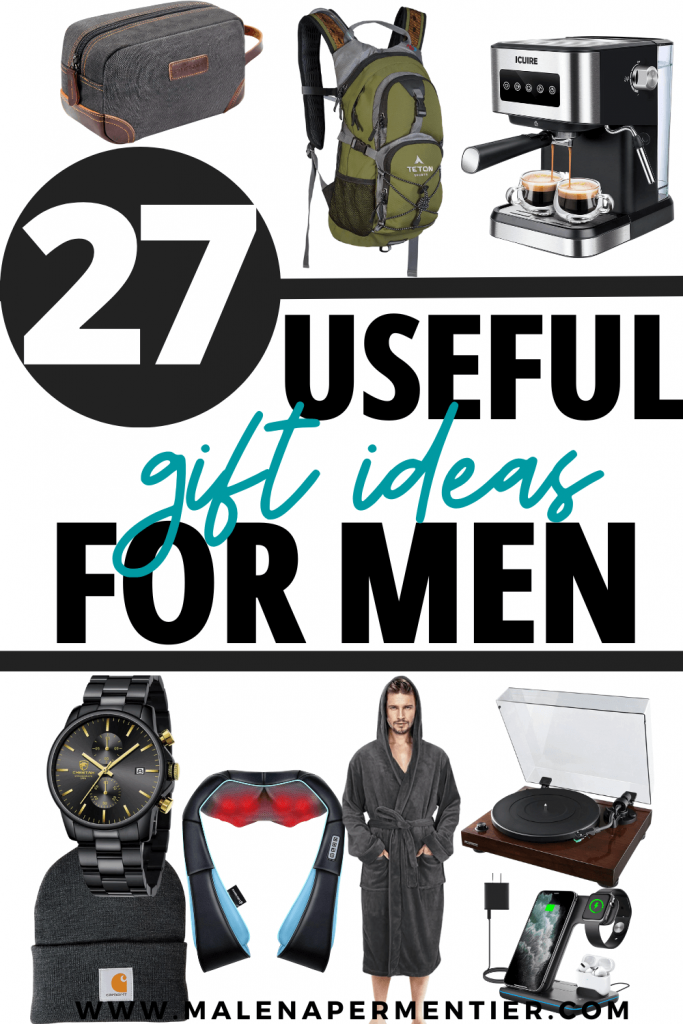 This post showed you the best gift ideas for men.
You may also like: