This post shows you the best modern Christmas decor ideas.
Many people believe that modern Christmas decor can't be cozy, but that's not true!
This post will look at some beautiful ideas to decorate for Christmas this year. In your living room, entry, bathroom, and kitchen counter.
Modern Christmas decor focuses on neutral colors, like white and green, with warm wooden tones. It can also include a pop of silver or gold.
The modern Christmas aesthetic also has a lot of organic details, like real eucalyptus, pinecones, burlap, and wood branches.
In some ways, modern Christmas decor has some similarities to farmhouse Christmas decor.
The main difference is that modern Christmas decorations are simple with fewer frills.
Now let's get inspired by some amazing modern Christmas decor.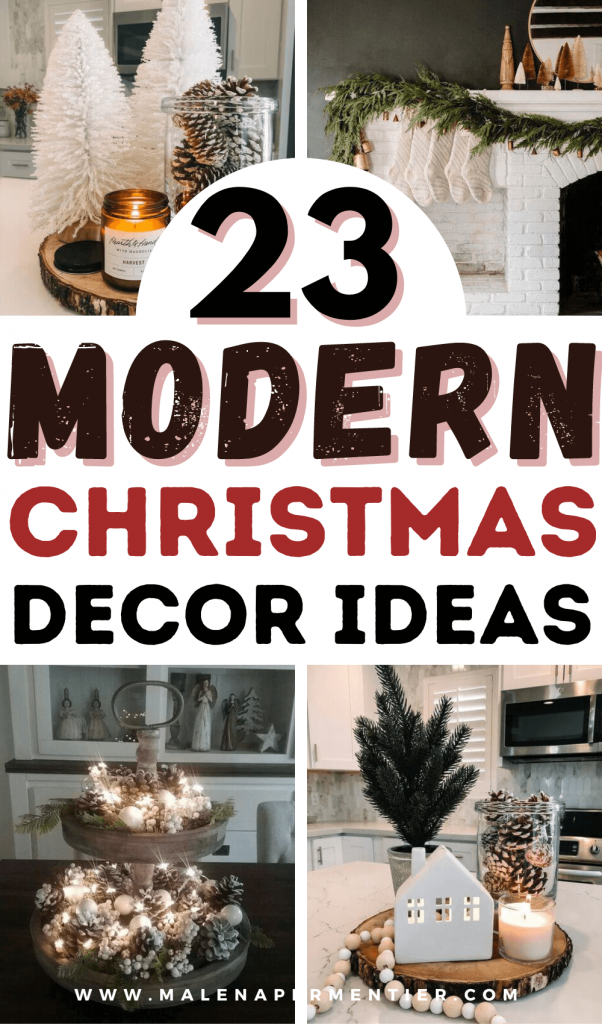 Modern Christmas Decor Ideas
1. Simple Christmas centerpiece for kitchen counter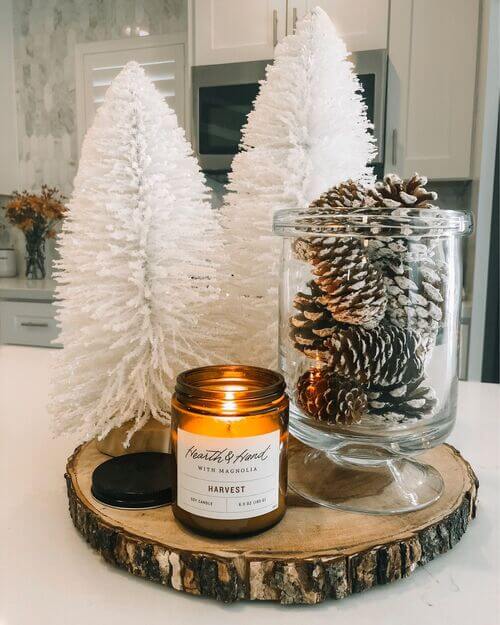 Wooden plaques are a simple and beautiful base for a Christmas centerpiece. You can get thee in different sizes so make sure to get one that's large enough to build a centerpiece on.
Miniature Christmas trees and glass pillar candle holders are great for decorating your centerpiece. Easy and pretty.
2. Mantle decor with lush greenery garland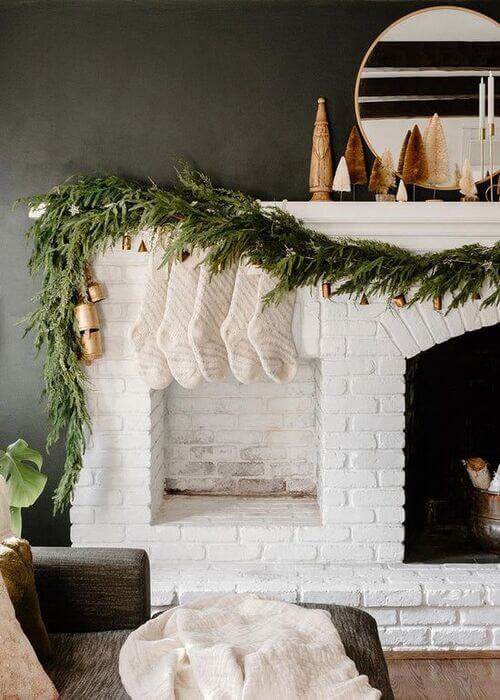 You don't need a fireplace mantle to decorate with a garland in your living room! If you have a floating shelf, it als looks great. You can even hang a garland over your TV for some Christmas vibes.
Make sure to pick and good quality garland that looks lush! Eucalyptus garlands are my favorite.
3. Narrow modern Christmas tree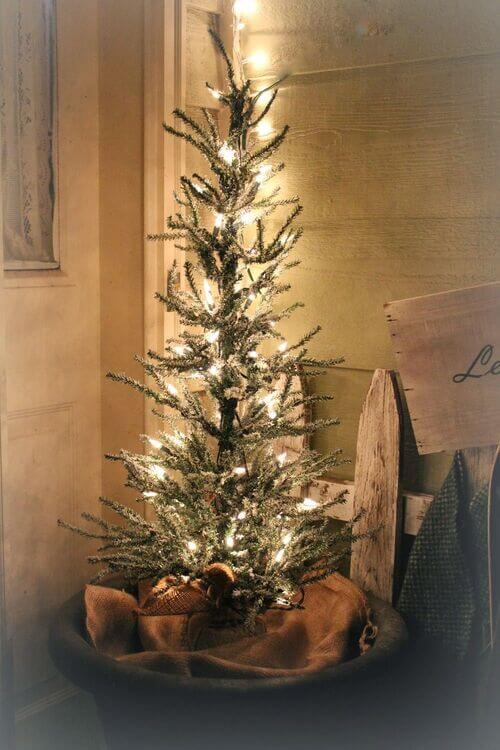 A narrow Christmas tree is great for several places in your home. For example, in a small living room corner or the hall. It could even work on the porch.
Small and narrow Christmas trees also work great in small living rooms! Pick one that's tall enough for maximum atmosphere during the holidays.
4. Modern Christmas centerpiece for the coffee table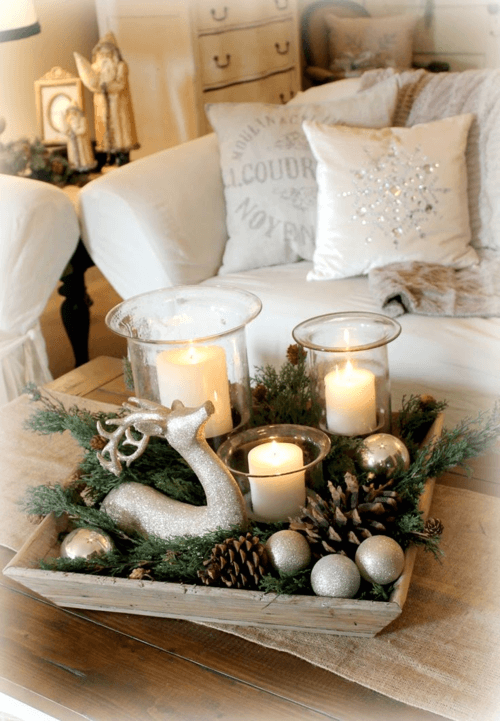 Make a modern coffee table centerpiece for Christmas with a wood tray as base. Line the tray with pine twigs or a lush garland cut into smaller pieces.
Then add Christmas figurines, candles, ornaments, and other things that give a Christmassy atmosphere!
5. Winter village on round wood tray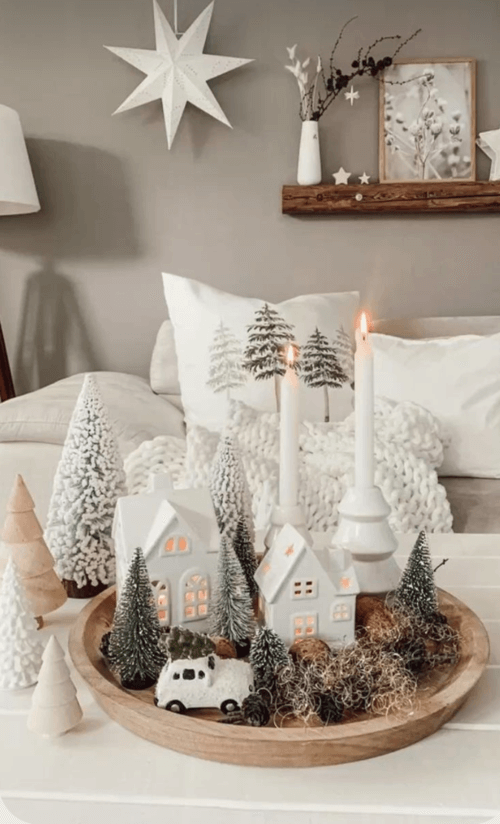 Round wood trays are incredibly versatile for seasonal decor. I like buying things that I can use over and over again. For example, this round tray is also perfect for fall decor.
Ceramic winter villages are super popular for Christmas decor, and it's easy to understand why! They look great as is, but you can also use them to decorate a tray.
6. DIY Minimalist eucalyptus wreath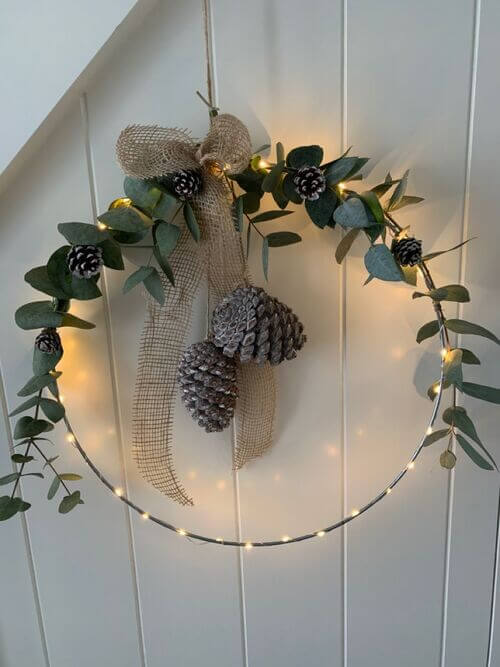 Eucalyptus wreaths are a beautiful and simple DIY Christmas decor. Buy the ring for the wreath, and then put the wreath together how you like.
You can attach real or faux eucalyptus stems to the ring. Attach some pinecones as well. The burlap ribbon is the finishing touch that gives off a modern and cozy vibe.
7. Miniature Christmas tree decor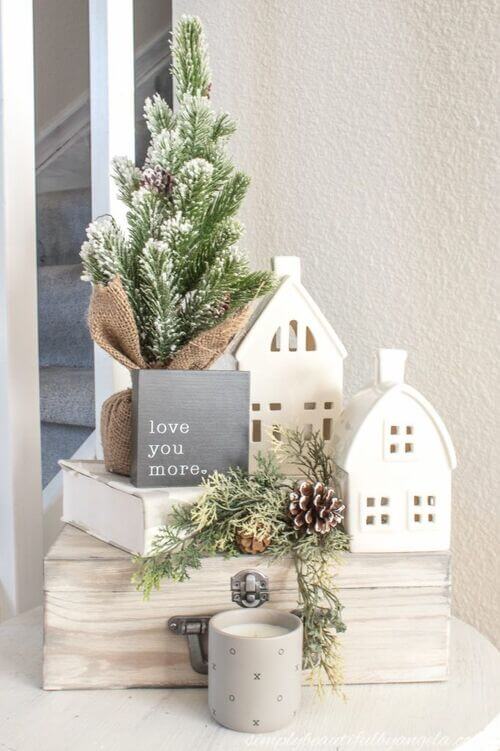 I love this Christmas decor example because it's so creative! Use a reclaimed wood trinket box as the base. Decorate with pine branches, a miniature Christmas tree, and tiny white houses.
8. Christmas decor for kitchen counter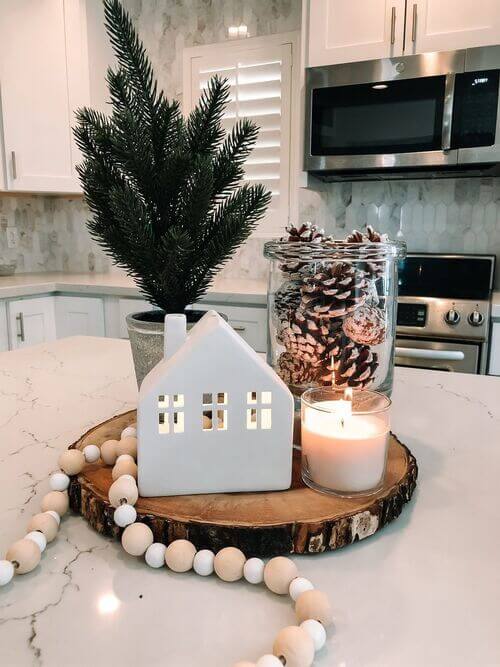 Having cute Christmas centerpieces throughout your home is such a good idea. The kitchen counter is one of those spots that are fun to decorate.
Recreate this Christmas kitchen decor with wooden plaques, pine cones, and a wood bead garland. Placing pine cones in a clear glass vase is an easy Christmas decor idea that looks good anywhere.
9. Christmas balls bowl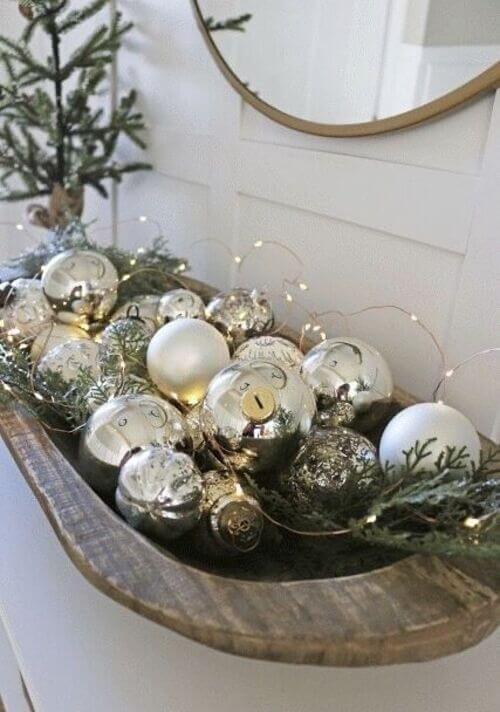 This large wood bowl with christmas balls is a great decor idea for a console or entry table. A centerpiece like this is chic, modern, and super easy to put together.
Place pine branches at the bottom of the bowl and then place the silver balls on top. You can even do some stacking. Stacking some balls is great for hiding the small led fairy lights you will place into the bowl.
10. Fairy lights in empty wine bottles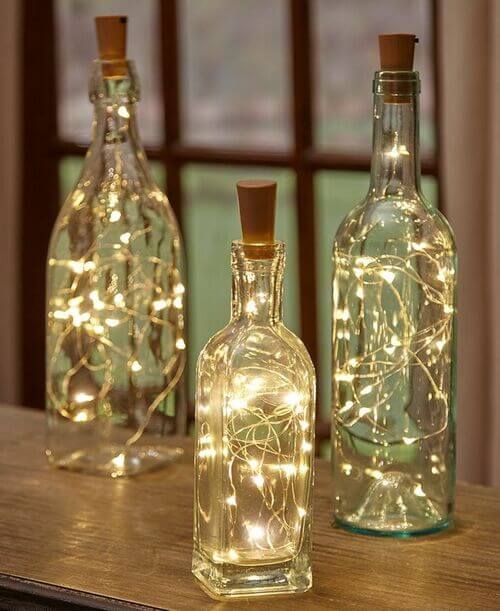 This is one of the most effortless and cute Christmas decorations I've seen! If you're looking for cute and easy Christmas table decor – this is it.
You can even line these empty wine bottles with led lights on your porch. The lights have a long battery life, so it's something you can enjoy during the holidays.
11. Minimalist bathroom counter decor for Christmas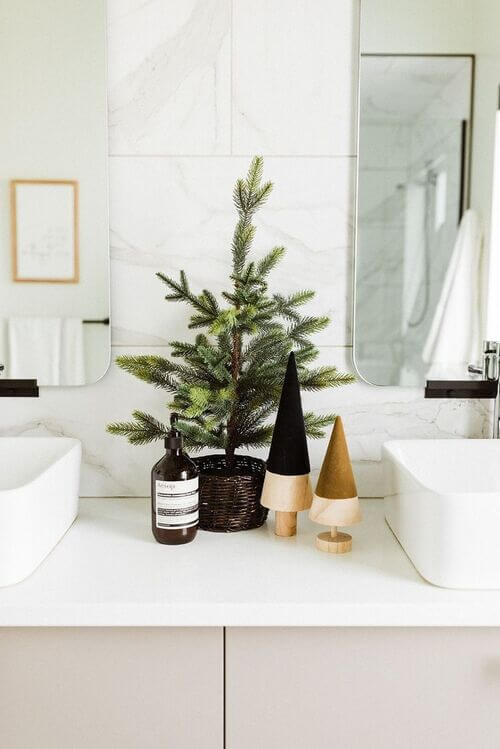 Kitchen bathroom decor doesn't have to be complicated! I really love these minimalist miniature Christmas trees. This one comes in a set of 6 that you can use throughout your home.
The dark brown Aesop soap bottles fit right into the Christmas spirit you'll be bringing into your bathroom.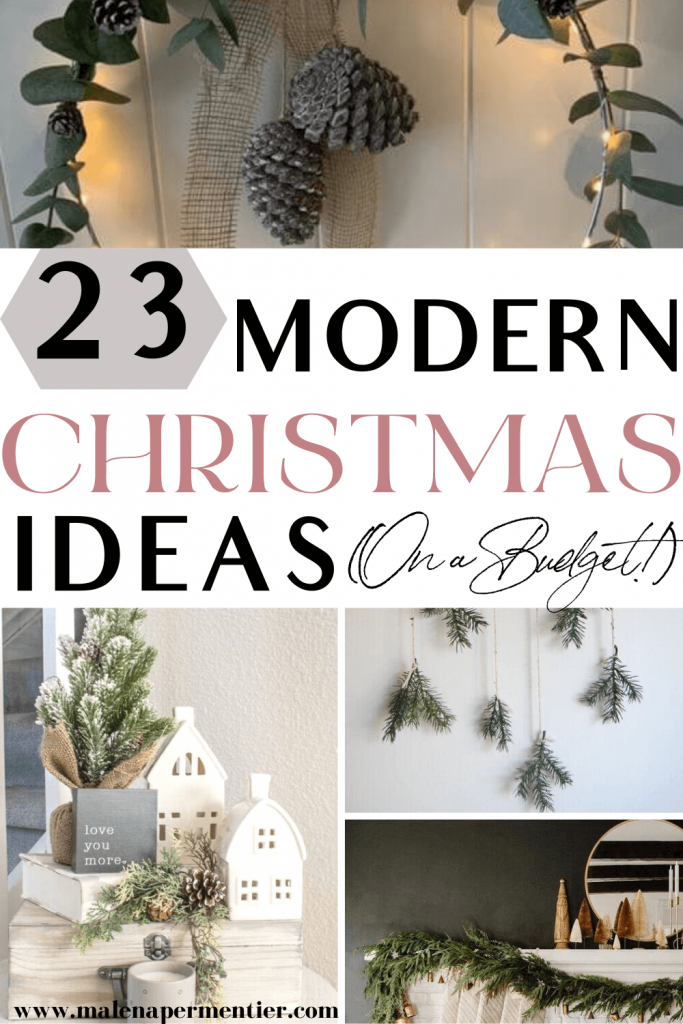 12. Bottles with eucalyptus and rust brown candles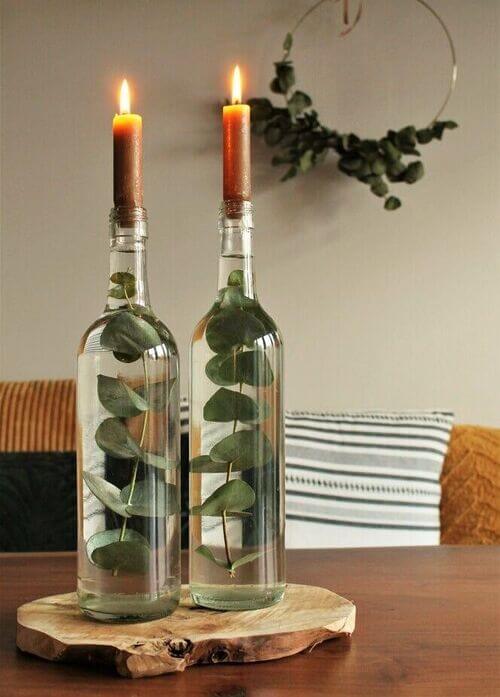 I love everything about this Christmas decor! Elegant, stylish, and super easy to recreate. Place eucalyptus branches into the bottle. Then add water. Add beautiful rust-brown candlesticks for a warm atmosphere.
Real eucalyptus looks the best for this DIY Christmas decor. But…if you can't get your hands on real eucalyptus, fake ones work too. You can just cut the stems to make it fit the bottle.
13. Christmas tree with black ornaments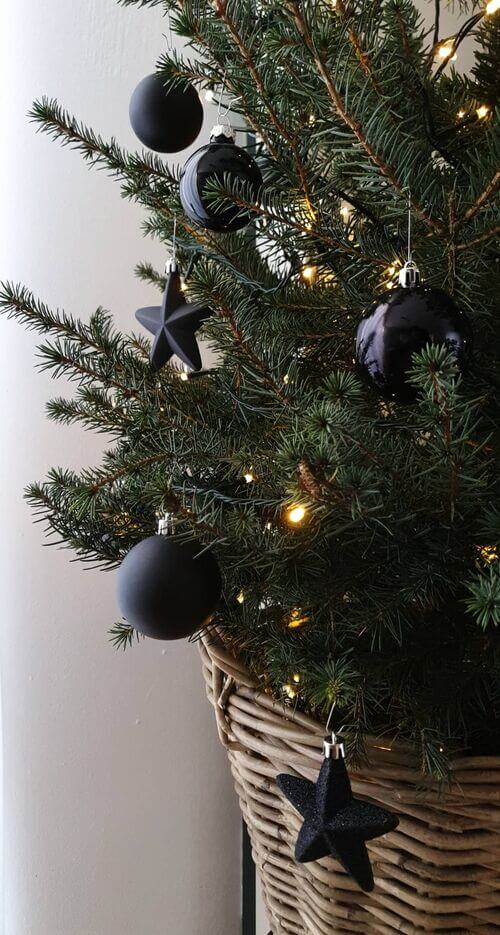 Christmas tree with neutral or black ornaments has become very trendy. They also fit the modern aesthetic!
This Christmas tree has a mix of matte and shiny Christmas balls, which looks SO good.
14. White farmhouse tiered tray with Christmas decor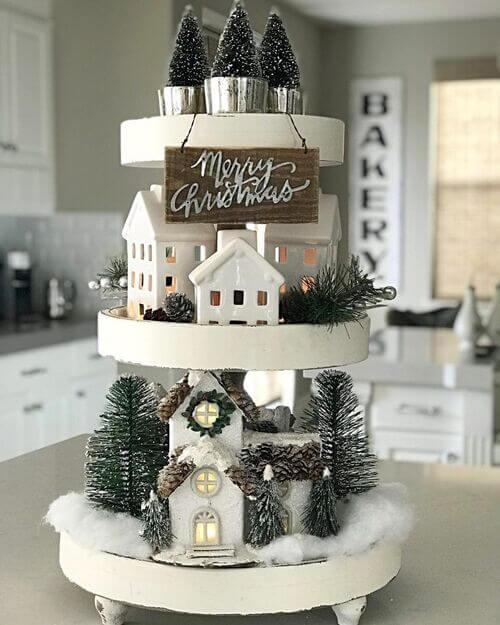 A white farmhouse tray combines beautifully with a white Christmas village set. I love how this has both a modern and cozy vibe to it.
I also found these super cute rustic Christmas signs that are the perfect finishing touch for your centerpieces.
15. Large vase with cotton stems and bead garland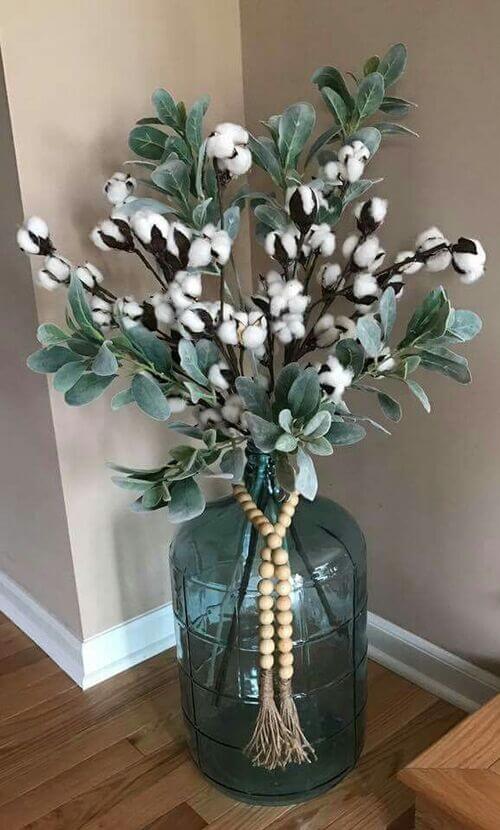 I love this subtle and modern chic vase decor! The cotton stems make it a great look for the holidays. I couldn't figure out the name of the greenery, but eucalyptus combines well too.
To recreate this, you need an extra large clear vase (it could be clear, blue, or brown). Place the cotton stems and eucalyptus inside and arrange. Put a bead garland around the neck of the vase for an elegant touch.
16. DIY Christmas door wreath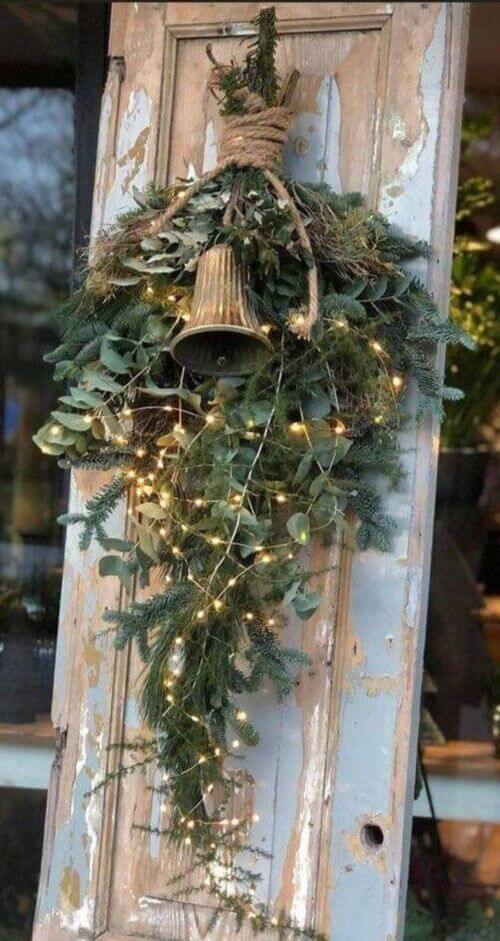 This is such a chic and creative idea! I always love the look of gold bells, which pairs so well with this rustic wreath that is not a wreath.
You can best recreate this with real greenery, like pine branches. You need greenery in different lengths to recreate the shape.
Use a thick jute twine to tie the greenery together. Inside the greenery, you will also place the fairy-led lights! The gold bell goes in the middle at the top.
17. Small Christmas trees on the bathroom counter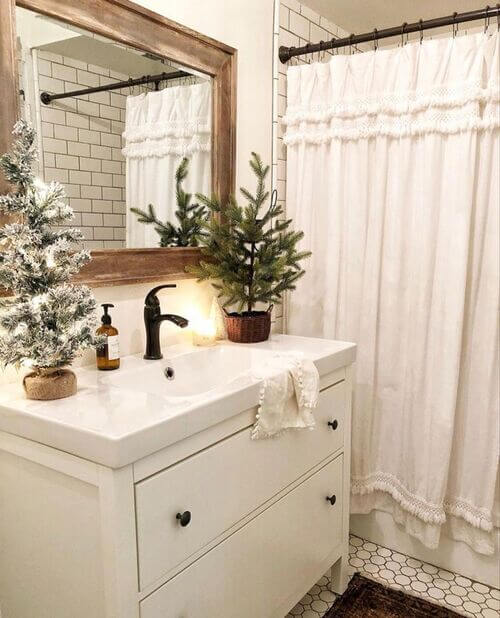 I know not everyone has space for Christmas trees this size on their bathroom counter (I sure don't).
But everyone can recreate this idea with the size of a Christmas tree that fits your space.
Another cute Christmas bathroom decor idea is to switch up your usual decorative towels for something Christmassy.
18. Farmhouse tiered tray with pinecones and led lights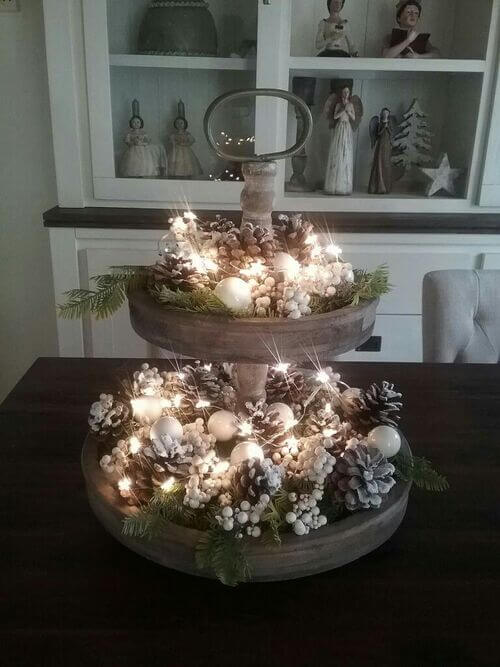 Decorate a farmhouse-tiered tray with a wealth of pine branches, white holly berries, small Christmas balls, and pine cones.
Anything goes when decorating a tiered tray for Christmas! Especially when you stick to a modern color scheme.
19. DIY Christmas centerpieces with cans and burlap ribbon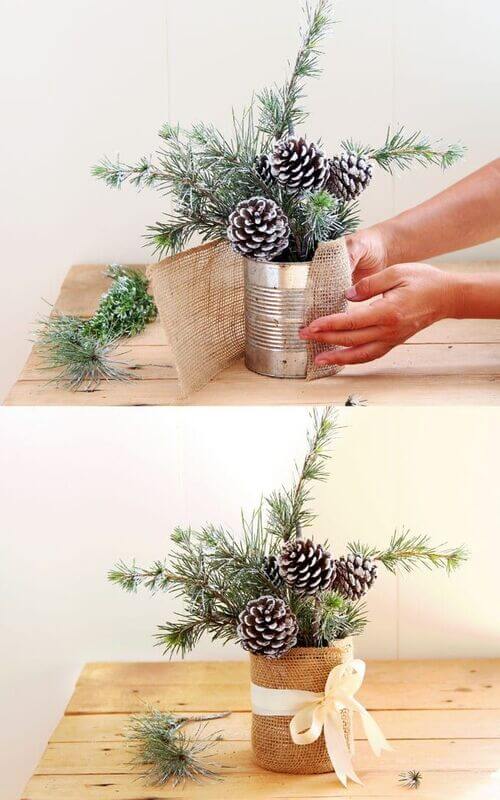 If you're looking for cheap and easy table centerpiece for Christmas, you will love this idea! The burlap ribbon effortlessly covers the can.
These centerpieces will look amazing with a rustic Christmas table setting.
20. Silver Christmas tray with white and green decor