Minimalist Christmas decor on a budget – 18 ideas to copy in 2021!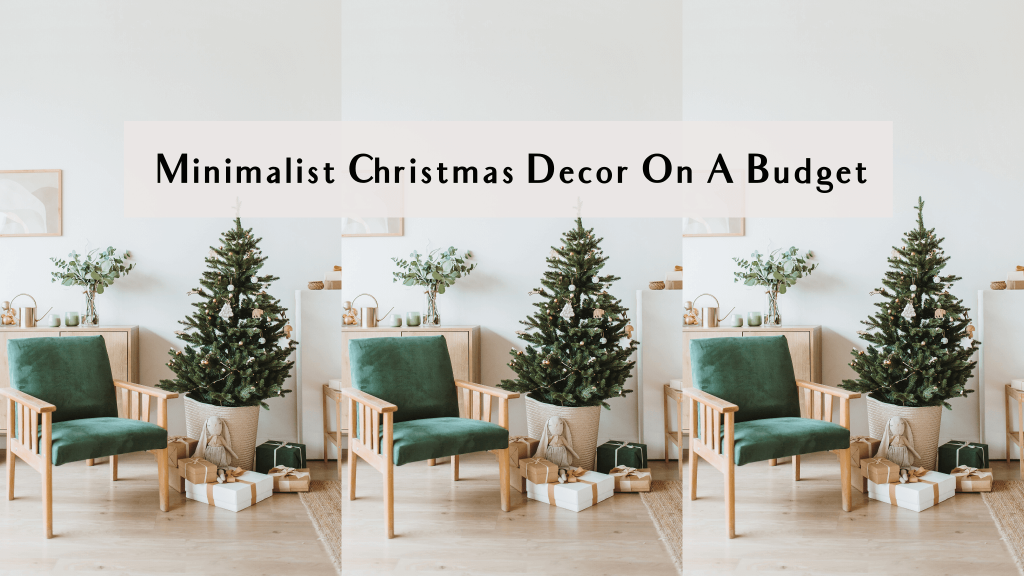 What's not to love about a minimalist Christmas? The white and green color scheme is so soothing and cozy!
Truth be told: I love a good old gold and red Christmas decor in other people's homes. It's just not for me.
I love white, green, and maybe some pops of silver or gold in my own home.
The best inspiration for a minimalist christmas, without a doubt, is the Scandinavian style of Christmas decorating.
Modern Scandinavian Christmas decor is a minimalist aesthetic with lots of white, green, and rustic accents for the ultimate cozy feeling.
Let's look into the best minimalist christmas decor ideas to recreate in your own home!
Minimalist ways to decorate your home for Christmas
A minimalist Christmas decor focuses on white and green, candles, garlands, rustic details, and faux snow.
There are genuinely a zillion ways to pull off a minimalist Christmas, but they have a neutral color scheme in common.
And yes, minimal Christmas decor is super cozy! I'm pretty sure you'll be convinced of that by the end of this post.
Garlands
(Faux) garlands are a chic and simple way to decorate your home for Christmas. Place them on your doors, on the wall, or the mantel if you have one.
Candles
Candles and candle holders instantly make a home look Christmassy. And you probably already have these things! Make sure to match your candles and candle holders with the minimalist color scheme in your home.
White & Green color scheme
Keep your Christmas tree and decor simple by focussing on white and green. You can also add in a subtle pop of silver and gold.
[Related: 30 Best White and Green Christmas Decor Ideas on a Budget]
1. Modern personalized christmas stockings

Customize Christmas stockings in a beautiful neutral style. Choose the top (burlap or quilted), the font, and the name to go on the stocking.
These modern personalized stockings are going to look so good on your mantel!
2. Faux eucalyptus wreath

Eucalyptus wreaths instantly add so much ambiance to your living room.
Hang these on your wall or a door for an understated Christmassy feel.
3. Decorative christmas bowl
Recreate this:
A decorative christmas bowl is one of my favorite easy and minimalist christmas decor ideas. Pick a bowl made of rustic wood, and fill it with things like pine cones, branches, ornaments, and candle holders.
Stick to a white, green, and wood color scheme for a modern and minimal look.
4. Minimalist Merry Christmas Wall Art

If you have picture frames in your home, why not update them with some Christmas art for the season?
This simple watercolor print adds a ton of charm but won't overwhelm your space.
Understated christmas decorations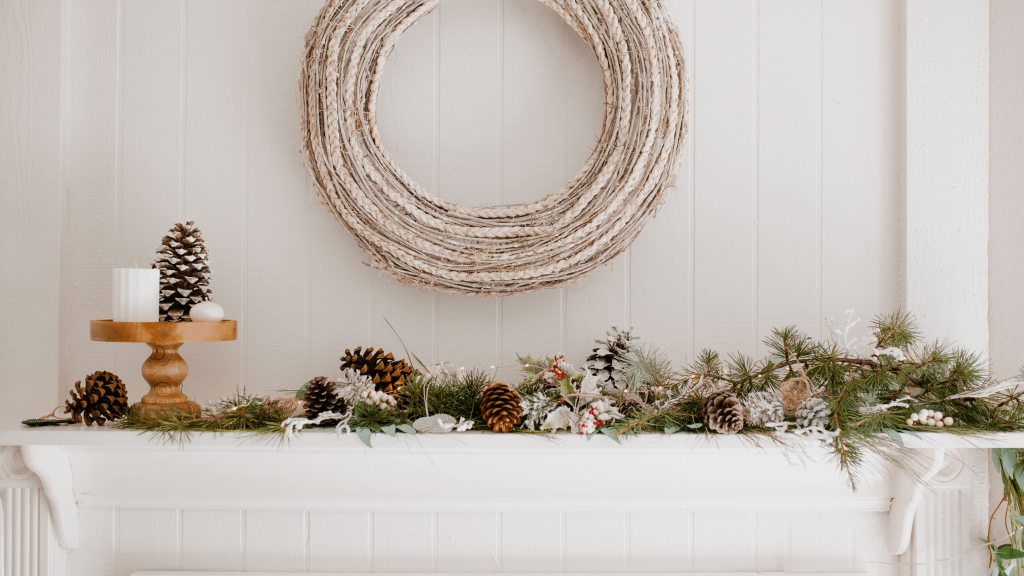 5. Hand-dyed mini bottle brush tree set

A minimalist Christmas aesthetic doesn't mean you can't also add some glitter here and there!
These cute mini bottle brush trees make a great coffee table centerpiece.
6. Best faux garland

Garlands are a must for minimalist christmas decor. Drape them over shelves, above your TV, or on your mantel or coffee table.
7. Wooden pedestal for candles

Rustic wood looks great with a simple Christmas color scheme.
This pedestal tray with white candles will make your living room look super cozy.
8. Small frosted christmas trees with lights

This set of small frosted Christmas trees is 22″ and 18″, making them the perfect size to place on your mantel or a floating shelf.
9. Reindeer tealight holders

These reindeer tea light holders are adorable and budget-friendly. They come in a set of 6, perfect for scattering them all over your living room!
Minimalist christmas tree ornaments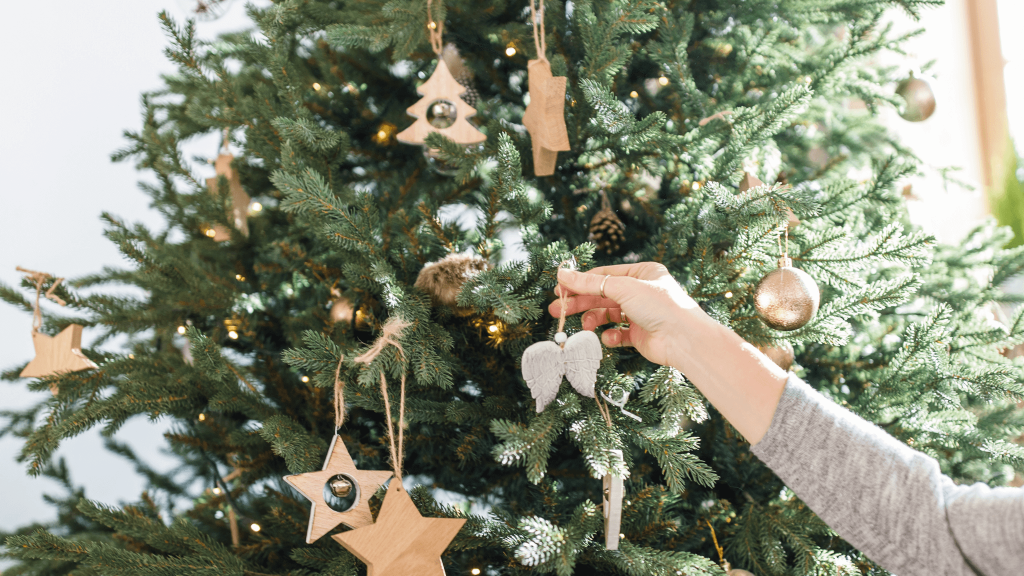 10. Snowflakes ornaments

These Scandinavian snowflakes ornaments are going to look amazing when combined with white, green, and silver.
11. Wood angel ornaments

Another minimalist christmas decor must-have: angel ornaments made of rustic reclaimed wood.
12. Crystal Christmas ornament

For a little more glam, add a few of these stunning crystal ornaments to your tree.
13. Antique style silver tree ornaments

I love the look of antique-style Christmas ornaments; they add so much charm!
Things to make your house look Christmassy
14. Neutral pillar candle holder

These pillar candle holders are great to have because you can use them any season.
Surround these candle holders with a lush garland to make your home look super Christmassy.
15. Fluffy white christmas tree skirt

A good, fluffy white Christmas tree skirt is such a simple yet effective way to make your Christmas tree situation come together.
16. Farmhouse cotton wreath for front door

You need a cotton wreath on your front door this winter! The mix of eucalyptus leaves, cotton, and greenery makes this wreath look super luxurious.
17. Wood bead garland for centerpiece

Bead garlands are super versatile to have. Use them for your Christmas coffee table centerpiece or on your entryway.
18. Rustic Lantern Set

This rustic lantern set is both timeless and charming. What's excellent about minimalist christmas decor is that you can use many of these pieces throughout the year!
This post showed you The Best Minimalist Christmas Decor On a Budget
You may also like: