Hey there! Some links on this page are affiliate links which means that, if you choose to make a purchase, I may earn a small commission at no extra cost to you. I greatly appreciate your support!
Are your friends hard to buy for, and do you have no clue what to get them for Christmas? This post has got you covered!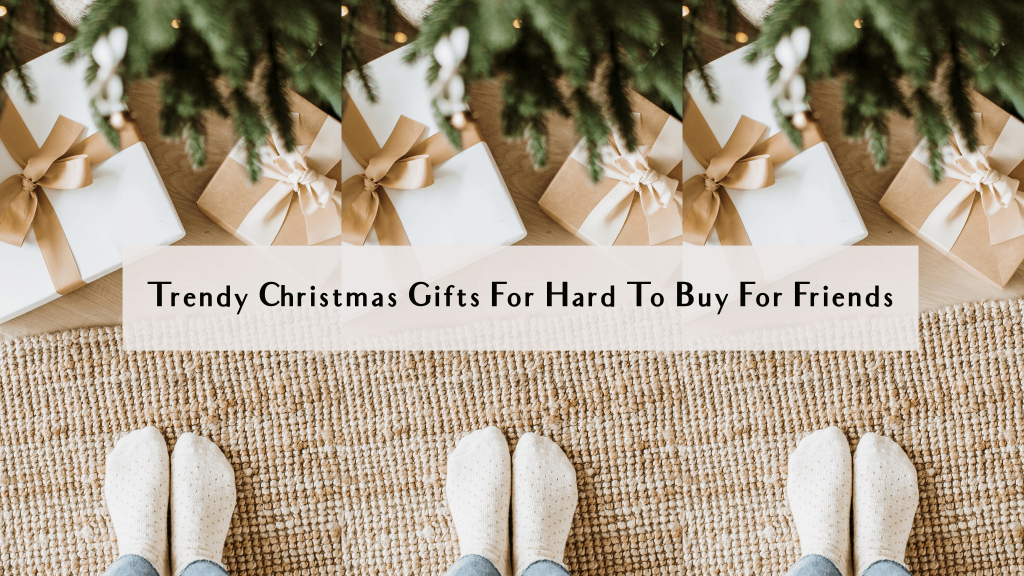 Christmas gifts can be tricky because so many people are on your list, each with their taste and style.
Christmas shopping is super easy for some people, while for others, you're clueless about what to get them. Trust me; I've been there!!
Some of your friends already have everything, while others don't want any gifts or are impossible to shop for.
This post shows you 25 insanely trendy Christmas gifts for hard to buy for friends they are guaranteed to love.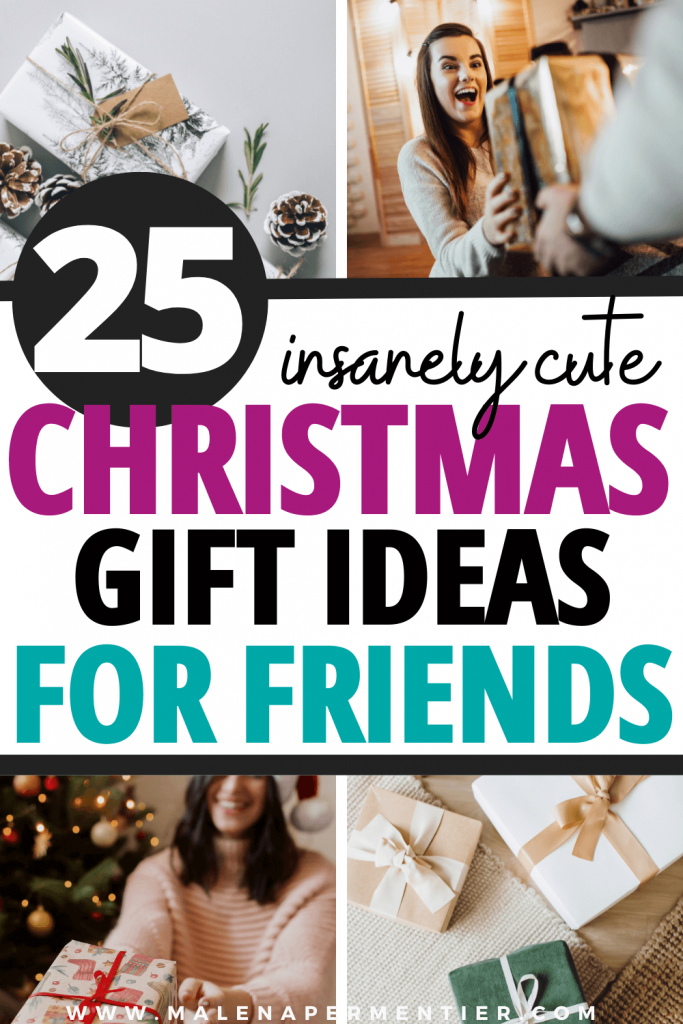 1. Personalized leather toiletry bag

A custom gift is a thoughtful gift!
This no-fuss monogrammed leather toiletry bag comes in a few classic colors like charcoal and mahogany.
When placing your order, you can type in the initials (max of 4 characters), and your personalized gift will arrive ready for Christmas!
Also, they say this gift is for men, but if your female friends love the more classic stuff, they will adore it.
E.g., I dislike anything pink and glittery and LOVE these more masculine toiletry bags.
2. Best heated coffee mug

This battery-heated coffee mug keeps your coffee warm for hours!
It is the perfect cozy Christmas gift for slow coffee drinkers or people who tend to forget about their coffee altogether.
Control your coffee's temperature with an app on your phone so your coffee is always at the right temperature.
A super thoughtful gift for friends who have everything!
3. Instant camera gift

Taking polaroid pictures with friends and family is so much fun!
This Fujifilm Instax camera is great around the holidays and makes an excellent gift for women and men.
4. Fuzzy faux fur slippers

I love it when fashion is both comfy and cute.
These fuzzy slippers come in many different colors and are incredibly comfortable.
These house slippers make a trendy Christmas gift for your female friends or other women in your life!
5. Cool wooden cheese board

I know, I know, it's officially called a charcuterie board.
This wooden cheese board set is perfect for friends who just moved into a new home or for people who love hosting!
6. Scandinavian candle holder

Decor gifts can be tricky, especially if you're unsure what color accents they like in their home. But…
Scandinavian-style candle holders are minimalist, non-invasive, and super trendy!
I love these candle holders with a gold accent, but you can also go for these matte black candle holders instead.
7. Minimalist humidifier

This decorative minimalist humidifier is so good to have in your home! Humidifiers are great for dry skin or to freshen up a space.
A stylish humidifier like this makes an excellent gift for someone who lives in a small apartment or a big city.
8. Flikr Personal Fireplace

Ever since I found out about this tiny fireplace, I'm obsessed!
This makes an adorable Christmas gift and a great excuse to be roasting smores in your living room.
Besides Flikr, there are a ton of other mini indoor firepits in different styles.
A super unique and fun gift for a friend who already has everything and is impossible to buy for.
9. Ceramic palo santo holder

Palo santo helps clear the energy in your home, and I swear by it.
This ceramic palo santo holder looks stylish and understated.
Don't forget to buy the palo santo sticks as well.
10. Cards Against Humanity Gift Basket

Cards against humanity, but make it a gift basket!
I haven't personally played these games, but they're all the rage, according to the internet.
Put this card game in a gift basket, along with game night essentials like wine, decadent snacks, and favorite dips.
11. Personalized star map

This custom star map captures the constellation on a particular night for your astrology-loving friends.
When placing the order, you can choose different fonts, fill in your name, a specific date, location, and some more options.
Frame the constellation map and wrap it beautifully: your friends will love it!
12. Gold bamboo frame with cool picture

One of my favorite gifts for close friends is a cool frame with a picture they will love (preferably one they have never seen before!)
You could also customize a simple photo frame with limited-edition art or prints.
13. Greyish green silk pyjamas

Put this pair of PJs on the list of "gifts they will actually want."
Because come on, everyone loves a good pair of PJs.
These silk pajamas come in many different colors and are insanely soft to the touch.
14. Lululemon Everywhere Belt Bag

For your sporty and always-on-the-go friends, this belt bag is equal parts practical and trendy.
This is the type of gift your female friends will LOVE.
Go for a non-color like black or white, so it's easy for them to mix and match.
15. Crystal wine decanter

A crystal wine decanter is an easy-to-love gift, plus it's super versatile.
You could equally use this beautifully shaped decanter for flowers.
I personally think it's great to have multi-purpose things, but maybe that's because I live in a tiny apartment.
People who are hard to buy for or have minimalist tastes will love this simple but unique wine carafe.
16. Bose Gray Bluetooth Speaker

For your aesthetic appreciation and music-loving friends!
This stylish speaker isn't cheap but blends perfectly with minimal and trendy home decor.
Plus, with almost 20.000 raving customer reviews on this one, I'm pretty sure the sound is equally good!!
17. French coffee press

As a coffee lover, I'd welcome a gift like this anytime!
I'm a sucker for great-looking kitchen appliances because you have to look at them every day.
A French press is a crowd-pleaser, making it the perfect gift for friends or family.
18. Paperclip chain choker

Dainty jewelry is a great gift for hard-to-buy for female friends!
Make sure you know their preference for gold or silver before deciding.
19. Ceramic vase set of 3

Home decor gifts for Christmas? I say triple yes.
Especially for close friends, this is a great type of gift because you know their style.
20. Magnolia table cookbook

Cookbooks are a classic Christmas gift, but that doesn't make them any less amazing!
Choose a cookbook like Magnolia Table with gorgeous visuals, so they could also use it as a coffee table book.
21. Marble and wood cookbook stand

A cookbook stand is an excellent way to elevate your kitchen counter decor.
If your friends love cooking, this minimal marble cookbook stand will be well received.
22. Personalized initial bracelet

Personalized things are so great to give and receive.
It shows extra effort, and it makes people feel special.
This tiny, dainty bracelet comes with custom initials and makes a super cute Christmas gift.
23. Travel jewelry organizer

Practical and trendy at the same time, everyone needs a travel jewelry organizer.
This portable jewelry storage keeps all your dainty jewelry in one place, so you never lose anything.
24. The Five Minute journal

If you've read my 7 journaling tips that will change your life post, you know I love a good journal!
The practice of journaling is genuinely life-changing.
With Christmas being so close to the new year, the five-minute journal makes a thoughtful gift for anyone in your life who's ready to level up in 2022.
25. Gua Sha Jade roller

The Gua Sha Jade roller was one of the biggest beauty trends on TikTok and beyond in 2023! And they work!
This stunning jade roller is surprisingly budget-friendly and looks super cute as well.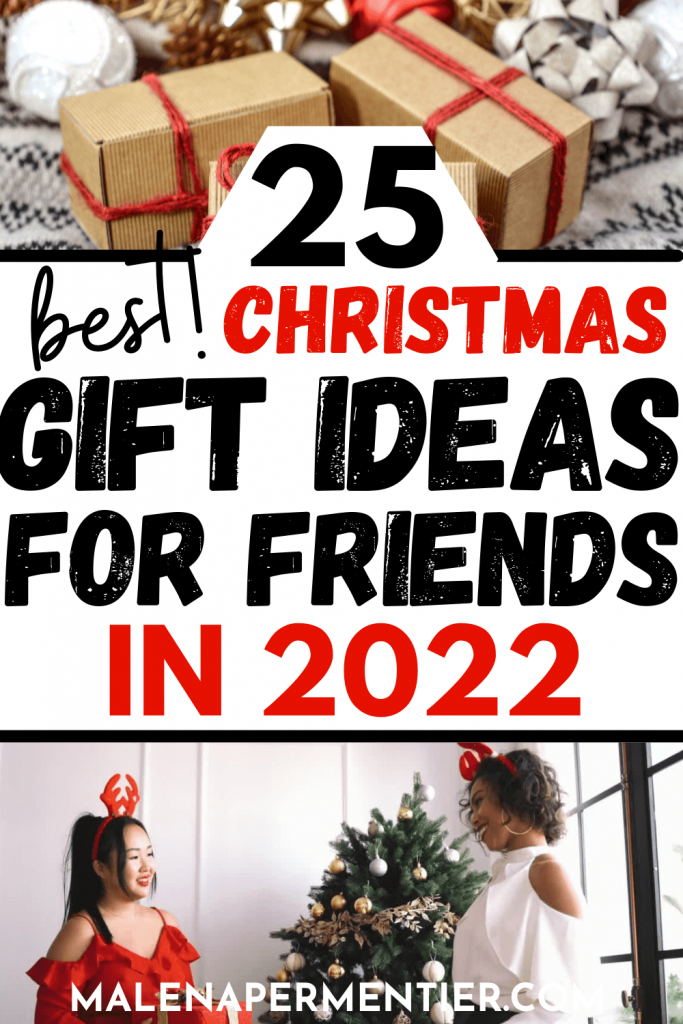 This post showed you 25 Christmas Gifts for Hard To Buy For Friends.
You may also like: