22 space-saving things to buy for a studio apartment.
Picking the best things to get for your studio apartment can feel like a real puzzle.
It's not only about aesthetics but also what's practical!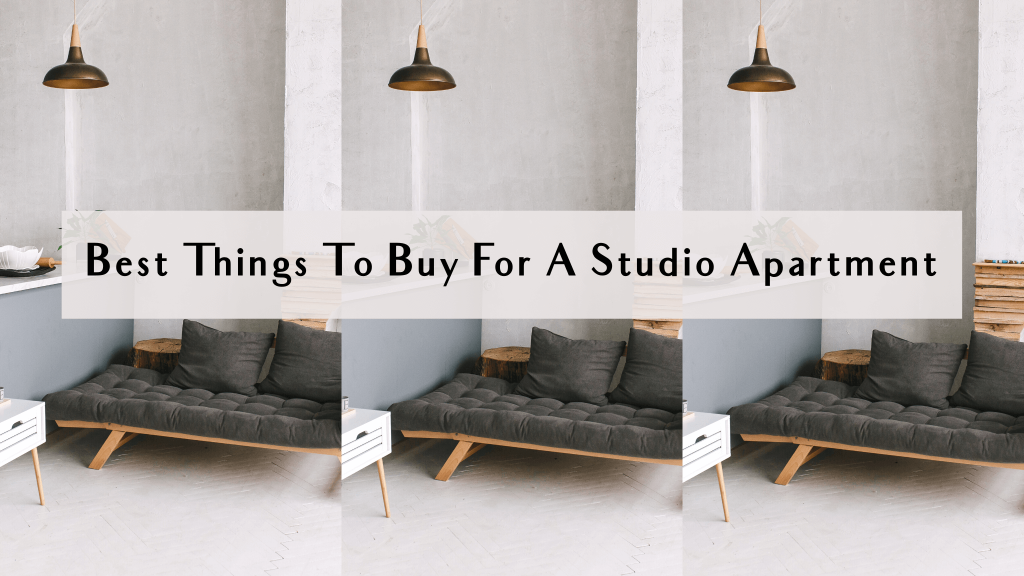 If you're moving into a studio, you've probably already freaked out several times about the extreme lack of space. You're not the only one!
Although I now live in a small apartment and not a studio, I did learn a LOT about maximizing space because I live in a tiny place with two roommates.
Below, I'm listing budget-friendly furniture for studios, essentials you need when moving into a studio apartment, and the best decorating ideas that look way more expensive than they are.
Looking for studio apartment ideas and inspiration? Then also, check out these 23 Genius Studio Apartment Ideas on a Budget You Can Easily Recreate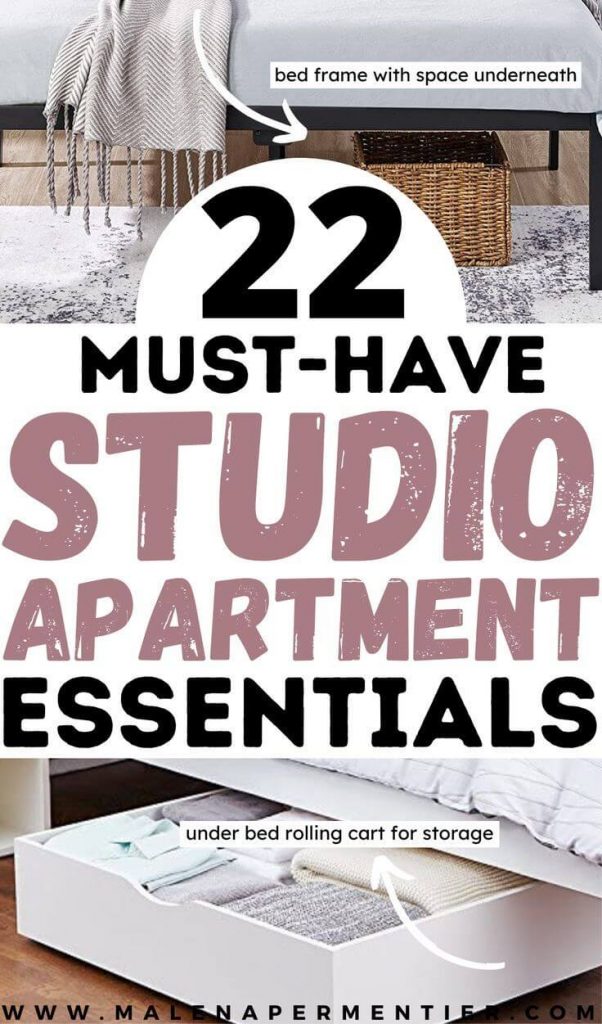 Space saving furniture for studio apartments
Let's look at the best furniture ideas for tiny studios that save a ton of space compared to regular-sized furniture.
1. Bed with space underneath
A platform bed gives you a place to store stuff or use under bed drawers.
This is my preferred bed for a studio because it optimizes the space, but it's not extreme like a murphy bed that you have to fold vertically to the wall.
During the day, my bed is a place to relax or even work. If you have that type of relationship with your bed, too, so you don't want it to be a hassle to unfold.
Bedframe with space underneath:

This bed frame conveniently comes with a built-in headboard! They also have plenty of plain bed frames that you can pair with the headboard of your choice.
2. Minimal headboard or no headboard
Combine your bed frame with a simple headboard or none at all. Especially in a tiny studio, a bed without a headboard might work better.
There are plenty of alternative ways to 'frame' your bed. Decorate with different shaped pillows and some art to hang over your bed.
[Related: 10 Bedroom Decor Ideas for Women That Are Drop Dead Gorgeous]
White textured headboard:

No headboard example:
Bed with simple headboard:

You can also go for a headboard with storage, but it might look too chunky in a small studio.
If you want to make your apartment look more spacious, go for a non-bulky headboard or none at all.
3. Small couch

This tiny velvet gray loveseat is under $300 and has surprisingly good customer reviews.
If your studio is 300 sq ft or less, a small couch or loveseat probably is your best choice.
If you're planning on putting your couch in a corner, a tiny sectional can work too!
Don't forget that you can always create extra seating space with a chair or an ottoman. This offers more flexibility in a tiny space than an oversized couch would.
4. Narrow coffee table

This coffee table has a 17-inch width, which is a space-saving choice in a small studio.
Use the free space underneath for a woven basket with books, blankets, or extra pillows.
5. Tall table with stools

Maximize space in a small studio by choosing a tall table with stools over a regular table. It looks super cool and saves a ton of space.
6. Long thin dresser

You'll likely need a drawer dresser in your apartment for storing clothing and other items.
If you have a built-in closet, that's awesome! But you probably need something extra.
Pay attention to the depth measurement before purchasing any drawer. Preferably choose one with medium or narrow depth so it won't take up too much space.
You could also go for an extra-tall dresser drawer if you're looking to maximize every inch of vertical space!
Tip: Get an affordable drawer and change the knobs for something trendier.
7. Small collapsible side table

This metal side table is under $50 and looks super polished in trendy. It also comes in dark green, white, gold, and yellow.
Use this small side table as a coffee table, next to the couch, or even as a nightstand.
8. Curved standing lamp

This standing lamp is super stylish and works perfectly in a small space because of its sleek shape.
9. Console under mounted TV

Mount your TV on the wall to save the most space. Utilize the space underneath with a tall entryway console.
This console could work in the following spots: under your TV, behind the couch, against the wall with decor, or in your entryway.
Best studio apartment essentials
10. Under bed cart with wheels

Rolling carts under your bed are great for storing seasonal clothing or other items you don't use every day.
You could also use this drawer for things like PJ's, loungewear, or extra blankets.
11. Stackable drawer storage

These plastic stackable organizers are lifesavers. Place them under your bed or inside your closet as I have.
Stack two of these bins under your bed as the ultimate space maximizing hack.
12. Stylish storage baskets

In studio apartments, it's crucial not to have a lot of small items lying around. Use these stylish gray storage baskets in your bedroom, on shelves, or under your coffee table.
13. Expandable tension shelf

Maximize cabinet space with an expandable tension shelf.
These are great for under the bathroom sink when you could use a little extra shelf space. You can also use it in your closet.
14. Clear stackable storage bins with lids

I swear by these stackable storage bins in my bathroom. If you have a lot of make-up or skincare, these keep your stuff organized and easy to find.
15. Rolling storage cart
Use these rolling carts in your kitchen for pantry items or in your bathroom for things like towels, cleaning products, and canisters for beauty products.
16. Over the door organizer

Utilize the inside of a closet with an over-the-door organizer. This could work, for example, on a bathroom or closet door.
Studio decorating ideas that look luxurious
17. Mounted lamps

Mount lamps next to your bed matching the decorating aesthetic of your studio. This is not only practical, but it also looks luxurious.
18. Area rug with minimal print

Area rugs help create separate areas in your studio. Go for a plush rug with a minimal print for the most expensive look.
19. Faux pampas grass

Pampas grass is super budget-friendly but looks very chic! Style a minimalist ceramic vase with pampas grass for a polished and bohemian look.
20. Trendy art prints

Art prints on your wall instantly make your look place look more expensive. There are plenty of trendy and budget-friendly art options. Style them with a cool frame for great wall decor.
Use a frame hanger or a traditional wooden frame to hang your prints.
21. Long arched mirror

A full-length arched mirror looks super chic and will make your studio look a lot more spacious.
22. Marble accents

One of my favorite expensive-looking ways to decorate is with marble. Use a tray like this on your coffee table and style it with a plant and candle holders.
This post showed you the best things to buy for a studio apartment.
You may also like: