This post shows you 15 small studio apartment ideas for guys.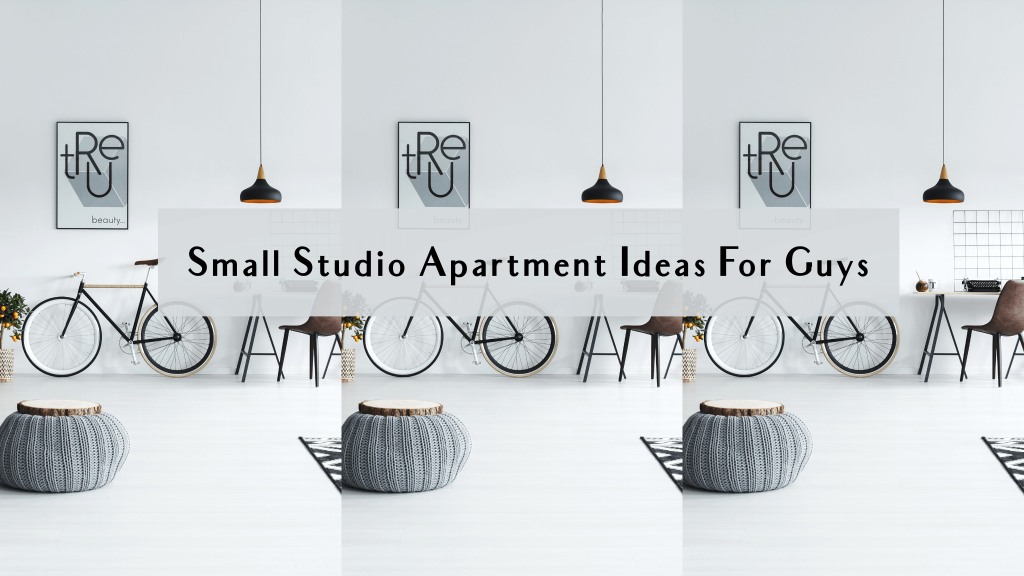 Studio apartments are tricky because you have to fit your whole life in one space.
If you're about to move into a small studio, you probably have a zillion questions.
Where goes what in a studio? And how do I pick the best furniture? Then there are also the aesthetic questions of decor and color scheme.
Below, you will find 15 amazing but realistic small studio apartment ideas for guys.
This post will show you:
Inspirational 300 Sq Ft studio apartments
Clever furniture ideas for small spaces
Ways to create storage that doesn't look messy
Decorating tips to get the most of your space
Industrial small studio inspiration that's easy to recreate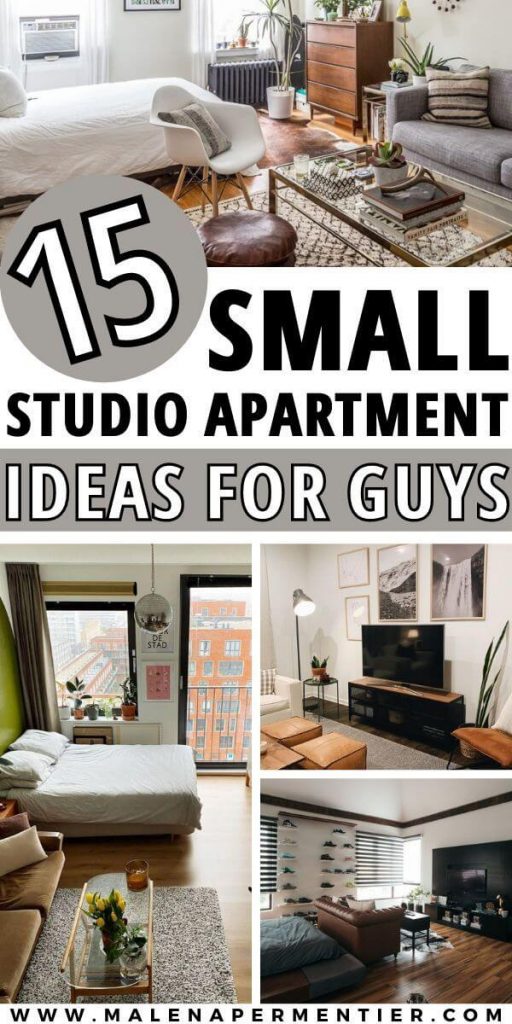 Small Studio Apartment Ideas For Guys
1. Statement lamp with industrial charm
A small studio apartment has limited space for decorating, so ceiling lamps are a great way to go all out. Choosing something unique doesn't have to be super expensive.

2. Keep enough open space
Be mindful of keeping enough open space in your space. Choose compact furniture over large pieces.

Consider a small loveseat instead of a large sofa. Or get two comfy chairs instead.

3. Combine gray and camel
Gray, camel, and light-colored wood is a masculine color scheme that creates a homey atmosphere. This living room is an excellent example of how to pick furniture and colors.
Something to consider is furniture legs. Preferably stick to one color, like metal in this living room. That instantly makes the room more coherent. It also gives you more flexibility when it comes to decor and accent colors.

4. Every studio needs a leafy plant
Small spaces come alive with plants. If you have decent sunlight coming in, opt for a leafy plant like this in the corner.
I'm pretty sure this is a banana leaf plant. You could also go for a stylish fiddle leaf (if your studio has enough sunlight).
Best artificial indoor plant:

5. Portable kitchen island for storage
Portable kitchen islands are lifesavers in a tiny studio apartment. In all fairness, the kitchen of this studio isn't all this small, but it shows the idea.
Kitchen islands give you extra storage space and are just handy for cooking or when hanging out in the kitchen with friends.

6. Separate spaces with an industrial bookshelf
In a small studio, you might want to separate your sleeping area from the living room. A clever way to do so is with a cube organizer or metal bookshelf.
To make your studio look bigger, choose an open bookshelf and not a closed one.

7. Display sneakers on shelves
If sneakers are your thing, this shelf is pretty genius if you ask me.
Whether you like this idea or not, narrow floating shelves are a great way to create a spot for decor in a small studio.

8. A curved lamp makes everything come together
Add a playful yet stylish touch to your studio with a curved lamp.
These standing lamps come in many different color options, but I think gold or silver can be a fun touch even in a guy's apartment.

9. Create a desk space
After 2020, pretty much everyone now has a desk in their home.
In small studio apartments, your options for a desk space might be limited. This desk that's also bookshelf hits all the right spots.

10. Consider a tall dresser
Studio apartments often lack storage and closet space. A great way to make up for that is with a simple tall dresser.
It helps to keep things out of sight, which is one of the simplest and most efficient ways to make a studio apartment appear more spacious.

11. Keep your art simple and symmetric
Two vertical artworks above the couch always work. Just make sure the art is proportionally big enough for the sofa.
As a rule of thumb, aim for your art to cover at least 75% of the couch's total length.

12. Opt for a room divider
Room dividers aren't ideal in every space, but sometimes they are necessary.

13. Create lots of shelf space in your kitchen
If you keep your pots, pans, and appliances on shelves, you better make sure that they're aesthetically pleasing and somewhat coherent.

14. Large round mirror to open up the space
One of the oldest tricks in the books, but large mirrors for small spaces WORK.
It's miraculous to see what a mirror can do for a tiny studio apartment. So definitely add some mirrors to your place.

15. Don't be afraid of a little print or pattern
Make your studio come together with a rug, an ottoman, and a bit of print here and there.
Although you want to stay away from dark colors, a printed rug can funk up a place.

This post showed you 15 small studio apartment ideas for guys.
You may also like: