This post shows you the best first apartment checklist!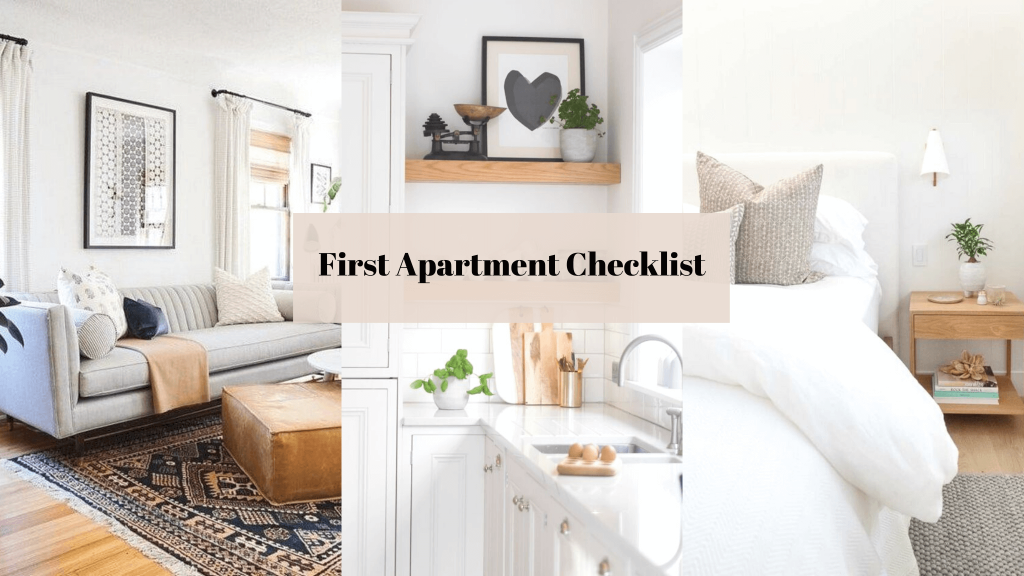 The stress of moving into your first apartment is REAL, from the contracts to the planning and buying furniture. That's why in this post, you'll find the best first apartment checklist, with absolutely everything you need.
Save this post for later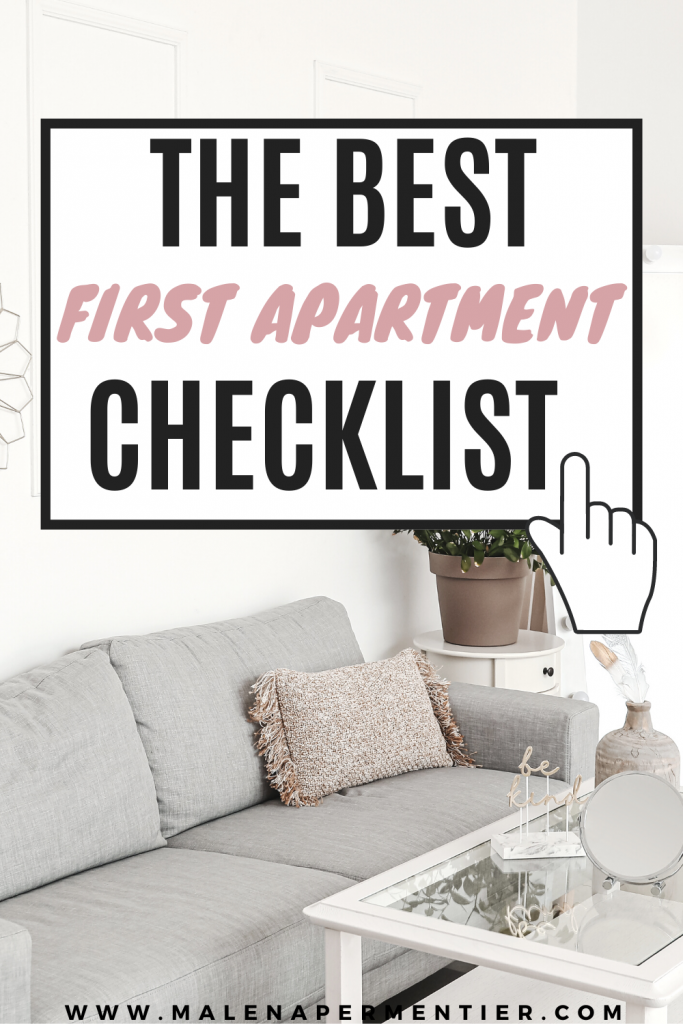 First Apartment Checklist
Below you can read what you need for your kitchen, living room, bedroom, bathroom, and laundry.
First Apartment Checklist: What To Buy For Your Kitchen
1. Pots and pans
Pots and pans are a necessity for a kitchen and something you'll use a lot. Depending on how often you cook, you can start out getting just a few pots and a frying pan.
I swear by my Westinghouse pots and pans set. They're not the cheapest, but they've been a real game-changer for me.
2. Utensils
You need a set of kitchen utensils! Personally, I like my utensils basic and affordable. All-in-one sets are a great option.
You can find some great options on Amazon and Target.
3. Dishes and bowls
Small plates, big plates, deep plates, and bowls in different sizes are a must. I like Amazon for expensive-looking yet affordable dishes and bowls.
4. Kitchen Appliances
I use a blender, coffee machine, and toaster every day. That's why I don't mind spending a bit more on good-quality appliances.
What you need for your kitchen depends on what you use the most!
5. Serving Utensils
Serving utensils are a must in your kitchen. You can get them as cheap or expensive as you'd like.
For me personally, it's not something I like to spend a lot of money on. That's why I got a simple silver set from Amazon.
If you want to go for something fancier, the gold utensils below are great.
6. Kitchen Cleaning Supplies
Cleaning supplies are essential for every kitchen. When you first move into your place, I can guarantee you'll realize how many little things your kitchen needs!
Luckily kitchen cleaning essentials aren't pricey, and you can get them everywhere.
Some kitchen cleaning supplies I recommend getting:
Dish Towels
Dish Rack
Sponges (all-purpose and heavy)
All-purpose Countertop spray
Trash can
Paper towel stand
Aluminum foil
7. Other Kitchen Supplies
Besides the essentials, there is a bunch of other stuff you'll need for your kitchen. Think wine glasses, Tupperware, and ice cube trays.
Kitchen supplies you might need for your first apartment:
Wine + cocktail glasses
Tupperware
Mixing Bowls
Oven mitts
Muffin pan
Ice cube tray
Kitchen furniture like bar stools + table (if you have the space)
First Apartment Checklist: What To Buy For Your Living Room
Just about everything you buy for your living room is expensive. That's why comparing + shopping around is so important!
8. Couch
A great couch automatically makes your living room look amazing. That's why choosing wisely is key.
Also, a couch will likely take a big chunk out of your budget, so make sure you compare prices.
9. Table + Chairs
This is the combo I went for! I know these chairs are everywhere, but the truth is: they look cool and are comfy.
The chairs have a matching table, but I personally think it's too much of the same thing. Hence I prefer a wooden table.
10. Coffee Table
Coffee tables are such an important part of your living room. They're practical but also fun to decorate. Use your coffee table to set your remotes and drinks, and decorate with candles.
There are SO many great coffee tables out there, and affordable too. This one from Amazon is $150, which I think is a very reasonable price.
11. TV Stand
TV stands are a must if you watch a lot of TV. Personally, I don't have one yet. But I did find two great options.
12. TV
You need a TV! If you have a budget for your first apartment, I will try saving money on this one.
Compare sales or wait until the end of the year for Black Friday. Plus, after New Year's, the deals are usually great too.
13. Apartment Living Room Decorations
Decorating your living room is one of the most fun parts of moving into your first apartment.
A crucial tip is not to buy any decoration until you've moved in. That way, you can see what you have space for and which colors are a good match.
Some Apartment Livingroom Decorations To Consider:
Lamps (Floor + Side tables)
Throw Pillows
Blankets
Rug
Curtains
First Apartment Checklist: What To Buy For Your Bedroom
14. Bedframe
I don't know what about you, but I like my bedframe pretty minimal. I prefer to create the right atmosphere with art, bedside tables, duvet covers, and throw pillows.
15. Mattress
The best method to find a mattress within your budget and great quality is to check Amazon.
For a commitment as big as a mattress, check for 400+ reviews.
The mattress and topper below both have a 4.6 review (November 2020) and 1000+ reviews.
16. Duvet + Fitted Sheets + Pillows
Pleasantly surprised to find out that duvets aren't THAT expensive! That's great because I was shocked at the price of just about everything else I bought—also, these pillows rock.
I feel that when it comes to sheets, there are two teams. Team regular sheets and the team fitted sheets (and duvet cover). I'm definitely the last one.
17. Bedroom Furniture
Picking out bedroom furniture is fun! You definitely don't need to get everything at once, but a nightstand for me is a must. This is the marble nightstand that I have, although it's officially a side table.
A little tip: don't limit yourself to the furniture that is called "nightstand." Small side tables are sometimes better – and cheaper.
Some Apartment Bedroom Furniture To Consider:
Dresser
Nightstands
Mirror (standing or on the wall)
Small desk + chair
Curtains
Lamps
18. Closet Essentials
Depending on your closet space/shelves, you might want to buy some extra hanging organizers.
Here you can find some great ways to organize your closet. An absolute must, for me, is hangers. The majority of my clothing I like to hang, so it doesn't crease.
I love these simple gray velvet hangers from Amazon. They come in a pack of 50, which is ideal.
19. Apartment Bedroom decorations
The First Apartment Checklist is of course, not complete without bedroom decoration. I'd recommend waiting until you move in to buy your bedroom decorations.
Some apartment bedroom decorations to consider:
Curtains
Throw Pillows
Blankets
Candles
Nightstand Decorations
First Apartment Checklist: What To Buy For Your Bathroom
20. Shower Essentials
There are so many little things you need for your bathroom, from towels to a bath mat, shower curtain, a hanging organizer for your shampoos, and much more.
All these things are pretty affordable, so I recommend getting everything for your shower in one go at Costco, Target, or Amazon.
Here are a couple of shower essentials that I love:
21. Bathroom Cleaning Essentials
You'll need some bathroom cleaning essentials before moving into your first apartment. I recommend sticking to the important ones and go from there.
I recommend getting:
Toilet Bowl Brush / Plunger
Toilet Bowl Cleaner (Chlorox)
Mirror Cleaner
Trash Can
First Apartment Checklist: What To Buy For Laundry Room
22. Laundry Essentials
Laundry is super important, but I like my tools and things to be as efficient as possible (meaning less work for me ;-))
One thing I genuinely swear by is a powerful garment steamer. It's so much faster than ironing stuff, plus it works great.
I couldn't find the exact same brand I have (McSteamer), but judging from the Amazon reviews, this clothing steamer definitely does the trick.
These are the laundry essentials I recommend:
Laundry Detergent / Bags / Basket
Closet and Drawer Sachets
Steamer
Iron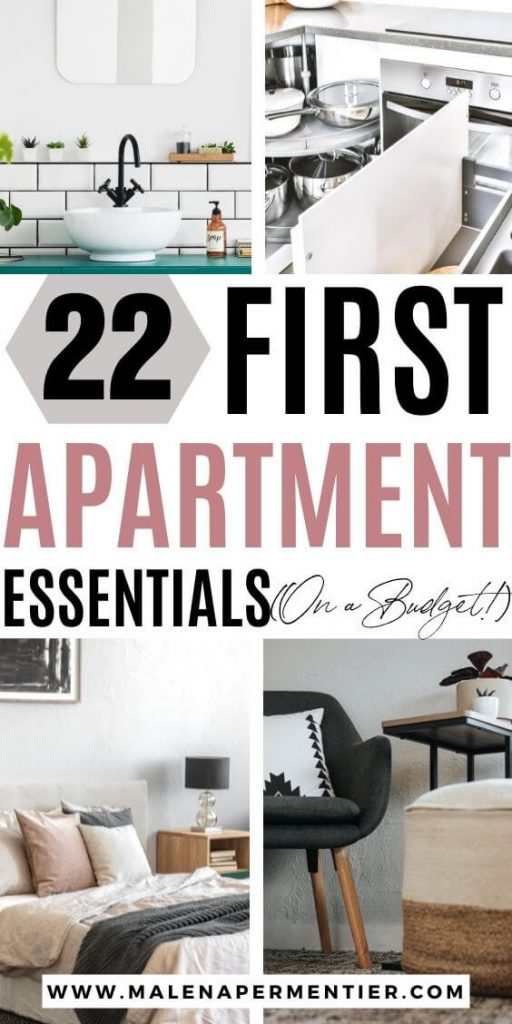 This post was all about the best first apartment checklist.
You may also like: