This post is all about bathroom essentials for first apartment.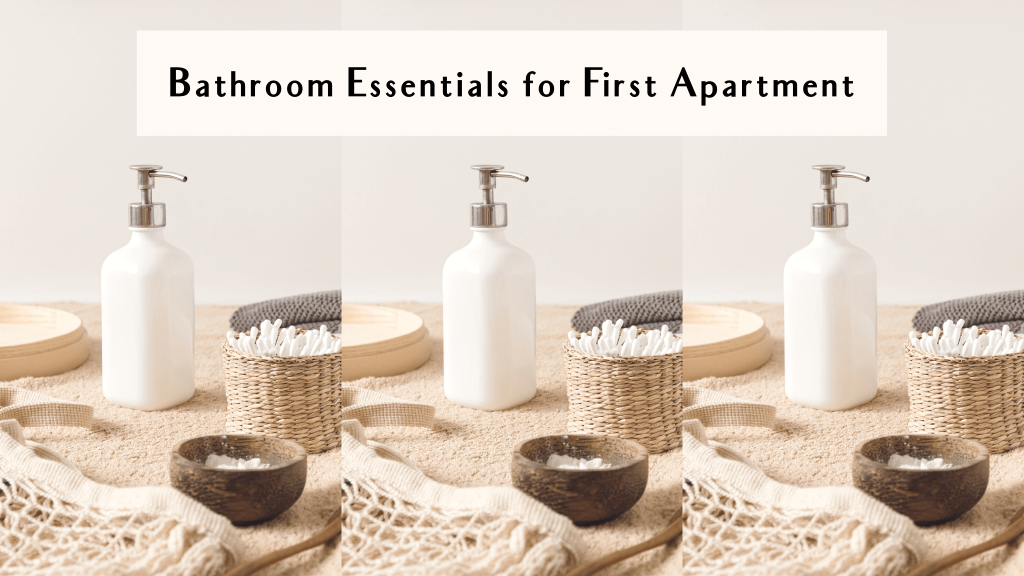 Bathroom Essentials for First Apartment
You might underestimate how much stuff you need for your bathroom! Don't worry; it doesn't need to be expensive.
I made a ton of mistakes for my first apartment bathroom. For example, I bought a white bath mat. Very cute, but it looked dirty in two seconds.
I also bought organizers that didn't work for my small under-the-sink bathroom cabinet.
Because I made my fair share of mistakes, I thought it would be super helpful to share a list of bathroom essentials you actually need when moving into your first apartment.
That way, you save money and get all the best bathroom essentials on a budget. Please don't waste money as I did!
This list of bathroom necessities is practical, budget-friendly, and includes all the best quality products.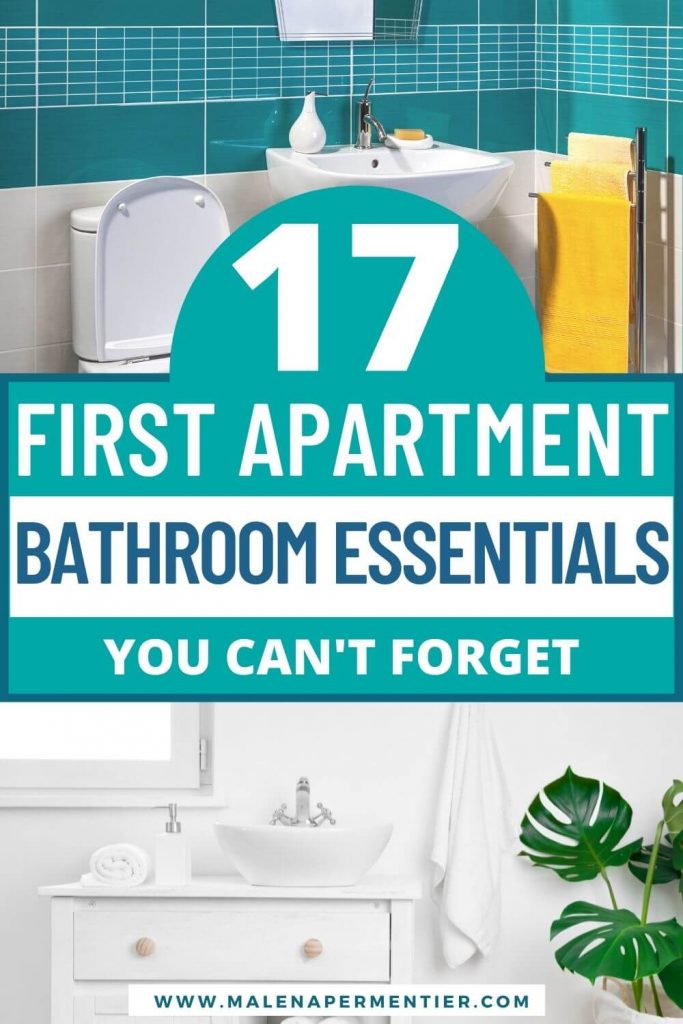 Bathroom essentials
1. Shower curtain, liner, and rings
Shower curtains, a liner, and rings to hang the curtain are essential for your bathroom!
For a more styled bathroom look, go for a shower curtain that's not see-through. I love this simple herringbone print shower curtain.
Like any other room in your apartment, decide on your bathroom's aesthetic to pick the right bathroom essentials.
2. Towels and washcloths
Towels and washcloths are essential in your bathroom! Luxurious towels don't have to be expensive, as this set of 4 large grey towels proves.
3. Bathroom accessory set

You need a soap dispenser and toothbrush holder. This bathroom counter vanity set with marble print looks luxurious, is practical, and surprisingly budget-friendly.
4. Bathroom bin and toilet brush

Not the most fun bathroom essentials, but you need a bin and toilet brush for your bathroom. This bathroom bin and toilet brush in silver look great in a modern bathroom. Also, this set has great reviews!
5. Shower caddy
A self-adhesive shower caddy is perfect for rentals. You can get a shower caddy for the corners or classic shower shelves.
In tiny showers, you best optimize your space with the corner shower caddy.
6. Gray bath mat

I swear by this charcoal grey bath mat. After a year, it still looks brand new. It's machine washable, super soft, and never looks dirty. I once had a white bath mat and let me tell you: big mistake.
Best bathroom organizers
7. Floating shelves above the toilet

Floating shelves definitely belong on the list of bathroom essentials. Without built-in bathroom storage (other than the under sink cabinet), it's crucial for storage.
My favorite spot for floating shelves is above the toilet. Use it for storing toilet paper, cleaning products, washcloths, or other things you might need bathroom storage for.
8. Baskets for shelves

If you create some shelving in your bathroom, these narrow and slim baskets are ideal. They're the perfect storage for things like toilet paper and small towels.
Baskets like this are also great because they make your bathroom look tidy and organized.
9. Hair dryer organizer inside cabinet
Hairdryers and curling irons take up a ton of space and are tricky to organize. If you have the space, hang this organizer on the inside of your bathroom cabinet.
You can choose to mount the organizer on the inside of your cabinet. Or, if you prefer drill-free organizers, you can hang this hair dryer organizer over the cabinet door.
10. Under the bathroom sink organizers
A basket organizer drawer and stackable organizers are THE bathroom cabinet essentials I swear by.
The basket organizer drawer has enough space in between for tall products. The stackable organizers are perfect for smaller items like make-up.
If you have a small bathroom cabinet under the sink, you don't want to "over organize," but instead get 1 or 2 smart organizers that keep your products in place.
11. Hair products organizer shelf

If you want to keep your hair products on a shelf and not inside a cabinet, I highly recommend this hair products organizer.
It has space to store your hairdryer, curling irons, products, etc., without looking messy. This organizer also comes in black.
Bathroom accessories without drilling
Your first apartment is likely a rental. Maybe you don't want to drill holes in the wall, or maybe you're not allowed to. Below, you find a list of the best bathroom accessories that don't need drilling.
[Related: First Apartment Checklist: Everything You Absolutely Need]
12. No drill hooks

12. Stick on shower caddy

You can attach this shower caddy to your bathrooms wall with strips (included). It's an insanely compact but practical product that works great for tiny showers.
Also, the 4000+ reviews of this product are very positive!
13. Stick on hair dryer holder

This small stick-on hair dryer holder is another insanely clever product. Hang it inside your bathroom cabinet or on the wall.
Because this stick-on hair dryer holder is small, it's a great option for tiny bathrooms. New York, I see you.
14. Double hook (no tools required)

A double hook like this is another one of those small bathroom live savers. These hooks have a water-resistant strip so that you can hang them inside the shower. Perfect for things like sponges, washcloths, etc.
You can also use these to hang a small towel to dry your hands next to the sink.
15. Toilet paper holder no drilling

Many apartments have toilet paper holders that are everything but aesthetically pleasing. This toilet paper holder with no drilling helps make your bathroom look better while also being functional and budget-friendly.
16. Over the bathroom door towel rack

This compact over-the-door towel rack is one of those things I swear by. I love that this one looks luxurious and is super sturdy.
17. No drill towel bar

Last but not least, this no drill towel bar for small towels is super handy to hang next to your bathroom sink.
Sure, this takes up more space than simple hooks. However, I really like the look of it! It gives me all the luxurious hotel bathroom vibes.
This post showed you the best bathroom essentials for first apartment on a budget.
You may also like: