This post shows you 13 living room essentials for new apartment.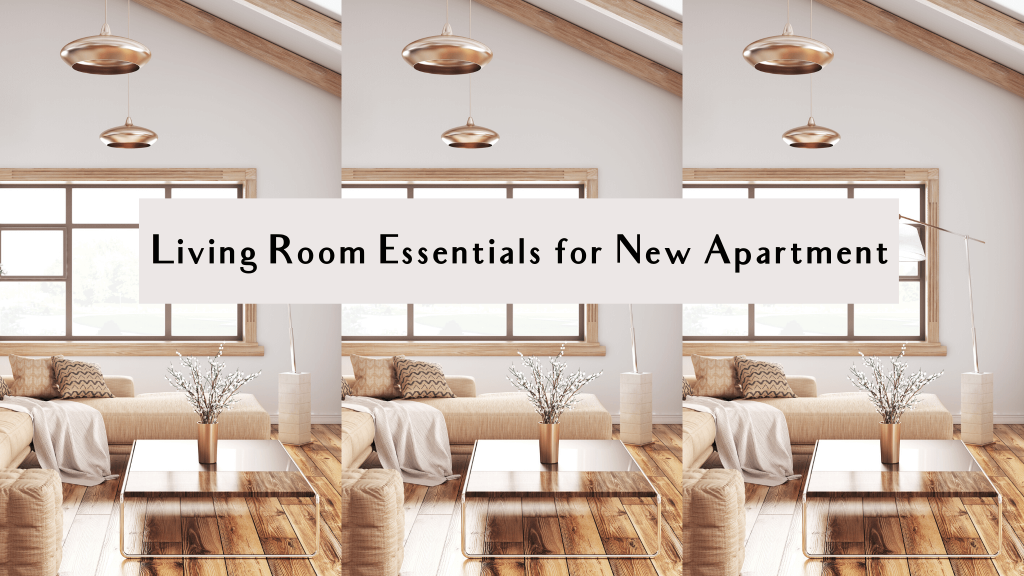 A new apartment living room needs furniture and decor. But besides that, you need those items that tie everything together!
Below I'm showing you 13 budget-friendly living room essentials for new apartment.
The beauty of the internet is that you can find a ton of beautiful living room essentials for a good price.
If you like a modern living room and need inspiration on what to get for your new apartment, get inspired below.
Living Room Essentials for New apartment
1. Incredibly stylish but inexpensive floor lamp

Lamps are living room essential. We don't always consider them as part of our living room decor when we really should!
A floor lamp like this is typically placed next to the couch or maybe in a corner. A stylish floor lamp can beautifully tie your living room interior together.
This black industrial-chic floor lamp with gold details would look amazing in a living room with neutrals and grey tones.
2. Some beautiful wall art
For a modern living room, these abstract prints are a great addition. Hang this set of 3 framed prints by ArtbyHannah above the couch or TV.
The brushstroke artwork 24″ x 36″ would look incredible on a picture ledge or standing on the floor.
Check them both out on Amazon because these brands have a ton of beautiful art that will make your new place look amazing.
3. A comfy accent chair
Accent chairs are an amazing addition to any living room. I love them in small spaces because they can compromise for a tiny couch.
This comfy beige accent chair is VERY decently priced for the quality.
The grey accent chair is smaller in shape, and therefore will work great in small living rooms.
4. Budget-friendly grey futon

Futons are great if you're moving into a small apartment. This grey futon from Amazon looks stylish during the day and easily folds open into a bed.
5. A cute decorative tray

No need to keep those 10 remotes in plain sight. Tidy them away in a cute decorative tray. You can use this one on top of your coffee table or below if you have a shelf.
6. Chairs for your dining table

These faux leather dining table chairs look way more expensive than they are. If you have a walnut or white dining table or kitchen bar, these will look incredible.
Camel brown is a color that pairs well with neutrals and gold accents.
7. A small side table

Side tables are functional but also help to make your space look incredibly stylish. It's also a great little spot for decor.
This simple bamboo side table is perfect for your living room, bedroom, reading nook, or balcony.
8. Soft and plush area rug

Area rugs are great to make your couch area come together. If you have a small living room, I would suggest an area rug in a neutral color with a calm print.
This NuLoom rug with modern print would pair great with a grey couch. These rugs come in a wide range of different sizes and shapes so that you can find the best fit for your living room.
Want to read more about area rugs and sizing suggestions? [Related: 19 Genius Small Apartment Living Room Ideas on a Budget]
9. A table runner

Dining tables can sometimes look a little bare. A budget-friendly way to instantly make your dining table look more homey and cozy is with a table runner.
This neutral table runner with tassels is one of those surprise Amazon finds which quality and price are incredibly good!!
10. Simple modern coffee table

This industrial brown coffee table is THE best if you have a super neutral living room and you want to give it a little character.
I'm also a big fan of the extra shelf below because it creates a lot of extra storage space. Plus, I can keep a lot of things there that I don't want in plain sight.
11. Decorative pillows

One of my favorite budget-friendly ways to make a new apartment feel like home is with decorative pillows.
Something I pay attention to when buying decorative pillows is the thickness of the fabric. Thick pillow covers usually look a lot more luxurious and expensive than thin ones.
I dove deep into the reviews of these retro plaid checkers pillows, and they're good!!

Amazon shopping tip: Always scroll all the way down to where you can see customer's pictures. They usually reveal whether a product is worth buying or not.
12. Small sectional

Sectionals are my favorite type of sofa. They have a neutral way of making your couch area look more put together, and they're so comfy!
This light grey linen sofa has a reversible chaise you can put on either side. It's a popular one, and it's out of stock often!!
13. Floating shelves

These rustic floating shelves are great to hang above the TV or the couch. You can also hang them in the bathroom or bedroom for storage and decor.
This post showed you 13 Living Room Essentials for New Apartment
You may also like: