This post shows you the best housewarming gift basket ideas.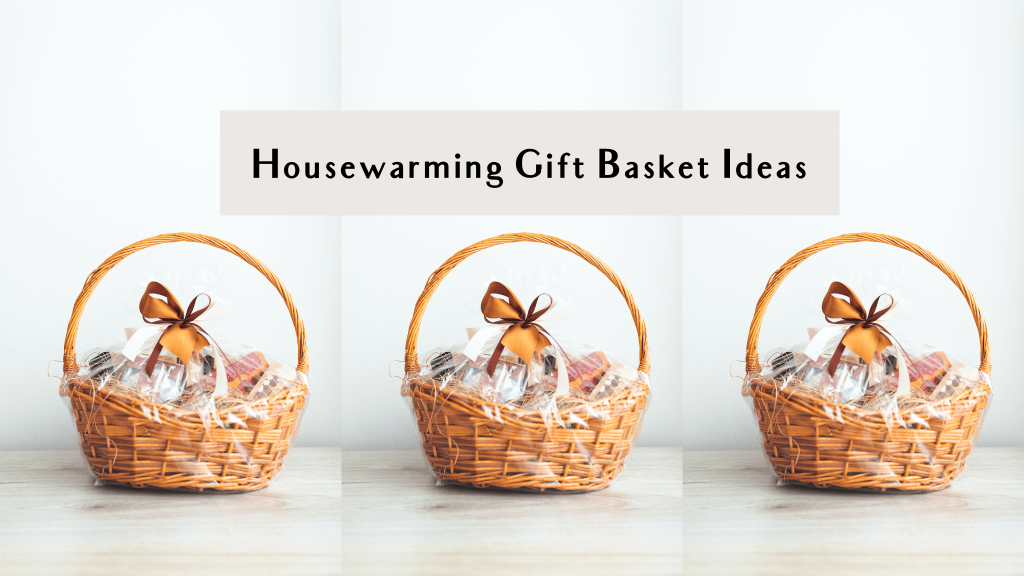 Are friends or family moving into a new home? Congratulate them with a personalized gift basket!
Maybe your first question is: what is a housewarming gift basket exactly? It's a basket filled with home goodies they will love.
It could include practical things like towels or cups, favorite things, something sweet, or a plant.
Housewarming gift baskets are a joy to give because they are thoughtful and personal.
In the below, we'll cover the following:
Ideas for what to put in a housewarming gift basket
The best housewarming gift basket ideas
Tips for making the basket look pretty and put together
All the inspiration for the cutest housewarming gift basket!
What to put in a housewarming gift basket
A simple formula for putting together a housewarming gift basket could be a combination of the following items:
a striped dish towel [get a multi-pack of dish towels on Amazon and keep some for yourself]
bottle of champagne
photo frame with a picture they'll love
(faux) plant
a candle [go for a seasonal favorite like pumpkin spice or cinnamon!]
luxurious snack or chocolate
Tips for putting together a simple housewarming gift basket
Fill a basket they can reuse! Baskets are multi-purpose, so make sure to gift them a quality basket they can use for organizing, storage, or even decorating. I'm a big fan of avoiding wasteful things, so I recommend getting a basket they will get a lot of use out of.

Line the gift basket with a towel: An effortless way of making your gift basket come together is with a cut dish towel. Use it as the base to put the other items on for a beautifully put-together look.

Choose some of your favorite items: Gift baskets are meant to be personal, so include some of YOUR favorite things. It could be anything from an extravagant snack to a kitchen tool you can't live without.
Housewarming gift basket ideas
1. This Is Home Gift Basket
Recreate this basket:
I love the simple yet super cute content of this housewarming basket. Recreate this idea with the following items:
Farmhouse, this is home sign
Bottle opener
A nice bottle of wine
(Faux) plant [You can't go wrong with this eucalyptus one]
Coasters
A dish towel to make everything come together!
2. Personalized housewarming gift basket
Recreate a personalized housewarming basket:
Everyone loves a personalized gift. Get your friends or family who just moved into a new home customized tumblers.
Keep it simple, stick to initials, or go for the full name.
Another thoughtful idea for a housewarming basket is to add a photo frame with a picture they love (which might or might not include you!)
What to put in this gift basket:
Personalized tumblers
Photo frame with a picture of you, them, or both.
A sweet card
Utensils of your choice (wooden cutting board, electric wine bottle opener, coasters, etc.)
3. Gift basket with kitchen essentials
Recreate kitchen essentials gift basket:
Are your friends moving into their first apartment? Ask them if there are utensils or home essentials they still need.
This housewarming gift basket is practical but will be well received by people who moved into their first apartment and spent a fortune getting it furnished.
What to put in this housewarming gift basket:
Utensils they need
A multi-purpose basket
Some luxurious snacks
4. Wine lovers' gift basket
The wine lovers' gift basket is a simple one! Get a basket, choose two great bottles of wine, and don't forget to include different snacks, salsas, and other goodies.
A cute home sweet home towel makes the content of this basket come together.
5. Home decor gift basket
Recreate home decor gift basket:
Although the above gift basket is "officially" a bridesmaid gift basket, this one is also super nice as a housewarming gift basket.
What you need for this basket:
6. Housewarming wicker gift basket
Bake some cookies to include in this gift basket for a cute personal touch.
Mugs, plants (real or fake), and a sweet snack are fail-proof items for any gift basket.
7. Simple gift basket DIY
Put together a DIY housewarming gift basket with something homemade, a plant, a serving tray, and coasters.
Items you need for this gift basket:
Get glass canisters and pack them with homemade goodies like granola or popcorn.
A plant
Soap dispenser
Serving tray
Coasters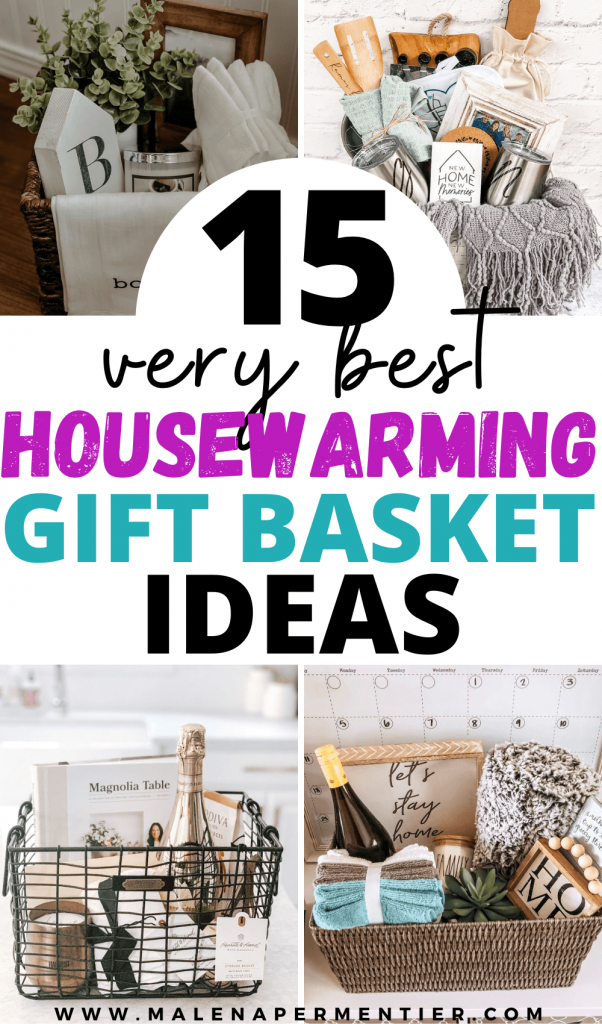 8. Gift basket with plant and candle
A simple yet heartfelt gift basket doesn't need to include more than five items. This gorgeous gift basket proves just that.
Items you need for this gift basket:
Home sweet home sign
Plant
Candle
Soap dispenser
Dishtowel
9. Luxurious housewarming gift basket
Want to put together a luxurious housewarming gift basket?
One thing it should always include is champagne!
This gift basket is well thought out and has many items new homeowners or renters love.
What to put in a luxurious housewarming gift basket:
A cozy knitted throw blanket
Bottle of champagne
Farmhouse "Home" sign
A plant
Luxurious candle with lid
10. Farmhouse gift basket
Can't get enough of anything farmhouse? You're not alone!
Luckily farmhouse decor makes for great items to include in a housewarming basket.
This simple gift basket has a distinctive farmhouse theme with dark wood, crisp white, and the cutest plant.
11. Home sweet home gift basket
There are many ways to put together a home-sweet-home basket, but this must be one of my favorites!
It's probably because I'm lowkey obsessed with that black mug.
Items you need for this basket:
Decorative farmhouse books
Wooden coasters
A sweet card
Bottle of wine
12. Magnolia-inspired gift basket
Joanna Gaines' cookbooks are gorgeous and fantastic to include in a housewarming gift basket for friends or family.
Recreate this Magnolia-inspired gift basket in a chicken wire basket and fill it with home goodies, a bottle of champagne, a candle, and some luxurious chocolates.
13. Extra large housewarming basket
If you want to go all out with your housewarming gift basket, this is the one!
Towels, candles, and sweet snacks are a couple of things EVERYONE needs (and loves :))
14. Cooking and kitchen utensils gift basket
Putting together a gift basket for someone who loves baking and cooking?
Include a cookie cutter, baking trays, utensils, small towels, and a cookbook.
15. Traditional housewarming gift basket
Putting together a gift basket for someone who's moving to another state?
Then make sure to include all the traditional goodies, so they don't forget where they came from 😉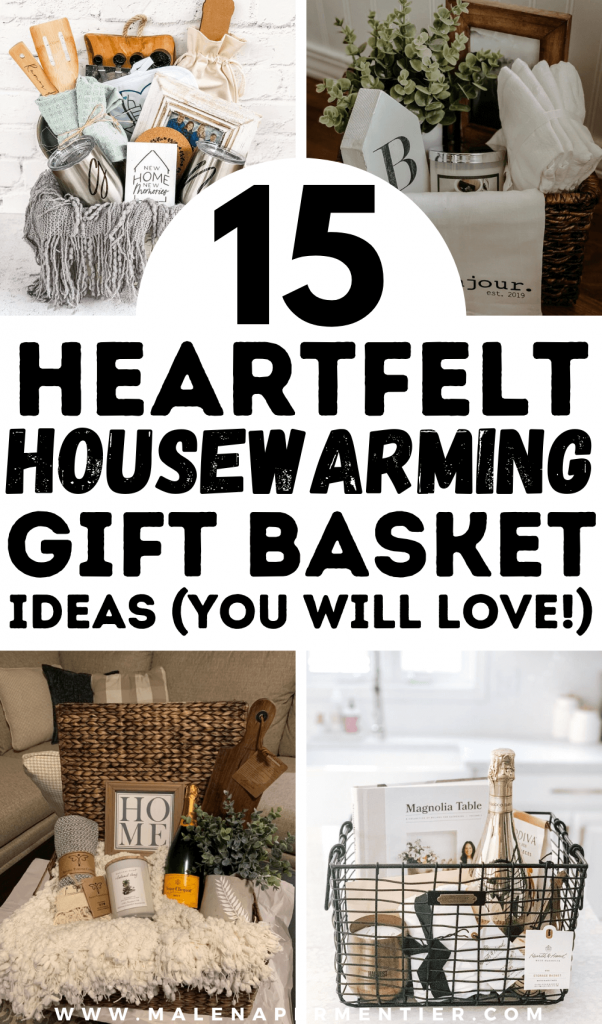 This post showed you What To Put In A Housewarming Gift Basket
You may also like: