This post shows you the best small entryway ideas.
Apartment entryways are nothing like the spacious mudrooms in large homes where you can fit an entryway table, a bench, a shoe rack, and more!
Hall space in apartments is limited, so you need solutions that look good but are also practical in terms of storage.
This post goes over entryway ideas that are great for smaller spaces. We'll look at narrow entryway ideas, using a bench with shoe storage, entryway organizer ideas, and the best entry tables for apartments.
There are plenty of good alternatives for small entryways to using an entry table. A table doesn't always make sense in a small space. So we'll look at alternatives like using a floating shelf, hanging individual hooks, and other ideas to make the most of your hallway.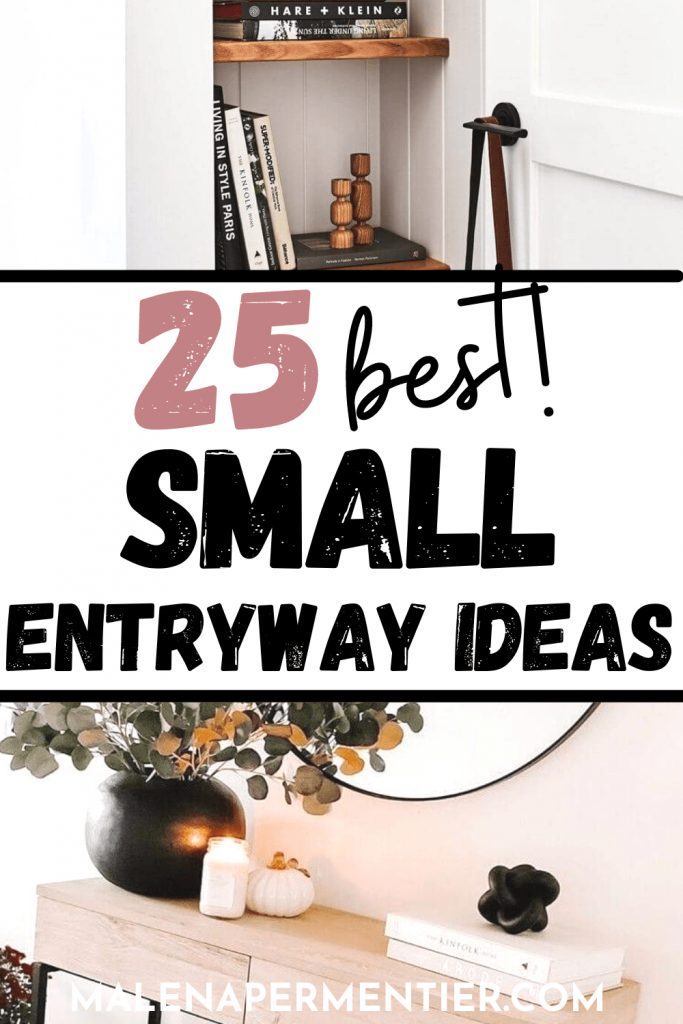 Small Apartment Entryway Ideas
1. Warm neutral entryway table decor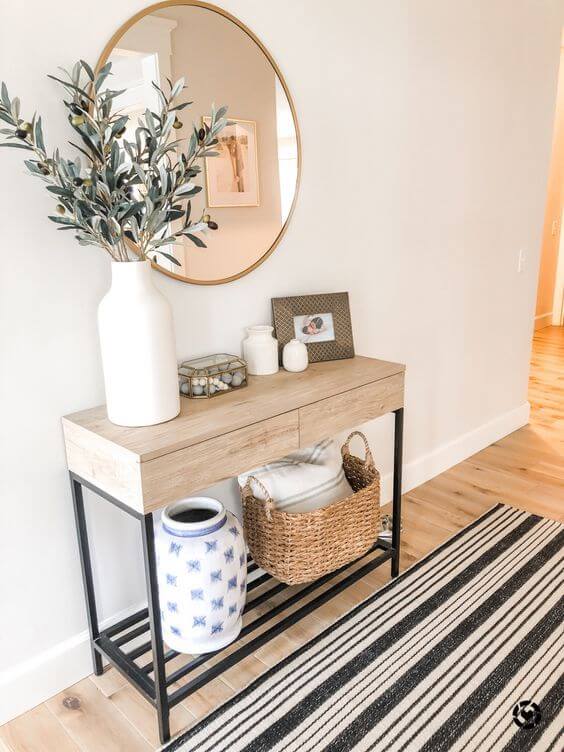 This wood and metal entry table works for smaller spaces because it's compact and narrow. The entryway is a great spot to hang a mirror, so you can do the last check before leaving the house.
I also love the minimalist but warm decor. If you hang a large mirror, opt for a decent-sized vase for the right balance. Olive stems or faux eucalyptus branches are an excellent choice for entryway decor.
2. Small entryway shelf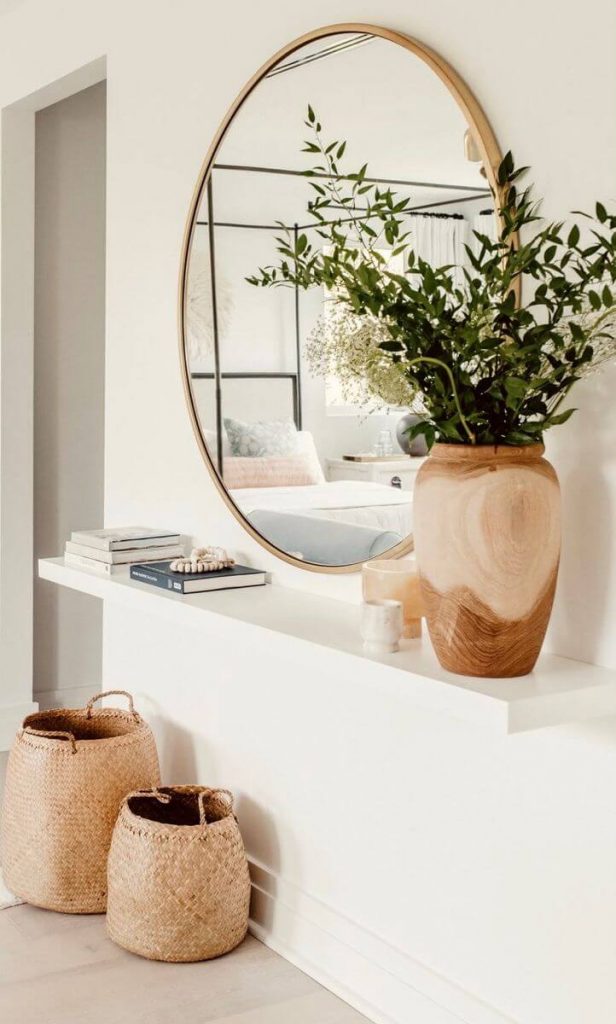 A single floating shelf is a great option for small and narrow entryways. It's a practical spot for keeping things like keys, a wallet, and other essentials you can't forget.
To keep your entryway looking organized and neat, I recommend using rattan or seagrass boxes with lids. Those are great for keeping beauty items, hair ties, and other last-minute things you might need when heading out the door.
3. Extra narrow entryway table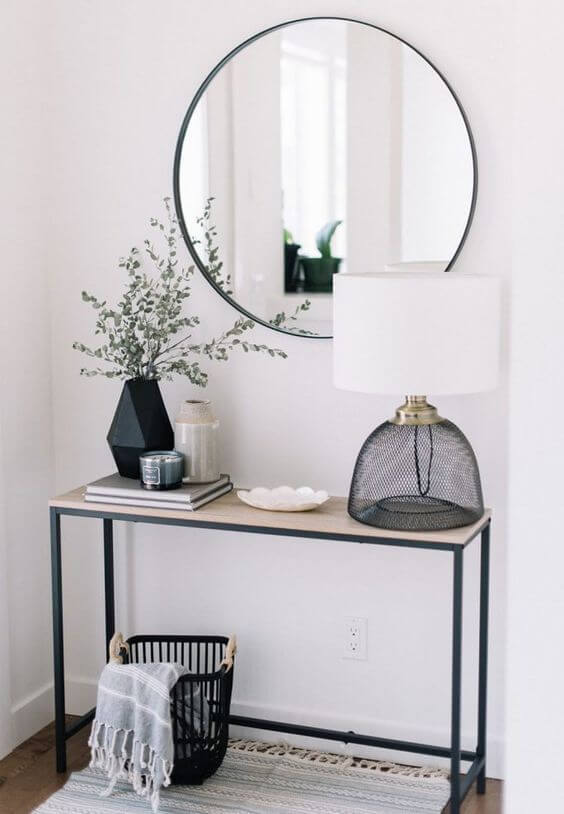 If you have the space for an entryway table in your apartment, I recommend going for one that's tall and narrow. A simple non-robust entry table design works best for small spaces.
I love the combo of a modern metal and wood entry table like this with a large round mirror. The round shape creates a nice balance with the table. Great decor items on top or under your entry table: a lamp with a large base and woven baskets.
4. Tall entryway cabinet with shoe storage
An entryway shoe cabinet is a great choice for apartments where you need to maximize every inch of space. But go for a shoe cabinet that looks good! You can use the top to decorate and the inside for top-notch functionality.
5. Entry table decor with gold and green accents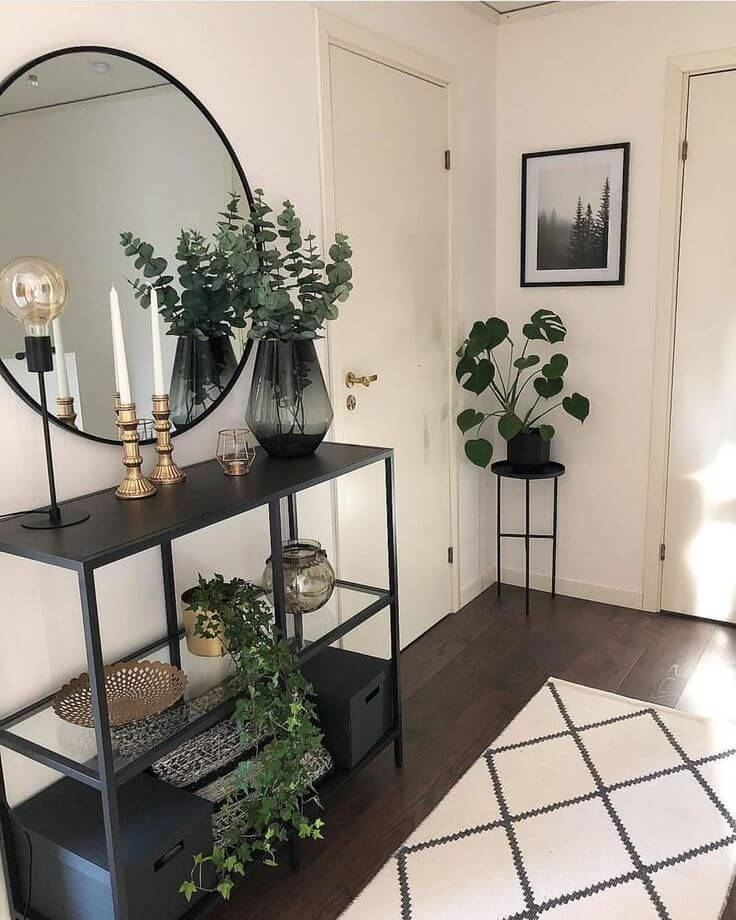 In your entryway or hall, there's usually a wall of space!! It's a great spot for an entry table and some decorating. When you come home or receive guests, this is the first thing you'll see. Entryway decor doesn't have to be expensive. Some greenery, a stylish vase, and candle holders go a long way.
6. Hang individual hooks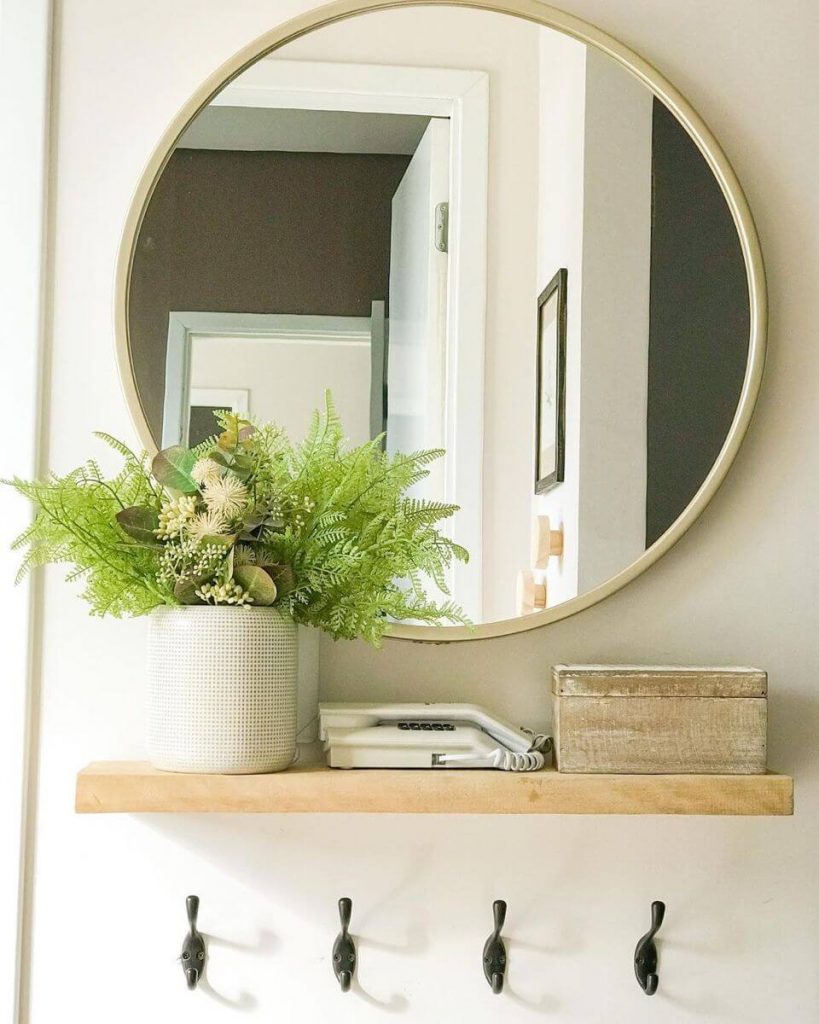 If your entryway is tiny, this single floating shelf with individual hooks underneath is a great solution. Go for a thick, rustic wood shelf to add character to your hall. You can use simple black metal hooks or go for something funkier for hooks.
7. Entryway shelf organizer with hooks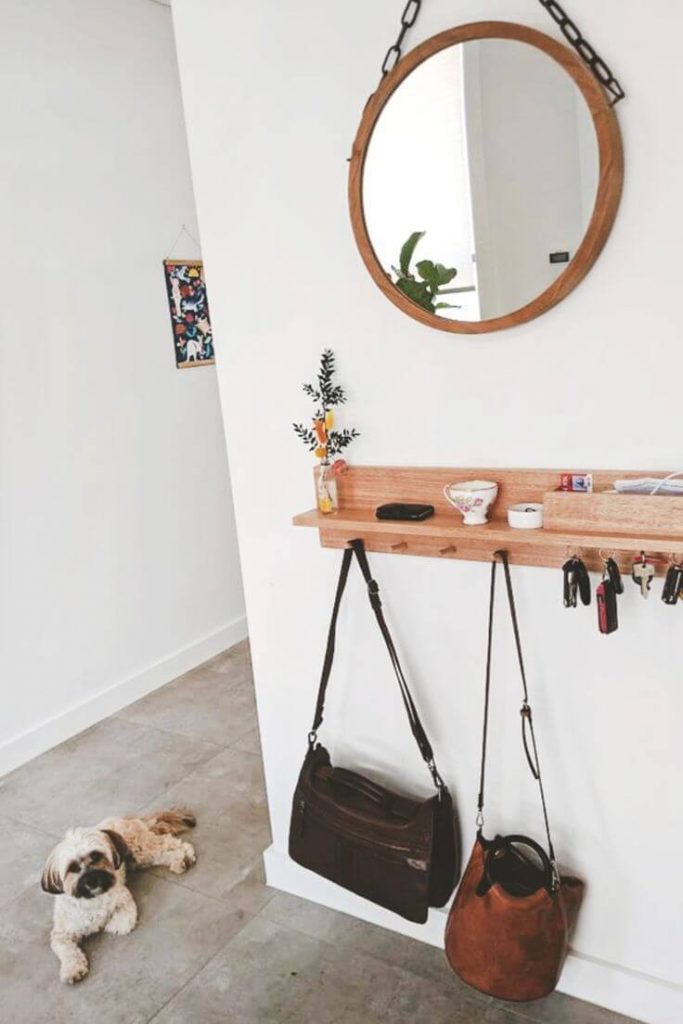 Are you guilty of constantly misplacing your keys?? I'm not, but my boyfriend sure is. Get an entry organizer shelf with designated hooks for keys, and you'll never lose them again. Organizer shelves like this also have enough space to hang bags, umbrellas, or a light jacket.
8. Large round entryway mirror to open up space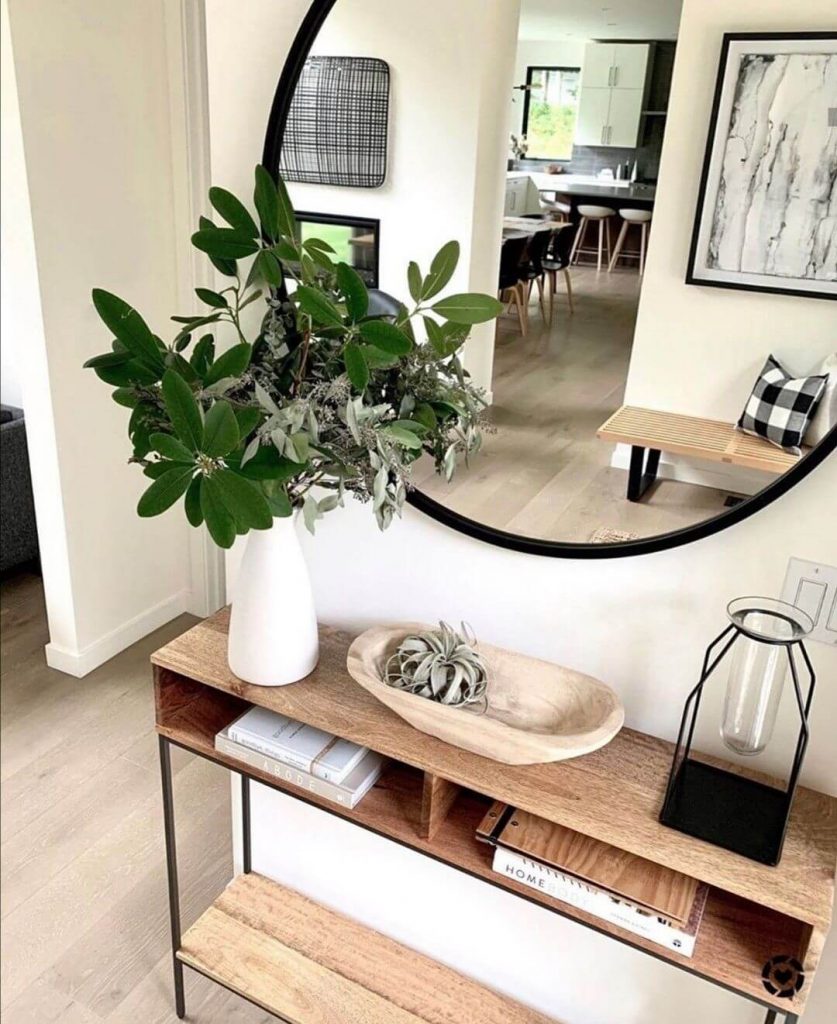 Let your entryway mirror face the living room: this is a great trick to make your apartment look bigger!! Of course, it only works if your entryway faces the living room lol. Use a large round mirror to get the best result.
The entry table above is incredibly narrow, maybe like 10″, which is ideal in small entryways where you don't want a large table taking up the space. Although 10″ depth is narrow, it still allows for enough space to decorate!
9. Tall narrow console table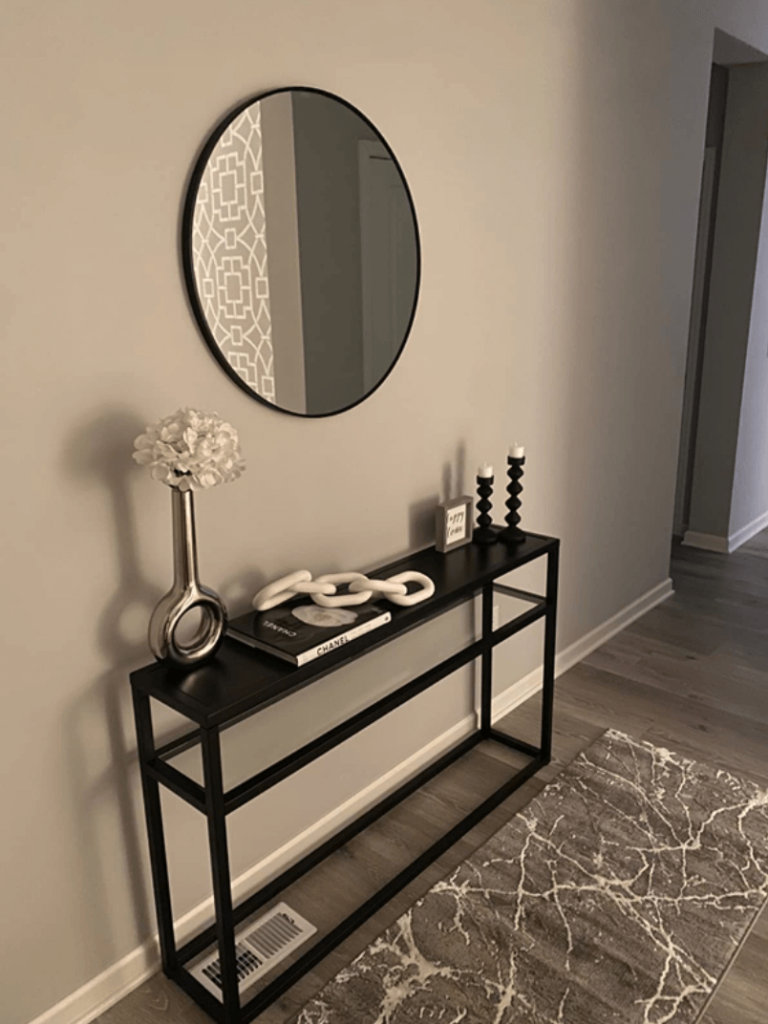 This is a great example of what's possible with a narrow and small entryway!! Get an entry table that's just as narrow. Most narrow hallway tables have a depth of 10″, so it's sleek and doesn't block your hall.
Great entryway decor items include this wood chain link and modern silver vases.
10. Shoe storage entryway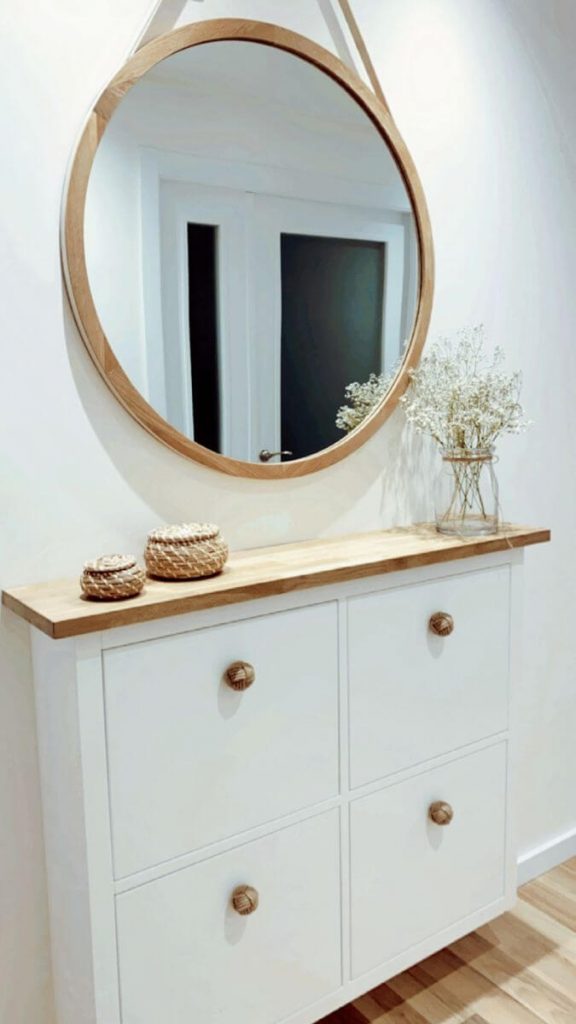 If you're going to use a shoe storage entryway cabinet, update the buttons to customize the cabinet on a budget. Ikea has great shoe cabinets for an entryway, but they're usually plain. Switch up the buttons for a cool custom feel.
The shoe cabinet in the picture looks like the Ikea Hemnes shoe cabinet. I assume they changed up the buttons and the top of the cabinet. Even if that's not the case, Ikea furniture lends itself so well to adding custom touches!!
11. Narrow console table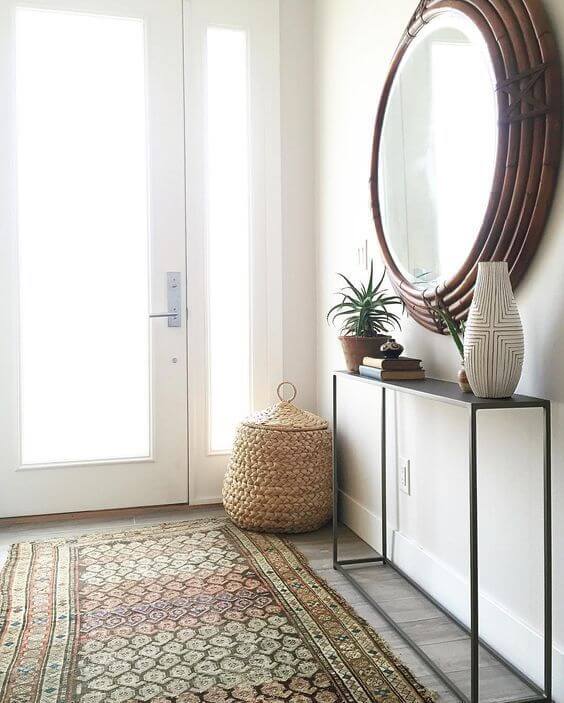 A simple and sleek entryway table is a must in a narrow entryway. You want to steer away from anything robust, chunky wood or an entryway design that takes up a lot of optical space.
A tall and narrow metal entryway table like this fits perfectly in even the tiniest entryways. This one is only 8″ in depth, so the table is as thin as possible.
12. Cube organizer as an entryway table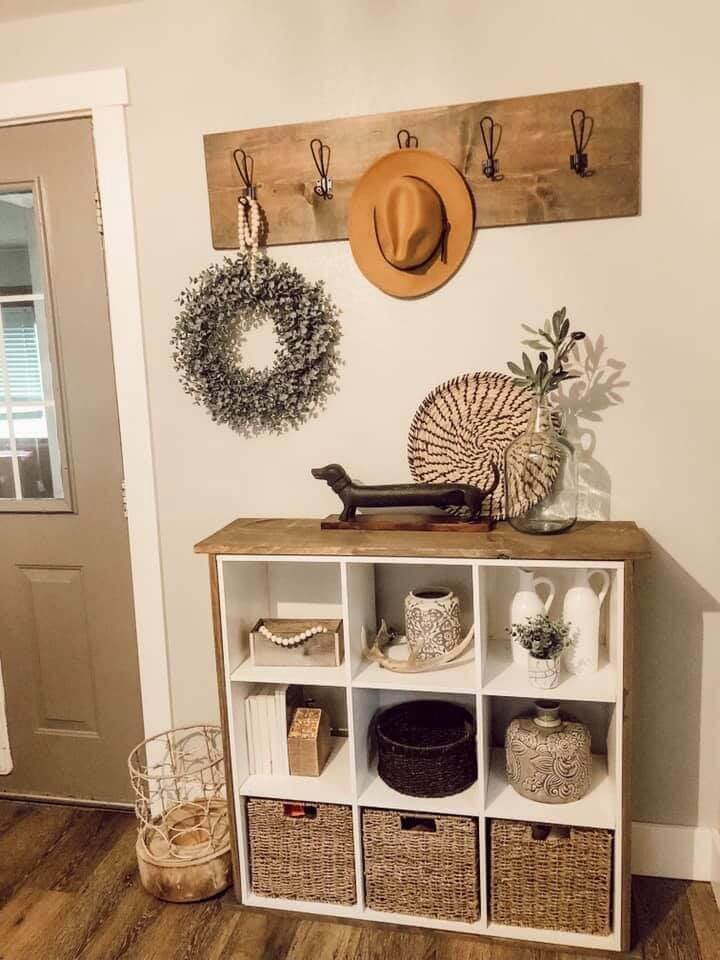 Use a cube organizer in your entryway! It's an expensive and storage-friendly way to decorate your entry. Use baskets to hide stuff like umbrellas and other things you keep at your entrance. You can also use the cube compartments to store shoes.
I love this entryway with its beautifully decorated cube storage! You can buy a plain cube organizer and then DIY wood on the outside. The wood coat rack in this image is also something you could DIY. Find a similar coat organizer here.
13. Entryway with creative accent wall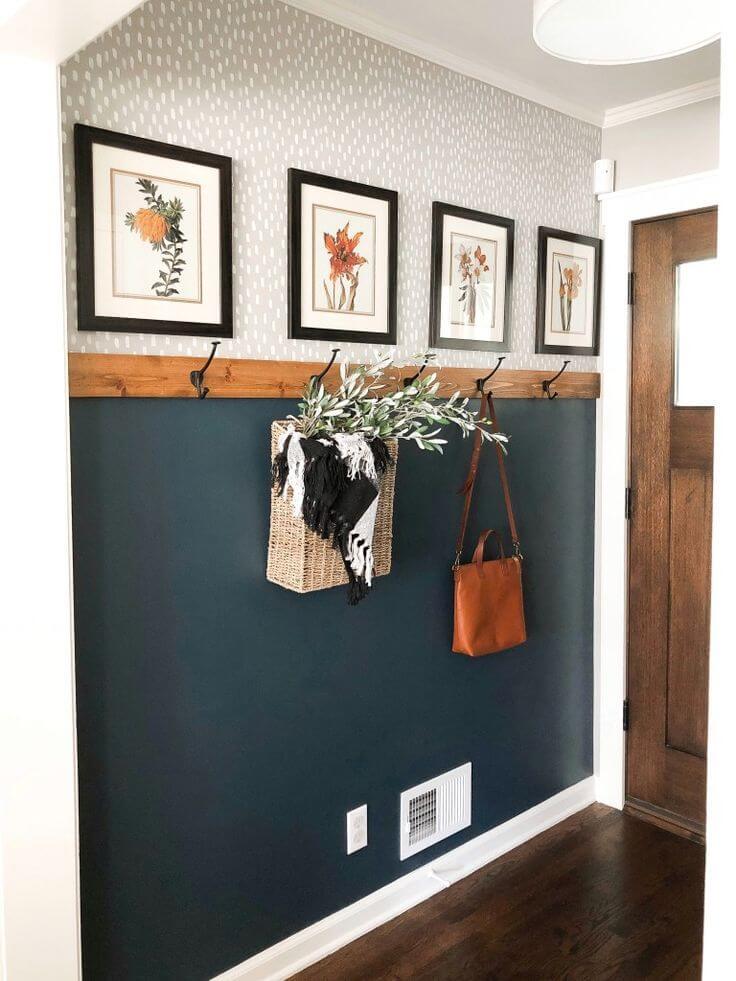 Consider creating an accent wall if you're looking for creative ways to decorate your entryway. Paint the lower side of the wall in a dark color, like deep green, navy, charcoal, or black. Add a wood trim, decorate the top part with wallpaper or go for a light paint color.
Creating an accent wall or decorating with wallpaper in your living room or bedroom can seem daunting, but why not do that for the entry instead?
14. Entryway table decor with mirror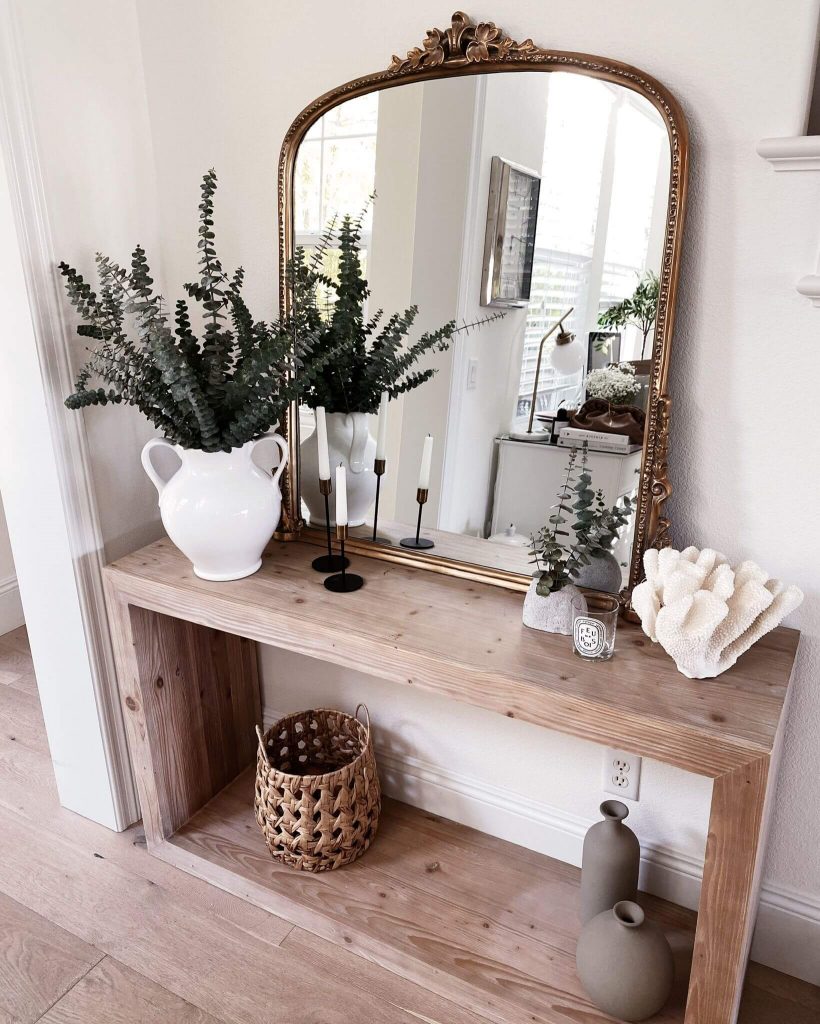 Get this console tale on Pottery Barn.
Warm wood and gold is a combo that works!! It makes for a warm and welcoming entry that's incredibly stylish.
I believe the gold mirror in the picture is from Anthropologie (Called the Gleaming Primrose), but you can also get stunning and cheaper 'antique' gold mirrors on Amazon.
15. Minimalist entryway decor with storage