Hey there! Some links on this page are affiliate links which means that, if you choose to make a purchase, I may earn a small commission at no extra cost to you. I greatly appreciate your support!
This post is all about apartment entryway table ideas.
A tiny entryway table, also known as a console table, is a great addition to a small apartment. It creates some extra storage, plus it's a cute little spot to decorate with flowers or photo frames.
I was looking for furniture for my small apartment when I came across some gorgeous ideas to use a narrow entryway table in your apartment.
Best small entryway table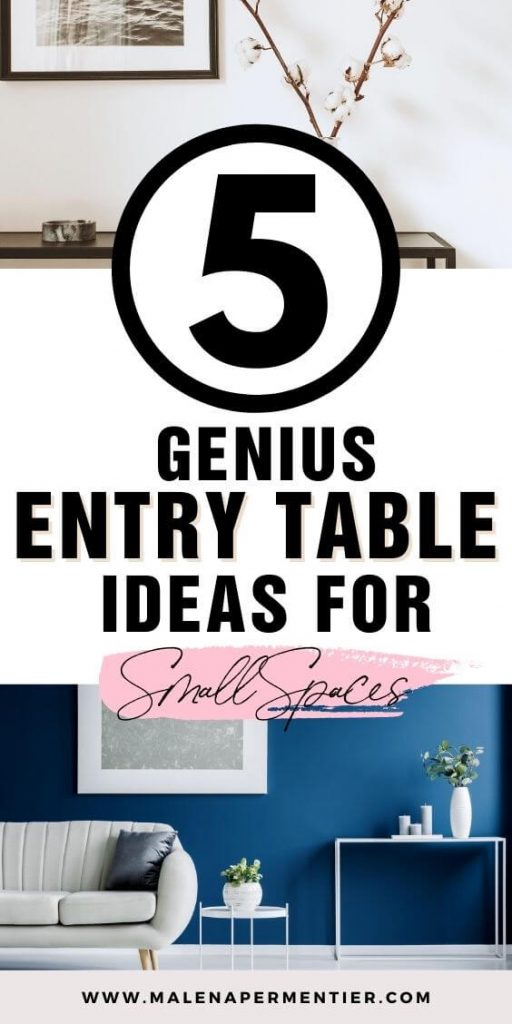 Below I'm sharing my favorite ways to use an entrance table in your small living room or at awkward little spots in your home.
Here you'll find:
The best small entryway tables with storage
How to decorate an entryway table
Affordable console tables for your entryway
1. Tiny entryway table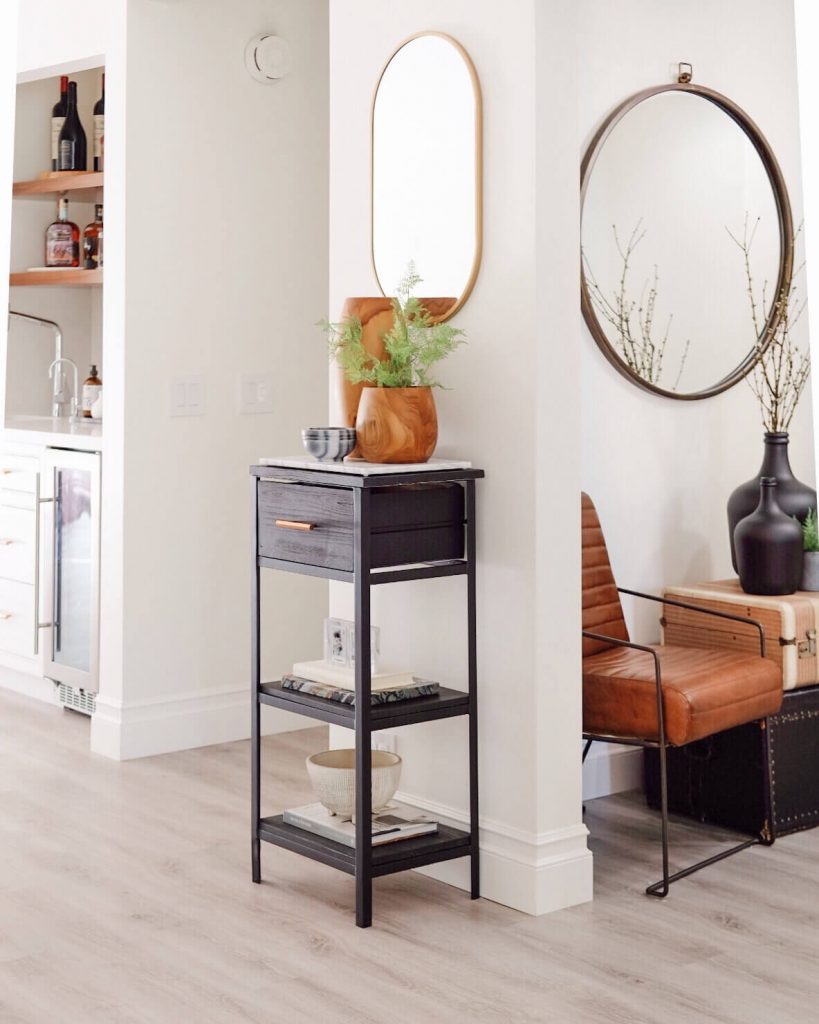 The hall in an apartment can be so narrow that furniture won't even fit. However, as you can see in the picture above, a small table will work when you have a little wall space between the living room and the hall.
Spots like this are great to add to a little table or shelving to leave your keys or hang a mirror.
2. Narrow console table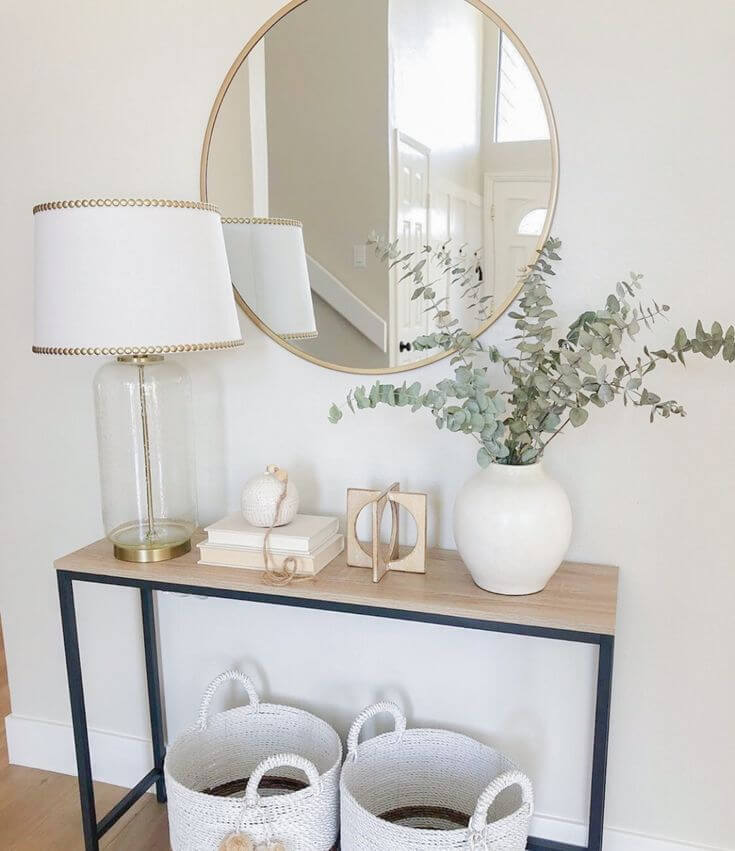 A narrow table like this works perfectly in a small apartment. You don't want furniture with lots of frills when you have limited space. The sleeker, the better.
This console table has an extra storage shelf, which I love using for storage baskets.
3. Entryway wall-mounted cabinets
With little space in your entrance, wall-mounted cabinets or shelves are often better than a table. This cabinet is officially meant for your laundry or kitchen, but if you have a narrow entryway, it could work there too.
Plus, you can make this a fun DIY project by painting these white cabinets in a matte grey – or another color of your choice.
Get wall mounted cabinet:
4. Gold console table
I adore this gold console table. Because of its muted gold and metal feel, it looks super elegant.
Fun fact: Amazon offers this same gold console table for $45, cheaper than Wayfair.
5. Entryway table with storage
An entryway table with drawers and a storage shelf is a great way to optimize your space in an apartment. Plus, I love how creative you can get with decorating.
How to decorate an entryway table
The fun part about entryway tables is the decoration. It's one of the first things you see when entering your apartment, so I genuinely believe in making it look incredible.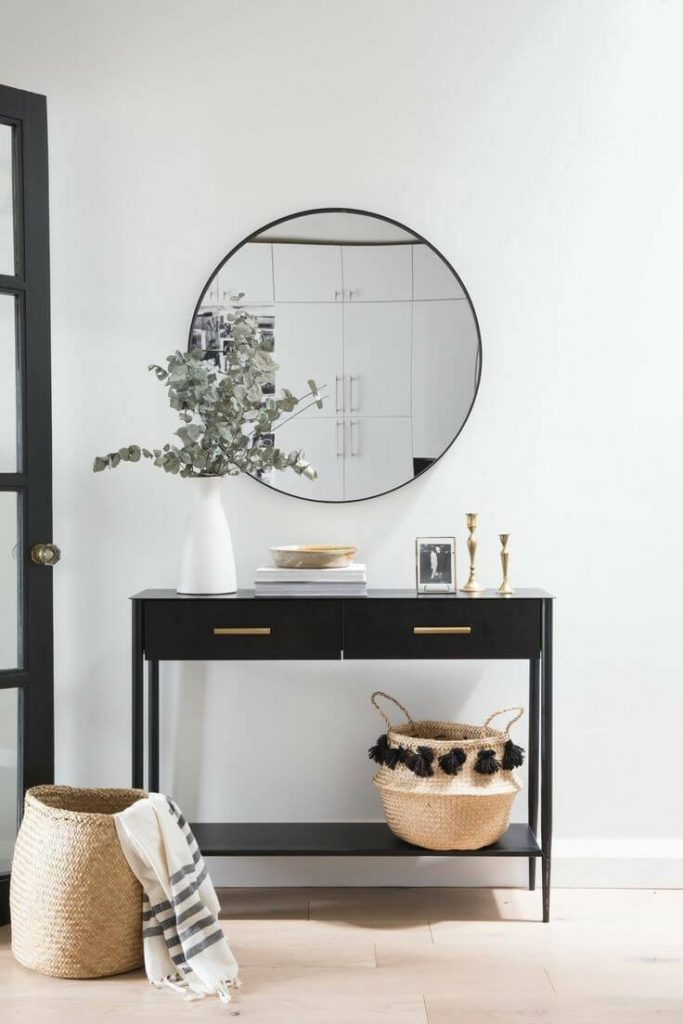 Stylish black entry table under $100
Recreate the entry table decor
This simple white vase set works like a charm on any table. Style this set of 3 together or use it separately.
Faux eucalyptus stems
A decent quality of faux eucalyptus stems works beautifully in a big white vase. This is a budget-friendly decoration idea because you don't have to replace it with fresh flowers weekly :).
Decorative baskets
Style the bottom part of your entry table with a basket. You can also use it for sneaky storage, like blankets or a small umbrella.
Here are my best tips for decorating:
This post was all about tiny entryway table ideas for your apartment
You may also like: