I never thought much of entryway tables until I realized their narrow slim shape is ideal for small apartments.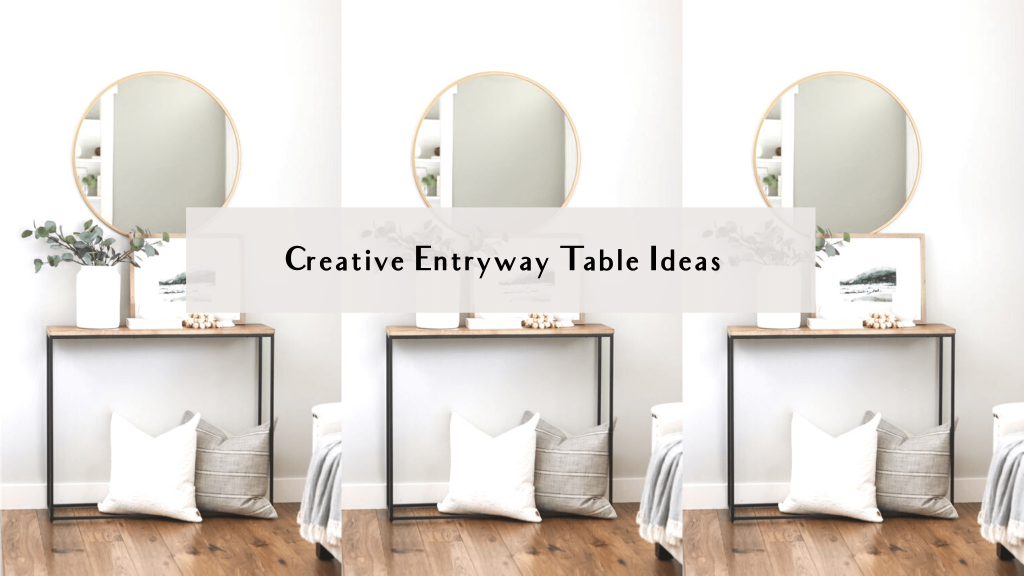 Below I'm showing you 7 creative ways of using an entryway table in a small apartment. It saves space, but it's also an excellent spot for decor and extra storage.
1. Entryway table behind the couch
Deciding where to place your couch in a small living room is super tricky. You want it to be in the most space-optimizing spot.
If your couch is against the wall, place an entryway table behind it. This idea can also work if your sofa is in the center of the living room.
You can use this entryway table and couch combination for decor, extra storage, or both.
Get a budget-friendly rustic wooden console:
2. Use Entryway table as a dresser in the living room
The narrow shape of an entryway table is also ideal for replacing a dresser. Generally, dressers take up more space, which is not suitable in a small living room.
Decorate the entryway table with a mirror, picture frames, or plants. You can also use the space beneath the table for extra storage with large baskets.
3. Entryway table with storage
If you're going to use an entryway table, you might as well go for one that has a little storage space at the bottom.
To keep things looking tidy, use baskets for extra storage space.
Recreate this:
4. Small entryway table
When you live in a small apartment, the entryway often doesn't have enough space for a full-size entryway table. But that doesn't mean you can't use a small entryway table instead!
Recreate this entryway:
5. Narrow entryway table in the living room
In a small living room, you can use a narrow entryway table like this in the tiny space next to the couch or behind it like in the picture.
6. Tiny entryway table
A tiny entryway table is great if you have very little space but still want to add an entryway table for decor.
Add a mirror above it to create the ultimate little entryway nook.
Can I also admit I'm just overall obsessed with this navy table? It will also work great as a side table next to the couch or even as a nightstand.
7. Entryway table that is also a bench
Small spaces require multipurpose furniture. This entryway table is also a bench, plus it has some storage.
This post was all about creative ways to use an Entryway table.
You may also like: