This whole "doing what you love" is overrated and I will tell you why. It gets you trapped in a cycle of procrastination.
Repetitive tasks are not fun. Failing is not fun. Working with annoying people is not fun. A lot of things in life are not fun. But these are all stepping stones on which we build ourselves.
We've taken on the slogan "do what you love" but misinterpreted it in such a way that we think doing non-fun stuff is not —and should not— be a part of it.
Every business, great piece of writing or art is built on doing things that don't feel like we're doing what we love. No successful writer will tell you they enjoyed staring at their computer screen 7 hours a day.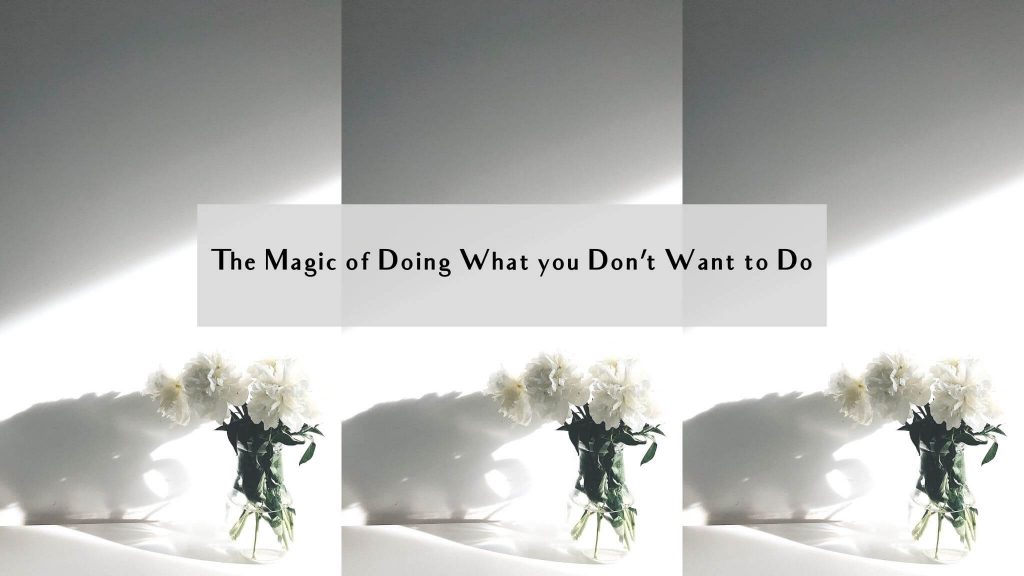 Wasting your life away?
On that note, how do you differentiate between being on the right path versus just wasting your life away? If it can't be measured by the amount of fun stuff you're doing, then what? I don't have the exact answers to that question.
What I do know, however, is that there is magic in doing things you don't want to do. It unblocks resistance. It sidesteps procrastination. Maybe it even teaches you some humility.
In 2020 we had no other choice than truly coming face to face with our personal blocks. Mine was movement. I always thought movement was the cure, and maybe for a long time, it was. The movement of travel, experiences, new impressions, and people. In 2020 I learned that I'm procrastinating when it comes to my inner movement. To work on my writing, to take on more freelance projects, and to build, basically.
I wouldn't have written about doing what you don't want to do if it has not been a personal experience. Here are a couple of my thoughts on doing what you don't want to do and the ability to transform your life for the better.
The magic of doing what you don't want to do, because:
Things we don't want to do often carry a lot of heavy feelings from our end. Contempt, personal limitations masked as principles, anger, and so on. That energy in itself is detrimental and therefore we're better off just doing the thing!  

We think we know what we love doing, but often these things are rooted in either illusions or our comfort zone.

Doing what you don't want to do unblocks resistance. Fear of failure and crazy thoughts stand no chance when you just start doing. You'll still mess up, but at least you're out of your head and getting better.

When you have a rigid idea of what you should be doing, you aren't open to new opportunities or ways of learning.

By committing to doing things you don't want to do, you enter a mindset of humility, which is a powerful state to be in.
Keep these things in mind when it comes to your job/career:
Things you don't want to do can still teach you valuable things, and be building blocks for what you truly want.

Learning to do a job well, even if it's not your ideal job, builds confidence to rock at the thing you ultimately want to do.

Doing = building muscle

When things you don't want to do occupy your headspace, it feeds the feelings of procrastination. Therefore it's better to just tackle the thing head-on.