A good morning routine sets the tone of your day. Not only do you accomplish more, but you feel great too. The past year we've all had to learn to plan our days, whether we like it or not.
This post is all about the Ultimate Morning Routine for Success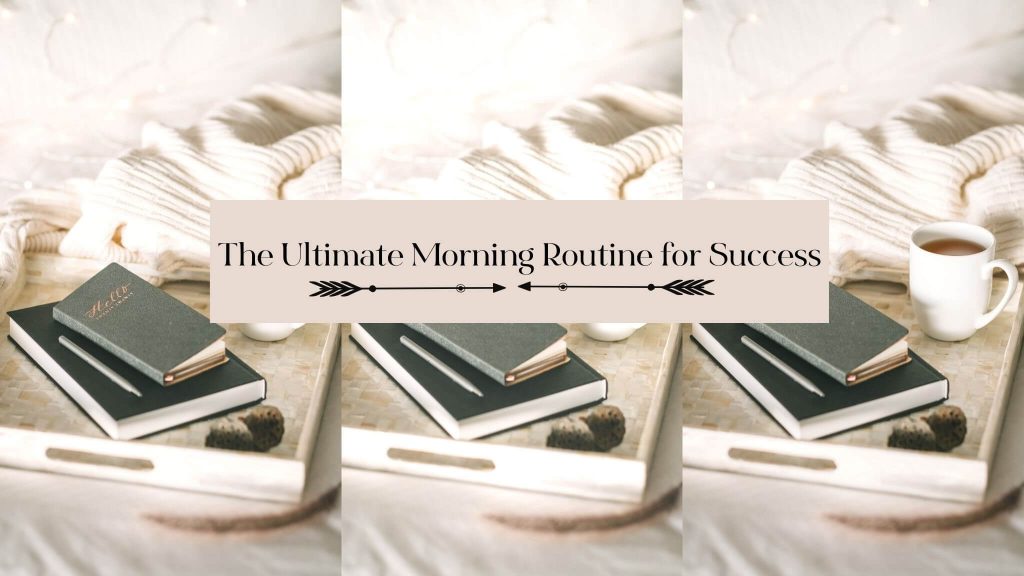 Although I've worked freelance for years (meaning, it's entirely up to me to plan my day and get things done), I've only recently gotten good at it. Today I want to share the best morning routine for success.
1. Wake up at the same time every day
By waking up at the same time, you take charge of your days. You set your alarm the night before, and you commit the next morning when it's not convenient.
If you need 8-9 hours of sleep, go to bed at 10 and get up at 7. If you need some time to fall asleep, then be in bed an hour earlier to prepare for sleep.
Don't be too radical all at once. If you're used to getting up at 9 AM, you'll have difficulty getting up at 5 AM. But if that's your goal, commit to getting up at 7 AM for a month first.
2. Drink a big glass of water with lime
Hydration is essential for a clear mind. First thing when you wake up, prepare a big glass of water with a squeezed lime. I've been doing this every day for over a year, and it's been such a game-changer.
It cleanses and hydrates and sets a good intention for your body that you'll be taking care of it. And no, that does not mean you can't have a coffee next.
3. Get your calendar out – which is already prepared
A good morning routine builds on what you've prepared the previous day. When it comes to your to-do list, you must have already put in all your google calendar tasks.
Here's what mine looks like:
7 AM – Get up, drink lime water, make coffee
7.15 AM – Morning pages.
7.45 AM – Check email, reply to urgent emails, pre-breakfast with Ezekiel toast
8.00 AM – 11 AM Work on X freelance project
11 AM Breakfast – Oats with nuts and fruit
12 PM – 1 PM Freelance Projects
1 PM – 2 PM Workout: I do Melissa Wood Health (I often swap this with 11-12 depending on how I feel.)
2 PM – Prepare some lunch
3 PM – 6 PM Freelance Projects + Work on my own projects
The key is to have a plan for every hour of the day. So that when you open your laptop in the morning, you just have to glance at your calendar.
When you haven't decided what you're going to do, it's easy to get distracted. This video about calendar blocking by Amy Landino is insanely helpful.  
Calendar Blocking
When it comes to your calendar, be as specific as possible. Write down what project you're going to work on and precisely what you'll be doing.
Once you have some solid calendar blocking going on, you can easily swap things around as you please. I do that all the time. The important thing is that you have a plan for each hour. Be mindful, though, that you keep it realistic.
Especially in the beginning, it's tempting to write down a zillion to-dos on your calendar. When you track your tasks for a few weeks, you'll get a more realistic feel for what's possible within a day.
Don't be discouraged; instead, celebrate the things you got done.
4. Morning pages
When we just get out of bed, we're still very close to our sleep state. I don't know what about you, but I feel like my subconscious works over hours at night.
Sometimes I feel great in the morning; other days, I feel like I'm still processing 100 events from the last month.
Morning Pages is a concept where you write two pages longhand first thing in the morning without stopping.
You'll find that all sorts of trivial, creative, and annoying thoughts come out. Writing these thoughts on paper helps clear your mind. I wrote more about Morning Pages in this post about Healthy Habits.
With a clear mind, it's much easier to focus on work and feel positive.
5. Psychology for a successful morning routine
The reason why a strict morning routine works is because of the commitment it requires. It changes your mindset, which translates into the quality of your day.
Every little choice adds up; think about it. It starts with your alarm, then it follows by what you put in your body. Bottom line: If you're serious about a morning routine for success, you must first get into the right mindset.
You increase the quality of everything you do with commitment. It starts with the little things, like getting up at the same time every day, and not when it's convenient for you.
6. Workout
Get some sort of a workout in. I don't like working out during the first hours of my morning, so if you're the same: don't force yourself. I like using the early hours of my day to get a lot of work done because I feel the most clear-headed.
Melissa Wood Health
You can do amazing, efficient workouts that don't feel harsh on your body. Doing Melissa Wood Health workouts (a combination of yoga and pilates) has been healing for me. Plus, my body looks great.
Walks
Staring at a screen all day is not healthy. So, if you can, go out for a walk to clear your mind. Throw in some power walking if you want to make it more of a workout.
Tips to make the most out of your morning
During the morning, I'm the most productive. That means I get things done a lot quicker than I do in the afternoon. If you're like that too, make the most of it!
1. Do the big tasks in the morning

If you have to do something that you don't like or is a lot of work, do it first thing in the morning. Not only do you feel accomplished, but it also gives you more space in the afternoon on things you like.
2. What you put in your body has so much impact on your mind
A vegan whole food plant-based diet has changed my life. My entire adult life, I've had trouble waking up. Until one day, I figured out that my mind just doesn't want to work when my body has difficulty digesting stuff.
When you realize that stuff is real and you don't have more time to mess around, you change your habits.
3. Get your thoughts and worries out of the way
It's hard to focus on work when you're stressed. That's why morning pages are so powerful. When I was going through a very stressful period of my life, I did them religiously every day. Somehow it cleared enough space for me to focus on things that would improve my life.
4. Plan fun things
If you're looking forward to watching a new video of your favorite YouTuber, then plan it in your day. If you finish x work, then you can watch the video. Or maybe you're looking forward to a nice healthy snack, then have it when you're done with a task.
5. Keep the energy high
If you're going to watch or read something throughout the day, make sure it's the kind of input that keeps your energy high. Stay away from gossip, confrontations (on TV or in real life ), or anything else that doesn't make you feel great.
Finishing your day
The way you end your day is just as important as what you do when you get up. Always end your working day by reviewing your calendar. What did you get done? What needs more work tomorrow? Then according to your results, simply adjust your calendar for the next day.
Don't beat yourself up if you had tasks on your calendar that didn't get done. It's easy to underestimate the time a job takes. Instead, focus on what went well and simply write down what you need to do on your calendar for the next day.
It's also helpful that you write notes for yourself to know exactly where you left off. If there are any essential thoughts about a job you were doing, write them down.
It saves time the next day when you need guidance on where to start and what to do. And don't forget, creating a morning routine for success takes time. Don't beat yourself up if it's not perfect; just keep showing up for yourself.
This post was all about the Ultimate Morning Routine for Success.