"Online business" is such an overused word, and nobody knows with 100% certainty what we're talking about. Is there even a definition at all?
To me, an online business earns passive income and doesn't have a physical product (at least when starting out).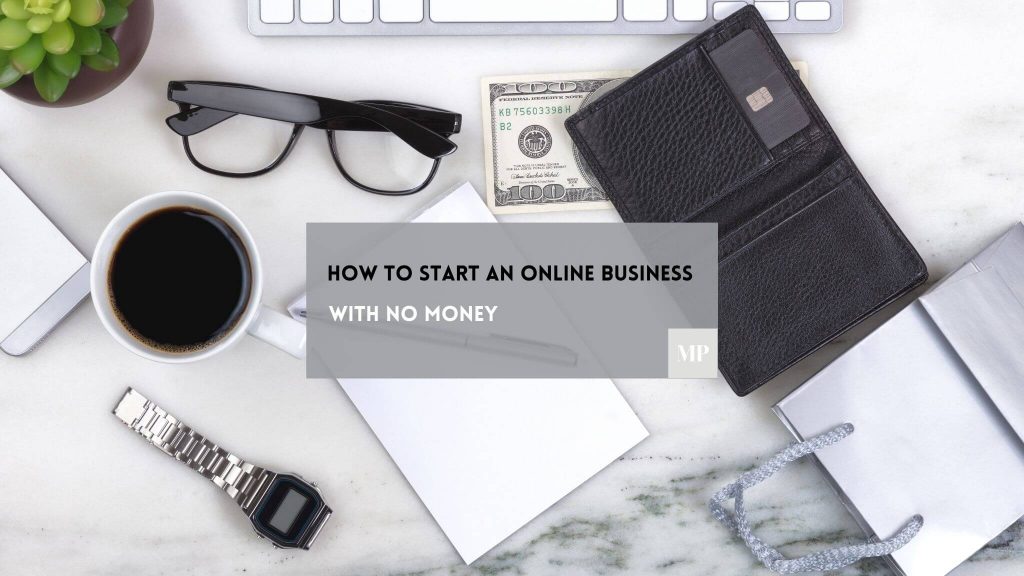 Let's look at my example. I'm starting an online business (this website MalenaPermentier.com), but it doesn't make me money yet. However, I also write freelance. That does make me money.
Having that cleared up, let's look at how to start an online business with no money.
1. Intersect your skills
If you want to start an online business that makes money from ads and affiliate content, you first need to build a website that adds value for people. If you're a writer, you can start your online business by writing on your site while simultaneously taking on freelance writing jobs on a platform like Upwork. The beauty of building an online business while freelancing is that the skillsets elevate one and other.
2. Invest time
There are many nonsense articles out there that promise you to make $3000 from your blog in the first 3 months. For building a site that makes you money, you need two things. Time and quality content. It's also essential to invest your time constructively. Don't exhaust yourself in the first month.
3. Think of content in pillar structures
Choose 3 main topics and build a content structure around it—for example, self-development, productivity, and creating an online business. In the first 3-6 months, solely focus on writing content that fits within one of these topics. The reason for this is two-fold. 1: It gives you a chance to focus, and 2: Google likes it.
4. Google is your friend
We can't write about whatever sparks our interest. That's because if we write about parenting, productivity, beauty tips, fashion, marketing, travel, and baking, Google can't make sense of what your website is doing.
When you first start your online business, your website must be easy to grasp. That counts for both Google and your potential readers. Everything you write about has to fit within a broader framework. Once you start getting decent traffic, you can expand that framework.
5. Written content compounds
I highly discourage you from using more than 1 social media platform when starting out. "Starting out" lasts anywhere from 6-12 months. That's because most social media is not your friend until you're big enough. And how do you get big enough? Right, by letting people find your site and loving it. That means the best place to invest your time is your site.
Written content, on the web, on your self-hosted site, lasts forever. With time and more content comes credibility. And with that, you attract a bigger audience that clicks on your affiliate links or helps you earn ad income.
If I were to recommend one social media channel to use as a new online business owner, go for Pinterest. It's a search engine, which means that it works for YOU.
6. Think in "ratio."
If you're starting an online business that focuses on productivity and self-development, you need to think about monetization. If you post 5 articles per month, how many of them are focused on generating affiliate income?
Remember always to set up a framework that works for you. A ratio of 2:3 could work. 2 articles focused on generating affiliate income. 3 exclusively on adding value. Yes, those two can intersect. But keeping this ratio in mind is helpful because it keeps you connected to what you enjoy writing about.
7. Sound like yourself
No, this is not a cliché. I promise you; people are smart. They don't know you, but when they land on your site and read a few lines, they can tell whether you're sincere or not.
Don't shy away from sharing doubt or expressing your opinion, but remember always to add value. You do that by sharing your authentic experiences, including mistakes and failures. Being open about what doesn't work can be very valuable.
8. Think longevity
Starting a successful online business is only possible if you live and breathe longevity. Don't get stuck in overanalyzing analytics or numbers. In the first 6 months of starting your site, nothing will happen. Don't let that put you off. Simply see it as the opportunity to focus on the only thing in your hands: the quality and consistency of content you're putting out.
9. Costs
This article is for you guys with big dreams, a great work ethic, and no money. Don't let the no money stop you. Just be smart and intentional about spending it. The only thing you need to start an online business is a domain name and hosting.
I can't stress enough to do business with a reputable hosting company. In the past, I made the gigantic mistake of hosting my site with a company that didn't let me have backend access. That means they are in charge of my site, and they can do what they want, which they did!
When I tried to cancel hosting to go for a cheaper provider, they refused to give me backend access. Remember, the internet is still mainly an unregulated place, and these nightmares do happen.
✔️Get good hosting
If you're starting an online business, I recommend getting your domain name and hosting at Bluehost. You'll always be 100% in charge of your website. Plus, you're free to change your hosting company anytime. Those are the things I'm super critical about because of my past experiences!
But above all, Bluehost is reliable, genuinely helpful, and they offer cheap and super-fast hosting. For $3,95 a month, you have a domain name and hosting for a year. That's the basic plan, which you can always upgrade later if you need more storage.
✔️Get a professional template
A professional looking template is key if you eventually want to make your site your business. I'm using Vivienne from 17thavenue designs and I love it. It took me literally 10 minutes to install it. It costs $59 so it's not cheap, but it was well worth it to me.
10. Think big
Thinking big seems ridiculous when you look at your site's 11 pageviews. But the growth of an online business is not something you can measure overnight. Like I said in point 5, written content compounds!
Your content pillar structure will reach a tipping point, and the ball will start rolling. Thinking big is not delusional; it helps you stay connected to your vision.
Share How to Start an Online Business with No Money on Pinterest: