Hey there! Some links on this page are affiliate links which means that, if you choose to make a purchase, I may earn a small commission at no extra cost to you. I greatly appreciate your support!
This post shows you the best white and green Christmas decor ideas.
There's something so timelessly elegant about white and green Christmas decor.
Bringing you the 30 best ideas to incorporate these stylish colors into your Christmas living room decor!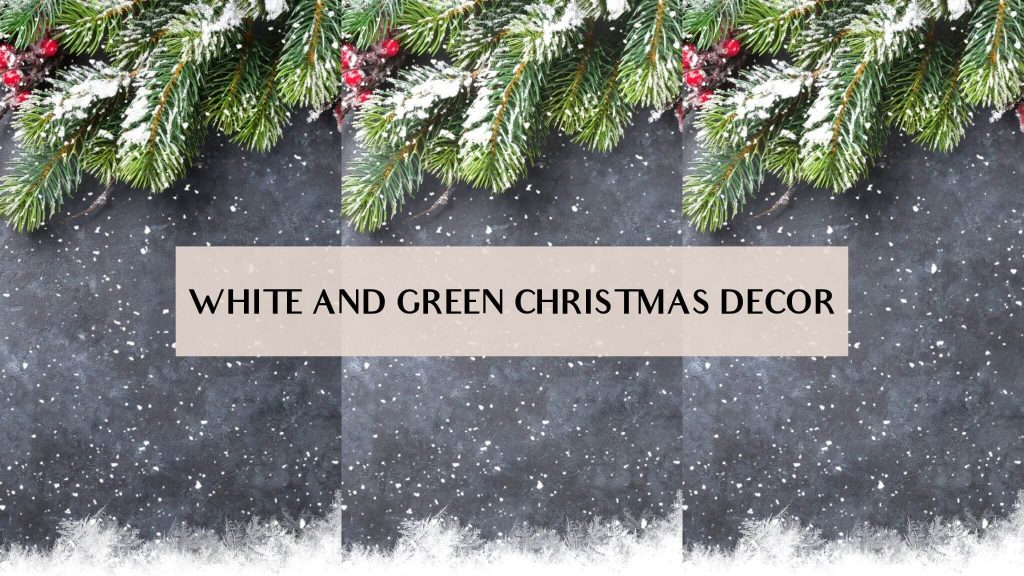 This post is all about the best white and green Christmas decor ideas.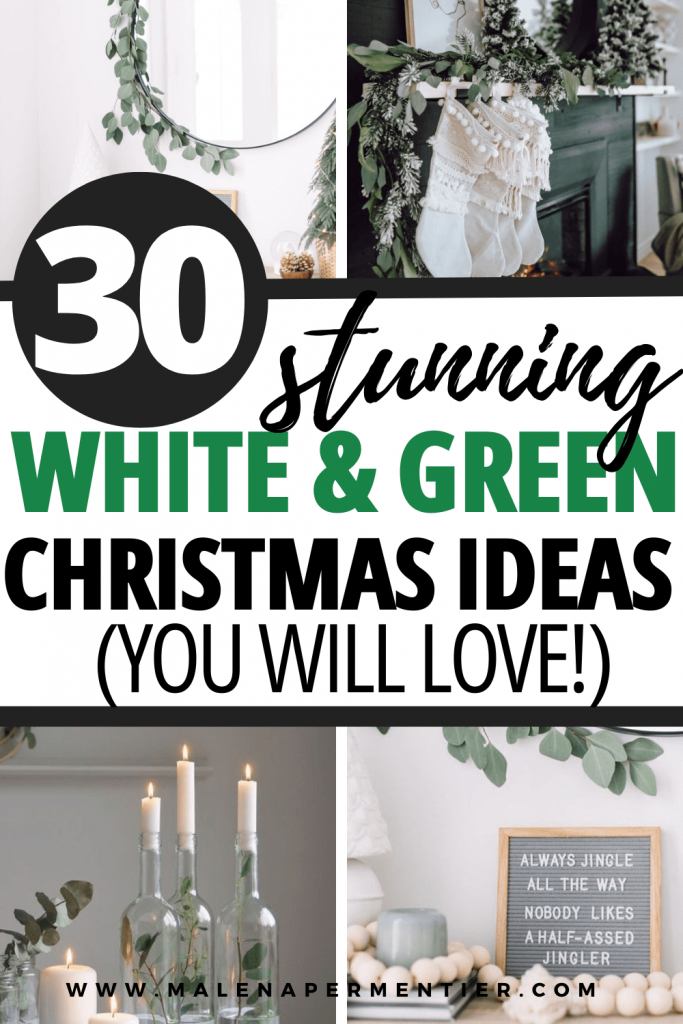 1. Mantle Decoration
If you have a mantle, it's the perfect spot for Christmas decorations.
The green garlands with wood and white candles make for a great combo.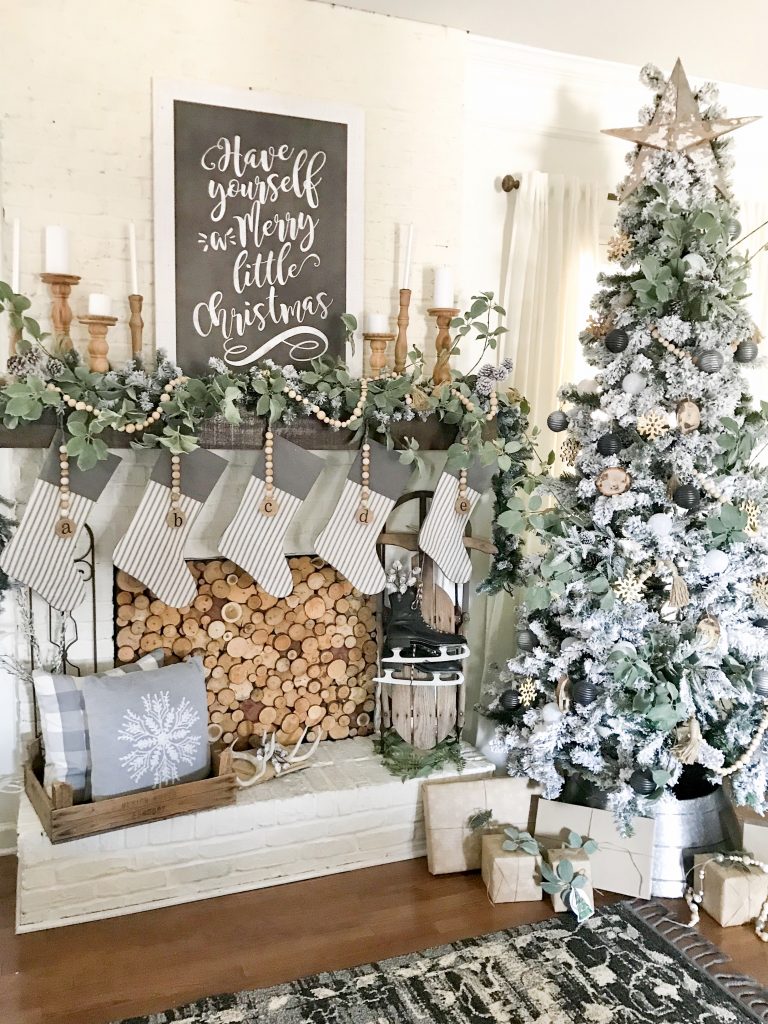 2. Merry Christmas Banner Neutral
This Merry Christmas banner is a super cute touch to your living room.
You can hang it on your mantle like the picture below or anywhere else.
This Merry Christmas banner from Amazon is very similar to the image below.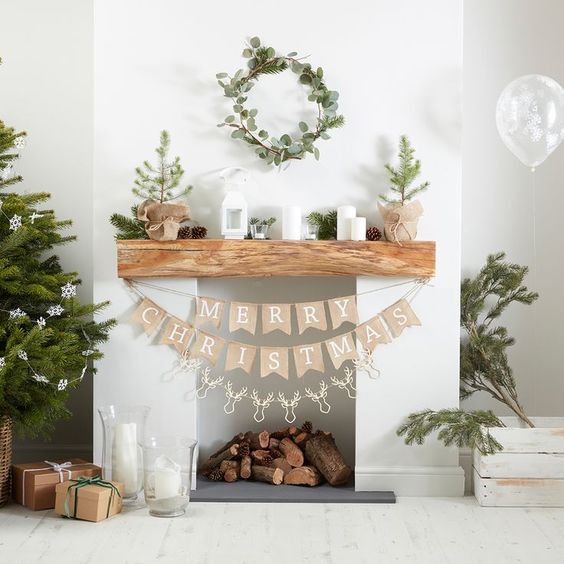 3. Decorate with Pine Branches
Pine branches are an essential part of Christmas decor.
Whether you use natural or artificial Pine branches, they look great when styled in a simple vase.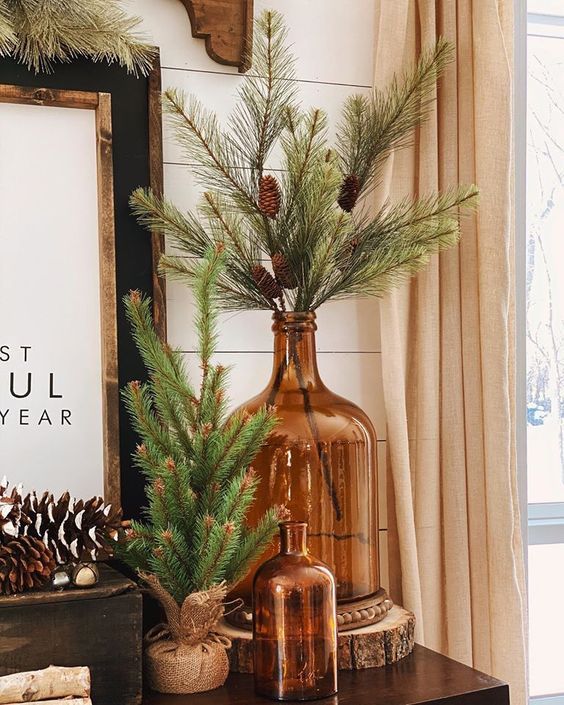 4. Rustic Christmas Decor on Mantle
Rustic farmhouse-style Christmas decor creates a super cozy, warm atmosphere in your living room.
Recreate this rustic Christmas decor with garlands and simple gold candle holders.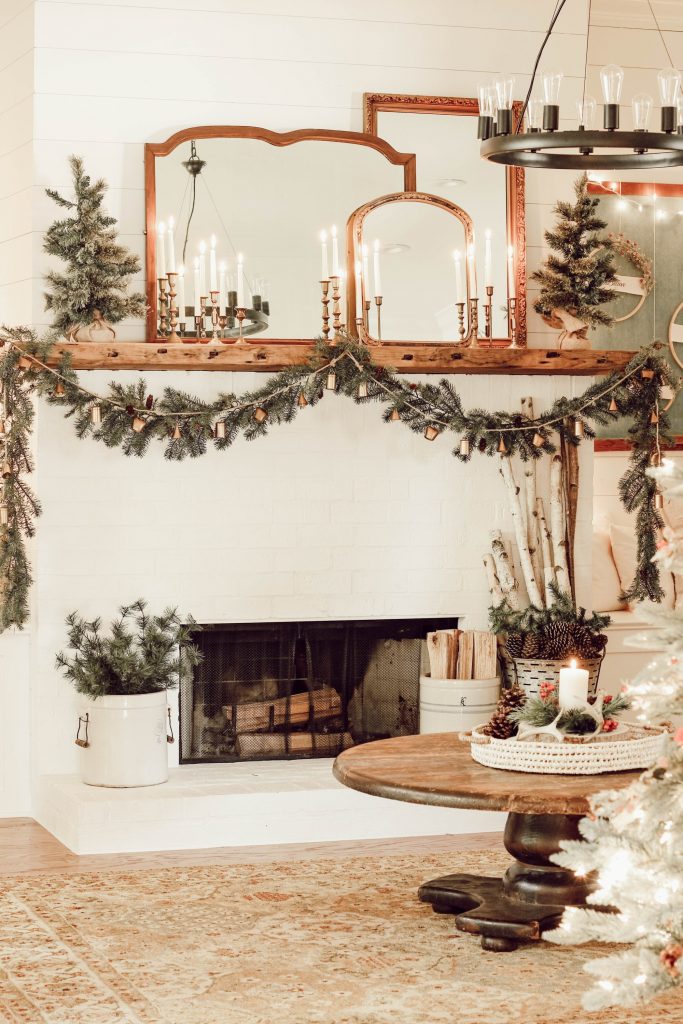 5. Simple Gold Candle Holders
While on the topic of rustic gold, I love these gold candle holders.
Style them simply with white candles and surround them with pine cones.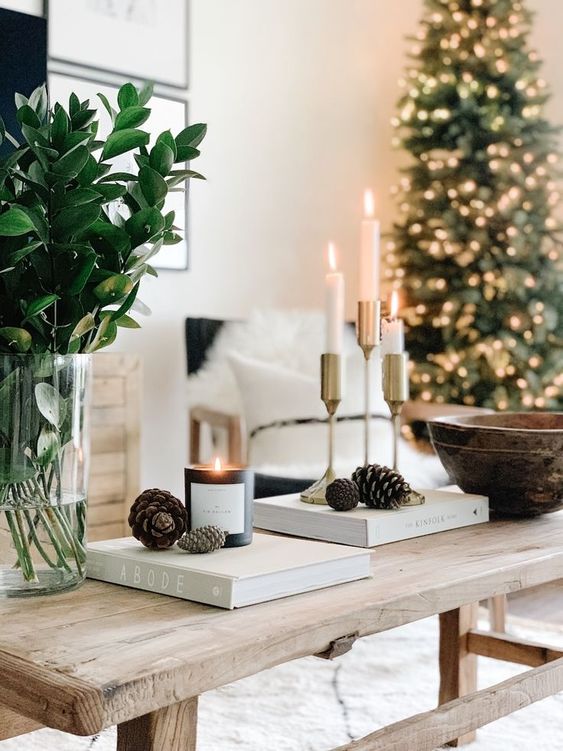 6. Christmas Tree with White & Green Decoration
Some people think that a Christmas tree with a white and green color palette is boring, but I love it.
The best part of the Christmas tree is the lights, not the colors per se.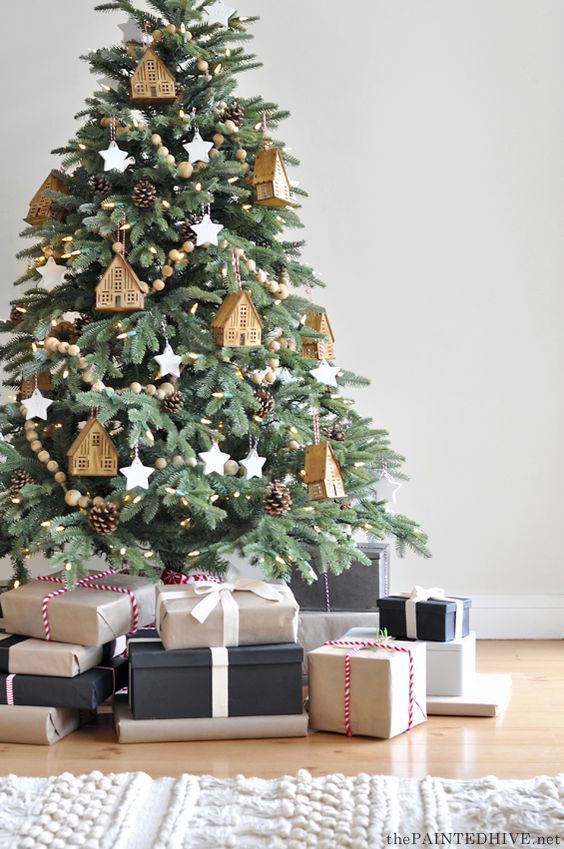 7. Eucalyptus Foliage in Bottle with Candle
This Eucalyptus foliage in the bottle is a creative DIY idea for white and green Christmas decor.
Easy and quick to make, it also would look great as a Christmas table centerpiece.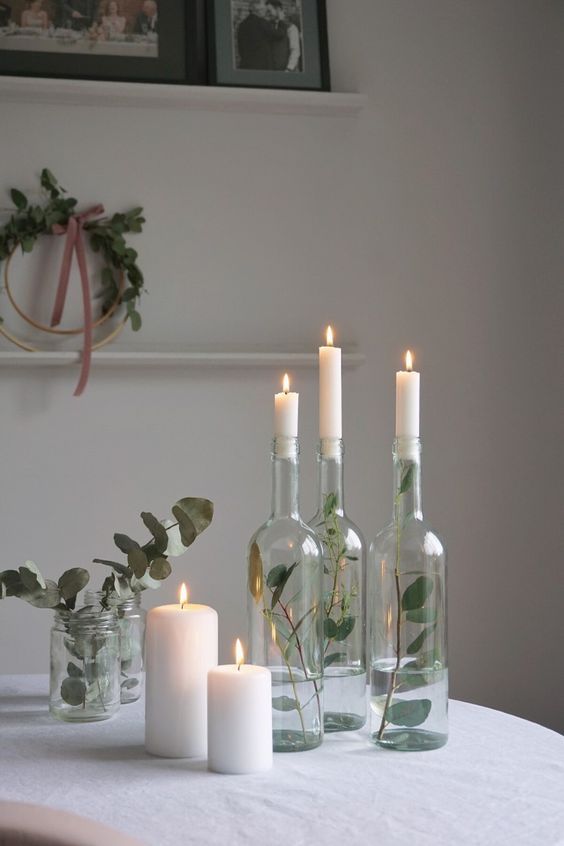 8. DIY Candle Holders with Pine Branches
This is another excellent example of inexpensive white and green Christmas decor.
Recreate this easily with some string and small artificial pine branches from Amazon.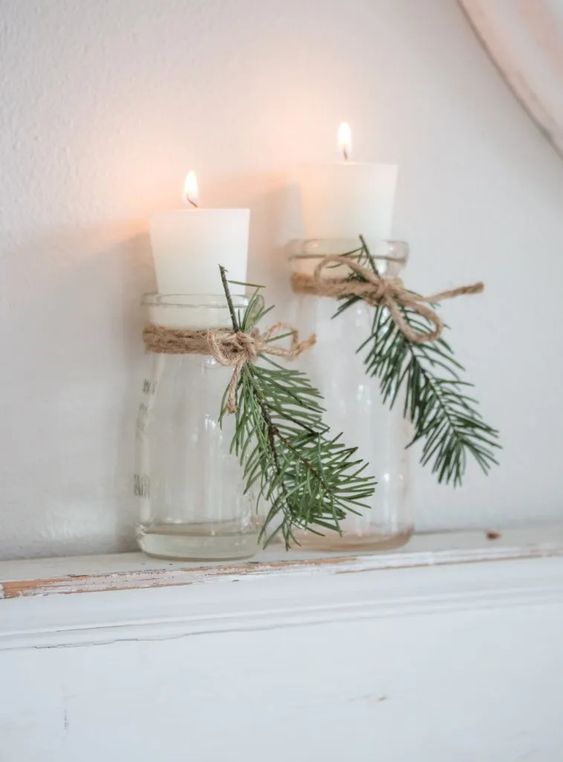 9. Christmas Decor in a Small Apartment
It's often a bit of a challenge to decorate a small apartment for Christmas.
One of my favorite ways is using a coffee table tray for candles and a miniature Christmas tree.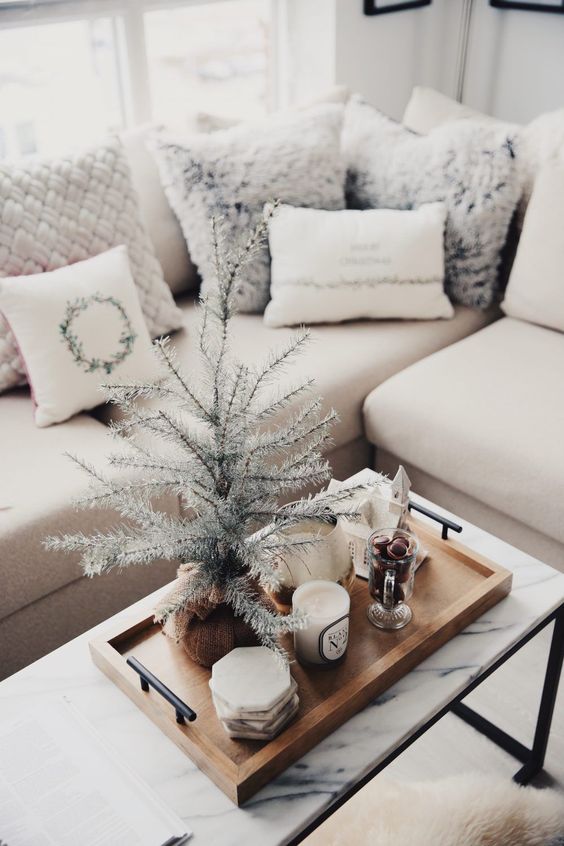 10. Simple White, Green & Gold Table Setting
You have to appreciate this gorgeous minimal tablescape in the spirit of white and green Christmas decor.
It's super easy to recreate with gold candle holders and a long, lush garland.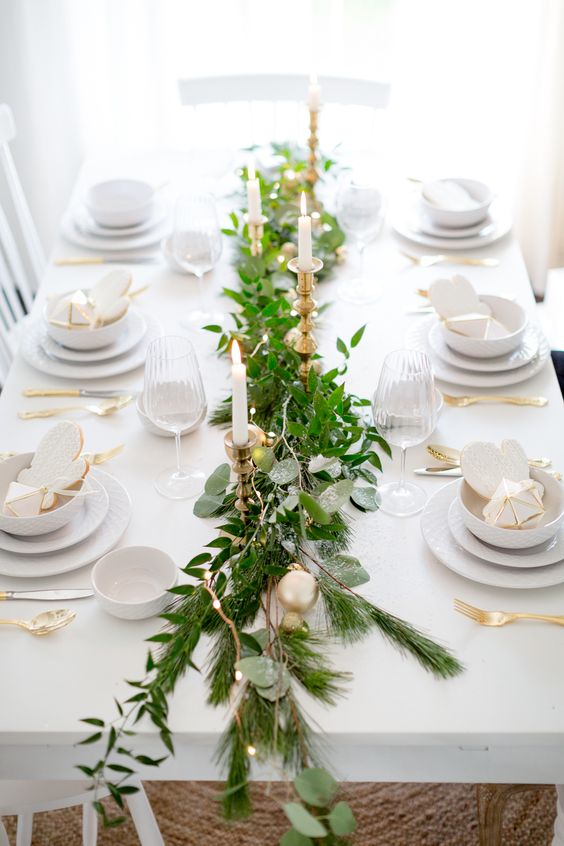 11. Mantle Decorated with Garlands
It's always been a dream of mine to create a deep green accent wall in my home.
When I do, I'll try to make it look like the one below.
For now, however, I only copied the white-knitted Christmas stockings!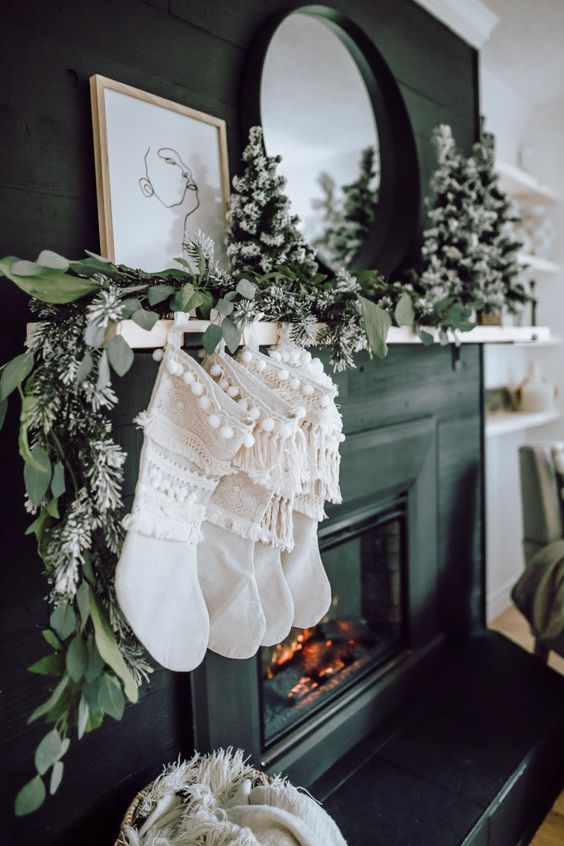 12. Pretty Door Wreath with Bells
Create a beautiful door wreath by adding white ribbon and rustic gold bells.
It's an easy DIY and such a lovely touch.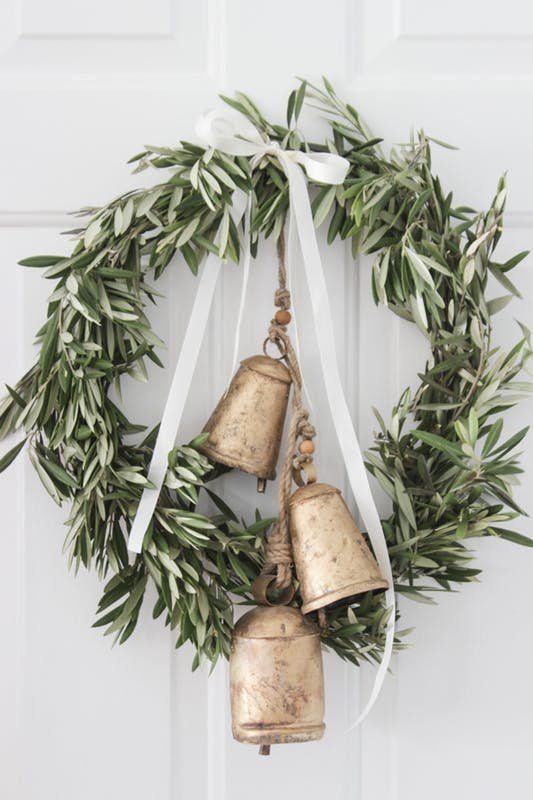 13. DIY Advent Calendar
I haven't had an advent calendar since I was a kid, but I love this cute DIY idea.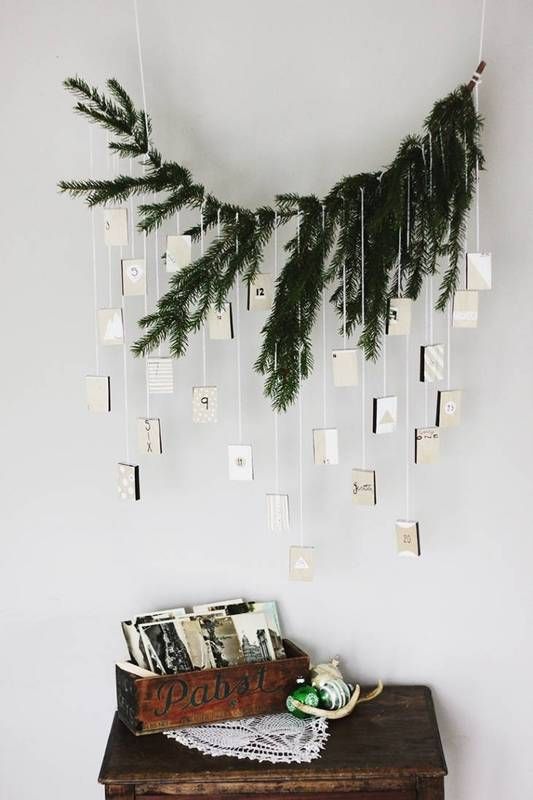 14. Wreaths on the Wall
Wreaths aren't just super pretty on the door; you can also use them as Christmas decor on the walls.
Also, I adore the Oh What Fun banner.
Or, for a more millennial touch, why not go for the Let's Get Lit banner instead?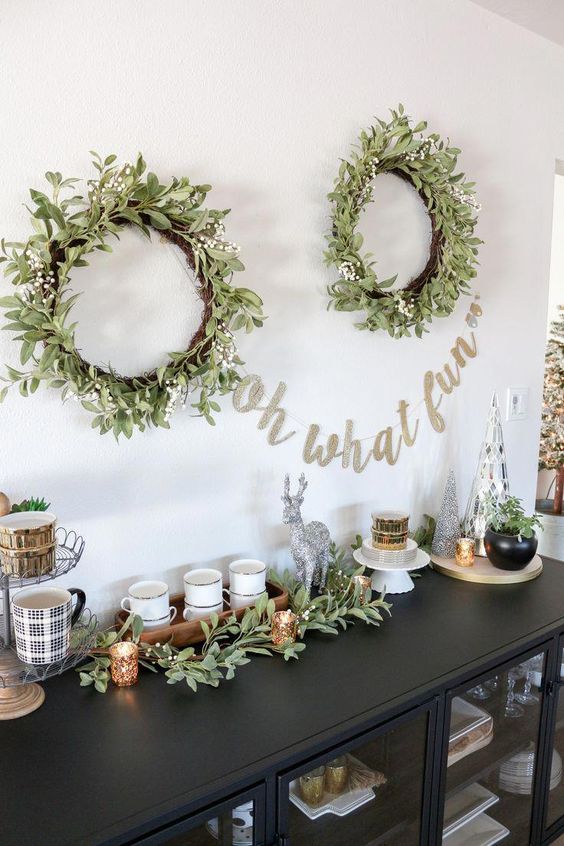 15. Holiday Paper Garland
If you want something different than the traditional Christmas garland, this style is such a beautiful idea.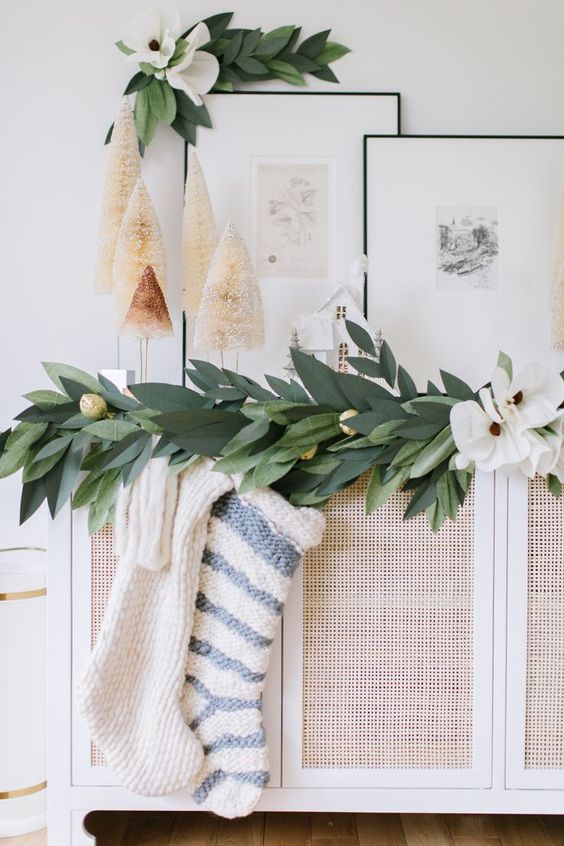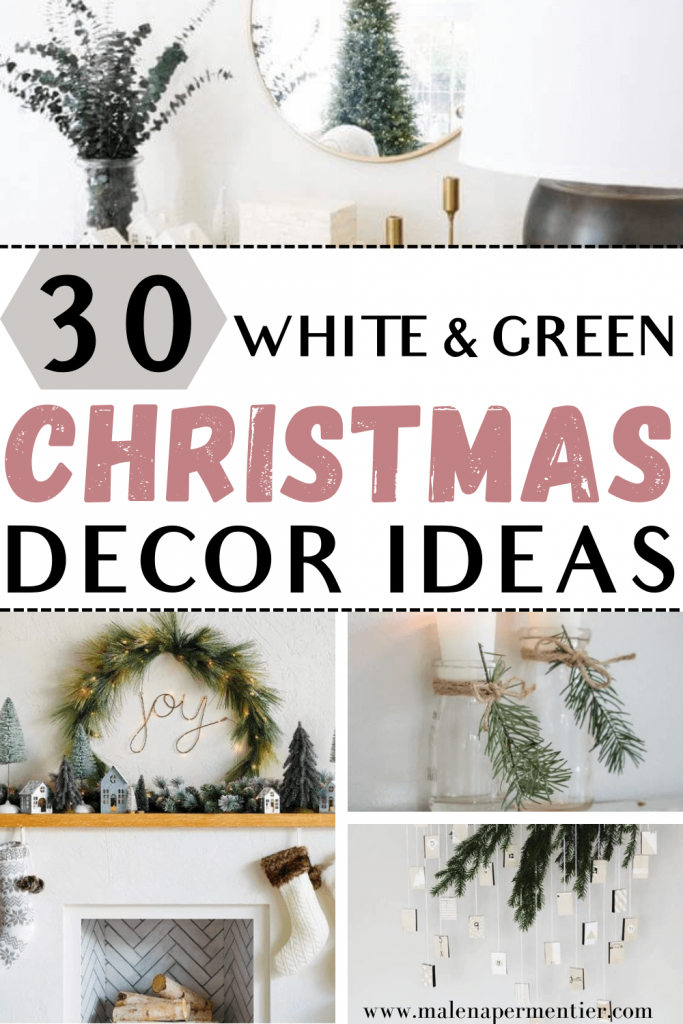 16. Scandinavian Christmas Frames
These gold frames are a beautiful and inexpensive way to decorate for minimal Christmas decor with a Scandinavian touch.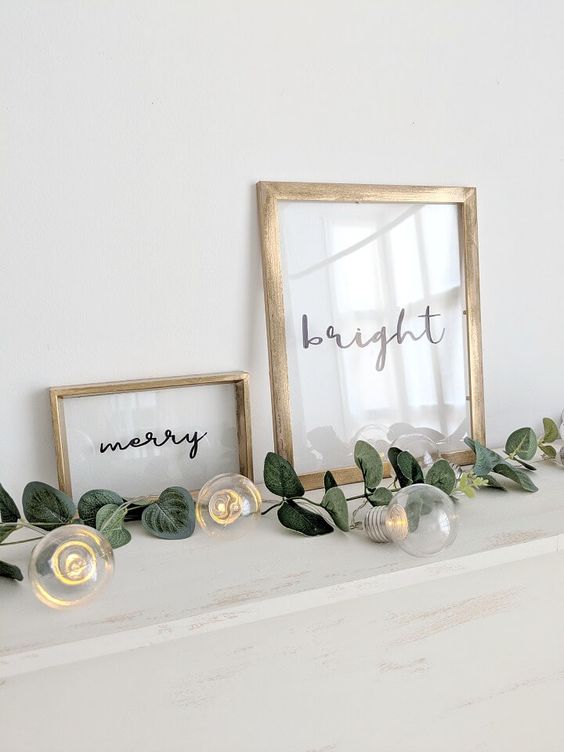 17. Black Merry Christmas Banner
Can't get enough of the Christmas banners?
Go for a minimal style like this black Merry Christmas banner.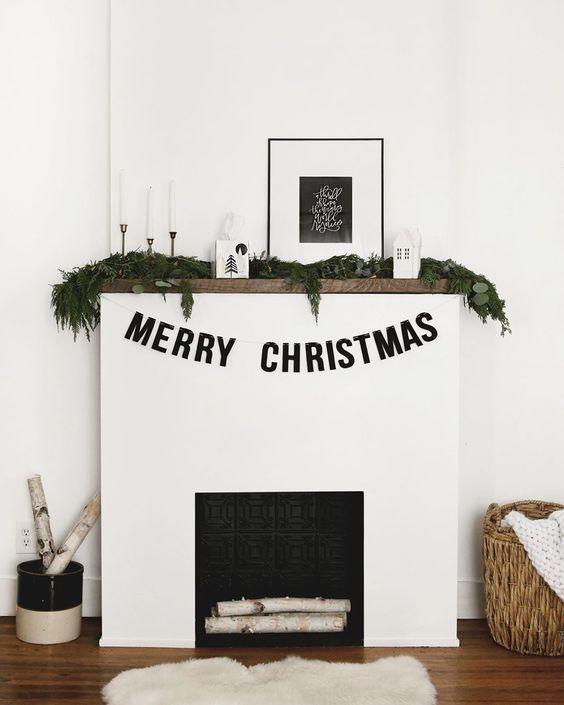 18. Christmas Bar Cart Styling
Bar carts are a great way to decorate, whether it's Christmas or not!
Use your bar cart to add extra Christmas spirit to your home with cute garlands and a small Christmas tree.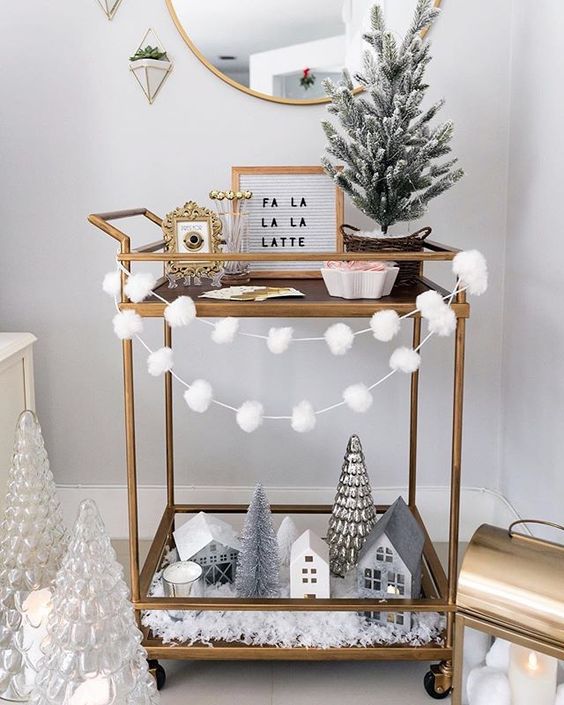 19. Coffee Table Centerpiece
An easy and gorgeous way to decorate your coffee table is by adding a centerpiece.
Create one yourself, or buy a ready-made centerpiece on Amazon.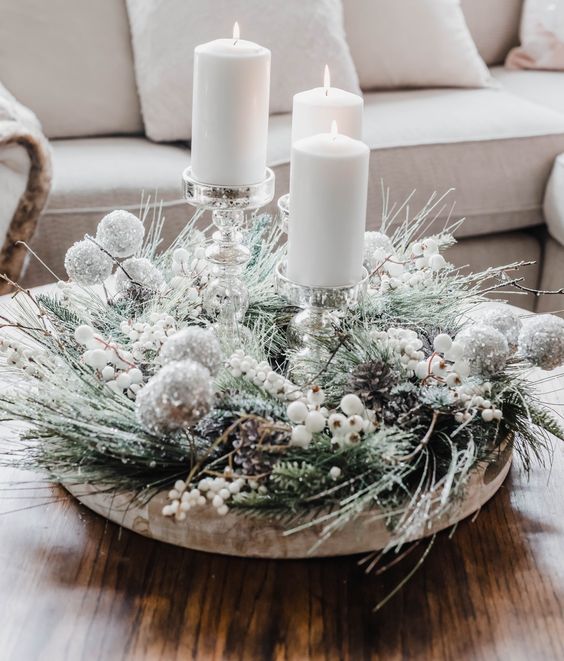 20. Tray with Christmas Decor on Side Table
If you're going all the way with your apartment Christmas decor, then your side tables need some Christmas spirit too.
Decorate with candles and flowers.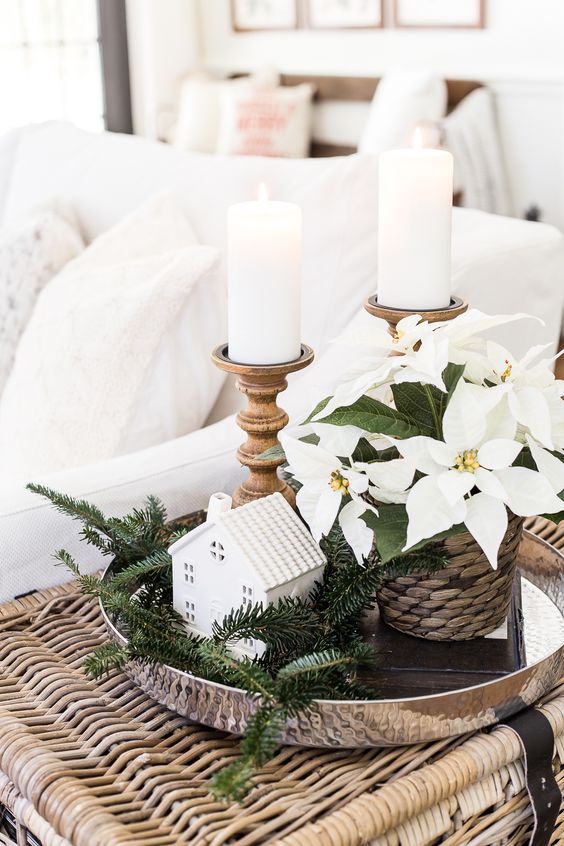 21. Small and Simple Christmas Tree
It is ideal if you live in a small apartment or don't want to overdo it with the Christmas tree this year.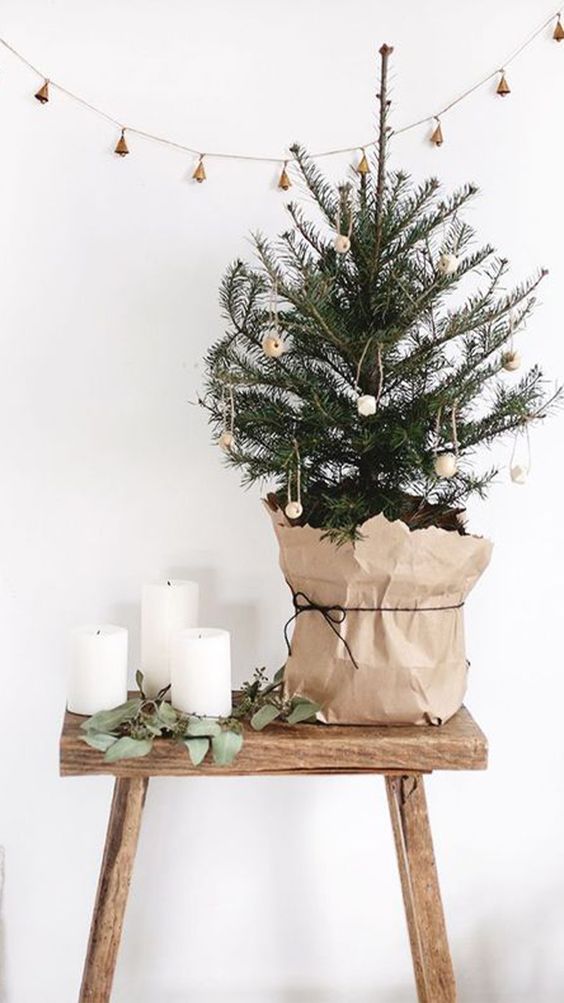 22. Ladder with Christmas Decoration
Add a wooden ladder with lights and ornaments to decorate your living room.
You can add as many or few decorations as you like.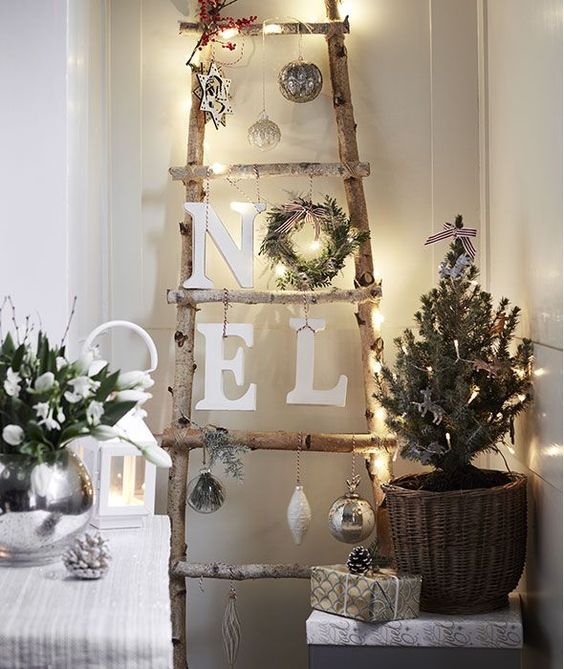 23. Minimal & Creative Table Centerpiece
Use a wooden tray to add some Christmas decorations to your kitchen table.
Decorate with a small Christmas tree and candles.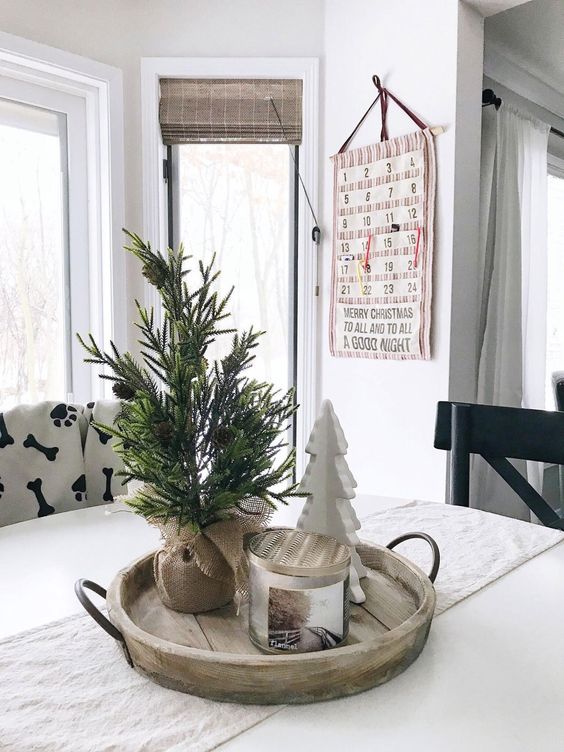 24. Joy Light Sign
This light joy sign in the middle of a wreath is adorable.
I haven't been able to find this same one, but I love the look of this Christmas wreath with lights.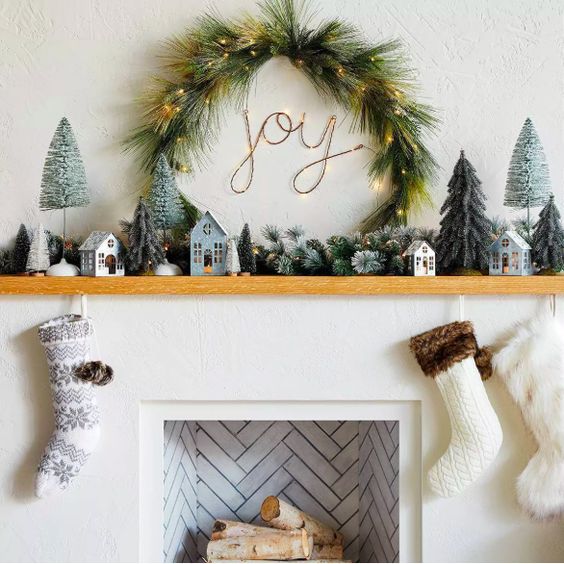 25. Farmhouse White Christmas Mantle
Rustic wood and lots of white and green garlands are the ingredients of a farmhouse Christmas decor.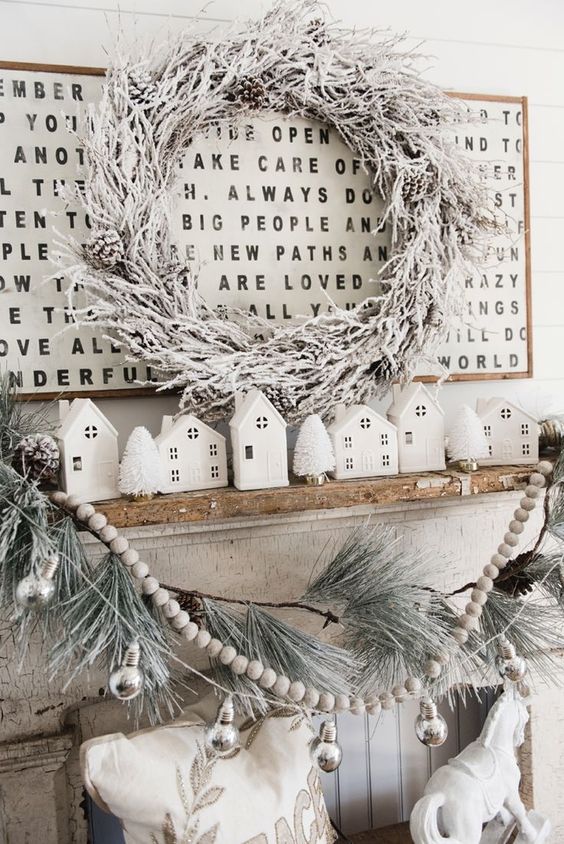 26. Christmas Letter Board
Adorable, minimal idea to create some Christmas spirit in your apartment.
I found a super similar letter board on Amazon.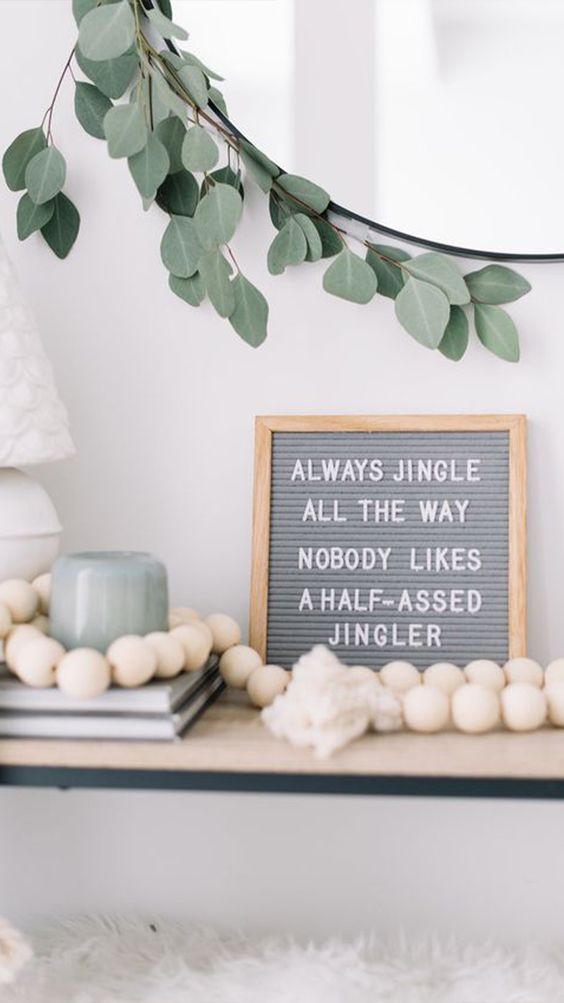 27. Wreath around Mirror
Wreaths around the mirror are a great way to add some Christmas spirit to your home while keeping it simple.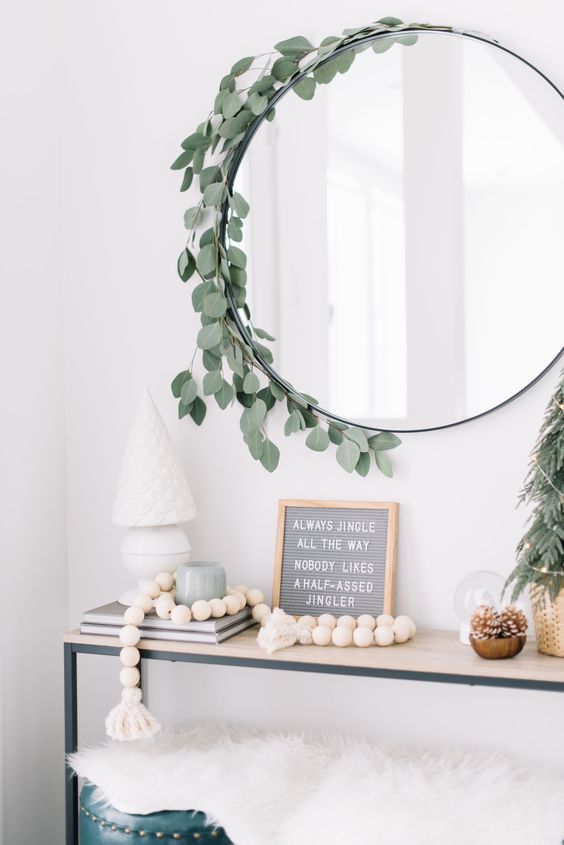 28. Faux Garlands for Staircase
If you have a giant staircase, garlands and ribbons are a great way to decorate for Christmas.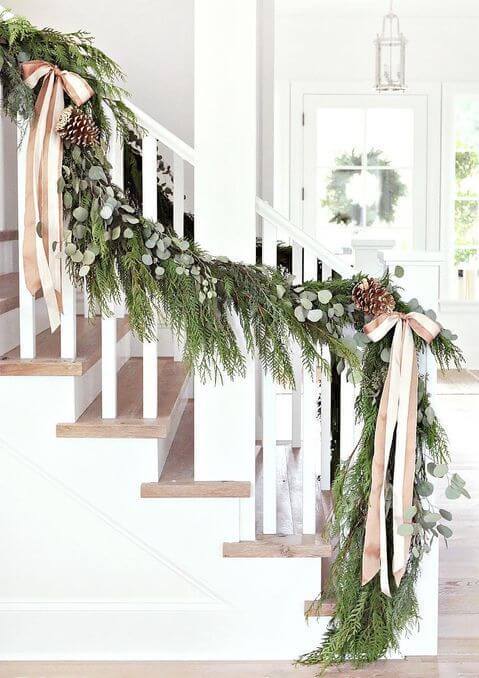 29. Neutral Christmas Decor on Entryway Table
I know, I know, so much Christmas decorating! But your entry table, if you have one, is the first spot in your home guests see. So decorate it.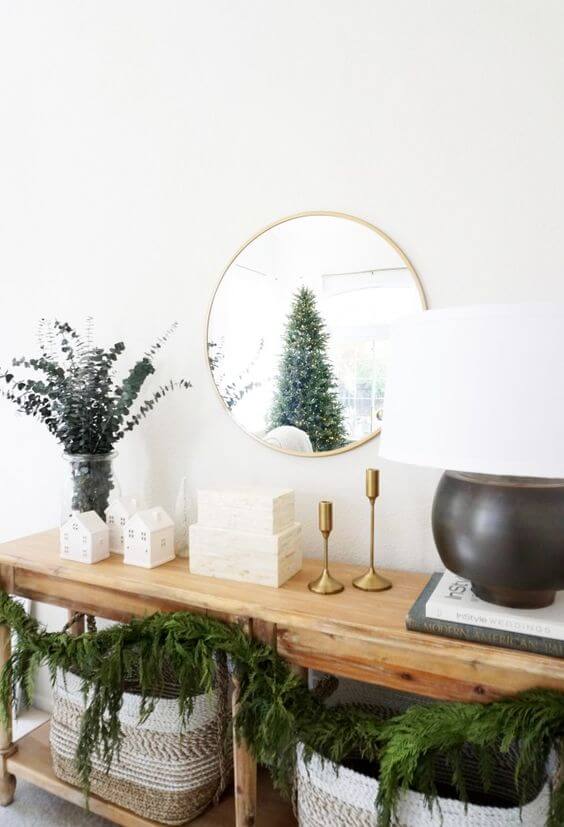 30. Christmas Lights in Living Room
A Christmas lights garland adds so much atmosphere!
Add Christmas lights garlands on the wall edges and doorways.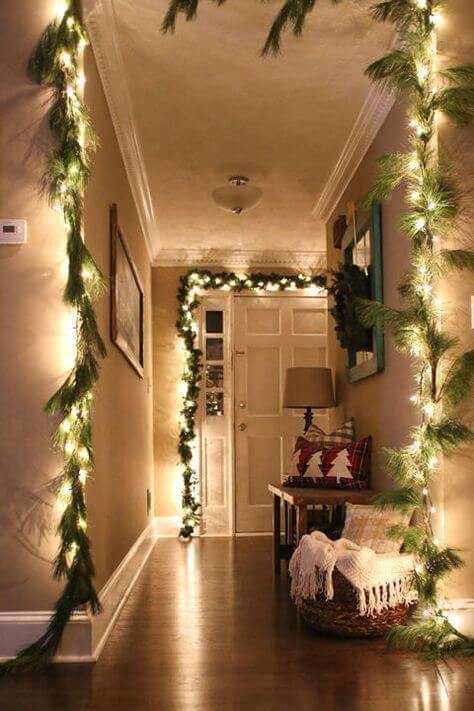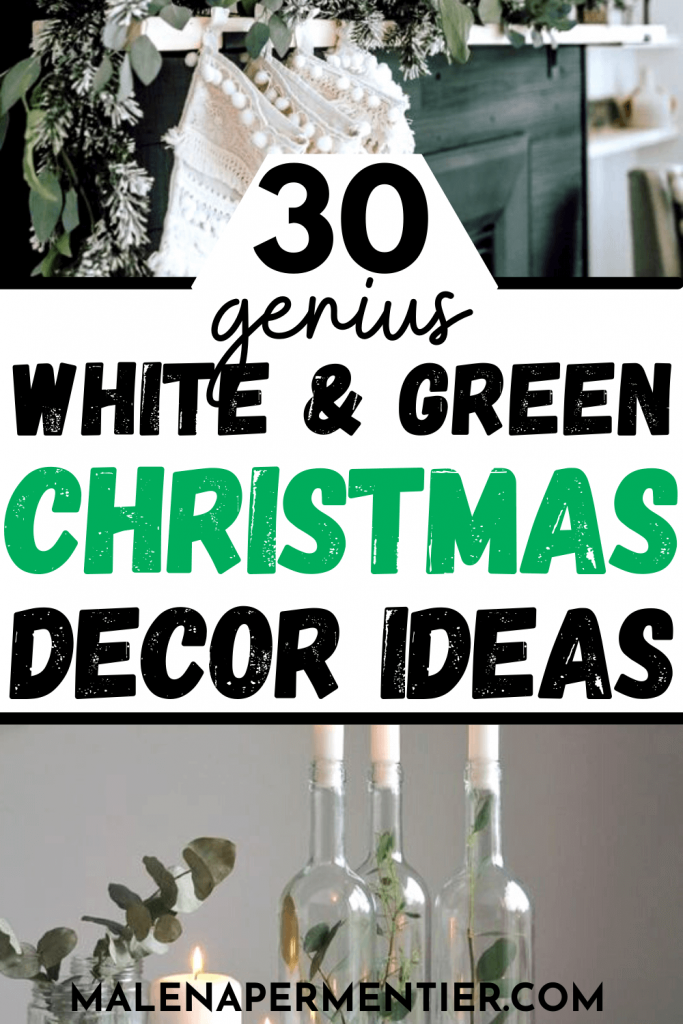 This post was all about the best white and green Christmas decor ideas.
You may also like: