I love Christmas, but the whole organization part of it isn't my favorite. Or perhaps, it just makes me nervous! I do, however, really enjoy making a beautiful Christmas dining table.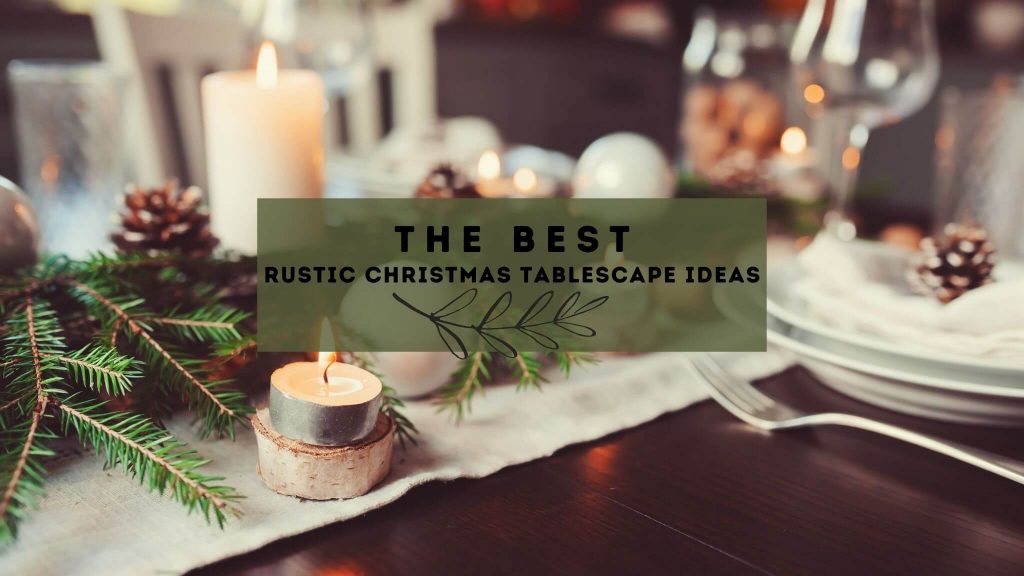 I prefer lots of lights, wood, and green over the traditional Christmas decorations. So if you're on the same page, check out the 15 must-haves for a beautiful rustic Christmas tablescape! Wow, quite the sentence.
These wood place card holders are the cutest, and are a must if you're putting together a rustic Christmas tablescape this year! I'm all for versatile Christmas decorations that you can also use for other occasions.

A gorgeous, lush Christmas garland is the backbone of a good rustic Christmas tablescape. This modern Christmas garland is just a little different, with gorgeous (fake) eucalyptus and willow vines twigs.

I don't like many traditional Christmas decor colors, but I adore this deep red table runner! I also think it works really well with the rustic brown colors of the wood, green, and lots of lights.

Pine cones are gorgeous on a Christmas table. You can keep them plain as seen below, or do a silver pinecones DIY.

If you prefer to let the rustic decorations do the talking, you might prefer a neutral table runner over deep red. I'm still testing both options, but I'll likely opt for the neutral one.
If you're eco-conscious, you'll probably also get more use out of the neutral one throughout the year. I also included this neutral table runner in my guide to Planning the Perfect Friendsgiving!

This set of centerpiece candles comes in both silver and gold. Both of these colors work amazing with a rustic christmas tablescape, so the choice is up to you!

Depending on how big your table is, you can also use a "side" centerpieces. I love how this a perfect mix between rustic and traditional. If you have a small table, this also works as the centerpiece of the table.

Better not take risks when it comes to fire! These are the most realistic flameless candles you'll find. They're made of wax but they have a LED light. This set of 9 comes in a few different sizes, making them perfect for your Christmas tablescape.

These wooden under plates aren't cheap, but they do make your rustic christmas tablescape come together! Luckily they come in a set of 8, which is a pretty generous amount.

You might think that these wooden plates look awfully similar to the previous ones, but they're quite different! These are small 3.5-4 inch coasters that you can use for candles.

Oh, I adore these! These are the perfect neutral Christmas napkins that work great with a rustic tablescape. They're definitely not cheap, but I had to include them nevertheless!

If silver is one of the colors in your rustic Christmas tablescape, these napkin rings are the best! I don't think mixing silver and gold is necessarily bad, but I wouldn't recommend it on a Christmas table. But then again, I might be wrong 🙂

These super cute handmade napkin rings will definitely draw all the attention from your guests! The style also works perfectly with a rustic Christmas tablescape.

I'll admit, I preferred the silver candles, but I couldn't find them anymore. These black ones do fit nicely in the rustic Christmas tablescape theme, though!

A great rustic tablescape is not complete without some fancy Christmas glassware. I personally think that these glasses fit perfectly in the rustic theme.

Last but not least, another centerpiece candle holder. Why? Because it was too good not to include!

This post was all about the 15 must-haves for a rustic Christmas tablescape.