This post shows you the best Christmas table centerpieces.
Christmas centerpieces are a great opportunity for some (not too complicated) DIY action.
Anyone can make a centerpiece for Christmas and make it look good.
If you don't know where to start, this post will show you 21 examples of how to make a Christmas table centerpiece this year.
These centerpiece ideas look great on your dining table or other spots like a coffee table, end table, or even the entryway.
Whether you're looking for simple, elegant, or rustic centerpiece ideas: these centerpieces will inspire you!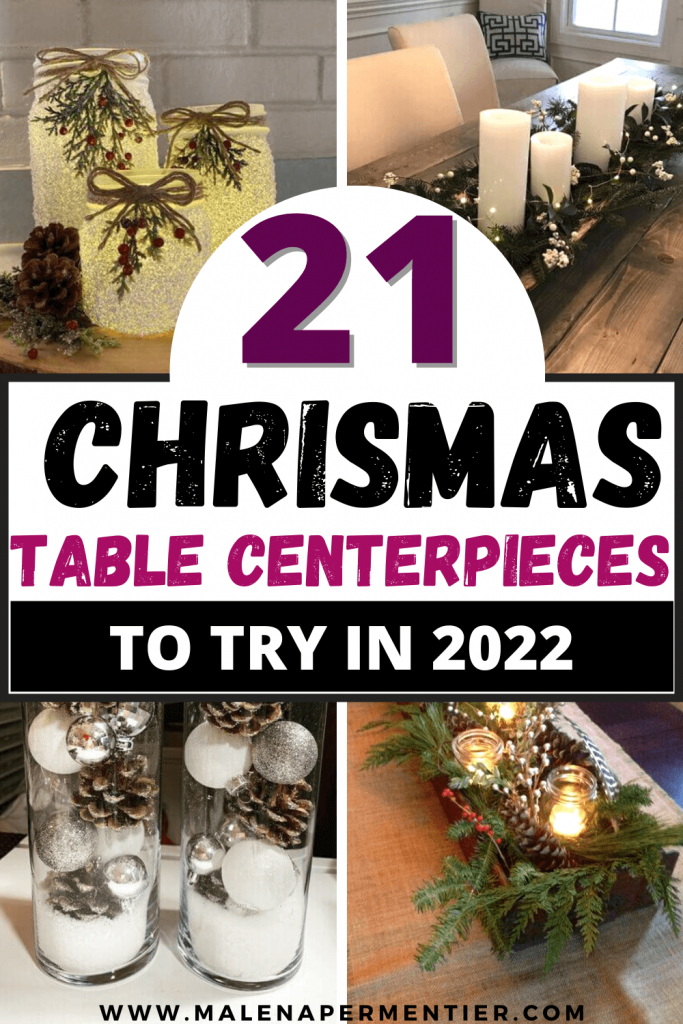 Christmas Table Centerpieces
1. Centerpiece tray with eucalyptus and candles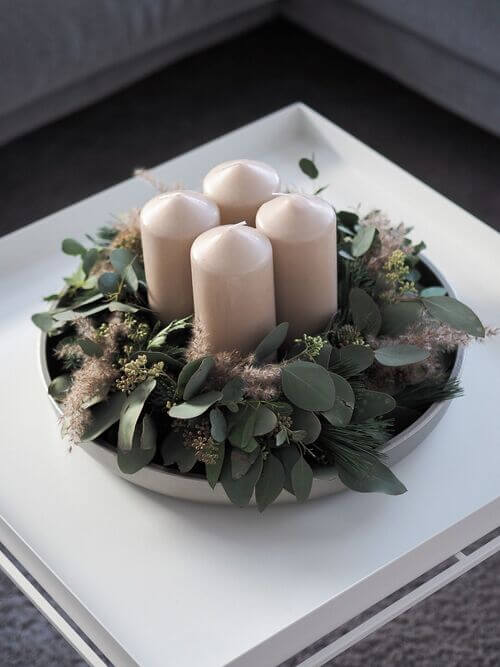 A round tray is one of the prettiest and simplest ways to build a Christmas table centerpiece.
This centerpiece theme is great for coffee tables but would also look amazing on a round dining table.
The best thing to use is a lush eucalyptus garland to recreate the greenery in this centerpiece. You can cut it according to your needs if it's too long.
2. Centerpieces with small wood slices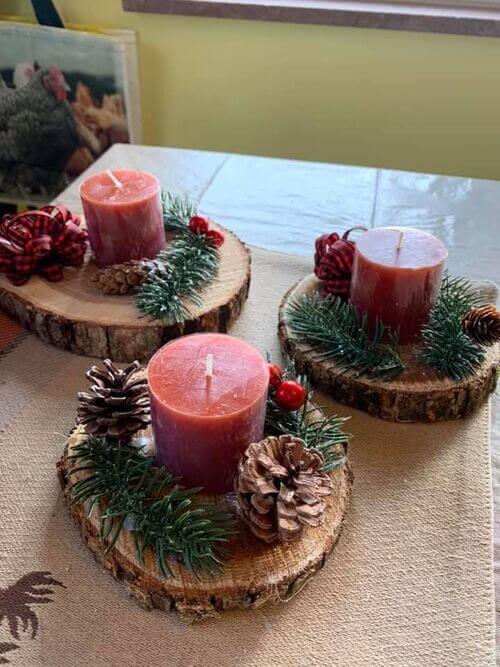 If you're decorating a long table for Christmas, I really love these tiny centerpieces made with wood slices.
Decorate each wood slice with a candle matching your overall table setting theme.
Pull everything together by draping a long, elegant eucalyptus garland over the table.
3. Simple Christmas table decor with greenery and speckled tealight holders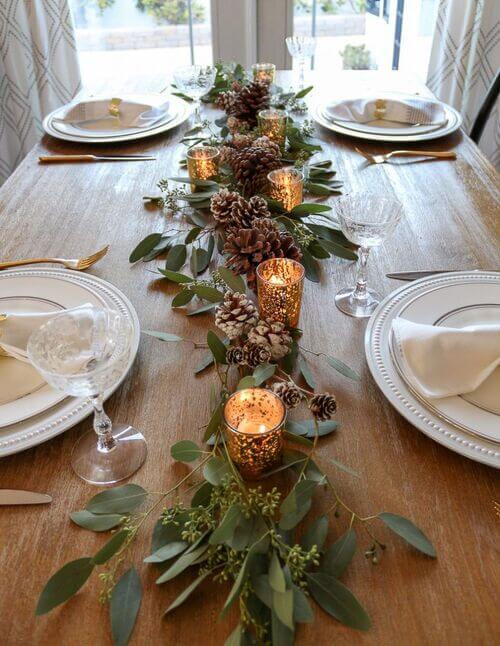 Cute tealight holders are a beautiful and inexpensive way to decorate a Christmas table.
The speckled glass works great with a rustic theme.
The greenery and pine cones tie everything together, making this Christmas table centerpiece look super charming.
4. Rustic lantern centerpiece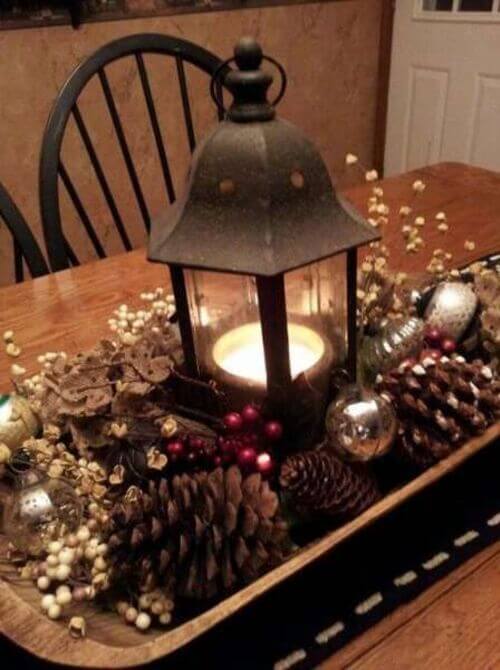 Dough bowls (the long and deep ones) are a great base for a Christmas table centerpiece.
Stick to a color scheme and theme, like this rustic one with warm brown, neutrals, and red tones.
Placing the lantern in the middle creates a beautiful balance with the other smaller decorations like pine cones and holly berries.
5. Dough bowl centerpiece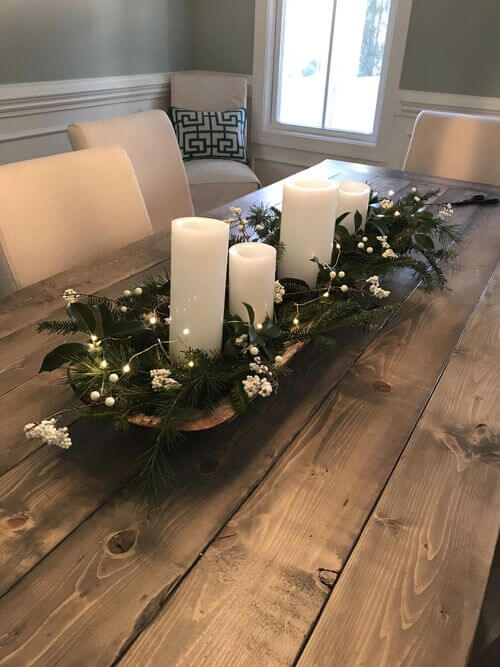 Here is another great example of how to make a centerpiece with a dough bowl for Christmas!
Layer greenery in the bottom of the bowl, and top with other decorations like red berries.
Place the pillar candles in different spots inside the bowl.
Get pillar candles in 2 different sizes for the best look.
6. Christmas mason jar centerpiece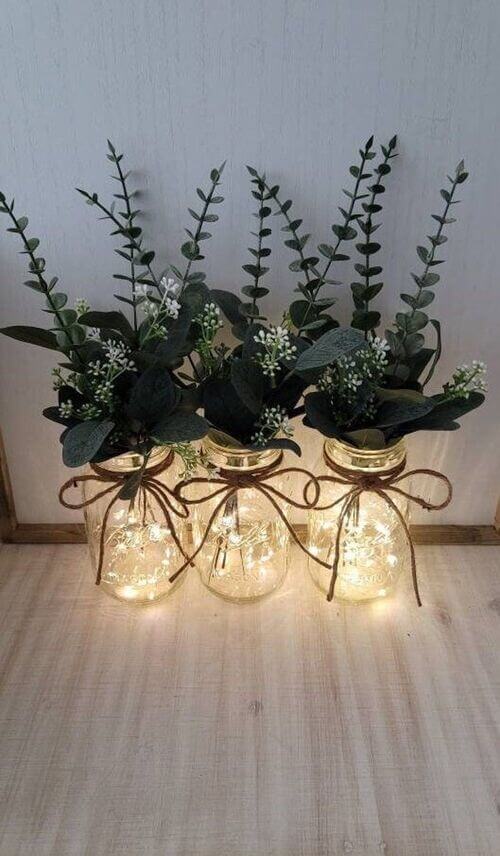 Mason jars are an inexpensive way to make beautiful centerpieces for Christmas.
You can either DIY them or buy them ready-made.
Etsy has beautiful options when it comes to centerpieces with mason jars.
7. DIY empty wine bottle decor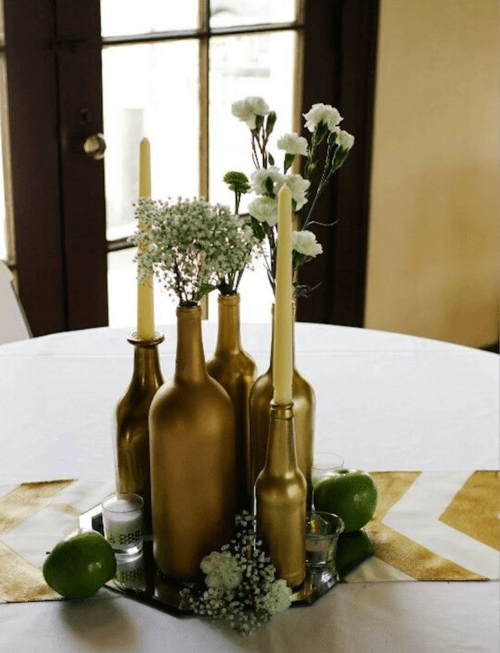 Empty wine bottles are a great base for centerpieces.
You can spray-paint the bottles gold or decorate them with white or silver glitter for a snow effect.
Place some Christmas-themed greenery or flowers in the wine bottles and arrange them at the center of your dining table.
8. DIY mason jar centerpiece with snowy glitter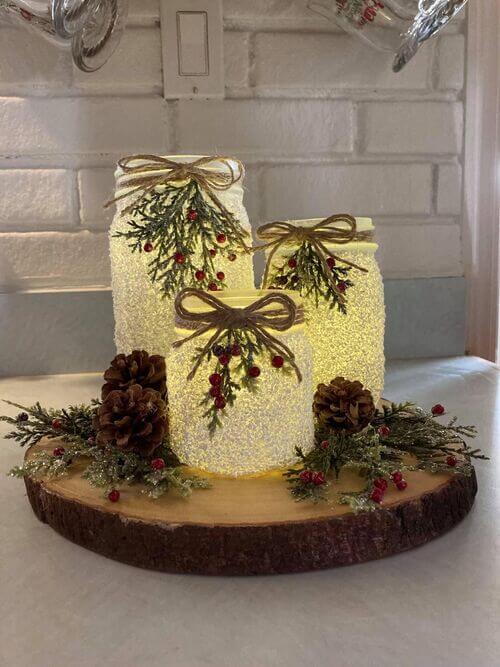 Making glittery mason jars is a fun and easy DIY to try out for Christmas this year.
Pick a thicker white glitter to recreate the snow effect.
Use some jute twine to attach small pine twigs at the rim.
You can fill the jars with greenery or leave them as is with a tealight candle inside.
Looks super cozy and cute, and you can make this on a budget with dollar-store items.
9. Minimalist candle centerpiece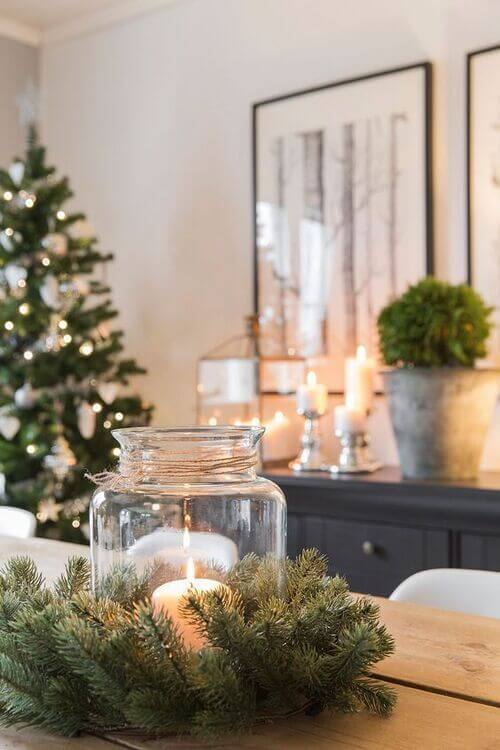 Wreaths aren't just great for decorating your doors.
You can also place them on a table to make a centerpiece.
The formula is simple. Get a larger wreath with enough space inside.
Then arrange led candles (for safety) or pillar candle holders inside.
Best LED pillar candles:

10. Coffee table centerpiece for Christmas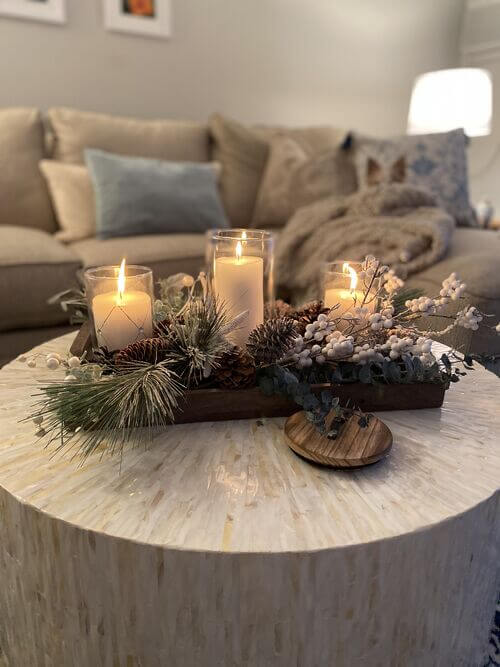 Transform your coffee table into something Christmassy by decorating a tray.
I really like this simple and elegant centerpiece! Start with a simple wood tray that is a good match for your coffee table size.
Decorate with greenery and simple glass pillar candle holders.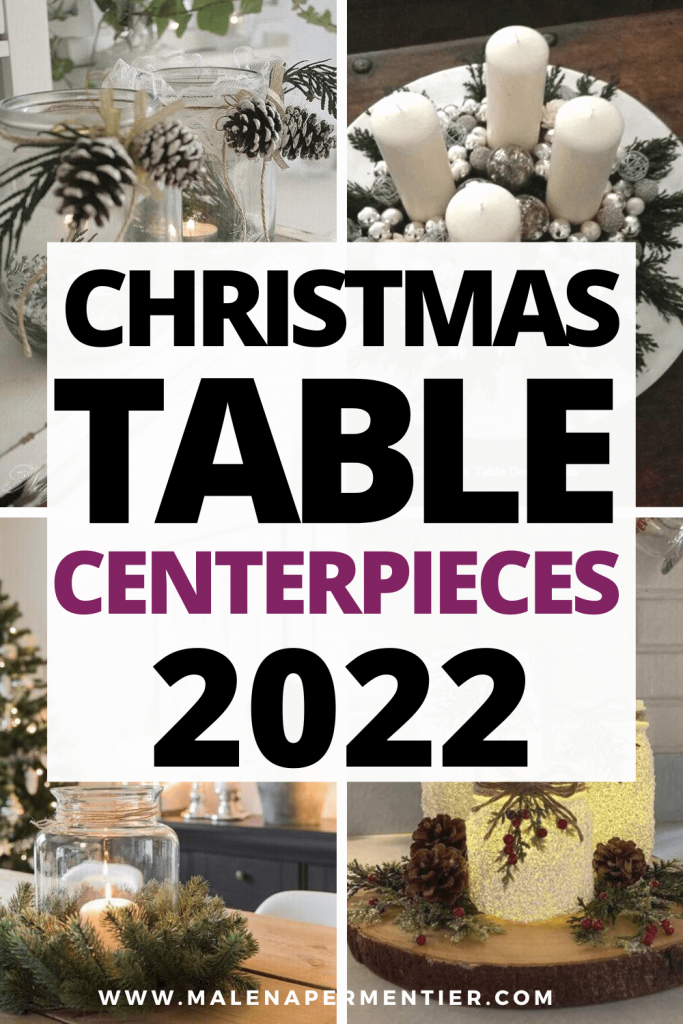 11. Christmas centerpiece with pedestal vase
A large pedestal vase is a great base for a Christmas centerpiece. You might already own one.
Place some white sand or tiny stones inside. Stack pinecones on top.
Make sure to keep space free in the middle for a candle.
12. Large box centerpiece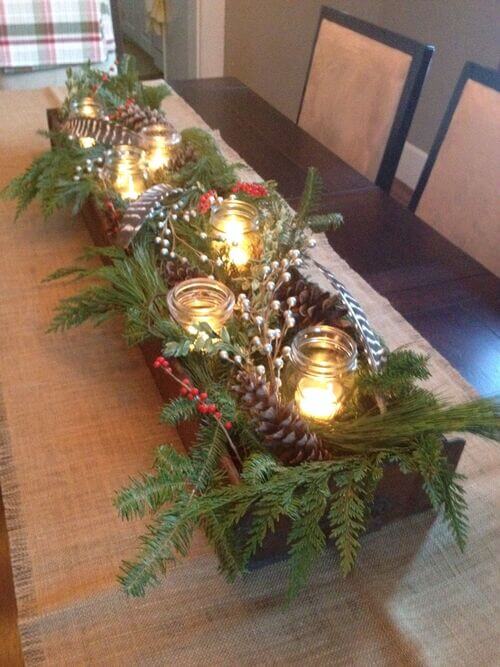 A long wood bowl or tray box is great for an elaborate Christmas centerpiece.
If you have a long dining table, this is a great choice to fit the space.
Simple and clear tealight holders are great for decorating the tray.
13. Christmas table centerpiece for round tables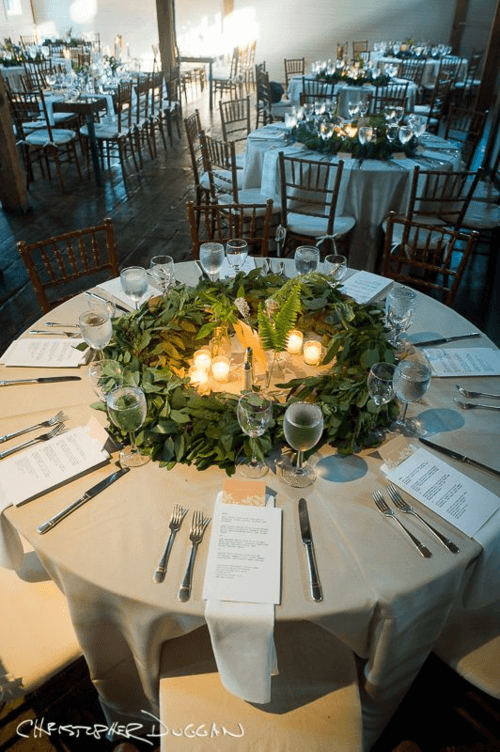 This is a winter wedding table setup and not a Christmas table. BUT.
I thought the simplicity and elegance of this centerpiece were worth showing!
When decorating your Christmas table, recreate this with a large wreath or by placing a eucalyptus garland into a circle.
14. Cylinder vases filled with Christmas ornaments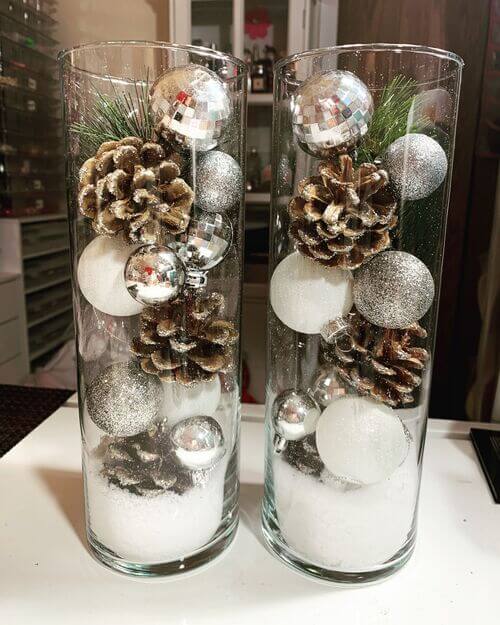 Cylinder vases are a great base for narrow and sleek centerpieces.
This works best on dining tables with limited space.
I also think they are a beautiful centerpiece as is!
You can decorate your kitchen counter or an end table with these vases.
The formula for recreating this is simple.
Place different colored Christmas balls and ornaments into the vase until you get the desired look.
You can fill the bottom with white sand filler for a snowy look!
15. Simple round tray decor with reindeer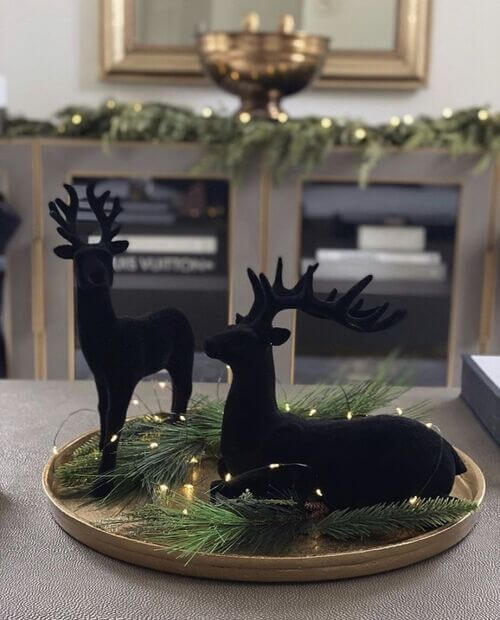 This tray decor is simple but significant!
Recreate this creative centerpiece idea with a round tray, black reindeer figurines, and pine branches.
This decor has a super modern yet cozy aesthetic that would look great in neutral living rooms.
16. Creative cutting board decor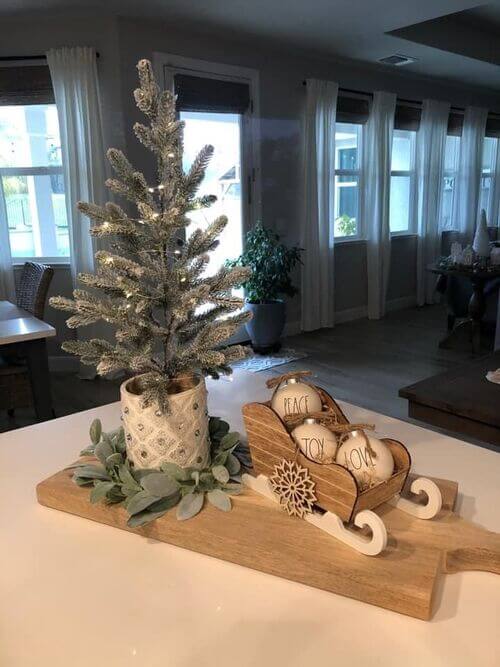 A chic wood cutting board is a great starting point for a Christmas centerpiece.
This would look great on a table or kitchen counter.
Place the tabletop Christmas tree on one side of the cutting board, and then fill up the space with lambs ear leaves, and a wooden Christmas figurine or ornament.
17. Easy mason jar centerpiece with pine cones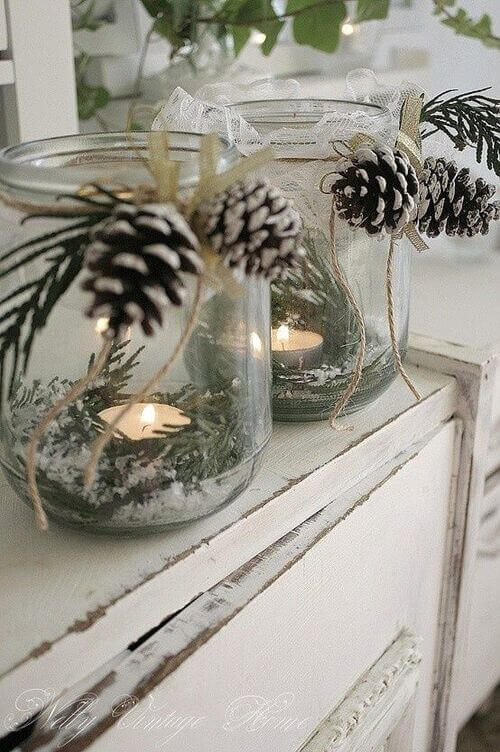 Simple centerpieces are the best centerpieces! Place these mason jars on your dining table next to one another.
To make these, you need:
mason jars
jute twine
snow stones
tealights
pine cones
pine twigs
some lace ribbon
18. Upside-down cocktail glass centerpieces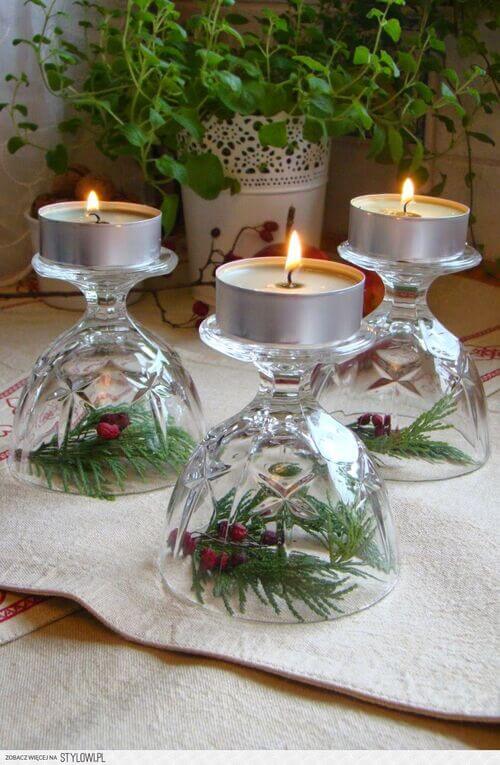 This is such a creative and fun Christmas table centerpiece idea to recreate!
If you have small crystal cocktail glasses like this, that's amazing.
Place red berries and pine twigs under the glass and add tealights on top.
You can also change the tealight candles for LED tealight candles as a safer option.
Best flameless LED tealight candles:

19. Cute silver tray Christmas decor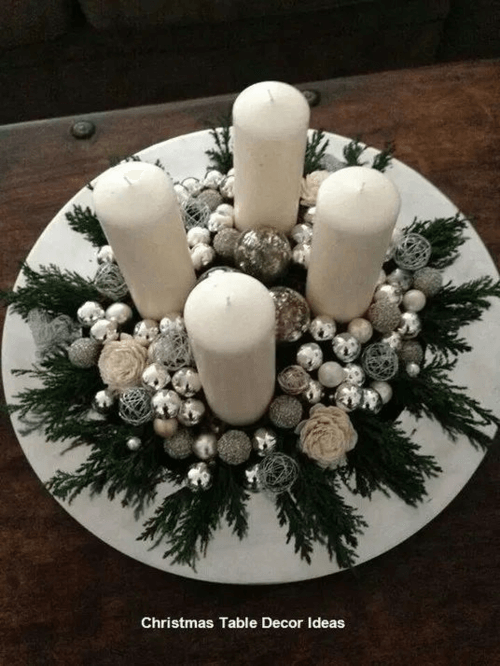 A silver tray is, in my opinion, one of the easiest ways to create a festive Christmas centerpiece!
Arrange your choice of greenery elegantly on the tray.
If you can achieve some star or flower shape, even better :).
Pick flat enough greenery so you can place candles and Christmas ornaments on top effortlessly.
20. Wavy shape Christmas table setting
Wood slices and a large eucalyptus garland make for an easy and beautifully rustic Christmas tablescape.
Turn the wood slices into small centerpieces by decorating them with mason jar candle holders.
Decorate the mason jars with burlap and lace ribbon for a polished look.
21. Floating candle centerpiece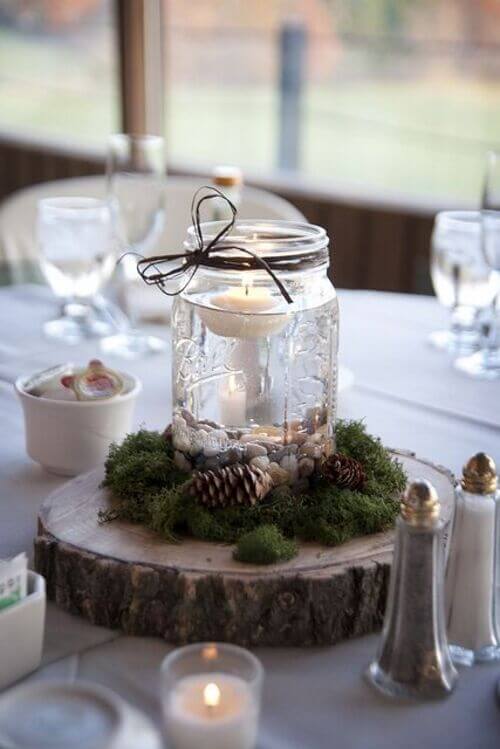 This post has almost become an overview on the versatility of mason jars!!
Haha, but seriously. Mason jars are so versatile when decorating your home for Christmas on a budget.
To recreate this idea, you need to fill mason jars with water and get tealights suitable for floating in the water.
It's a simple idea that will look chic on the Christmas dinner table. You can also use red floating tealight candles for a more Christmassy vibe.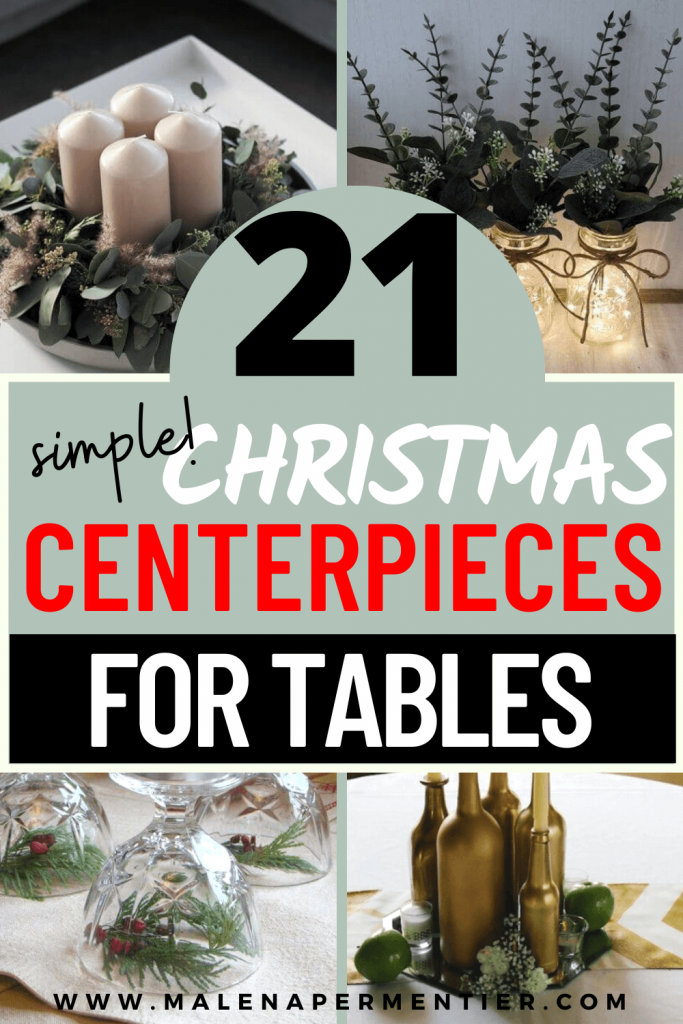 This post showed you the best Christmas table centerpieces.
You may also like: