This post shows you the best easy Christmas centerpieces to DIY!
Creating your own Christmas centerpieces can be a fun and creative way to add a personal touch to your holiday decorations.
Whether you're hosting a festive dinner or just want to spruce up your home for the season, DIY Christmas centerpieces can set the mood and make your space feel warm and inviting.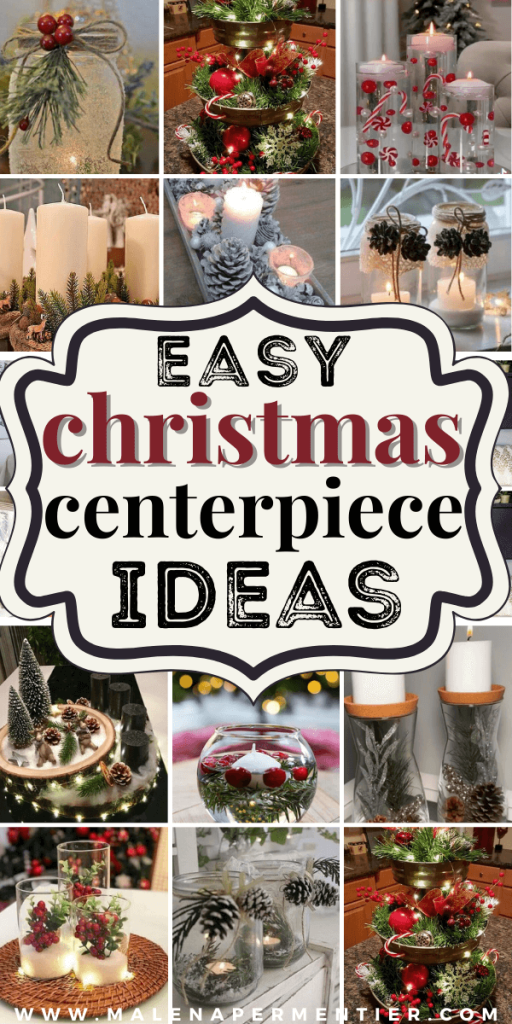 Ideas for the perfect centerpiece
Traditional Candle Arrangement: Arrange a set of pillar candles of varying heights on a decorative tray or a mirrored plate. Surround the candles with seasonal elements such as pine cones, holly branches, and red berries.
Evergreen and Berry Basket: Fill a rustic basket or wooden crate with fresh evergreen branches. Intersperse red berries, pine cones, and small ornaments for a pop of color. Add a ribbon or bow for an extra festive touch.
Glowing Lanterns: Place a group of lanterns of different sizes in the center of the table. Fill the lanterns with battery-operated fairy lights, pine cones, and ornaments. Surround the lanterns with small votive candles for a warm glow.
Cranberry Vase: Fill a clear glass vase with fresh cranberries. Add water and place white or red roses, tulips, or other flowers in the vase. Tie a ribbon around the vase for a finishing touch.
Winter Wonderland Terrarium: Create a mini winter scene in a glass terrarium. Use fake snow, miniature trees, and tiny ornaments to build a festive landscape. Place battery-operated fairy lights inside for a magical touch.
Rustic Log and Candle Centerpiece: Arrange birch logs or other rustic elements in the center of the table. Place candles of varying heights on top of the logs. Add pine branches, acorns, and berries for a woodland touch.
1. Double tray with ornaments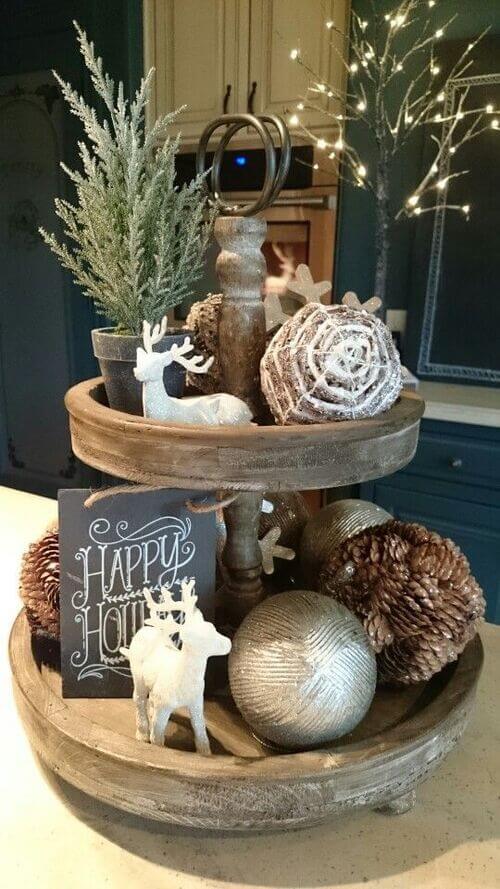 This rustic holiday centerpiece includes reindeer, rosemary, and pinecones as well as some silver accents.
It's perfect for someone who is looking to bring in a new look for the holiday season without being too bold about it.
2. Grey candles and a moody atmosphere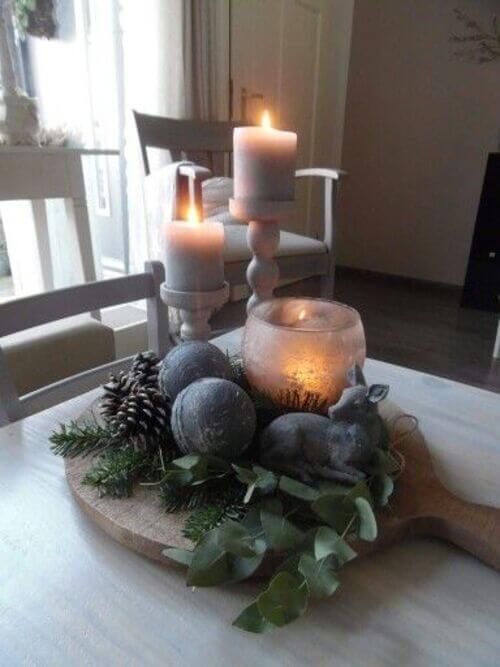 This idea is simple to make at home. Use a large charcuterie board and incorporate some grey candles and ceramics.
Add in some greenery and pinecones for that natural element. It's a simple idea that goes a long way.
3. Snowy mason jars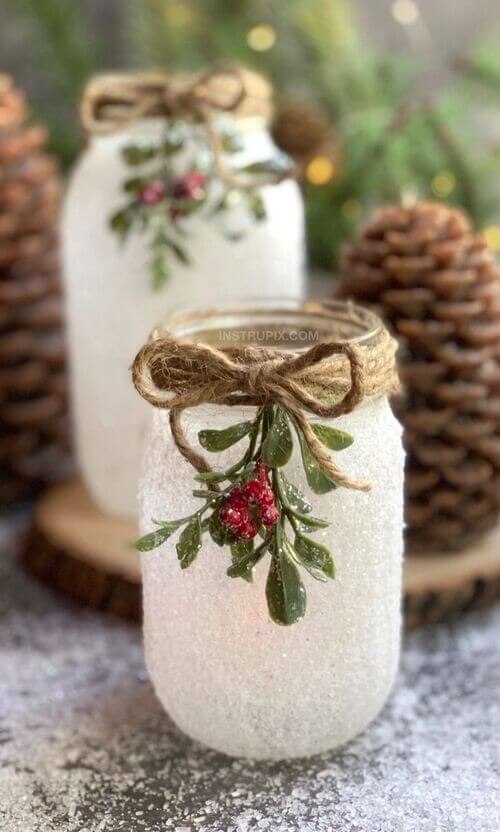 These mason jars have become the perfect DIY project for the Christmas season.
Grab a couple of mason jars and coat them in glue. You can then roll them in white glitter to create the snowy effect.
Tie some string to the top with some mistletoe just to give it that extra festive look.
4. Greenery centerpieces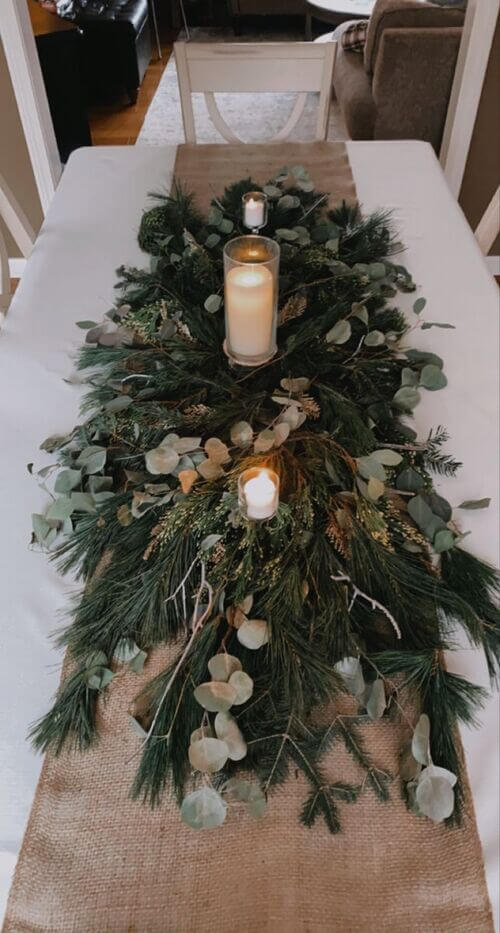 Going all out with the forest look can also be great for the holiday season.
Instead of opting for the normal red, white, and green, you can stick to natural elements.
Grab a burlap table runner and place some greenery with leaves and eucalyptus.
Add some candles to the table to bring in some warmth as well.
5. Candles, pinecones, and lace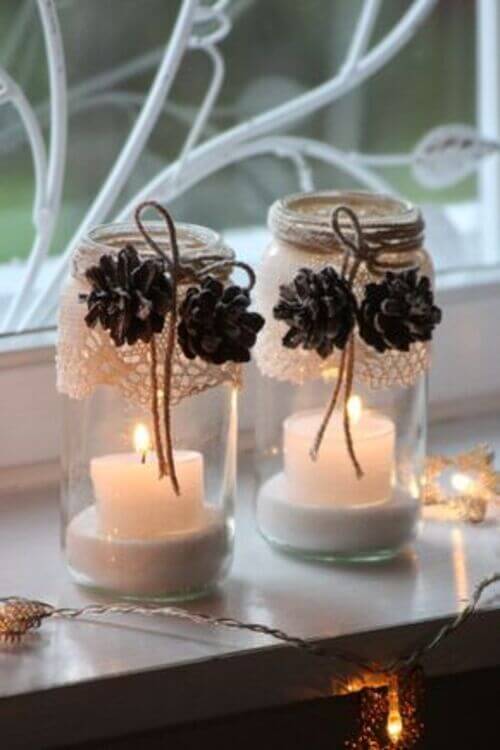 For something a little simpler you can always opt for this idea.
Fill the bottom of mason jars with fake snow and add some candles.
You can wrap lace around the top with some twine and small pinecones.
It's super easy to achieve and is budget-friendly.
6. Fake snow and cranberries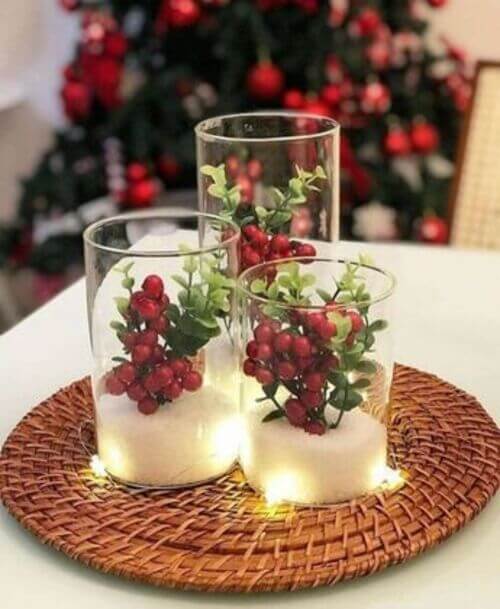 Looking for a simple way to light up the table?
We've got you covered.
Add some fairy lights to the bottom of the jars and cover it in fake snow.
Place some cranberries on top and put the jars on a simple woven plate as a centerpiece idea.
7. Candles, greenery, and ornaments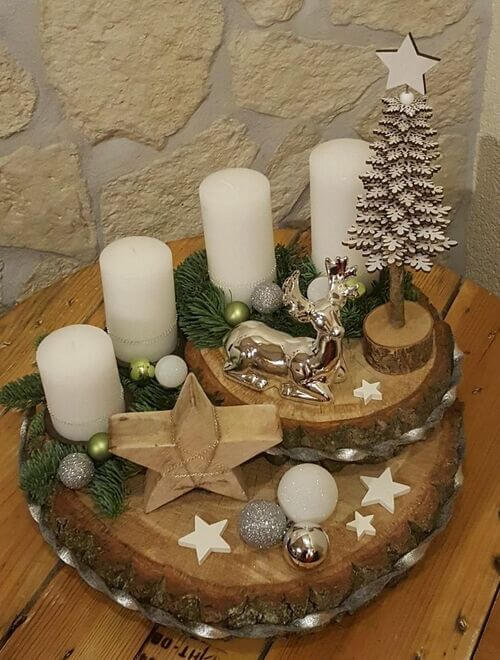 For a more neutral approach, you can include this double tray setting with stars, glitter baubles, and silver accents.
For an extra touch of light, you can also add the pressed wood tree and some candles for a warmer atmosphere.
8. Purple and green centerpieces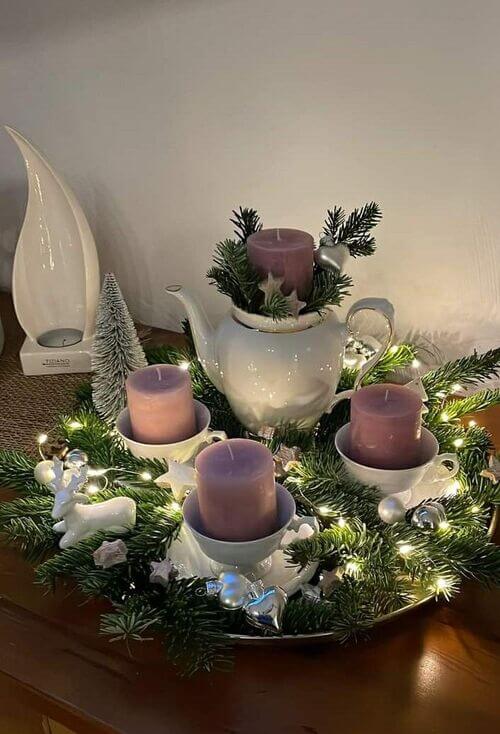 This idea brings a refreshing touch of color to the usual Christmas decor idea.
Grab a silver plate and cover it in greenery and fairy lights.
You can use teacups to hold the purple candles as well as a teapot.
It's a unique approach to the usual centerpiece idea.
9. Simmer pot-inspired mason jars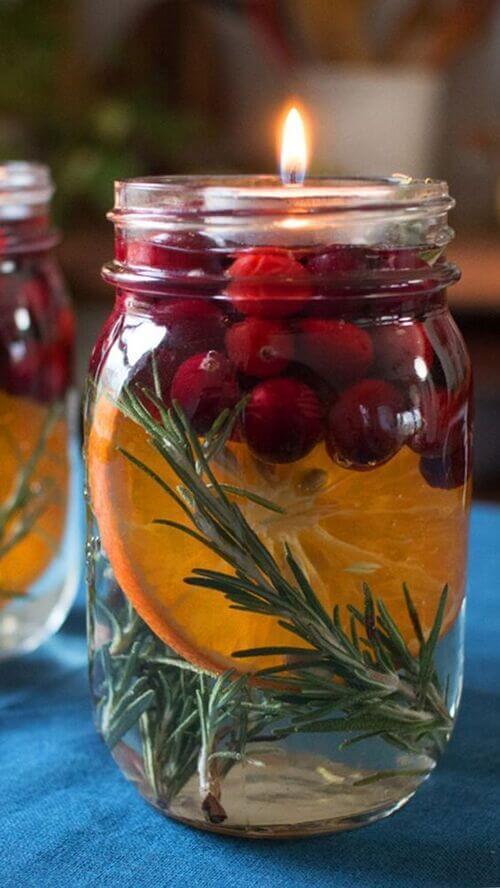 The best part about winter is being able to create simmer pots.
So why not include it in centerpieces?
Grab a mason jar and add some rosemary, orange slices, and cranberries.
Add some floating candles so that there is an air of warmth included in the table.
10. Snowy centerpiece idea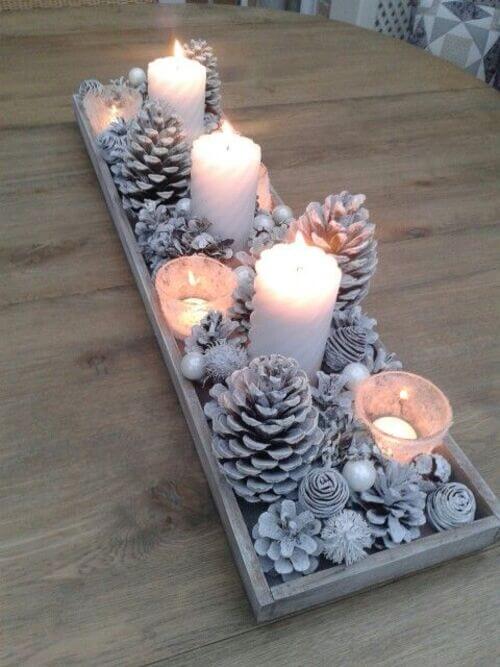 If the spectacular winter wonderland is what you're looking for then try out this easy idea.
Spray paint some flowers, pinecones, and other small items.
You can also include some candles and you can paint the wooden tray to stick to the theme.
11. Greenery and pinecone candle decor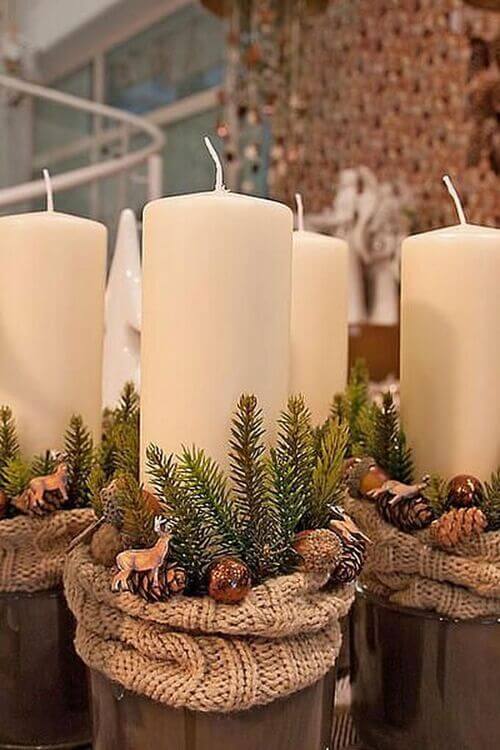 These centerpieces create a warm atmosphere.
Place some buckets filled with scarves, pinecones, and greenery.
The giant candles are perfect for decor purposes and don't even have to be used.
It's simple, elegant, and doesn't look busy either.
12. Red and green centerpiece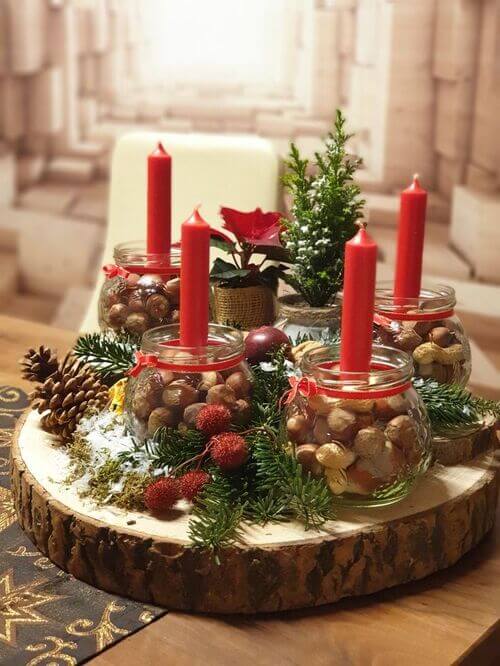 Opt for the traditional colors by incorporating red candles and greenery.
You can add a wood slice to use as a stand for all the centerpieces.
Include some jars filled with ornaments or nuts and pinecones. Let your creativity flow with this idea.
13. Triple tray with candles and pinecones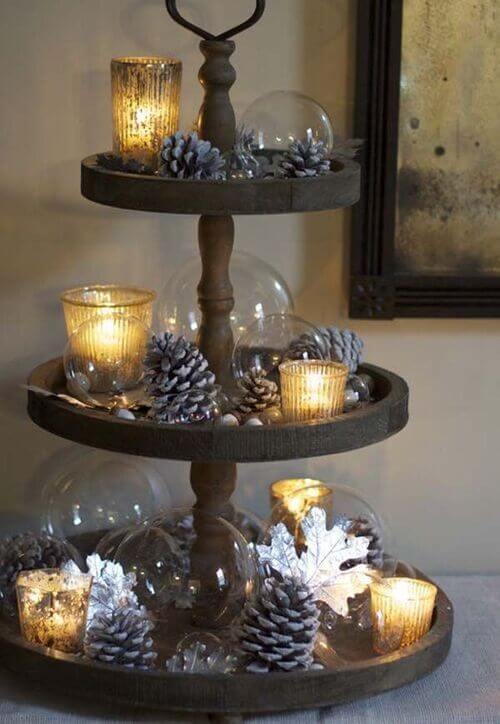 For a more moody look, you can recreate this triple tray.
It includes vintage glasses with candles, glass baubles, and pinecones.
You can include some white leaves to brighten things up as well.
This simple idea is great for someone who wants something new without being too flashy.
14. Greenery, fake snow, and tea lights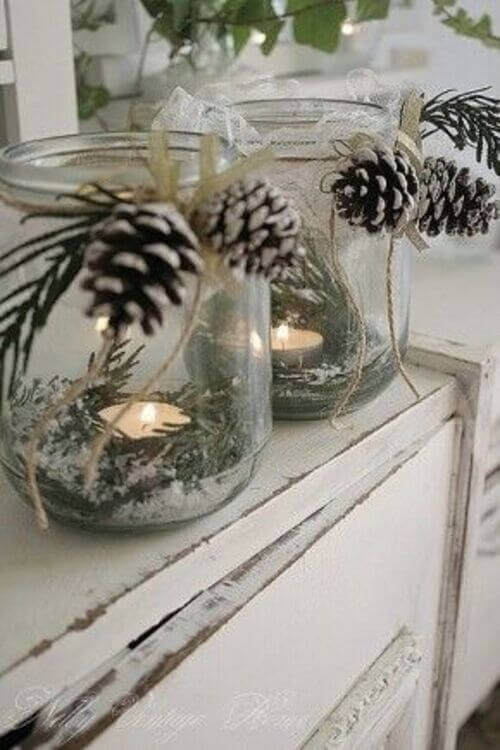 For those who love minimalism and simple approaches to holiday decor, you are going to love this!
It's simple yet still showcases how much you appreciate the season.
Fake snow, greenery, and tealights work perfectly to bring the idea to life and the ribbons with pinecones at the top simply pull the whole look together.
15. Candy cane and golden accents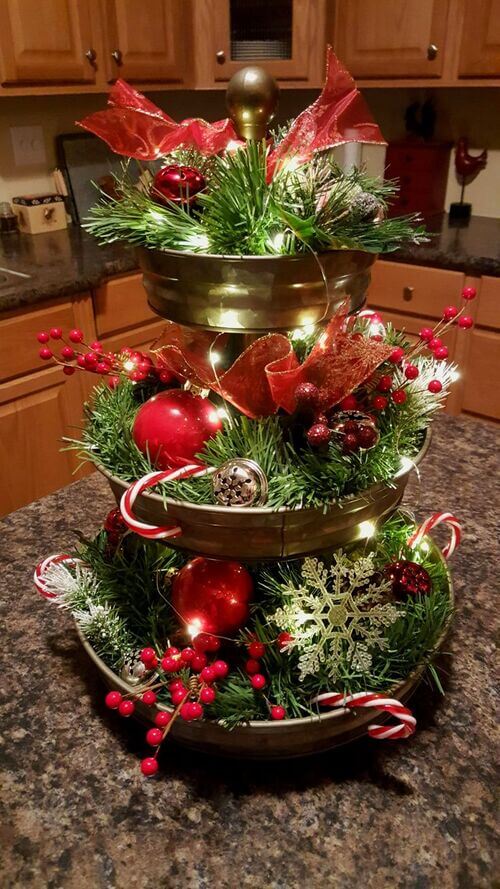 Looking for something sweet?
This centerpiece includes signature candy canes, cranberries, and plastic snowflakes.
Add some red and gold ribbon as well as greenery to fill up the space.
Try including a golden tray so that everything sticks to the color scheme.
16. Candy cane and floating candles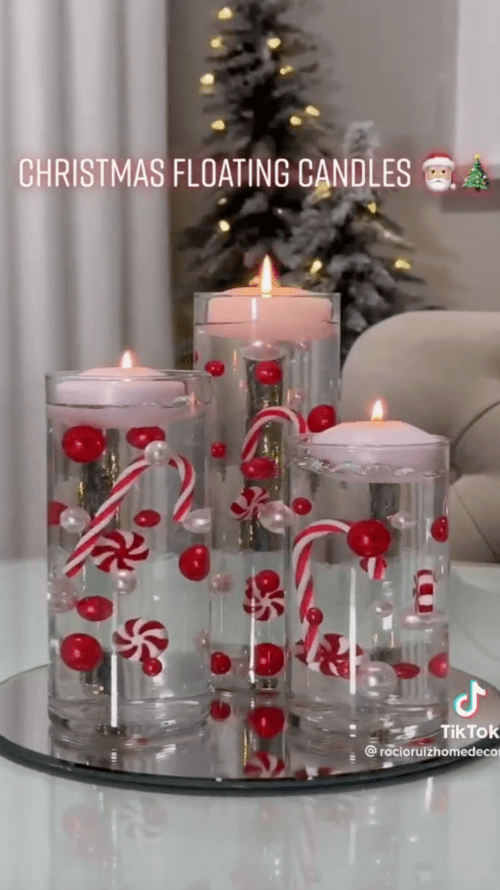 This idea is a quick and easy DIY project that will instantly bring something new to the table.
Add some fake peppermints, candy canes, and some jewels.
Float them in water and include a floating candle.
This idea is simple and budget-friendly.
17. Fairy lights and greenery centerpieces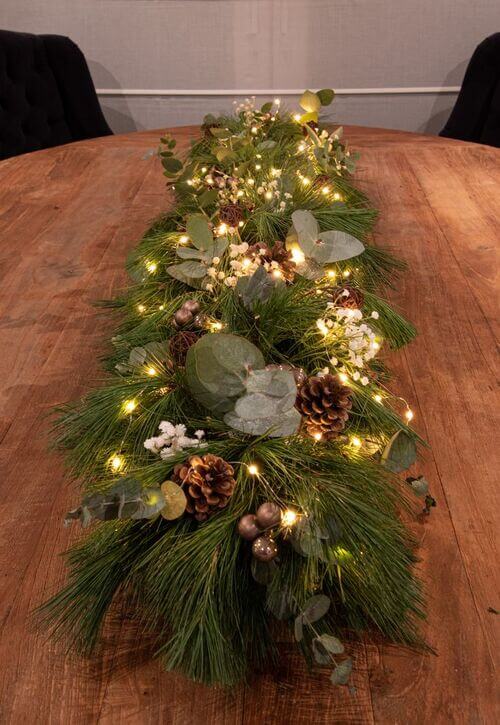 This table runner is great especially if you're hosting a fun dinner party for Christmas.
The greenery paired with pinecones and some fairy lights is a simple decor idea.
It's easy to adapt to your style and fills up the table so that there are no open spaces that make the table look bare.
18. Pinecone and snowy centerpieces