Hey there! Some links on this page are affiliate links which means that, if you choose to make a purchase, I may earn a small commission at no extra cost to you. I greatly appreciate your support!
This post shows you the best easy thanksgiving side dishes.
Thanksgiving is a time for gratitude, family gatherings, and, of course, a bountiful feast.
While the turkey takes center stage, it's the side dishes that truly round out the Thanksgiving experience.
Whether you're hosting a traditional dinner or looking to put a modern twist on the classics, this blog post will introduce you to 15 irresistible Thanksgiving side dishes that are sure to leave your guests craving for more.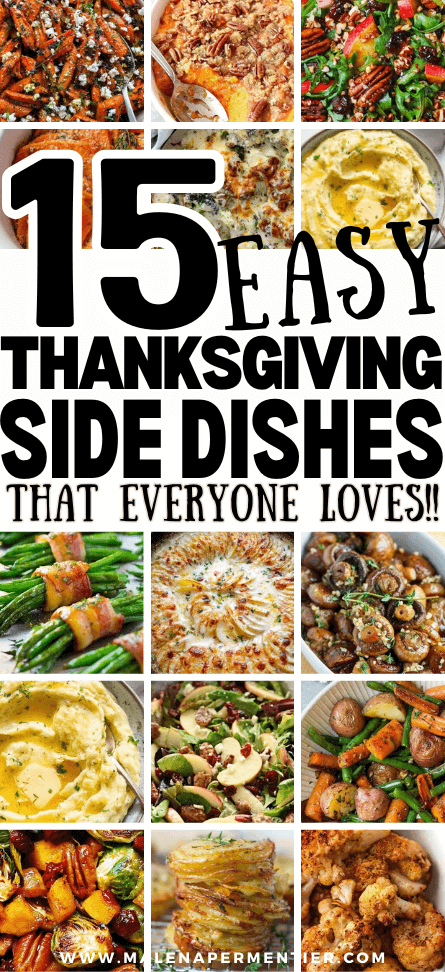 Typical Thanksgiving side dishes
Garlic Mashed Potatoes Creamy and rich, garlic mashed potatoes are a must-have at any Thanksgiving dinner. Elevate this classic side dish by roasting the garlic before mashing it into the spuds.
Roasted Brussel Sprouts with Bacon These crispy brussel sprouts, roasted to perfection with crispy bacon, are a flavorful and healthy addition to your Thanksgiving table.
Cranberry Orange Relish Brighten up your Thanksgiving with this zesty cranberry orange relish, which adds a refreshing burst of flavor to your plate.
Classic Stuffing A Thanksgiving staple, perfectly seasoned stuffing is essential. Customize it with your favorite herbs and even some sautéed mushrooms or sausage.
Homemade Gravy Don't forget the gravy! Make your own with the drippings from the turkey for an unforgettable flavor.
Honey Glazed Carrots Roasted carrots drizzled with honey are not only visually appealing but also a deliciously sweet side dish.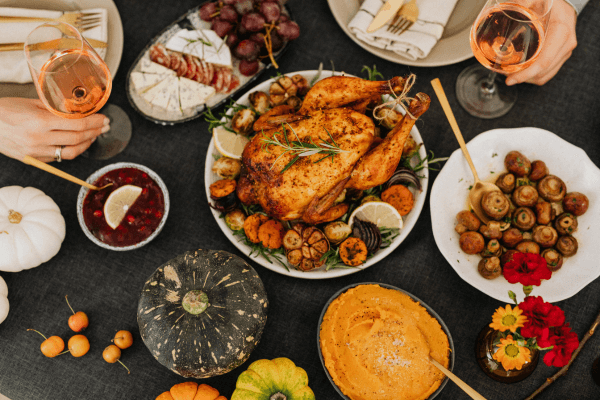 More thanksgiving side dishes ideas
Creamed Spinach Add a touch of elegance to your Thanksgiving table with creamy, garlicky spinach.
Cornbread Whether you serve it as cornbread muffins or a classic loaf, cornbread is a quintessential Southern side dish that complements any Thanksgiving meal.
Candied Pecan Salad: A salad can be a refreshing addition. Try a candied pecan salad with mixed greens and a balsamic vinaigrette.
Roasted Root Vegetables A medley of roasted root vegetables like carrots, parsnips, and turnips makes for a rustic and wholesome side dish.
Butter Rolls Soft and buttery dinner rolls are the perfect vehicle for sopping up extra gravy.
Mushroom Risotto Creamy mushroom risotto can be a luxurious and savory side that pairs wonderfully with turkey.
Pumpkin Pie Finish off your Thanksgiving feast with a classic pumpkin pie. Top it with whipped cream for an extra touch of indulgence.
Easy thanksgiving side dishes
1. Roasted Brussels Sprouts and Cinnamon Butternut Squash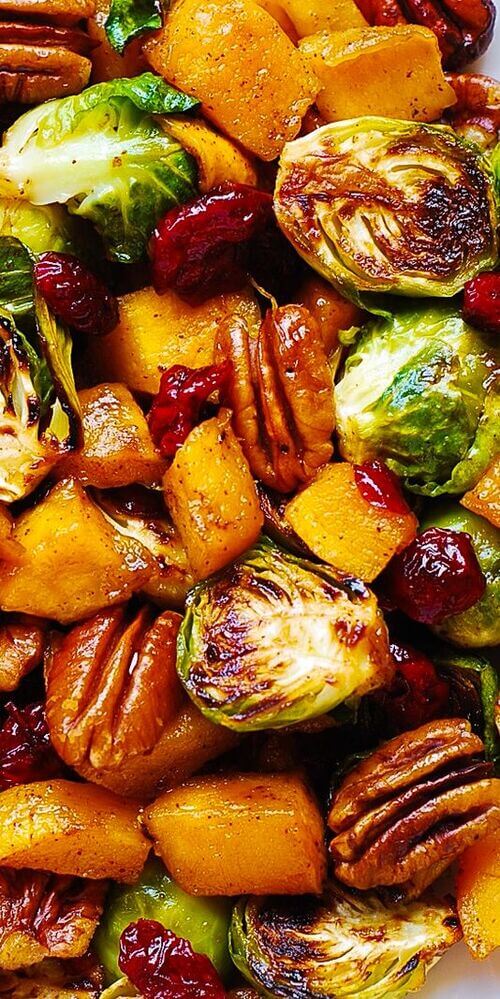 This delicious treat gives you all the crunch and flavor that just screams fall.
It incorporates a sweet taste by combining cinnamon and butternut.
Add some pecan nuts for a nice crunch.
Brussels sprouts can usually be tricky to make work, especially as a side dish but this spectacular recipe is sure to bring a new Thanksgiving favorite to light.
It's up to you if you want this dish to be more sweet or savoury so be sure to bring your flavor profile to the table.
2. Potatoes Gratin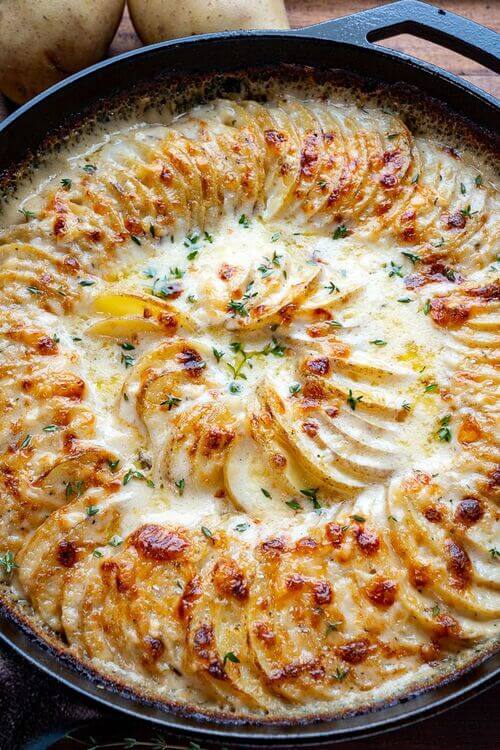 Who can say no to potatoes? Exactly, no one can!
This creamy, salty, and simple dish will become a holiday favorite.
Your guests will be sure to appreciate this dish, especially on a cold fall day.
It's dishes like these that bring the whole family together, and who knows, maybe this dish will become a new Thanksgiving tradition.
Simply pop it in the oven to get it nice and crispy on the top, and if you want a cheesy element you can also add that to the top.
3. Arugula Salad with Apples, Cranberries, and Pecans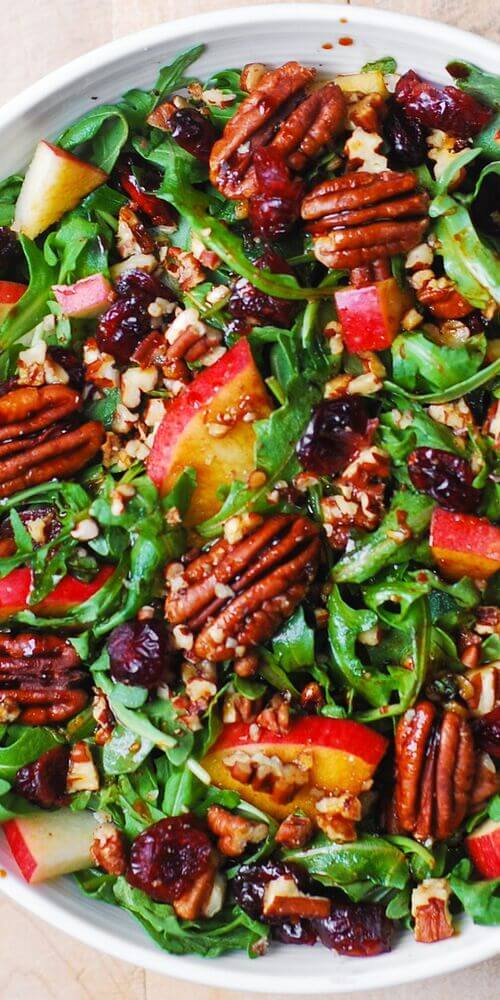 If you need a refreshing salad to cleanse your palette, then try this out.
Add nuts (whatever you like best), fresh arugula, cranberries, and apples.
This dish is a bit more unique, making it perfect for those of you that like experimenting with different flavors.
It's simple, sweet, and is a fun new addition to test out.
It might even make you forget about the cold season.
If you feel like it, you can also add a custom sauce that will make it pop.
4. Gruyere and Thyme Stacked Potatoes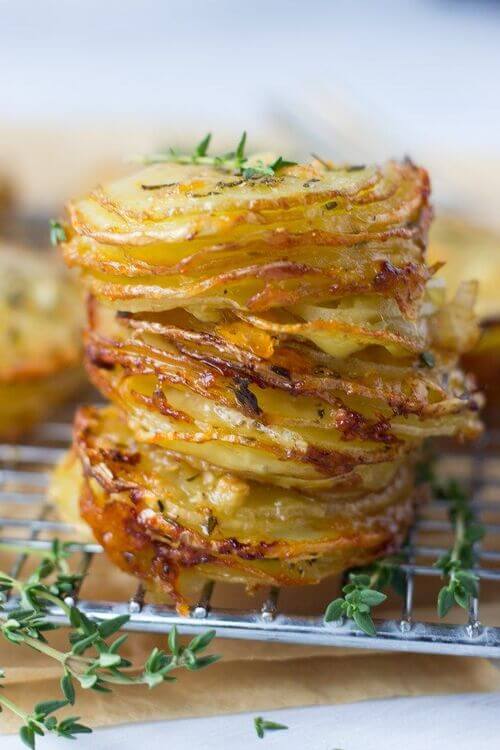 These adorable little potato snacks are perfect as a side dish or even an appetizer for the holiday.
It's the perfect crunchy and salty snack to add to your list of goodies this year.
If you're looking for something new or just want to bring a fun addition to your Thanksgiving dinner, then give this a try!
You can add some extra spices to bring a kick of flavor in or just go with the recipe as is.
5. Cheesy Broccoli Casserole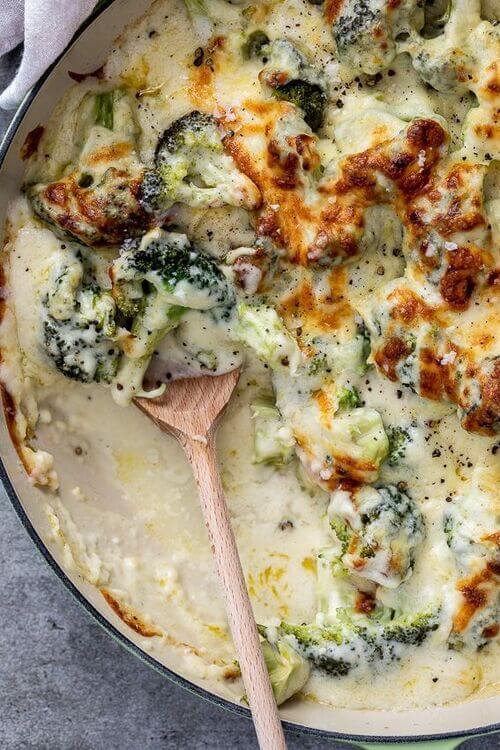 I know getting kids to eat their greens is a chore in itself, but this cheesy broccoli casserole is sure to do the trick.
It's got the perfect balance of salty and creamy goodness, and with an added layer of burnt cheese on top it just sells it.
As someone who has seen a fair share of kids not interested in their veggies,
I can say without a doubt that this always does the trick.
6. Bacon Green Bean Bundles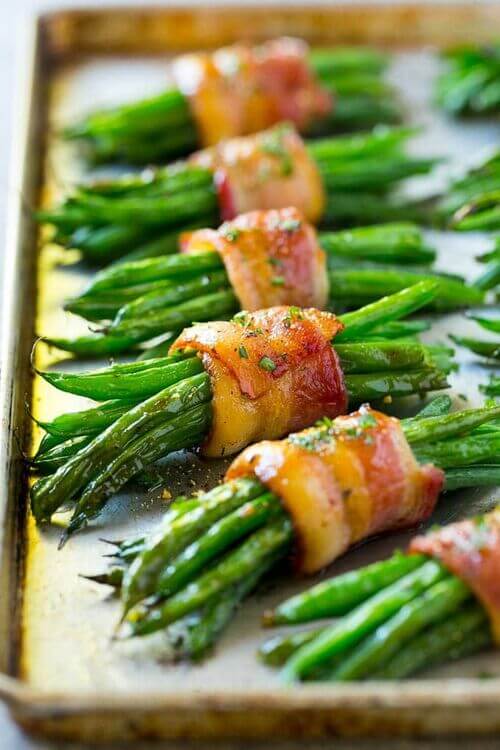 There's nothing wrong with a healthy pairing of meat and veggies… especially Bacon.
This side dish is sure to grab people's attention and give them something to look forward to for the coming years.
The freshness of the green beans wrapped in the delicious salty Bacon is a pairing that is to die for.
7. Roasted Mushrooms in a Browned Butter, Garlic and Thyme Sauce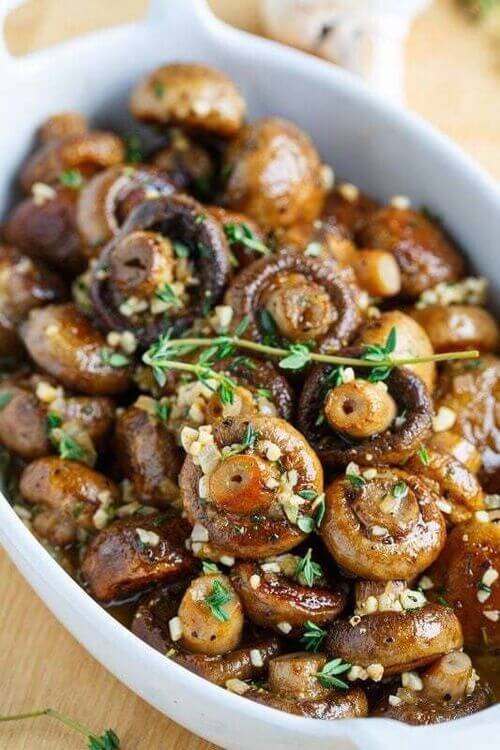 Are you looking to add a more sophisticated flavor profile while keeping things simple?
These button mushrooms are the perfect side dish and bring a yummy new addition to the table.
The pairing of garlic and Thyme brings a subtle yet amazing taste into play.
8. Lemon Dijon Roasted Carrots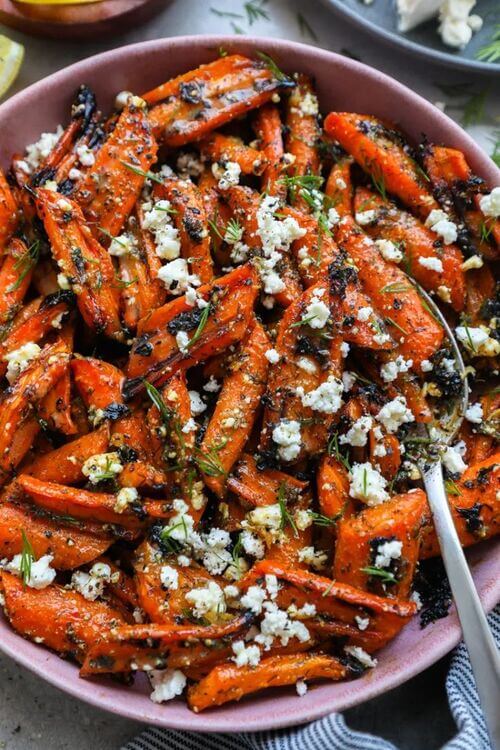 Bring a subtle and effective kick of flavor to your side dish.
These roasted carrots might just be what you need for a bolder flavor.
If you have a sweet dish that feels a bit overpowering, then you can include some of these carrots to break the taste and bring balance to the dish.
9. Garlic Herb Roasted Potatoes Carrots and Green Beans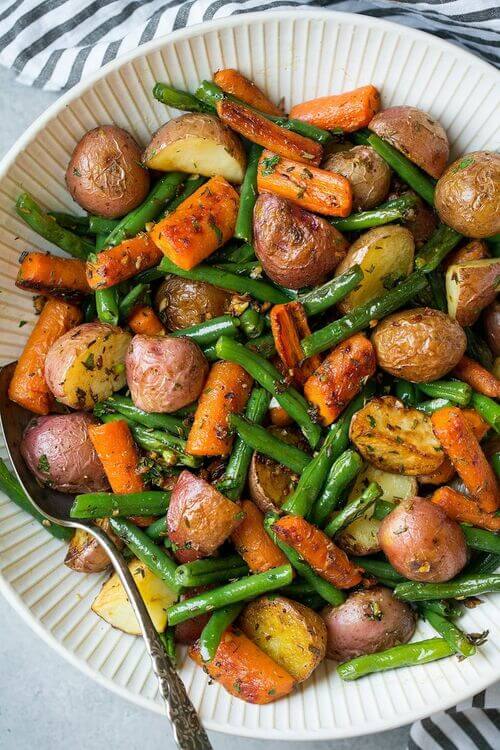 Take things back to basics with this dish. You can never go wrong with roasted potatoes and veggies.
You can incorporate some garlic, and spices, and keep it simple.
Everyone loves this side dish because it's easy to throw together and has always been a guest favorite.
Add this to the turkey and maybe even a nice cranberry sauce to tie it all together.
10. Easy Sweet Potato Casserole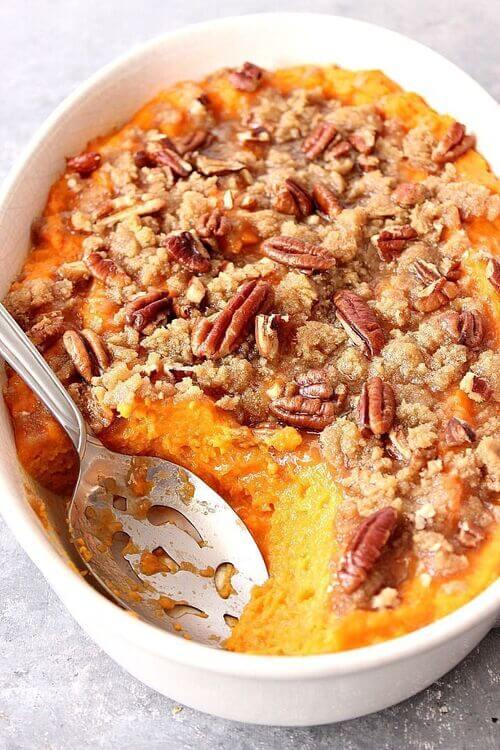 For those of you who would like to bring a vegetarian option to the table, this is for you.
We can all appreciate a nice veggie side dish to tie the whole meal together.
This incorporates some nuts and sweet potato.
This casserole is the perfect balance of sweet and salty and pairs well with any extra dishes you might have in mind.
11. Holiday Honeycrisp Salad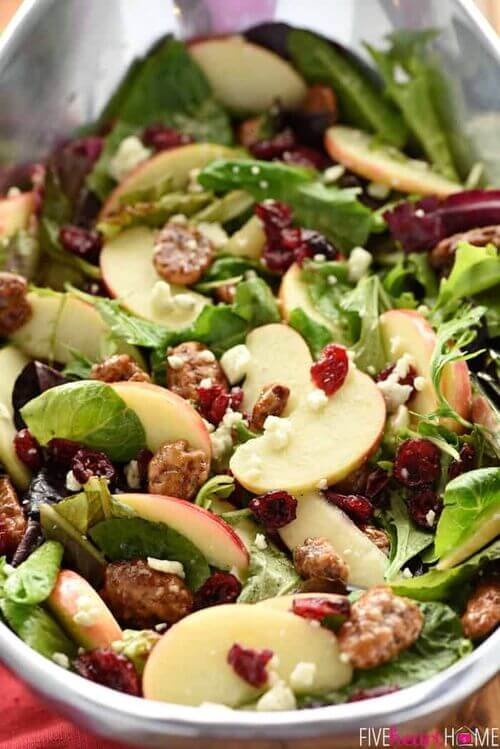 Bursting with flavor and texture, this salad features tangy-sweet apple cider vinaigrette, chewy dried cranberries, crisp toasted walnuts, and sharp blue cheese.
I cannot explain how incredible this side dish is.
It's refreshing and filled with an assortment of amazing flavors.
Why not try it out this year to bring something new to the table?
12. Parmesan roasted brussels sprouts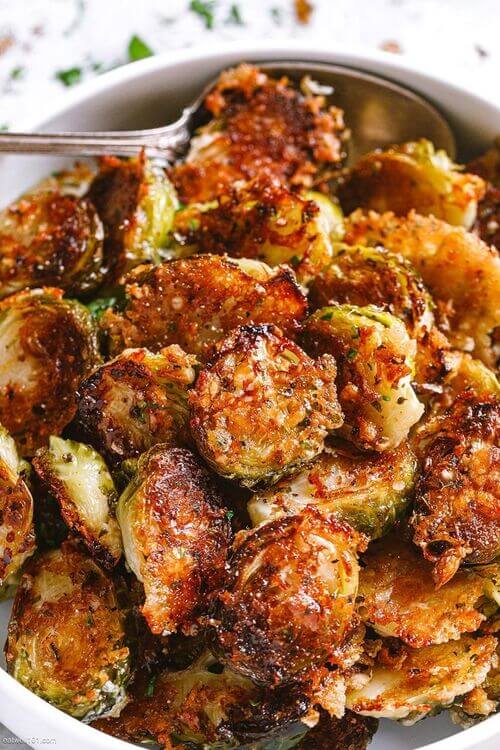 We've established that Brussels sprouts aren't always the easiest to work with.
They have a distinct flavor, and it can be hard to find something that fits it.
Well… here's an idea that can possibly make things a little easier for you.
Take your Brussels sprouts, throw some parmesan cheese on top, and throw it into the oven to bake.
It's simple and easy to create making it perfect for Thanksgiving.
13. Herb and Garlic Mashed Potatoes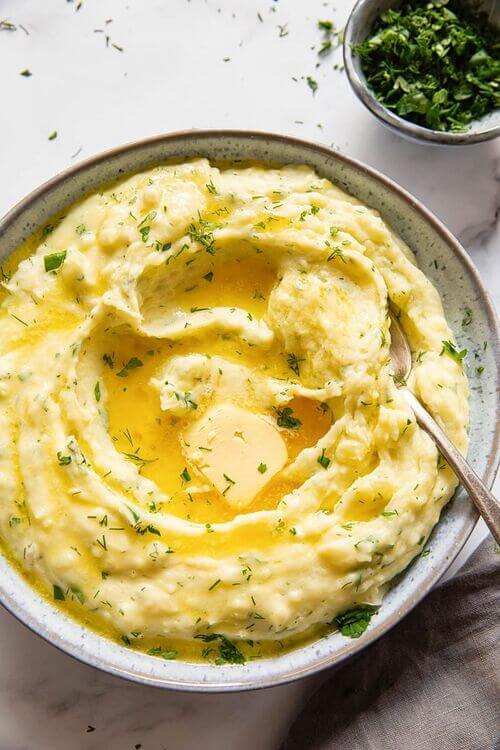 No Thanksgiving is complete without mashed potatoes.
Add some milk, butter, and herbs to make this dish even creamier.
It's the only thing that is a must for the holiday.
If this side dish isn't on the table, then how can we even call it a Thanksgiving dinner?
No matter what, if you want a great dinner feast, then you have to add a potato dish.
14. Crispy Roasted Cauliflower with Cheddar & Parmesan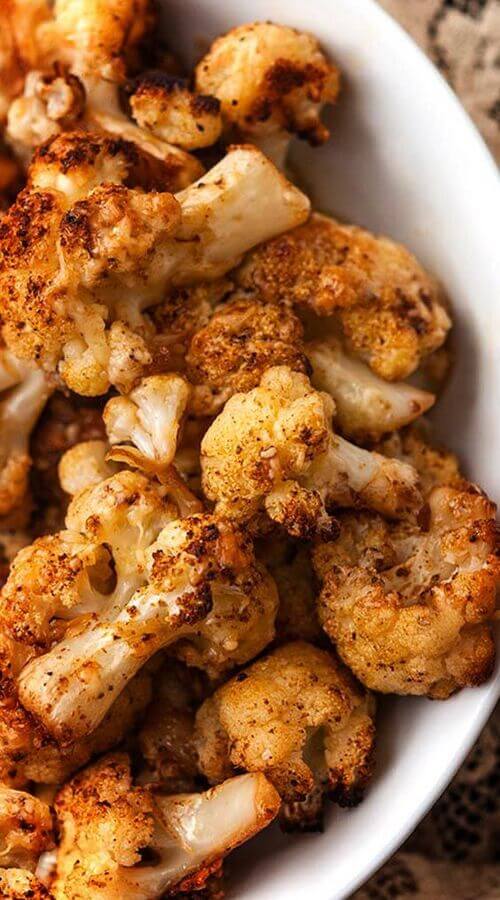 Roasted cauliflower with cheddar and parmesan just instantly makes me ready for this holiday season.
They bring a fun touch to the table, and anyone can appreciate it.
Allow this to be a new addition to the table.
15. Garlic Parmesan Roasted Sweet Potatoes
Roasted sweet potatoes are a great addition to the table.
Add some garlic, parmesan, and some rosemary to make this really pop.
It's a simple dish that can go a long way. Why not try it out this year and see what your guests think?
Thanksgiving is filled with tradition
With these 15 irresistible Thanksgiving side dishes, you'll be well-prepared to host a memorable and delicious Thanksgiving dinner.
Whether you're sticking to tradition or adding your creative flair, these sides are sure to leave your guests feeling thankful for your culinary skills.
Happy Thanksgiving!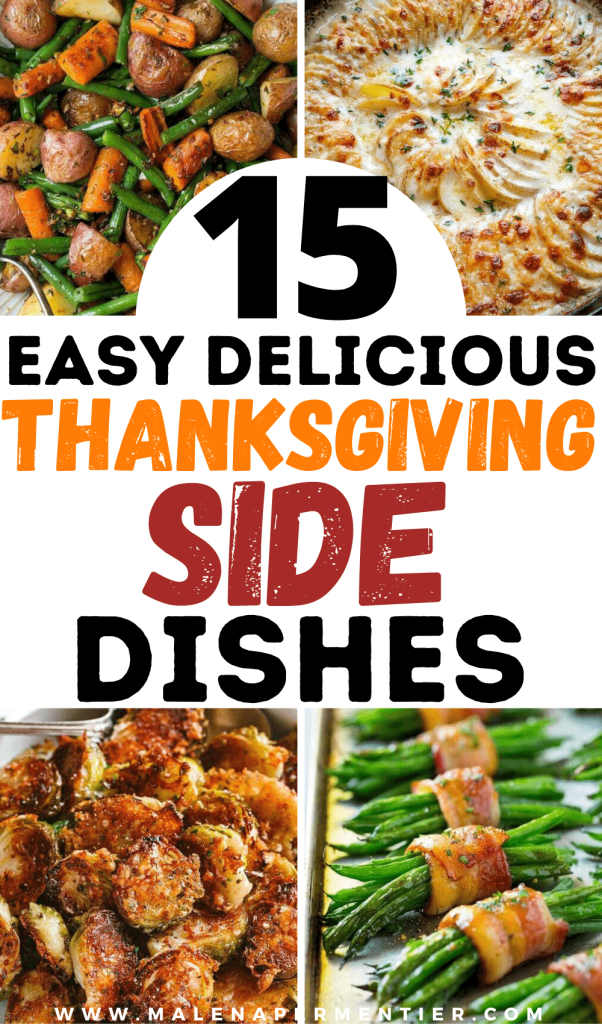 This post showed you the best easy thanksgiving side dishes.
You may also like: