Hey there! Some links on this page are affiliate links which means that, if you choose to make a purchase, I may earn a small commission at no extra cost to you. I greatly appreciate your support!
This post shows you how to host the perfect Friendsgiving party.
You're hosting a Friendsgiving party; that's so exciting! There are probably a hundred questions in your head, and rightly so. There is much to take care of as a host, so let's get into it.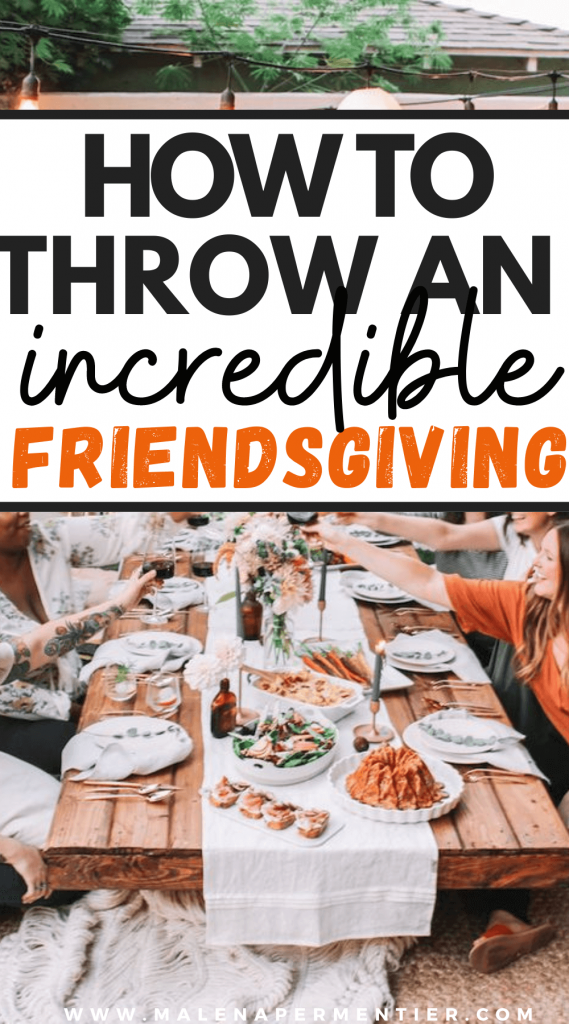 How To Throw The Perfect Friendsgiving Dinner Party
This step-by-step guide shows you how to plan and set up the perfect Friendsgiving party.
1. Invites
Who is coming?
Let's first decide who you're going to invite! Be realistic with your space, and consider how many people you can fit comfortably. Hosting is a serious task, so personally, my favorite number of people to host would be a maximum of 10.
Decide on a date
The weekend before Thanksgiving is the best time to host your Friendsgiving. That way, everyone is in a thanksgiving mood, and the right energy elevates the party.
Send out a paper invite.
Oldskool paper invites are the best! Of course, it takes a little more effort than sending a digital invite, but it's worth it. Send your guests a paper invitation if you want to go all out.

Paper invite idea here:
Send out a digital invite
Use a free design platform like Canva to design your Friendsgiving invites. It's SUPER easy, and there are thousands of templates to choose from. Type 'Thanksgiving' or 'Friendsgiving' in the Canva search bar and take your pick. I use Canva for everything. For example, designing blog graphics, pins, and social media posts.
Here is my Canva Friendsgiving invite: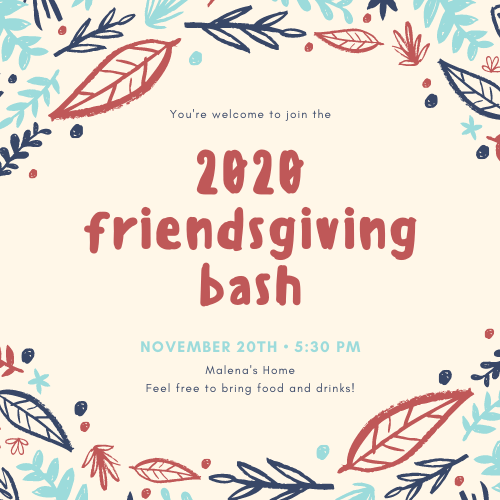 2. The Food
The food is perhaps one of the most challenging parts of hosting a great Friendsgiving. As a host, it's best if you take charge of the turkey. For all the other things, like starters, sides, desserts, appetizers, and drinks, you assign each person a dish/task.
Remember, as the host; you're responsible for who brings what. To avoid confusion, be clear and assign each person a dish they must bring.
Dishes
I love traditional thanksgiving sides like mashed potatoes and green beans; they always taste good and are pretty much fail-proof. But why not change things up a little, and add some less traditional sides too? Here goes:
Sides
Dips
Appetizers
If you don't have a cheese board yet, you should get one! This is something you'll be using over and over again, especially with the holidays approaching.
Get your cheeseboard here:
Desserts
To make your Friendsgiving party festive, create a dessert table with 3-5 desserts.
Drinks
3. Decorating
Ah, the funniest part of hosting a Friendsgiving party! The decoration is everything to create the right atmosphere. I'm a big fan of warm, fall-themed decorations.
1. Fall Tablescape Friendsgiving
This is easy to re-create by keeping the color palette of burgundy, green and warm orange in mind. Make flower bouquets and place them in small vases on the table.
Re-create this Fall Tablescape:
2. Boho Tablescape Friendsgiving
Trust me; this one is easier to pull off than it looks! Recreate this boho tablescape with a golden garland, a white table runner, and many wooden details. Go to your local florist and buy flowers in dusty pink and warm orange color palettes. Combine the flowers with some green and place them in small vases on the table.
Re-create this Boho Friendsgiving Tablescape:
3. Friendsgiving party
If you want to give your Friendsgiving a super festive atmosphere, hang this Friendsgiving balloon set next to the table where you'll be dining. It's a bit out there, but very cute + makes for great photos.
Re-create this Friendsgiving decor idea:
4. What to Buy for Friendsgiving
You need to buy a few things if you're hosting a Friendsgiving. From cute napkins to (paper) plates, cups, and nameplates: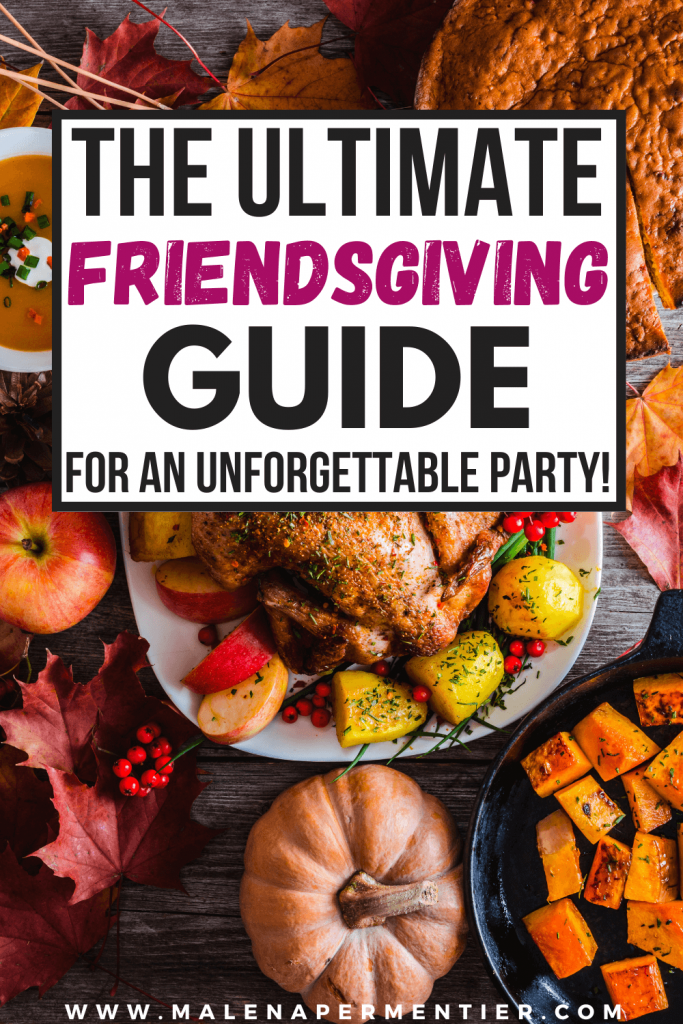 Recreate this tablescape:
5. Pick the right music
Another essential thing to make your Friendsgiving party rock is to have a great playlist ready. For an occasion like this, I use a Spotify playlist. You can find dinner playlists under 'genres and moods' like Jazzy Dinner or Feel Good dinner. Always double-check if that's the atmosphere you're trying to create! I think a relaxed jazz playlist always works.
6. Make a cute party favor
Cute gestures go a long way. So why not send your guests home with something homemade like a chocolate cookie? All you need to do is bake the cookies and put them in a plastic bag. Tie the bag with a bow and leave a sweet message like "I'm so thankful for you."
Recreate this party favor:
I hope you feel all prepared to host the best Friendsgiving party this year. It's so worth celebrating and spending time with friends. Enjoy the planning process, and happy Friendsgiving 2023!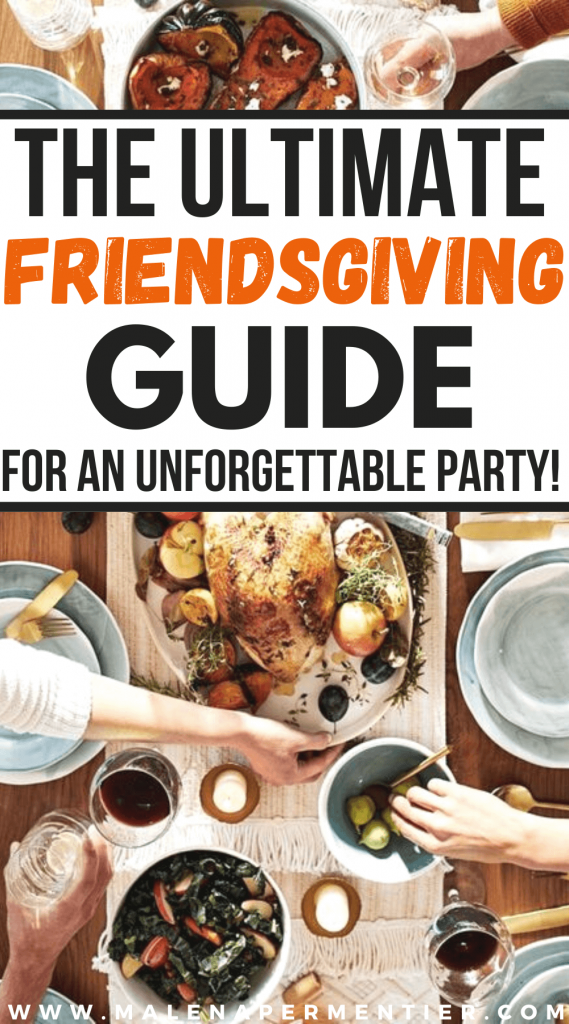 This post was all about planning the perfect Friendsgiving party.
You may also like: