This post shows you the best Friendsgiving Decor Ideas in 2022.
We usually celebrate thanksgiving with our families. But why not with our friends too? The holiday season is a special time to host dinner parties and fun events.
Friendsgiving is the thanksgiving people host for their friends. You can organize it potluck style, where everyone needs to bring a dish.
If you're planning to host Friendsgiving at your place this year, you need to get inspo on setting the table and the best Friendsgiving decorations.
This post focuses entirely on the best Friendsgiving decor ideas!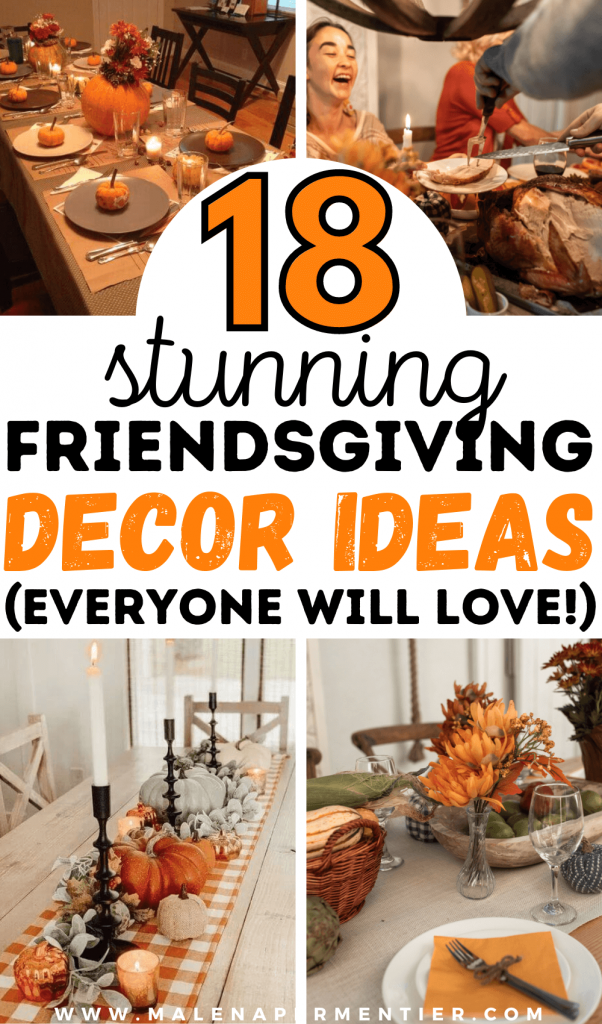 Best Friendsgiving Decorations
1. Friendsgiving Invites
Sending out paper invites to your Friendsgiving guests is a beautiful gesture. People love receiving things in the mail!
Of course, you can send a digital invite if it's easier. Canva has plenty of free invite templates you can customize and use.
2. Cozy Friendsgiving Table Decor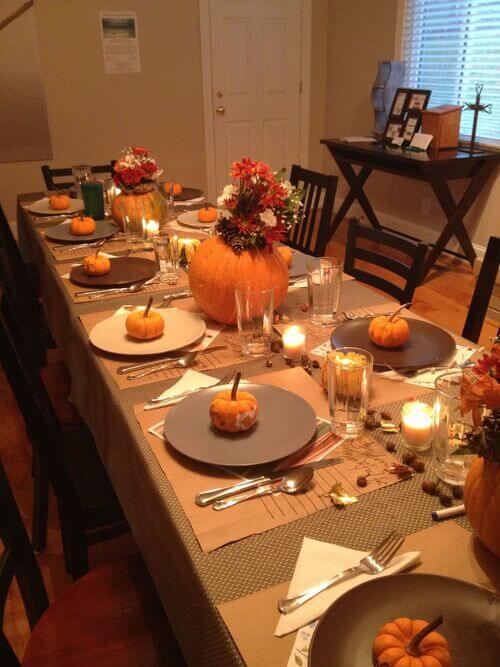 The table setting for a Friendsgiving party is everything! Most people go for a fall-themed Friendsgiving because November still has all the fall vibes :).
You can't go wrong with orange and warm brown tones because it looks so cozy! Make up the plates with a cute detail, like a pumpkin or maple leaf.
3. Friendsgiving Banner
A Friendsgiving banner is a simple and cute way to decorate. You can hang this over the table, or if you're doing Friendsgiving buffet style, you can hang it there.
4. Fall-themed Friendsgiving decor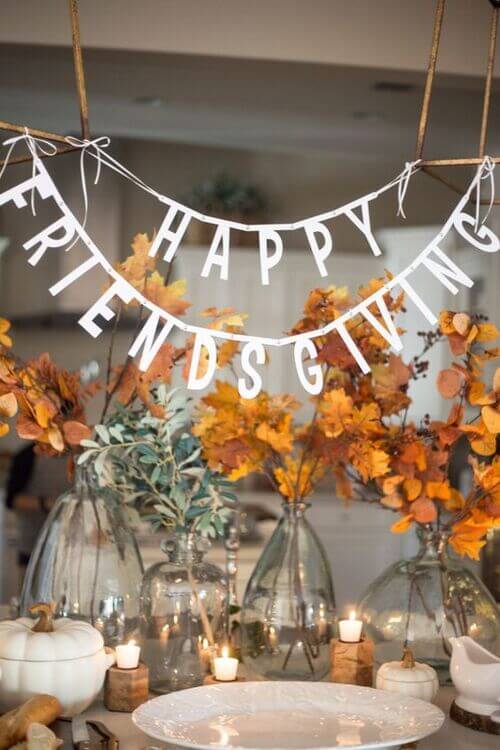 Faux fall leaf stems are inexpensive and super cute to decorate a table. Place them in empty wine bottles or clear vases.
I'd suggest getting 2-3 different kinds of fall leaf stems so you can mix and match.
5. Pretty plates
A good table setting needs pretty plates! Whether you're going for ceramic or paper plates, there are plenty of attractive options.
If you're going for orange or brown placemats or a tablecloth, pick plates in a lighter color to create a beautiful balance.

6. Placemats

Placemats make a table set up look fancier! Go for a pretty rust brown or orange color to fit the Friendsgiving theme.
7. Decorate with a wreath

Hosting starts at the door! Decorate your door with a fall wreath. You can also hang it on the door inside if you prefer it.
8. Simple & Chic table decor with pumpkins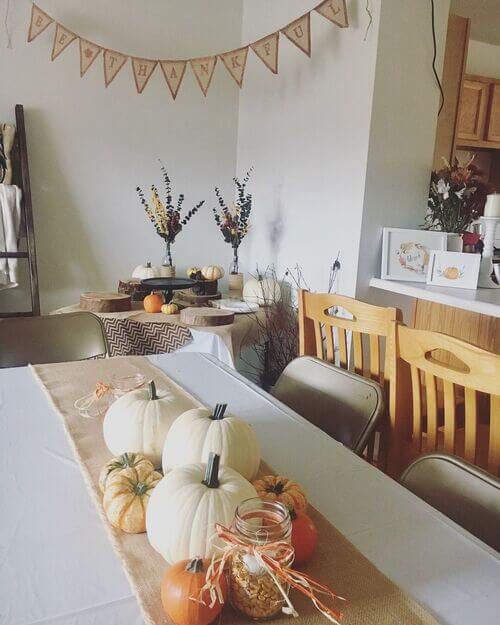 You can set a simple table with a table runner and pumpkin decor. Get pumpkins in different sizes and place them on the table runner.
In the center of the table, you can place a vase with fall greenery for extra ambiance!
9. Friendsgiving balloon banner

This rose gold balloon banner is the perfect way to decorate if you're going for a girly and festive Friendsgiving theme. Rose gold also pairs well with orange tones and neutrals.
10. Photo booth props
When you have all your friends gathered, taking pictures is a must! Bring in some fun photo props to make memories of your Friendsgiving.
Having things like this at a dinner party is also a great way to bring people together and have fun.
11. Make a centerpiece for the dining table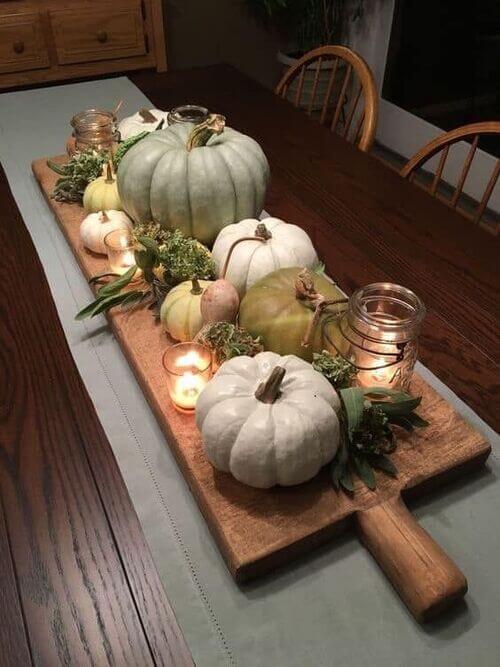 I'm obsessed with this creative centerpiece idea! This would look perfect for a Friendsgiving dinner party or Thanksgiving gathering.
To recreate this centerpiece, you need the following:
a large wood decorative cutting board
small eucalyptus garland as a base (cut it to get the right size – if necessary)
decorative pumpkins in different sizes and colors
tealight holders
An extra large cutting board is not easy to find! Maybe try your local Michaels or Hobby Lobby.
12. Fall LED lights

Fall leaf LED lights might seem corny, but they are so cozy and guaranteed to be a hit with your guests. They are also surprisingly inexpensive.
You can drape them over the dining table for cozy light or on the wall in your living room.
13. Maple garland for table or wall

These garlands are versatile because you can hang them on the walls and use them as table decor. It's one of my favorite ways to decorate a table! It's also budget-friendly, which I love.
You can also use a eucalyptus garland on the table for the holidays. Looks so cozy and gives the perfect Christmas vibes.
14. Orange checked table runner with garland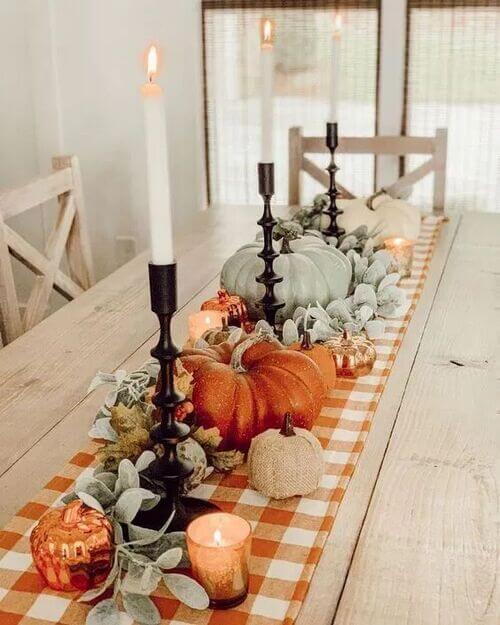 This must be the ultimate cozy table setting for a Friendsgiving or thanksgiving gathering! The orange checked table runner gives that old skool charming ambiance perfect for an occasion like this.
A great formula to decorate your table is with a table runner and a garland running over that table. It makes the table look luxurious without the price tag.
Tall candlestick holders are a great way to add an extra dimension. I like the minimalist black ones, but you could also go for wood candle holders.
15. Friendsgiving placement cards
16. Pinata

This is super random, but why not have a pinata at your Friendsgiving? Everyone loves a game element and having a pinata sparks intrigue and conversation.
On that note, Friendsgiving is also a great occasion to have some table games ready to play after dinner.
17. Orange Balloons

If your Friendsgiving decor is missing something, the answer is balloons! Haha. These rusty orange balloons are surprisingly chic and can help elevate your decor with little effort.
18. Hang a photo backdrop curtain

A photo backdrop makes every party better! This orange tinsel curtain is perfect for Friendsgiving pictures. Hang it on an empty wall or the door for the cutest pictures.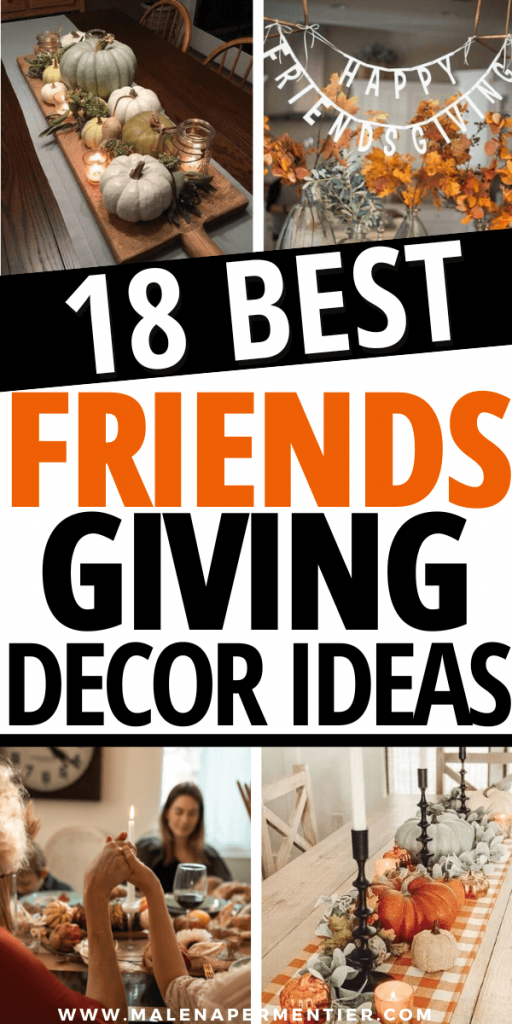 This post showed you the best Friendsgiving decor ideas.
You may also like: