College Halloween parties are the best! This post shows you the trendy college Halloween costume ideas for 2023.
Halloween costumes like cupid, Tinkerbell, princess peach, firefighters, and anything euphoria-themed are super popular in college.
This post shows you costume ideas for college girls, friends, and groups that are sexy and fun.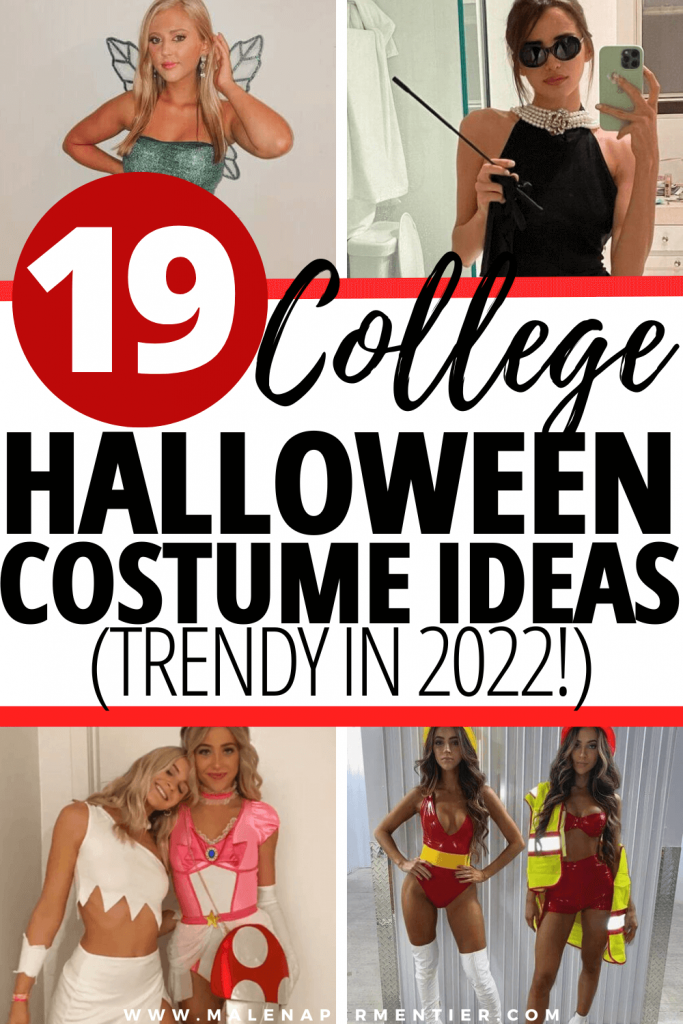 College Halloween Costume Ideas 2023
1. Cupid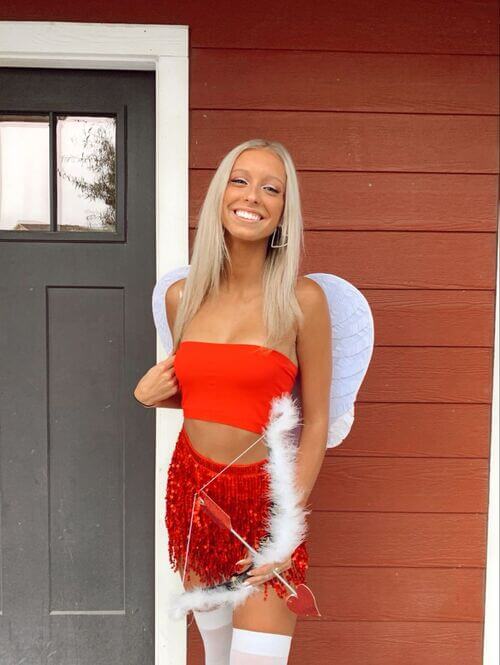 Cupid is a cute costume to do for this year's Halloween! I like the knee-high heart socks paired with the red outfit.
Costumes with fun props are also nice when you're at a party. The bow, arrow, and wings are must-have accessories for the cupid costume.
2. Ninja Turtles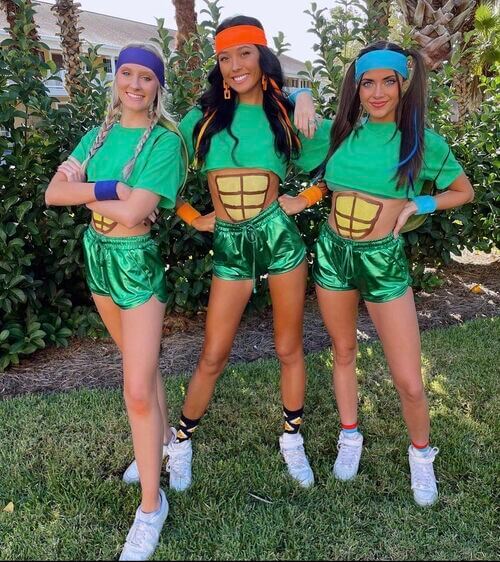 This is a super fun spin on the ninja turtles' costume! You might not think the ninja turtles could be hot, but these girls made it happen.
There are a total of 4 ninja turtles in 'real life', but you can do this costume also for a group of 3 or even solo or with your bestie.
Recreate this costume idea with green metallic shorts, a green t-shirt, and the iconic ninja turtles bandana.
3. Tinkerbell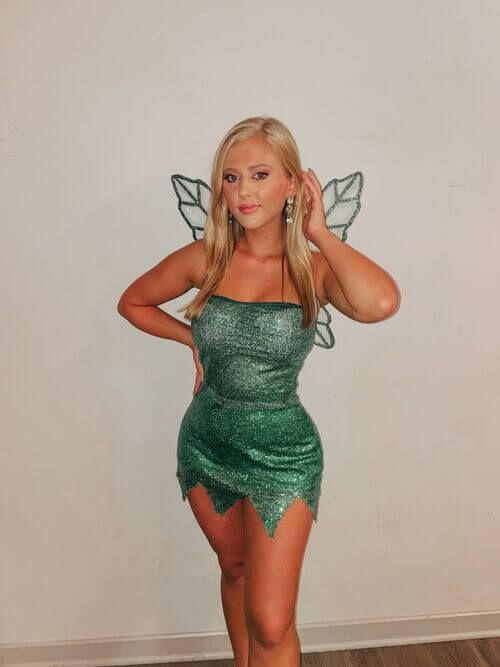 Tinkerbell must be one of my favorite college Halloween costumes! You can DIY this costume with a green glitter dress. Plus, it looks SO flattering and sexy.
You can either buy a classic green glitter dress and cut the hem – or get an asymmetric bodycon dress.
I think it's also fine to wear a green glitter bodycon dress with a regular hem for the Tinkerbell costume. Just make sure to add the accessories like wings and a star wand.
4. Dora the explorer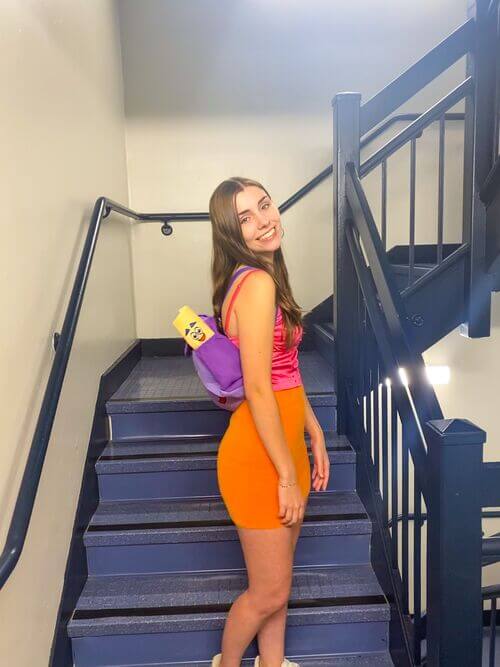 Dora the explorer is the cutest show you can watch on prime. Dora always wears the same pink and orange outfit, which, I have to admit, is a stunning color combo!
Go as Dora for Halloween in a pink and orange dress, and don't forget the cute lilac backpack to complete the costume.
5. Princess Peach and Cave Girl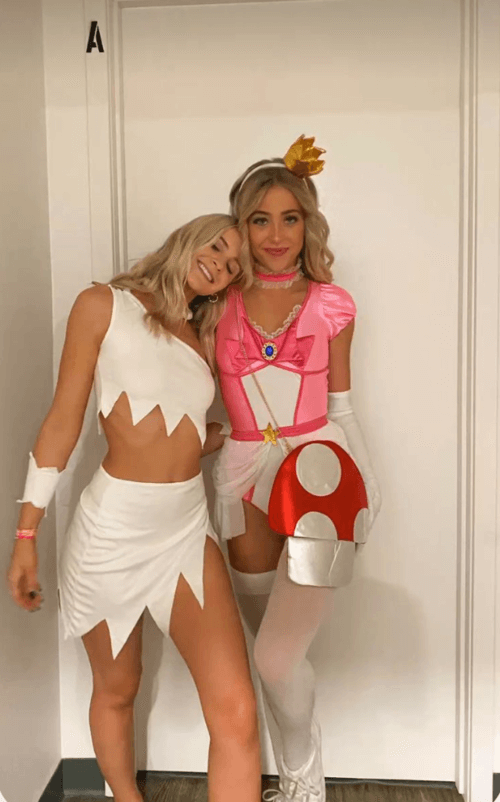 Princess Peach is a fictional character in the Super Mario game! Cave girl also makes an appearance in the game. This is such a creative duo costume to wear with your bestie.
You need a pink princess dress and crown for the Princess peach costume. I highly recommend getting the accessory kit with the crown, ring, and white gloves.
6. Football player and ring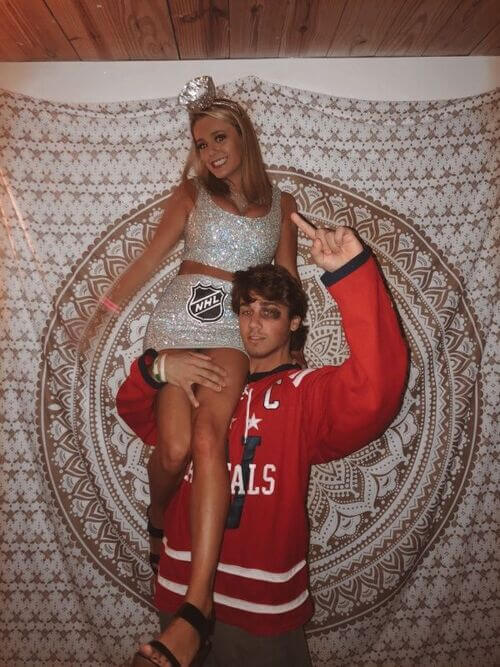 I thought that this couple costume was so creative! Be a football player and ring with your boyfriend. As a girl, this is a super fun costume to recreate.
You get to wear all glittery and shiny things haha! I don't know where to get the ring headband, but you could recreate something similar with a regular diamond headband.
7. Prisoners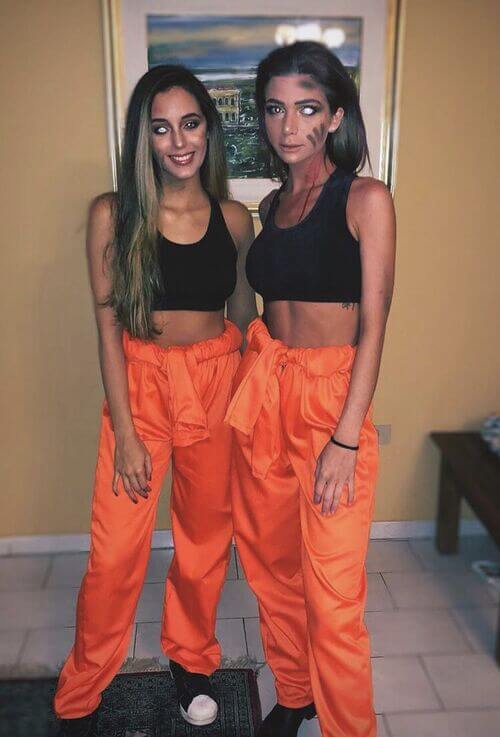 The prisoner costume is super popular this year. The oversized orange pants look great with a sexy crop top. This is the ultimate easy Halloween costume in 2023.
Make the costume unique with a glass eye (scary!) and facepaint.
8. Biker girls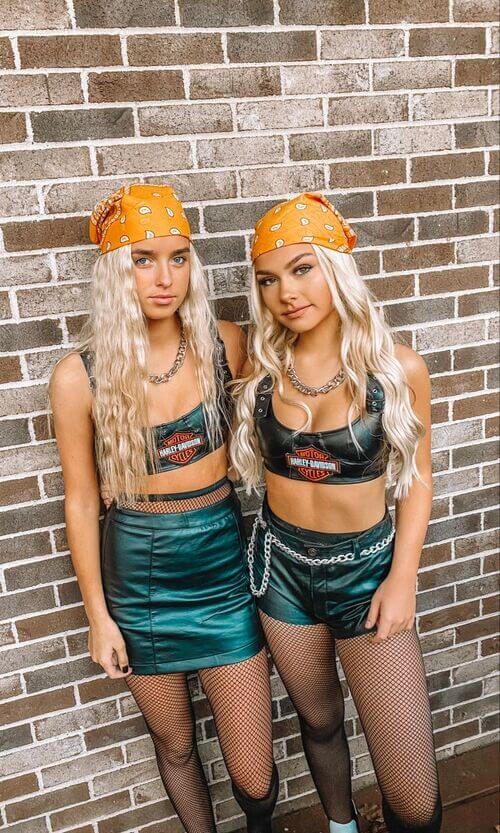 These biker girls look so cool! Make this costume with leather shorts or a leather skirt. Pair it with a crop top with motor vibes. A bandana and large chain choker are must-haves for this costume.
Wear this costume single or with your bestie! If you have lots of leather in your closet, this is an easy and inexpensive costume to recreate.
9. Aliens from Toy Story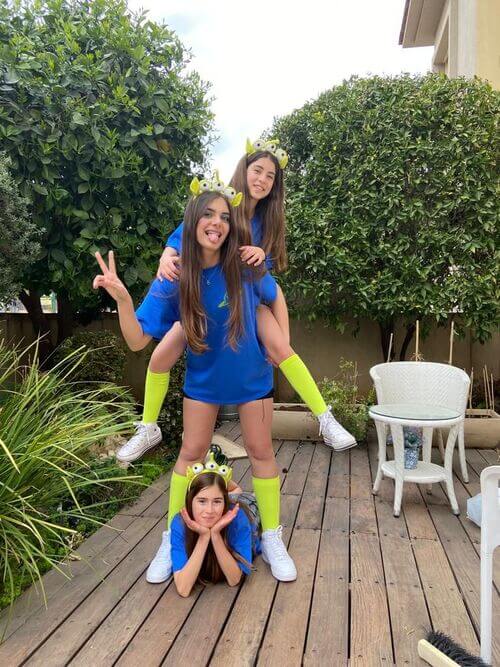 The aliens from ToyStory are a super cute and funny Halloween costume idea for friends and groups. All you need for this are the oversized navy alien t-shirts, neon socks, and the alien headband.
10. Miss Universe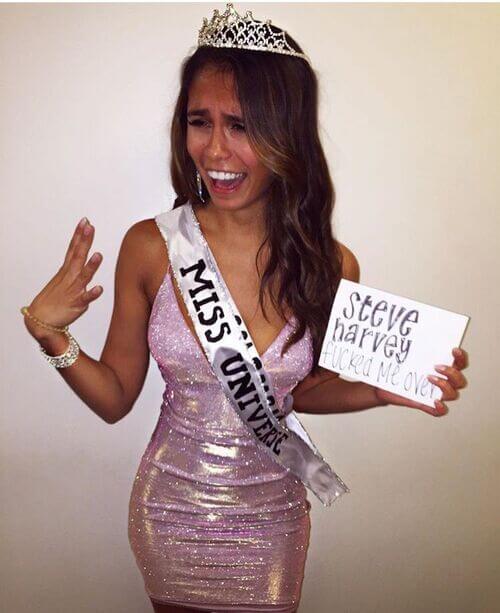 OMG I remember watching this Miss Universe and Steve Harvey calling out the wrong name. Unreal. In case you don't know what the Steve Harvey reference in this costume is about.
Miss Universe is a fun Halloween costume to recreate because you get to wear a pink glitter dress and sash, haha. You can get a blank sash and customize it with the text you want.
11. Powerpuff Girls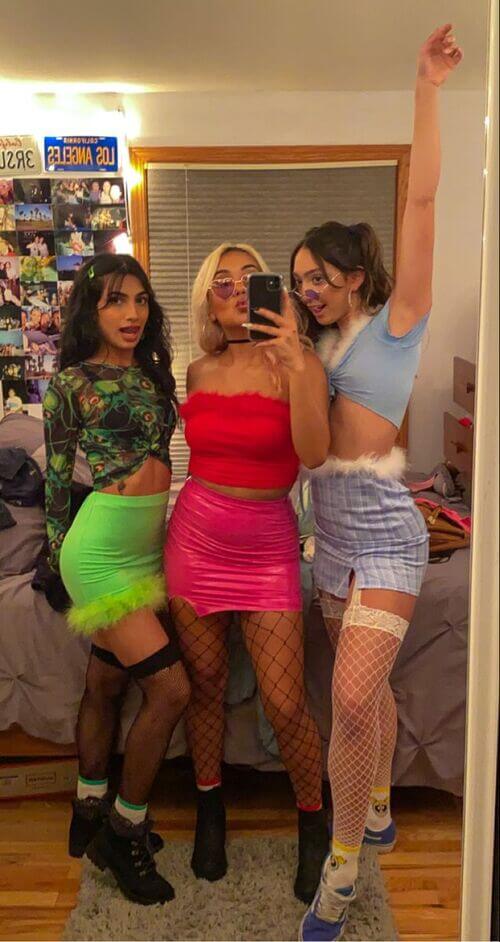 The Powerpuff Girls were a super popular show on the Cartoon Network that everyone born in the 90s grew up watching. Are the Powerpuff girls still a thing? I'm not sure. I think it's now on HBO max.
The Powerpuff Girls are a trio (blossom, buttercup, and bubbles) who protect the world from all kinds of bad things.
They come in three colors, pink, green, and blue. Needless to say, this is the cutest Halloween costume for three friends.
12. Sexy Firefighters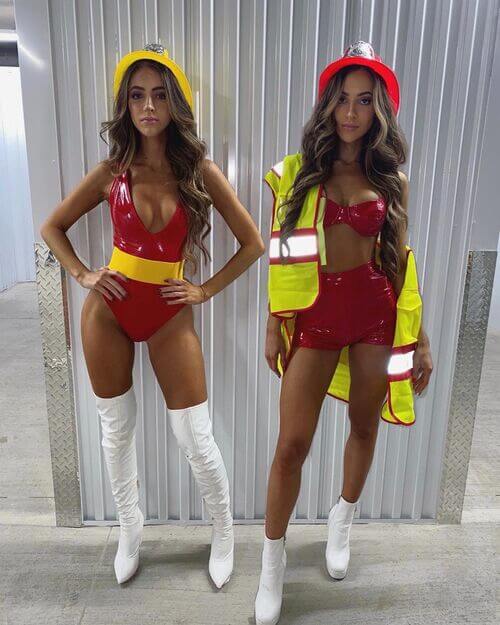 I haven't seen this costume in a while, and I'm obsessed! The sexy firefighters are back for 2023 college Halloween costumes, and I'm here for it.
Recreate this sexy costume with a red latex bodysuit. White knee-high boots, a safety vest, and a firefighter cap are necessities for this look.
13. Audrey Hepburn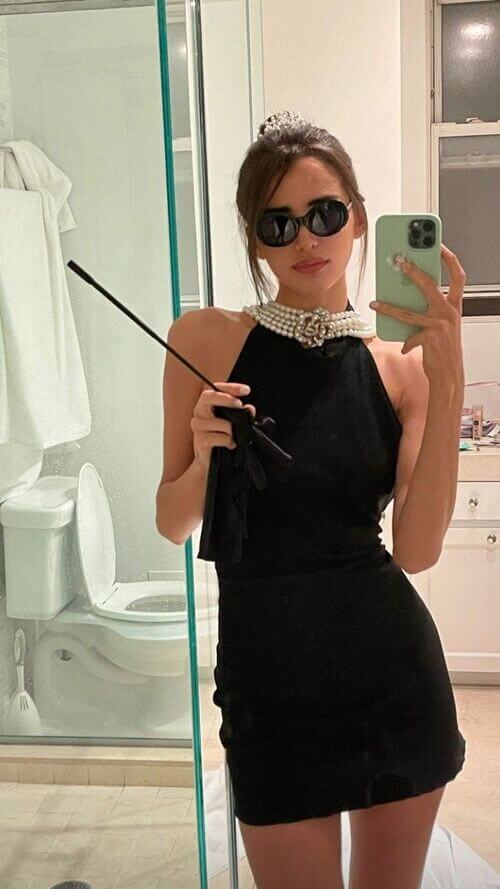 Audrey Hepburn is the ultimate style icon, and Halloween is a great occasion to dress just like her. Classy Halloween costumes are my thing.
The Audrey Hepburn outfit with the black dress and pearl necklace is iconic and easy to recreate. Amazon has really good accessory kits with the pearls, cigarette holder, and gloves she wears in Breakfast at Tiffany's.
14. Gold Diggers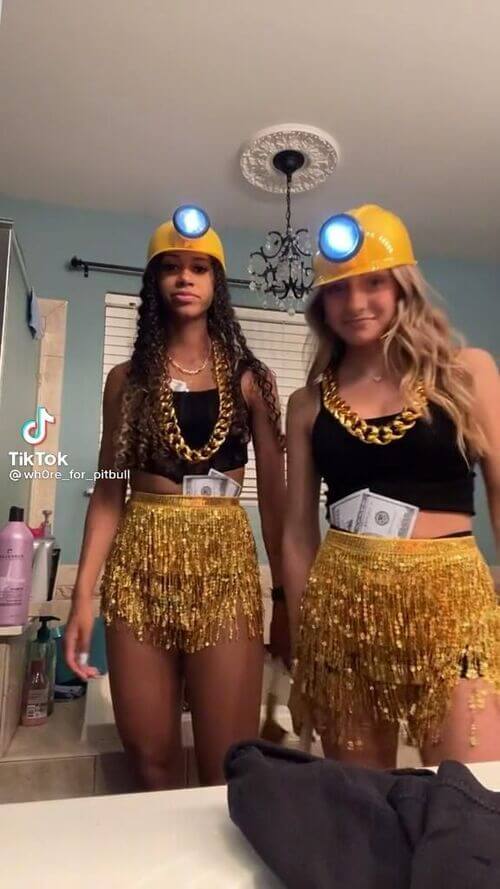 I laughed so hard at this costume because it's so creative!! At first, I was like, what is this? But now it makes perfect sense: gold diggers. This is a super funny Halloween costume that's perfect for parties.
To make this costume, you need all things extravagant and gold. A gold glitter sequined skirt and chunky gold chain necklace are a great place to start.
15. Fairy group costume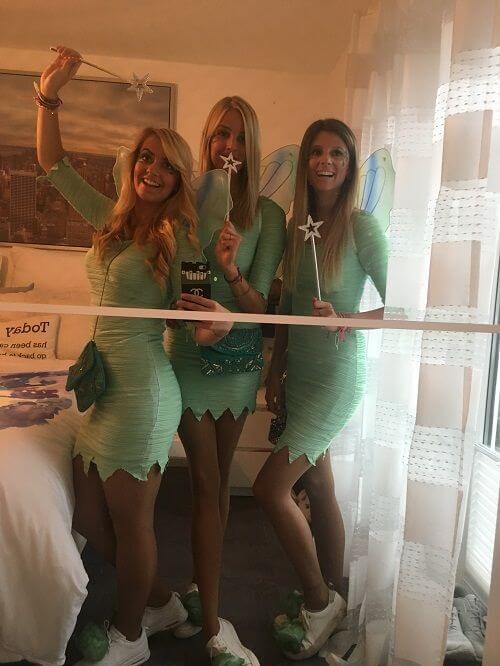 A fairy costume is a great group costume! This costume requires a green dress, wings, and a star wand. You can make it as casual or hot as you want, depending on your choice of dress.
If you get a cotton green bodycon dress, you can cut the hem to make it look like the iconic Tinkerbell dress.
16. Space couple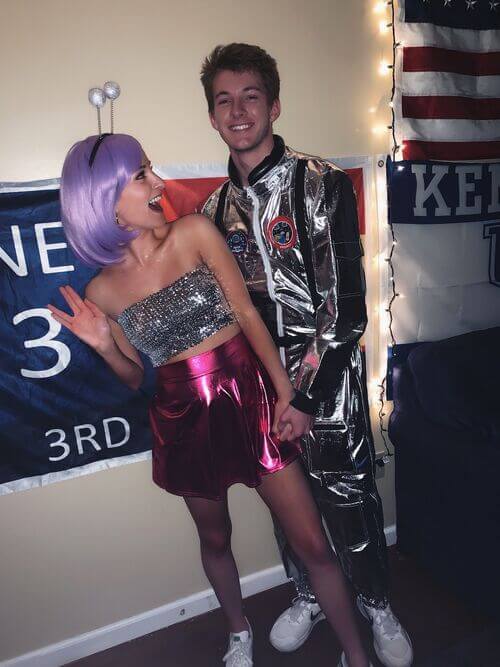 Space couple is a cute college costume to do this year! The guy can wear a space suit; the girl can be an alien or a space woman. What are the rules for this costume? There are none!
Make a space costume with all things metallic and glitter. You can also throw in a wig and an alien headband if that's the look you're going for.
17. Flapper Girl Great Gatsby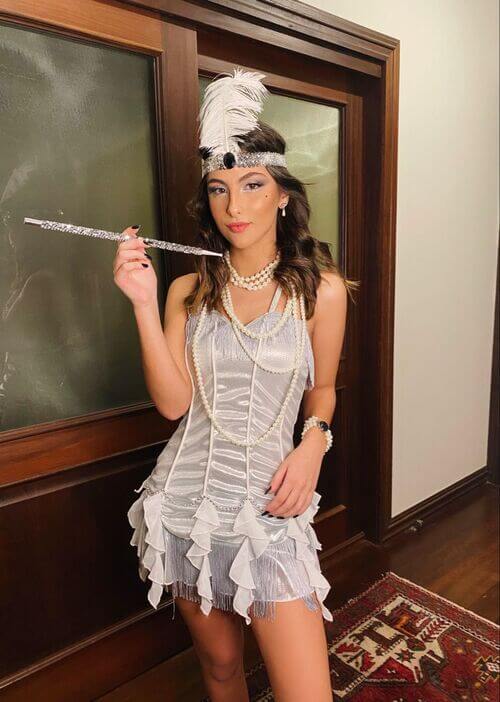 Gatsby-themed parties have been super popular the past year. This theme, or the flapper girl costume, is also insanely trendy for Halloween parties.
A great place to start for this costume is a sequined tassel dress. Accessories like a headband with feathers and pearl necklaces are also a must.
This 1920s costume is elegant and fun to wear for Halloween. Plus, it photographs well.
18. Builders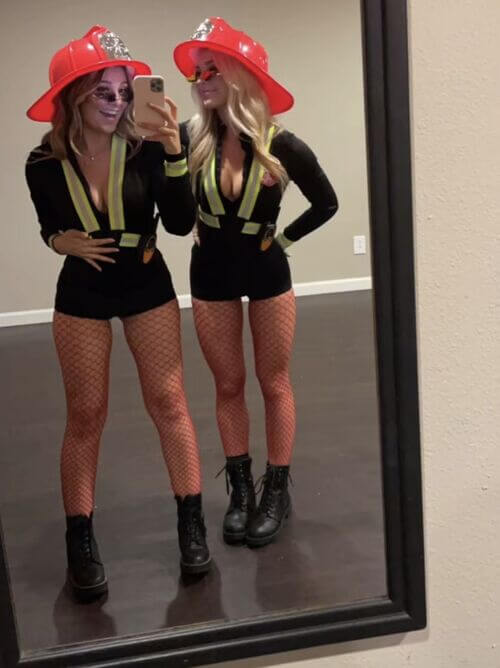 At first, I thought these girls were builders, but now I think they are firefighters. However, this is a slightly different spin on the firefighter's costume in #12.
Recreate this costume with a black bodysuit and fishnet stockings. This is the costume you can make with regular clothes – if you have black shorts and a bodysuit. The must-have accessory is the firefighter cap.
19. Race girls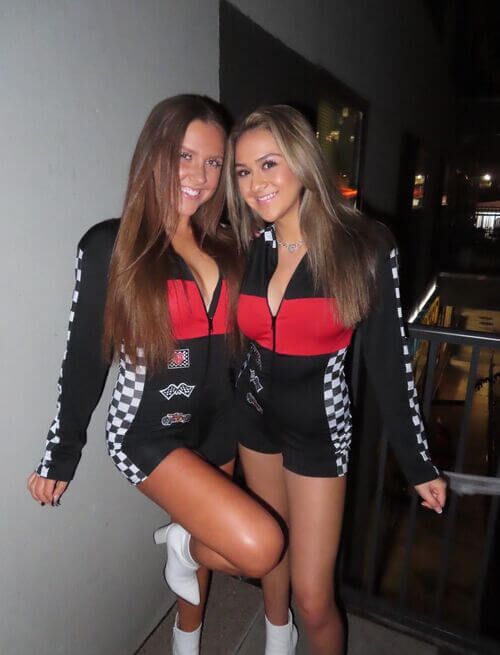 Last, we have the race girls or formula 1 girls. This is one of the easiest and most flattering college Halloween costumes.
You only need one thing for this costume which is the race bodysuit. Pair it with boots or sneakers you already own to be comfy.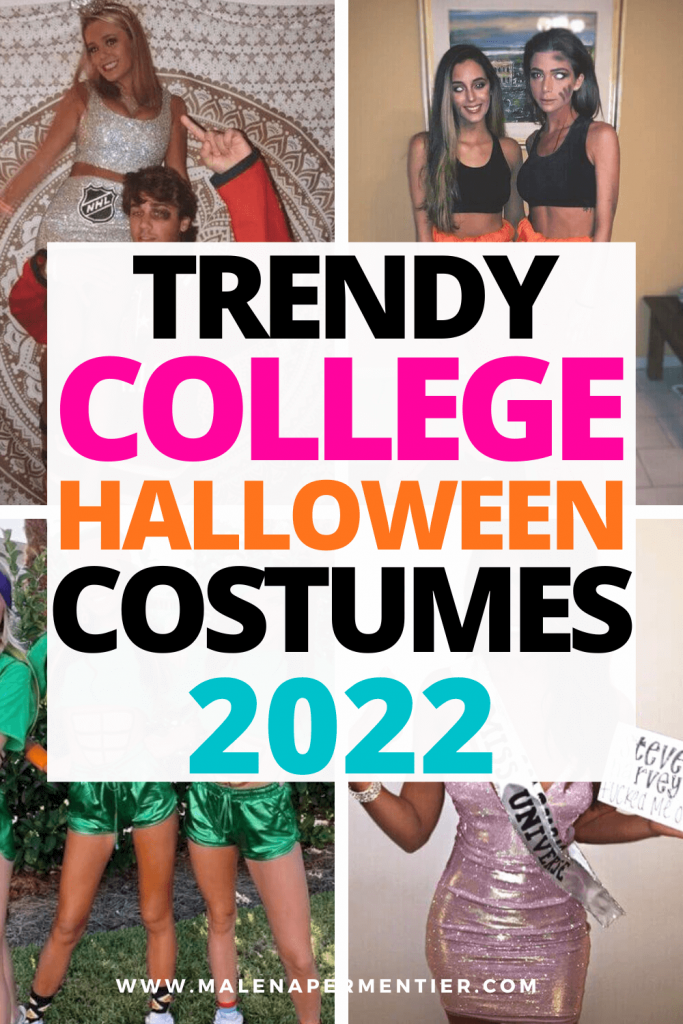 This post showed you the best college Halloween costume ideas in 2023.
You may also like: