This post is all about the best classy Halloween costumes – and how to recreate them on a budget!
Let's do this Halloween the classy way, shall we? Whether you're getting dressed to go to a college Halloween Party or a Halloween party for work: These 17 incredibly Classy Halloween Custome Ideas got you covered!
In the below, you'll find elegant Halloween costumes that will capture everyone's eye and heart!! Although they look classy and expensive, you can actually recreate these Halloween Costumes on a budget.
This what you'll find:
Easy classy Halloween Costumes
Halloween outfit ideas
Blonde Icons for Halloween
Celebrity Halloween costume ideas
Hot bot classy Halloween Costumes
Now let's get straight into the best classy Halloween costumes ideas for 2021!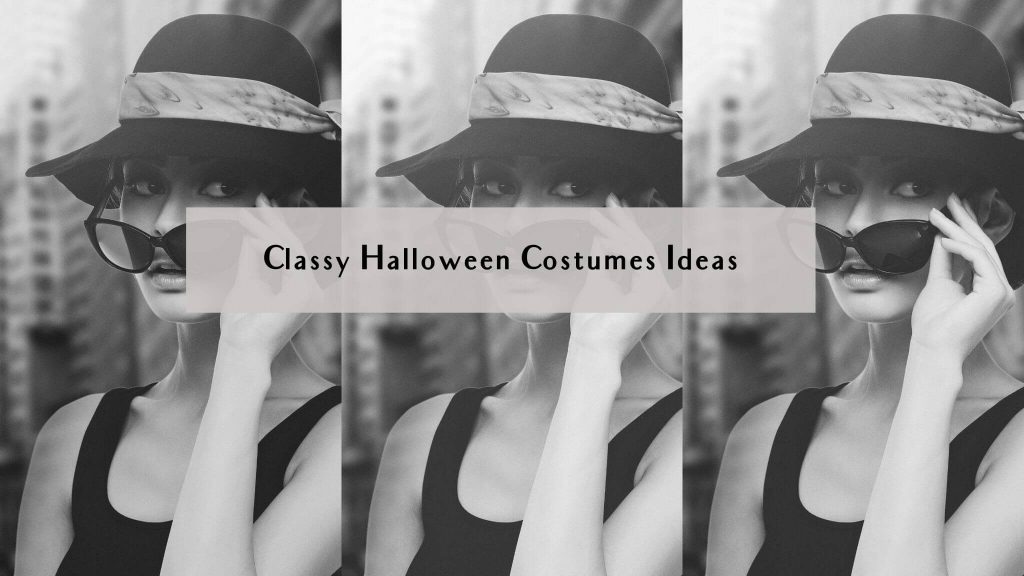 1. Frida Kahlo Halloween Costume
Beyonce as Frida Kahlo is seriously goals! The poet Frida Kahlo is an excellent halloween costume choice for lovers of colorful outfits and gorgeous brows.
Recreate this look:
2. Frida Kahlo Halloween Makeup Inspiration
Part of what makes Frida Kahlo's look so iconic is her make-up and jewelry. So if you're going as Frida Kahlo to your college Halloween party, better make sure that your jewelry is on point!
Luckily you can easily recreate Frida's look on a budget with a beautiful flower headband, thick eyebrows and some gold layered necklaces. You might even already have all of these things in your closet!!
Recreate this look:
3. Black swan
Black Swan is one of my favorite movies ever, which is why this would totally be my #1 choice for a classy halloween costume.
Grab a strapless black dress from your closet, and style it with this iconic Black Swan crown and feather collar.
Recreate the Black Swan costume:
4. Audrey Hepburn
You can never go wrong with a classic like Audrey Hepburn. Go big on the pearls and slip into a gorgeous black dress!! Now all you need is a big hairdo like only Audrey can do and some matte red lipstick to go with it.
Create Audrey Hepburn look:
5. Shooting star
A shooting star costume for Halloween is one of the more original ideas I've come across! I love how you can make this Halloween outfit very fashion with little effort.
Finish up your outfit with a cute gold star clip for your hair.
Recreate this look:
6. Bridgerton Costume
I'm predicting a Bridgerton costume will be one of the more popular Halloween Costumes this year! And for good reason, because the dresses and outfits in that series are SO good.
Daphne Bridgerton looks are to die for, and this how you can easily recreate her look for Halloween this year.
Recreate Bridgerton Halloween Costume:
7. Clueless
A classic, but a Clueless Halloween Costume simply works year after year haha! The beauty about this costume is also that it doesn't have to be expensive it all.
Simply get the iconic yellow plaid jacket + skirt, accompanied with knee high white socks. Combine it with sneakers for comfort, or cute white booties.
Copy Clueless costume:
8. Goddess
An excuse to dress like a goddess? We'll take it!! There's something so magical about a white dress, and who says you can only wear one at your wedding?!
Easily create a goddess costume with a long, formal white dress accompanied with some lavish but inexpensive gold jewelry.
Create goddess costume:
9. 60's Sharon Tate
Sharon Tate, or Margot Robbie in Once Upon a Time in Hollywood, looks so so good in her black and white outfit. This look is so simple, yet so iconic and recognizable.
Make 60's Sharon Tate into your Halloween Costume with a white skirt, black turtleneck and the best blonde wig you can find. But make sure you get the hairdo right :).
Recreate Sharon Tate outfit:
10. Daisy from the Great Gatsby
Sign me up for anything Great Gatsby. The outfits are just so good that you wonder why you weren't born in the roaring 20's.
The character Daisy, Leonardo Dicaprio's love interest, always dresses impeccable with cute fringe dresses and the most gorgeous headband.
Make Daisy your Great Gatsby Halloween Costume this year. This is how:
Create Daisy Great Gatsby costume:
11. Great Gatsby Costume Ideas
The Great Gatsby Costume ideas don't stop with Daisy. There's so much more Halloween outfit inspiration to take from this movie!!
Besides neutrals, diamonds, silver, and shimmer, Great Gatsby-inspired Halloween outfits can also be in classic black. Just make sure you spice it up with a glamorous headband and lots of shimmery jewelry.
Recreate this Gatsby Costume:
12. Cruella de Vil
If you want to be a bit of a badass this Halloween, why not go as Cruella de Vil? It sure makes for a super classy looking Halloween costume.
Get the Cruella look with a fake fur, two colored wig and her signature red gloves. Lauren Conrad sure is pulling off this Cruella Halloween costume.
Copy Cruella de Vil Halloween Costume:
13. Greek Goddess
Want to dress up as Greek Goddess, Halloween parties are your chance to do just that! The Greek Goddess costume is one that you can easily recreate on a budget.
The dress and headband combined are under $50, which is a perfectly reasonable Halloween budget.
Recreate this:
14. Cher
Okay, so Vanessa Hudgens looks amazing in this costume. But the Internet doesn't quite agree on who her Halloween costume exactly is.
The silver wig is pretty Cher, so that's what I made of it. This look is super classy and fun and will definitely turn heads at any Halloween party.
Recreate Vanessa Hudgens Halloween Costume:
15. Zodiac sign Halloween costume
Dress as your zodiac sign this Halloween! I know not every zodiac sign is as easy to turn into a Halloween costume, but Aries, Scorpio, and Pisces really shouldn't be so hard.
Vamp up your look with the right make-up and/or face stickers. Also, Halloween is Scorpio season so I think that's a fun one to do!
Recreate this:
16. Hippie Halloween costume
You can never go wrong with that good old Hippie Halloween costume. You can make this one as classy (or not so classy) as you want.
If you're last-minute deciding on your Halloween outfit, these ready Hippie costumes are an excellent choice.
Recreate this:
17. Marilyn Monroe
I know this look has been done many times over, that that doesn't make it any less good! or classy, for that matter. Below an inspirational Halloween look by Karlie Kloss as Marilyn Monroe.
Create Marilyn Monroe look:
This post was all about Classy Halloween Costumes.