*This post may contain affiliate links, which means I'll receive a commission if you purchase through my link, at no extra cost to you.
This post is all about the best small apartment living room ideas on a budget – 18 easy ways to make your apartment living room look its best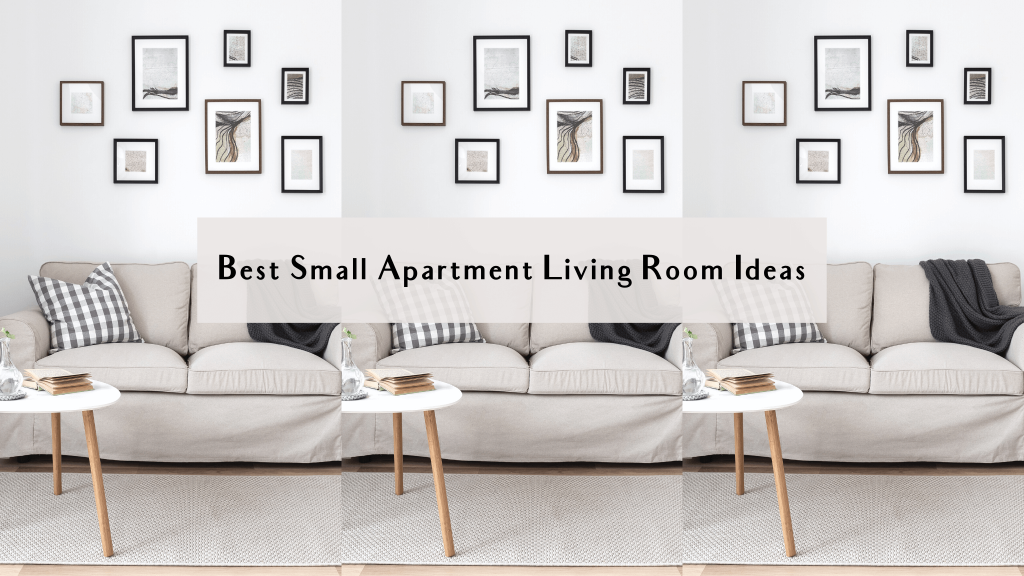 I love Pinterest for living room inspiration, but most inspirational interiors aren't realistic for small apartment living rooms.
Many of us live in big cities (hello New York and LA!!), where apartments are EXPENSIVE and small.
This post will show you 18 of my favorite ways to make the most of your small apartment living room.
We'll cover:
How to use an area rug to pull the living room space together – and make it look cozy!
Smart ways to add extra storage
The best color palettes for apartment living rooms
Visual examples of what to do with your apartment living room are always the best!! So let's get started.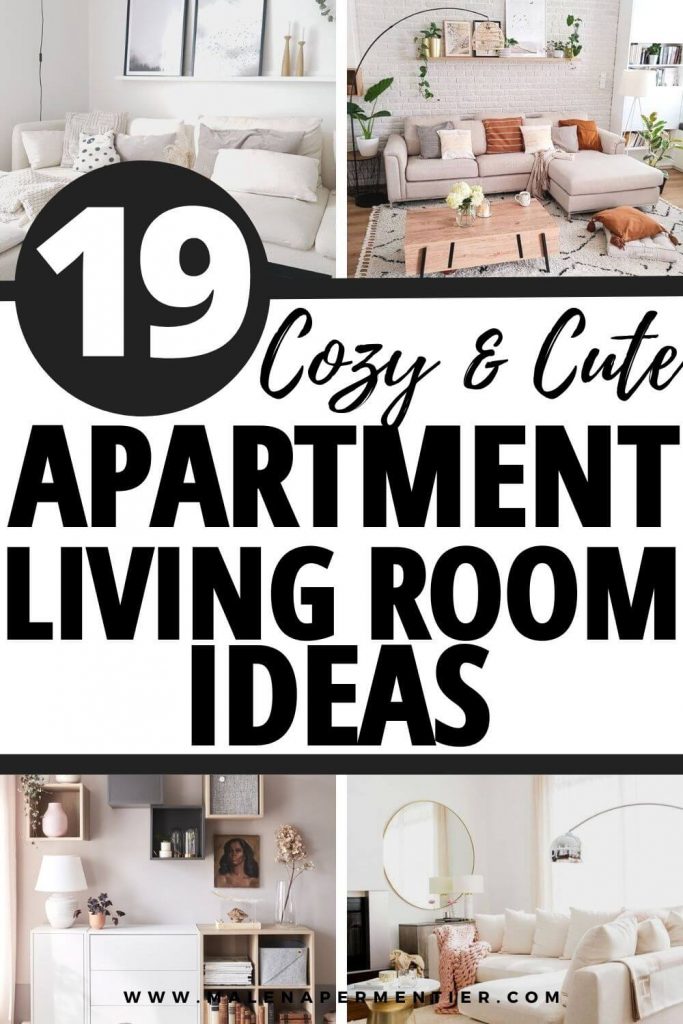 1. Use a rug
Area rugs in the living room are a great and inexpensive way to elevate your space.
Best small living room rug placement
Place only the front legs of your couch and chairs on the area rug. This makes your apartment living room look very well put together while leaving enough free space on the floor.
The best rug size for an apartment living room is:
9×12
8×10
5×7 (only for tiny living rooms)
My best guess is that the area rug below is 8×10!! Or a tiny bit bigger. Not every website that sells rugs has the 'standard' sizes. I know for a fact that Rugs USA doesn't.
You can definitely work with non-standard rug sizes; you have to carefully measure the space you want the rug to cover in your living room.
Buy rug:

2. Stick to light colors
Light colors instantly make a space feel much bigger than it is. Decorate with a wide palette of neutrals, for example light gray, warm beige, off-white, marble, and so on.
The apartment living room below is small, yet it doesn't feel like that at all.
Buy similar affordable coffee table:

3. Use your vertical space
Using your vertical space isn't only smart for storage space, it also tricks the eye thinking the space is bigger than it is. Why? Because furniture with different heights gives your living room extra dimension.
If you're thinking of purchasing a bookshelf for your apartment, consider a tall one in a neutral color.
Recreate this:
4. Pick slim furniture
One thing that easily makes a living room look overwhelming is robust furniture. Thick furniture legs and couch without legs make your living room look more cramped.
That's why picking slim furniture is key in a small apartment living room. The slim furniture in the living room below creates more optical space. I also adore this space maximizing trick of using an entry table behind the couch.
Get affordable marble coffee table:

5. Be consistent with your color palette
You don't want your eye to be drawn to 10 different places at the same time. Keep a consistent color palette in your living room to make the space feel more balanced and spacious.
Get velvet cinnamon ottoman:

6. Expand your space with mirrors
A large round mirror can do so much for a small living room! Not only do round shapes work great in small spaces, but a mirror also makes the room appear larger than it is. And not least: it's also beautiful for decorating your walls.
Get 36″ round mirror:

7. Keep it minimal
Sticking to a super minimal aesthetic is another smart trick to make the most of your apartment living room.

Unlike you might think, a minimal living room can definitely look cozy too. Just make sure to hang some art on the walls and some green!
Get minimal affordable art:

8. Create depth with rugs
Make your small apartment living room look super cozy and interesting with layered rugs. Get a 8×10 or 9×12 rug for your seating area, and then add a cool cowhide rug on top.
Get faux cowhide rug on a budget:

9. Add a tall standing mirror
A tall mirror in your living room can 100% help in opening up your space and making it look much bigger.
There truly isn't one "best" spot for a standing mirror in your living room, but if it can catch a window, that would be really nice.
Buy inexpensive full-length gold mirror:

10. Utilize your wall space
Make the most of your walls when decorating a small apartment living room! The square box floating shelves are a stunning alternative to classic floating shelves.
A good spot for these box floating shelves would be around your TV or above the couch.
Recreate this wall:
11. Add playful details
With an overall neutral color palette in your living room, there's a lot of space to add playful and colorful details!
When you choose both earthy and pastel colors, your small apartment living room won't feel too overwhelming.
Get camel accent chair:

12. Small living room with TV
Mount your TV on the wall to maximize space in your living room! You can use the TV wall to decorate, add lights, and play with interesting textures on the wall.
Hang gold lights next to the TV:

13. Keep your coffee table light & airy
A glass or lucite coffee table can help a lot in making your apartment living room look more spacious. Besides that, these lucite coffee tables are so stylish!
Get acrylic coffee table:

14. Use the space above your TV
Why not use the space high above your TV? These small floating shelves close to the ceiling are a great spot for some plants and decor. Do keep balance by keeping other walls in your living room free of stuff.
Get insanely cheap floating shelves:

15. Hang lamps on the wall
Effortlessly optimize your living room space by hanging lamps on the wall instead of opting for standing lamps.
If you like the industrial minimal aesthetic as seen in the small living room below, recreate it with black or white metal lamps.
Get industrial wall lamp:

16. Use a tall cube organizer
In super tiny apartments like a studio, you have to create separate spaces in order to stay sane ;). Beside using a curtain to separate your living room from your bedroom, tall cube organizers also do the trick.
Multifunctional furniture like this also creates some extra space for storage and decor. Use baskets to keep your place looking tidy.
Get affordable cube organizer:

17. Decorate with pillows
Decorative pillows for the couch are super affordable and really help to make your place look cozy. In a neutral living room, you can go for almost any color palette when it comes to your pillows.
Get gorgeous geometric decorative pillows:

18. Use different textures
Make a neutral living room look interesting by playing with different textures. For example, the chunky, knitted texture of the rug works great with the smooth couch.
Get insanely affordable gray area rug:

19. Keep your decor simple
Simple decor in the right spots is the secret to making your small apartment living room look more spacious!! Keep in mind: quality over quantity.
Get gorgeous decorative tray:

This post showed you the best Small Apartment Living Room Ideas On a Budget
You may also like: