This post is about small living room makeover ideas.
People automatically think that a living room makeover has to be super expensive.
The opposite is true!!
In this post I'll show you 10 clever small living room makeover ideas.
With some new decor under $100 and smart ways to update your furniture, your place will look brand new in no time!
These ideas are perfect for lazy people who can't stand the idea of spending a lot of time doing a living room makeover.
Small living room makeover on a budget: let's get started!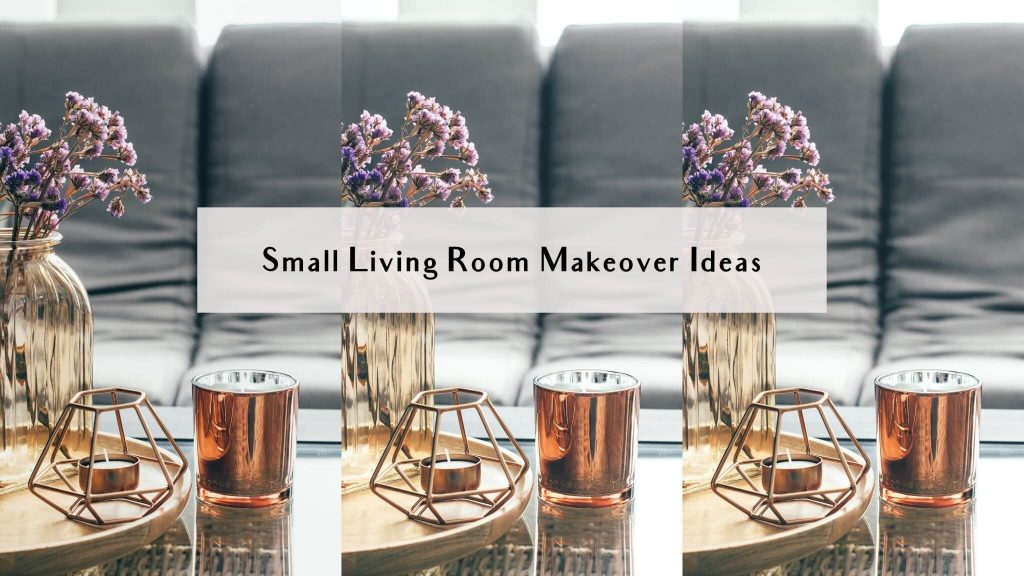 Small Living Room Makeover Before and After
It can feel intimidating to start your small living room makeover.
So I wanted to include this excellent small living room makeover before and after, to show you what's possible in a small space!
As you can see in the picture below, the furniture placement itself makes such a big difference.
Other things that look great are the new gallery wall around the TV, wall paper accent wall, and the warm colors.
Also, the room after the makeover has a new chandelier.
Contrary to what you might thank, chandeliers don't have to be expensive!!
Recreate this living room makeover:
1. Customize your cabinet hardware
Update your cabinets or dressers with customized hardware.
Affordable dressers at Ikea or Amazon don't always have the best hardware.
Luckily you can easily update this furniture with the hardware of your choice.
Customizing cabinets or dressers is a super inexpensive way to elevate your living room while making your furniture look more expensive!
Recreate this:
2. Peel and stick wallpaper for living room wall
Instantly update your living room with peel and stick wall paper. Maybe you've got a small wall surface that could use some brightening up. Another good spot for peel and stick wall paper is behind and above the TV.
Go for a print that fits with your decor aesthetic, or something that adds a pop of color. I have two Amazon favorites that I adore, you'll find them below!
Recreate this idea:
3. Style a cube organizer
Cube oranizers are such an underrated piece of living room furniture!
Cube organizers are super affordable, and you can style them to perfection.
These organizers are perfect for a small living room makeover.
Besides creating extra storage space, you can make it look expensive with books, candles, faux stems, a ceramic vase, and more.
Recreate this:
4. Create a gallery wall (with a kit!)
I've always felt a little intimidated by gallery walls.
They look SO good, yet it seems hard to nail the right position, colors, and style of the frames.
I recently found some really cool gallery wall kits on Amazon, complete with the template on how to hang them.

These kits come with color-coordinated art and frames in different sizes and colors.
This is the best one I've found:
Recreate this:
5. Get a new area rug
Yes, I know, not all rugs are so cheap.
But I've got my eye on some Amazon area rugs with raving reviews and beautiful quality.
An area rug is a great asset for a living room makeover.
Update your living room with a new accent color, an interesting print, or a cozy look. These are my favorites:
Both area rugs I selected below are under $100, which I think is a very reasonable price!
If you're unsure about the ideal rug size for your living room, this post about how to select the perfect rug size is very helpful.
Or, if you're a more visual person, check out this Youtube video about choosing the perfect rug size.
Recreate this:
6. Update your coffee table centerpiece
Updating your coffee table – and more specifically what's ON it, makes such a big difference in how your living room feels.
I love looking up luxurious-looking coffee table decor ideas that I can easily recreate.
Start with a new tray, then add other cute objects like a little flower vase and a candle.
Recreate this:
7. Change up your throw pillows
Add a little color or sophistication to your living room with throw pillows.
A new set of colors and textures is affordable, and truly helps realizing that small living room makeover!
The color palette below works beautifully for a dark or light gray couch.
Recreate this:

8. Add a blanket ladder
A blanket ladder is such a simple and affordable way to update your living room.
Hang two cute throw blankets in colors matching your living room decor.
You can also add other things on the ladder, for example a garland, or some Halloween or Christmas decoration (if it's in season :)).
Recreate this:
9. Place a tall fake plant in the corner
I know, a fake plant is perhaps not as good as a real one.
Although I have to say that the faux plants nowadays are REALLY good!!
You have to see the plant I selected from Amazon; it looks so good.
Plants are a great way to freshen up your living room and add new life to your space.
Preferably go for a tall plant. Varying furniture heights is a trick of the eye to make a small living room look bigger.
Recreate this:
10. Get creative with wooden stools
Wooden stools have the ability to make your apartment look homier – on a budget!
Use stools for styling plants or adding some cute decor.
As you can see, a small living room makeover doesn't have to be expensive at all!
Recreate this:
This post was all about Small Living Room Makeover Ideas.
You may also like: