This post shows you how to maximize space in a small apartment.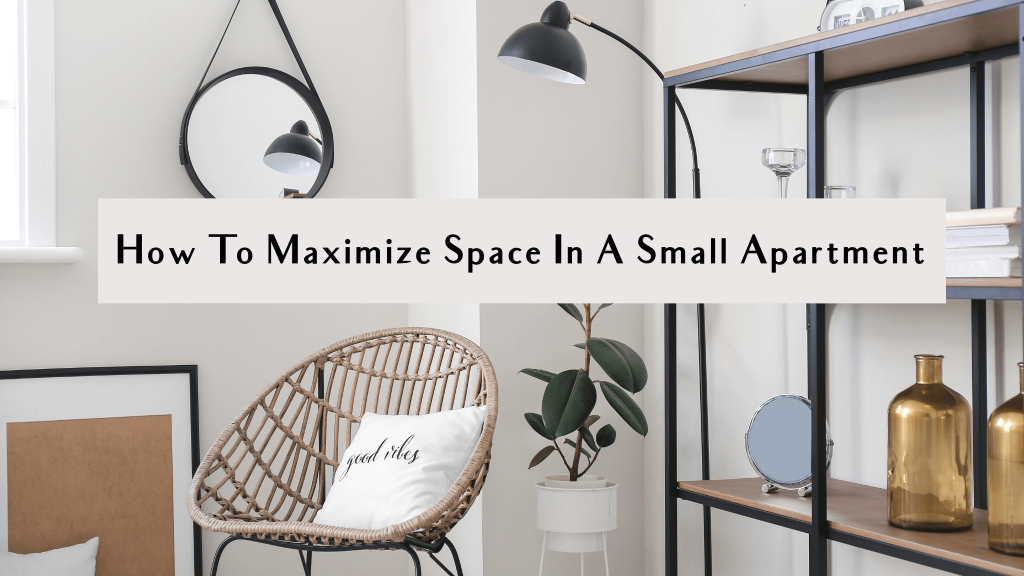 Living in a small apartment? Then you know first-hand that maximizing the space is essential to feel at home.
Small apartments come with the challenge of keeping things functional, while also making the space feel homey.
Although cute and functionality don't always go together, the below ideas show you that it's possible!
Here you find 9 insanely good ways to help you maximize space in a small apartment.
We'll go over:
The best ways to make your apartment look bigger with the right furniture
How to avoid clutter
The importance of neutrals
Effective storage ideas that don't look meh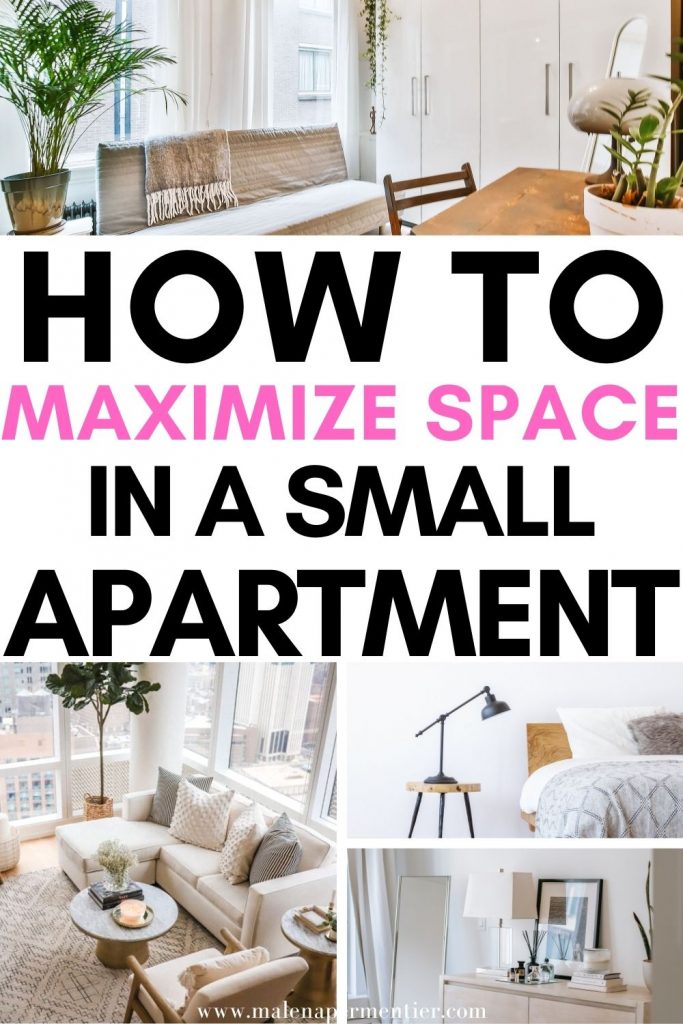 How To Maximize Space In A Small Apartment
1. Pick the right furniture
Maximizing space in a small apartment starts with picking the right furniture. In small apartments, you want to stay away from anything too large.
A large couch is comfy, but it will overwhelm a small apartment living room. Instead of a large couch, go for a small couch and add an accent chair for extra seating. This will leave more open space, and thus make your living room look bigger.
Another example of furniture to be mindful of is robust furniture. With that, I mean, chunky wooden dressers or furniture without legs. Things like chunky wooden dressers are beautiful, but they aren't always the most effective use of the space.
Picking the right furniture isn't just about picking stuff that isn't too large. Sometimes furniture is optically too large. Furniture without legs often appears bigger than they are, taking up precious optical space.
Maximize space by picking furniture with exposed legs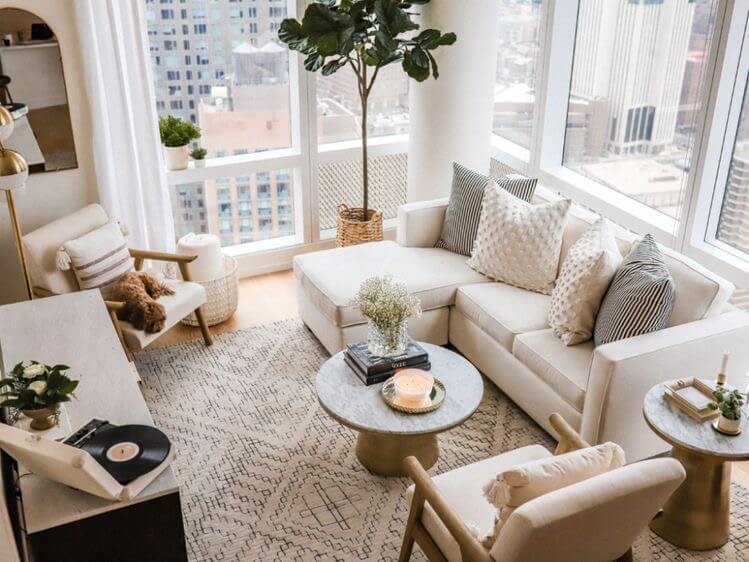 2. Keep intentional open space
Do you know how they keep tons of open space in art museums? You should treat your apartment like that. Intentional open space makes the eye appreciate the decor and furniture in the room more.
In small apartments, you're likely tempted to use every inch of space. Because well: lack of space.
But particularly in the spaces where you will spend a lot of time, it's so important to keep intentional open space for the best ambiance.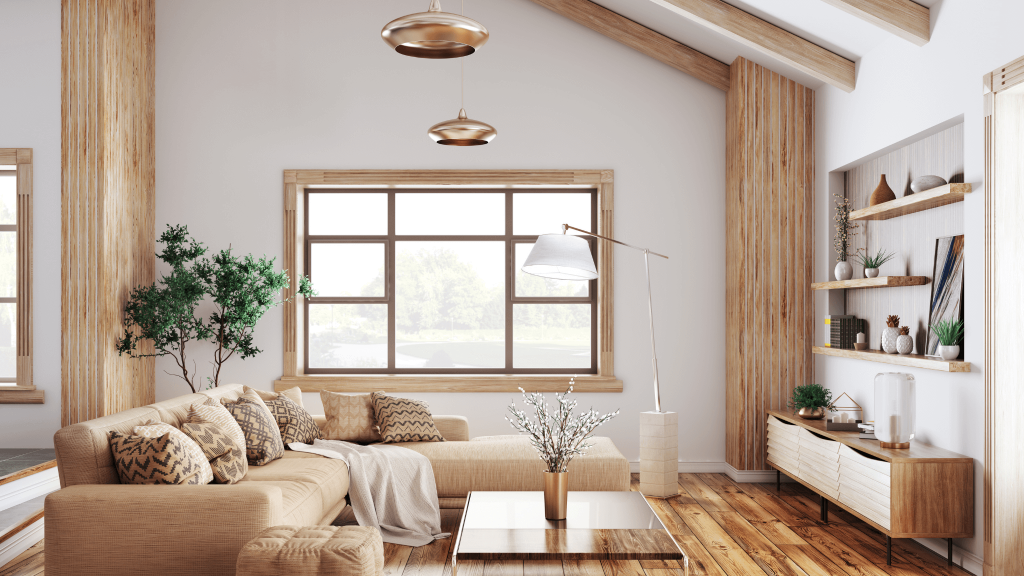 3. Make the most of cabinets and closets
The cabinets and closets in a small apartment are so important. You need to maximize its space because that means your stuff is behind closed doors.
Clutter is one of the biggest culprits in making an apartment look cramped. So you'll really want to celebrate every inch of storage space you have in your apartment.
Think bathroom cabinets under the sink, kitchen cabinets, built-in closets, and maybe a pantry.
Not all organizers are created equally, but there are a few I truly swear by. They're super simple, but they help a ton to make the most of cabinets and closets so they keep more stuff.
Decluttering and Marie Kondo-ing your apartment is essential for a zen space. So if you're moving into a new apartment, make sure to do that first.
You should not bring stuf to a new apartment that you:
Don't wear anymore.
Don't use anymore.
Not feeling 100% about.
Life is short, get rid of the stuff.
Now that you got rid of the unnecessary stuff, let's look at the best storage hacks and solutions for small apartments.
Space-saving storage for Kitchen
Extra shelf
Cup hanger
Organizer for over the door
[Related: How To Organize Kitchen Cabinets in a Small Kitchen]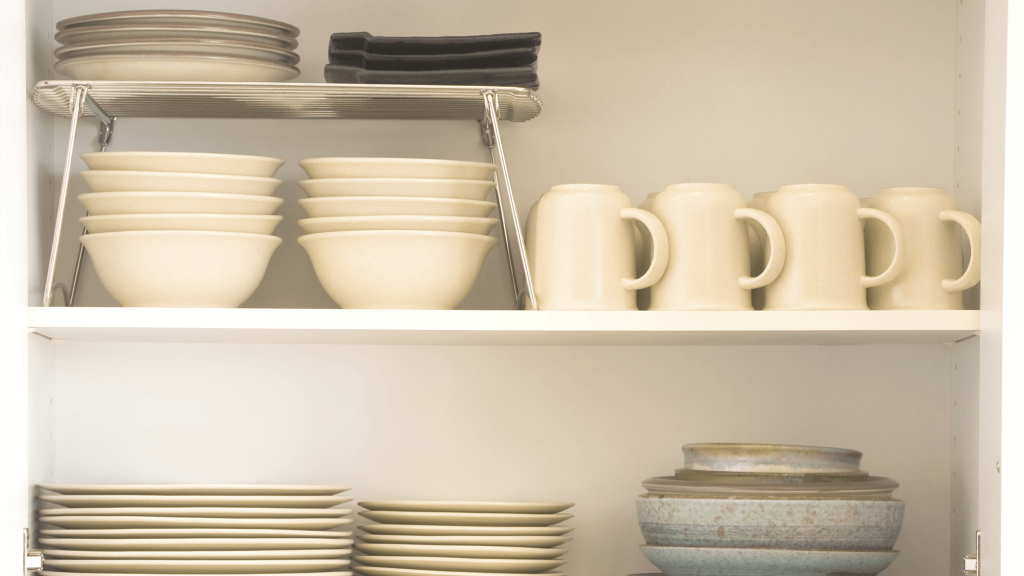 Get kitchen space savers products:
Bathroom organizers to maximize space
Shelf divider
Clear stackable bins
Organizer for hair tools
[Related: 27 Brilliant Bathroom Organization + Storage Tips (Perfect for Small Bathrooms)]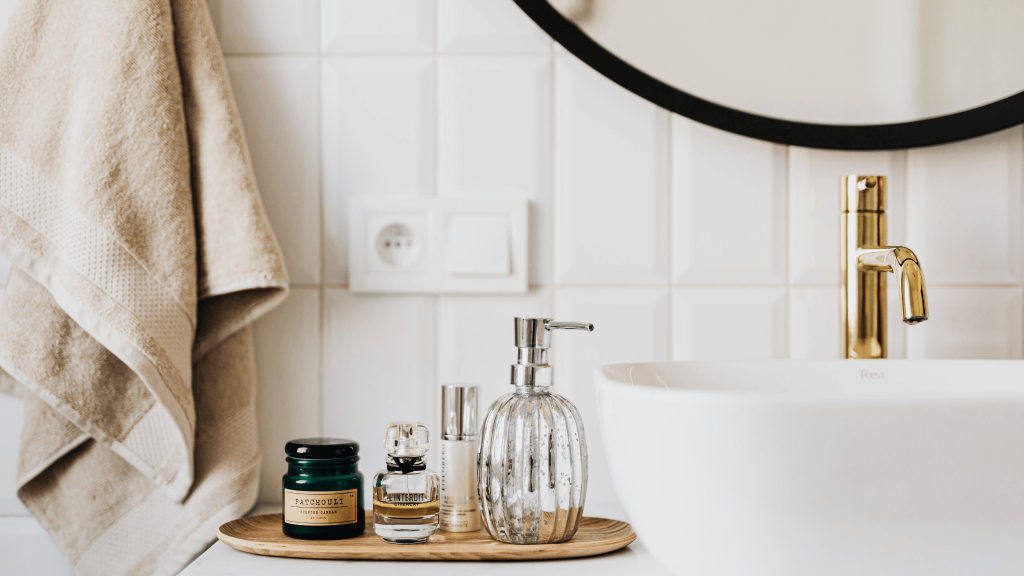 Get storage solutions for small bathroom:
Closet solutions for extra space
Baskets for drawers
Hangers with extra space
Extra storage drawer for inside closet
[Related: 25 Easy Closet Organization Ideas To Make the Most of Your Space]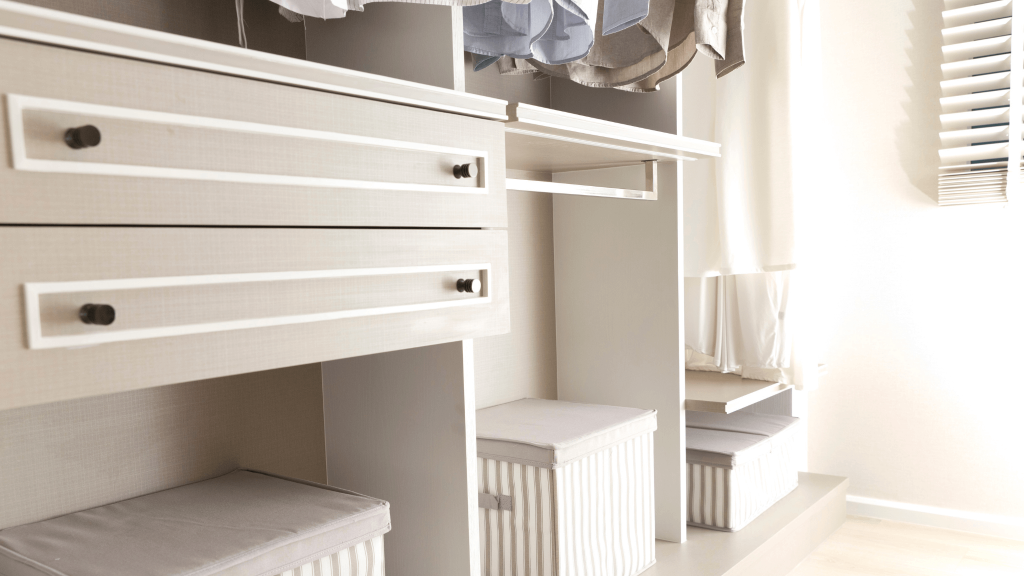 Get small closet organizers:
Living room storage hacks
Floating shelves
Coffee table with storage
TV console with closed cabinets
[Related: The 18 Best Small Living Room Ideas (On a Budget!)]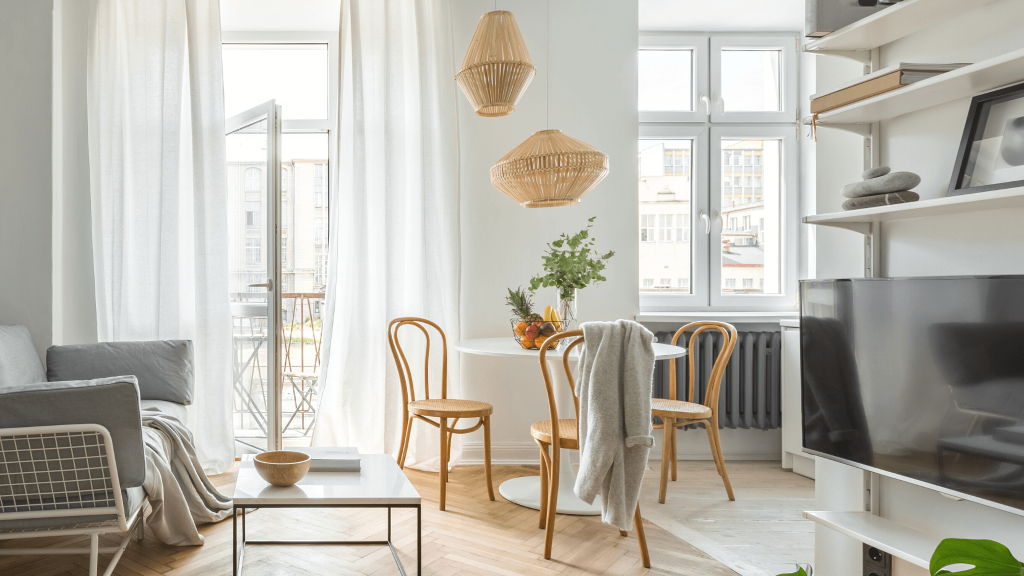 Living room hacks
4. Use neutrals
Light colors make a small apartment look bigger.
Focusing on neutrals doesn't mean that colors are entirely off-limits. It simply means that you should keep the foundation of your apartment neutral.
That means the walls, but also big furniture like couches, the dining table, and other furniture that takes up a fair amount of space in your living room.
5. Avoid clutter
Avoiding clutter is crucial to maximizing space in a small apartment. Stuffing the most amount of stuff in a small apartment isn't something I believe in.
Small apartment living is about being intentional and creating functional storage space.
But above all, it's about picking furniture and decor that you love without overwhelming the space.
When it comes to storage hacks, I urge you to focus only on solutions that keep your stuff out of sight. Storage that's hidden doesn't add to the clutter.
'Kill your Darlings' applies to words as much as it does to stuff. You might have a bookshelf you love but is just too bulky for the space. Or you're in love with your insanely comfy chair, but it doesn't look right in your apartment.
Pick the storage, furniture and decor that WORKS for your apartment as a whole.
6. Think twice about all decor
There are a few important rules to keep in mind for decor in small apartments. The first one is that you want to avoid having too many little things.
Some people literally have decor everywhere. On the bar counter, next to the TV, on the shelves, the coffee table.
Decor is great but in small apartments a lot of decor simply becomes clutter.
Decorate a small apartment by sticking to the rule of 3 or 5. That means that instead of scattering candles, books, and miscellaneous decor everywhere, you place them together in groups.
Organized small decor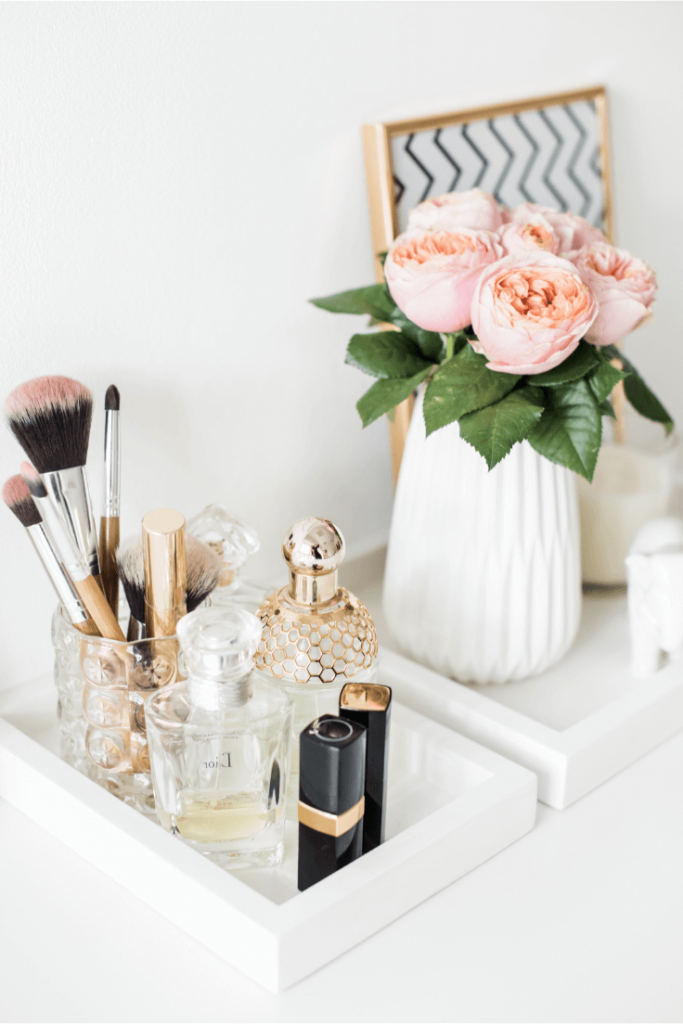 By varying heights and grouping decor together, for example on a tray, you avoid your apartment looking cluttered.
When it comes to the walls, less is more. However, even in a small apartment, you can play with scale.
A large piece of art above the couch in a small living room can work. In fact, it often looks better than a full-fledged gallery wall.
Why? if you have one large piece of art, your eye will only be drawn to that place.
With lots of little things on the wall, your eye will travel everywhere. This makes the space optically smaller.
However, gallery walls in a small apartment living room CAN work. You only have to be more mindful about the rest of your decor and furniture.
7. Consider acrylic furniture
An acrylic coffee table or bar chairs can help to make your apartment feel more spacious. After all, you look right through them so they technically don't take up space ;).
Acrylic furniture can look super stylish, especially if you have a modern living room aesthetic.
Acrylic furniture for small apartments:
8. Keep everything behind closed doors
In small apartments, everything must have its designated space. I used to have an entryway table with shelves where I threw everything.
The problem? When it's open, you can see everything. Now I have an entryway table that's more of a small cabinet. This is great because I can still keep many miscellaneous things I need, yet not have them in sight.
Small apartment living will make you very disciplined because if you like a tidy and cozy space, you have to be consistent when it comes to tidying up.
9. Always go for furniture with extra storage
Things like coffee tables, entryway tables, and nightstands all offer some storage space. When picking your furniture for a small apartment, always consider that.
Furniture with lots of shelf space is always preferred. Do keep in mind that you want to keep clutter out of sight.
If you use a coffee table or entry table for extra storage, work with baskets to make your space look tidy and organized.
This post showed you how to maximize space in a small apartment.
You may also like: