This post shows you the best ways to elevate your ikea furniture.
Are you looking for a way to spice up your home, but you have a renovation budget you need to stick to?
IKEA furniture has long been hailed for its affordability, functionality, and minimalist design.
The famous Swedish brand is renowned for the convenience of its flat-pack furniture.
However, what if we told you that there's a whole world of possibilities beyond the instruction manual?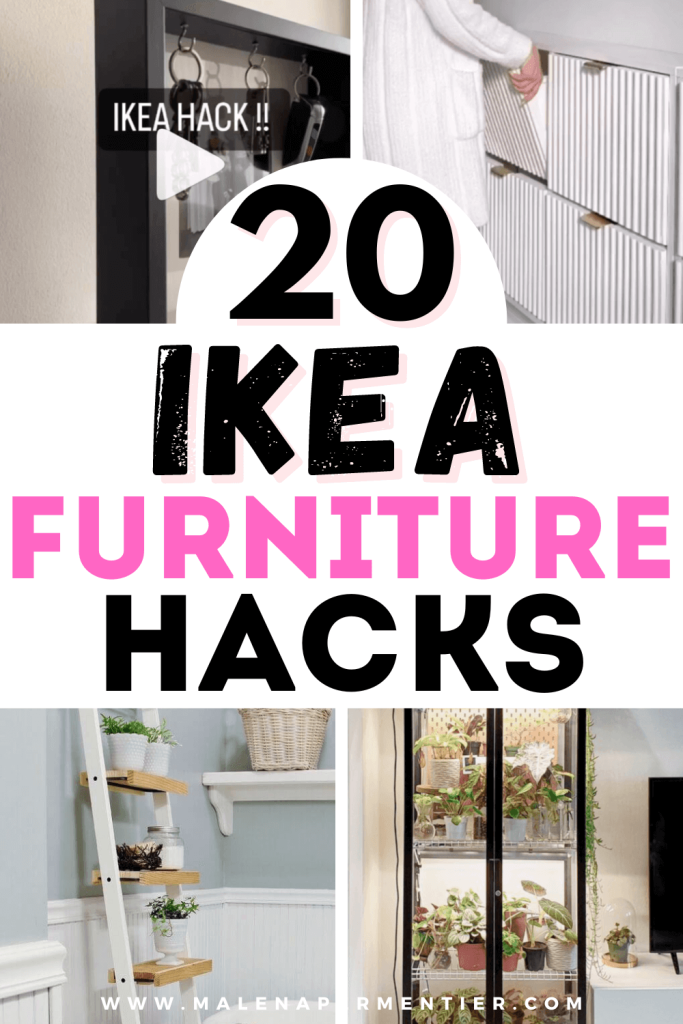 Whether you're moving into your first home or looking to upgrade existing decor, there is an easy DIY project for everyone.
From turning a simple bookshelf into a stunning built-in library to transforming a basic dresser into a chic storage solution, there's an array of hacks that can breathe new life into your IKEA furniture.
These hacks will help you maximize the potential of your beloved IKEA pieces without breaking the bank!
In this article, we will categorize the hacks into several rooms of your house, from bedroom to bathroom.
Get ready to be inspired by the incredible versatility of IKEA furniture and discover how a little creativity can go a long way in transforming your home.
Entrance/Foyer
1. Shoe Cabinet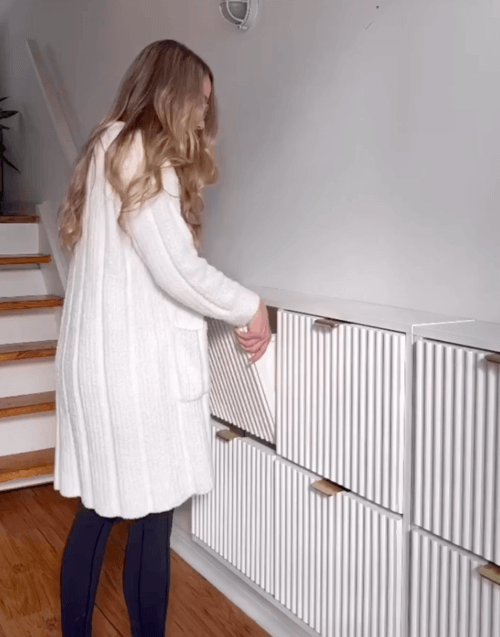 credit: @mynorfolknest
Transform your ordinary shoe cabinet into a stunning focal point that welcomes your guest at the entrance.
By applying fluted wood trim and gold pulls to your IKEA STÄLL shoe cabinet, you can effortlessly transform it into a work of art.
This simple DIY project showcases the power of creativity, turning an ordinary piece into a statement piece that not only organizes your footwear but also adds a touch of sophistication to your home.
2. Hallway Storage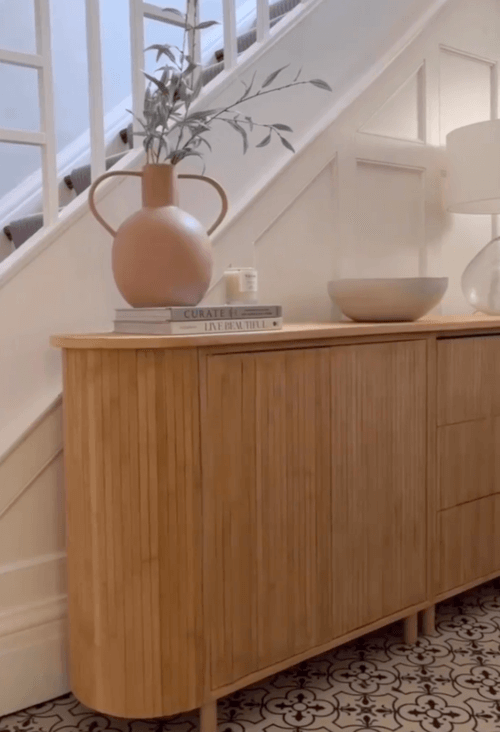 credit: @crack_the_shutters
Take control of your hallway clutter while elevating its aesthetic appeal with this ingenious storage hack.
Add pole wrap to your IKEA EKET and notice how one DIY can change the whole ambiance of the room.
Embrace the fusion of functionality and style, and experience the transformative power of this DIY project as your hallway becomes an organized and inviting space that sets the tone for the rest of your home.
3. A Functional Key Holder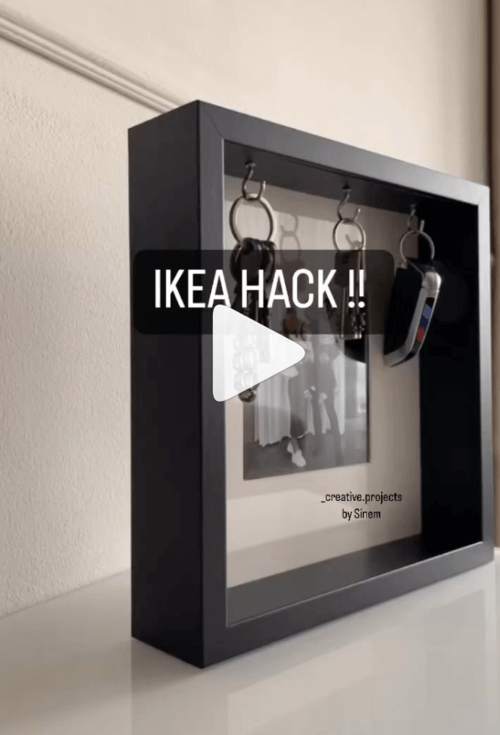 credit: @_creative.projects
Tired of misplacing your keys? Worry not because this hack will keep your keys organized and easily accessible.
Unassemble your IKEA SANNAHED frame and attach three hooks for your key holders.
You can also put your family picture and wall art that you'd like for an accent!
Say goodbye to frantic searches for your keys and hello to functional simplicity.
Living Room
4. Wall-to-Wall Display Cabinet
We have seen a lot of IKEA BILLY hacks, and we still love each one of them.
Turn your wall into a gallery of your favorite possessions with this impressive hack.
By combining multiple BILLY bookcases and seamlessly installing them on your wall, you can create an expansive and visually striking display cabinet.
5. Unique Cupboard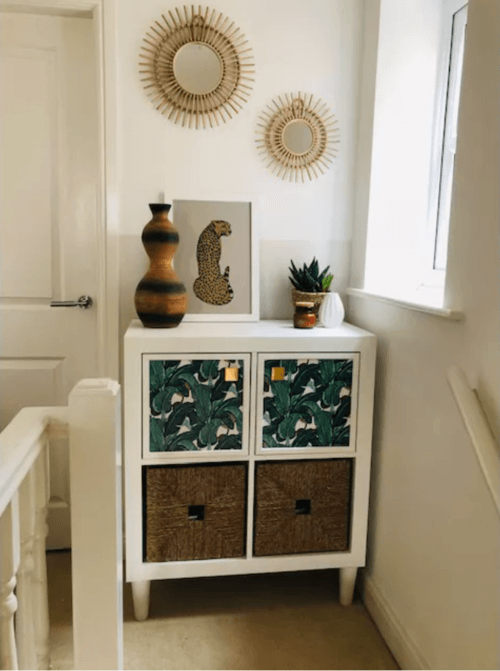 Transform a basic storage unit into a unique and personalized cupboard with this hack.
Using the IKEA KALLAX cupboard, you can go from just a storage unit to a beautiful piece of furniture by adding a fresh coat of paint, peel-and-stick wallpaper, and a set of pine furniture legs.
From showcasing decor to concealing clutter, this hack adds functionality and charm to any room.
6. Stylish Trash Can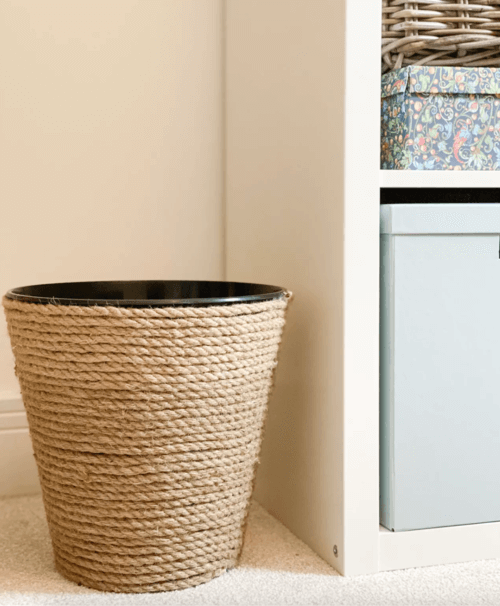 Who says a trash can can't be stylish?
Using the IKEA FNISS, a hot glue gun, a staple gun, and natural jute wine, you can have a chic trash can that matches the vibe of your room.
It's such a simple hack but a stunning transformation to your usual trash can.
7. Indoor Greenhouse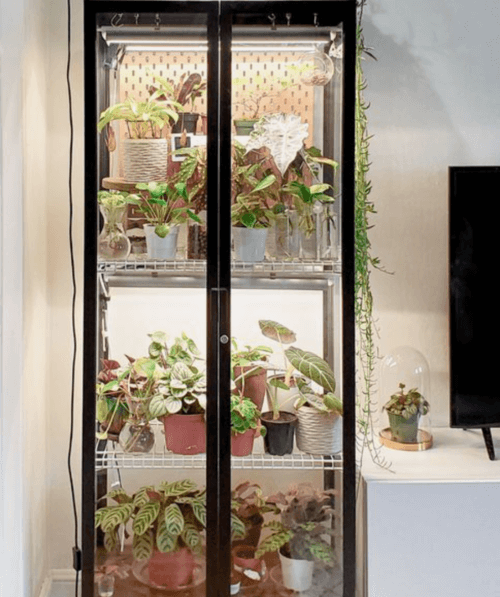 Whether you live in an apartment where you can't do much gardening or you live at home, you need this indoor greenhouse made of an IKEA MILSBO cabinet!
This indoor greenhouse is perfect for plants that need extra humidity and light.
This hack combines functionality, aesthetics, and a refreshing burst of greenery.
Bedroom
8. Boudoir-Style Wardrobe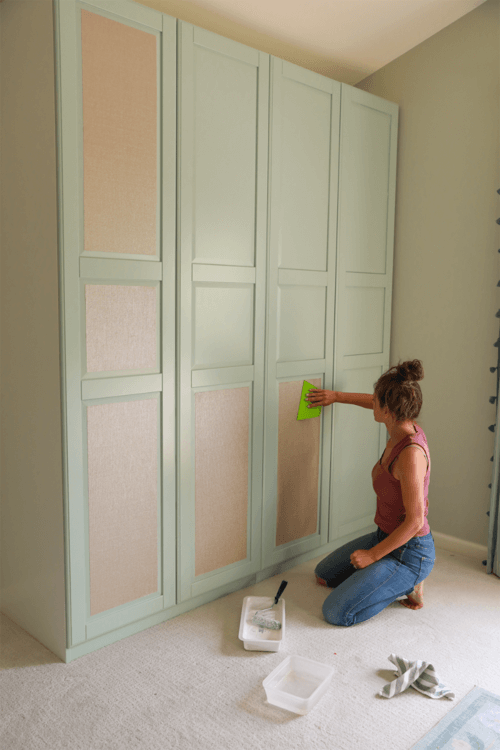 The IKEA PAX wardrobes are popular because they're fully customizable on the inside, so you can create a storage system that works entirely for you.
Additionally, you can also upgrade your PAX in several ways, such as turning them into a boudoir-style wardrobe.
By adding elegant details, such as decorative moldings, ornate handles, or even mirrored panels, you can infuse a touch of luxury and sophistication into your bedroom.
9. A Bowl Bedlamp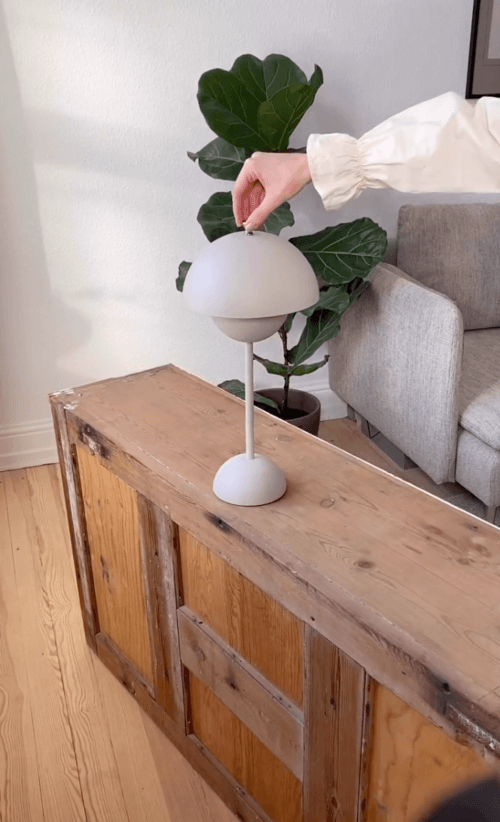 Illuminate your bedroom with a touch of creativity using the IKEA BLANDA BLANK and MATT to create your DIY bowl bed lamp, complete with the IKEA ENERYDA knob and battery-powered lighting.
This hack is perfect for those who appreciate a blend of functionality and artistic flair, as it not only provides soft and ambient lighting but also adds a captivating visual element to your sleeping sanctuary.
10. Gold Bedside Table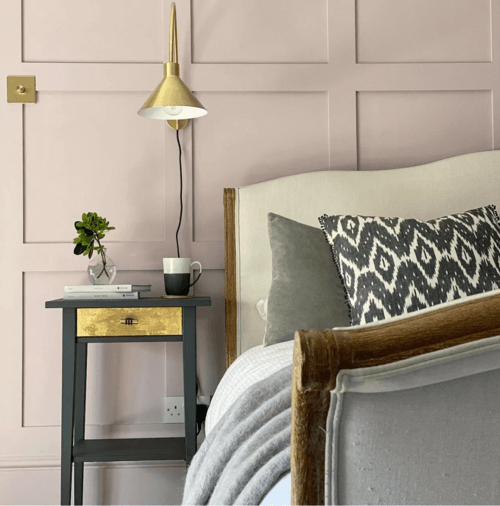 Add a touch of glamor to your bedroom with the gold bedside table hack using the versatile IKEA HEMNES piece.
By applying a coat of metallic gold paint and replacing the drawer pulls, you can elevate this standard table into an elegant and eye-catching statement piece.
The transformation is astonishing, as the golden hue adds a luxurious and sophisticated ambiance to your bedroom decor.
11. Storage Headboard
Optimize your bedroom's storage potential with the IKEA TRONES storage headboard hack.
By stacking TRONES shoe storage cabinets above your bed, you can transform your headboard into a functional and space-saving storage solution.
This hack can be useful to store bedding, pjs, and out-of-season clothes where they are easy to grab.
12. Wall-to-Wall Storage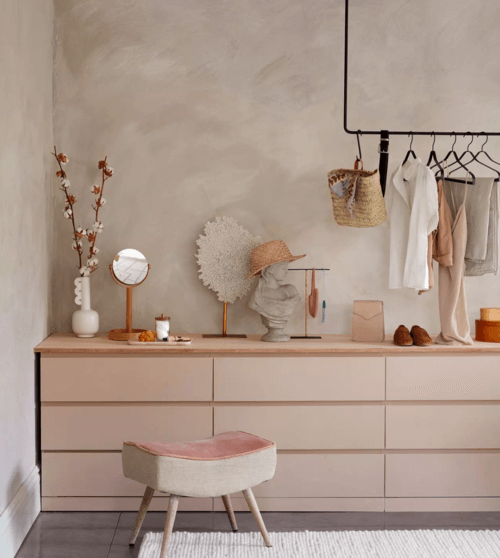 Maximize your room's storage capacity with the IKEA MALM wall-to-wall storage hack.
This DIY project is also great if you have a space that is too small to function as a bedroom.
Create your dream dressing area by combining multiple MALM dressers and adding a ceiling-hung rail to make the most of the space.
Home Office
13. Built-In Library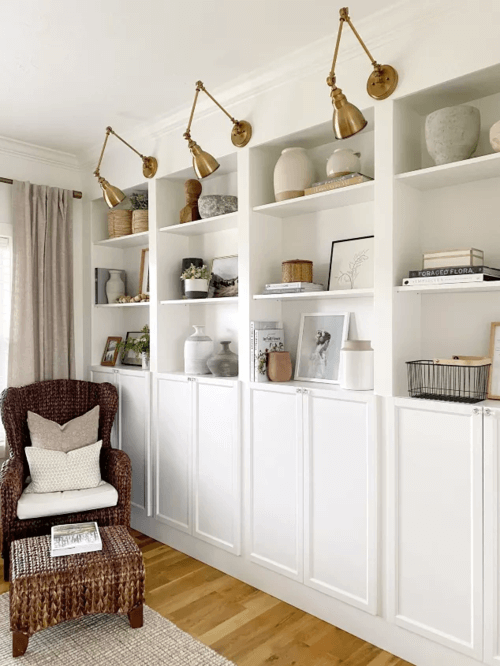 IKEA BILLY is one of the most versatile bookcases there is.
You can create any DIY hacks using it. This time is a built-in library for your home office.
This hack allows you to showcase your book collection while adding a touch of sophistication to your home decor.
14. Built-In Desk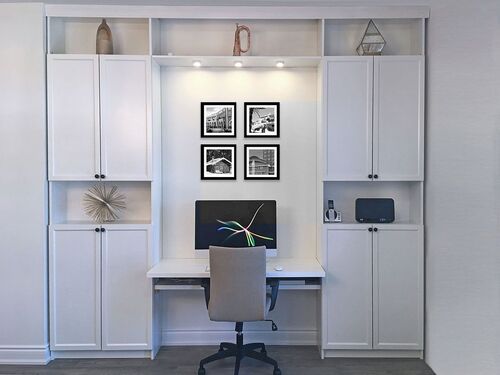 Working from home is no longer uncomfortable with this built-in desk made of IKEA BILLY.
By combining BILLY bookcases on top of a desk, you can create a spacious and functional desk area that seamlessly blends with your home office.
You can paint the bookcases to match the walls and base units to create the illusion of an all-in-one built-in desk that has been fitted bespoke.
15. An Extra-Long Desk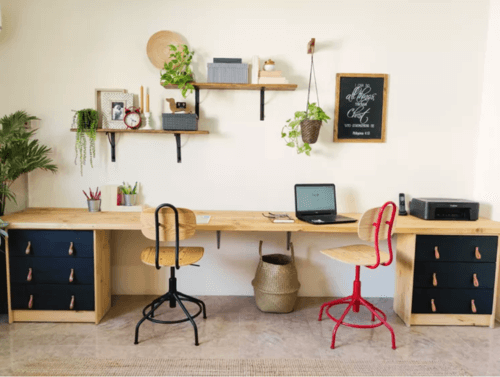 Unleash your productivity with the extra-long desk hack using IKEA RAST three-drawer chests.
By combining multiple RAST chests and adding a large countertop, you can create a spacious and versatile desk that accommodates 2 people or provides ample workspace for projects.
This hack is a game-changer for those who require ample space to spread out their materials, whether it's for crafting, studying, or collaborating on projects.
Say goodbye to cramped quarters!
Bathroom
16. Ladder Bathroom Shelves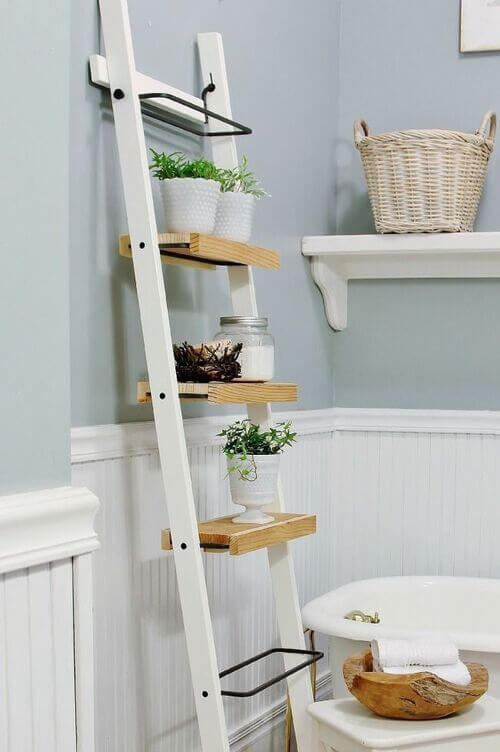 Optimize vertical space in your bathroom with the ladder shelves hack.
By repurposing IKEA towel racks, such as VILTO, and adding multiple shelves using wooden boards for storing towels, toiletries, and decorative items.
This hack adds a rustic and functional touch to your bathroom while maximizing storage options.
17. Easy Makeup Storage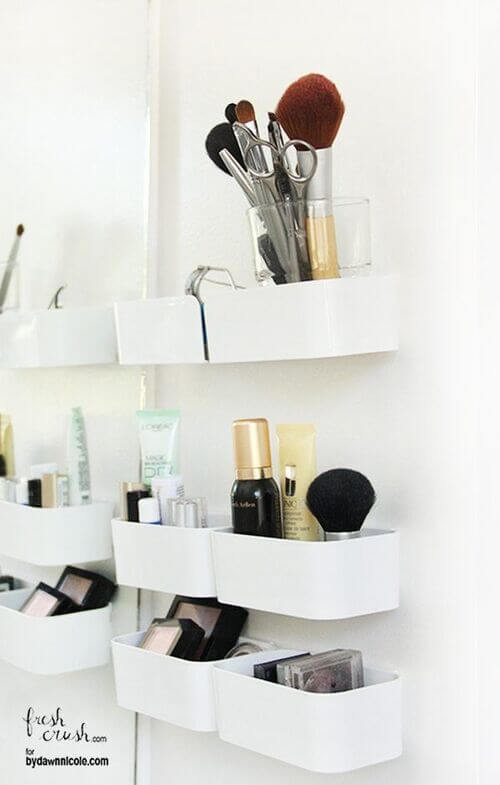 Simplify your beauty routine with the easy makeup storage hack.
By using the IKEA PLUGGIS recycling bin, you can create a dedicated space for your makeup collection.
Not only can they save some space, but customizable compartments ensure easy access and efficient organization of your cosmetics.
18. Elegant Basket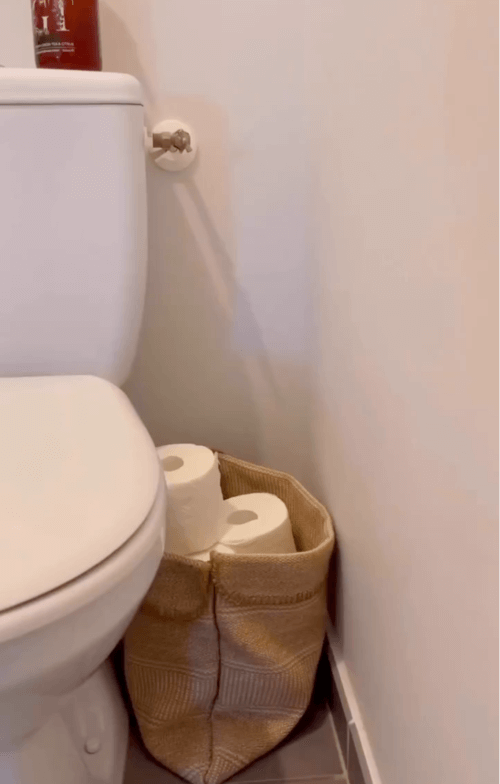 This is such a smart way to repurpose IKEA KLEJS rug!
You can hot glue the rug, or sew them for more security, and use them to conceal a flower pot.
This basket is also perfect for storing tissues, blankets, toys, or everyday items.
This hack combines aesthetics and practicality in a charming way.
Kids' Room
19. Rotating Kids' Bookcase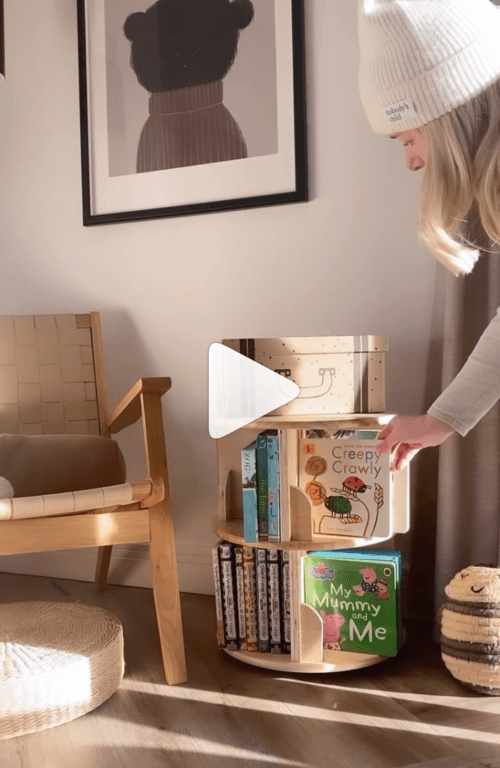 This DIY lets you store your kids' books in a fun way.
You can use the IKEA SNUDDA to create this fun and interactive bookcase that allows your little ones to browse and select their favorite stories easily.
This hack promotes a love for reading while adding a playful touch to their bedroom or playroom.
20. Kids' Reading Nook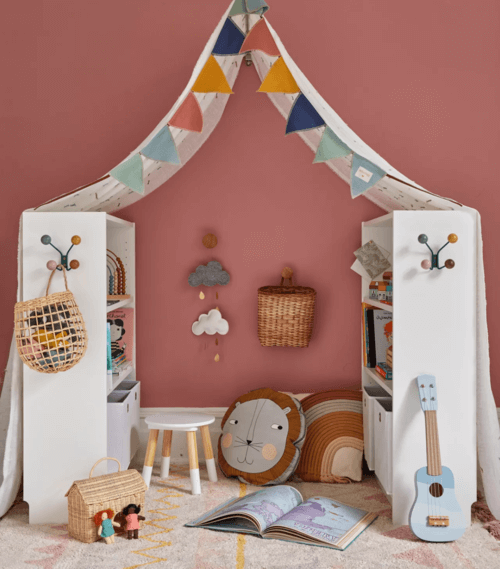 Who doesn't love a reading nook where your kids can immerse themselves in their favorite books?
Instead of placing shelf units against a wall, face them towards each other to create a special reading nook.
Arrange the IKEA BILLY bookcases to form a semi-enclosed space and suspend floaty fabric over a swing curtain pole for a magical hideaway canopy.
Add soft cushions, blankets, and fairy lights for a magical and comfortable reading experience.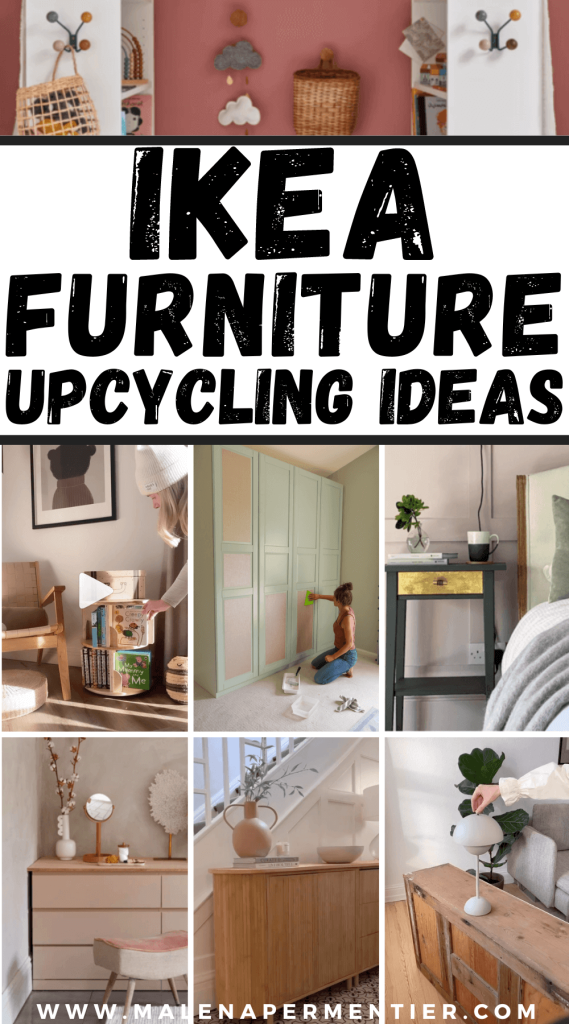 Concluding
The world of IKEA furniture hacks is a treasure trove of creativity and innovation.
The beauty of IKEA furniture lies in its affordability and versatility, making it the perfect canvas for your imagination.
From clever storage solutions to stylish accents, these hacks not only elevate your living spaces but also provide practical solutions to everyday needs.
Whether you are a DIY enthusiast or a novice seeking to make your space more functional and beautiful, there's an IKEA hack out there waiting to be explored!
This post showed you the best ikea furniture hacks.
You may also like: