This post shows you the best diy mudroom ideas.
A mudroom is the perfect addition to any home and brings in a designated station to keep all your muddy shoes and outerwear in one place before moving through your home.
It keeps the rest of your home clean and organized.
So if you've been looking for the perfect excuse to add this to your home, here it is.
So get ready to screenshot these cute ideas to use in your home.
What is a mudroom, and why do you need one?
Now before we get into the fun DIY projects, I should probably enlighten you all on what a mudroom is.
A mudroom is a room either at the front or the back of your home that is dedicated to all your muddy shoes, jackets, or even umbrellas.
This room allows you to keep a tidy space and keep things organized.
A mudroom holds all the things that will usually make the rest of your home dirty or messy, which makes it a necessity in every home.
Whether you have a gorgeous house with a designated room or an apartment that can have a small DIY mudroom made out of shelves and baskets, it doesn't matter as long as you find what works for you.
Different types of mudrooms
When it comes to picking the perfect mudroom for your needs, then there are two you can choose from.
An inside mudroom that can consist of open and closed storage to ensure the space doesn't look like a boring row of cabinets.
Add some baskets, fun furniture pieces, photographs, or even a mirror.
The best part about a mudroom is the fact that it stays personalized because everyone needs something suited to their own needs.

Outside mudrooms usually stick to sheds or garages.
This works best if you know you'll be extremely busy outdoors.
If it gets messy, you don't have to worry about making the house dirty because all that gear stays in a designated spot.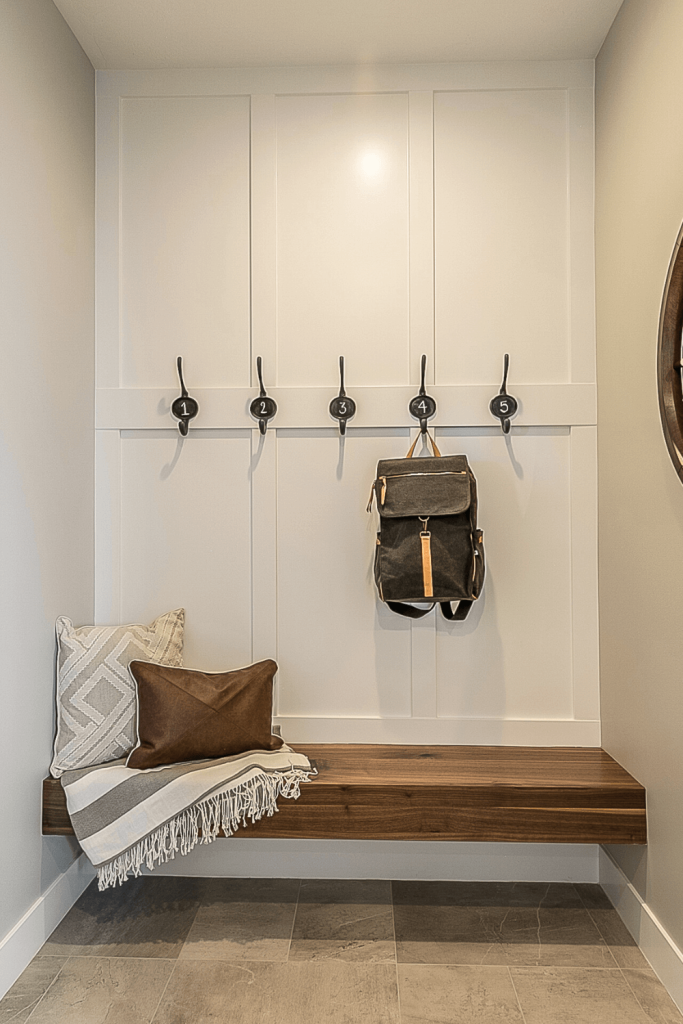 Tips for designing the ultimate mudroom
When you're trying to design a mudroom that works well for your needs, then you might want to take a look at the tips I've added below.
They serve as a basic checklist for finding the perfect combination between personalized and practical.
Figure out the basics. Plan what you want to add and where. This is the ultimate time to see what you want to add or what your focus will be on for the mudroom.

Find the finishes. You want the end product to be practical and beautiful when you're designing any room in your home, so why would it be any different for the mudroom?

Use open and close storage cabinets.

Make space for a sink or a designated dog shower.

Find the perfect location.

Use practical lighting.

Think about heating as well as ventilation.
1. One-wall mudroom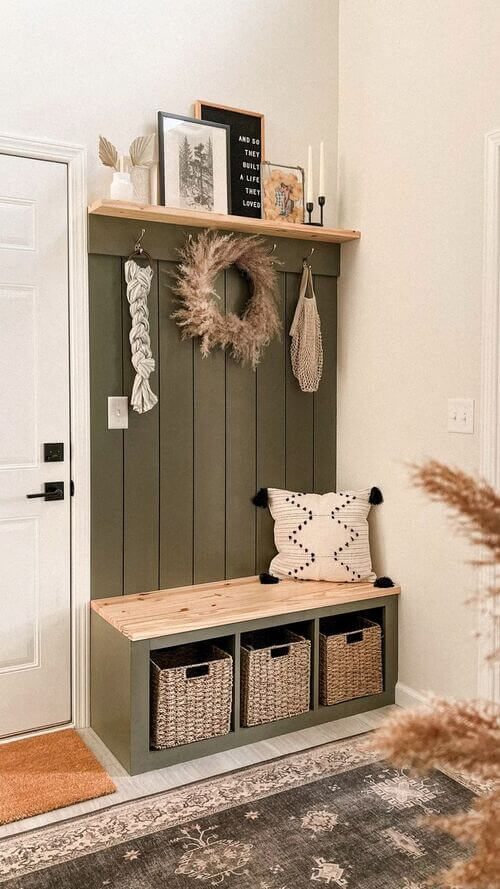 If you have an open wall next to the front door, then this mudroom is a must.
It uses wood panels and a simple bench to create the ultimate space to keep all your goodies.
You can personalize it with some photos, candles, and cozy pillows.
2. Simple hooks and cupboards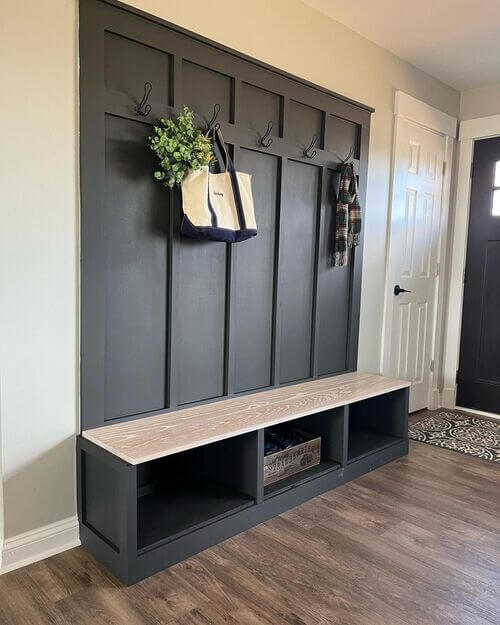 Taking things back to basics means just attaching what you need.
This creates a designated spot with hooks for jackets and open cupboards for your shoes.
You can also add a basket to keep some smaller objects.
3. Personalize and organize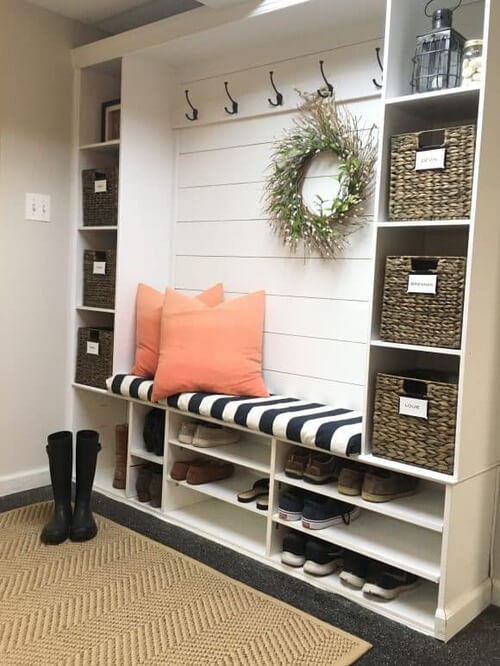 If you have more room to play with, then you can add some more baskets.
Separate the whole family's goodies with this mudroom idea.
You can even add a pillow to create a comfy bench for you to take off your shoes and hooks for your coats.
This space is huge and works great for a big family.
4. Neutral-colored mudroom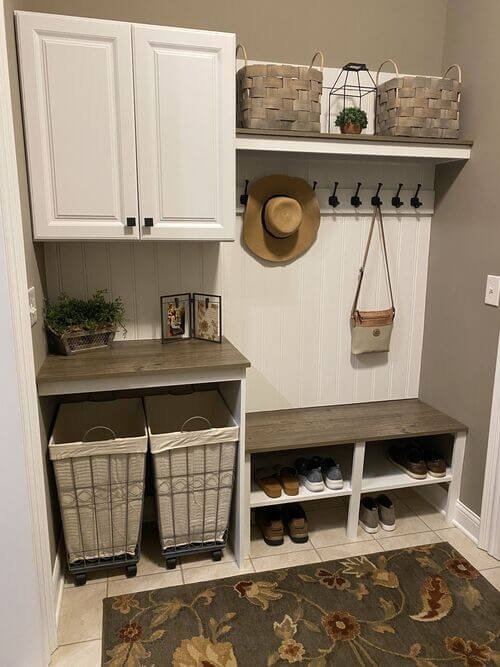 A multifunctional mudroom is what we strive for, so why not try this?
This mudroom doubles as a laundry room.
It sticks to the basics but allows for more personalization because of the added cupboard spaces.
Going for neutral colors is the most effective approach since it feels clean, even for a mudroom.
5. Organized open cabinets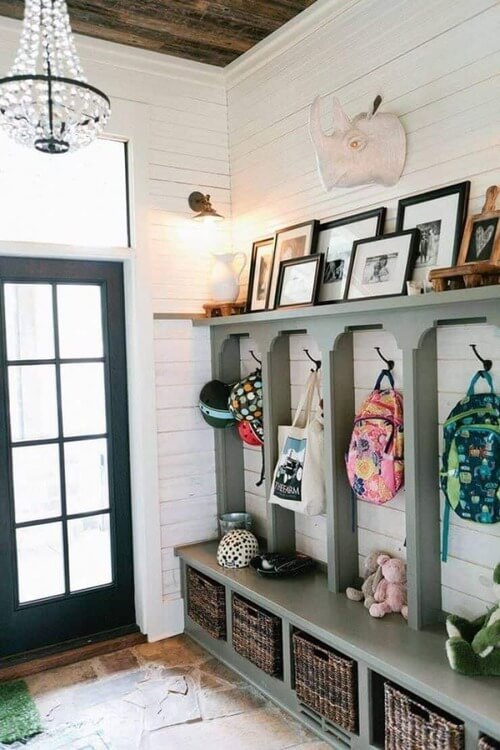 Are they trying to stay organized?
With a big family, it can be hard to keep things… under control.
Why not teach the kids a little organizing by using a mudroom?
This simple built-in cupboard allows you and the kids to keep everything in one designated spot.
Add some fun family photos and keep a hook open for guests or extra bags.
6. Open storage with a bench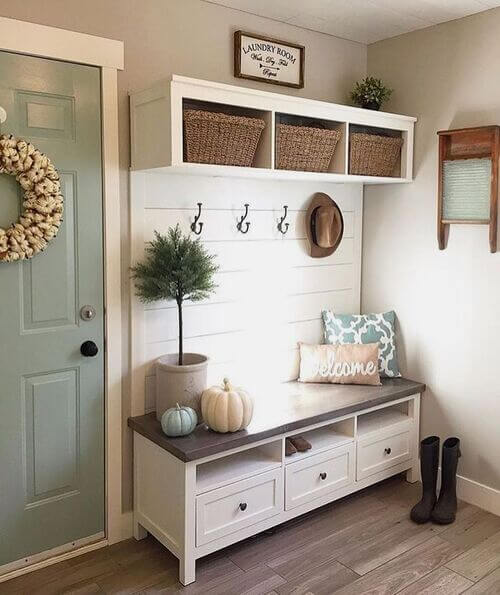 Another mini mudroom idea can be a mini bench with some shelves.
Give it a warm atmosphere with some plants and cute pillows.
This idea is perfect for a first home because you don't need to spend large amounts to create this simple idea.
7. Moody mudrooms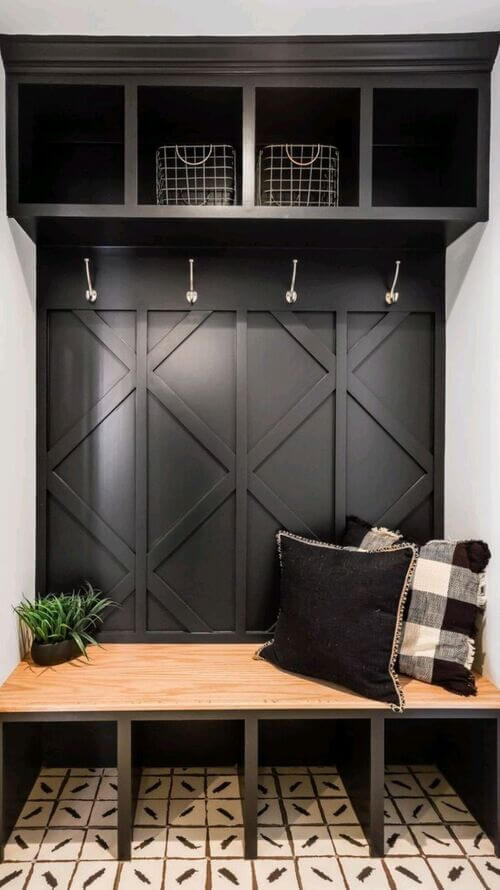 A moody color palette can make all the difference.
Pair some black cupboards with a light wood bench. It is a gorgeous look and won't get dirty too easily.
Add some metal baskets for small goodies and some silver hooks for jackets and bags.
This idea is cute for a designated room and would go perfectly in a bathroom.
8. Wood panels and greenery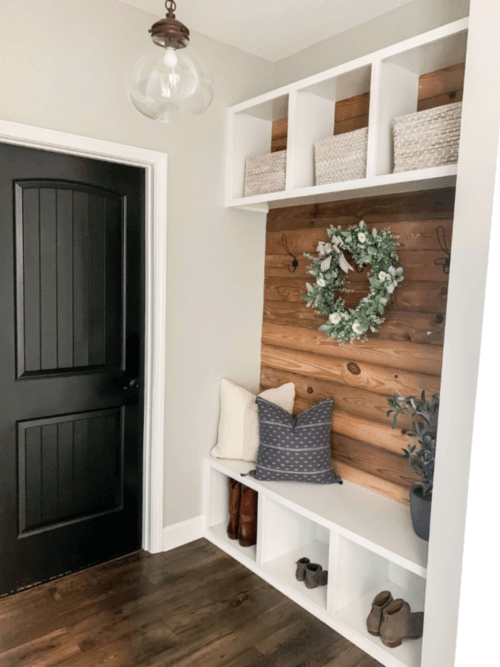 I love this idea because it has a rustic look and is super easy to DIY.
You can create the back by making use of simple wood slices and then attach the cupboards on top.
Add some cute baskets on top and place your shoes on the bottom.
It's super cute and is perfect for an empty corner in your home.
9. Minimalistic mudroom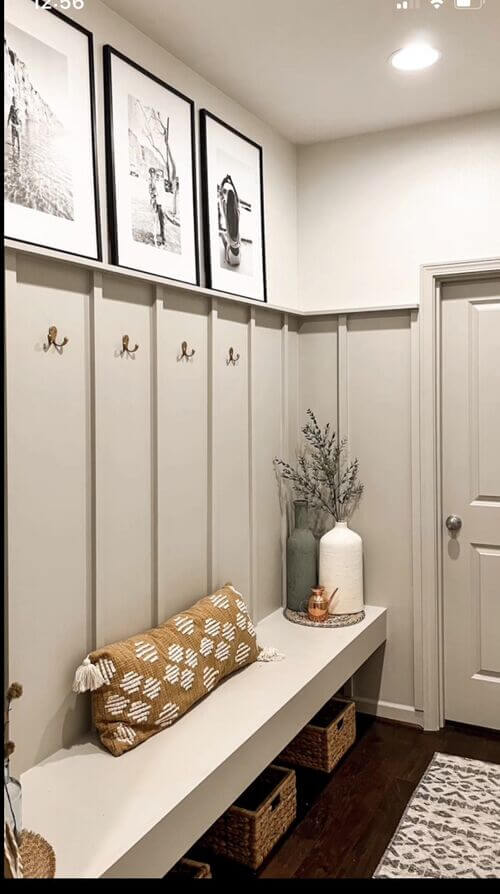 Here's a mudroom idea that can work at the back of the house.
If you are a big fan of getting busy in the garden, then you know things can get a little messy.
This can be a backroom that can be the designated spot for all your gloves, boots, or any dirty clothes from working outside.
It creates the perfect functional and personalized mudroom by incorporating some pillows and art.
The added bench also goes a long way.
10. Navy blue theme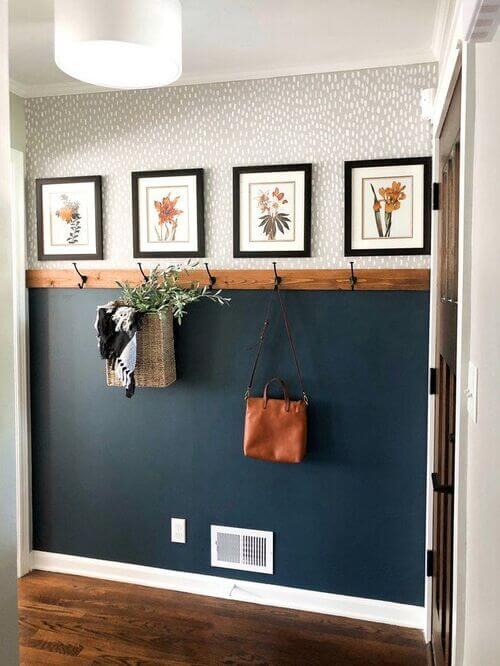 This split-paint idea for a mudroom is just stunning.
Now don't get your hopes down when you live in an apartment and you're renting because you can still have some fun with it.
Stick-on wallpaper will be your best friend when trying to create this super cute look.
Add some hooks to the wall and keep all your go-to bags in one place.
11. Simple mudroom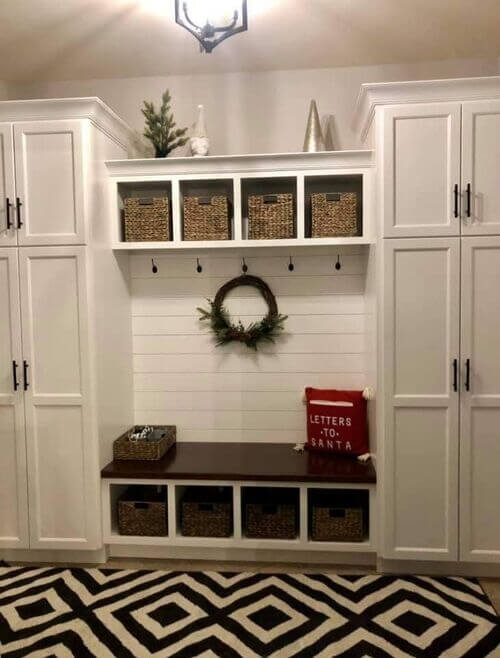 As we've stated before, a multifunctional mudroom is a great idea.
If you have some extra space in the garage, then you should try this out.
Not only will you have a space for all your muddy boots, but the cupboards can hold tools, extra coats, and whatever you need.
Personalize it with some plants, pillows, and some indoor shoes.
12. Floating shelves and basket organizers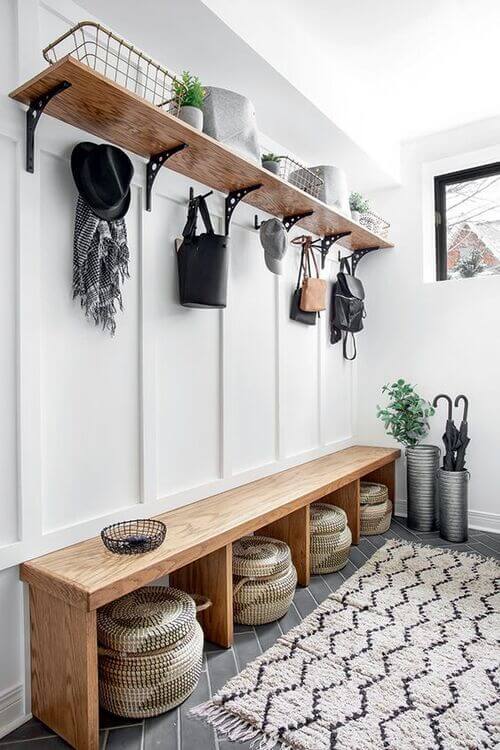 A stunning mudroom idea can incorporate floating shelves and woven baskets.
This idea is in the perfect spot for natural lighting and keeps all your go-to going-out goodies in one spot.
Even add a small basket for keys and a wallet.
13. Mini mudroom in the apartment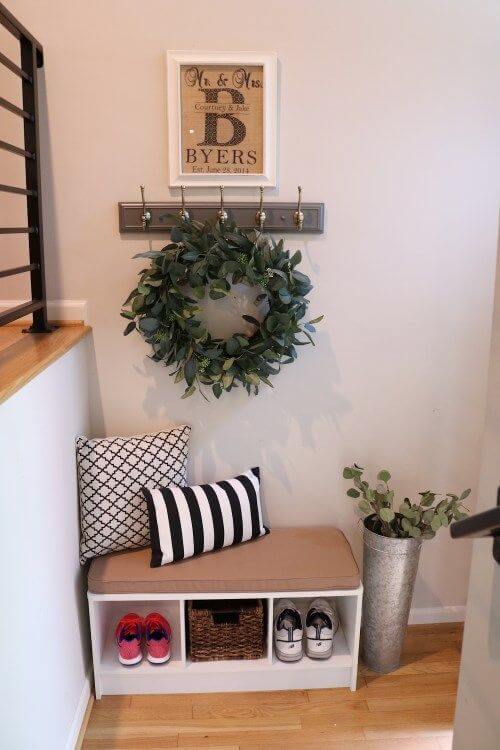 For those of you who have smaller spaces to work with, this is for you.
You can find a simple bench and add your shoes to the mini cupboards underneath.
You can find or DIY the hook hangers by adding simple hooks to a piece of wood.
14. Print wallpaper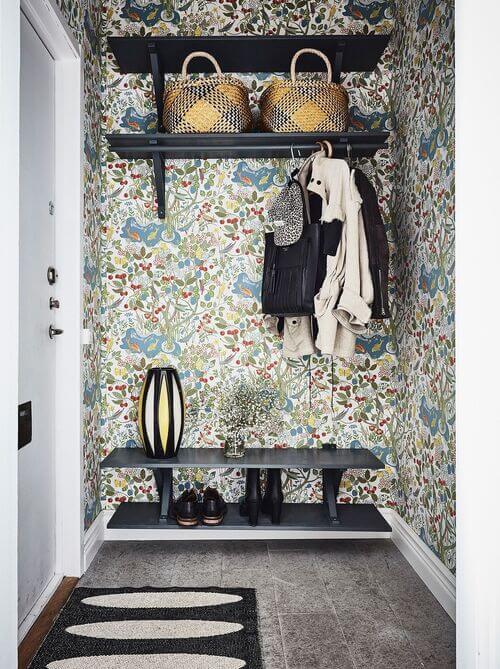 Hallway mudrooms? Yes, please! This is perfect for a small setup.
Use some floating shelves for space, and add a small rail to hang your coats.
You can make this designated space stand out with some print wallpaper.
If you like a minimalistic approach, then this is perfect for you.
15. Front door mudroom set up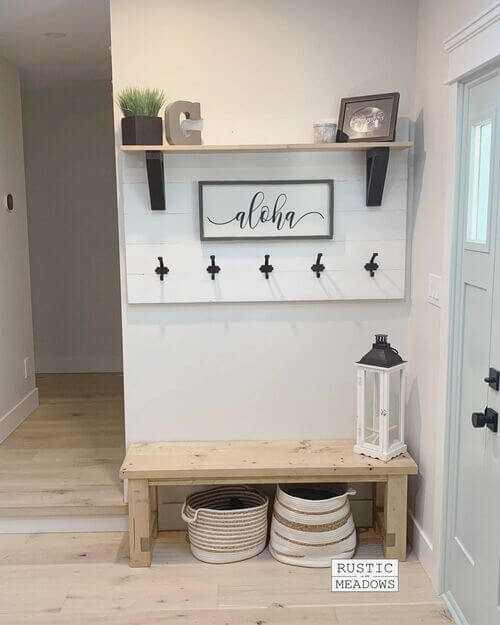 If a lot of cupboards and random add-ons aren't for you, then keep things simple.
Add a bench where you can sit and some baskets to place your shoes in.
You can then add some hooks for your jackets and bags.
Add some quotes and some photos for a cute touch, and this idea can help you figure out just what you need or want to add.
16. Navy blue and white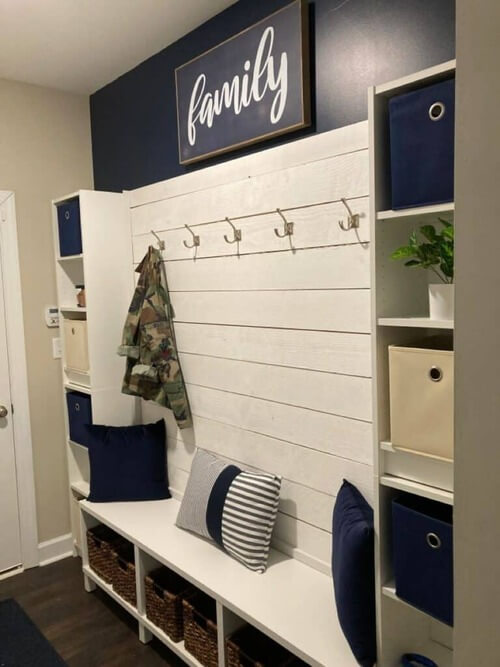 Navy blue and white is the perfect combo.
I would avoid pure white for a mudroom, but this is just gorgeous.
Add some baskets, pillows, and a cute 'family' board at the top. Keep it to a theme, and things will look cohesive and pretty.
17. Closet mudroom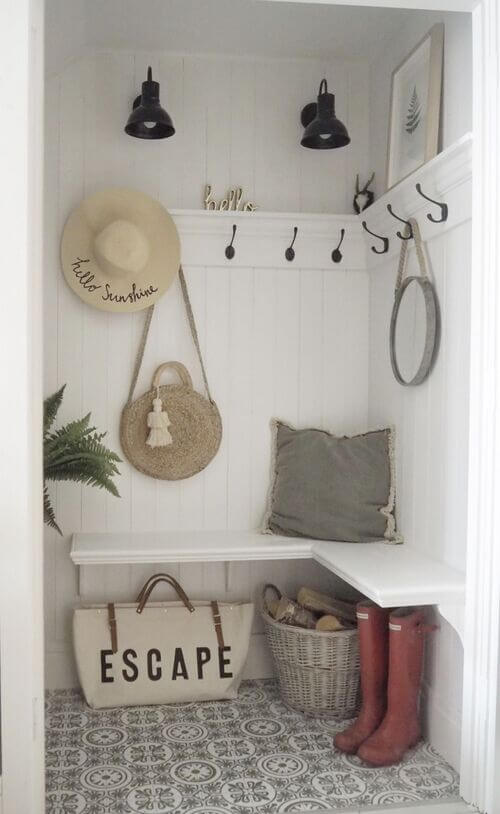 This idea is perfect for a closet.
You know… those small closets you have no idea what to do with, here's what you can do with them.
Keep your hats, bags, and muddy rainboots all in one spot with this mudroom idea.
This ensures that things are out of the way and in a designated spot.
18. Wood bench and gorgeous finishes
I don't know about you, but dark wood finishes are gorgeous and should be used everywhere.
This look uses woven baskets for extra goodies and shoes.
Just create a cozy spot that is functional.
You don't need much to achieve this perfect mudroom spot which makes it ideal for a house or an apartment.
19. Eucalyptus and quotes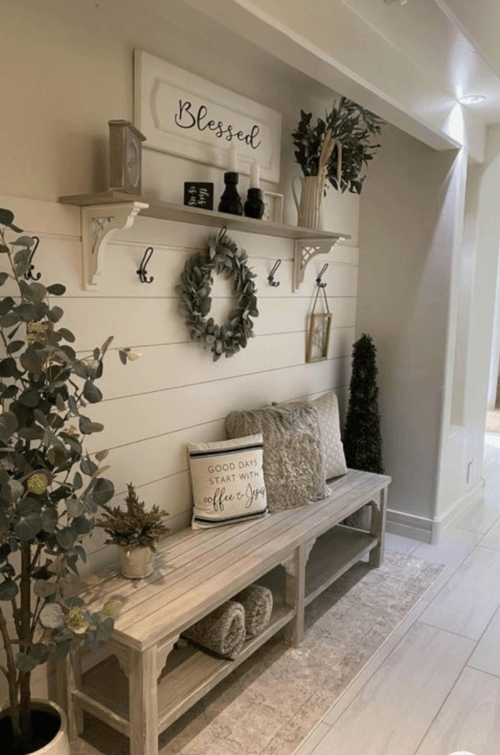 One tip that I would like you to keep in mind is that eucalyptus is perfect for any place in your home.
It has health benefits and smells amazing.
This look is a little more rustic, but the grey finishes give it a more modernized approach.
Grab some floating shelves, pillows, and blankets to add some atmosphere to the designated spot.
20. Mini storage space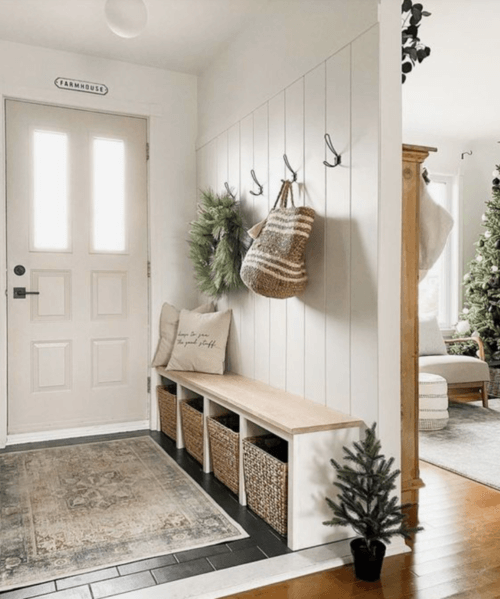 Not every mudroom is the same, which is why it is important to find what works for you.
This bench is easy to DIY, which makes it budget-friendly as well as effective.
Add pillows and some houseplants to create a homey look.
21. Open storage space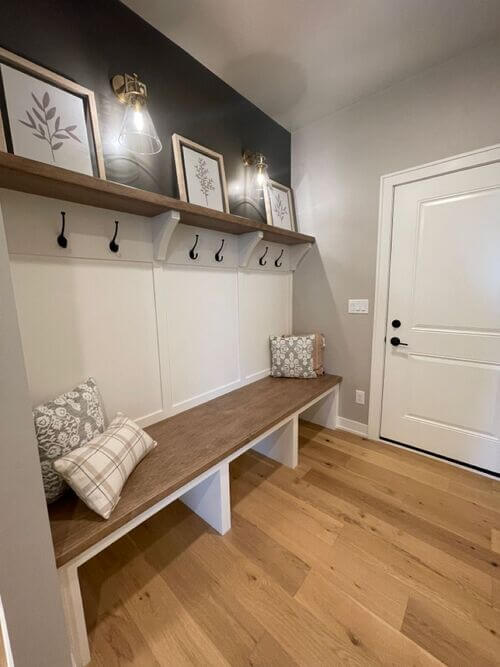 If you like to have open spaces in your home, then this open storage space is perfect for you.
While it sticks to the idea of being a mudroom, it has a more open area that feels less cluttered.
22. Designated mudroom space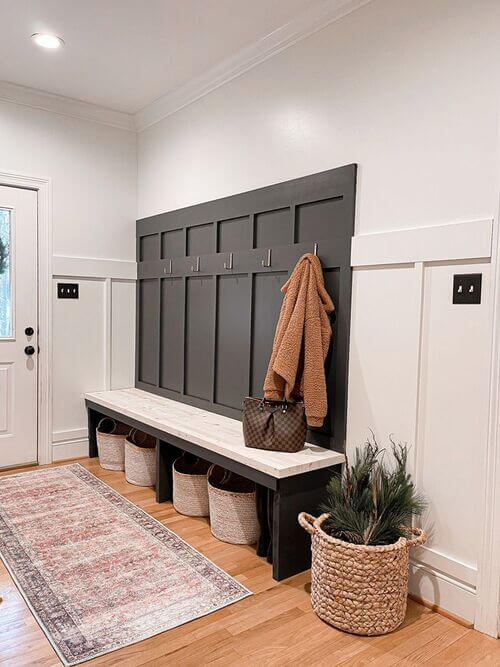 When you incorporate a mudroom, it is important to make a designated space for it.
While creating a full room for it isn't always an option, you can always add a bold color to it to make it stand out from the rest of the home.
23. Built-in storage mudroom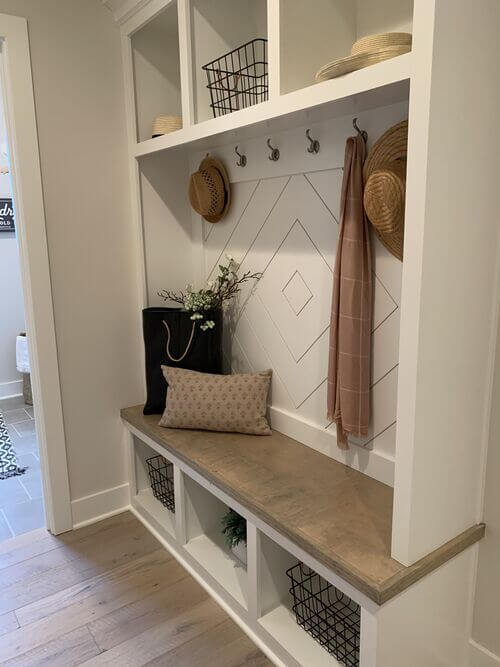 Need something that doesn't feel like it's in the way? I got you covered.
Make use of a built-in closet for a mudroom.
Add some baskets and hooks, and you have a fully functioning mudroom without it costing you an arm and a leg.
Finding a mudroom that fits your style
You don't have to have a whole room to be a mudroom.
A simple built-in cabinet, bench, and some storage can go a long way.
The most important part is to personalize it to fit your style and needs.
Even though they might not be a necessity, they are worth it to include in your home.
I hope you took screenshots of your favorite mudroom ideas and can use them to spark your imagination to bring a DIY project to life.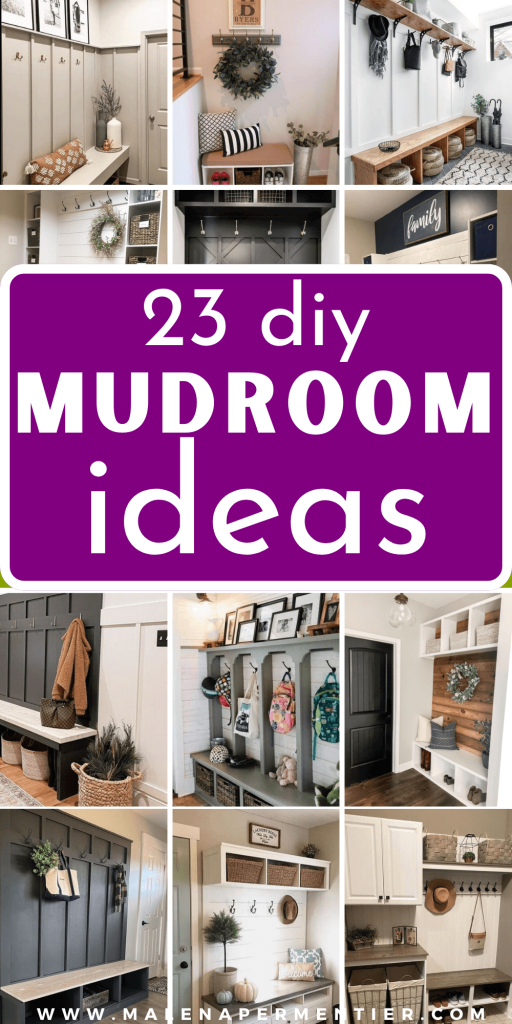 This post showed you the best DIY mudroom ideas.
You may also like: