This post shows you the best dollar store home decor DIY hacks.
Are you decorating your new home? Or are you changing the way your home looks right now?
In a world where interior design trends change faster than ever, keeping up with the latest styles without breaking the bank can feel overwhelming.
But what if we told you that you could revamp your living space without draining your wallet?
Yes, you heard it right! The dollar store can be your secret weapon for achieving stylish, personalized home decor.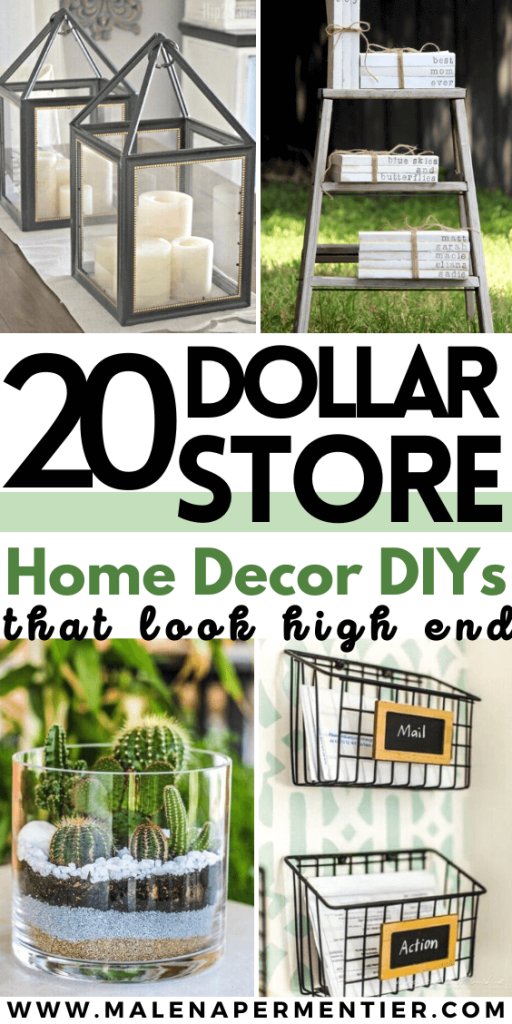 With a little creativity and some inexpensive materials, you can transform your living room, bedroom, or any space in your home into a haven of comfort and style.
Whether you're a seasoned DIY enthusiast or just starting to dip your toes into the world of crafting, these dollar-store ideas will inspire you to think outside the box.
In this article, you'll find various dollar-store DIY ideas to spruce up your walls, breathe life into your furniture, add a touch of elegance to your table settings, and infuse your space with personalized charm.
So, let's roll up our sleeves, gather our supplies, and let the transformation begin!
Tips and Tricks: How do you decorate your house on a low budget?
1. Utilize The Power Of Paint
Paints are the easiest, most cost-friendly way to add color, layering, and a touch of flair to any room.
Explore different color combinations, experiment with color blocking or ombre techniques, and let your creative juices flow.
2. Rearrange and Repurpose
Sometimes decorating your home doesn't have to break the bank by buying so many new things.
Take a fresh perspective and consider rearranging furniture to create a new layout that maximizes space and functionality.
Try to rearrange furniture, switch up decor pieces between rooms, or repurpose items for new functions.
By repurposing items, you save money and add a touch of uniqueness and personality to your space.
3. Maximize Natural Light
A well-lit space can instantly make a room feel larger, brighter, and more inviting.
Open up your curtains, remove heavy window treatments, and let natural light flood your home.
Consider using sheer curtains or blinds that allow light to filter through.
Additionally, strategically placed mirrors can amplify the natural light and make a room appear larger.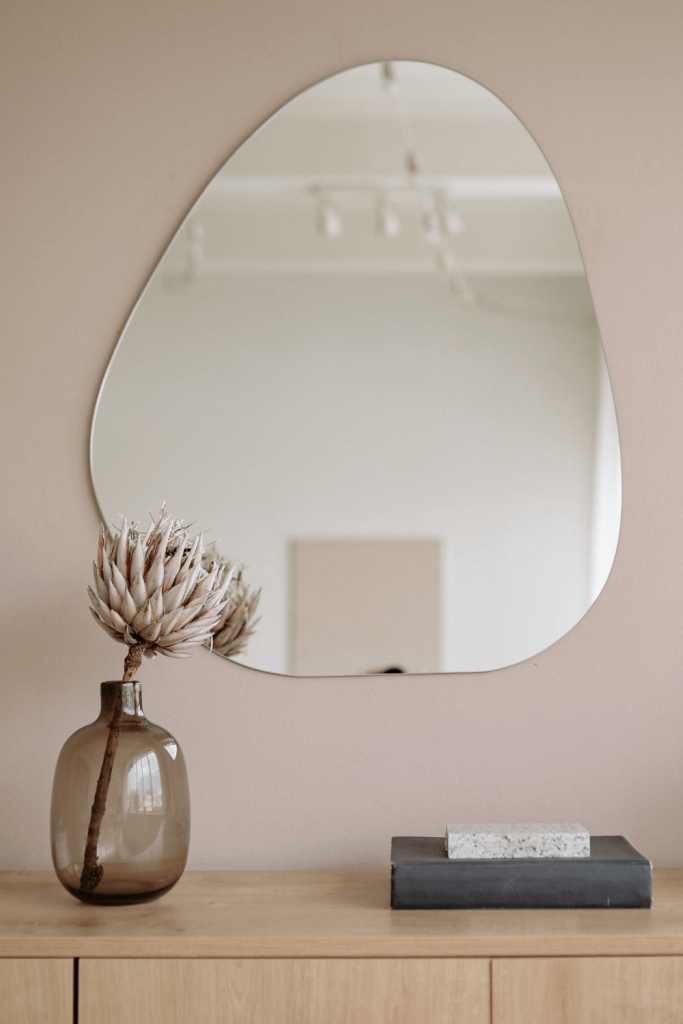 4. Get Creative With Plants
Indoor plants not only add a touch of freshness and beauty to your home but also have numerous health benefits.
If you don't have the budget for large, expensive plants, you can start small by growing plants from seeds or finding smaller plants you can nurture and transfer into bigger pots as they get bigger.
You can also propagate plants from cuttings or explore creative plant displays like hanging baskets or vertical gardens.
5. DIY Projects
Last but not least is to find several items in your nearest dollar store to make several DIY projects.
Dollar trees are treasure troves of affordable materials and supplies for DIY projects.
You can find a wide range of budget-friendly options from crafting supplies to home decor items.
DIY projects save money and allow you to infuse your personal style and creativity into your space.
20 Dollar Store Home Decor DIY Ideas
1. Wooden Clipboard Photo Collage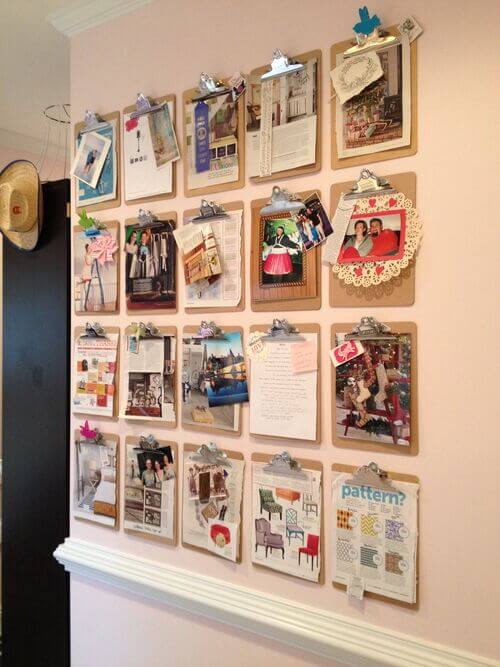 Looking for a way to display your family pictures?
Try this DIY wooden clipboard photo collage.
You can easily get the wooden clipboard from your local dollar store.
Attach photos to wooden clipboards and arrange them in a unique collage on your wall for a personalized and charming display.
2. Used-Picture Frames Lanterns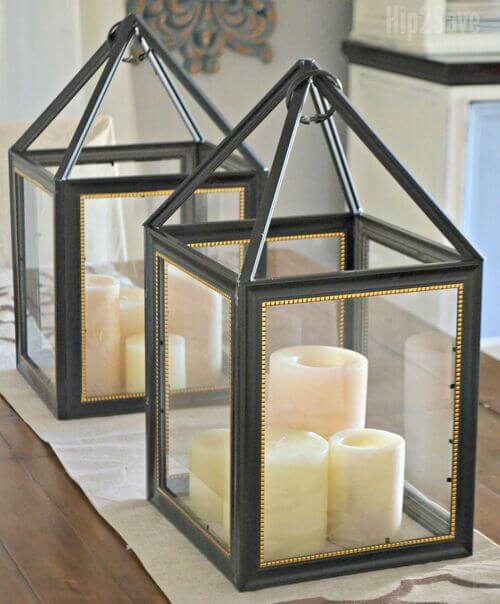 Lanterns are the best way to enhance the aesthetic in any corner of your home.
Aside from being accessories to an empty tabletop, you can also use these lanterns to display candles to create a warm and inviting ambiance.
3. Spice Jars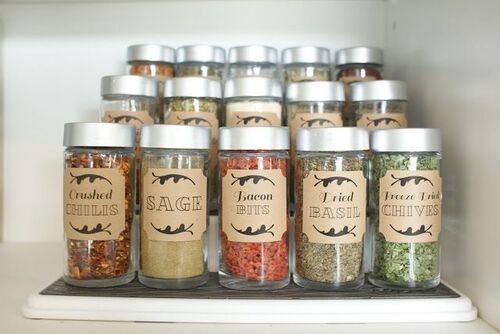 Organize your kitchen with these budget-friendly spice jars from the dollar store.
Label them with spices and herbs, keeping your ingredients easily accessible and adding a touch of organization to your culinary space.
4. Mirrored Tray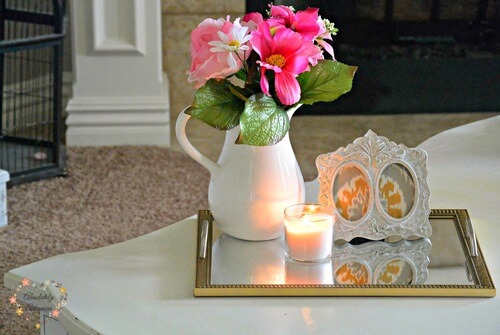 Need something to place on your side table, nightstand, or dressing table?
Combine a dollar store picture frame with a small mirror, and add decorative handles for a touch of sophistication.
This mirrored tray is great for displaying elegant decor items or pieces of jewelry.
5. Painted Glass Vases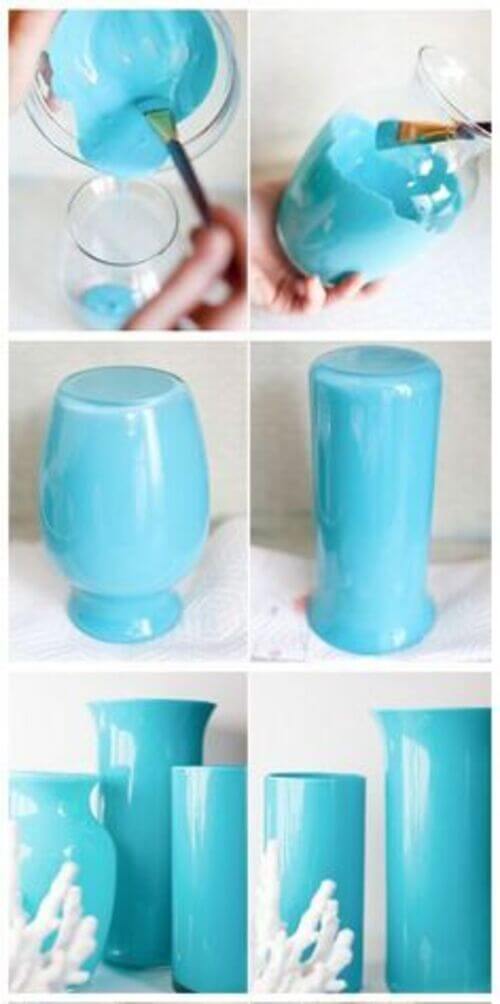 If you go to a dollar store, you'll find cheap glass vases that you can customize.
Transform plain dollar store vases into eye-catching pieces by painting them in vibrant hues or trendy patterns, instantly breathing new life into your floral arrangements.
6. Luxe Wall Art
This is one of the easiest DIY projects that you can do from the dollar store.
Let your artistic side shine and adorn your walls with unique and captivating designs, whether it's a textured canvas, a mixed media piece, or an abstract creation.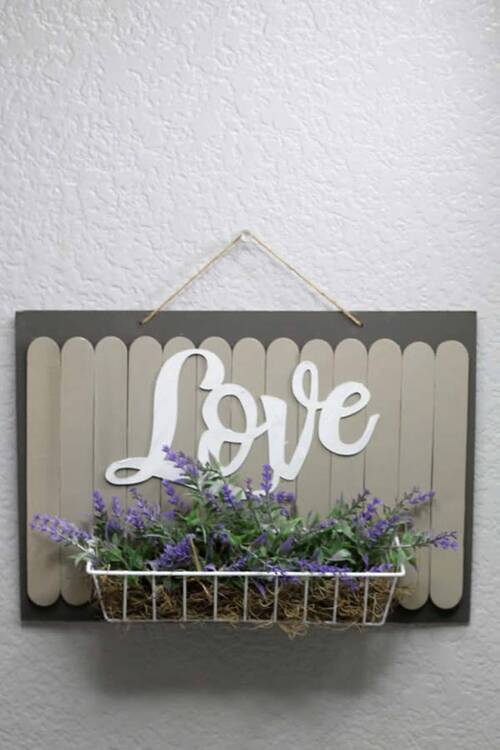 Welcome your guest with this warm and rustic touch, farmhouse-style welcome sign.
Use a wooden plaque or a distressed frame at the dollar store, and add a welcoming message or your family name for a personalized greeting.
8. Leaf Pressed Prints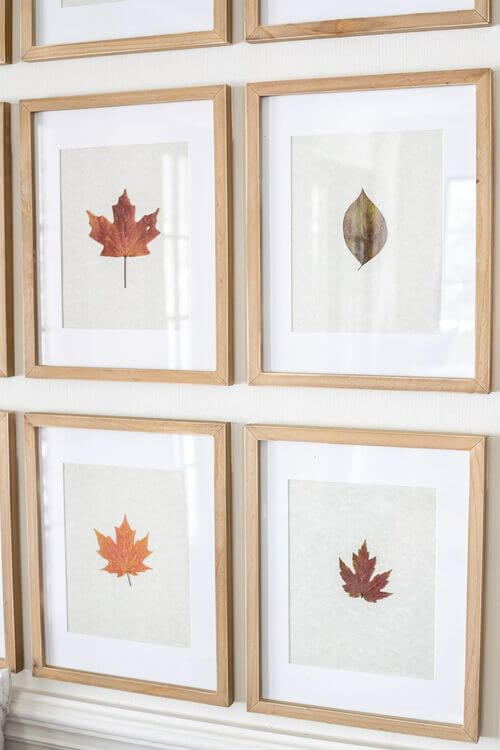 Looking for a way to freshen up your wall?
Try making this botanical beauty by adhering leaves on a sheet of contact paper onto the glass of a picture frame to produce lovely green accent pieces for your home.
9. Decorative Frames and Print Wall Art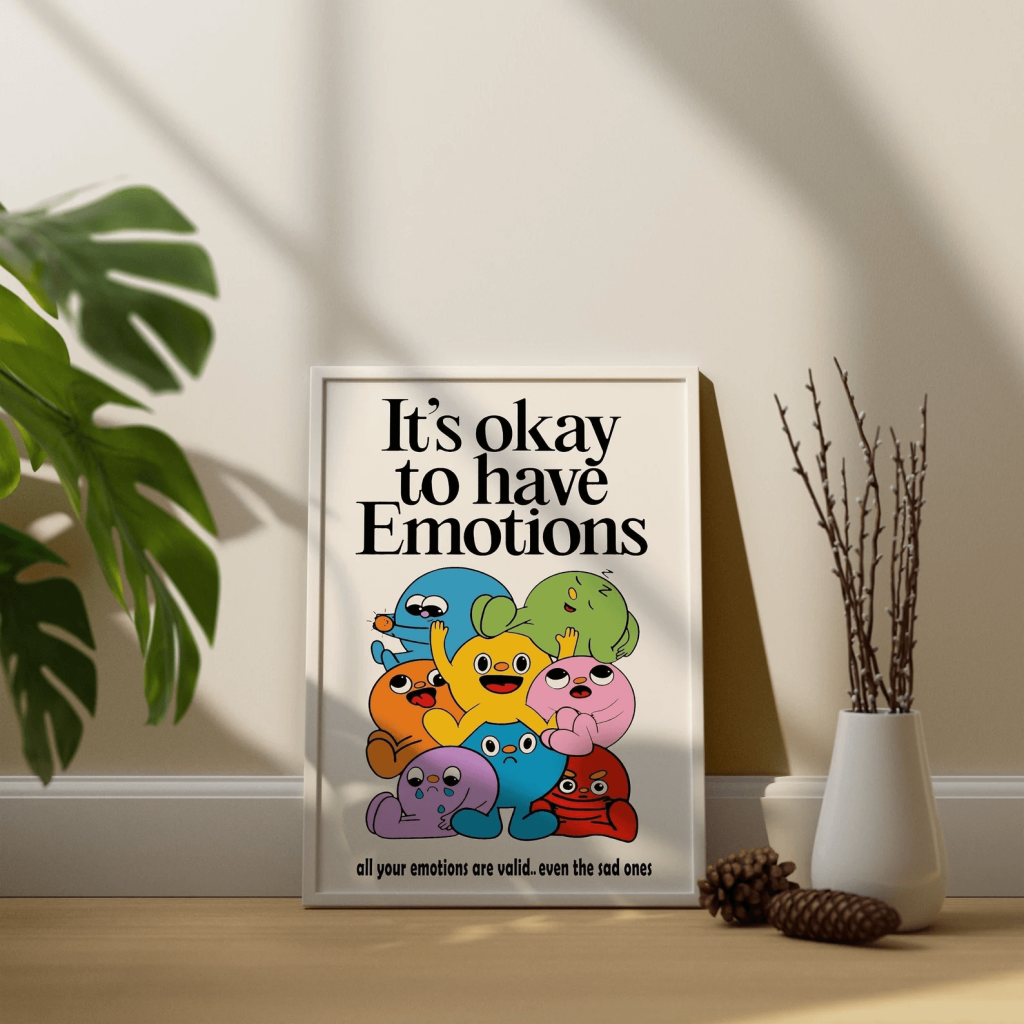 Enhance your walls with decorative frames and print wall art.
Find budget-friendly frames at the dollar store and print out your favorite quotes, illustrations, or photographs to create a gallery wall that reflects your personal style.
10. Fun Pom-Pom and Fringe Accessories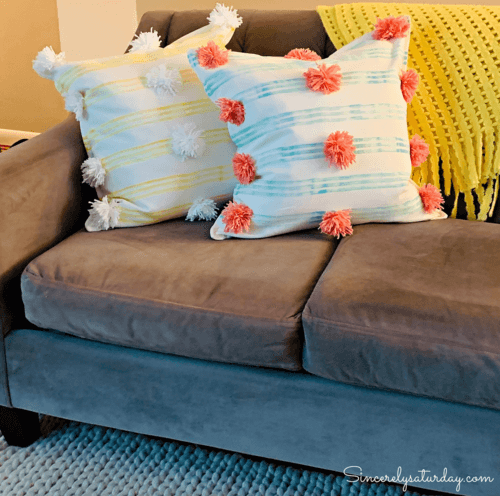 This DIY project is a fun way to spruce up your pillows, curtains, or even lampshades with playful pom-poms and fringe.
Attach colorful pom-poms or fringe trim from the dollar store to add a touch of whimsy and texture to your home accessories.
11. Rope Coasters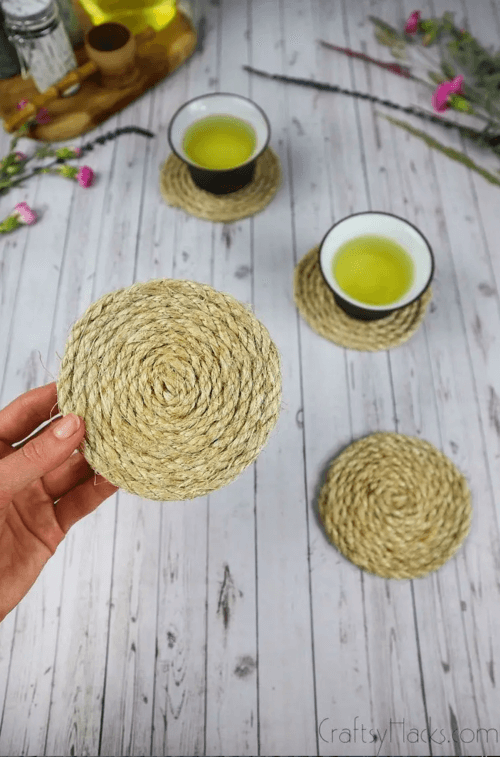 Turn basic and boring cork coasters into these DIY rope coasters.
Twist and glue thin ropes into circular shapes to create unique and functional coasters that add a rustic and coastal flair to your coffee table or dining area.
12. Framed Chalkboard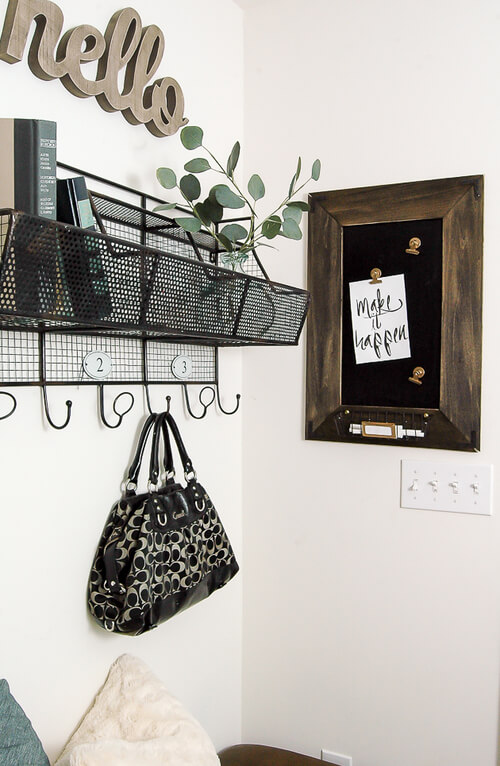 Stay organized and add a vintage touch to your home with a framed chalkboard.
Use a wooden frame, a sheet of magnetic chalkboard, a small wire rack, and a few paper clips.
It's great for writing messages and reminders for the entire family to see!
13. Fabric-Covered Storage Bins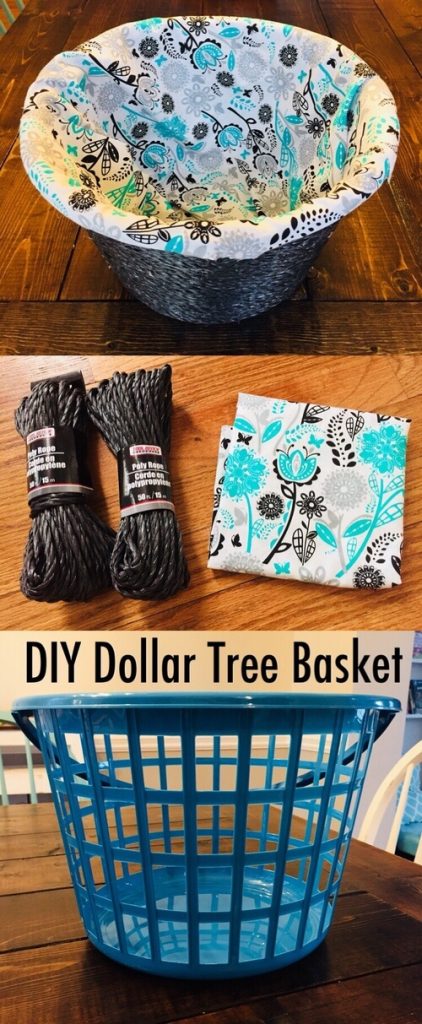 Storage bins can be expensive, especially if you need several of them, because they are great for reducing the clutter around your home.
Buy several baskets from the dollar store and use adhesive spray or hot glue to attach your choice of fabric to them.
You can instantly transform them into stylish organizers that blend seamlessly with your decor.
14. Upcycled Wine Bottles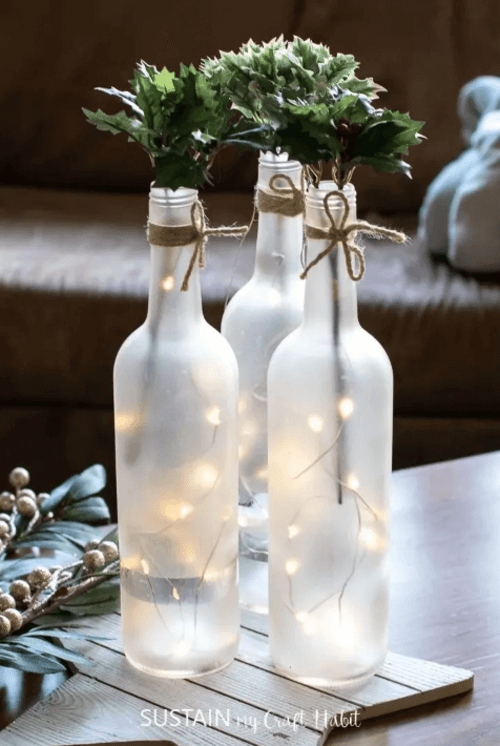 Do you have empty wine bottles sitting at home?
Give them a new purpose by upcycling them into decorative pieces.
Paint them, wrap them with twine or lace, or add labels to create unique vases or decorative accents that add a touch of eco-friendly charm to your home.
15. DIY Mirrored Plant Cubes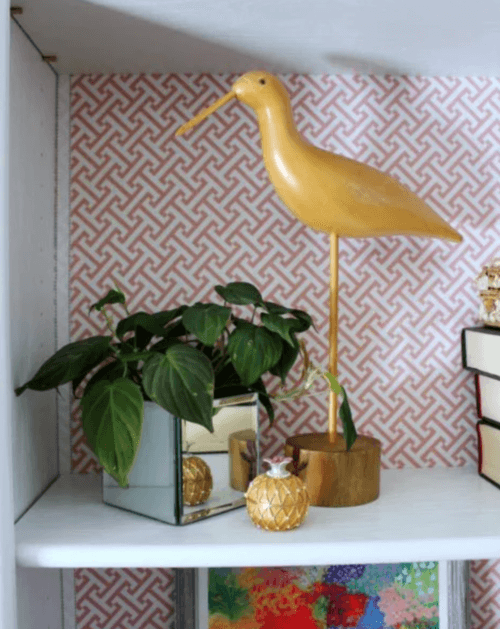 A few square mirrors and a little adhesive are the ingredients you'll need to take your cube planter from basic to brilliant!
Use dollar store mirrors to create stylish, reflective containers for your potted plants, creating a captivating display that adds a modern twist to your greenery.
16. Vintage Books Sets Tied With Twine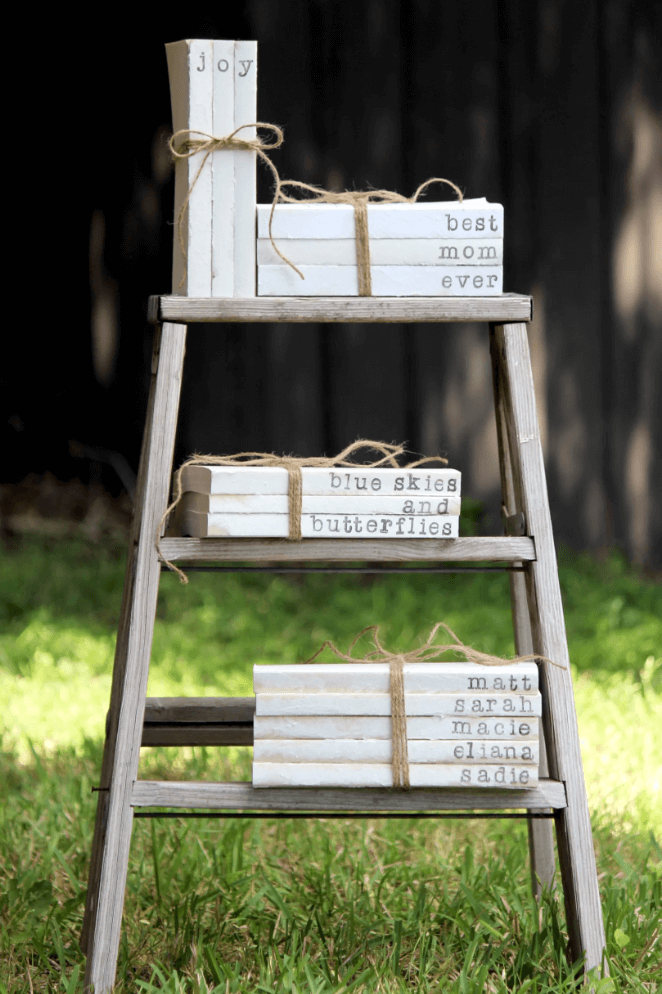 Are you a bookworm that has a lot of vintage books at home?
Tie them together with twine and display them on shelves for a vintage-inspired touch.
Choose a set with the titles of your most cherished novels or make it more personal with the names of your family.
17. Corkboard Photo Hub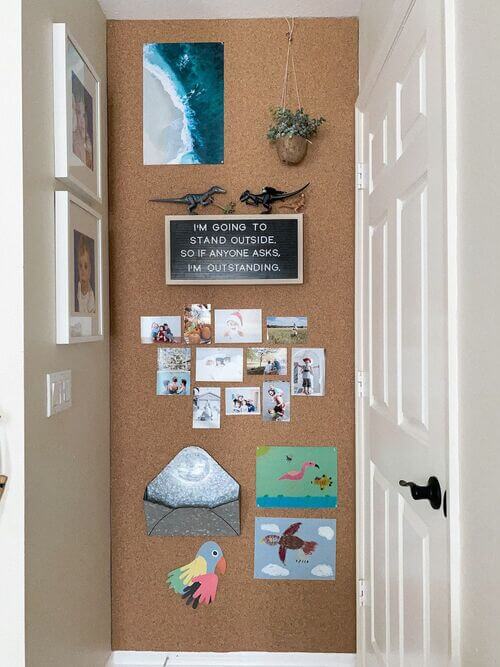 Another creative way to keep your favorite memories close is by creating this cork photo hub.
Put up a corkboard on your wall and attach printed photos along with some decorative items like pins or Polaroid frames for a personalized and visually appealing display.
18. Industrial Wire Mail Basket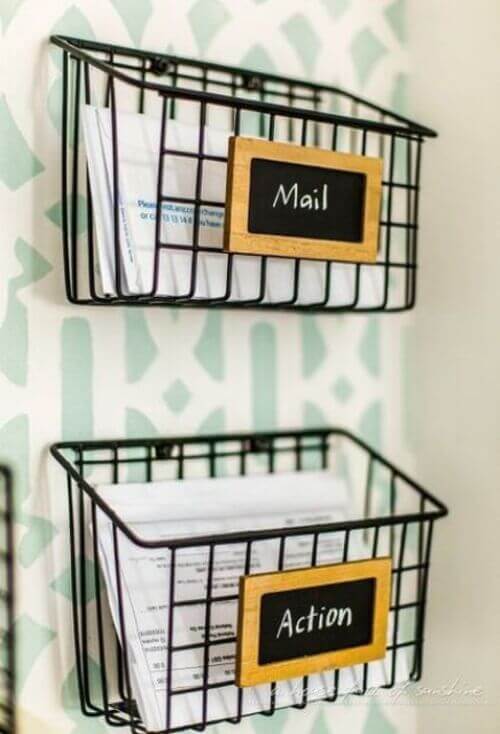 Stay organized with these DIY industrial wire mail baskets.
You can easily find these industrial wire baskets at the dollar store, and mount them on your wall for a stylish and functional mail storage solution.
19. Jewelry Fountain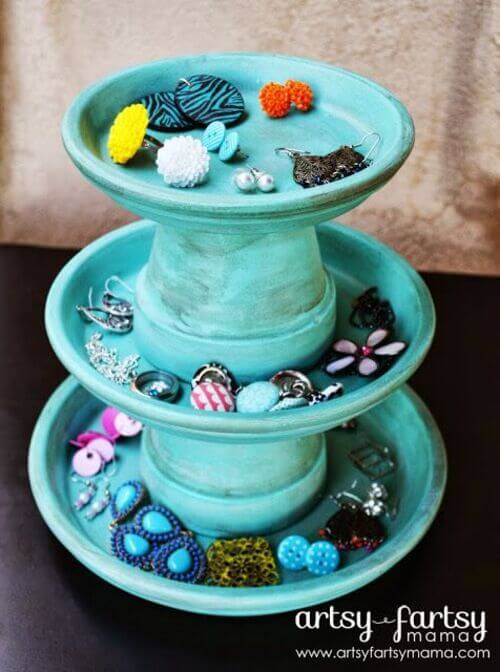 Looking for a way to organize your pieces of jewelry in a cute and elegant way?
Using dollar store supplies like a decorative bowl or plate, arrange jewelry items cascading from the center, creating an eye-catching and practical piece of decor.
20. Terrarium Decor
Create a mini garden oasis with dollar-store terrarium supplies.
Fill the glass with succulents, pebbles, and moss to bring a touch of nature indoors.
We love this because it's trendy and low-maintenance!
Concluding
Decorating your home on a low budget doesn't mean sacrificing style or creativity.
With the help of these 20 DIY ideas from the dollar store, you can transform your living space into a haven of charm and personality.
From repurposing everyday items to adding your own artistic flair, these budget-friendly projects allow you to create a home that reflects your unique taste and individuality.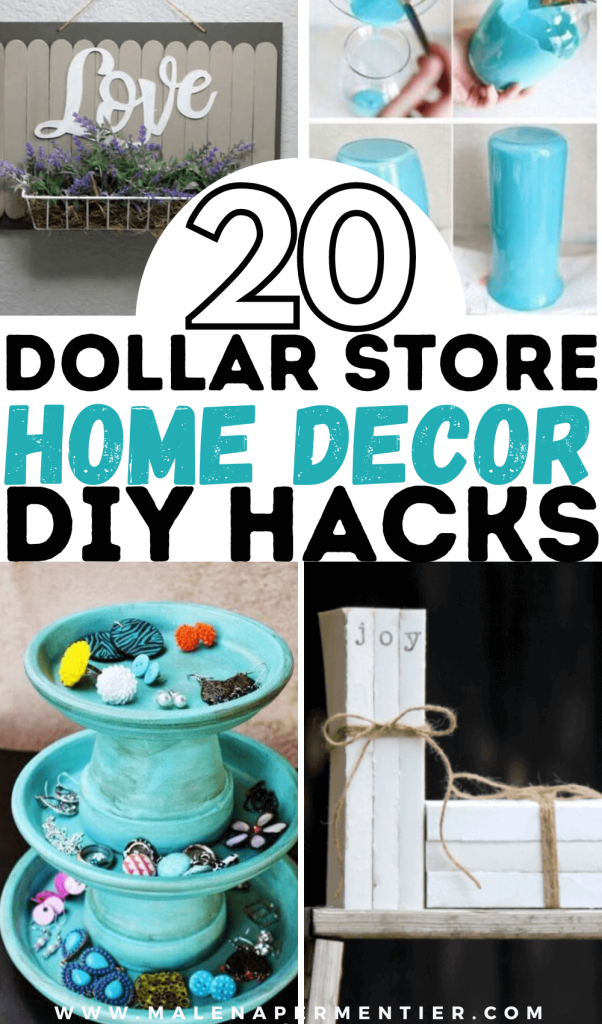 This post showed you the best dollar store home decor diy hacks.
You may also like: