Hey there! Some links on this page are affiliate links which means that, if you choose to make a purchase, I may earn a small commission at no extra cost to you. I greatly appreciate your support!
This post shows you the best dorm room ideas in 2023.
Summer is almost here, so it is officially time to prepare for decorating dorm rooms!
The best part of your college experience is here… apart from getting that degree of course.
Whether you're looking for a little wall art or a full-on redecorating session, we have got you covered.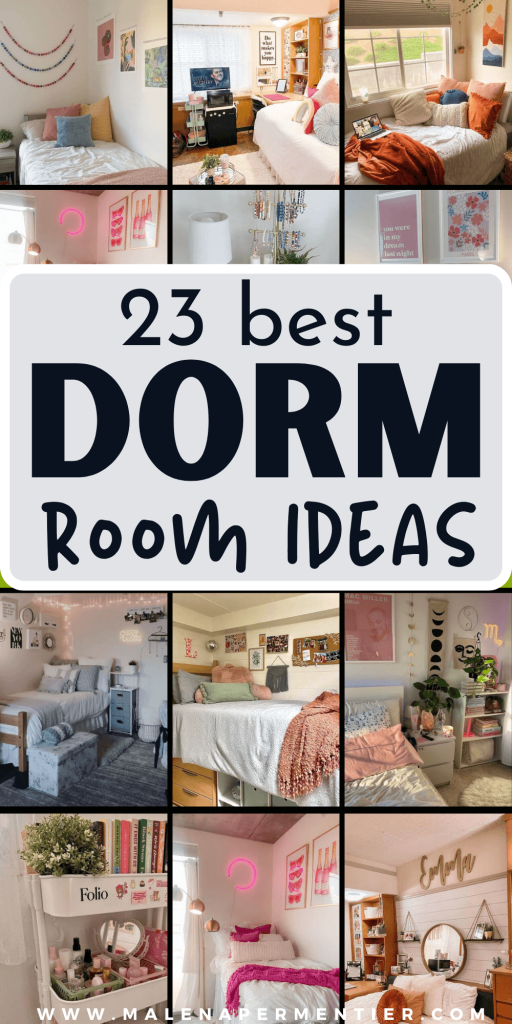 Why do you need to decorate
Decorating is part of showing your personality.
While it can seem unimportant to most, it plays a significant role in how you focus and your positivity.
Decorating your space allows you to have a space dedicated just to you.
So take your favorite colors, bring some plants, and make your wall art.
Just have fun with it.
We need to reconsider how important it is to have a creative outlet.
Spicing up your space allows you to break away from the mindset of staring into the same 4 walls daily and feeling demotivated.
It's a space dedicated to you. So you can make it your own safe space.
Basic decorating tips
Before diving into the fun and fresh ideas I've compiled for you, let's take a look at the easiest way to change up your room on a budget.
These are simple things that you can try over a weekend.
Or if you're still trying to figure out what you want to do then these can help you brainstorm some fun ideas.
Create a Polaroid photo wall
Add in some plants
Mood lighting makes a difference
Bring in some new sheets and cozy blankets
If your space is limited then loft your bed to create a cozy study nook.
Add mirrors to open up the space
Get rid of nosey neighbors by adding curtains
Get a headboard for comfort
Bring a sparkle to your life with fairy lights
Add rugs
Wall art can make any place look more like home
These simple ideas can leave a lasting impression but are still easily replaceable.
They don't take a lot of commitment like a full makeover which makes them perfect for a college student that loves to switch things up from time to time.
1. Wall art and 70's vibes
Take things back to checkerboards, bright oranges, and wall art.
This bold color instantly gives me '70s vibes while still staying minimalistic.
This idea is the perfect example to showcase that you don't need much to brighten up a room.
Get some throw pillows, and a cozy blanket or two, and add some art to your walls.
2. Neon pink queen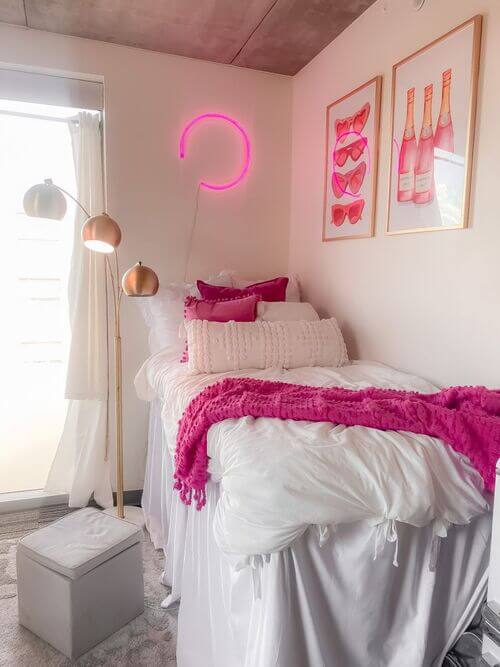 To my pretty in-pink girlies. This one is for you.
Keep things simple with white and gold, but add a pop of color with neon pink.
Whether it's blankets or wall art, it is up to you.
If you're looking for something extra to showcase your bold personality, add a neon pink light as well.
It can be something simple or intricate.
This idea screams bubbly to me, and if you're an outgoing person, you're sure to love this.
3. Blue, orange, and LED lights

Missing the feeling of summer on the beach? Look no further.
This sky blue and orange decor will be sure to bring the summer aesthetic right into your room.
Line the walls with LED lights, and add hanging plants.
I 100% recommend getting a string of pearls or a string of hearts since they're cute and easy to maintain.
You can add Polaroids or just some fun art to the wall to make it seem less empty too.
4. Necessity cart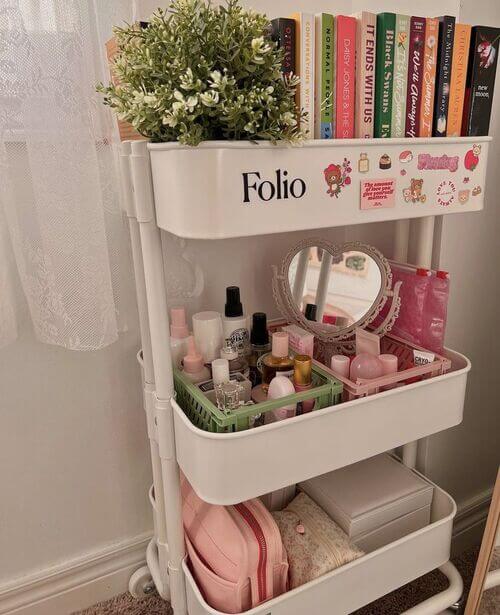 With limited space, you need to start getting creative.
This cute cart not only works as a rolling to-be-read pile but also to hold your self-care goodies.
They come in a bunch of different colors too.
If you can't find any that fits your aesthetic you can customize it with spray paint.
It takes up minimal space and can hold a lot of goodies.
5. Burnt orange and gold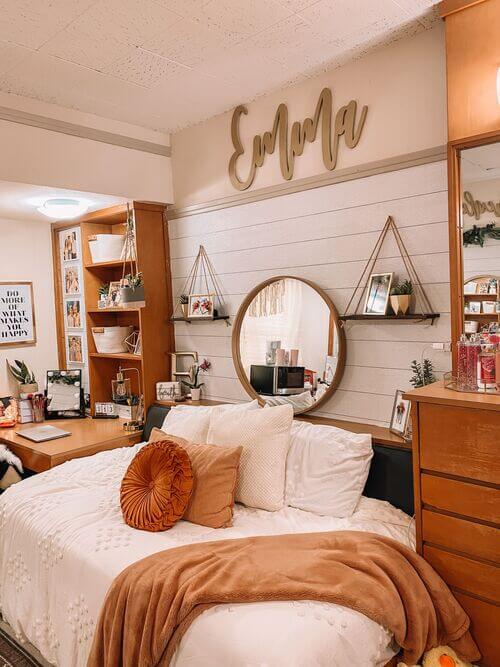 This golden glow aesthetic easily warms up a room.
Pairing it with a golden circular mirror and some floating shelves.
It's a gorgeous color and also becoming increasingly popular.
This color scheme pairs well with lots of greenery, so grab some plants and add them to empty spots around the room.
6. Calming blues

Blue is known to be a calming color.
Add some blue pillows and a blanket to your room to bring in a simple touch of color.
This idea also features a cute picture wall that you can easily recreate.
7. The minimalist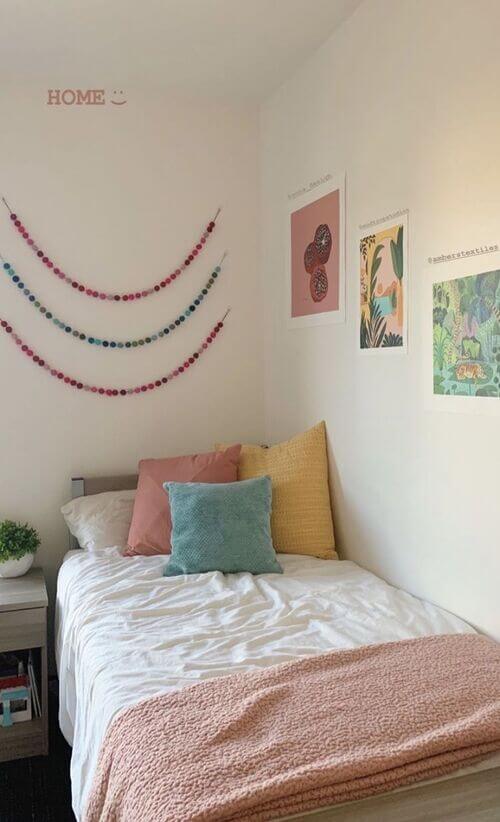 If you're a minimalist looking for a simple pop of color, these pastel pillows and blankets can be the perfect addition to your room.
If you're a creative person then this is the perfect opportunity to create your wall art.
You don't need to go all out. It's the simple things that have the biggest impact.
8. Make the colors pop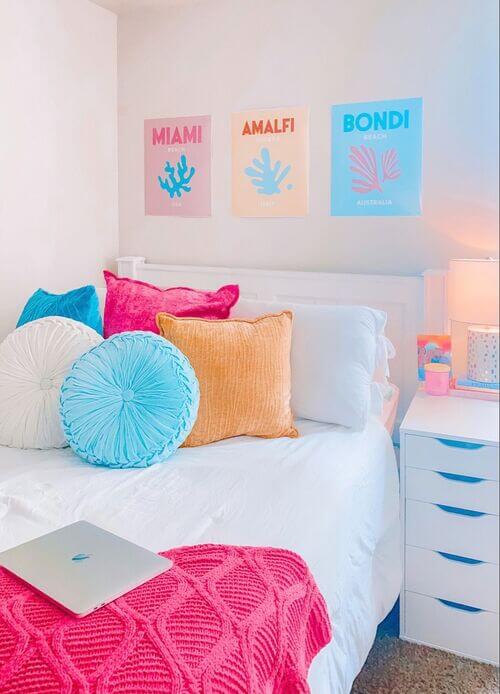 If the previous idea seemed like something you would like but not as bold or impactful then try this one out. Go bolder and brighter. Bright colors increase your mood and allow you to bring a fun spin to the room.
9. Cozy vibes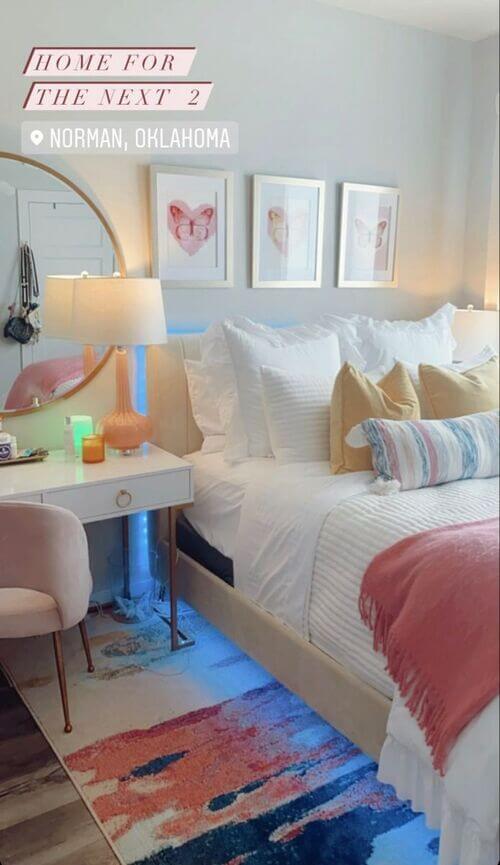 Make your room cozy. Add a fluffy rug, a cozy blanket, and some comfy throw pillows.
This idea also uniquely incorporates LED lights by adding them to the headboard and under the bed instead of on the walls.
10. Jewelry stand and necessities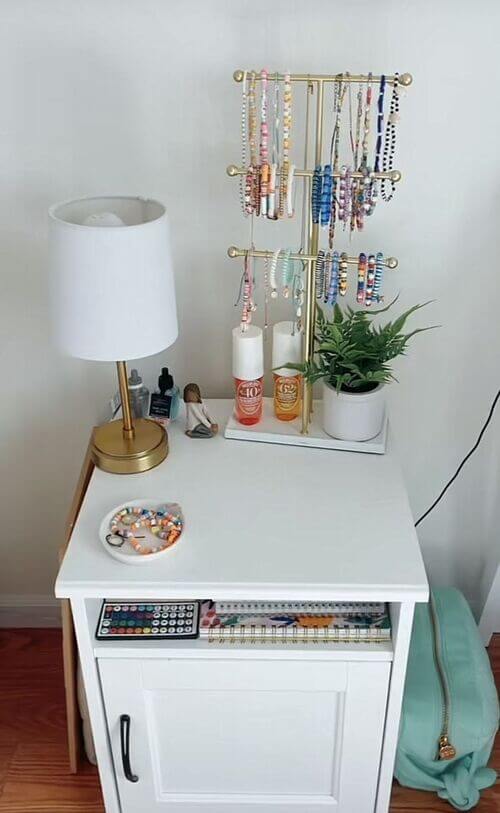 A bedside cupboard can show a lot about a person.
If they're messy or neat or overall just overstimulated.
Feature some gold items as well as a plant or two.
Keep your notebooks together, or keep your jewelry in one place.
11. Pink plant mom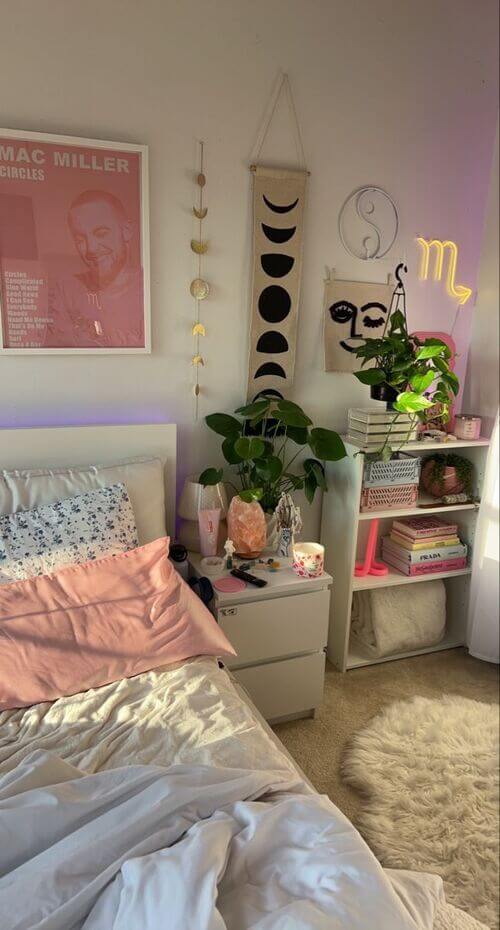 There's no better way to decorate space than with plants.
For my book lovers, you can always add a mini bookcase to keep all your goodies.
For example, candles, books, plants, or salt lamps.
This aesthetic fits spiritualists, plant moms, or lovers of pastel pink.
12. Keep it simple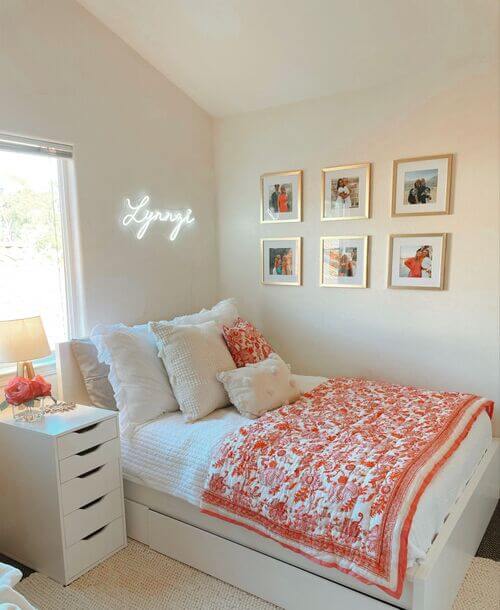 Bright neon signs, pictures, pink accents, and sleek white furniture give things a classy look while bringing in a pop of color.
You can even add a rug and some fairy lights for some mood lighting.
13. Storage space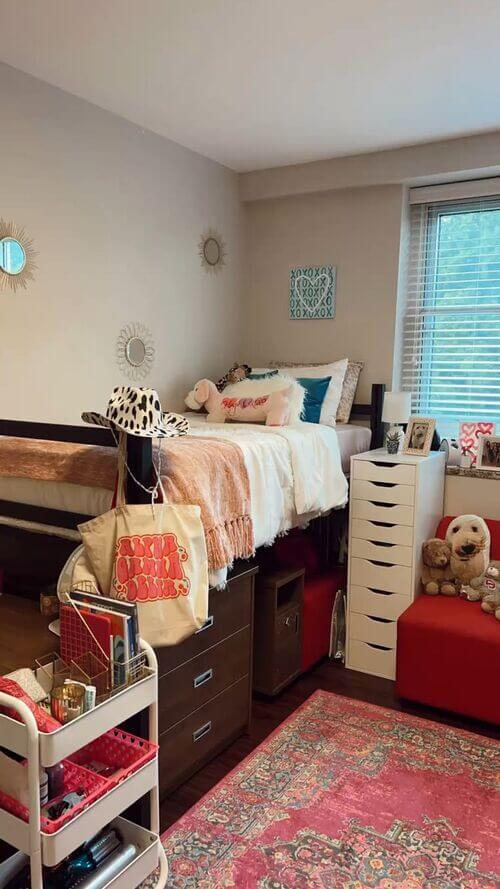 If storage space is a bit of an issue then opt for a loft bed.
You can add some more cupboards under your bed as well as a storage cart to ensure you have more space for all your goodies.
This idea uses small mirrors and red accents to brighten things up.
14. Wall art and cozy pillows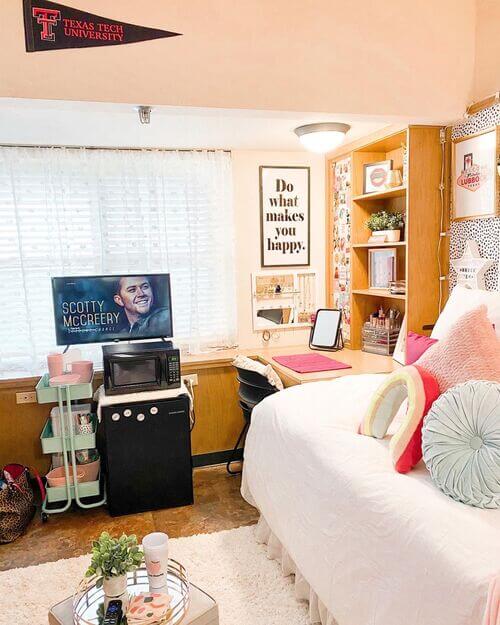 Add some cute pillows to the mix.
Your dorm room should be a picture of your personality.
Fill it with quotes, colors, books, and anything else that can accurately represent you.
Pastel colors allow you to have a subtle approach, while bold colors will give you just enough color to brighten a place up.
15. Sage and dusty pink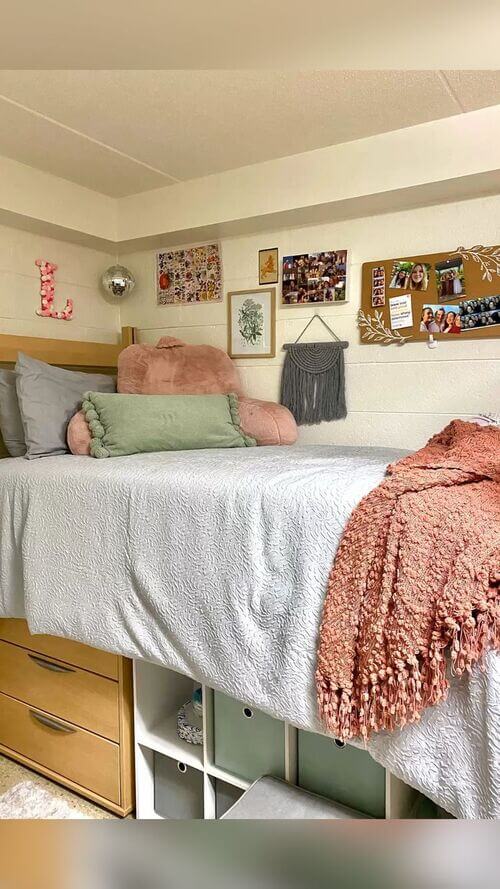 A fun color combo never hurt.
Sage green and dusty pink is a complimentary combo that perfectly balances cool and warm tones.
You can add a pin board to the walls to showcase pictures with friends, memories of adventures, and so much more.
The loft type of bed also allows you to add extra storage space below the bed.
16. Self-care corner

We all need a space dedicated to self-care so make sure you have somewhere to practice your routines.
This cute space showcases a mini fridge which you can stack your face serums into, a shelf for books and candles, as well as some plants.
17. Preppy and pink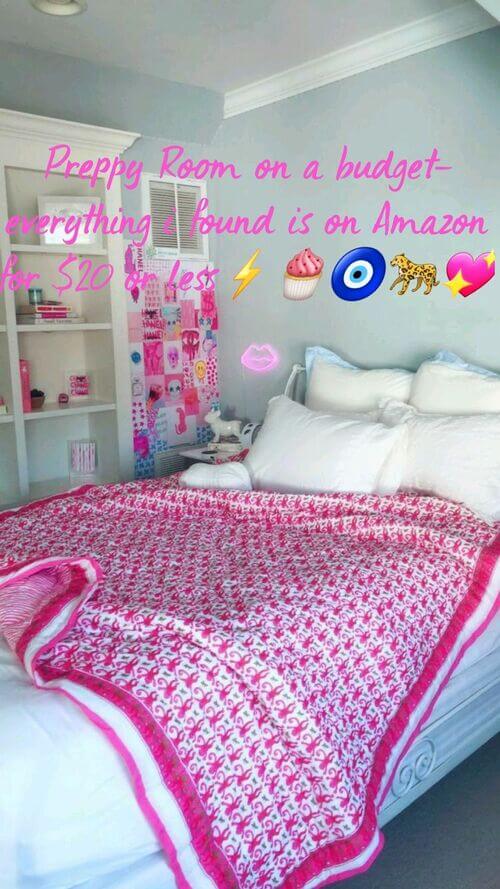 This preppy pink dorm room idea showcases a Pinterest-inspired photo wall, a blanket, and some pink goodies such as candles, books, and perfumes.
It's a bright color but sticks to a minimalistic aesthetic to avoid being too crowded.
18. Keep it neutral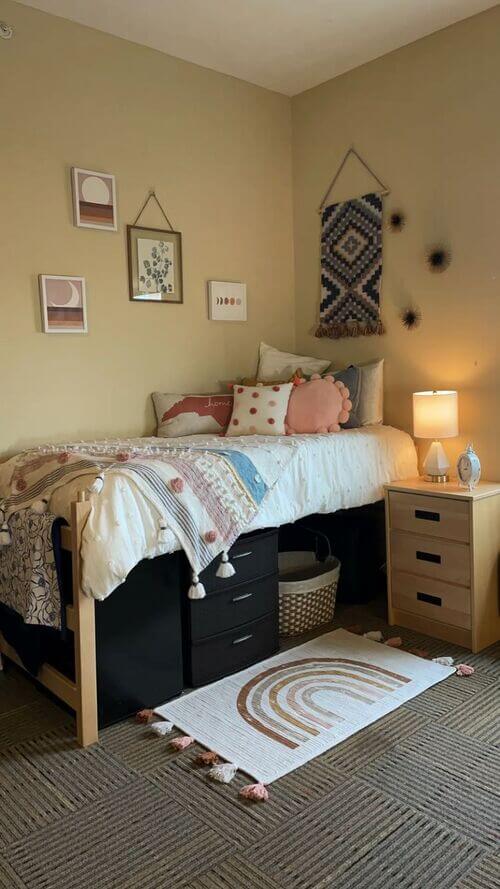 If bold colors aren't your thing, stick to beige or shades of brown overall.
You can add some multicolored blankets and pillows, but sticking to simple cupboards and drawers is the key here.
You don't want something too overpowering.
19. Dusty pink wall art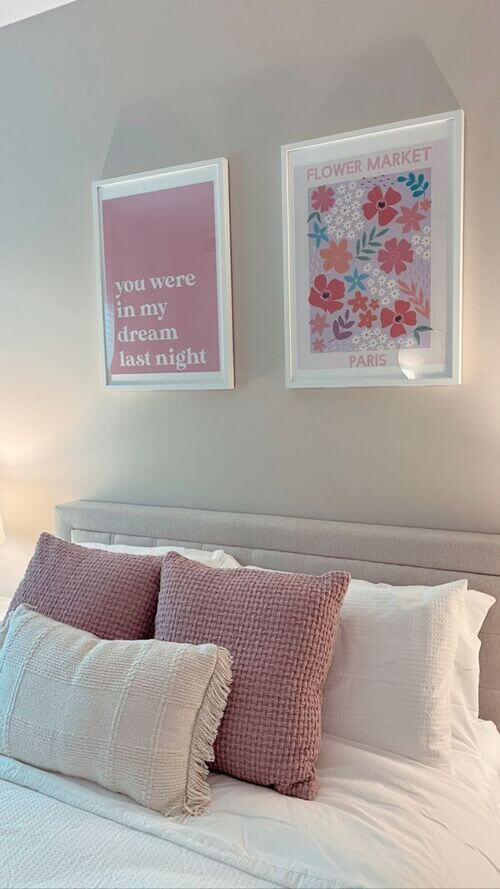 Dusty pink is a color that keeps popping up in 2023.
It's rich in color without being too bold.
You can add simple touches in dusty pink while sticking to white for the rest of your decor.
So add some throw pillows and wall art.
20. Pillows are your best friend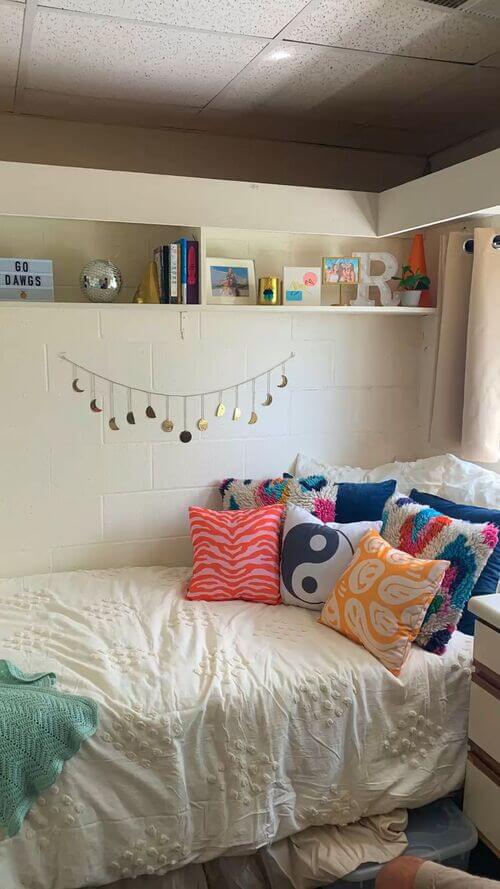 You can never have enough pillows.
Having fun-colored pillows with unique prints is a nice way to bring bright colors to the room, especially if you're not looking to decorate too much.
It's a simple and effective way to showcase your personality through decor.
21. Pink aesthetic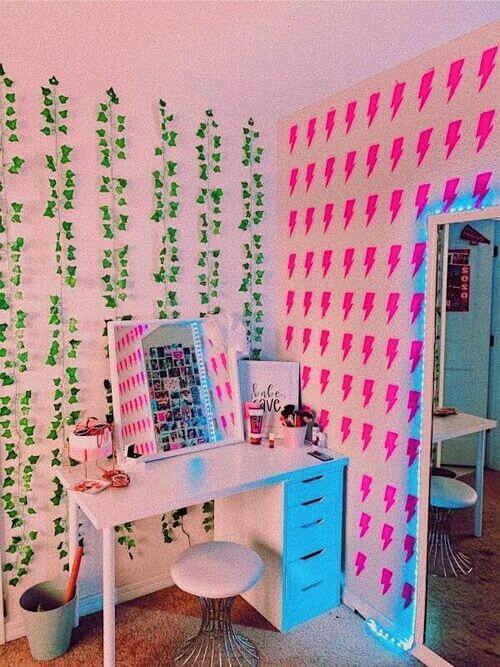 Bubblegum pink pairs well with green and neon pink.
These neon pink lightning bolt prints are a super cute way to bring color into a room.
Add a mirror for some depth as well as some fake ivy to ensure the room has a natural bright color to it.
22. Simplistic grey

This is probably my favorite dorm room idea out of all of them.
Using grey accents and fairy lights to brighten up a room is a great way to stay neutral and simplistic.
Add some line art, fluffy rugs, and cozy blankets.
23. Cozy orange and blue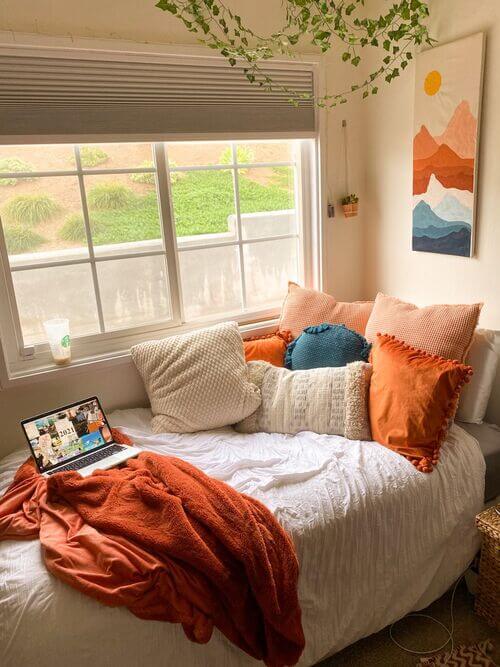 Orange and blue gives you the perfect early autumn aesthetic.
Make use of some art and hanging plants to make the room look lively.
This is the perfect example of less is more.
Pick your aesthetic
Whether your aesthetic is minimalist, preppy, or summer vibes, we have got you covered.
Pick one of these gorgeous dorm room ideas or mix and match to create your perfect aesthetic.
They are just a guideline to use for your imagination.
If you feel like you need something more to change up your room, look into getting wallpaper.
It doesn't take a lot of commitment and can easily be removed if needed.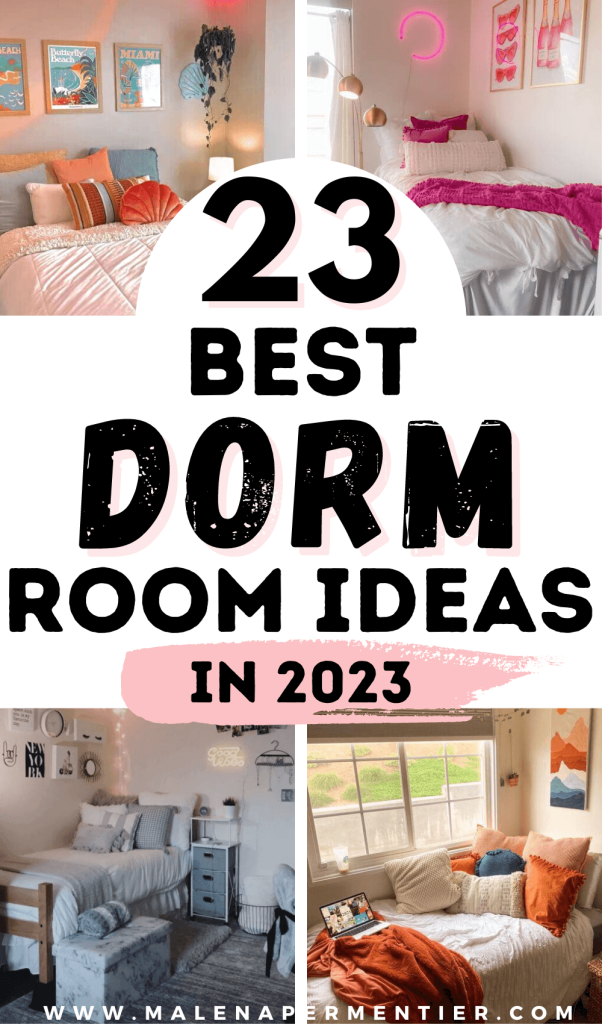 This post showed you the best dorm room ideas 2023.
You may also like: