When it comes to college there isn't much that we can always do about personalized items, but we can always change our dorm rooms.
Why do you need to change your dorm room?
Changing up your dorm can have a significant impact on your stay as well as your mental health.
You can't expect to love what you do and be excited if you're stuck in the same four boring walls every day.
It's draining, and your brain isn't getting stimulation.
Not only does changing up the look of your dorm give you a creative outlet, but it also serves as a way to showcase your personality.
So what are you waiting for? Check out these cute ideas.
Break out the paint and brushes and get busy!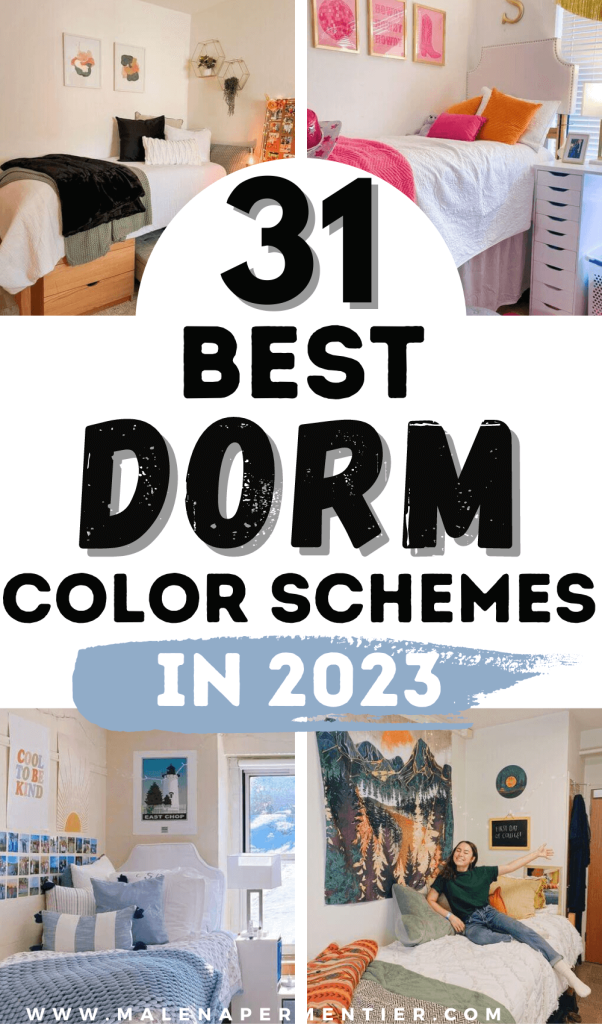 What colors are trending?
It's a new year with new ideas, so it's obvious that a few colors might be trending on the list.
Here's a list of the top 10 making the rounds in 2023.
Blank canvas
Cool beige
Studio mauve
Aubergine
Rising tide
Kale green
Blue peacock
Spiced mustard
Cinnamon
Restrained gold
As we can see from the list below, neutrals such as beige and terracotta, as well as dark blues, greens, and purples, are right on the scene.
There are also a lot of orange hues sticking out this year.
The overall theme is giving a bright retro aesthetic.
Cute dorm room color scheme ideas
Since we have the top colors of 2023 out of the way it's time to dive into the list of ideas we have compiled for you to try out in your dorm room.
1. Peachy pink and blue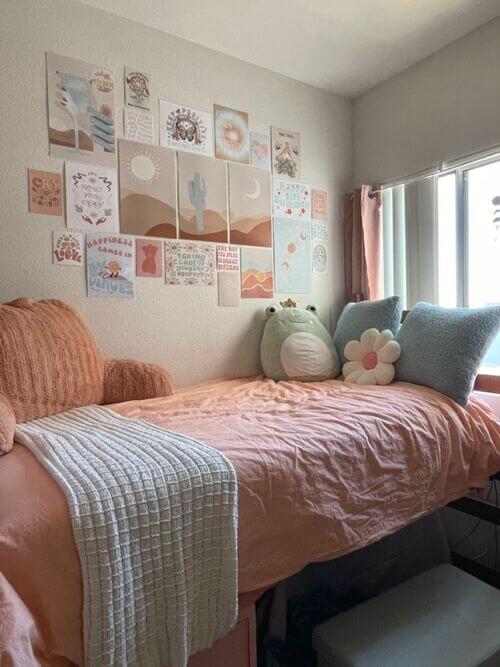 This idea allows you to add creative flare.
Create some art for your walls, and add plushies or your favorite blanket.
These colors are cool but subtle, which makes them great for decor.
2. Pink and white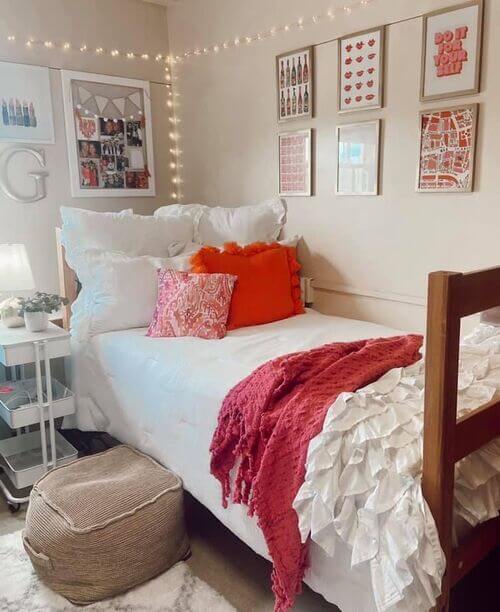 If you want to add a bold twist but aren't sure what to add to make sure it doesn't look like too much, then try out pink and white.
It's a simple color combo but adds playfulness to the dorm when paired with fun patterns
3. Organic dorm room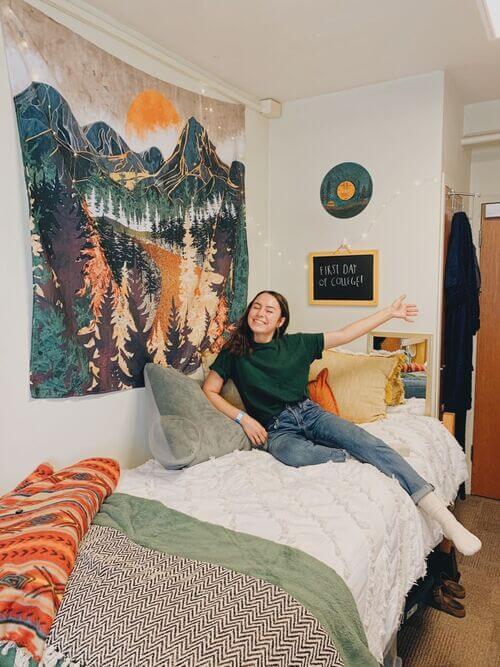 Nature lovers of all kinds can appreciate the cool greens and light oranges that are incorporated into this idea.
It keeps the theme to the organic and natural tone of the woods but makes all the difference when added correctly.
4. Pink and white preppy dorm room
Bright pinks and oranges bring me back to a retro look that brightens up the whole space.
It's funky and fun.
You can easily recreate this just by adding some pillows, blankets, or wall art to the mix.
5. All-gray color scheme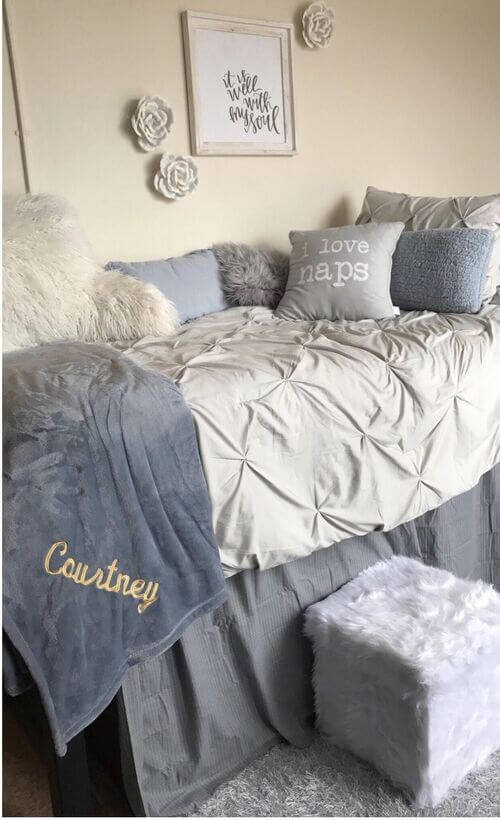 What better way to decorate than using fluffy pillows, throw cushions, and warm fuzzy blankets?
This idea keeps to the monochrome gray look and makes you feel like your room is clean.
Honestly, this idea just makes me feel like I have my life together, and I am here for it.
6. Dorm room with earthy colors
This warm color scheme can make any place feel like home.
Recreate this idea by making use of yellow throw pillows and blankets as well as some wooden frames and wall art.
It's sure to liven up the place.
7. Neutral dorm with preppy accents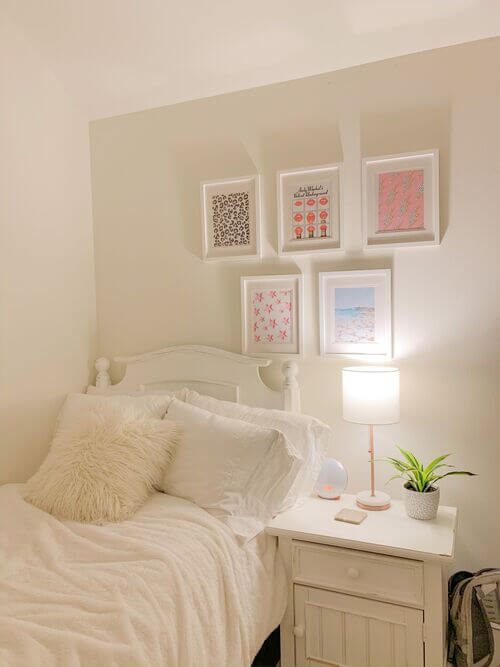 This idea works great for a subtle touch of boldness.
Keep things clean while adding a pop of color to your walls in the form of preppy Pinterest pictures of wall art.
8. Bohemian color theme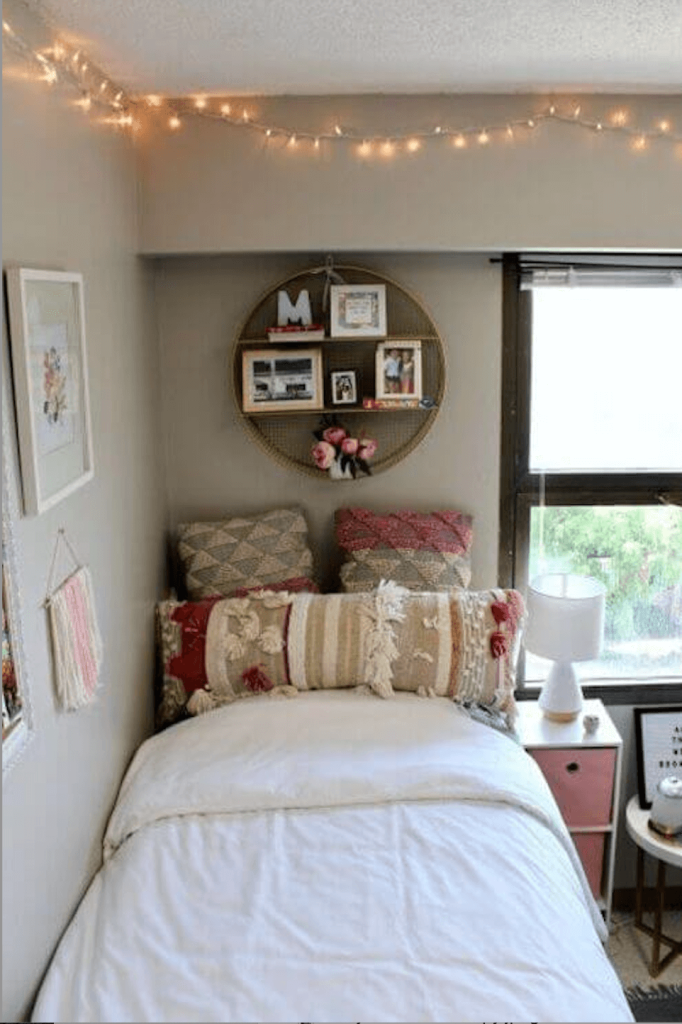 Boho has been making the rounds again and stays a fan favorite.
With its rustic look and warm neutrals, it just sets the tone for the room.
When you feel out of touch with the earth and nature, this warm palette will bring you back to the calmness of the earth.
9. Baby blue dorm room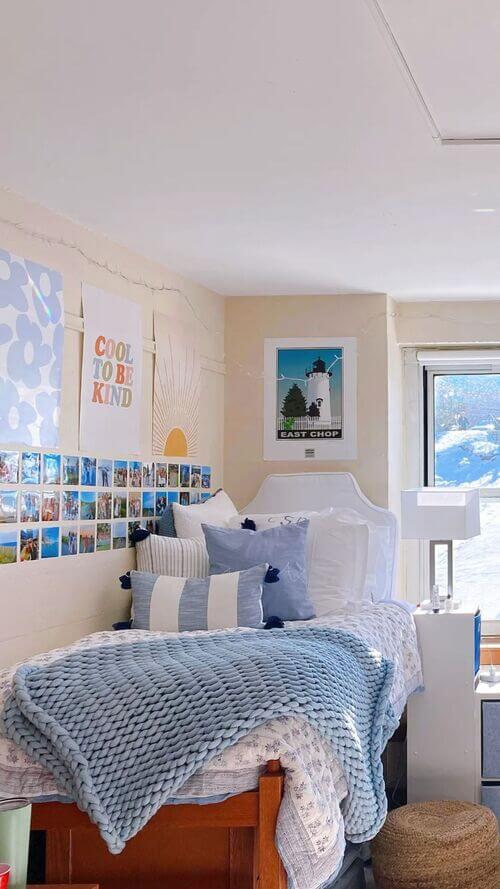 This idea is perfect for lovers of the ocean and the sky.
Paint the room blue to help calm your nerves as well as stay focussed.
This light color will automatically shift your mood as you enter and give you a feeling of peacefulness.
10. Neutral dorm with light blue accents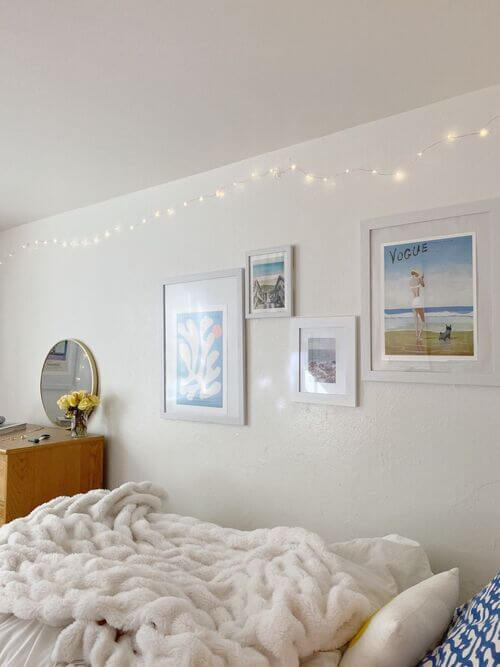 If you're looking for a temporary fix, maybe stick to portraits and frames for now.
Add color with pictures instead of diving head first for the paint brushes.
This simple and effective idea is the best way to bring a little spark to your dorm room.
11. Orange, gray, and neutral color theme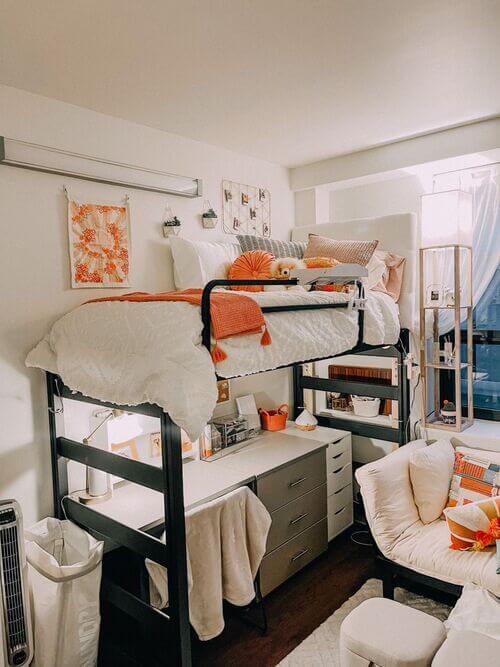 Pull out your Halloween throw pillows and get busy!
This idea calls for pumpkin orange, light gray, and a touch of beige to tie it all together.
At first, it can feel as though this isn't the usual dorm room color scheme, but it's even better.
It ties in with fall and brightens up the room in winter, making it perfect for all seasons.
12. Mustard yellow bohemian dorm room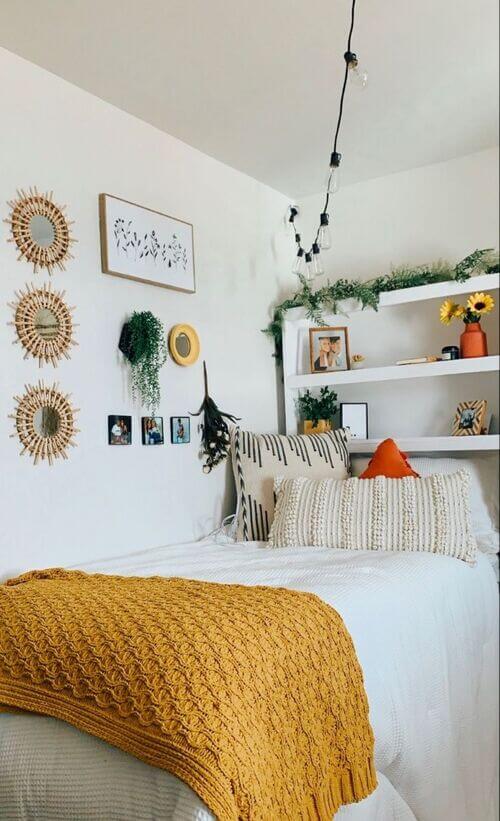 This idea is for all the fans of bright yellows and summer days.
Incorporating sunflowers, pastel yellow covers, and greenery into the simple white aesthetic can instantly lift your mood.
This idea is just as budget-friendly and reusable as most of the others on this list and brings the room the greatest bit of brightness.
13. Pink, preppy, and white dorm colors
Go bold with this cute dorm room idea.
Showcase your style by using bold pink and prints.
It's fun and creative.
Honestly, just the best way to go when creating a dorm fitted to your style.
14. Simple dorm color scheme with neutrals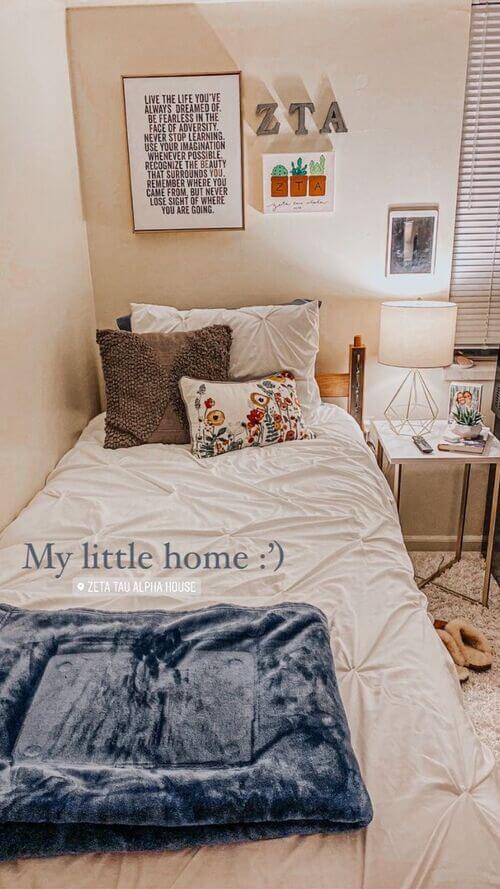 We love making use of new colors in different ways.
That's why we've incorporated this idea that focuses more on the use of color in blankets and trinkets instead of paint.
This makes it better to transition from one aesthetic to the next without feeling like you've wasted money because you'll always be able to reuse these items.
15. Neutral dorm colors with preppy colorful accents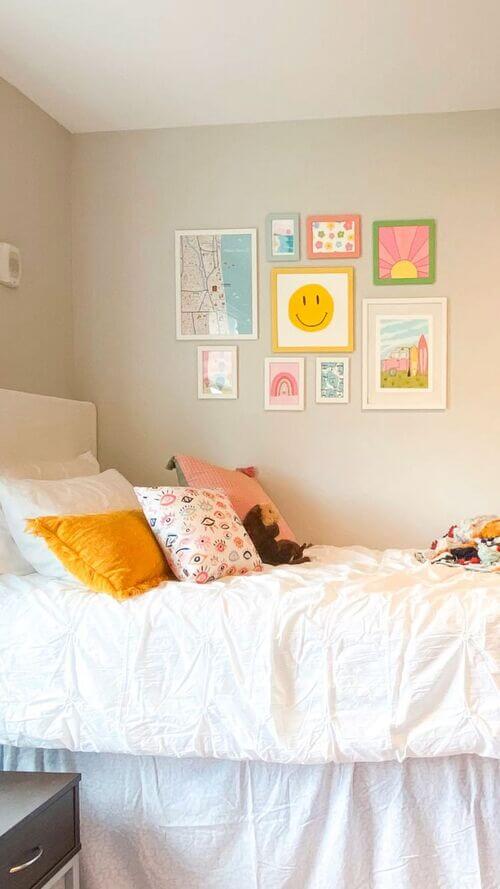 This style fits the typical preppy and outgoing personality that thrives on unique designs.
This all goes into the decor and keeps the color palette of the dorm very simple.
It's cute and trendy but still isn't too overpowering.
16. Matching boho and burnt orange dorm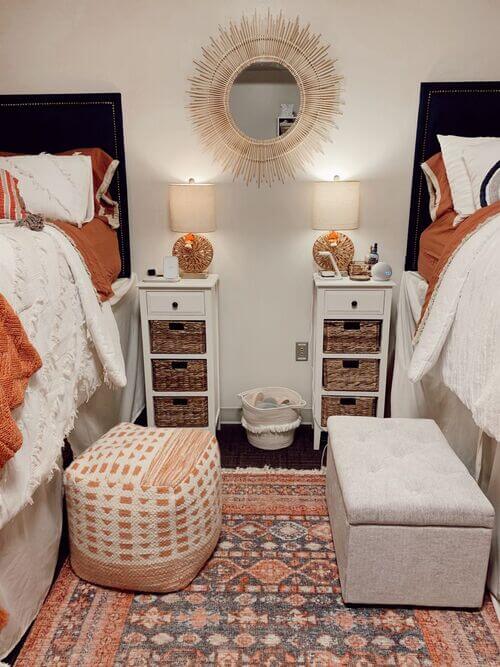 If your dorm mate loves the burnt orange and boho aesthetic, you can surely pull this off.
Keep things matching as far as colors go and bedside tables.
It will make the room look more cohesive.
These colors are perfect for autumn lovers since they keep things warm and cozy.
17. Sage green dorm room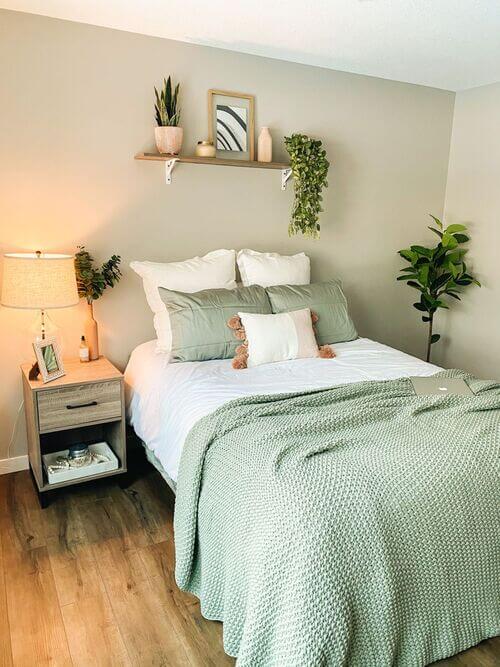 If you are a plant mom, I highly recommend this color scheme and decor.
You can never go wrong with adding a succulent or ten to a room.
This gorgeous color will calm your nerves and brighten your space.
18. Coral and blue

This color scheme is great for those sunset lovers.
The bright pink, orange, and blue give a subtle seaside morning atmosphere.
These bright colors are sure to get your mind in a new headspace.
19. A range of neutrals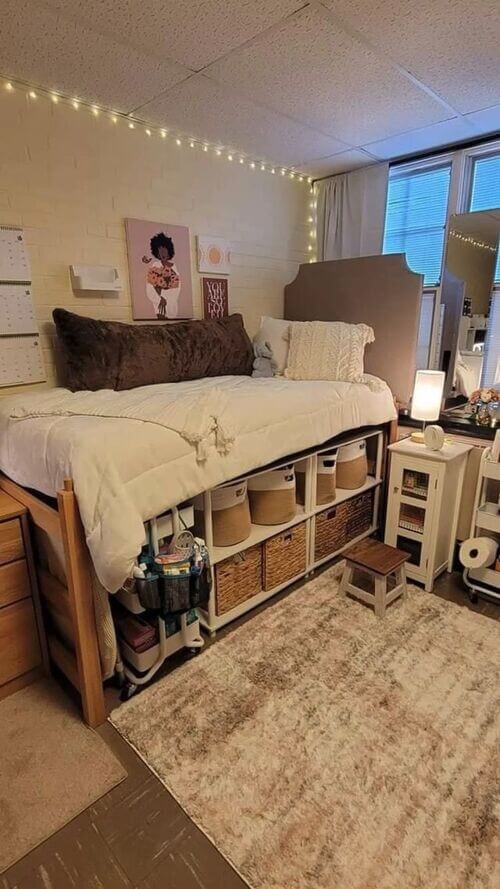 This storage-friendly approach keeps things simple and gorgeous by incorporating dark brown.
It warms up the space without making things look overcrowded.
When we make use of neutrals it keeps things elegant and clean.
20. Pink Pinterest aesthetic
This is specific to you if your aesthetic thrives on maximalism.
The photo wall, the quotes, and the small trolley filled with all your goodies show off the pink preppy aesthetic while staying true to your preferences.
21. Black and green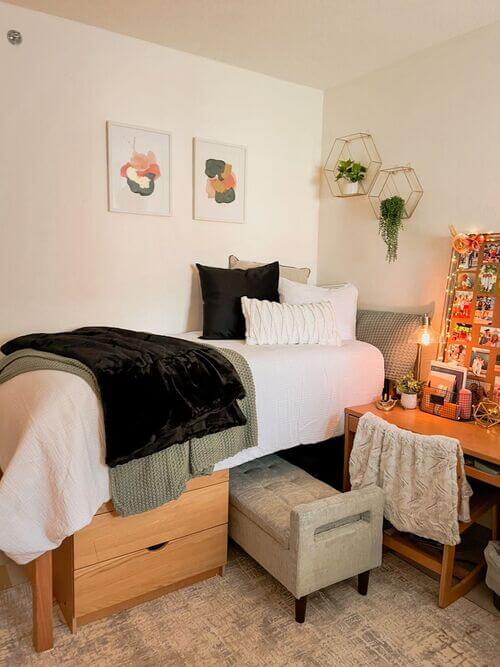 If you're looking for something bold to suit your style you can opt for this black and green color scheme.
It creates the perfect balance between light and dark.
Add some fake plants and gold finishes to polish up this look.
22. Cottagecore green and brown dorm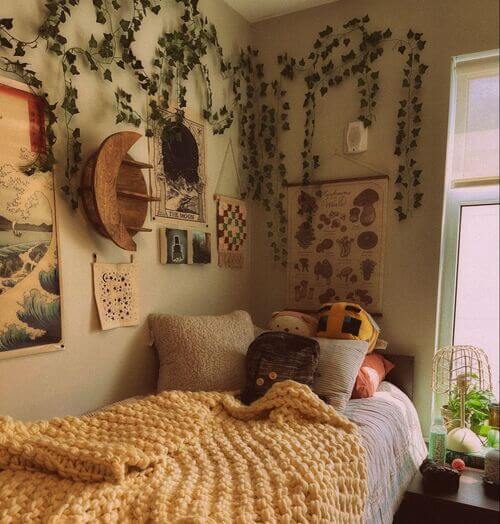 This isn't niche-specific, but cottage-core thrives on being a fantasy-oriented look.
The earthy tones deepen the tones while the small ornaments show cute designs and a fun look to the room.
The yellow blanket ties in well since it is pastel and doesn't take away too much from the overall look.
23. Dark green and neutrals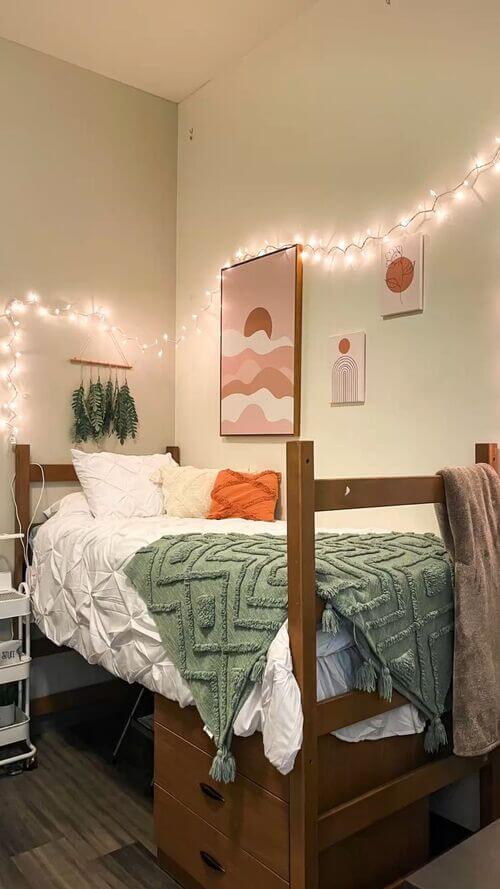 Green has become the ultimate color to decorate with.
Its refreshing aesthetic makes your space feel more natural by pairing it with a neutral color.
It creates a nurturing atmosphere where you can seek comfort; the plants and fairy lights keep the space bright, while the light brown creates a balanced look.
24. Royal blue and yellow dorm colors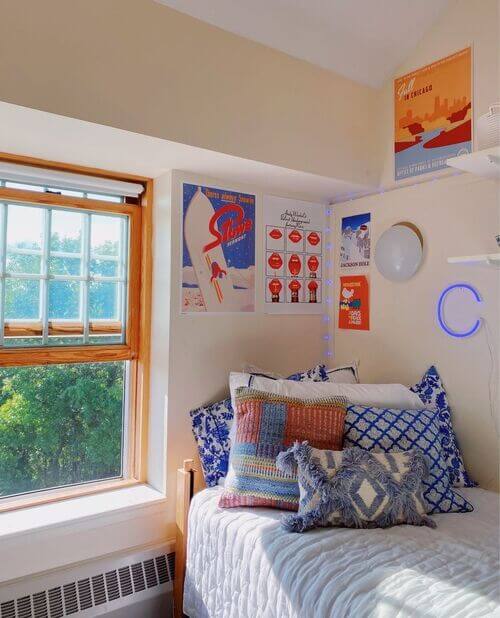 If you're looking for something bolder then this is a sure winner.
The bright yellow and blue make the room feel like the perfect summer mood.
The colors will instantly brighten your mood and make you feel refreshed.
25. Dusty pink and baby blue dorm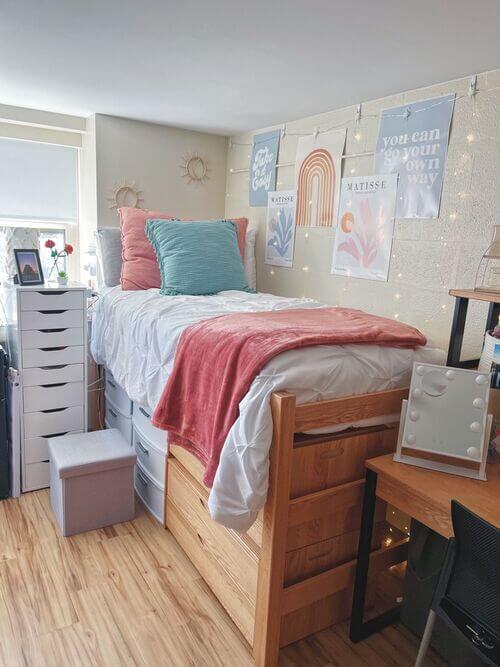 These two colors are the perfect combo for a brand-new dorm room—the subtle pink warms up the space while the blue creates a relaxing atmosphere.
By adding in some cute quotes or wall decor, you can make this instantly feel like the ultimate space for working on projects.
26. Plain with pink accents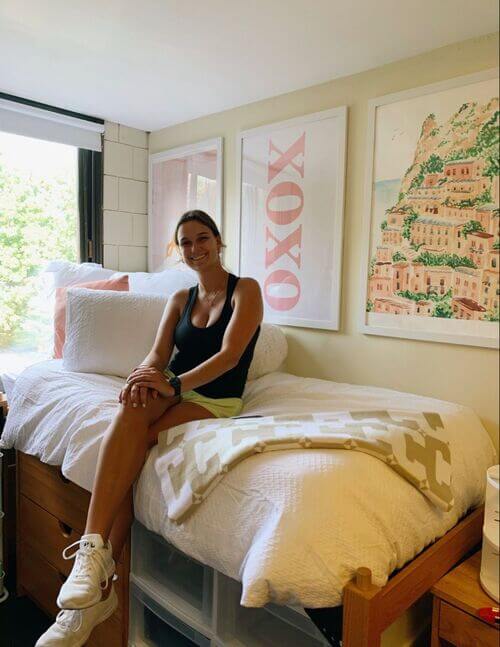 This color scheme always gives me a homey type of vibe.
The pink is so gentle it's barely noticeable.
It's great to add a subtle element to the mix.
If you're looking for a temporary change till you're ready for a big change then this idea is perfect.
27. Light brown dorm color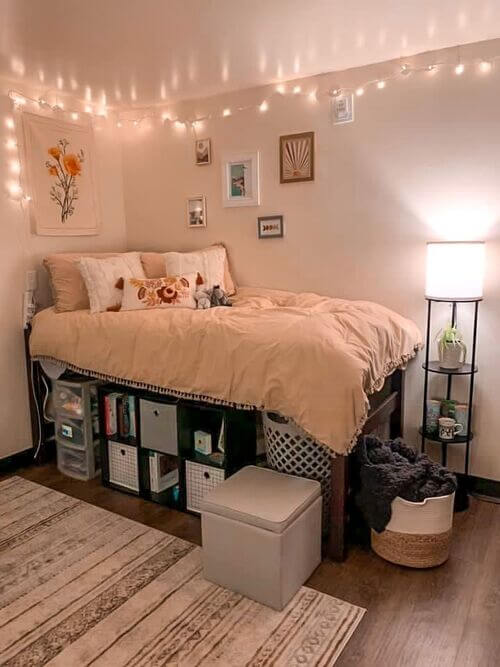 If you want something that fits almost any color, keep to the neutrals.
Beige is a wonderful add-on to a room since it gives you a warmer atmosphere to feel cozy in.
28. Pastel color scheme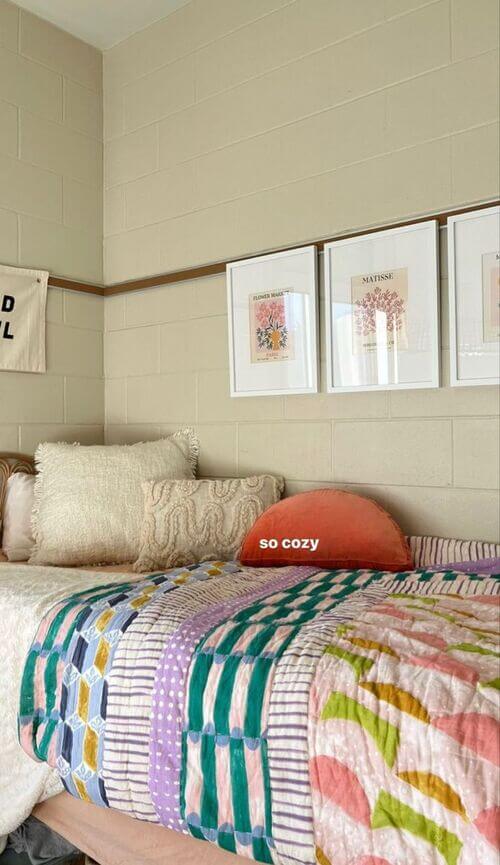 This color scheme is a fun way to spice up your room.
You can easily pull off this cute idea by incorporating some different colors.
It's a great way to make the room unique to you and make your room fit your personality.
29. Ocean blue dorm colors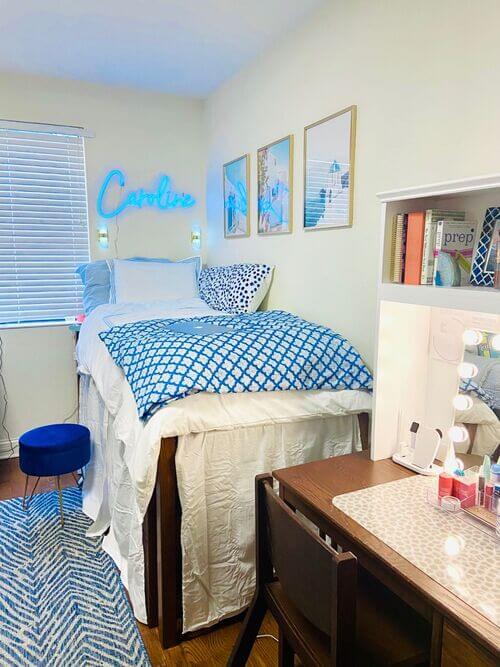 This room keeps things fresh by making use of blues.
The psychological effect of blue states that it is a color that helps us to stay calm and focused.
This is the perfect color scheme if you're looking to create a serene place to enjoy.
30. All-natural dorm room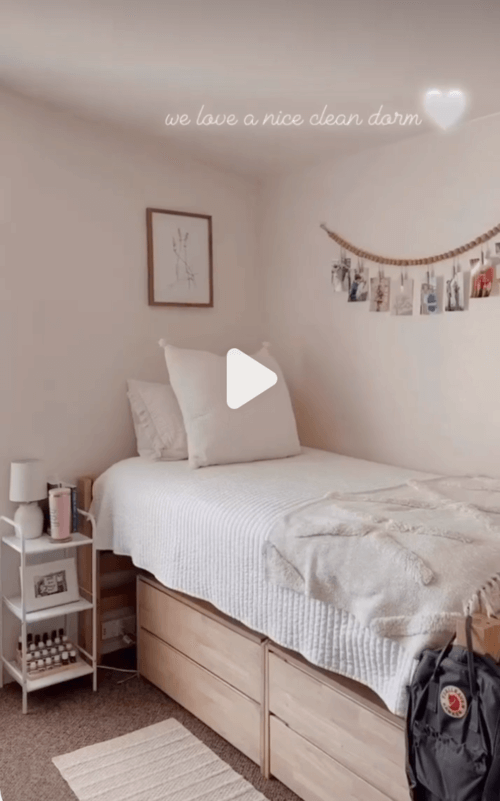 If color isn't your thing, then keep paint out of the picture.
You can opt for some natural accessories.
Wood frames, polaroids, or whatever suits your taste.
The point is to stick to the basics by creating a pristine aesthetic.
31. Gray dorm colors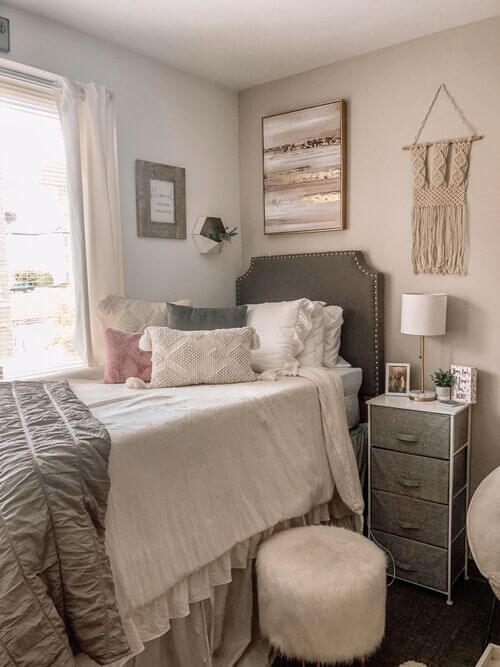 Keep things classic by opting for gray and white decor.
It allows you to personalize your dorm without having too much clutter.
You can pair it with some copper accents just to give it a bold touch.
Finding the perfect color scheme
It can feel like an overwhelming task to find something you will love, but just keep it to the basics.
A bold color and one or two that compliment it.
Don't go all out with a bunch of colors because that might overwhelm your senses,
With the above-mentioned ideas in mind, I'm sure you'll find the perfect idea to create your dorm into a loving and homey space.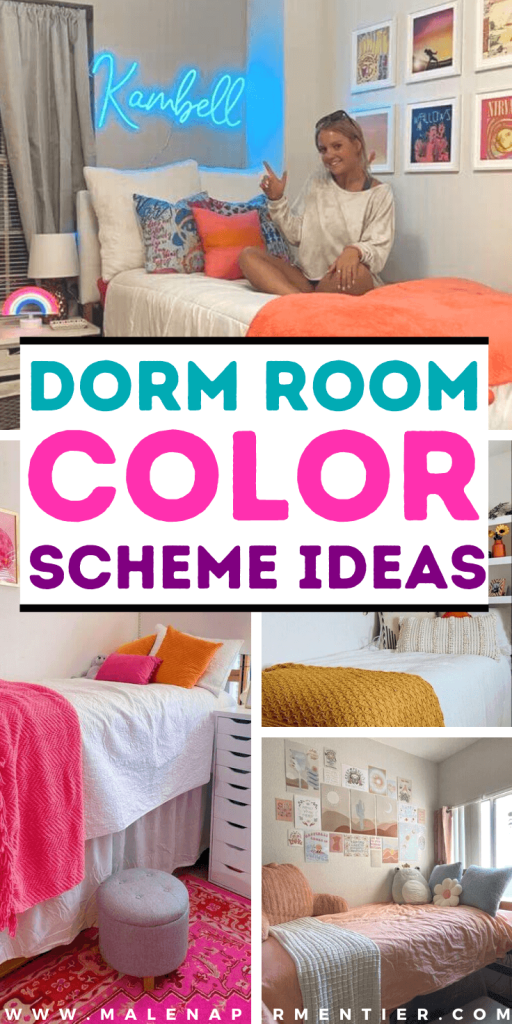 This post showed you the best dorm room color scheme ideas.
You may also like: