This post shows you the best boho dorm room ideas.
Boho dorm decor has a warm aesthetic and will make your space look cozy.
You can pull off a boho dorm with orange and brown tones or a more minimalist color scheme.
Many dorm rooms have brown furniture, like a lofted bed and desk.
This might not be everyone's favorite style, but it works beautifully with bohemian decor and neutral boho bedding.
Let's get inspired by these 18 stunning boho dorm room ideas!!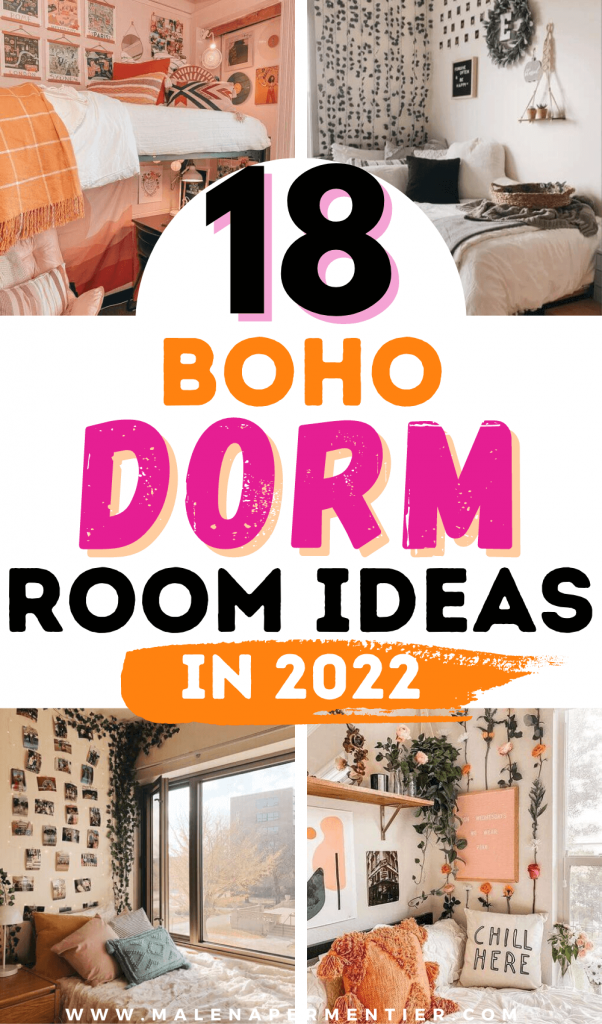 1. Boho wall decor in dorm room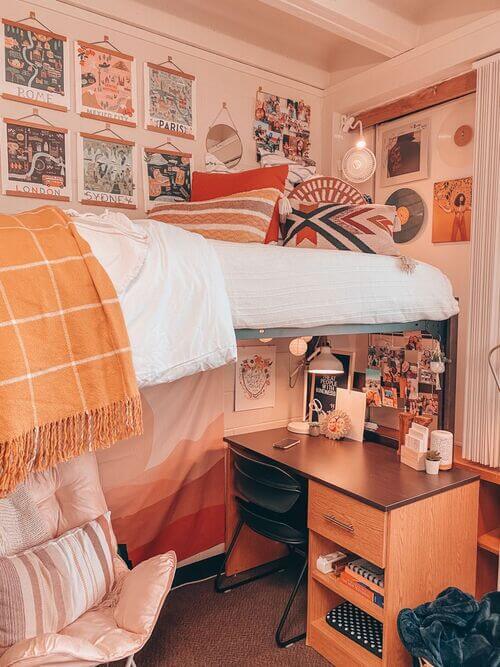 Use your wall space for funky boho posters and fun prints.
Pick 3 to 5 colors that work well together—earthy tones like orange, deep green, and brown look great.
You can also choose something brighter, like orange, pink and green.
Amazon has beautiful boho poster sets that are cheap and look incredible.
2. Minimalist boho dorm room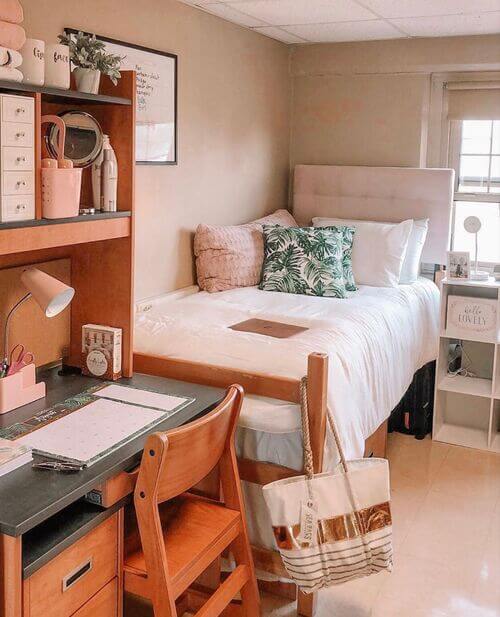 A boho and minimalist aesthetic go well together.
To create a minimalist boho dorm room, focus on getting the basics in light colors.
The nightstand and bedding, for example.
Then work in some subtle colors like green and golden brown.
You can add boho decorative accents with pillows, plants, prints, and other small items.
3. Cozy boho dorm room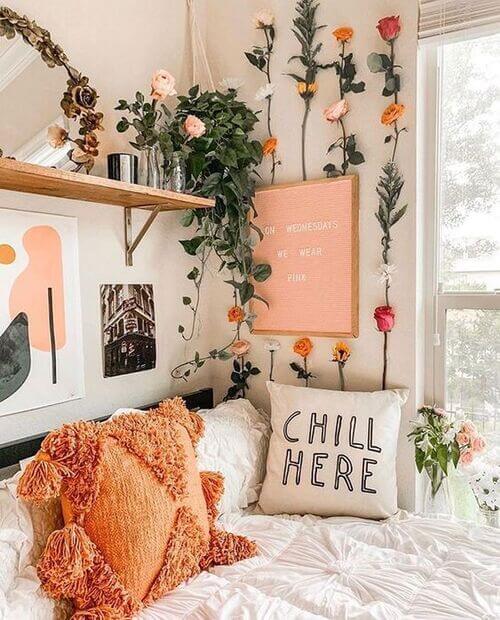 Flower wall decor is a great way to elevate your boho dorm room.
You can get affordable rose vines to decorate your dorm with on Amazon.
Orange, pink, and neutrals like beige or cream look amazing together!
To keep it simple, you can focus on 3 colors only when putting together a boho dorm room.
4. Dorm with a macrame wall hanging and cozy throw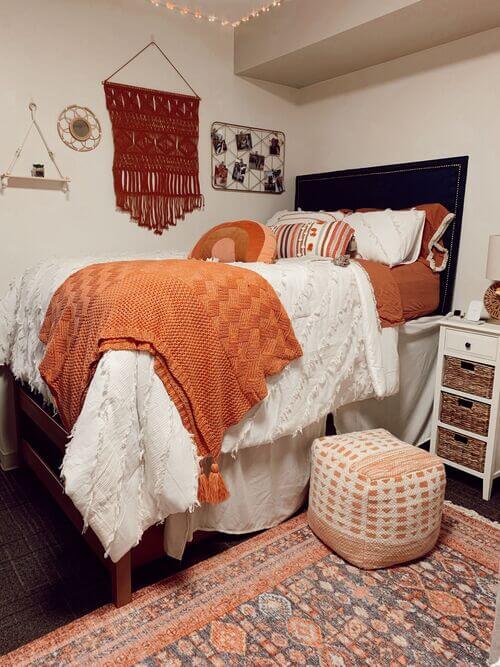 Most dorm walls can use some love, so don't shy away from using more oversized decorative items for your walls.
For a boho aesthetic, macrame wall hangings are great for brightening up your walls.
Adding a boho pouf and cozy orange throw are cheap ways to take your dorm decor to the next level.
5. Hippie dorm room with cute wall art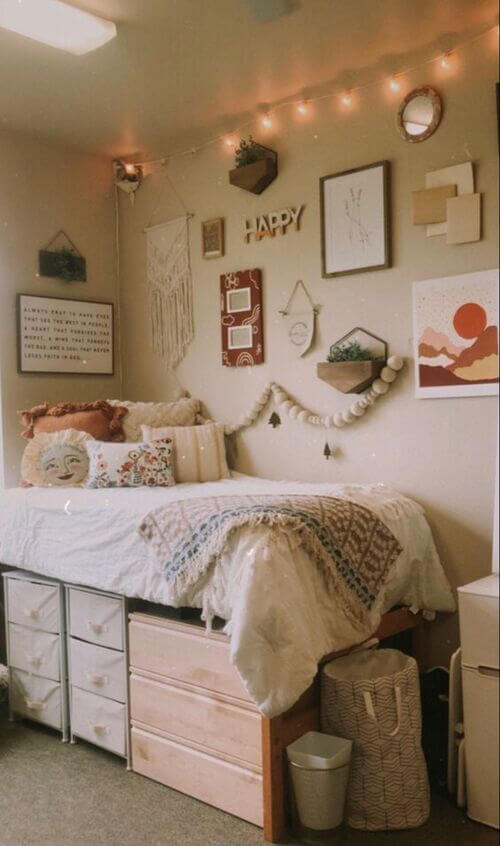 For a relaxed hippie vibe, your dorm room needs these cute tassel garlands!!
You can get them in many colors, but this cream hits the spot.
Line string lights at your ceiling edges for a cozy atmosphere you'll love spending time in.
6. Simple boho dorm room with ivy vines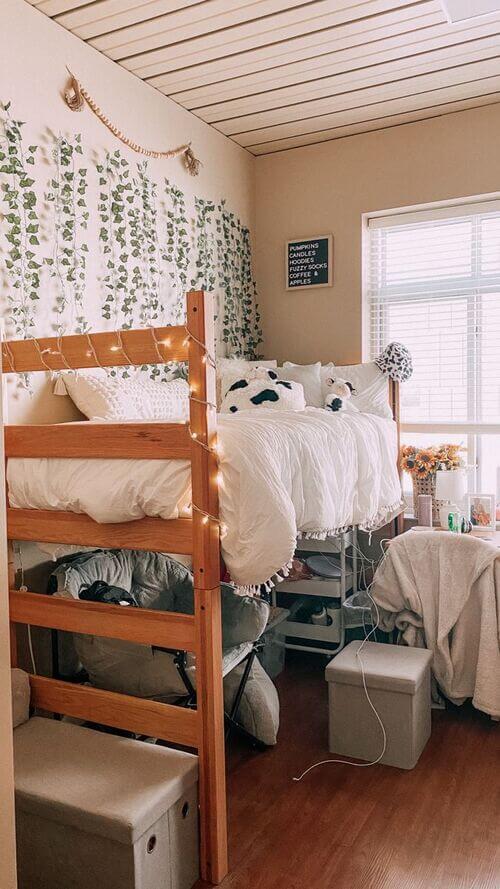 Ivy vines and string lights are two items that a boho dorm room needs!
Both are cheap and make your room look so much better.
Another favorite is the classic white storage ottoman that every college student needs.
Something I've seen in lots of dorms is a small letterboard.
It comes with many letters so that you can change the quotes.
You can also hang this letter board on your dorm door with your and your roommate's names!
7. Simple boho dorm room with ivy garland draped in the ceiling corner
There are endless ways to decorate with vines!
Draping them in the ceiling corner like this dorm is a creative and fun idea.
Use your favorite pictures with friends and family to make a wall collage.
8. Warm cozy dorm room with botanical prints and fairy lights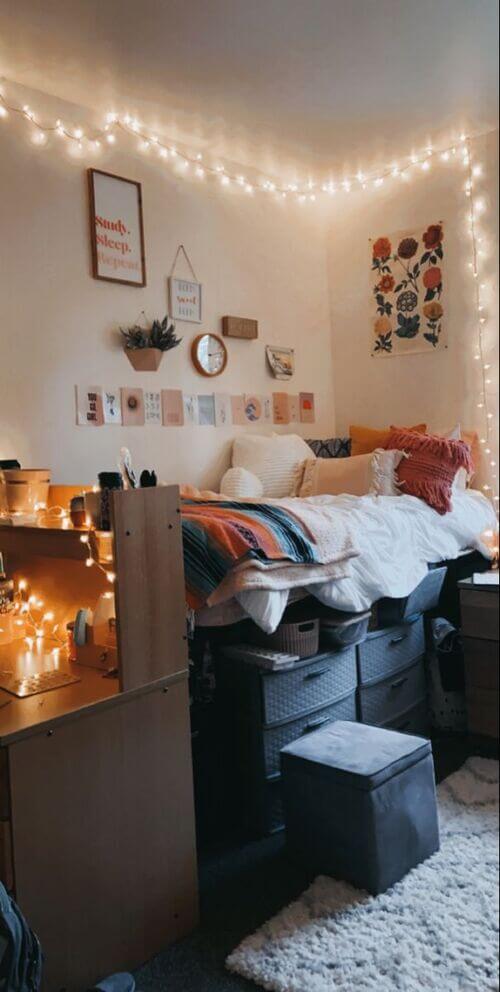 Botanical wall prints are pretty and super popular in boho dorm rooms.
Pair cute posters with fairy lights and decorate the floor next to your bed with a fuzzy rug.
Rugs are usually expensive, but you can find cozy and affordable ones.
Cutest wall collage kit:

9. Cozy boho dorm with earthy neutral colors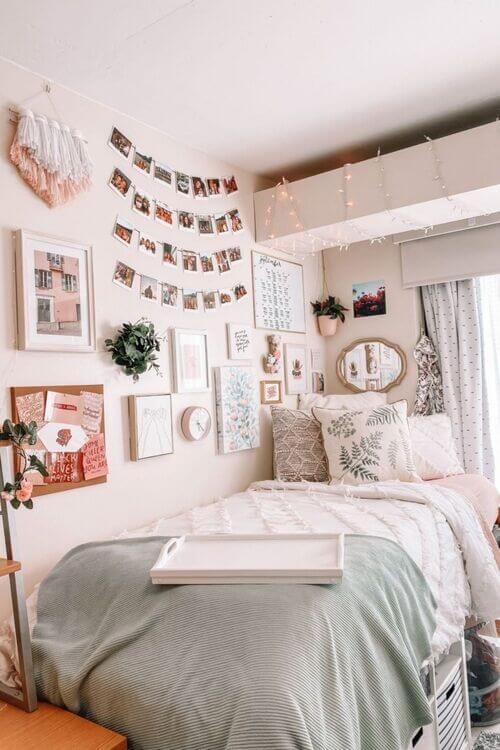 You can combine different styles in your dorm; it's so fun.
This room mixes boho elements with an antique mirror and feminine decor.
The key usually is to start with neutral bedding and build from there.
Pictures in a particular aesthetic can also help pull together your dorm decor.
10. Dorm wall decorating with bulletin boards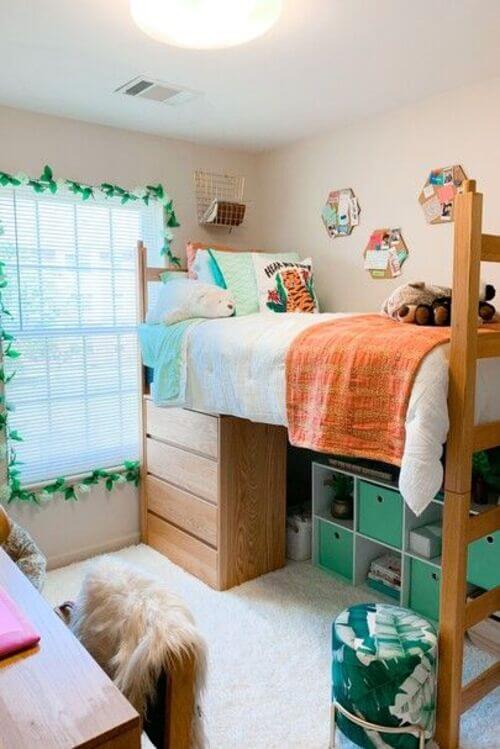 Decor can be both practical and fun! Hang bulletin boards in a fun shape to hang pictures or make a vision board.
You need to be smart about storage in dorms, so this magazine wall rack is the perfect item to add to your dorm room.
Related: 27 Dorm Room Storage Ideas That Look Cute & Save Space
11. Boho dorm with aesthetic photo collage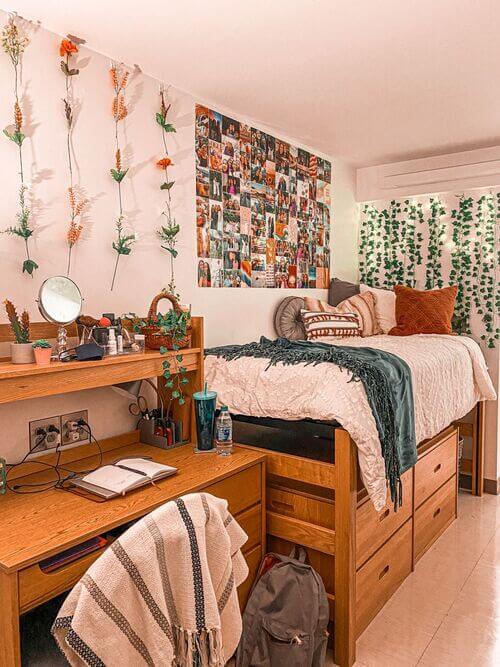 Aesthetic photo collage kits are an inexpensive way to decorate your dorm and bring out the aesthetic you're going for.
You can get these picture kits in many different styles, from boho to dark academia, girly, and preppy pictures.
Related: 21 Beautiful Picture Wall Collage Ideas For Your Bedroom To Copy Immediately
12. Neutral dorm room with a bohemian vibe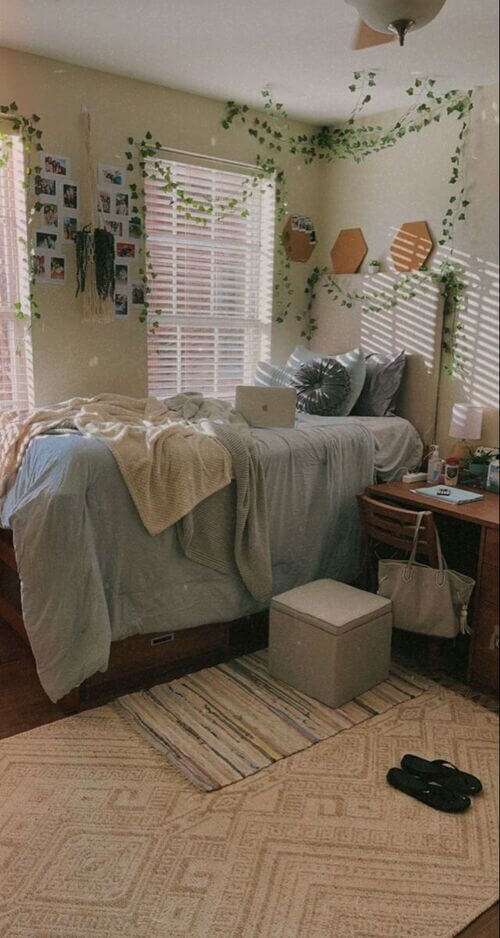 If you like neutral colors but still want to squeeze in a bohemian ambiance, focus on colors like cream, grays, and maybe a hint of sage green.
You can use decorative items like ivy garlands and macrame hangers to get that bohemian feel.
13. Brown and neutral boho dorm room with simple decor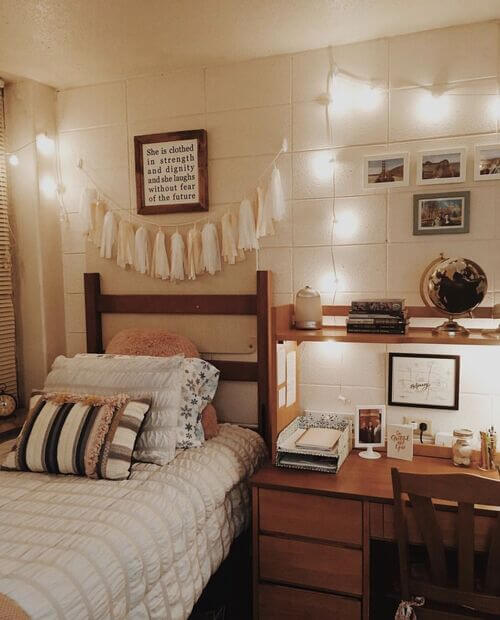 Making the most of your dorm room is about working with the colors you have! Not against it!
As I mentioned earlier, most dorm bed frames are chestnut brown.
Light colors look best with that.
Playful decor like the tassel macrame hanger also really brightens up the dorm.
14. Cozy white dorm bedding and gray throws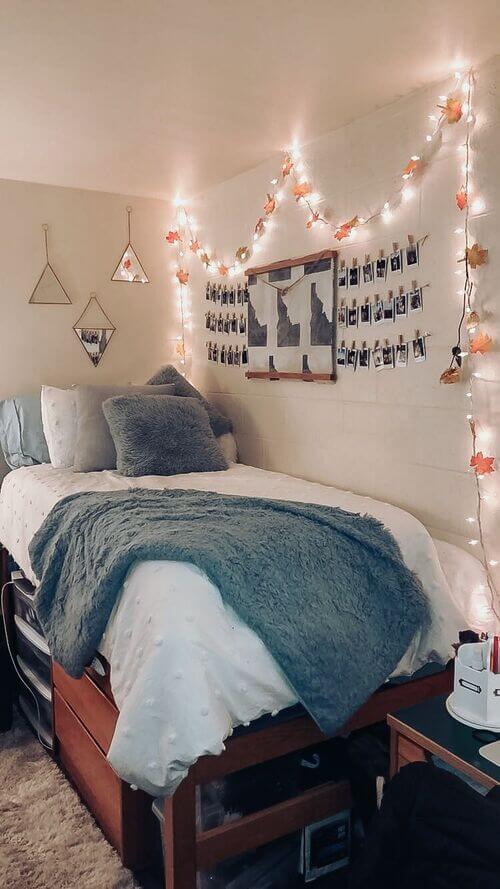 The tufted white pom pom bedding is popular for boho dorm rooms because it's subtle yet cozy.
Pair the bedding with gray pillows and a fuzzy throw.
I also really like the wall decor in this dorm! It's simple, but it makes the place look great.
15. Minimalist boho dorm with green decorative accents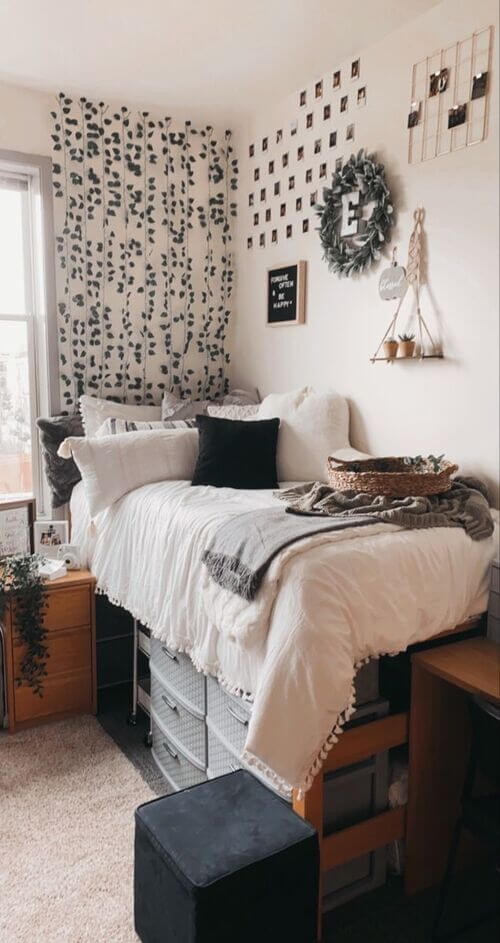 I love this neutral and minimalist boho dorm room!!
Get yourself some triangle wall shelves, faux greenery, and cute pictures to decorate with.
You can hang photos as is or hang them on a wall grid. That makes your dorm walls look a little more special!
16. Cozy dorm with green, brown, and neutrals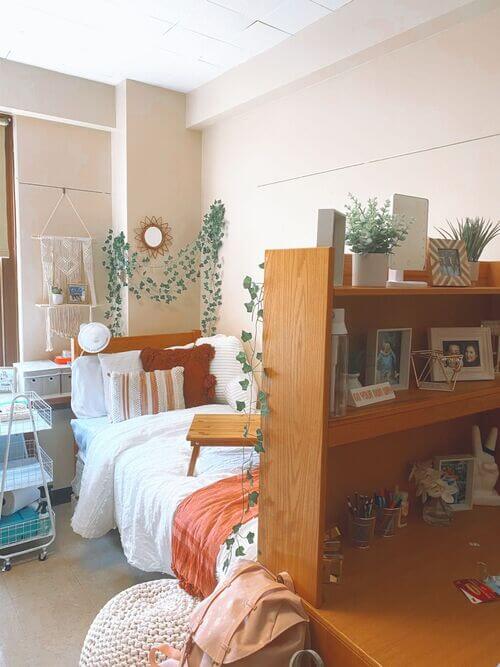 The reason many girls love a boho dorm is that it's what looks best with chestnut furniture!!
Doesn't almost every dorm have the same bed frame and desk?
Get in those orange and red tones, plus greenery, for a fresh vibe.
17. Preppy boho wall decor & mixed color palette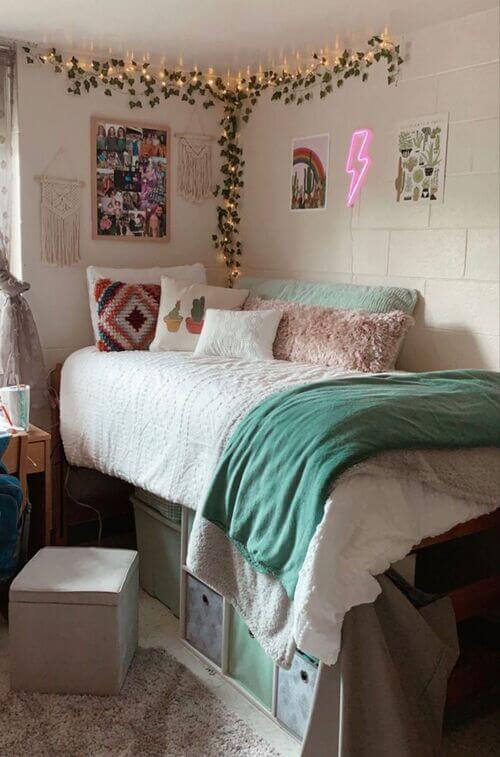 Dusty pink and green make for an unexpected and super pretty color combo!!
Use this boho white dorm bedding for an understated yet stylish look.
Green and blue dorm room with fairy lights and vines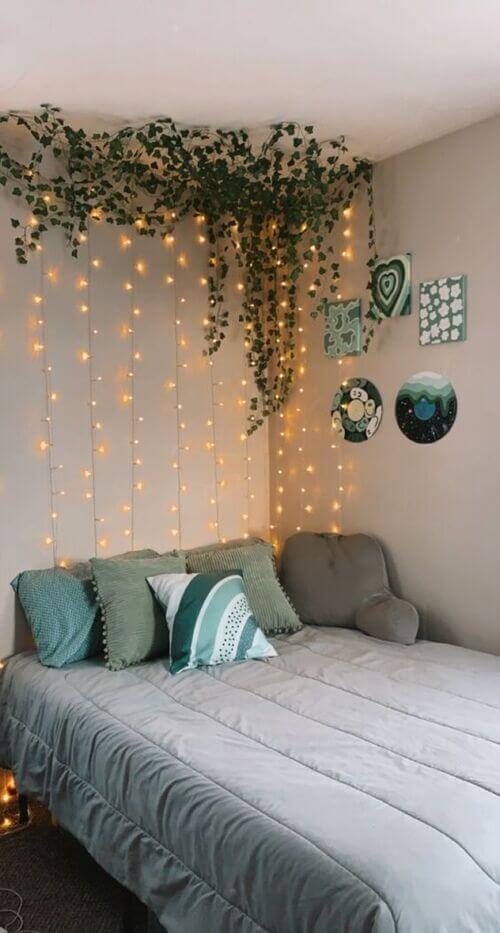 There is just something about the combo of string lights and vines that makes for a beautiful boho dorm room!!
Combine the greenery with some cute boho wall art to complete the vibe.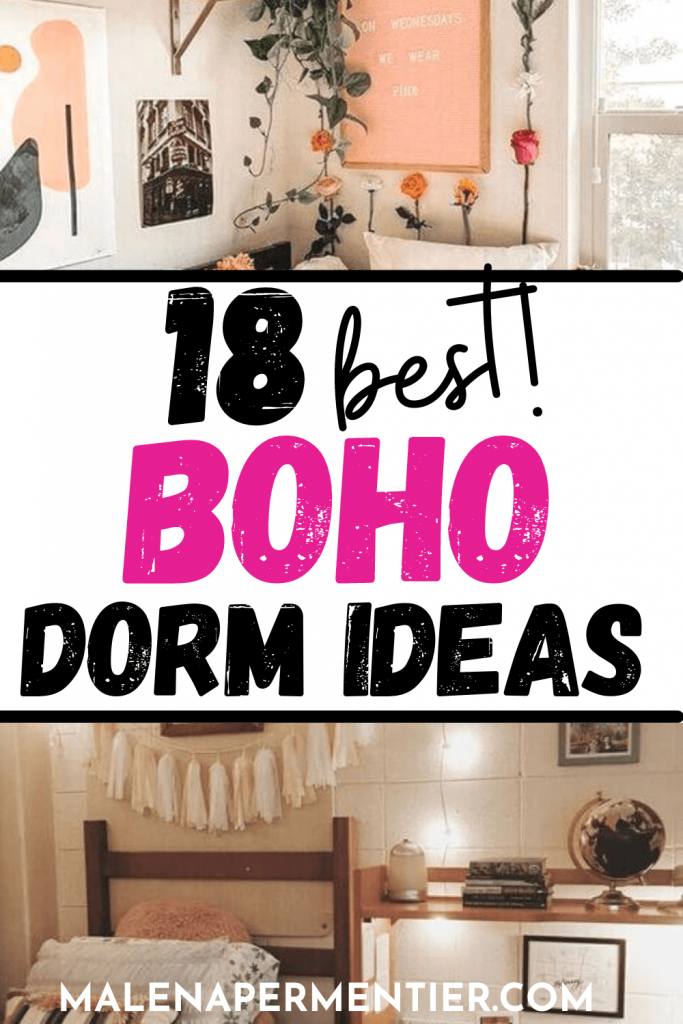 This post showed you the best boho dorm room ideas.
You may also like: