Hey there! Some links on this page are affiliate links which means that, if you choose to make a purchase, I may earn a small commission at no extra cost to you. I greatly appreciate your support!
This post is all about the best dorm storage ideas.
It can be a real challenge to fit everything in your dorm room and make it look organized!
Finding clever ways to layout your dorm and storage solutions are crucial to making the most of your tiny space.
These dorm storage ideas will show you how to maximize the space in your dorm and make everything fit while still keeping it looking cute!
Below, we'll look at some under bed storage ideas, dorm storage hacks, and how to organize your dorm closet to save space.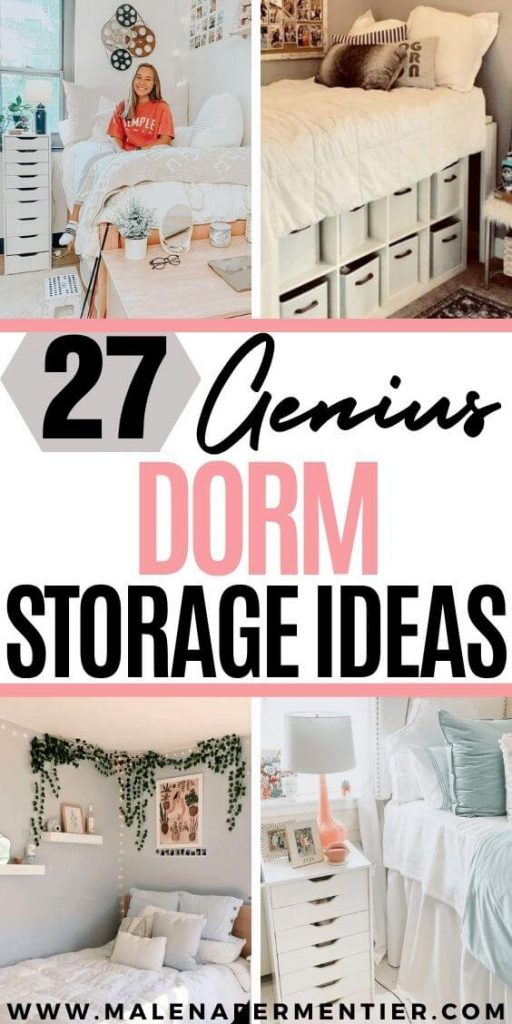 27 dorm room storage ideas
1. Use an extra tall nightstand drawer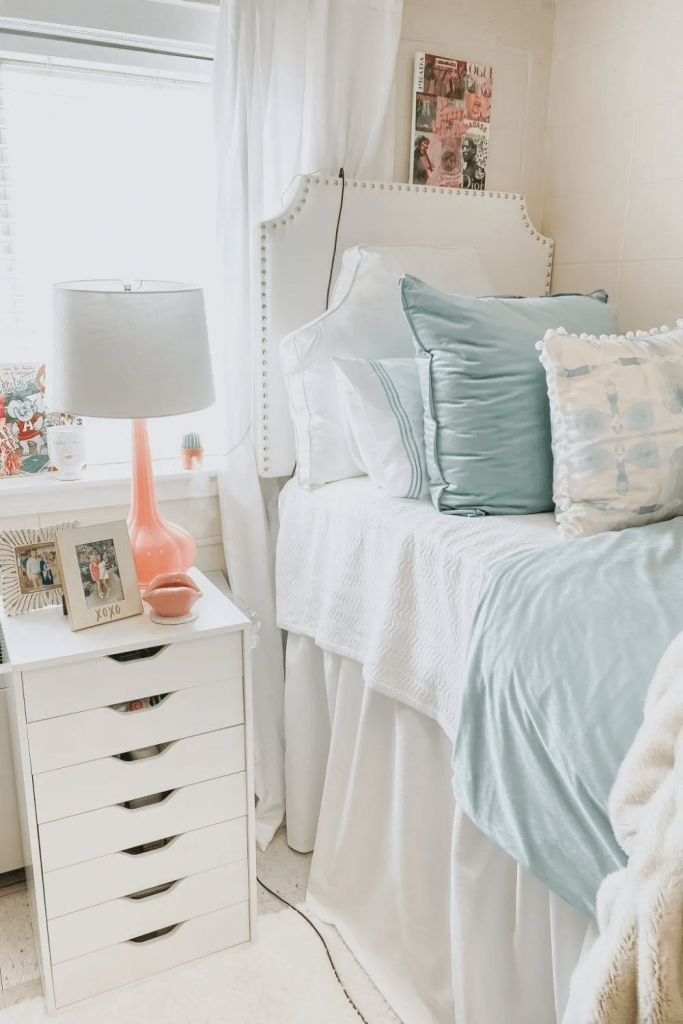 Using an extra tall nightstand is one of my favorite aesthetically pleasing ways to maximize storage space in dorms.
A tall nightstand dresser drawer is a must-have if you have a loft bed or lifted bed.
The dresser drawer below has wheels, but you can also keep them off.

Dorm lighting is usually harsh, so a cute nightstand lamp is no luxury!
I like my nightstand lamps on the larger side because they look cozy.
You can also opt for a nightstand lamp with a USB charging port, which is insanely practical if your power outlet is at an inconvenient place.

2. Loft or lift your bed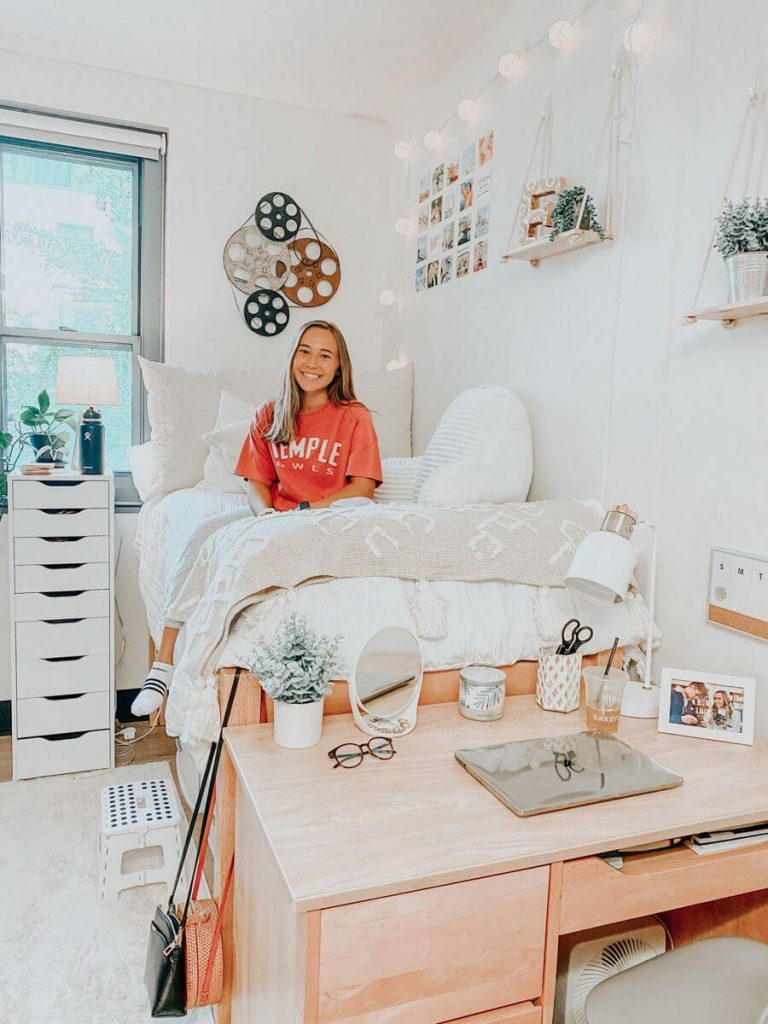 Most college dorm rooms have beds that you can lift.
If not, you can also get a loft bed kit to set up in your dorm.
A loft bed is essential in dorms because you will seriously be short of storing all your stuff without the under-bed storage space.

Add cute wall shelves as in the picture above.
These look really nice and are perfect for adding photos, succulents, and other dorm decors.

3. Add wall shelves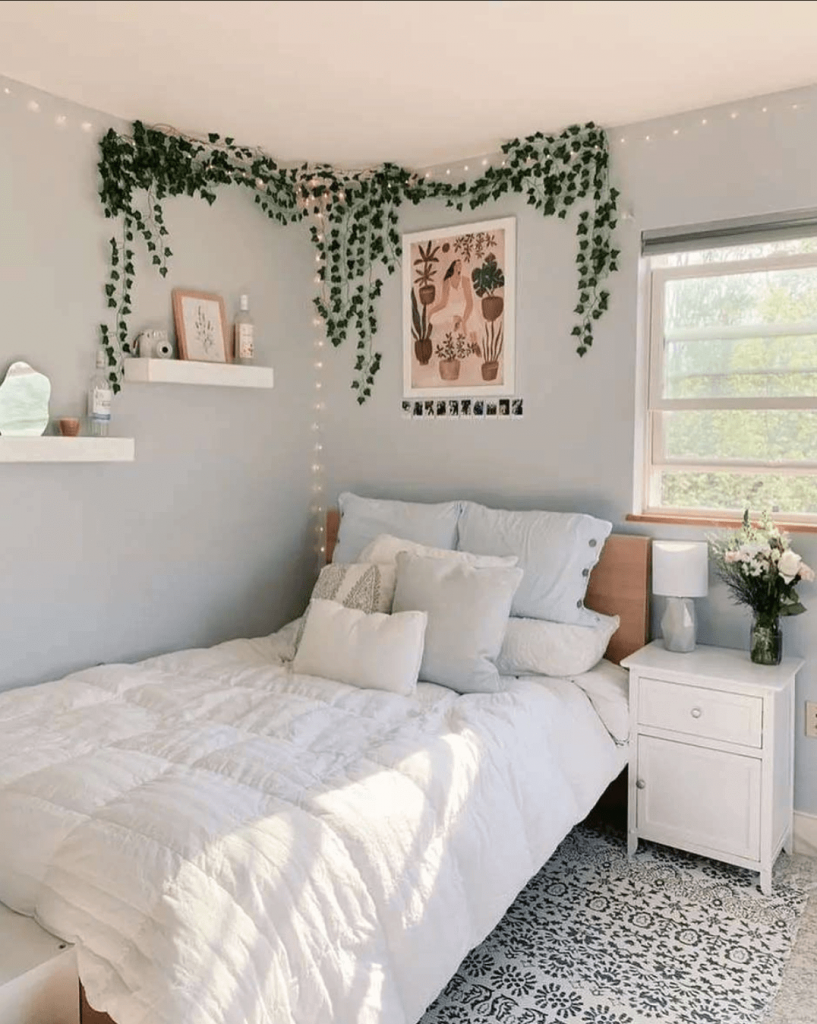 Wall shelves for dorm rooms are cute for both decor and storage.
These simple floating shelves come in a set of 2 and are under $20.
Use them to stack books or add your favorite pictures.

4. Hang a bedside caddy

Bedside caddies are ideal for small stuff like your phone, earphones, glasses, etc.
You don't want to keep these things lying around because you quickly lose or break them.
This caddy has holes for cables and is available in 9 different colors.
5. Hang accessories on a bulletin board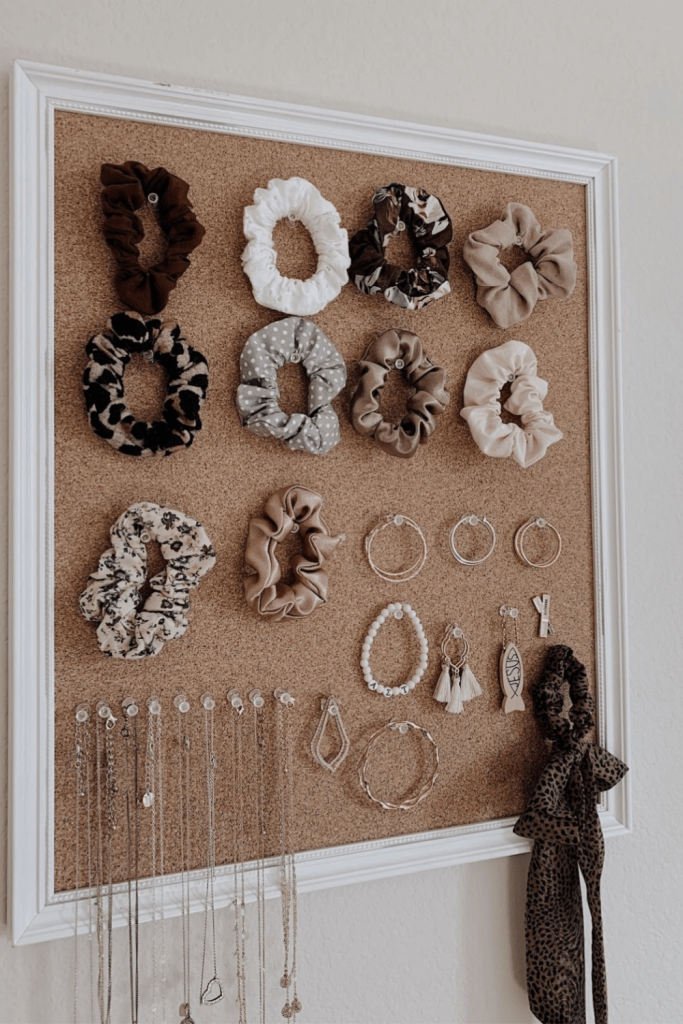 This bulletin accessories board is a super cute and budget-friendly way to organize your jewelry and accessories.
Dorms usually have a lot of empty (boring) wall space, so organizing your accessories like this is a great solution.

6. Dorm coffee table with storage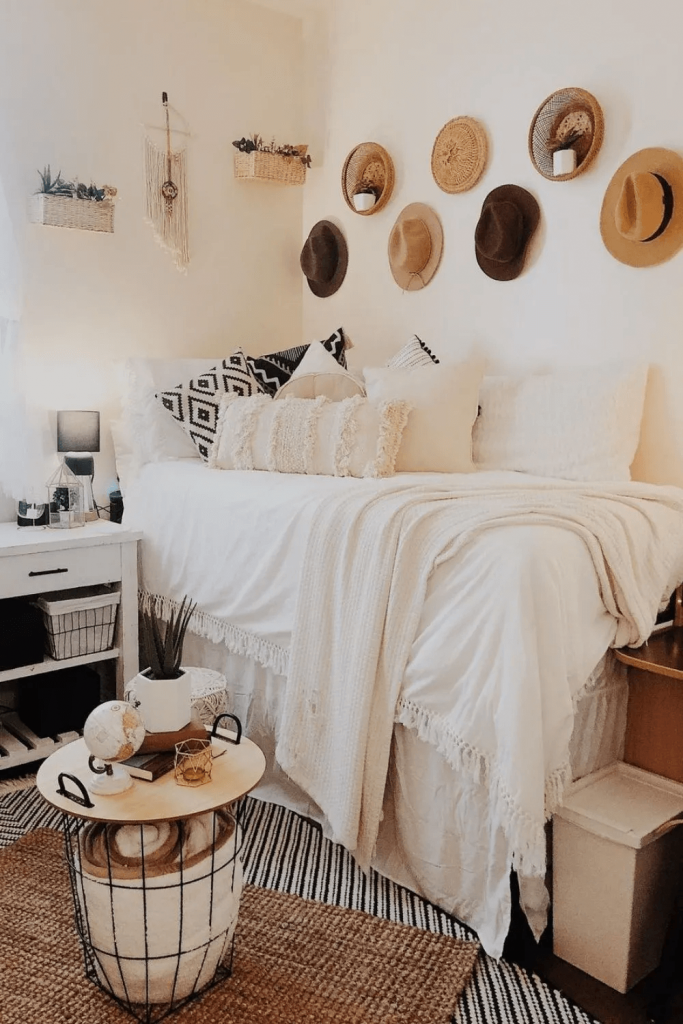 If you coordinate with your roommate, adding a coffee table with storage is a great idea.
It's nice for decor and storing things like blankets inside.

Dorm underbed storage ideas
Your bed will take up most space in your dorm, so it's crucial to make the most of all the dorm bed storage hacks available!
7. Cube organizer under bed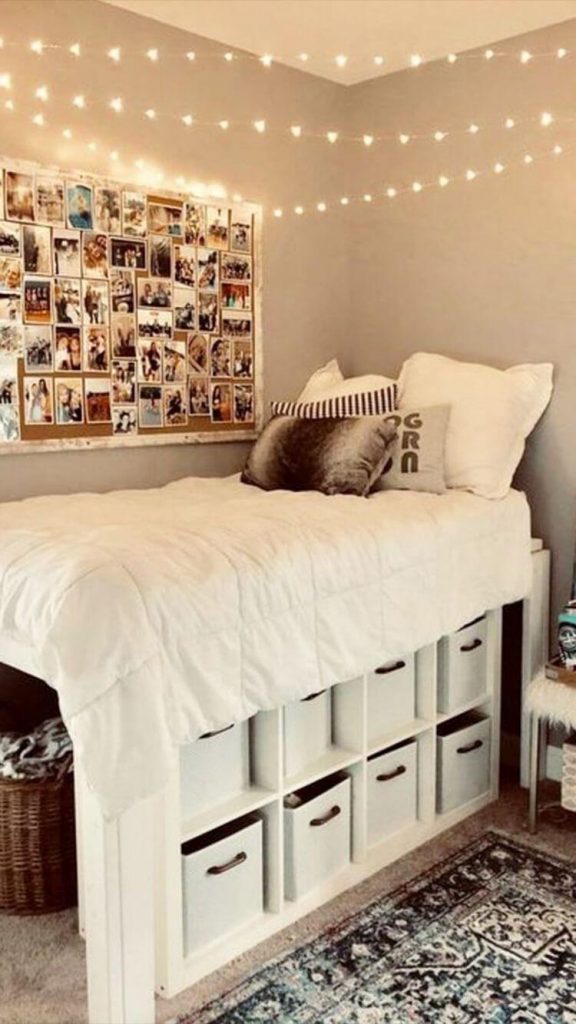 If you lift your dorm bed, there are various ways to use the space for storage.
A cub organizer is one of the ways to use under-bed space.

8. Cube storage bins
Use storage bins for your cube organizer.
These organizers are great for storing workout clothing, PJs, underwear, and socks.
You could also use the under-bed storage space to keep your college stuff.

9. Small under bed storage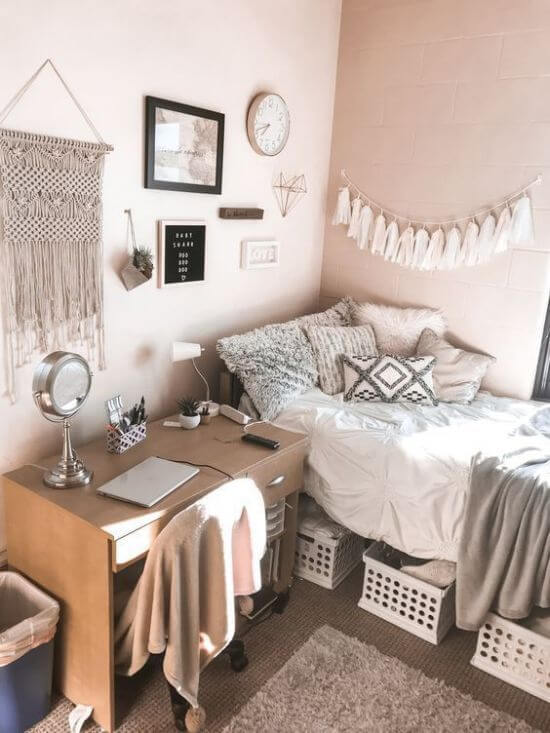 If you have a little under-bed space, things like crates are a great way to utilize that space.
Crates can keep shoes, large coats, extra blankets, books, or any other items you want to store out of sight.

10. Storage bags
Use storage bags for storing seasonal clothing.
You can also use it to keep clothing here that you don't use often.
Storage bags are necessary if you use crates or another open under-bed storage solution.
You don't want dust to pile on your clothes!

Dorm closet storage ideas
Dorm closets aren't typically known for their spaciousness, so you need to be clever with the available space.
A few budget-friendly ways to make the most of dorm closets are with dresser drawers, space-saving hangers, hanging organizers, and drawer organizers,
11. Organize the inside of your closet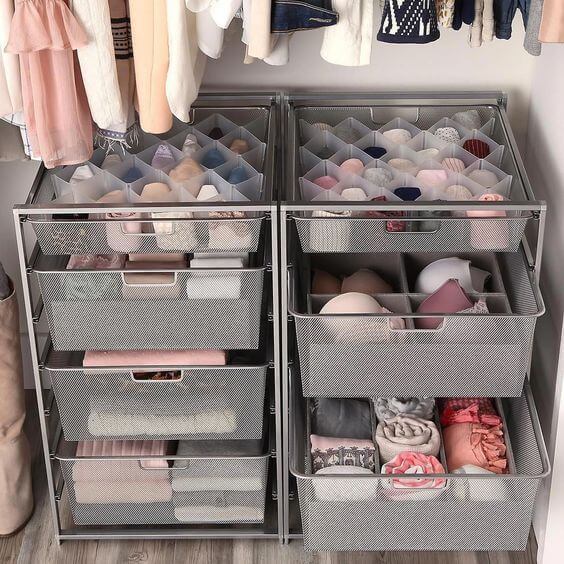 If you store underwear, t-shirts, and socks in drawers, organizers make it so much easier to keep everything in its designated place.
When closet space is limited (it definitely is in dorm rooms), you want to ensure you're on top of your organization game.
12. Fabric storage tower for closet

If you have a closet with mostly hanging space, you usually will have room underneath for a small drawer dresser or shoe rack.
Make sure to make the most of your dorm closet space with clever organizers.
13. Drawer dividers

As mentioned above, keeping small items like underwear, socks, and everyday tops organized is key.
Drawer organizers like this are super helpful to give everything its place.
14. Space-saving clothing hangers

These clothing hangers let you hang 5 shirts or dresses per hanger.
This saves a ton of space and is perfect for lighter items that don't need to be on individual hangers.
15. Hanging shoe organizer

If your dorm closet has a lot of hanging space, use a hanging shoe organizer to save space.
I also love shoe racks, but a shoe organizer might also be smart to have, depending on how many you have.
Best dorm ideas to maximize space
Now let's look at some of the other best dorm ideas for storage space.
As I mentioned above, I'm all for storage hacks that are functional, cheap, AND cute!
16. Use a storage cart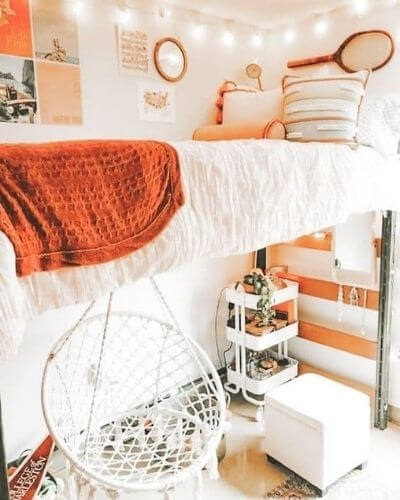 Storage carts can serve so many different purposes, which is perfect in dorms.
Storage carts like this can store food, keep make-up and toiletries, stationery, or even decorate.
You can get metal carts like this in many different colors for under $50.

17. Store shoes in an ottoman
Multifunctional furniture items are lifesavers in dorm rooms.
This storage ottoman looks cute, serves as extra seating, and has enough space inside to store several pairs of shoes.

18. Use space under your bed
This dorm room is another excellent example of using the space under your bed.
Combine a dresser drawer with a small cube organizer and bins.
The velvet pink ottoman also has storage space inside.

19. Mirror organizer over the door

This mirror organizer is seriously genius if you're going to hang a full-length mirror in your room.
This mirror organizer is meant to hang over a door, but you can also hang it on the side of your bed, for example.
20. Add a desk hutch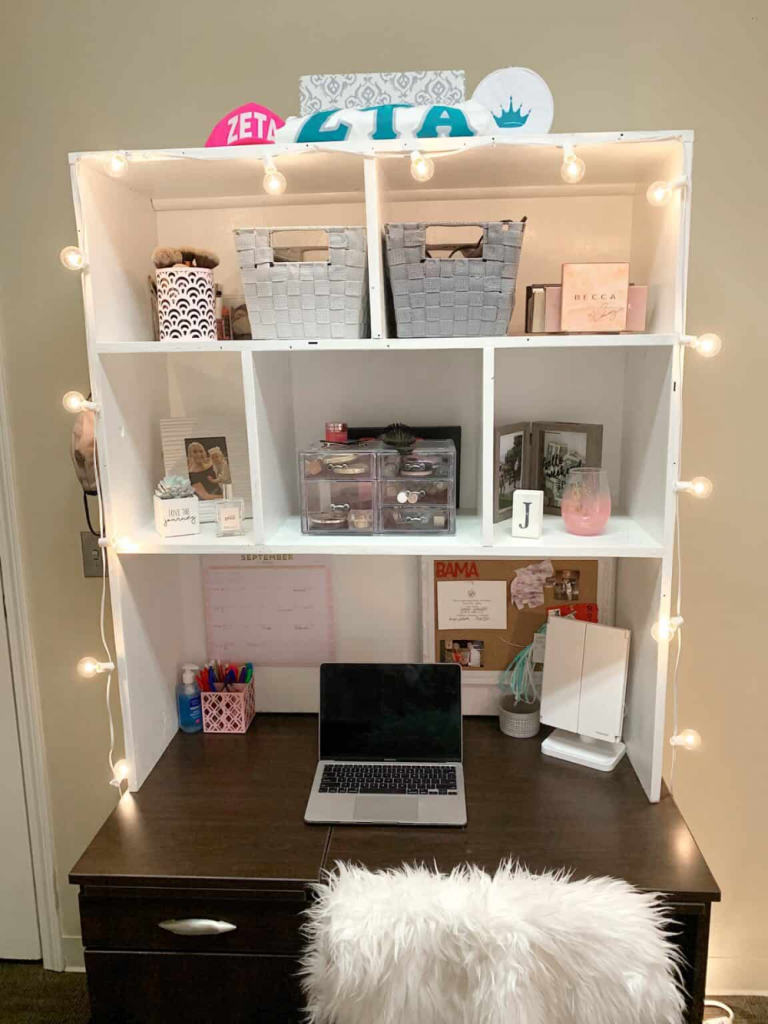 Desk hutches are a must if you have a lot of school stuff to keep!
A desk hutch like this has plenty of space for books, your laptop, and other school stuff you want to keep at your desk.
Besides a desk hutch, you can also get a hutch for your dorm bed.
This extra shelving will create a ton of extra storage.

21. Small desk organizer

There's nothing more annoying than having post-its, sharpies, pens, etc., scattered all over your desk!
This small desk organizer is perfect for storing those things and making your desk look neat.
22. Coordinate with your roommate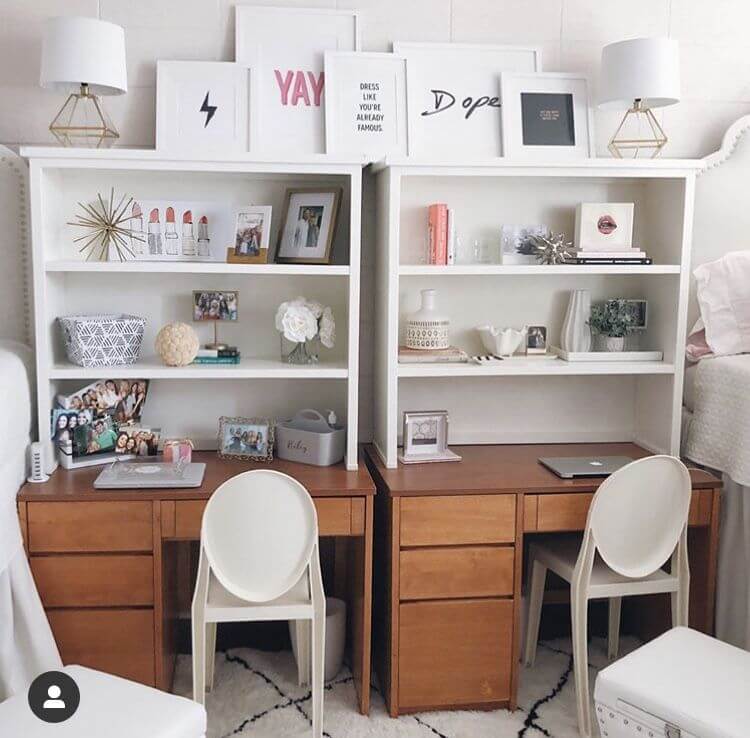 Coordinating with your roommate can be a great way to maximize storage space in your dorm room.
Put your desks together and create the same setup on each side of the room.
23. Maximize space at food station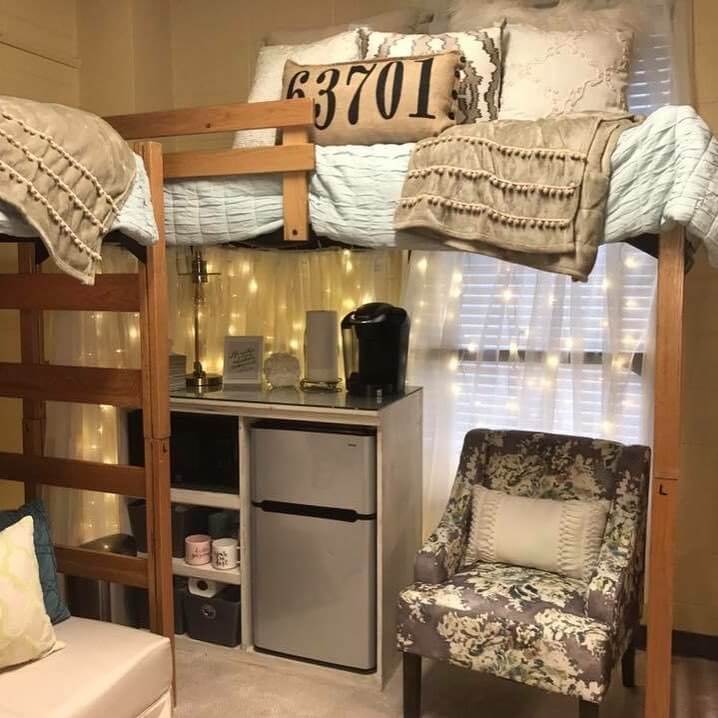 Most college students will create a food station in their dorm, and a mini-fridge is a must.
Make sure to optimize the space with, for example, a shelf situation or fridge stand,
24. Mini fridge stand

Every dorm room needs a mini-fridge.
Although it takes up space, you can easily organize it in a space-efficient way, for example, with this mini fridge stand or a storage rack.
With the extra shelves or drawers, you'll have a spot to store food in your dorm.
25. Tea organizer

Although this tea organizer isn't a storage necessity, it's a cute way to store your teas and keep them organized simultaneously!
This organizer is a must-have if you have a small dorm pantry and love tea.
26. Small dorm storage

You can never have enough stackable clear bins in different sizes.
They're great for make-up, haircare, first aid essentials, and other small items that are tricky to keep in one place.
27. Dorm shoe storage

If you have many shoes, a shoe rack is essential.
Many dorms have a small walk-in closet space where you could fit a shoe rack.
You could also share a shoe rack with your roommate and place it next to the door.
This post showed you the best dorm storage ideas!
You may also like: