This post shows you a list of the best dorm room kitchen essentials.
Many students will have some kitchenette or microwave station in their dorm!
You might not be able to cook 'real' meals, but a mini-fridge and microwave go a long way.
In this post, I'll list the dorm kitchen essentials you need!
From necessities like a mini-fridge and microwave to small appliances and dorm dinnerware.
So, without further ado, let's look at the must-have dorm kitchen items list.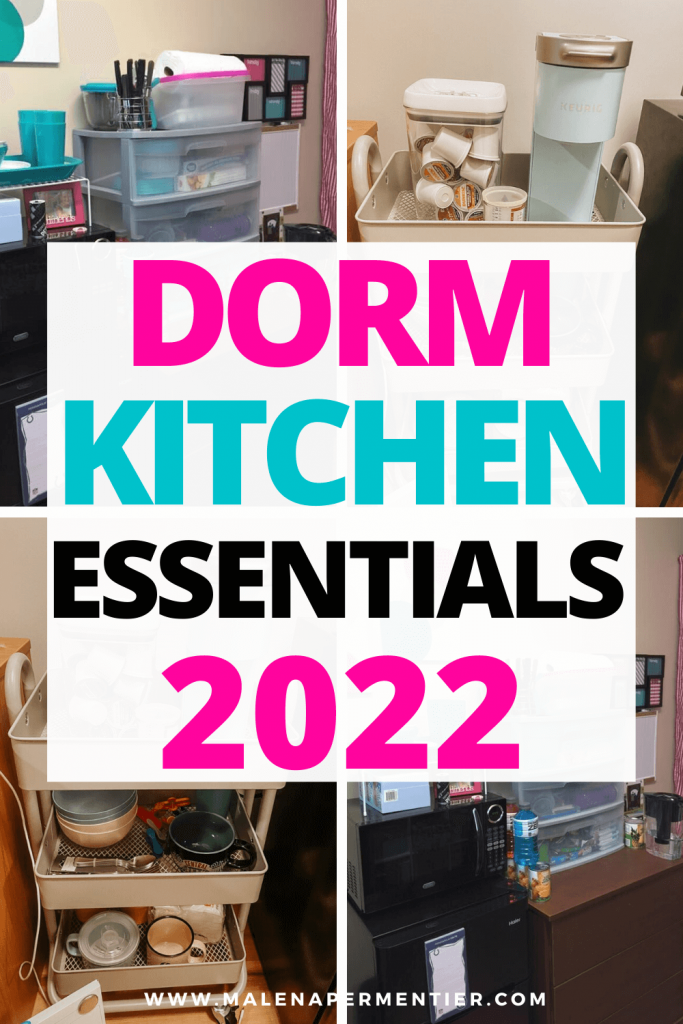 Dorm room kitchen essentials
1. Mini fridge with freezer
A dorm mini fridge with freezer will make your life so much better!!
This one is (in my opinion) the best option in terms of functionality, quality, and price.
One thing I love about Amazon is that you can get so much valuable information from the reviews.
2. Mini fridge stand with storage
Related: 13 Genius Dorm Kitchen Ideas with Mini Fridge and Microwave
You can place your mini fridge on the floor, or have fridge stand or cabinet.
If you're serious about maximizing space, this fridge frame with shelves is the best option.
Many college students get this type of fridge solution, and it's a game changer if you plan on having other appliances in your dorm kitchen too.
Recreate this:
3. Microwave
A small microwave is a necessity in dorm rooms.
It's great for hot beverages, microwave meals, or things like noodles.
The great thing is that microwaves are pretty budget-friendly.
When it comes to dorm room appliances, make a plan with your roommate to split expenses.
4. Pantry storage cart
A storage cart like this works great as a dorm pantry.
Place a coffee maker on the top shelf, and keep things like tea, coffee, snacks, and other food items on the shelves below.
Besides a rolling cart, many college students also use a small bookcase as dorm pantry.
5. Dinnerware set
Get a basic acrylic dinnerware set for your dorm room.
A kit with plates, bowls, cups, and utensils will be ideal.
You'll love having these for preparing simple meals in your dorm.
Tip: get the 5 ingredient college cookbook for easy healthy meal ideas.
6. Glass Tupperware set
Glass tupperware definitely deserves a spot on the dorm kitchen essentials list!!
I recommend glass over plastic, because it's the most microwave-safe option.
Plus, I feel glass lasts longer than plastic and doesn't keep smells.
These tupperwares are great for keeping leftovers, storing snacks, cut up fruit, etc.
I also use them to bring things like nuts and dried fruit. You never know when you need a healthy snack.
7. Fridge caddy
Optimize the space your fridge takes up with a fridge caddy.
It's basically a sleeve with pockets that you place over your fridge.
You can use it for storing dinnerware, water bottles, utensils, kcups, tea and other small items for your dorm kitchen.
8. Nutribullet
A nutribullet is a must-have for your dorm room kitchen if a healthy college lifestyle is important to you.
It's compact and efficient. You can make the most delicious smoothies in this.
My fave: 2 bananas, mixed red berries, and some kale or spinach.
Add oats for protein and to make it extra filling.
9. Electric hotpot
This electric pot is one of those holy grail dorm cooking appliances!!
It's ideal if you love making your easy warm meals.
People are raving about this pot, and I couldn't imagine a more versatile college dorm essential.
If only this existed in my time at college!! (Maybe it did, but I don't remember).
You can use this pot to make eggs, veggie stirfry, pancakes, and many more foods.
People are even preparing meat in this.
Have a scroll through the customer reviews of this electric pot for all the meal ideas and comments; it's wild what this thing can do.
10. Coffee maker (with hot water on demand)
A coffee maker is a must!! Get a K-cup coffee maker with a water tank to have hot water on demand.
It's best for tea, noodles, and other instant foods that require hot water.
My favorite dorm cooking hack every student needs to know!
11. Paper towels
Get yourself some paper towels!! You'll need them in your dorm kitchen.
This 8 pack will last you for a while.
Recreate this:
12. Cupholder
You and your roommate will probably be bringing some of your favorite mugs and cups to college.
Get a cupholder so you can store them safely and without taking up too much space.
13. Storage baskets
Storage baskets are a necessity in every dorm room.
They're great for storing pantry items, food, snacks, and more.
I recommend getting a big pack of storage baskets because it gives you the best deal.
Pretty woven storage baskets are cute, but seriously $$.
14. Brita water filter
Fill up your Brita in the hall kitchen, and you'll always have fresh, ready-to-drink water in your dorm.
Also perfect for filling up your water bottle before heading out to class in the morning.
15. Kitchen cleaning essentials
Your dorm kitchen needs a few basic cleaning essentials to keep the space fresh.
I highly recommend everything Meyer!! Smells super fresh and clean, plus it's non-toxic.
The spray is perfect for wiping down any surface.
16. Basic kitchen towels set
Have a few basic towels in your dorm for wiping surfaces, drying your hands, or cleaning up spilling accidents.
This set is cheap and will always come in handy.
17. Self-adhesive hooks
Self-adhesive hooks are fantastic to have in your dorm kitchen.
Use it for towels or kitchen utensils, for example. They stick on the wall, so no tools needed.
18. Snack clips
You need snack clips in your dorm room kitchen!! Nothing more annoying than chips going stale.
These are perfect for keeping packaged food fresh.
Go for magnetic snack clips so you can stick them on your fridge when you aren't using them.
19. K cups stand
A K cups stand looks super cute and obviously is great for storing your k cups.
Most college students have a k cups coffee machine, and if you're going to get one too, you need this stand!!
20. Collapsible dinnerware organizer
If you do some basic cooking in your dorm, you'll need to wash those dirty dishes.
This portable dish organizer is great for storing your dinnerware set and is perfect for drying your washed dishes.
21. Ziploc bags
Ziploc bags are essential if you're planning on bringing your sandwiches or snacks to class.
They're also handy for storing leftovers in the fridge.
Having Ziploc bags on hand in your dorm room is one of those underrated hacks that will make your life easier.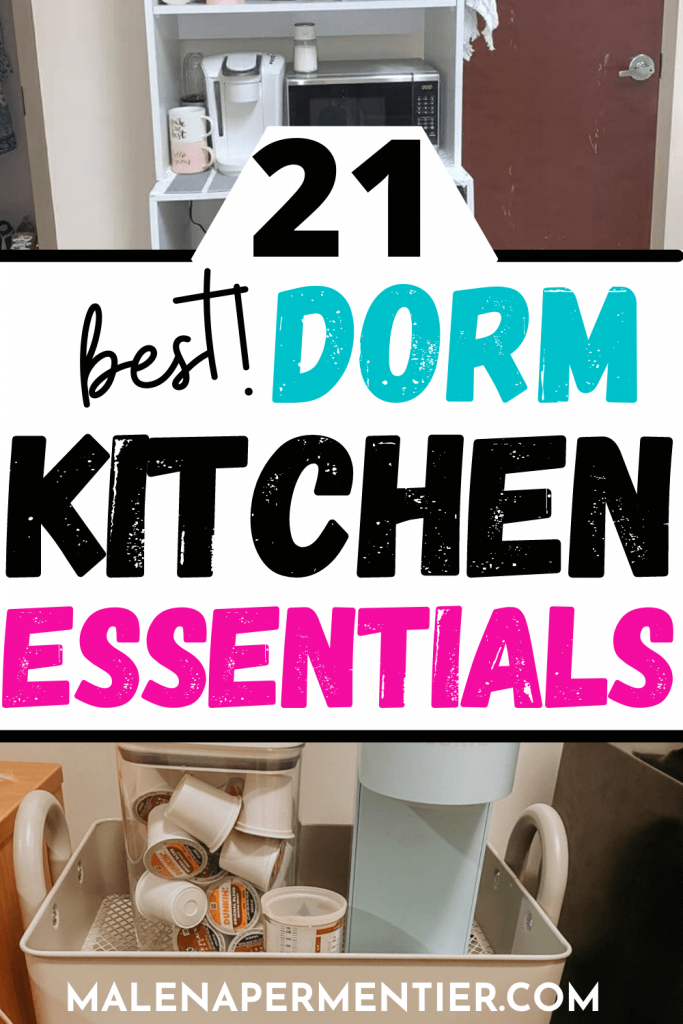 This post showed you 21 dorm room kitchen essentials.
You may also like: