This post goes over 24 important things every college student needs!
If you're off to college this year, you're probably busy wrapping your mind around everything you need.
This list includes practical everyday items you might not have thought about but are insanely important for college!!
In my experience, it's often the small items you don't think about.
So let's hop into the list with college must-haves.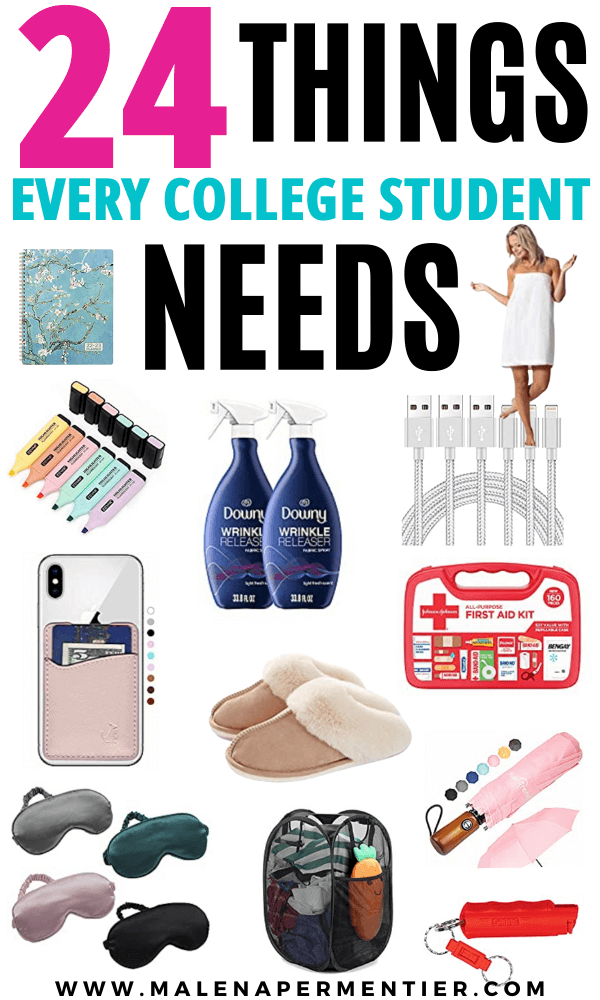 24 things every college student needs
1. Mesh shower caddy
A large mesh shower caddy is a must in college!!
You want to store all your shower and bathroom essentials comfortably so it's ready to go whenever you need them.
Always go for a mesh caddy, not a plastic one, because plastic caddies hold water and create a mess.
2. Extension cord
Get an extension cord with extra power outlets!!
You won't regret it.
Sharing the power outlets between your roommates and yourself doesn't leave you enough space for charging your appliances and lights.
3. Weekly planner notepad
When it comes to my to-do list, I easily get overwhelmed.
I NEED to see all the to-do's listed, which is why using a planner notepad is so helpful.
I didn't use this one in college, but looking at it makes me wish I did.
This notepad has more space than a regular planner.
It's also ideal for writing down extra notes and pointers for college projects and essays you're working on.
4. Planner
It would be best if you also had a planner that you can easily throw in your bag and take everywhere.
If you use a planner along with the planner notepad, you can use the notepad to write down more details.
For example, write down important notes about your subjects, ideas you had to give an essay structure, or other important pointers that will make studying easier.
This planner is perfect for day-to-day stuff, schedules, social events, and marking important dates for tests and deadlines.
5. Air purifier
I know I will be that lame person who will list an air purifier in the list of "what every college student needs," but I don't care!!
Roommates living in a dorm can be cramped, and the air isn't always ideal.
I've been using this Levoit air purifier for about 6 months now, and I'd never go without it anymore!!
I got it because I live in a small city apartment, and my bedroom has a very poor ventilation system.
6. Mattress pad
A mattress pad is great for comfort and for feeling more hygienic.
After all, people have used this mattress before you! (most likely).
At most colleges, the mattresses are pretty basic.
So if you want to make your bed comfier, a mattress pad will be your savior.
7. Laundry hamper
Laundry organizing is quite a thing in college.
After all, you don't live at home anymore, where you can walk to the laundry room and dump your dirty clothing.
Make sure to get a hamper (one for dark, one for light) or laundry bags if you prefer.
8. Sleep masks
You and your roommates won't always have the same schedule, and if you're a light sleeper, that's super annoying.
Make sure to get sleep masks and wax earplugs for deep sleep.
9. Extra-long phone charging cord
Get an extra-long phone charging cord for your dorm room!!
On Amazon, you can buy them in packs of 2 or 3, which is handy, so you can always keep a charging cord in your backpack and one in your dorm room.
Extra-long cables are the best, so you can sit or lie down however you want while charging your phone.
10. Wrinkle releaser
I highly recommend using clothing that doesn't need ironing, but if it does, downy wrinkle release is a must-have.
I also swear by using a clothing steamer—everything to avoid ironing clothing because it takes so much time.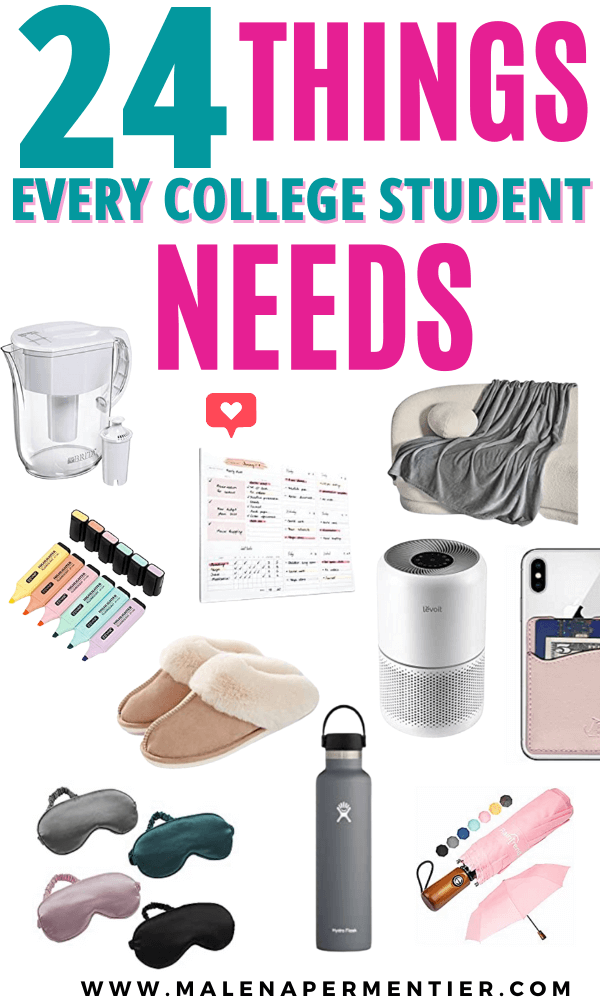 11. Comfy throw blanket
A comfy fleece blanket is something you will use all the time!!
Especially if your college is on the east coast.
Keep it on your lap while studying at your desk or chilling in bed.
12. Slippers
Get some comfy slippers to walk around your dorm room and shared spaces like the bathrooms.
I always prefer closed slippers over open ones. It keeps your feet warm.
13. Water bottle
A water bottle will save you money and is better for the environment.
This is one thing I wouldn't save money on because you want to get a good quality one!!
14. Water filter
Keep a water filter in your dorm, so you always have water on hand!!
It's perfect for filling your water bottle in the morning before heading out for classes.
15. LED desk lamp
You will have desk lights in some college dorms, but most don't.
This light is perfect for those late nights studying and staying focused.
16. Cardholder that sticks on your phone
if you're prone to losing things, this cardholder that sticks on your phone is a must-have for college students.
My sister swears by these!!
17. Sharpies
These are the highlighters I used throughout college.
They're thicker than the 'real' sharpies, which I find much more convenient when highlighting stuff.
But I guess that's a matter of preference :).
18. Compact umbrella
Umbrellas are a must on campus! Get a compact one that fits in your backpack.
They are cheap and available in many different colors.
19. Towel wrap
Get a towel wrap or a bathrobe to make the trips from your dorm room to the bathrooms (and back) effortless.
20. Bedside caddy
A bedside caddy is handy for keeping all sorts of small items within hand reach.
Things to keep here: phone, water bottle, sleep mask, earplugs, current reads.
21. Pepperspray keychain
When you're off to college, you need to take a moment to think about safety.
Avoid walking home late at night (and alone).
But just in case, get a pepper spray keychain holder to defend yourself if necessary.
22. Lysol wipes kit
Keeping your dorm room and belongings clean is so important!!
Especially in these #covidtimes. Use Lysol wipes to clean your desk, laptop, bedframe, door handles, etc.
There is no need to be obsessive about it; just do it a few times a week.
23. First aid kit essentials
Get a first-aid with all the essentials like band-aids in different sizes, gauze pads, pain relief cremes, and other necessities.
You never know when you might need something; having it in your dorm room is ideal.
24. Small dorm room fan
A small fan is a must-have during the warmer months in college!!
For some reason, dorms get so hot quickly, with limited airflow.
This is a lifesaver for studying! You can also get a small clip-on fan for your bed.
This post showed you 24 things every college student needs!
You might also like: