This post shows you the best inspo for modern bohemian living rooms.
Modern and bohemian interior styles couldn't be more different! And maybe that's why they look great together.
In the living rooms below, you'll find lots of greenery, wall decor ideas, unique ways of mixing textures, and much more inspo.
Modern bohemian interior design combines playful colors and prints with clean lines – a beautiful combo that I'm a big fan of.
Please find below each image the name + Instagram tag of the creators!
Pin it for later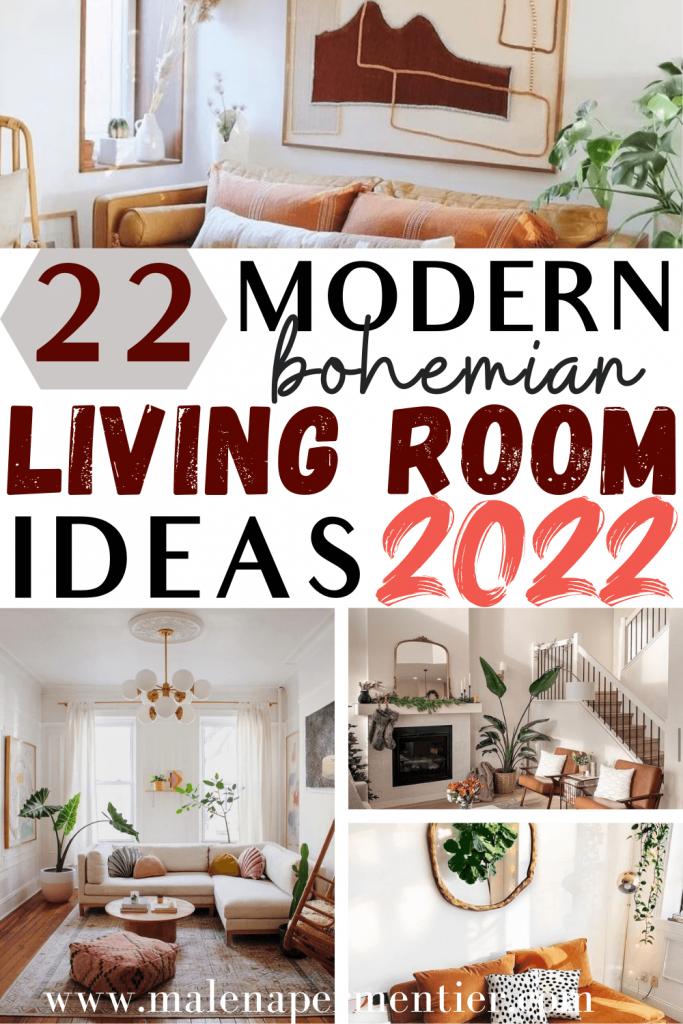 Modern boho furniture favorites

Modern bohemian living room ideas
1. Boho living room colors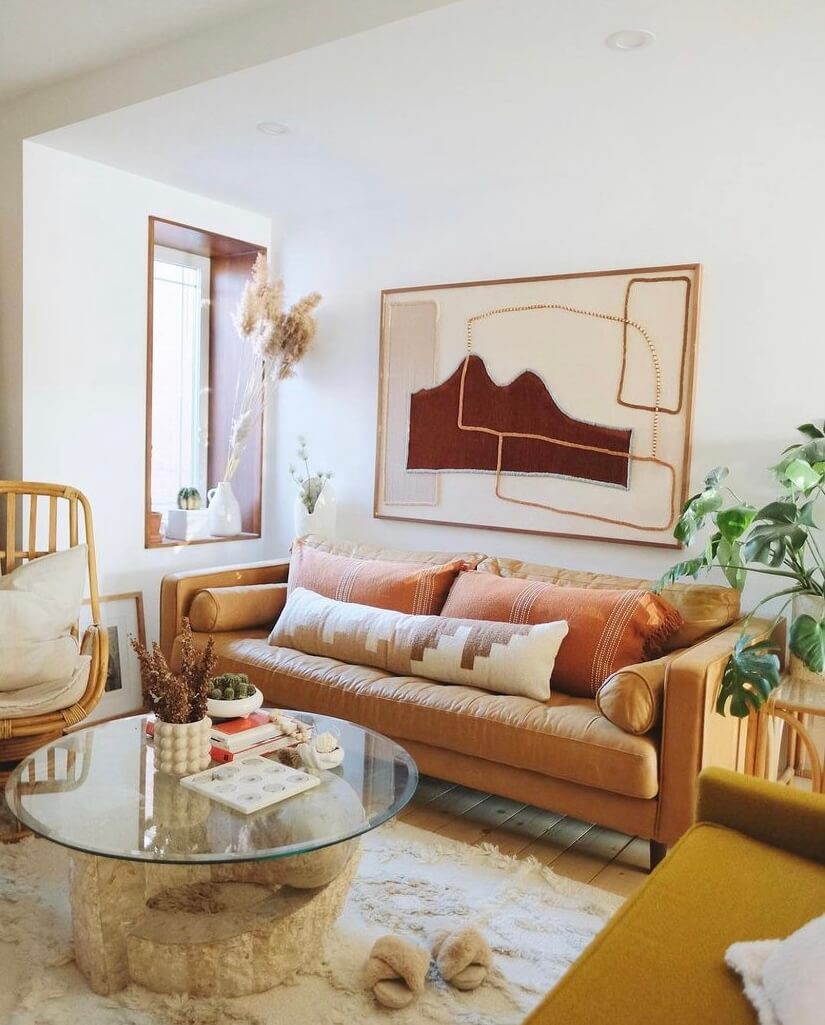 This boho living room interior mixes warm colors like orange, mustard, and reds with neutrals. Neutrals are always a great building block to go with colors!
This textured rug pulls the living room furniture and style together. Light wood and rattan also look great with warm colors.
2. Modern living room with bohemian accents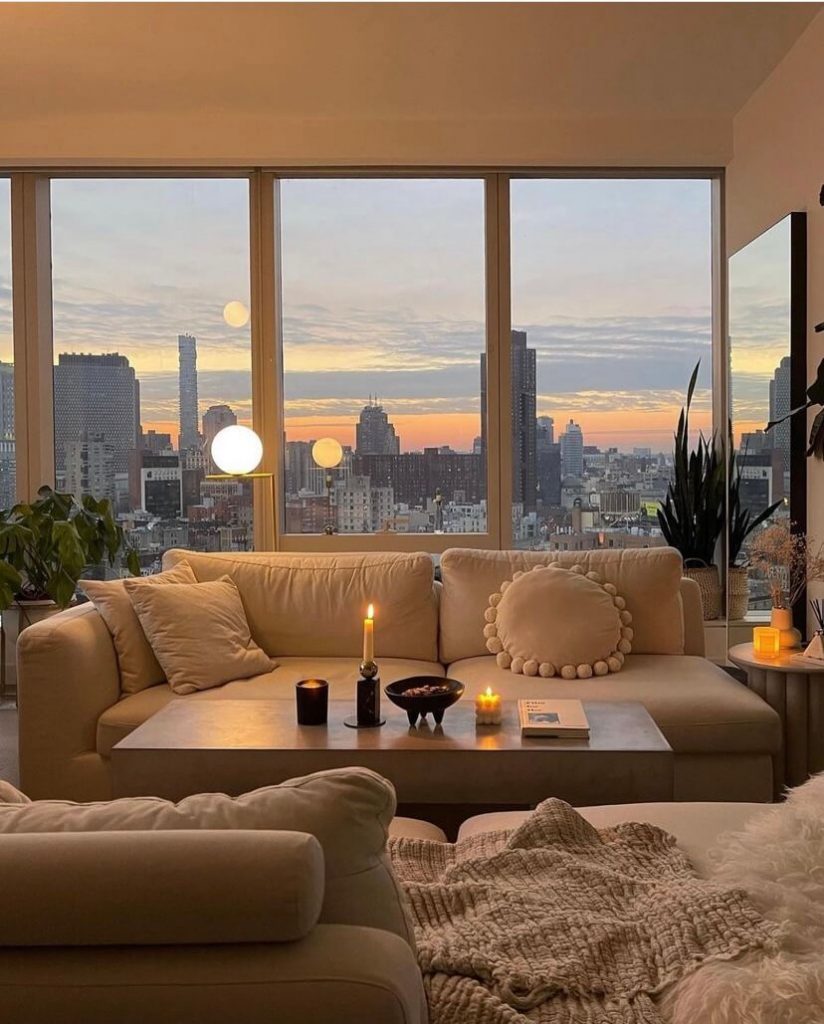 Mix in subtle bohemian accents in a modern living room! Think of throw blankets with different textures, a sheep rug, pillows with tassels or pom poms, and lots of playful greenery.
You can recognize modern living rooms by their focus on light colors and clean lines. You can add an extra dimension to your space by mixing different fabrics, prints, and textures.
3. Gray-blue couch and neutral colors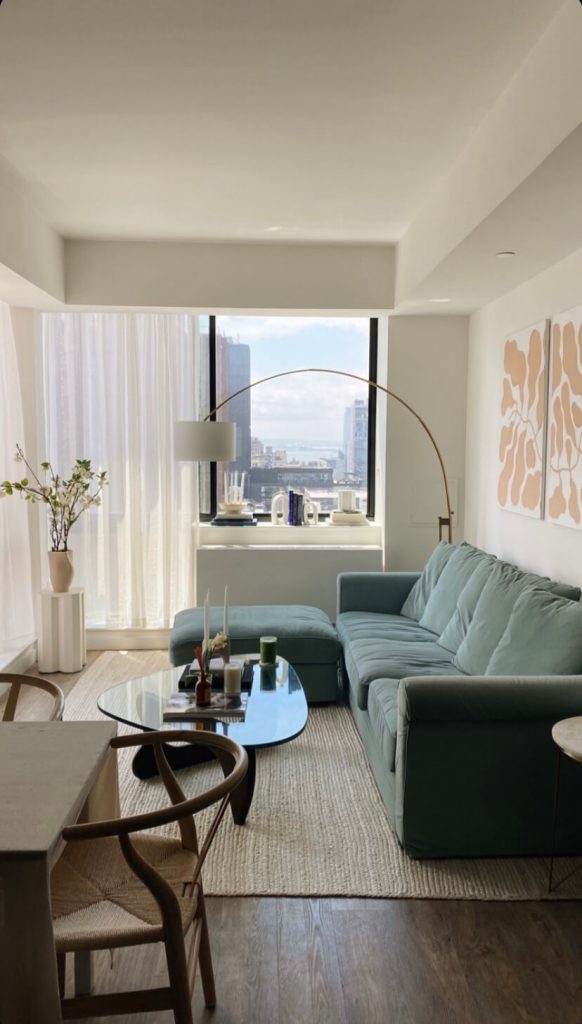 I love this minimalist modern living room with bohemian details. If you love color but also want to keep your space looking light and bright, consider adding only one subtly colorful item to your space.
This blue-gray couch pulls the living room together, and I love the mixing of materials in this living room.
4. Unique throw pillows and boho rug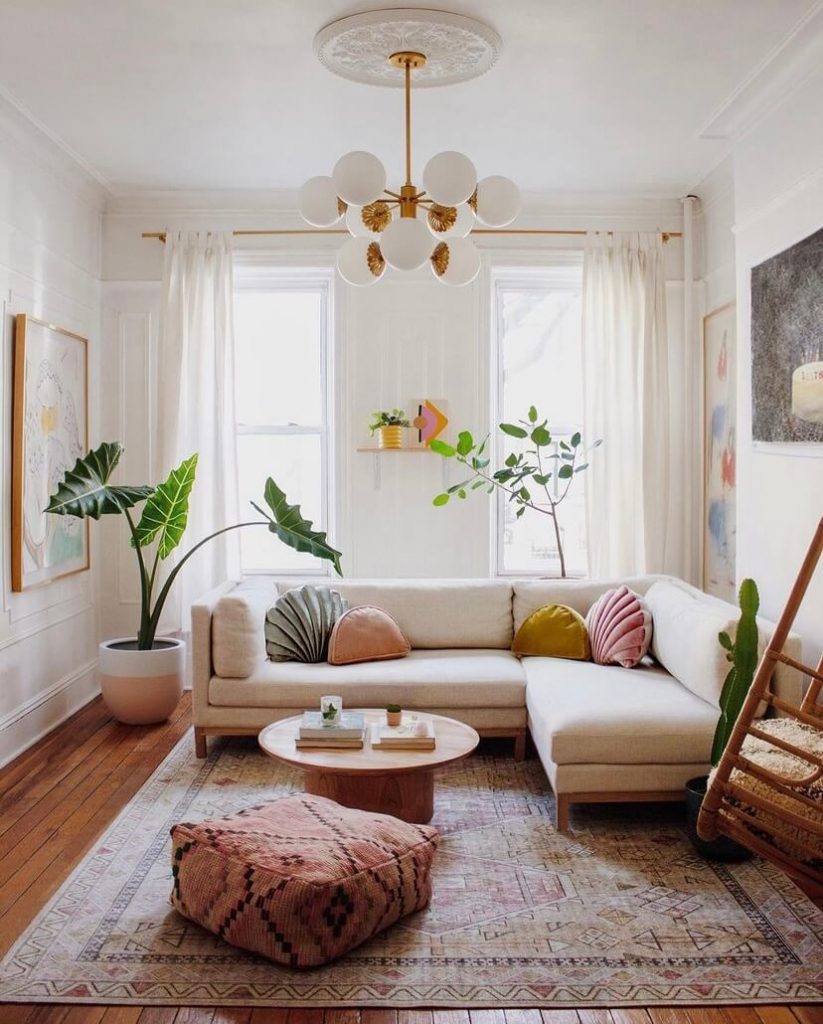 A large neutral sectional with a bohemian rug sets the tone for this living room. Pick small unique items like throw pillows (how cool are these shell pillows?!) and a printed ottoman to elevate the boho aesthetic in your space.
5. Living room with earthy colors like brown and green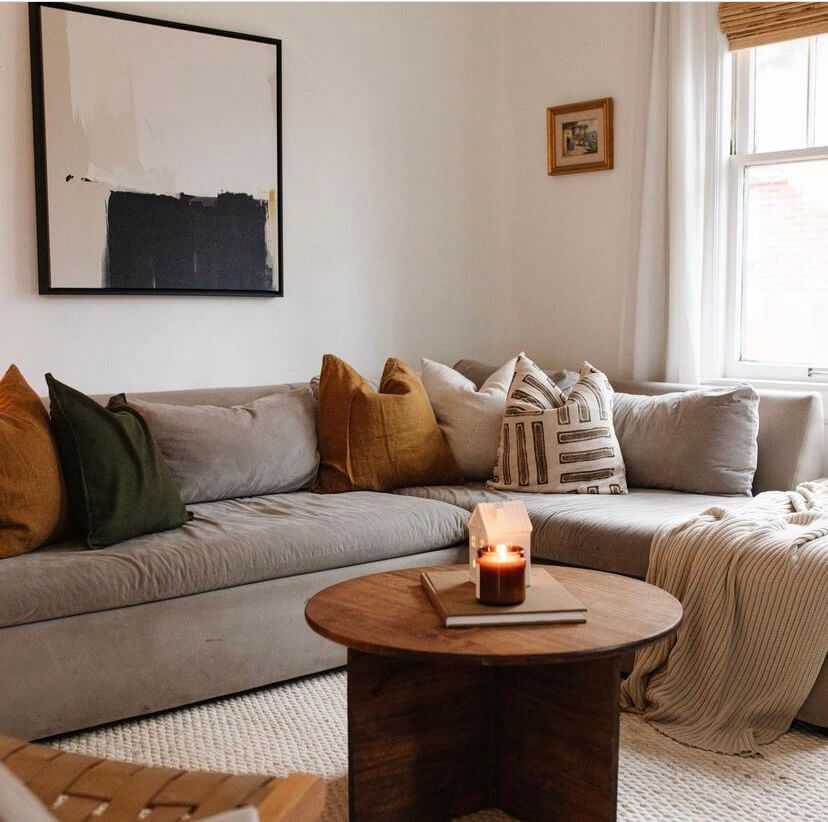 The epitome of the modern bohemian aesthetic: mixing earthy colors like brown, green, and neutrals! Create a cozy sitting corner with lots of throw pillows, blankets, and beautiful wall art over the sofa.
Related: How To Decorate Above Your Sofa (20 Brilliant Ideas on a Budget)
6. Bohemian chic living room with greenery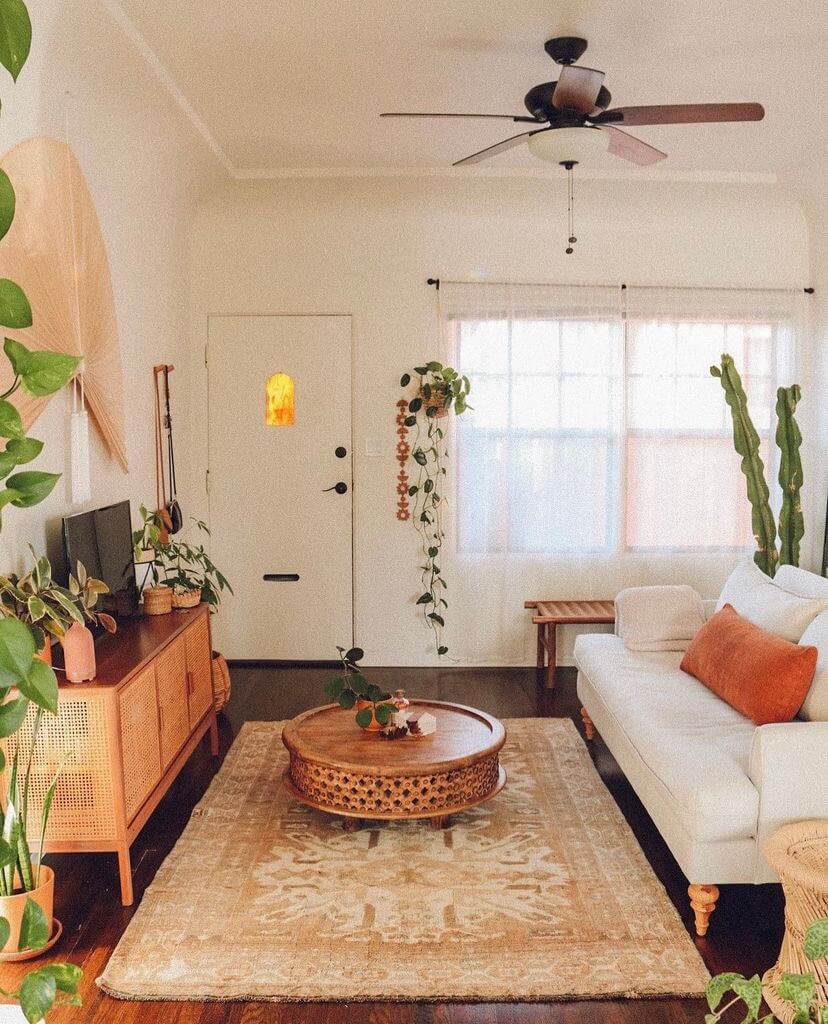 Furniture items like a TV console and coffee table can help pull your interior together!! We often tend to focus on the couch and smaller decorative items, but finding unique furniture is so worth it.
This living room is the perfect mix between boho and chic, with lots of greenery, warm colors, and luxurious fabrics and decor.
7. Light living room with subtle colors and greenery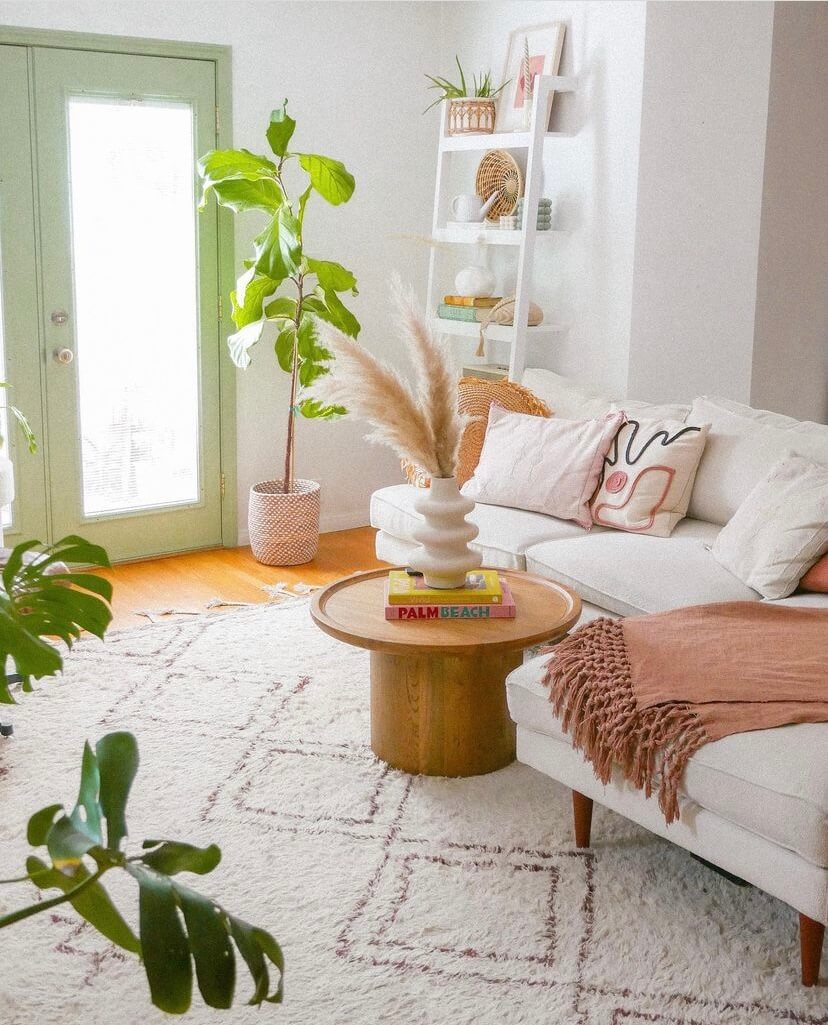 Natural elements like plants, dried greenery, or even faux pampas grass are great to finalize your living room decor.
I also love how this living room with lots of neutrals leaves a ton of space to get creative with unique decorative items and prints.
Related: 19 Pampas Grass Decor Ideas That You Can Recreate In Under 10 minutes
8. Neutral space with rich textures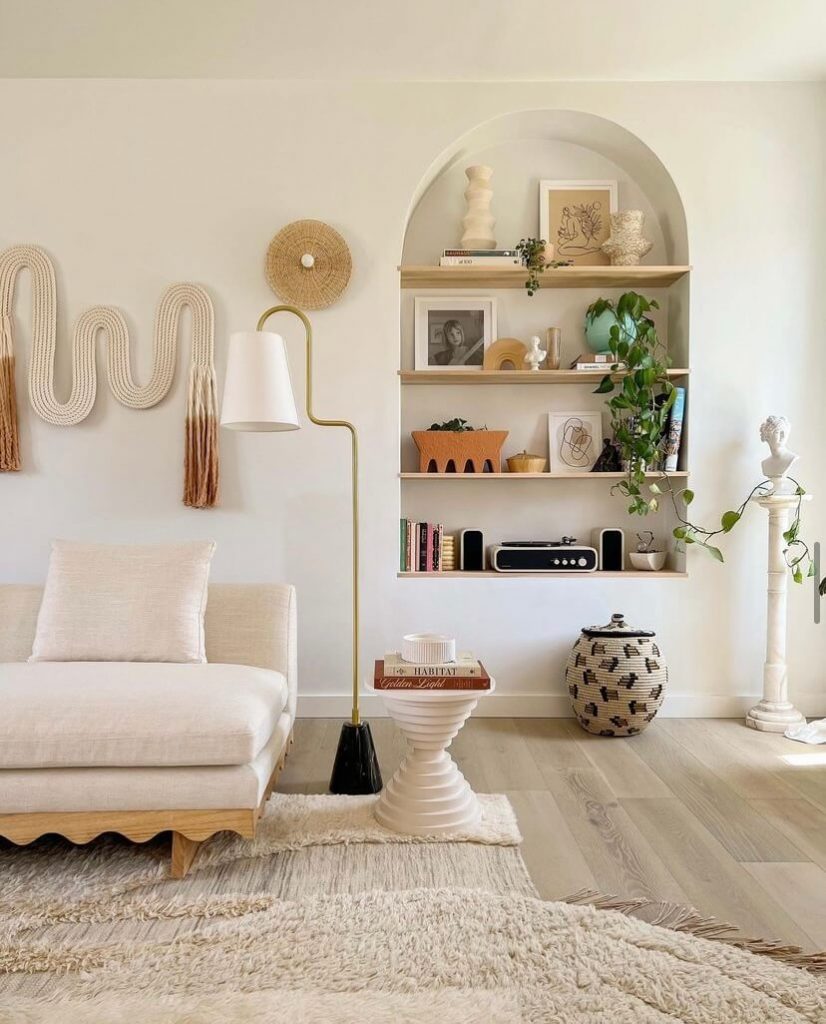 Combining different textures in a neutral living room gives it a fun and exciting dimension. When sticking to a neutral color scheme, mixing a wealth of textures like boucle, linen, ceramics, and marble will never overwhelm a space. On the contrary, it only elevates!!
I also love this quirky, bohemian area rug with tassels. It's the perfect playful balance for a living room with modern, minimalist furniture.
9. Quirky, modern, and boho accents
We often think we have to stick to strictly one interior design style. But the opposite is true. Combing different designs is what makes living rooms come alive.
Combine a bohemian printed rug with a modern marble table and hang funky light fixtures and art for a warm and welcoming space.
10. Houseplants and greenery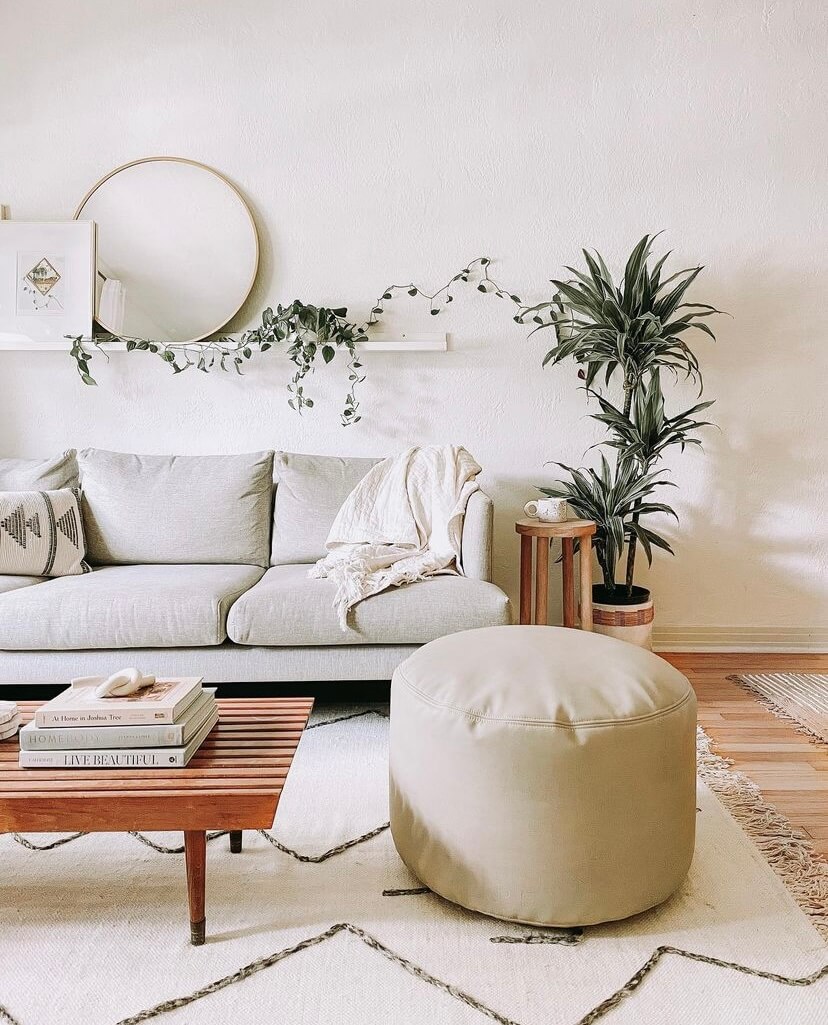 One of my favorite ways to create a warm and bohemian feel in a living room is with greenery. Consider decorating with ivy vines and lush leafy plants for a cool aesthetic.
This room shows us how a space can be bohemian, minimalist, and modern simultaneously. The wood coffee table and side table add warmth to the space.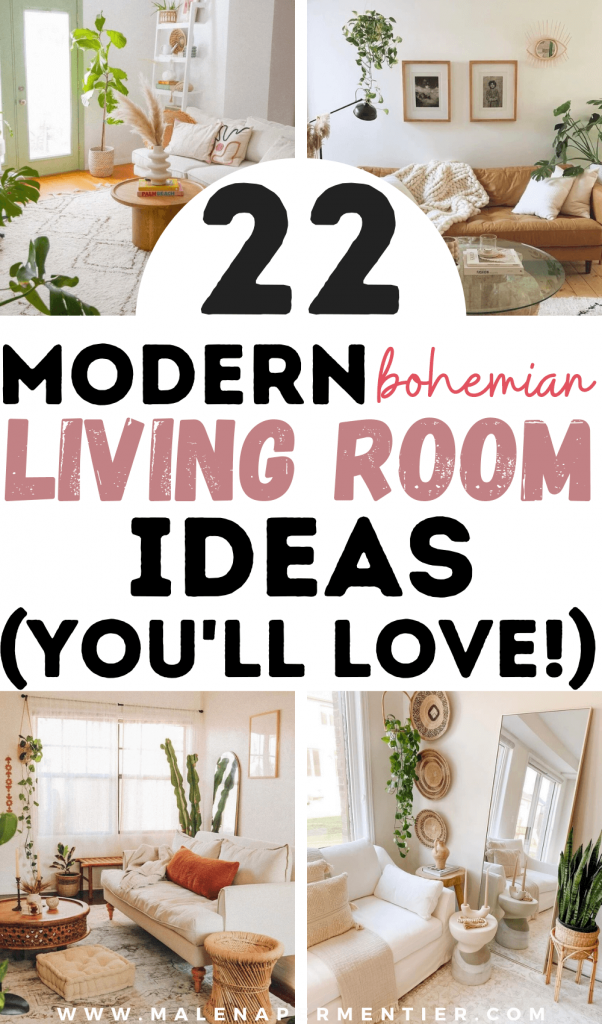 11. Wall art with neutral colors
A great thing to consider for your living room is to keep your main furniture neutral and timeless and add funky and bohemian wall art. This will give you more flexibility in the long run, as you can always change the print of your wall art.
12. Brown leather accent chairs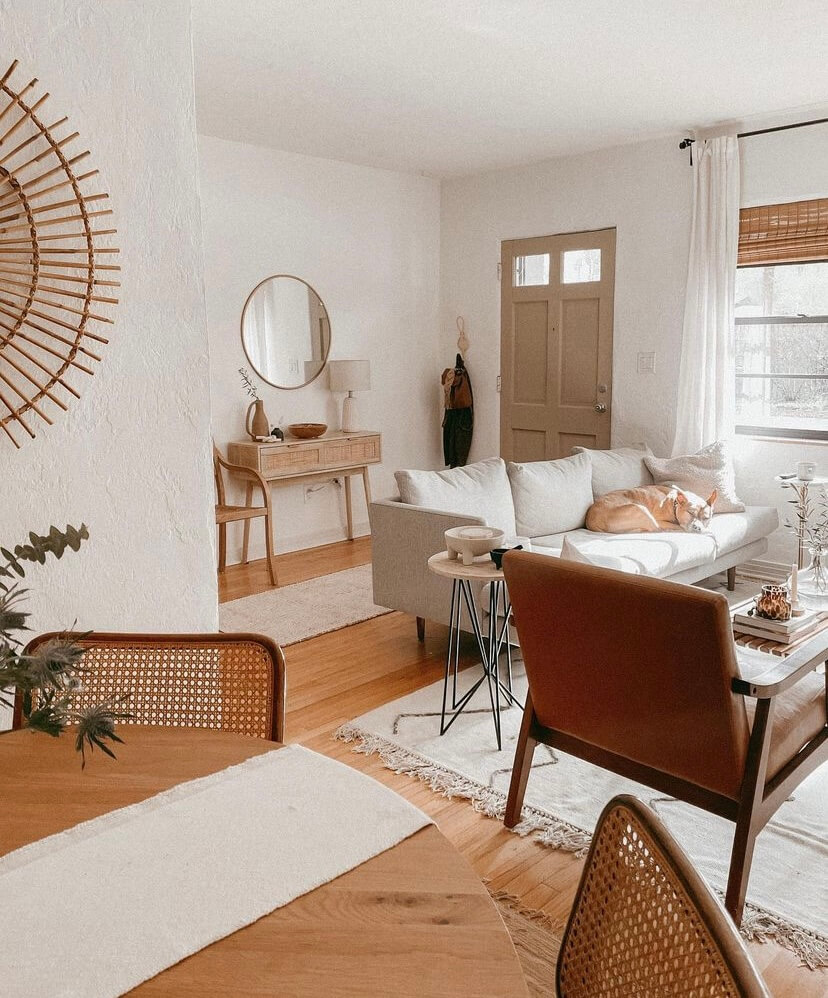 A good accent chair has the potential to pull your living room together!! These leather + wood accent chairs have been trendy as of late, and I understand why.
Related: The 17 Best Accent Chair Ideas for a Small Living Room to Create Extra Seating Space
13. Tall curved mirror in a bohemian space
Want to give a living room a warm and soft feel? Add in soft shapes!! It's that simple. The curved mirror and playful rattan side table look incredible. Don't be afraid to mix up the materials of your living room furniture. It's critical for achieving that effortless modern boho aesthetic.
14. Small decorative items to pull the seating area together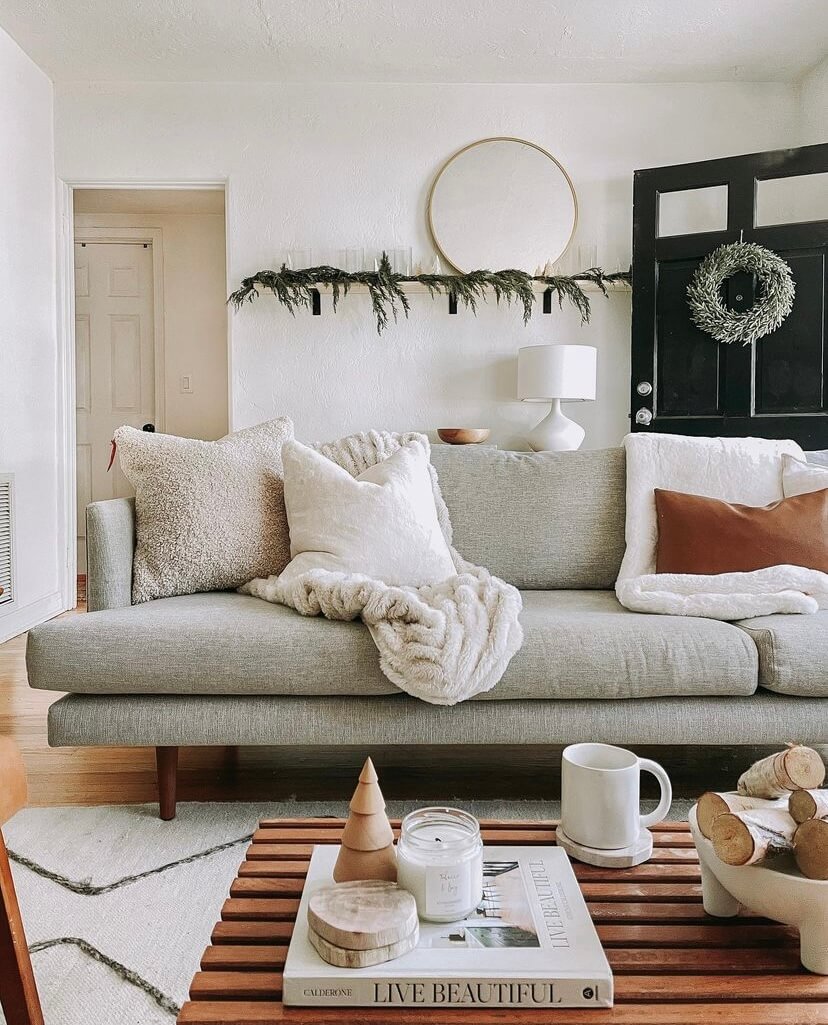 Never underestimate the power of small decorative items like coffee table books, wood coasters, and a ceramic bowl!
Also, loving the subtle Christmas decor in this living room!
Related: 30 Best White and Green Christmas Decor Ideas on a Budget
15. Gold mantle mirror and lush plants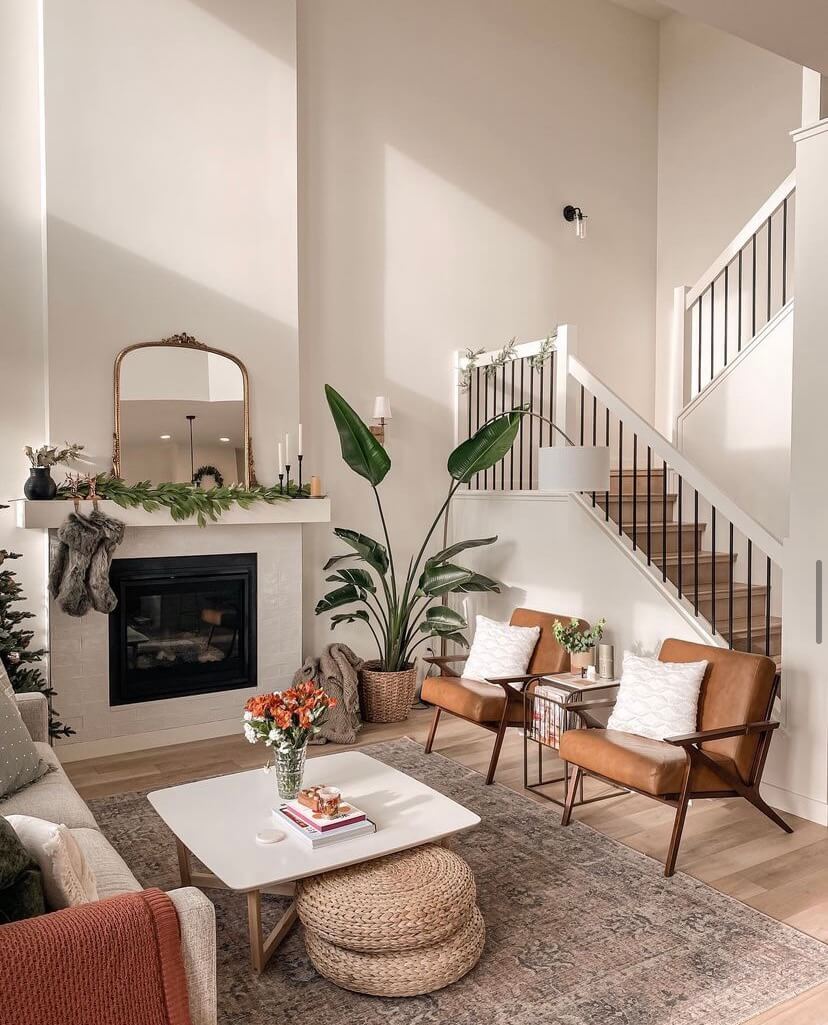 A gold antique mantle mirror, bohemian area rug, and jute ottoman poufs are a natural power combo!! Luckily those are all items you can get relatively affordable.
16. Burnt orange sofa and quirky throw pillows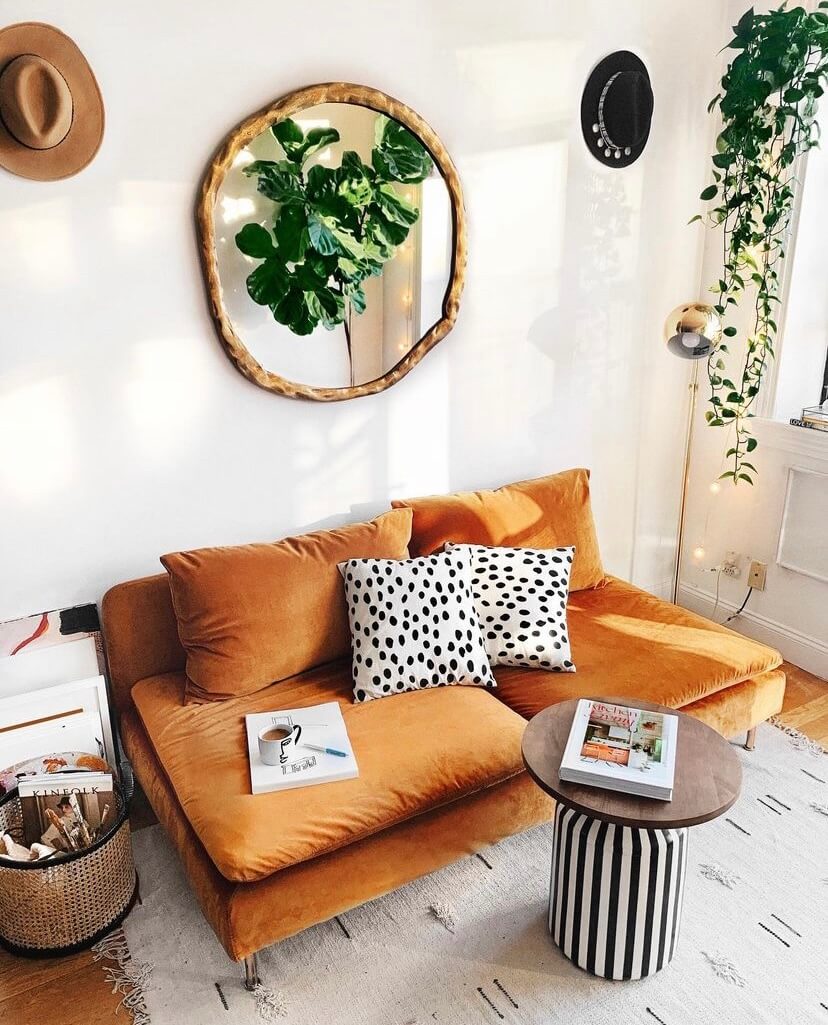 A burnt orange sofa is a beautiful living room statement with a boho aesthetic! Pair the couch with quirky pillows and mix in other prints.
I love everything about this space and how well it works for a small apartment living room.
17. Boho wall decor with large living room mirror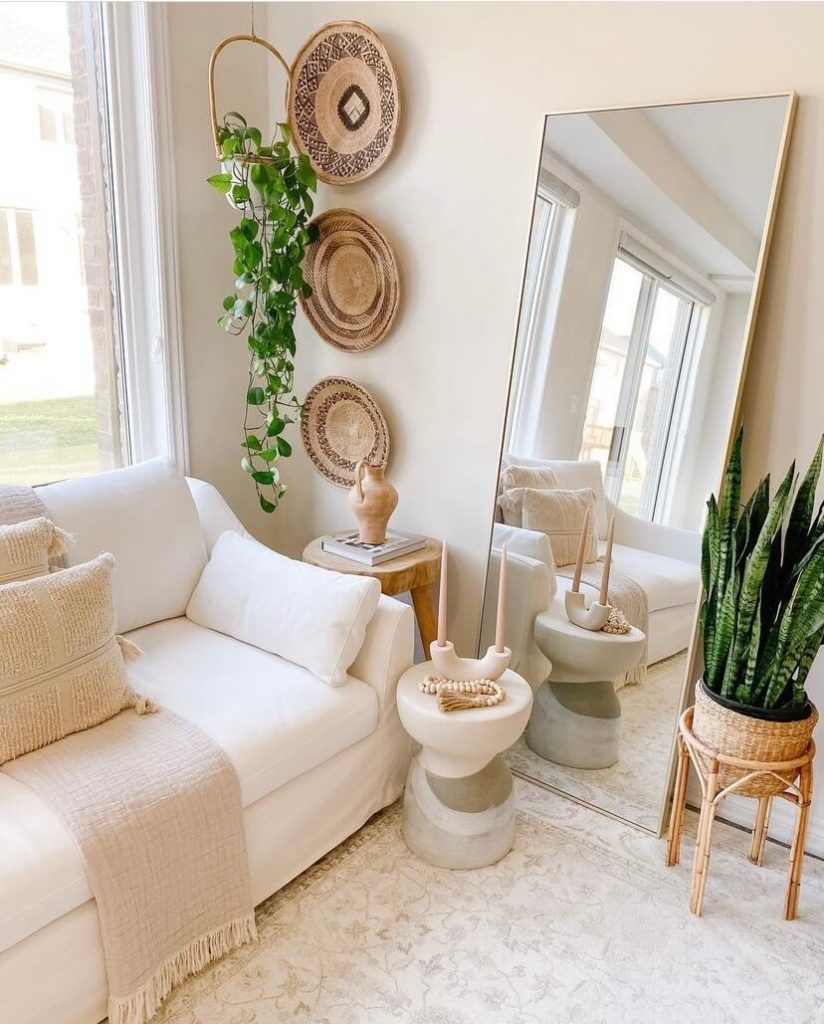 Consider adding a large standing mirror in your seating area to open up the space! It's a great trick to make your living room look bigger. I also love the boho wall decor.
Macrame and woven wall decor in this living room are great accents to elevate a bohemian aesthetic.
18. Mixing textures like concrete with soft fabrics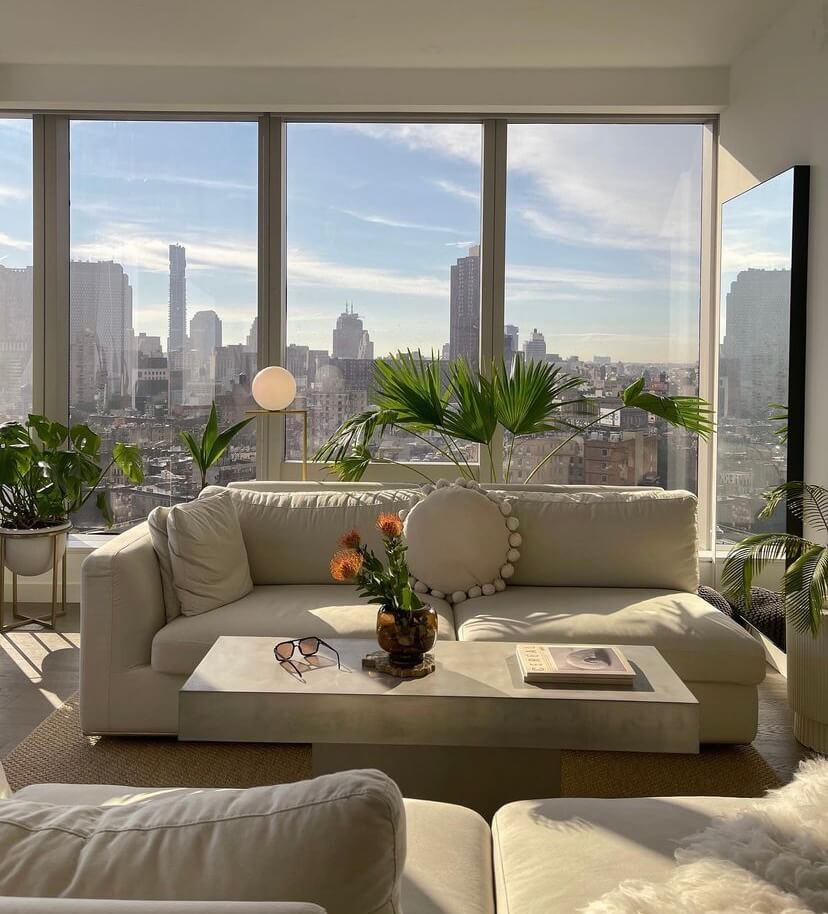 This concrete bench used as a coffee table is the perfect balance to the minimalist white sofas and indoor plants. Consider unexpected materials like concrete to enhance your living room design.
Also, this room is an excellent example of what a tall mirror can do for a space! Let it face the windows to make your living room appear bigger.
19. Mixing materials like wood, metal, and marble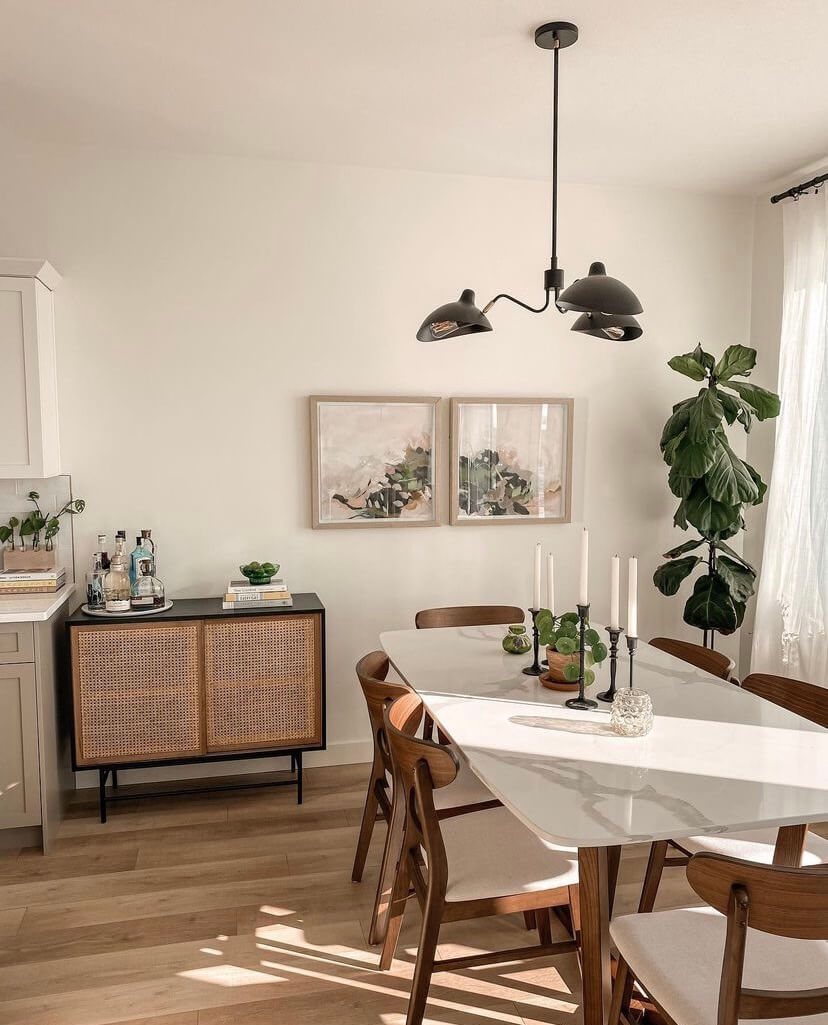 Materials look wood, metal, and marble look amazing together. If you want to give your modern living room a subtle bohemian feel, do so with the chairs, art, bar cabinet, and plants.
20. Camel leather couch with wood accents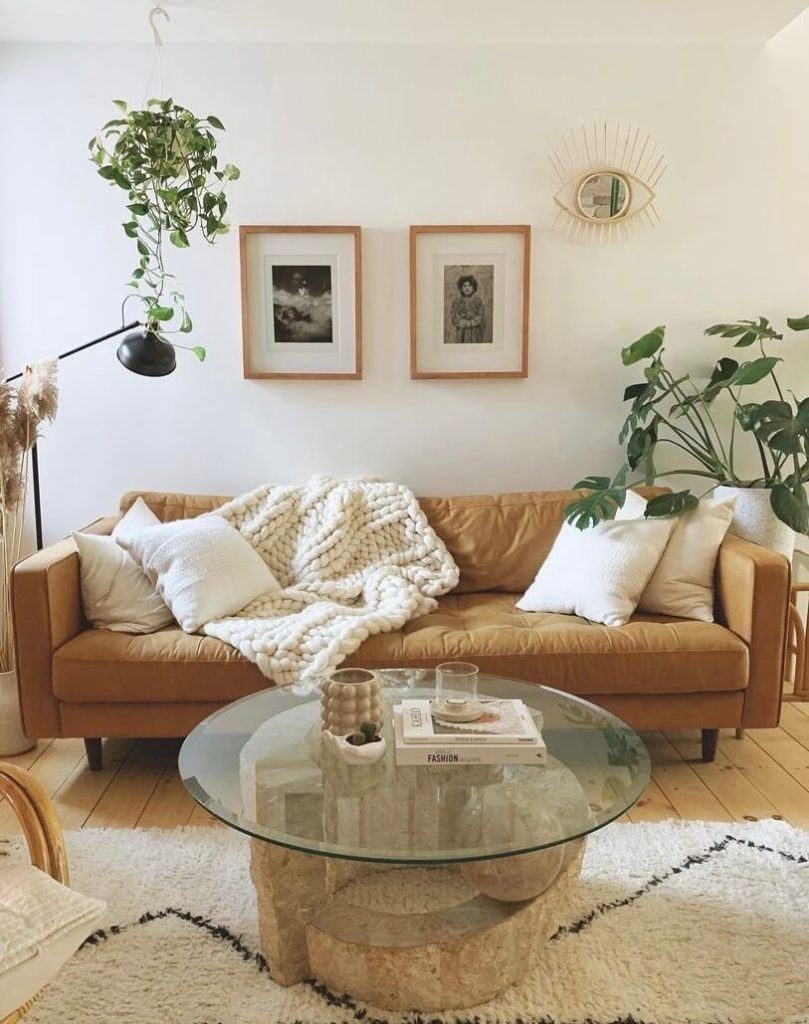 A brown or camel leather couch is a favorite for bohemian living rooms!! It's a color that creates a warm ambiance and looks fantastic with various materials and textures.
Pull your seating area together with wall art, plant hangers, and lush pampas grass stems. A chunky woven throw blanket also works wonders to make everything come together.
21. Modern furniture and mixing textures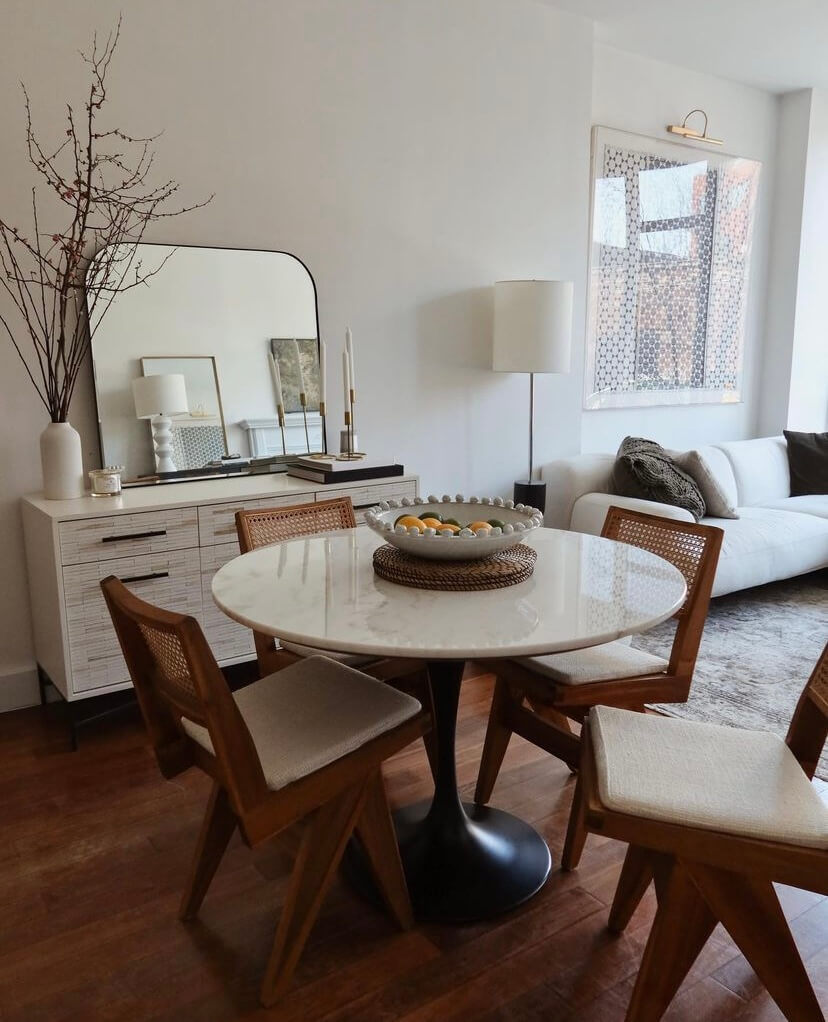 I love this dining table situation! This playful modern living room brims with warmth and style. Mix wood with luxurious materials like marble and polished wood.
Also, low-key obsessed with the giant artwork hanging over the couch. Especially in smaller spaces, a large artwork often looks better than several more petite frames.
22. Indoor plants with warm neutrals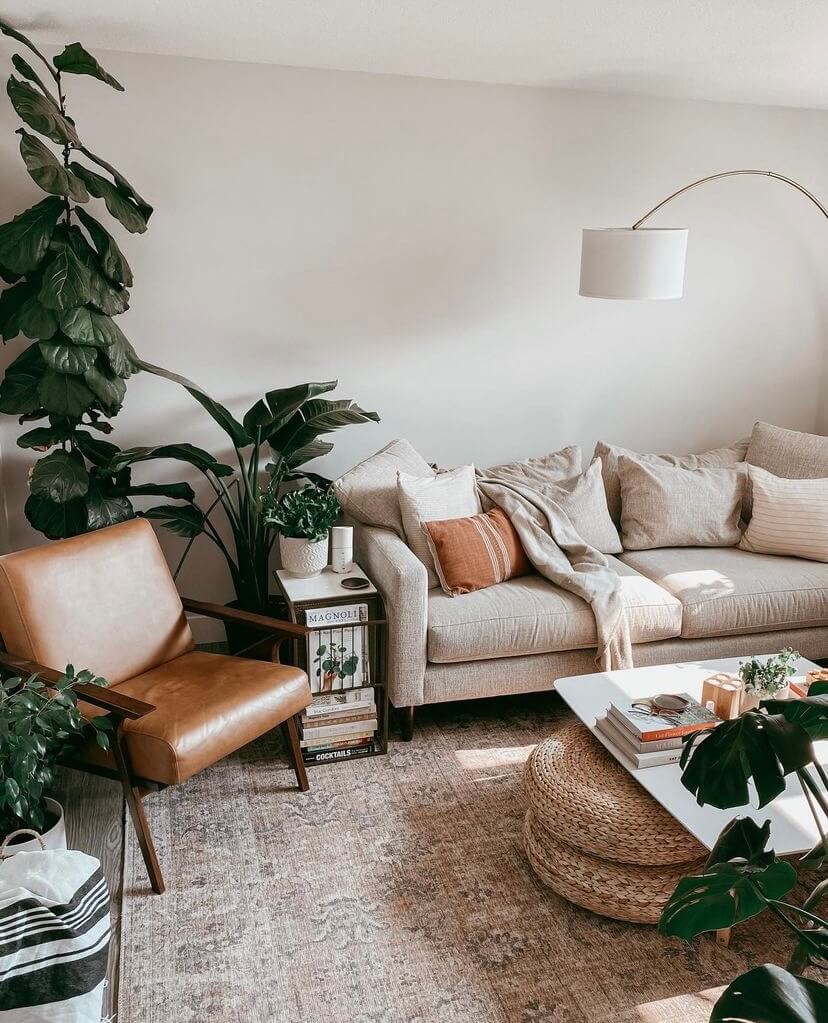 People can say whatever they want about the fiddle leaf fig, but it's still one of my favorite plants!! This room proves how much it can do for a space. Place a large leafy plant behind a chair for a put-together and botanical look.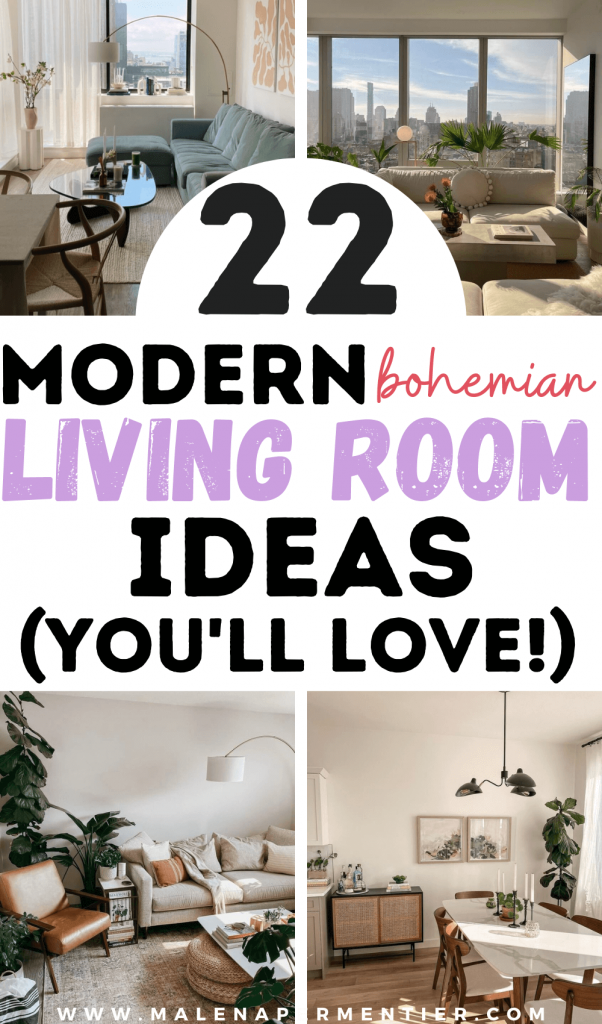 This post showed you the 22 best modern bohemian living rooms.