Hey there! Some links on this page are affiliate links which means that, if you choose to make a purchase, I may earn a small commission at no extra cost to you. I greatly appreciate your support!
Looking for creative ways to decorate with mirrors in your living room? Then You'll love these 17 mirror wall & floor decor ideas!
Decorating with mirrors in your living room is one of the oldest interior design tricks in the book. It makes a room look larger, and when picking the right mirror design it will elevate your living room interior.
There are many different ways to decorate with mirrors. For example, large floor mirrors leaning against the wall or horizontal mirrors over the couch.
Where should a mirror be placed in a living room?
Where a mirror should be placed in your living room depends on the intention. Do you want to use mirrors to make a small space appear larger? Is it for decor only? Or maybe both.
A few good spots for floor mirrors are beside your TV console, in your seating area next to the couch, or in the spot that connects your living room to your entry or kitchen.
Particularly in narrow living rooms, a large floor mirror can really help open the space and make your apartment look bigger.
Your mirror will reflect other areas of your living room. So make sure that the mirror faces something you want to have amplified! This is an important principle in feng shui. Let the mirror face a window, plants, or something beautiful like an artwork on the wall.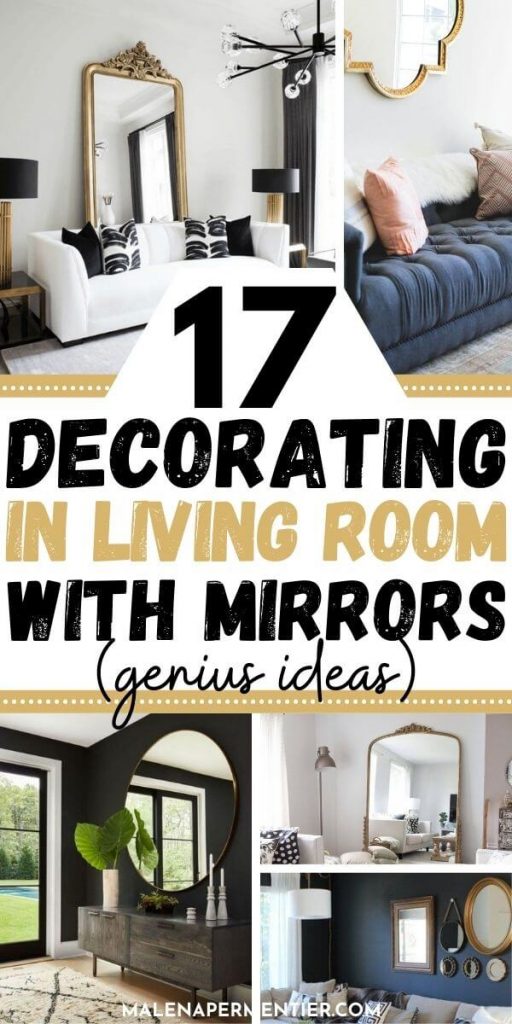 Decorating with mirrors in living room
Visual examples are always the most powerful when getting inspiration for our homes and spaces. The below 17 mirrors in the living room ideas are modern, beautiful, and easy to recreate!
Whether you're looking for small living room mirror ideas or the best mirror wall decor for any space, the below pictures will come in handy making up your mind about the type, color, and style of mirror you want.
1. Full length mirror in the living room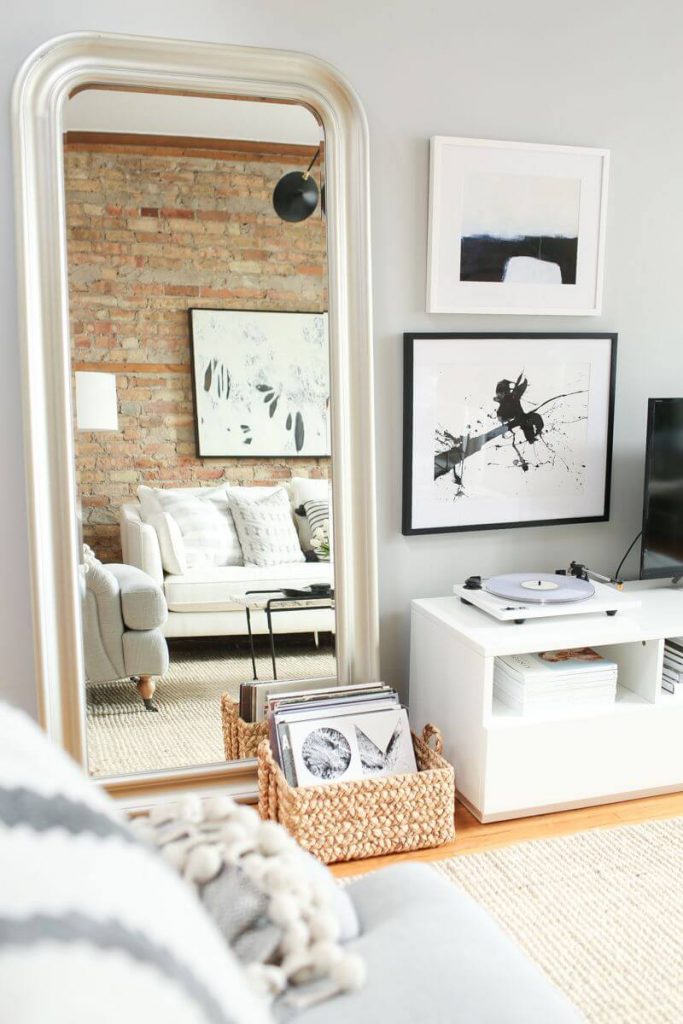 This incredibly cool and minimalist living room shows the clever placement of a large standing mirror next to the TV media console. The mirror reflects the rustic brick wall in the living room, amplifying its coolness! Always face your mirror to a spot you want to draw attention to in the room.
Thick frame mirror:

2. Decorating with mirrors over sofa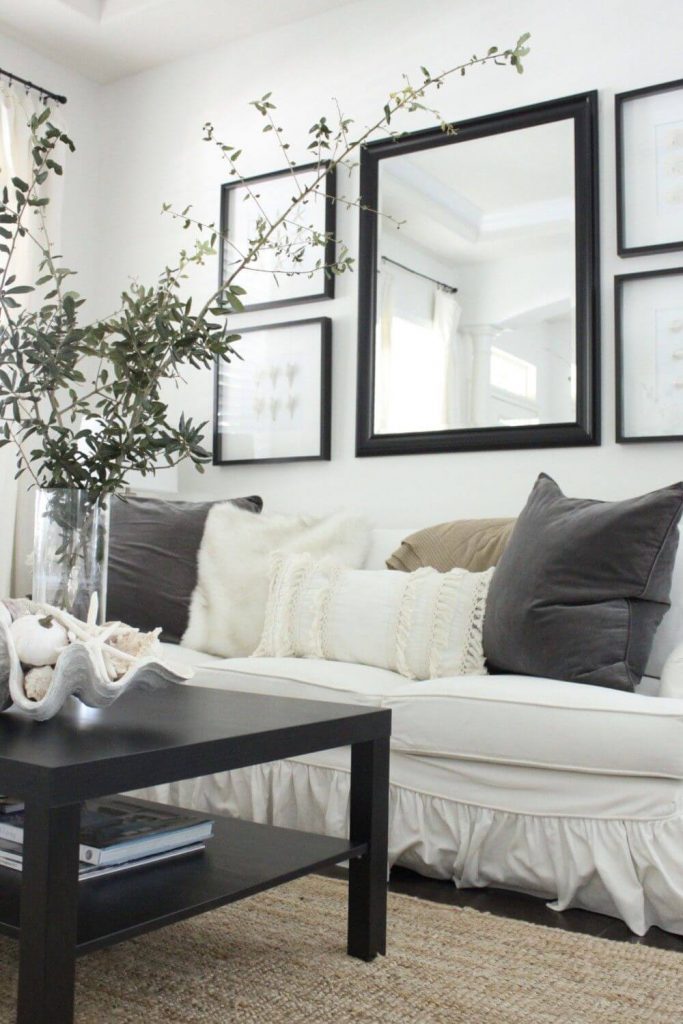 This living room shows how to decorate with mirrors over the sofa. As you can see in the image, the mirror reflects the window, which makes the room look brighter. A great mirror wall decor idea is to combine your mirror with art alongside it.
Related: How To Decorate Above Your Sofa (20 Brilliant Ideas on a Budget)
3. Minimalist arched floor mirror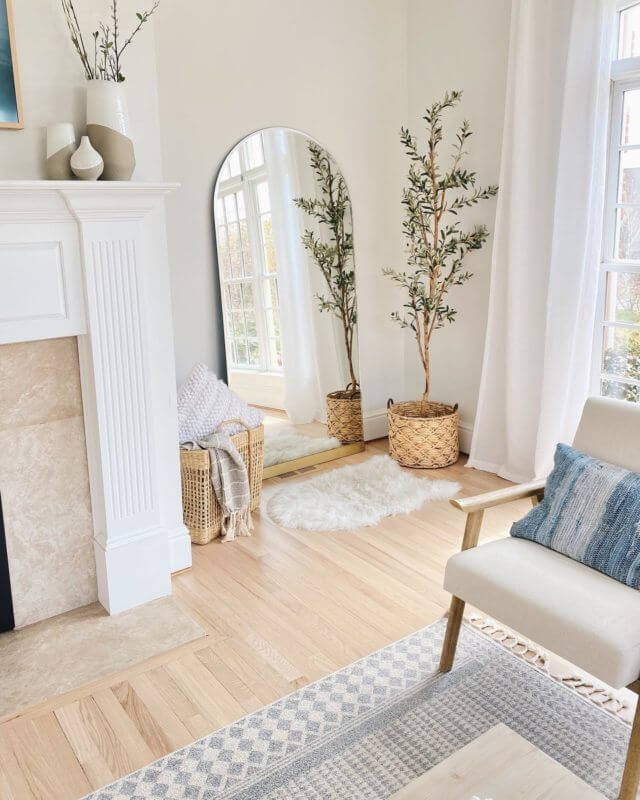 Arched mirrors are my favorite because their soft shape looks great in any space! The minimalist design of an arched floor mirror like this doesn't take up too much attention, but definitely elevates your living room interior.
Top-rated arched floor mirrors
4. French mantel mirror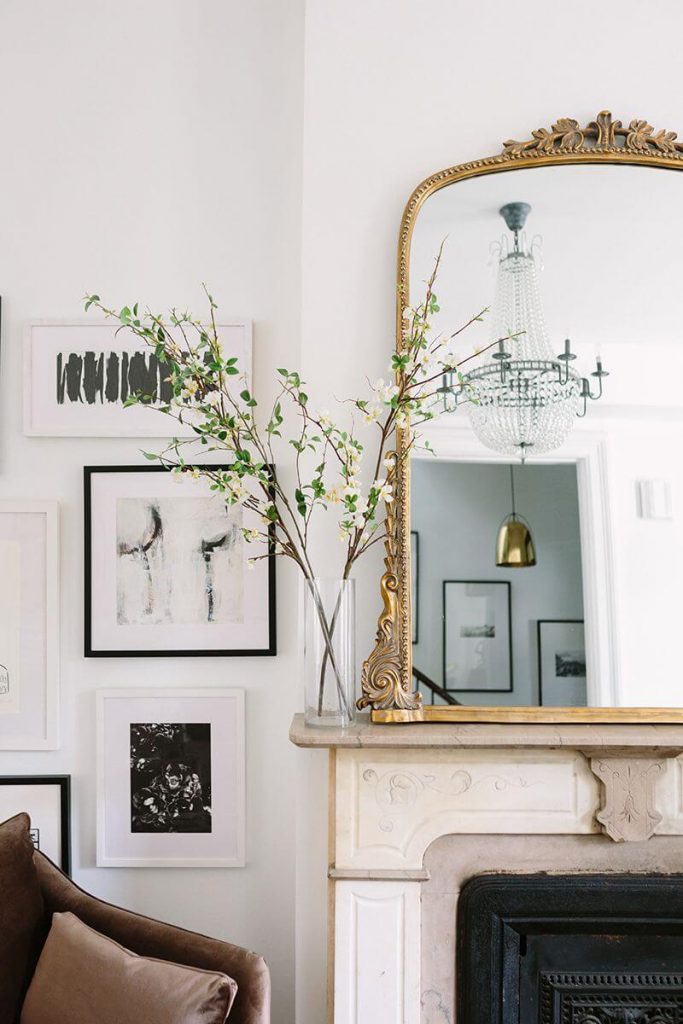 A mantel is undoubtedly one of the best spots for mirror decor. Even if you're not much of a gold person, a gold mantel mirror can be a beautiful accent piece in a minimalist or neutral living room.
You might not have the budget for a real antique gold mirror, but luckily stores like Arhaus and Anthropologie (the famous Gleaming Primrose Mirror) have beautiful vintage-style french gold mirrors.
5. Decorating with two mirrors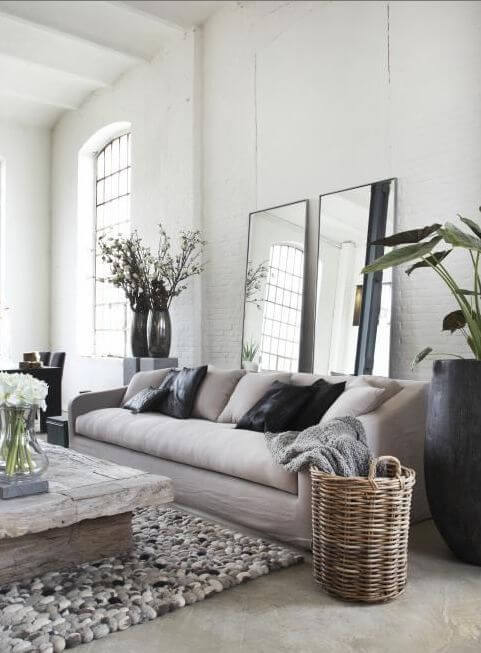 Why not use more than one mirror in the living room? The living room above shows how decorating with two mirrors gives a beautiful and playful look to the space. If you're going for a rustic and slightly industrial interior style, consider large mirrors with a black frame.
Black floor mirror:

6. Large round mirror wall decor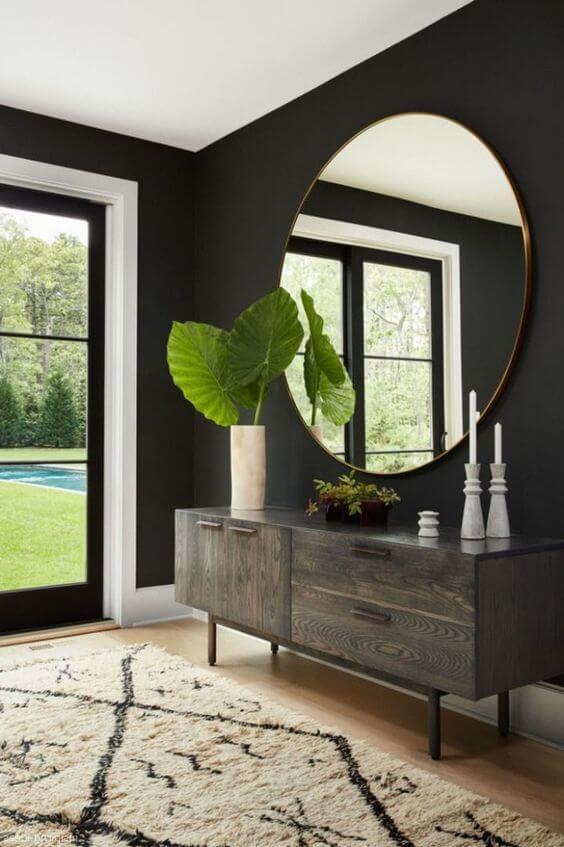 Round shapes work beautifully in small living rooms, although I'm sure they'd look good anywhere! An extra-large round mirror like this is the perfect companion for a living room console, or even in your entryway or bedroom.
Gold circle mirror:

7. Mirror above couch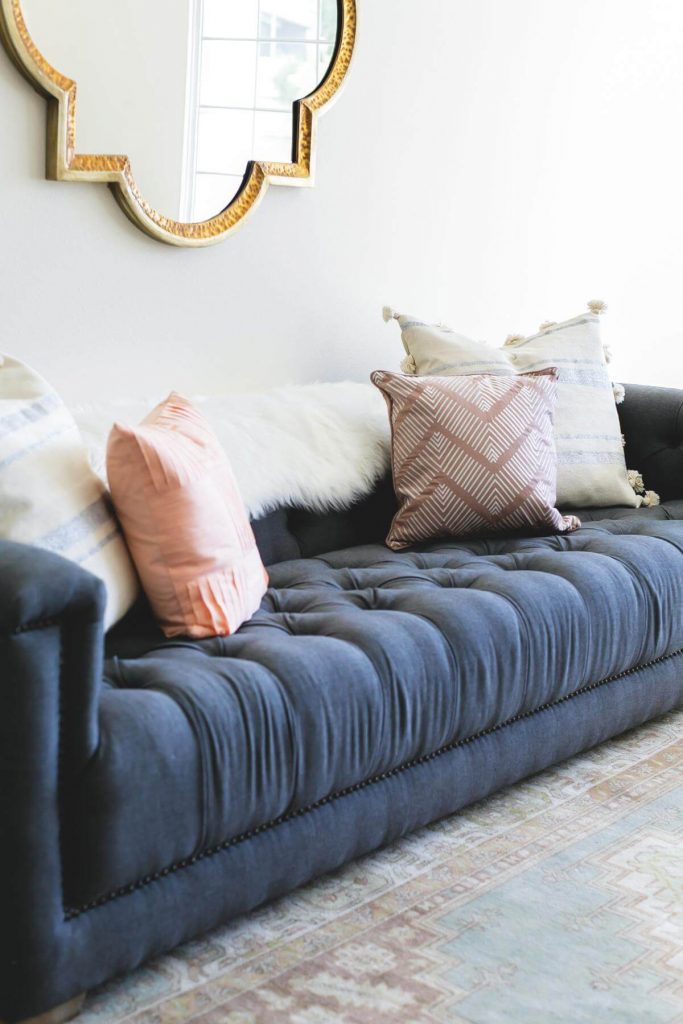 Stylemepretty.com – Photography: Monica Wang
If you're going to hang a mirror over your couch, consider one with a unique shape to make a statement in your living room. A well-designed mirror is just as good as artwork! I've also seen some incredible DIY mirror frame ideas if you want your mirror to be one of a kind.
Unique and Unusual shaped mirrors
8. Expand the seating area with a large floor mirror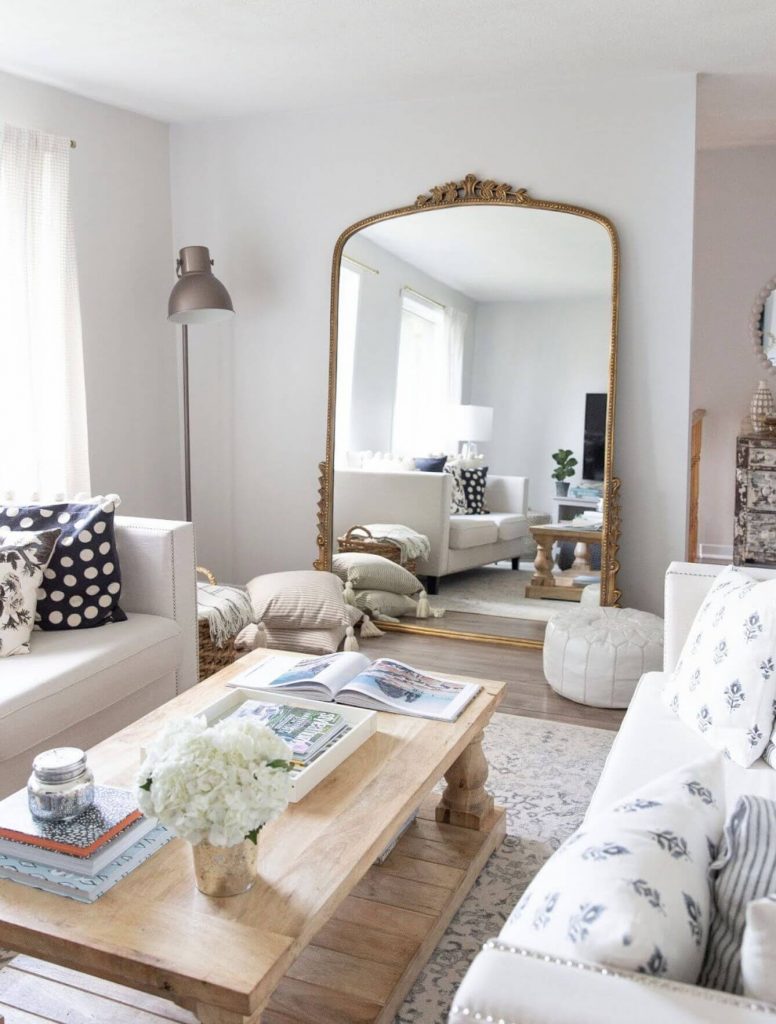 I love this living room because it shows perfectly what an extra-large mirror can do in a narrow living room or seating space. It makes the room feel a lot more spacious and it draws your attention to the decor details you see in the reflection.
Buy Anthropologie Gleaming Primrose Mirror

9. Mirrored wall panels in living room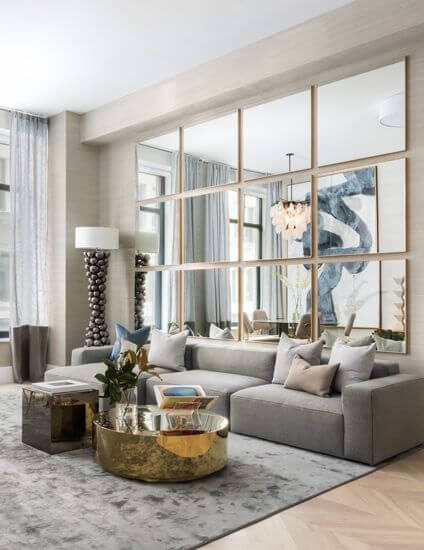 IMG NYC – photography by Evan Joseph Photography
When it comes to mirror wall decor, you can go all out if you like! This modern mirrored wall looks and highlights the large artwork and makes the living room feel incredibly spacious. Although mirrored wall panels might not work in every living room, they're an incredibly cool design idea. If you have large ceilings and you want to get creative, making a mirrored wall is a great idea.
You can also recreate this mirrored wall (albeit less spectacular) if you're up for a little DIY project!
Decorative mirror tiles and Heavy Duty Tape
10. Large leaning floor mirror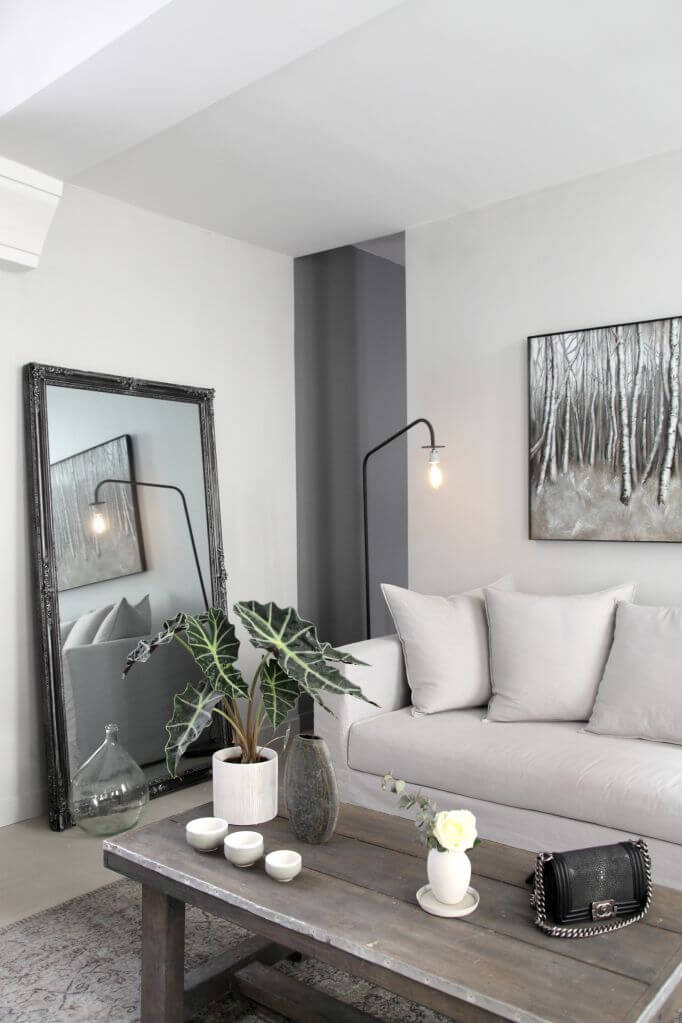 There are many different ways to style a leaning floor mirror, and I love this rustic mirror in a minimalist living room with neutral colors. Large leaning mirrors are excellent for decorating empty living room corners and pulling the space together.
11. Long horizontal mirror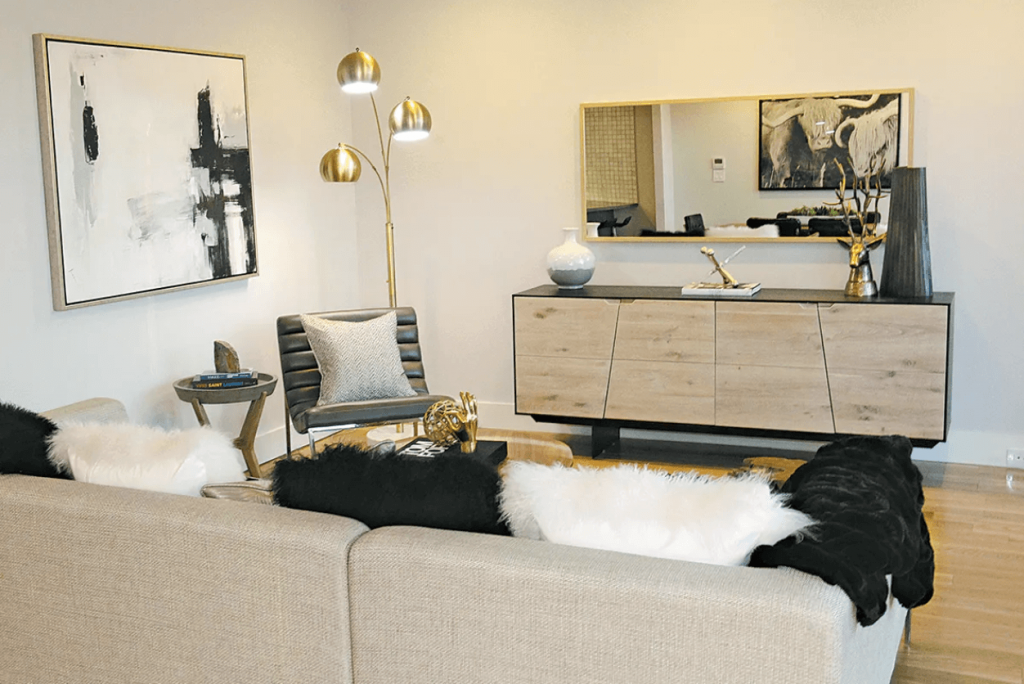 Hanging a long horizontal mirror on a living room wall is a great way to make a compact living space look bigger than it actually is. What's also great about this type of mirror, is that it's very budget-friendly. A full-length mirror with a wooden frame like this for under $150. Proof below:
Affordable horizontal wall mirror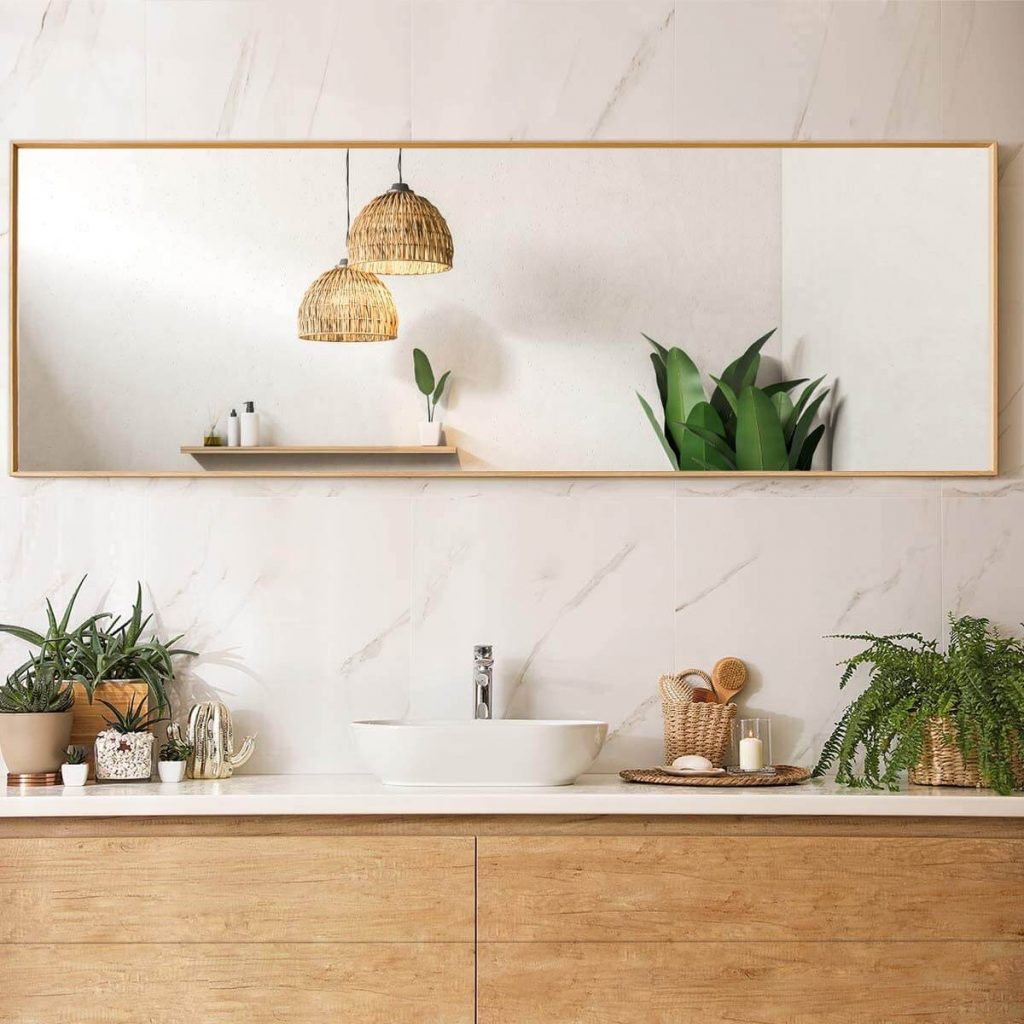 12. Multiple mirror wall decor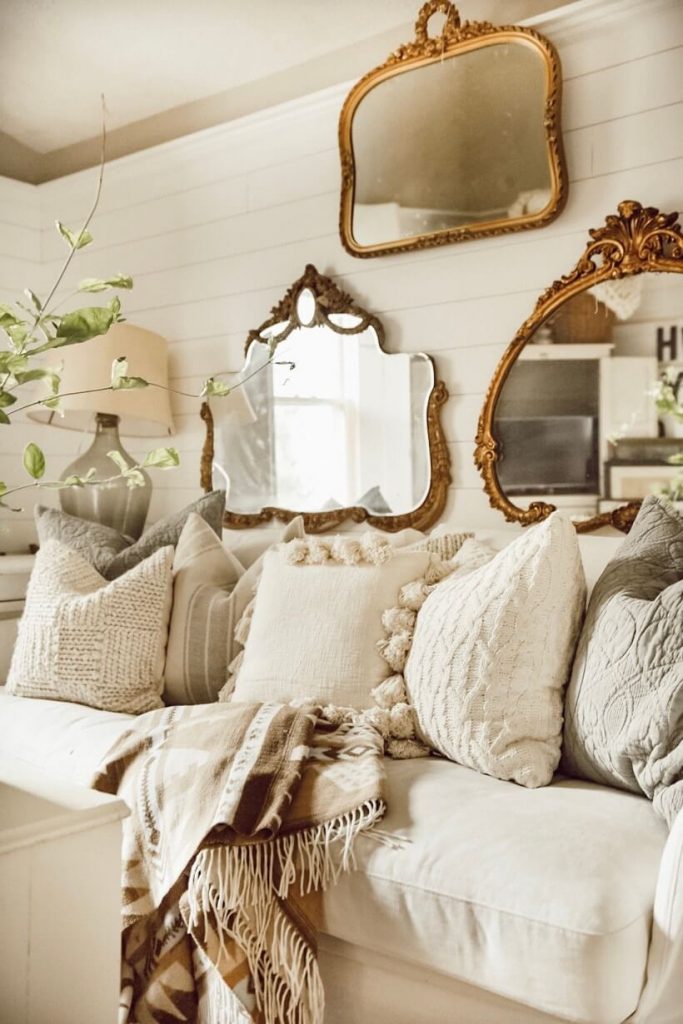 Best ornate wall mirrors
13. Creative mirror collage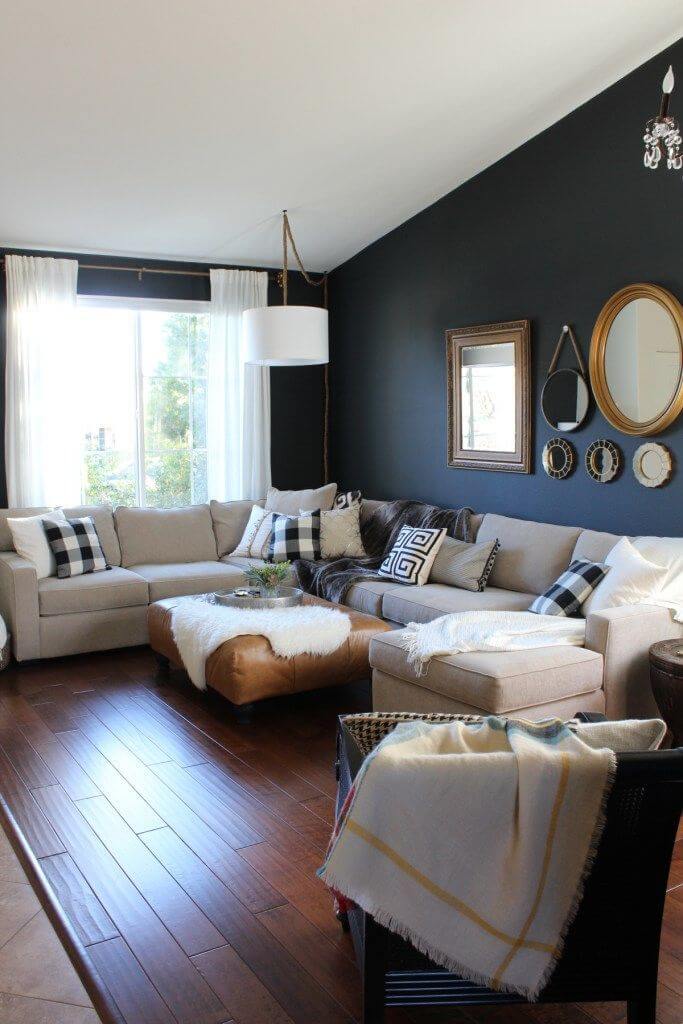 Thinking of decorating with mirrors over the sofa? This mirror collage on a dark wall is incredibly creative and beautiful. Combine shapes and mirror styles for a playful collage. It's even better than wall art, don't you think?!
Best mirror wall decor options under $150
14. Large floor mirror next to TV console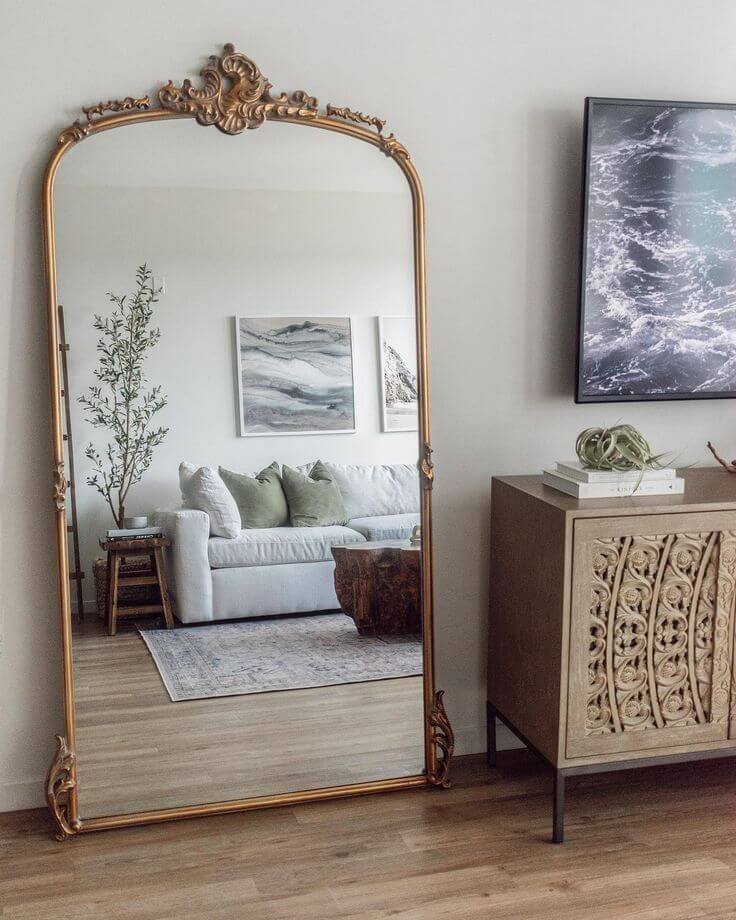 This fancy gold mirror has become incredibly popular! It feels as almost everyone has the Arhaus Amelie mirror or Anthropologies' trendy gleaming primrose mirror. But truth is, this mirror is a beautiful accent piece in just about any living room.
Best Arhaus Mirror Dupes
15. Mirror behind couch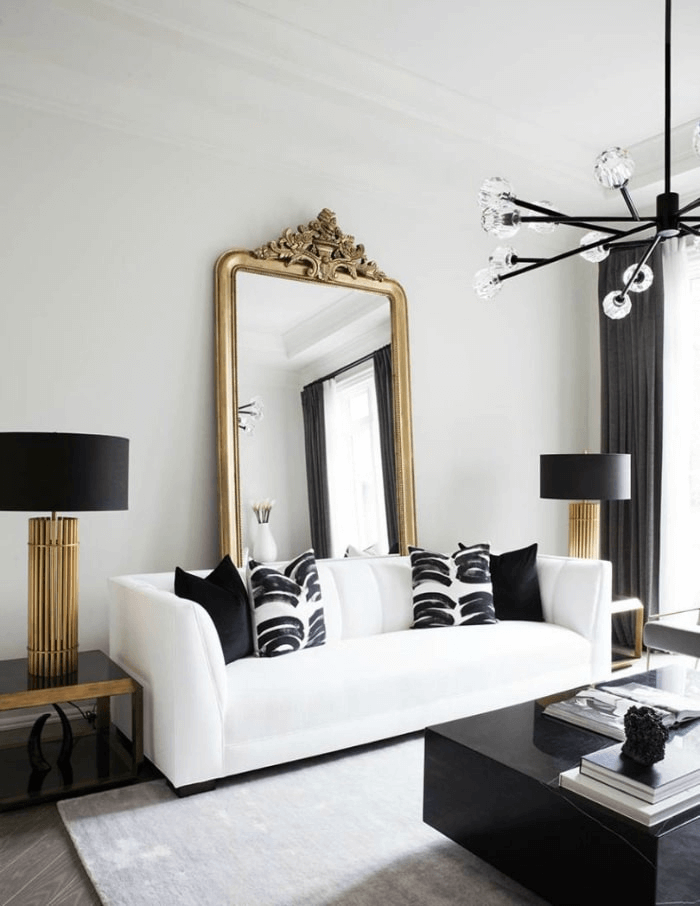 A large leaning mirror behind the couch is a creative way to decorate the walls and play with perspective. Feng shui principles warn about hanging mirrors right above your sofa or bed, but because this mirror is standing, I think we're good!
16. Arched mantel mirror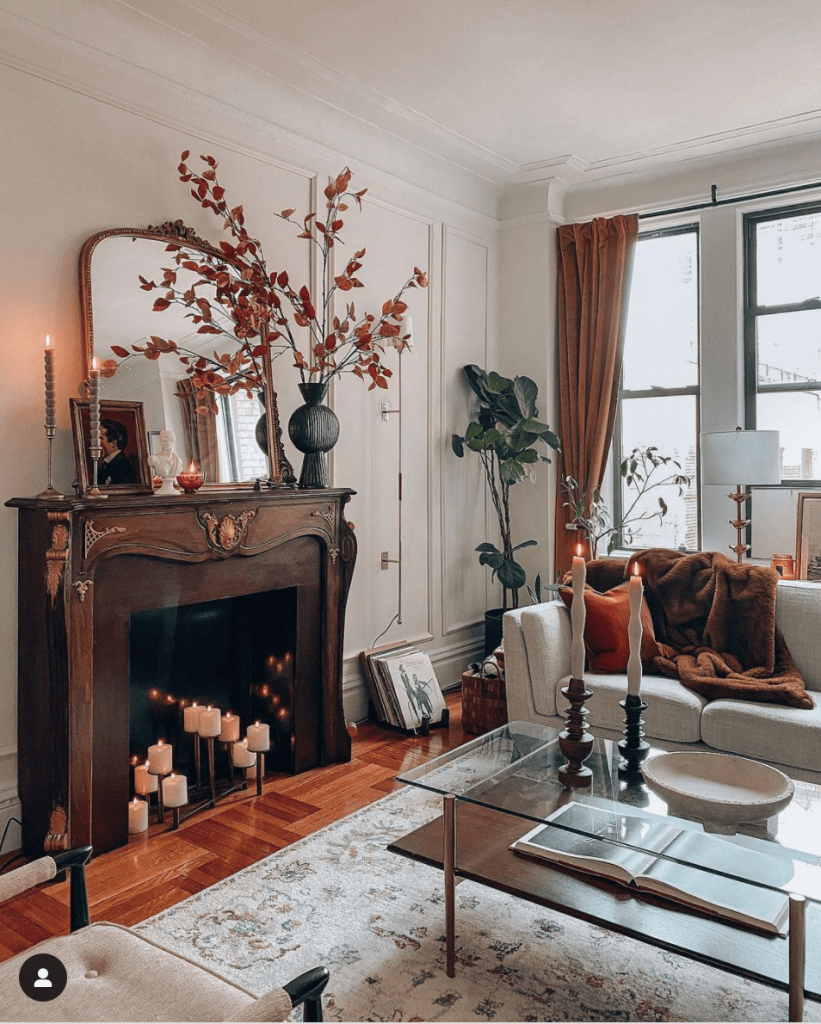 Beautiful mantel decor makes a living room come together and gives it so much ambiance. This apartment living room has a mantle with a romantic gold mirror that works beautifully in a neutral living room with warm accents.
The mantel mirror in the picture is Anthropologies famous primrose mirror
17. Oversized black floor mirror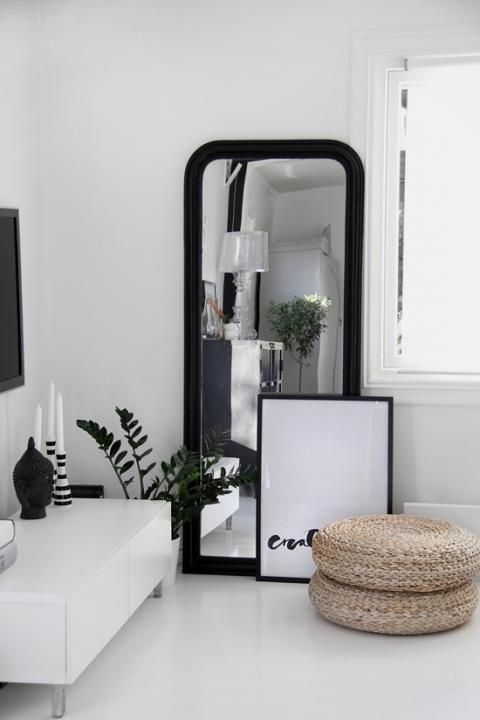 Going for a minimalist aesthetic in your living room? Then a mirror with a black frame is likely the way to go. Place your mirror on the floor alongside artwork for extra style. You can get super creative with a floor mirror, and decorate it with plants and art alongside it for a complete look.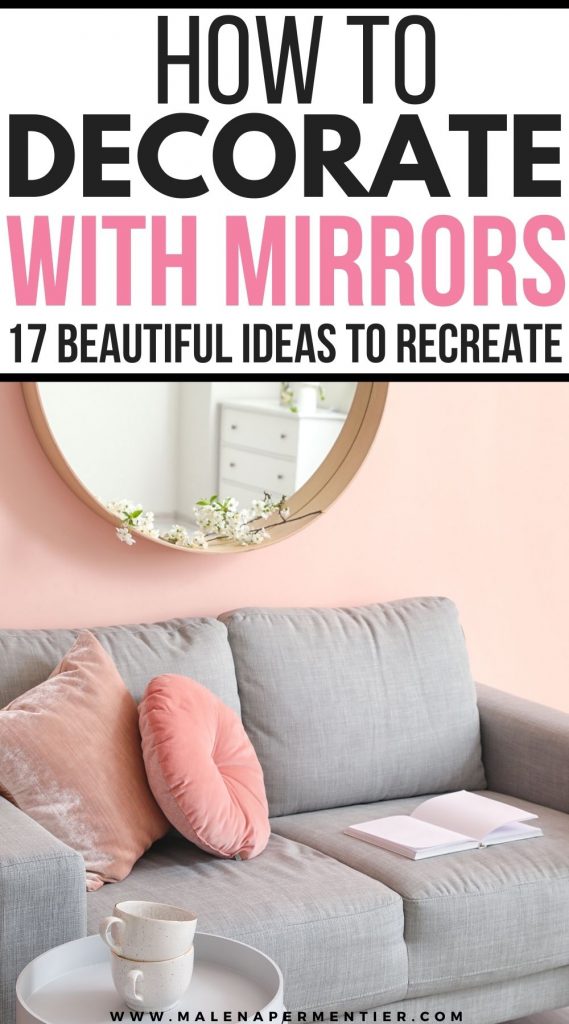 Enjoyed this post about decorating with mirrors in the living room?
You may also like: