*This post may contain affiliate links, which means I'll receive a commission if you purchase through my link, at no extra cost to you.
This post is all about long narrow living room layout ideas.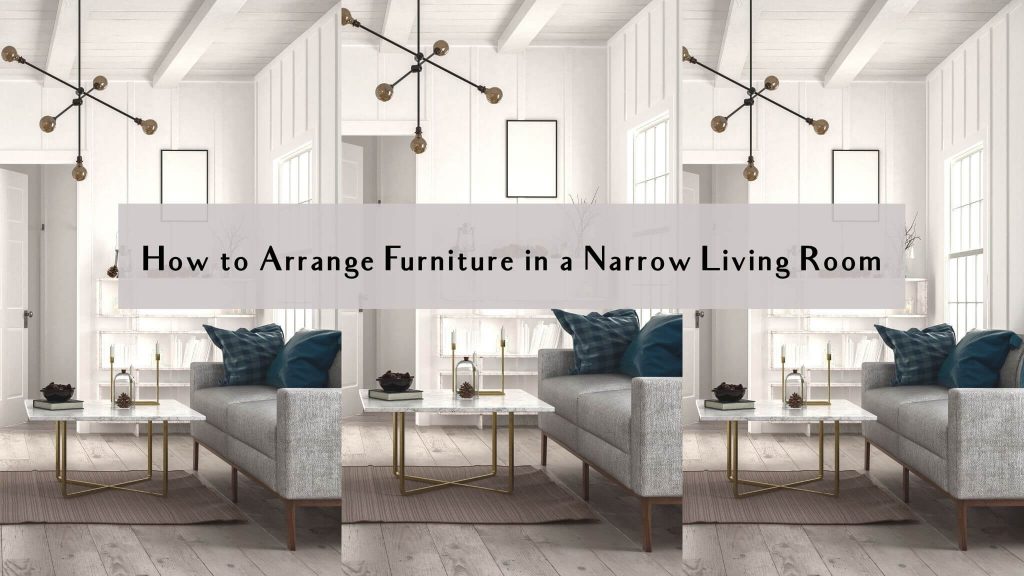 If we're ranking living rooms in order of layout difficulty, the long narrow living room is #1.
Below, I'll show you how to arrange furniture in a long narrow living room in the best possible way.
When it comes to decorating and furnishing, I'm definitely a more visual person. I prefer looking at real living room examples to floor plans.
If you're like that too, in the below you'll find some great narrow living room examples to take inspiration from.
Narrow living room layout examples:
10×12 layout (a small living room)
7×10 layout (tiny living room)
6×12 layout (narrow living room)
Layout example of a tiny and narrow living room:
Now let's look at some real examples of how to furnish and decorate a narrow living room.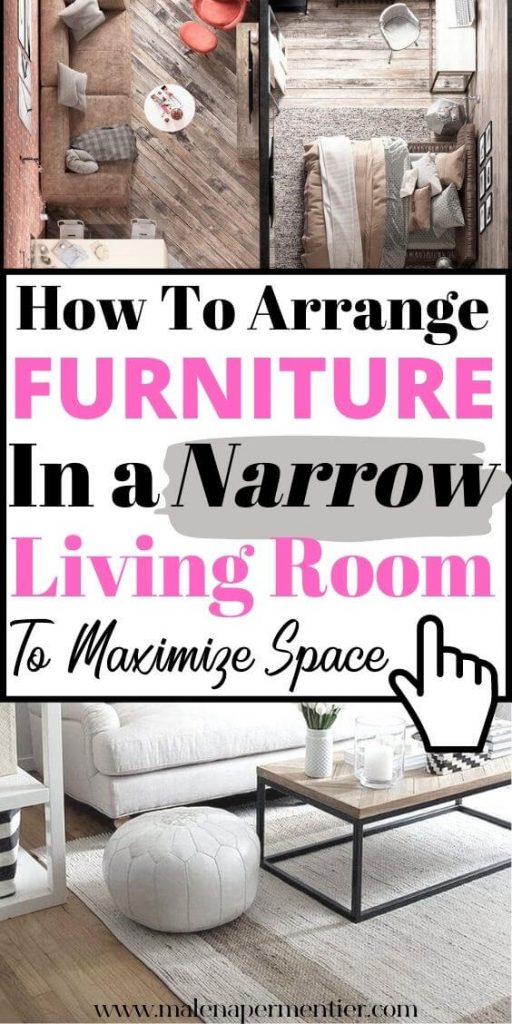 Long narrow living room layout ideas
1. Place your couch on the longest wall
The couch usually is the biggest piece of furniture in a living room. That's why it's smart to place it on the longest wall. That way you create the most optical space.
2. TV opposite the couch
…or ditch the TV altogether ;). The best way to arrange a TV in a living room with limited space is by hanging it on the wall. That's the way it obstructs your view the least, which makes the room feel bigger.
The picture below is a great example of how you can carefully work the TV in your living room without taking up too much space.
3. Pull the space together with a rug
It might seem counterintuitive to add a rug in an already small living room. But especially in narrow spaces, doing so helps structure the room. Having clear 'visual zones' makes the room feel more spacious and organized.
Below you see a living room with rug placement in the couch area. You can see here the effect of creating 'zones'.
I know this is not the smallest or narrowest living room, but it's a great example of what the right rug placement can do.
Recreate this:

4. Be intentional about your decoration
More specifically, stick to the set of 3 or set of 5 rules for decorating.
Why uneven numbers? Because somehow it works better for home decor!
Group decor items of varying height and lines to create an interesting but clean look.
You want to avoid grouping more than 5 items in a small living room, because usually that makes the place look smaller, and even cluttered.
Because visual examples are more powerful, let's have a look at this:
As you can see, I immediately break my own rules. Remember, home decor rules are only there to give you guidelines. If you find something that works better, always go for it.
Here's what's great about these pictures:
They maximize space by placing an entry table behind the couch.
Using varying heights (photo frames, flowers)
Mixing neutral colors for an interesting visual touch
5. Opt for round shaped furniture
Look, I don't know what's the science behind this. But round shapes in small places create the optical illusion of more space.
If it works, I'm all for it. Think of using a round shaped side table, round mirror (we'll get to that next), ottomans, and even a round coffee table if your space allows it.
I adore this living room. It just hits all the right notes. L-shaped couch, smart rug placement, and beautiful round shapes to make the space appear bigger than it is.
Recreate this:
6. Add a mirror
A large, preferably round mirror is a great way to get the most out of your narrow living room.
You've probably heard this before, but mirrors are THE item to help you create the optical illusion for a bigger space.
Mirrors aren't only great to make your living room appear bigger, but they're great decor. Ensure that the mirror's color coordinates with the other color accents in your room for more unity.
Recreate this:

7. Thin legs everything
In a narrow and small space you want to avoid robust furniture that takes up lots of visual space.
If you want a bookshelf, go for one with thin legs and openness.
Recreate this:

If you're considering to add some gold accents to your living room, I can't recommend this bookshelf ladder enough!
It's super sleek yet it has plenty of space for (carefully curated!) decor and books. Read the reviews and see for yourself.
This ladder bookshelf also comes in a ton of different color combination. So pick what fits best with your living room color palette.
8. Curved lamps to save space
This might seem like a weird one, but so many great small living rooms have curved standing lamps. And it just works.
As you can see in the picture below, this curved lamp looks super elegant, yet it doesn't take up much space at all.
If you're looking for a standing lamp for your living room, keep this idea in mind!
Recreate this:

9. Use a narrow console table
Traditionally we see console tables being used for the entry, but they're much more versatile than that.
Because chunky dressers simply don't work in a long, narrow living room, console tables are an excellent alternative.
You can use a narrow console table for decor, beneath the TV, or another spot where you have free space.
The space beneath the table is perfect for baskets to sneak in some extra storage for throw blankets, board games, and other living room items you might want to keep around.
Below is a great example of how you could style a narrow entry table in your living room.
Recreate this:
10. Be mindful of keeping open spaces
My last tip for making the most of a narrow living room is to keep enough open space.
Open space on the walls, on the coffee table, basically you want the room to breathe!
Another smart tip that this picture demonstrates perfectly is that 1 big artwork works better in a small space than, let's say, a full-fledged gallery wall.
The placement of art above the couch also makes a big difference: make sure the art is close to the couch. According to Martha Stewart, the ideal distance is 8 to 10 inches to the couch.
Get ottoman:

This post was all about Arranging Furniture in Narrow Living Room
You may also like: