This post is all about the best college apartment bedroom ideas.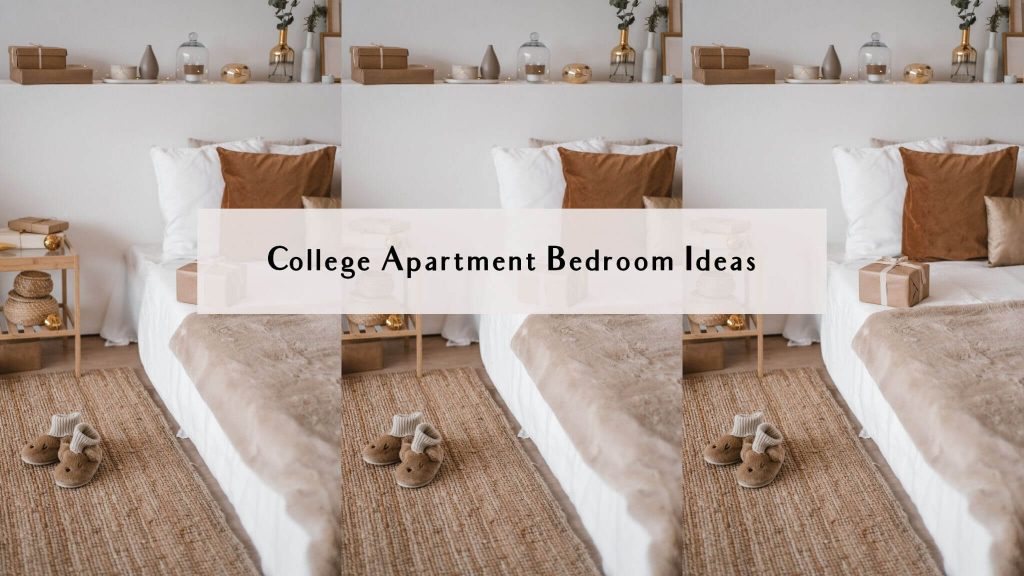 You've signed your college apartment lease and are ready to move in! Your college apartment bedroom is one of the most critical spaces because it's entirely YOURS.
Furnishing and decorating a college apartment bedroom can be tricky, as you'll likely be tempted to overspend on all the cool stuff.
However, decorating your bedroom on a budget while making it look AMAZING is possible. I'm taking you through the best college apartment bedroom ideas.
Here you'll also find the links to affordable products and furniture for your bedroom!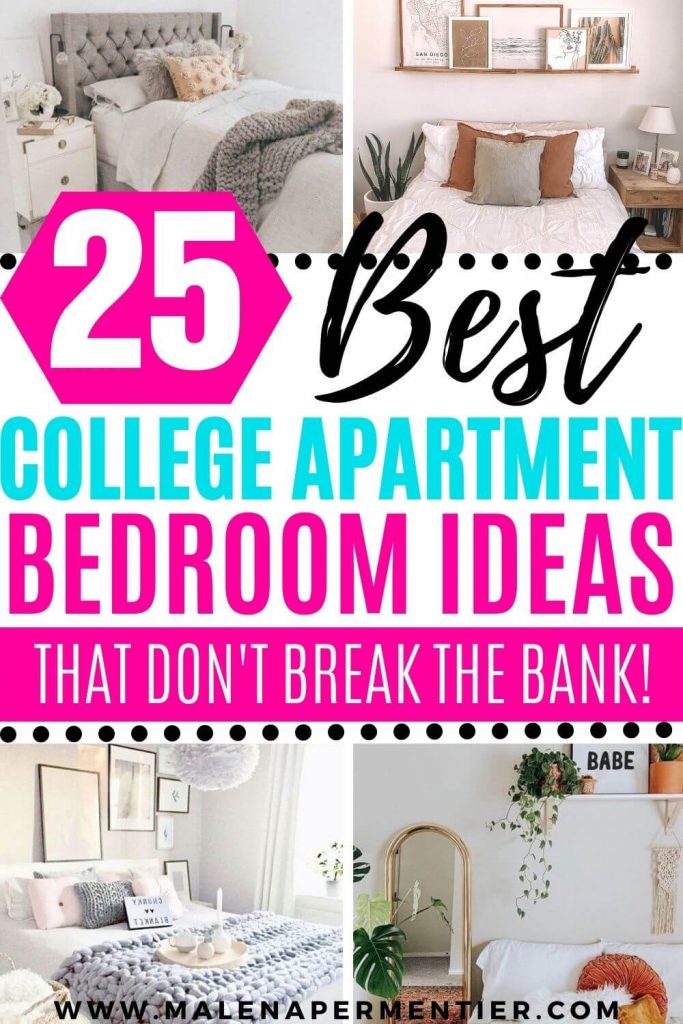 College student bedroom decorating ideas
1. Luxurious Neutral Bedroom
A luxurious, neutral bedroom must be my favorite way to decorate. It's timeless, feels cozy, and I know I'll still love my furniture a few years later.
There's no need to spend thousands on your college bedroom!! Luckily there is plenty of great quality bedroom furniture that looks amazing.
Copy the decor:
Copy the bed on a budget:
2. Picture ledge above the bed
Hanging a picture ledge above your bed is a simple but beautiful way to decorate your room. Pick the right color for your space and decorate with frames in different sizes.
Copy this room:
3. Cube organizer as a nightstand
There are many creative alternatives to a traditional nightstand. This cube organizer isn't only super affordable but also allows for some super cute decorating and storage.
Recreate this:
4. Give your room a pop of color
A pop of color in your bedroom can look super cozy. If you don't want something too bright, pick more subtle colors like a dusty pink.
Subtle colors like this work great with a broad color palette. In the below room, you see how dusty pink, light brown, light gray, and a neutral shade of green/blue work beautifully together.
Recreate this room:
5. Tall mirror in the corner
Tall mirrors aren't only super functional to have in your bedroom. They also open up a small space and can elevate the decor.
Get a full-length mirror with pretty details like arched edges. You can also use a subtle accent color, like gold, silver, or wood. What looks best depends on the other bedroom furniture!
Get a tall mirror:

6. Add some greenery
Some greenery really brights up the space. And mind you, it doesn't even have to be real greenery!

Below I've included some of my favorite faux plants and greenery for your bedroom decor.
Recreate this:
7. Keep things on your bed
You'll likely use your bedroom for many things in a college apartment. Including eating and having your morning coffee sometimes!
Handy things to have in your college bedroom are a cute tray and cozy throw blankets.
Recreate this:
8. Industrial Boho Vibes
A great thing to remember for your college apartment bedroom is that it's possible to mix interior styles!! Love industrial decor and boho? Mix them!
Opposites can go together very nicely, especially if you find a nice balance between more girly and cool furniture/decor.
Recreate this:
9. Use a bar cart as a nightstand
Use a chic bar cart as a nightstand!! This gives your bedroom a high-end luxurious look while it's super affordable.
I'm a big fan of gold details, but there is also plenty of metal, wood, and silver bar cart combinations that would look amazing.
Recreate this:
10. Bedroom with feature wall
A wall sticker is a GORGEOUS and inexpensive way to elevate your bedroom. These peony stickers come in many colors, and I'm obsessed!
Recreate this feature wall:
11. An even brighter floral feature wall
You can also go all the way and use peel and stick wallpaper that covers an entire wall. It looks great behind the bed, but you can also pick another wall.
This wallpaper also works on furniture. For example, use it to brighten up an old dresser!!
Copy this accent wall idea:

12. Create cute decor spots
You don't want to overwhelm a small college apartment bedroom with too much decor. Therefore, it's clever to pick out particular spots for decor – and leave the rest free.
Create little decor with around 3-5 items of varying heights for a super cute, put-together bedroom.
Recreate this decor:
Save these college apartment bedroom ideas for later!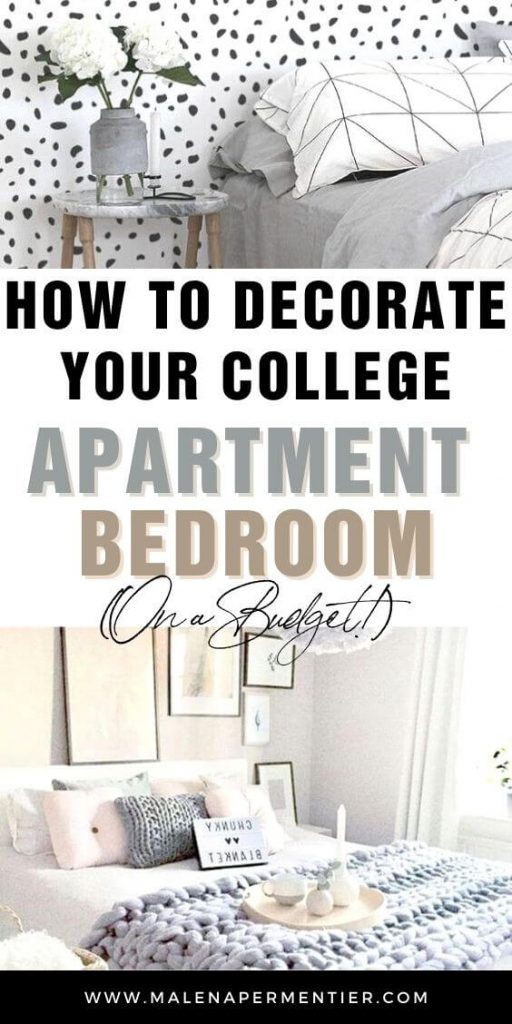 13. Add rugs
Rugs are an easy and affordable way to liven up a bedroom. Go for a small rug beside your bed and combine it with a cute ottoman.
Also, don't forget: Throw blankets on your bed to make everything look cuter!
Recreate this room:
14. Use a dresser for storage and decor
Dressers are a necessity in bedrooms with little storage space. I prefer mine simple, with large drawers to store clothing and other things.
Tip from my small living room makeovers post: make your dresser look more expensive with beautiful antique drawer pulls.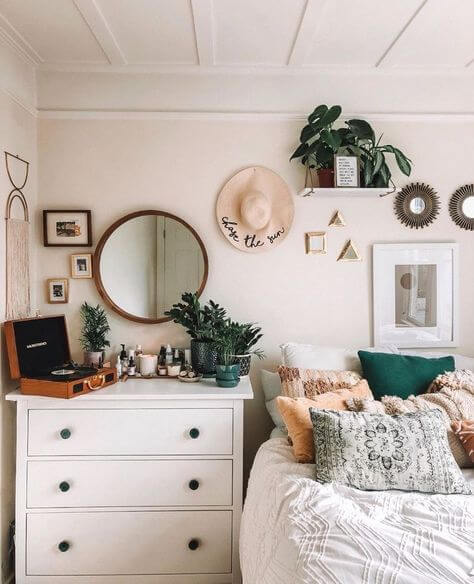 Get a simple dresser:

15. Create a luxurious hotel bed
Creating a luxurious hotel bed on a budget is possible!! It would help if you had an extra duvet, crisp sheets with beautiful details, and some nice pillows.
Below you will find some of the ingredients for a beautiful hotel-like bed!
Recreate this bed:
16. Desk and vanity table in one
In a small college apartment bedroom, multipurpose furniture is a lifesaver. Effortlessly create a desk and vanity table in one by hanging a mirror above your desk.
Tidy away makeup and other stuff in organizers, so you won't get distracted when you use your desk to do some work.
Recreate this desk space:
17. Use a mirror to make your room look bigger
Mirrors are a must in small rooms. They make your space look so much bigger. Go for something with a unique look to complement your bedroom decor.
I fell in love with the gold antique look mirror below, although I have to admit it's not the most affordable one!!
Get a gold mirror with an antique look:

18. Boho room with fun accents
Things like ivy garlands and photo walls are super easy and cheap ways to decorate your bedroom. Plus, it looks so cozy!
Finish it with a cute leopard throw blanket and neon signs on the wall.
Recreate this:
19. Add a pop of gold
A pop of gold works with so many interior styles and colors; the options are truly endless.
The adorable arched mirror and fluffy dusty pink pillows do it for me!!
Get gold accent decor:

20. Create a little seating corner
I thought egg chairs were fun, affordable college apartment furniture… until I saw the price!!! It's insane how expensive these things are.
Ikea probably has better options for lounge chairs.
Recreate this room:
21. Add a bench with storage
A storage bench at the end of your bed is a clever way to create extra storage. You'd be surprised how much stuff fits into these things!!
The other great thing is: These ottoman benches are INSANELY cheap for what you get.
Get a storage bench:

22. Use peel and stick wallpaper
There are so many gorgeous peel-and-stick wallpapers. This Dalmatian print wallpaper does the trick if you want something slightly toned down than bright florals.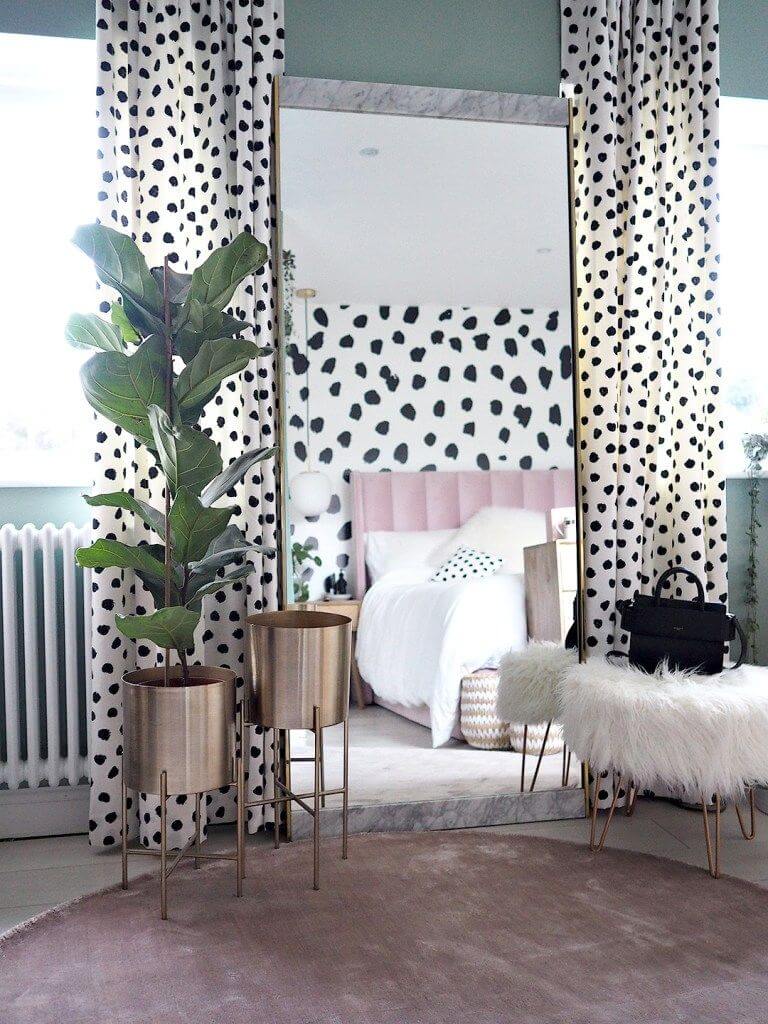 Get Dalmatian peel and stick wallpaper:

23. Neutral bedroom with classy accents
Keep your main furniture, like the bed and nightstands, super neutral so you can elevate the space with decor.
Accents like gold, subtle purple, and some prints go a long way in making your room look fabulous.
Recreate this room:
24. Create a closet corner
Not enough closet space? Create a little open closet corner in your room. Style the garment rack perfectly so your room doesn't look messy.
Complete the closet space with a large mirror and cozy sheep rugs.
Copy this:
25. Tiny floating shelf over the bed
Tiny floating shelves are great to hang above your bed. Decorate with some frames and (fake) plants.
What also does wonders for this small bedroom is the beautiful arched mirror!
Recreate this room: