Hey there! Some links on this page are affiliate links which means that, if you choose to make a purchase, I may earn a small commission at no extra cost to you. I greatly appreciate your support!
If you live in a small apartment, you must plan your furniture and decor thoroughly. You also need some kick-ass organization.
Without it, you'll be unable to fit everything in the small space!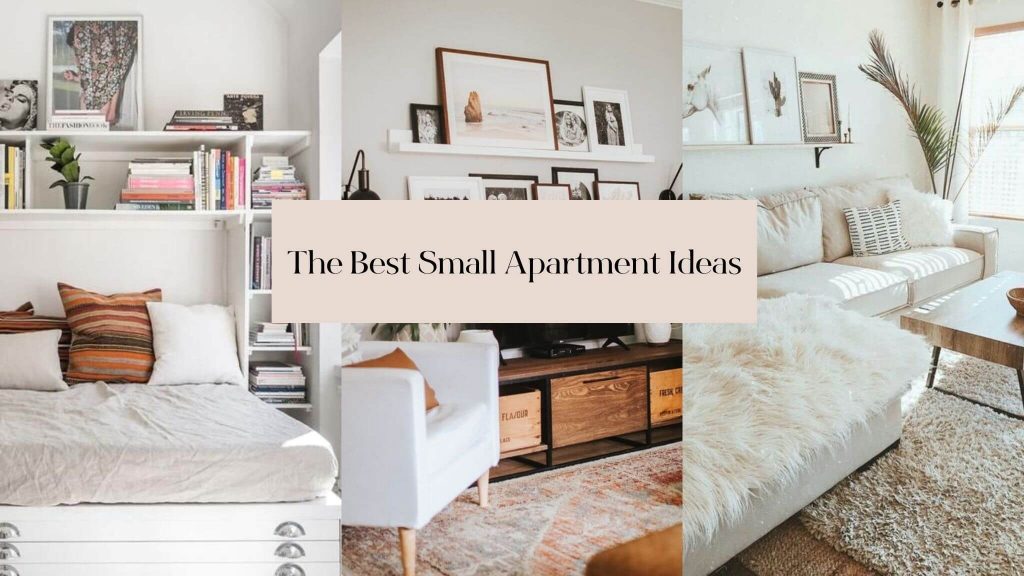 Creative ways to maximize space in a small apartment
Below you can find the best small apartment ideas for your bedroom, living room, bathroom, and entryway. It also has some super-smart ideas if you live in a studio apartment.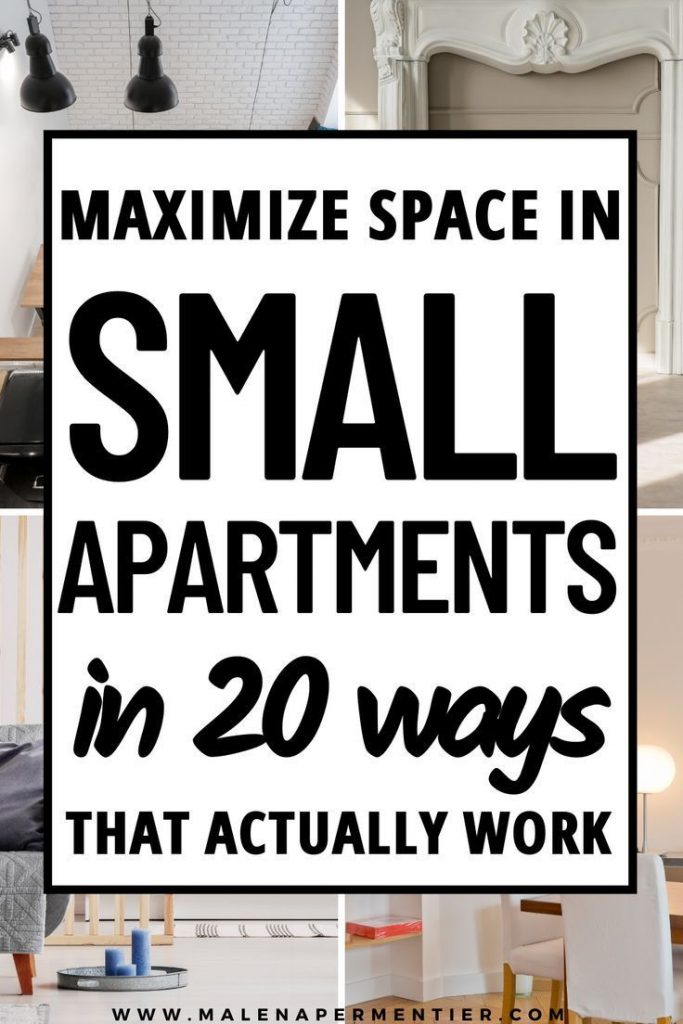 Small apartment bedroom ideas
When you live in a shared apartment, your bedroom is where you can make yours entirely.
Perhaps even more important than decorating your bedroom is creating space for extra storage.
Here are some of my favorite ideas to make the most of a small bedroom.
1. Bed with storage
A super-easy way to automatically create a lot more space for storage in a small apartment is when your bed allows storage.
Use this under-bed storage for duvets, towels, winter/summer clothing, and other things you don't regularly need. It honestly saves so much precious space.
Recreate this idea:
2. Above-bed cabinets
If your bedroom literally only fits your bed (we've all been there), you need to utilize the free space above the bed as your life depends on it :).
I've done shelves in the past, but I think cabinets like this can make your small space look much more organized.
Recreate this idea:
3. Curtain as a space divider
If you live in a studio apartment, separating your sleeping area from your living space feels nice.
You can subtly create separate areas by using a long curtain dividing the space.
Recreate this:
4. Cube Organizer
This cube organizer is ideal for extra storage in a small space. It's also great for decoration.
Plus, you can use it as a space divider between your bedroom and living room if you live in a studio apartment.
Recreate this idea:
5. Mobile desk
This mobile desk with wheels is ideal if you want to create a flexible desk space in your small apartment.
Use it for working in bed, or move it to your living room during the day.
6. Creative shelving around bed
You can get creative regarding the shelving around/above your bed.
Create your own personal style by hanging cube shelves asymmetric, or recreate the shelving as seen below.
Recreate this idea:
Small apartment living room
Making a plan for your small apartment living room is perhaps the most challenging of them all. After all, it needs to fit a couch, a TV, and a table.
7. Pull the room together with a rug
Create a cozy, put-together living space by adding a rug matching the color palette of your couch and coffee table.
Personally, I think that with neutrals you can never go wrong! You can always add pops of color to your decor.
Recreate this:
8. Use Multifunctional furniture
Use furniture that serves more than one purpose. A cube organizer like this is great for storage, but you can also use it as a TV stand.
Plus, it's a budget-friendly decor idea.
Recreate this idea:
9. Make the most of walls
In a small apartment, every free inch of wall counts! Below is a great example of utilizing the space above and around your TV stand.
Recreate this:
10. Play with different shapes
Furniture like coffee and side tables in different shapes can make the living room of a small apartment look more dynamic and alive.
Also, keep in mind that anything with thin legs (couch, coffee table, side tables) works well in a small space.
Recreate this: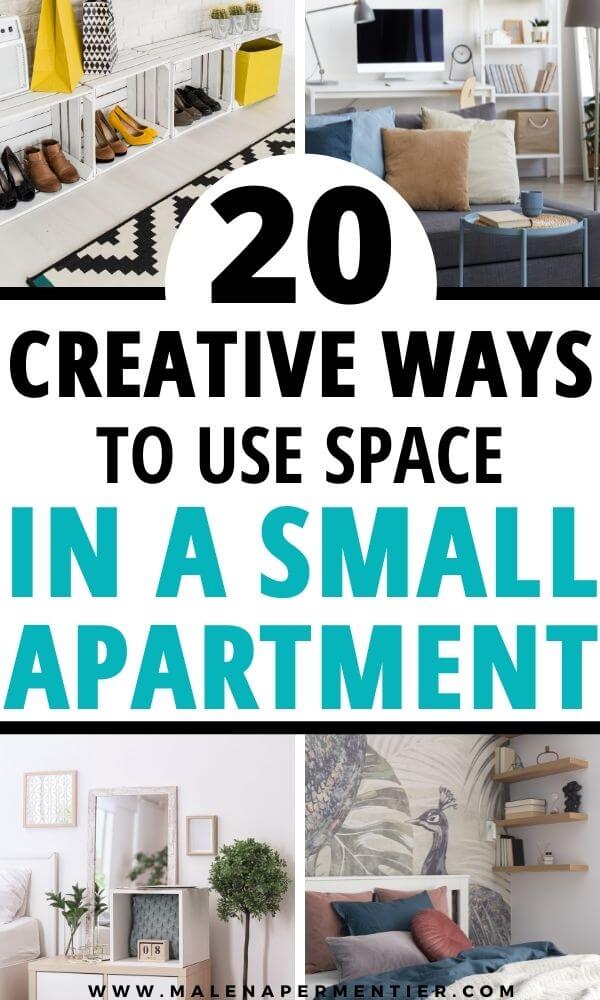 Small Apartment Bathroom
A small bathroom needs good organizing! Luckily there are plenty of storage tools that are practical and look good.
Get some inspiration on what to do with your small apartment bathroom below.
11. Alternative paint color
To create a sense of space, somehow, a dark-colored wall makes a small bathroom look bigger. Not to mention super chic.
Add some rustic shelves for a sophisticated feel.
Recreate this:
12. Go crazy with shelves
A small bathroom needs shelves. Again, every inch of free space counts!
The warm wood, in combination with the plants, creates a charming bathroom space.
Recreate this:
13. Utilize under-sink space
Under-sink stackable storage bins are THE way to go in a small bathroom.
I have the same ones, and they're the best. I stack these bins based on how often I need the stuff in them. Also categorize by make-up, skincare products, hair products, etc.
Recreate this:
14. Skinny tall bathroom cabinet
If you're lucky, a very tiny, tall bathroom cabinet fits in that small space between the wall and the toilet.
15. Hang towels on the wall
This is the one thing I've been struggling with the most in my small apartment bathroom: where to store my towels.
I'm hanging this on the wall next to the shower.
16. Racks for above toilet (or door)
These racks are handy for storing shampoos, toilet paper, and small towels to dry your hands.
Small Apartment Entryway
There isn't much you can do with an entryway in a small apartment because, well, it's small! Nevertheless, a couple of cute, functional ideas exist to make the most of this small space.
17. Simple shoe cabinet
In a small apartment, keeping your space tidy is much more important. This simple, small shoe cabinet is perfect for your entryway.
Recreate this:
18. Skinny entryway table
A skinny entryway table like this is perfect when you have a small entryway/hall. Decorate with plants and use a little basket for keys.
I love the neutral, simple styling of the entryway table below.
Recreate this:
19. Shelves at the entryway
Sturdy white shelves go a long way. Easily recreate this entryway shelf situation with simple white floating shelves, as seen below.
Recreate this:
20. Add a round mirror
Add a round mirror for no other reason than it looks super charming in an entryway. Go for black, metal, or rusty gold, for example.
Recreate this: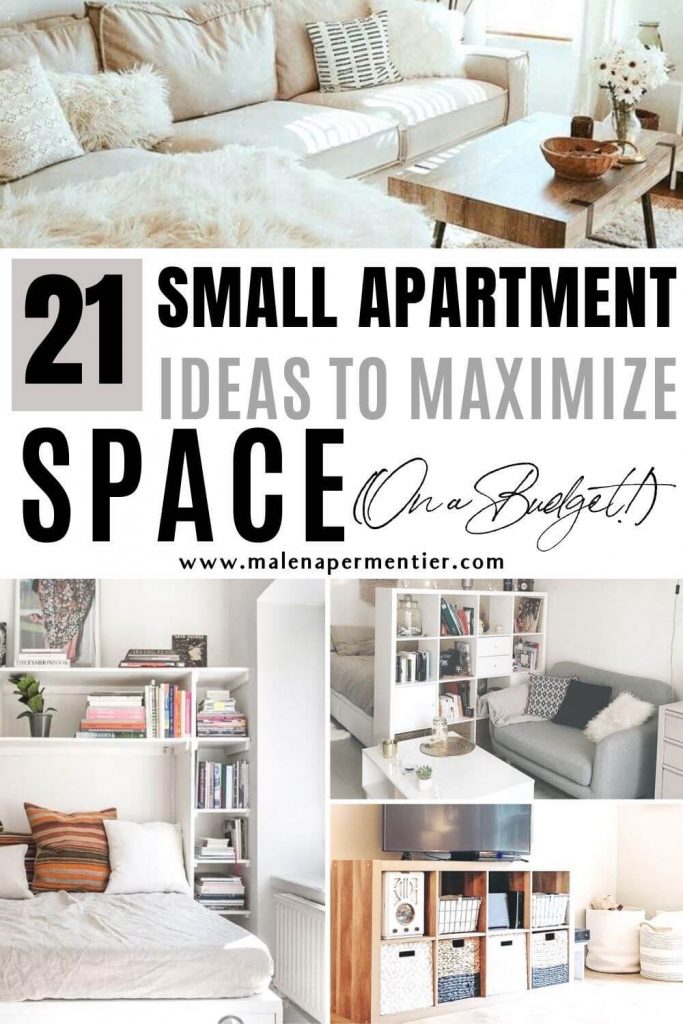 This post was all about the best small apartment ideas.
You may also like: