Hey there! Some links on this page are affiliate links which means that, if you choose to make a purchase, I may earn a small commission at no extra cost to you. I greatly appreciate your support!
This post shows you the best dollar store farmhouse DIY ideas.
If you love the farmhouse aesthetic but don't want to spend the big bucks, you'll love these 21 ridiculously good Dollar Store Farmhouse Style DIYs.
ANYONE can make these super simple DIY ideas in no time on the cheap.
And don't worry, if you're not in the mood for DIYing, I've found some insanely affordable options on Amazon.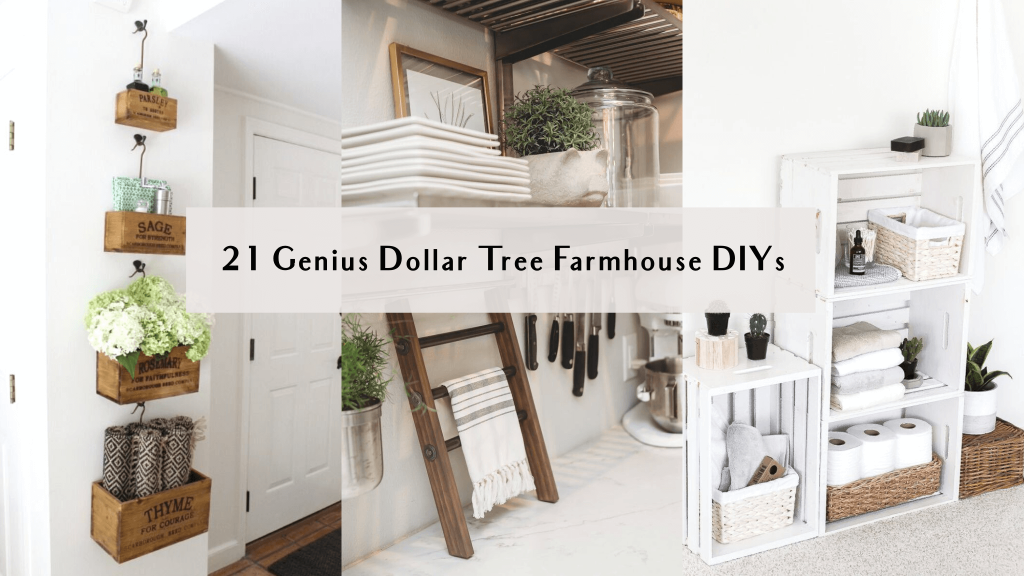 21 Genius Dollar Store Farmhouse DIYs to Personalize your Space
Below, you'll find amazing DIYs for each room in your apartment, from the kitchen to the bathroom, living room, and bedroom.
You'll find that most of these ideas are both cute and functional. A win-win!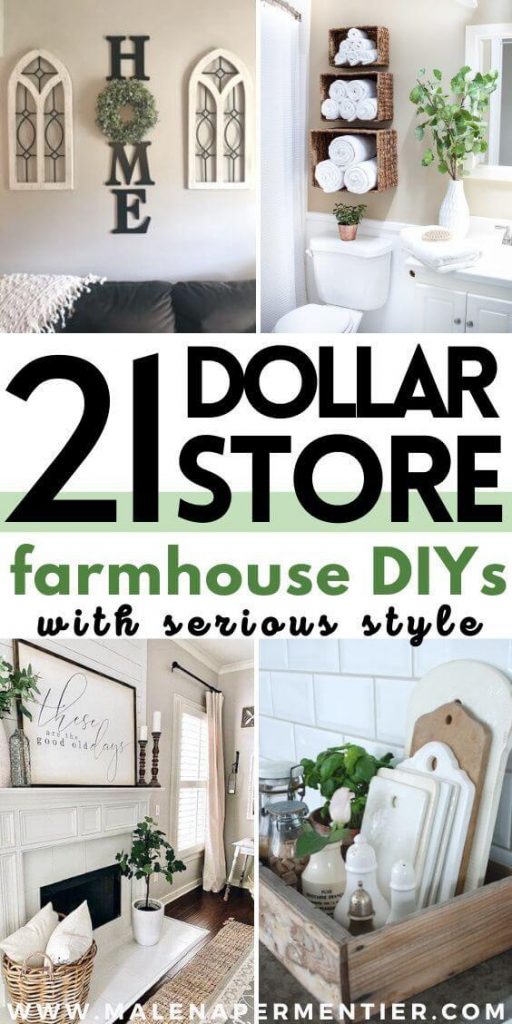 1. Wooden crates for storage and decor
Wooden crates are super versatile for elevating your apartment on the cheap.
Get plain crates at the dollar store and then give them a whitewash.
You can choose a rustic look or paint them white all the way.
Stack them on top of one another to create a cool shelving tower.
I think this would work exceptionally well for bathroom organization! It would also look amazing as an entryway situation to store shoes.
Recreate this farmhouse idea:

2. Wall-mounted storage containers
DIYing this wall-mounted storage is easy peasy.
All you need is a piece of wood and mason jars.
This How to DIY a mason jar organizer tutorial is great if you want to make this organizer with dollar store items.
Recreate this farmhouse DIY:

3. Baskets on the wall
Woven baskets are great for many purposes, such as storage or organization.
But I have to say that this basket idea for wall shelving/storage is genius!
Plus, it's super easy to recreate with dollar store baskets.
Get a set of 3 different sizes to recreate this idea.
Recreate this farmhouse idea:

4. Farmhouse style basket
Easily update your bathroom or kitchen with farmhouse-style baskets to store towels or decorations.
Use a simple wire basket and then wrap twine around the handle for a more elevated look.
Check out this post about how to DIY this dollar store bin.
Recreate this look:

5. Wooden frames
A wooden frame accompanied by quotes or phrases that have meaning makes for a great living room centerpiece.
Recreate this on a budget with a dollar store brown frame and free printables on high-quality paper.
DIY Joy has some great free printables to choose from.
Recreate this wall decor idea:

6. Wreaths + Frames
These beautiful farmhouse frames look amazing on their own, accompanied by nothing more than a simple wreath.
Buy cheap frames at the dollar store and customize them to create a rustic, farmhouse look.
Recreate this:

7. Farmhouse countertop organizing
A truly simple and stylish dollar store farmhouse DIY: wooden baskets to organize your countertop!
Effortlessly style this basket with your favorite fresh herbs, cutting boards, and other pretty kitchen items that deserve displayed.
Recreate this idea:

8. Wooden bookshelf with farmhouse decor
A tall rustic bookcase is a perfect foundation for your favorite farmhouse decor.
I love how this bookshelf nook adds so much character to the space yet can easily be recreated for under $150.
Recreate this farmhouse bookcase:

9. Farmhouse bathroom decor
There are a couple of super easy ways to create a farmhouse bathroom with your favorite dollar-store items.
The simple vases with faux eucalyptus stems in this picture do the trick for me!
To recreate this bathroom, get some simple vases and apothecary jars from the dollar store.
Rustic bathroom vanity set:

Bathroom decor box:

Effortless wire storage:

10. Kitchen farmhouse
Marble and rustic wood are always a win-win combination for me.
You might not have a marble kitchen, but this shelving situation is something you can reasonably easily recreate in your kitchen.
Kitchen decor is something you can make as cheap or expensive as you'd like.
Why not customize dollar store items for a more personalized look if you're on a budget?
Recreate this kitchen
Set of 3 wicker baskets:

Wooden serving tray:

Magnetic knife strip:

Rustic wooden shelves:

Vintage farmhouse jars:

11. Hello wreath for the front door
One of the most adorable farmhouse DIY ideas must be this hello wreath for the front door.
Get your simple, plain wreath at the dollar store and the garland, bow, and hello sign.
If you love crafts, this is a cheap and not, so time-consuming project to take on!
If you're not in the mood for it, Amazon also has a gorgeous hello wreath.
Although I have to say: it's probably cheaper to DIY it!
Recreate this wreath:

12. Faux cotton stems as a centerpiece
Faux cotton stems are great decorating material throughout the seasons.
Change up the vases and (faux) leaves you to accompany it with.
Style the cotton stems in a simple light-colored vase on your dining room table for a summer farmhouse look.
Recreate this: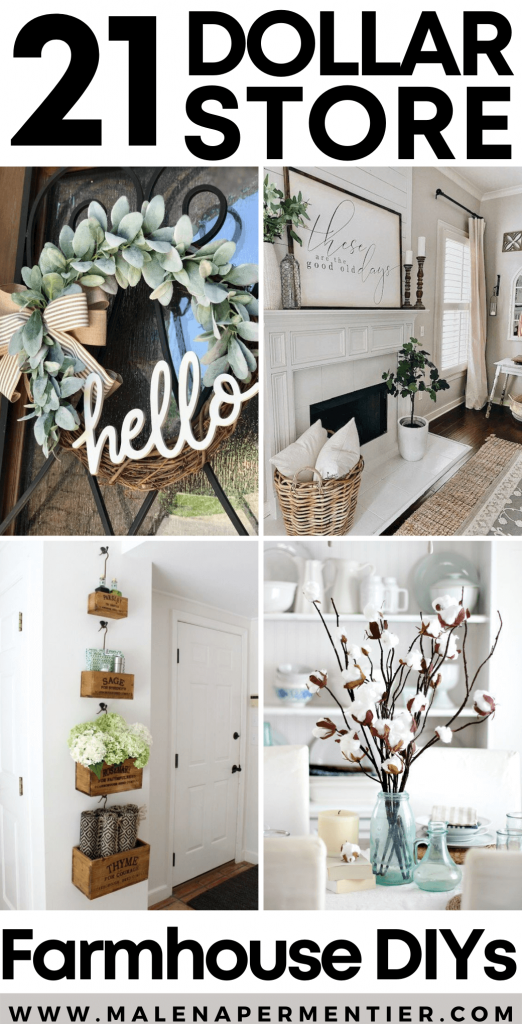 13. Planters for herbs
I love adding a bit of life to my apartment and kitchen, and these planters are a great way to do it.
Whether you keep it in your kitchen for herbs or in your living room for decor: easily recreate these cute metal planters.
You can also add customized labels to remember which herb you added.
Recreate this:

14. Home sign for the living room
This is such a simple but lovely idea.
Easily DIY this home sign with wood and faux eucalyptus stems or a garland you find at the dollar store.
The only tough part of DIYing this sign is finding the right wood color and cutting the letters!
I found a gorgeous one on Amazon if you prefer to purchase the home sign instead.
Recreate this:

15. Block calendar from dollar tree blocks
I found this super cute idea on Little House of Four.
Use a pack of dollar tree blocks to make a calendar or write notes to your family members or guests.
This is a super affordable way to personalize your apartment!
Recreate this:

16. DIY jewelry storage
Confessions of a Serial DIYer shows how to make the cutest jewelry storage from plates and cups.
The 2-tier tray result is perfect for displaying your jewelry or small decor items.
If you're feeling lazy, you can also opt for this ready-made decorative tray.
Recreate this:

17. Styling a wooden tray
A beautifully styled wooden tray looks luxurious yet is super affordable and easy to recreate with Dollar Tree products.
The formula? Get a simple wooden tray and spice it up with some white paint for a rustic look.
Add a tiny planter, a faux plant, and some nice small towels.
This makes your bathroom look amazing; it's practical too.
Plus, super welcoming for guests.
Recreate this tray styling
Wooden tray:

Faux plants:

Apothecary jars:

18. Wire basket decor
A super easy and affordable way to create a cute decor situation on your coffee table, bathroom shelves, or living room table is with a wire basket.
It quickly pulls decor and functional items together while still looking super cute.
Recreate this basket decor idea:

19. Wooden crates DIY hangers
I love DIY ideas that make me think, 'hey, I could do that!'. These wooden crate hangers look adorable and easily recreated with dollar store crates.
To recreate this, you need wooden boxes, hooks, and hangers.
It's all super inexpensive!
You could also go for plain wood boxes and personalize the look.
Recreate this idea:

20. Mini towel and decor ladder
Not so much a dollar store DIY, although you can make this ladder yourself.
What's fun about a mini ladder like this is that you can style it pretty with affordable dollar-store items. Think of a beautiful cotton-woven towel and cute clothespins.
Recreate this:

21. DIY hanging rope shelf
All you need is rope + wood in your color and style of choice.
This video about how to DIY a hanging rope shelf is super helpful if you want to recreate this!
I also found a super affordable option on Amazon if you're not in the mood to DIY this one!
Recreate this: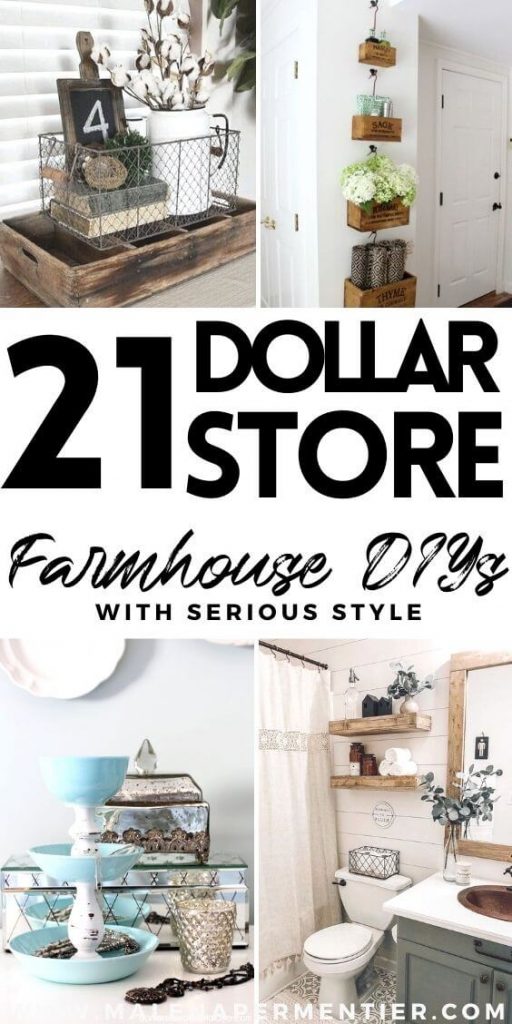 This post was all about the Best Dollar Store Farmhouse DIY Ideas
You may also like: