This post shows you the best bedroom decor ideas for women.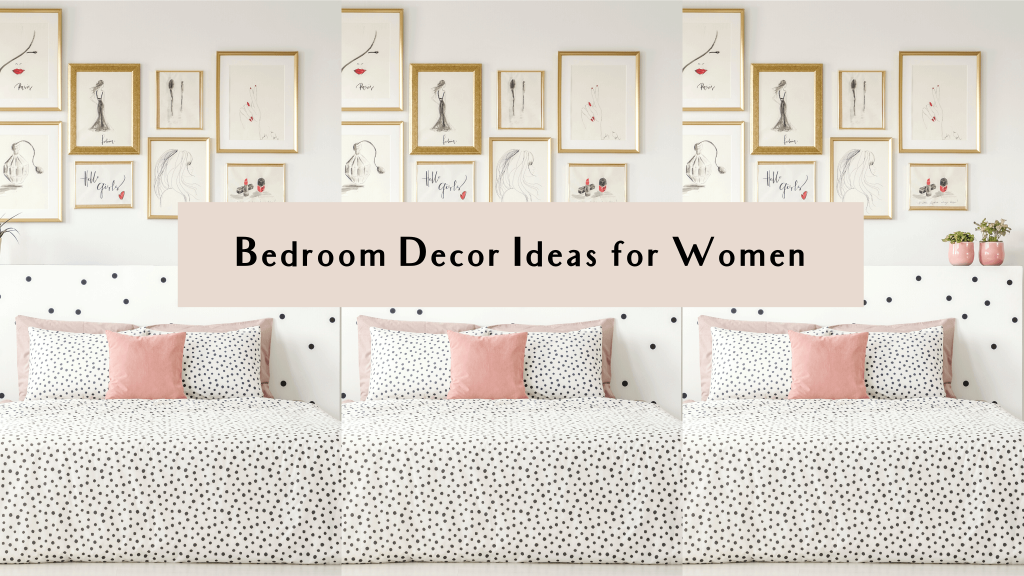 Bedroom Decor Ideas For Women
Looking for the best bedroom decor ideas? You're at the right spot!
Decorating your bedroom is fun and challenging at the same time.
I'm all for visual examples for bedroom decor inspiration, and I guess you feel the same!!
It can be a real puzzle to find the decor you love that also works the rest of the room.
That's why in the below, I'll show you 10 bedroom ideas with different styles and how to recreate them.
These are some of the bedroom decor ideas for women we'll cover:
Rustic bedroom decor ideas
Neutral bedroom decor
Bedroom decor with clothing rack
Cozy bedroom decor
Feminine bedroom ideas
Here you find color scheme inspiration, ideas to mix and match the decor, and everything you need to make your bedroom decor come together.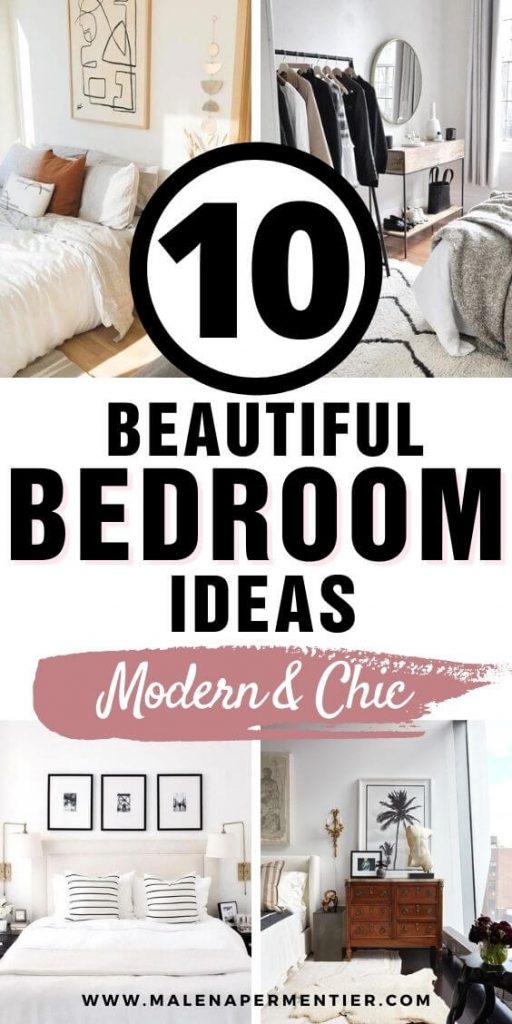 1. Cozy bedroom decor
Recreate this cozy bedroom:
Achieve a cozy bedroom decor combining neutrals with warm tones.
The color scheme of neutrals, wood, and burnt orange is a combo that instantly makes your bedroom feel cozy and warm.
Simple gold wall decorations are a simple and budget-friendly way to 'warm up' a room with lots of neutrals.
2. Bedroom decor with clothing rack
Recreate this:
Let's face it, many of us have small bedrooms where we need to utilize every inch of the space.
Style a clothing rack in an aesthetically pleasing way, and make it part of the decor.
Thinking of getting a rug for your bedroom? An 8×10 rug works for a small bedroom with a queen bed. If you want the rug to cover more space around your bed, then go for 9×12.
If you're a visual person, check out this graphic about bedroom rug sizes from Apartment Therapy.
3. Modern bedroom decor
Recreate this modern bedroom:
Love a modern bedroom decor? Me too! The secret to the modern bedroom is symmetry.
Create a bedroom with a modern feel with 3 symmetrically aligned frames and wall-mounted bedside lamps.
The great thing about modern decor is that it works beautifully in small rooms.
4. Feminine bedroom
Recreate this:
When people think of feminine bedrooms, they tend to think of pink. Although that can definitely be a part of it, there are many other ways to create a bedroom with a feminine feel.
Playful art, warm colors, greenery, and fuzzy details (see pillow!) effortlessly make your bedroom look feminine without overdoing it.
Also, I'm completely obsessed with this asymmetrical mirror.
5. Rustic modern bedroom decor
Recreate this modern bedroom with rustic details:
It's absolutely fine to mix and match different bedroom styles. The way to do that is by combining styles that naturally look good together.
Adding rustic and boho details to a modern bedroom can really make the space come alive.
Many people like keeping their bedroom's main furniture classic and modern. And I totally understand!
Things like bed frames, mattresses, and dressers aren't cheap. So you want to make sure you pick furniture that you don't outgrow in a year.
6. Creative bedroom decor
Recreate this:
I'm a big fan of floating shelves because they're so versatile. Style a floating shelf with art, plants, and books for a creative room.
You can easily change up the decor on your floating shelves. Go with the season, or change the color scheme as you please!
[Related: How To Decorate Above Your Sofa (20 Brilliant Ideas on a Budget)]
7. Neutral bedroom decor
Recreate this neutral bedroom decor:
In bedrooms, tall mirrors are necessary if you share an apartment with roommates or don't have a tall mirror in your bathroom.
Large mirrors also happen to be great decor and have the magic ability to make a small bedroom feel more spacious.
8. Simple bedroom decor
Recreate this:
OK, these square tufted bedding details get me way to get excited!! *Tell me you're getting old without telling me that you're getting old*
This simple gray bedroom decor looks SO visually pleasing because the rich textures work perfectly together.
Recreate this simple bedroom decor by paying close attention to your headboard style, bedding details, and decorative pillows.
9. Rustic bedroom decor
Recreate this rustic decor:
This bedroom decor is probably insanely expensive. BUT, that doesn't mean you can't recreate it on a budget!
I'm all for admitting where you are in life and prioritizing accordingly. But I WILL make sure that I make the most of what my budget affords.
A faux cowhide rug and a rustic wood dresser really do the job of giving your room character and style.
10. Girly bedroom inspiration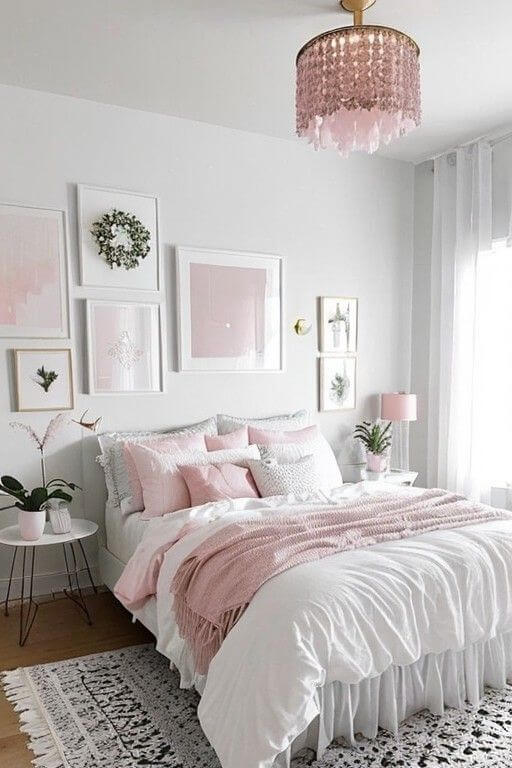 Recreate this:
Here for the girly bedroom inspiration? A pink and white color scheme is all you need to achieve that aesthetic.
I love this bedroom because although it's very pink, it doesn't overwhelm the space.
This bedroom decor also makes the perfect case for a velvet pink headboard.
This post showed you 10 Bedroom Decor Ideas for Women
You may also like: