This post is all about the best apartment bedroom decorating ideas.
Decorating your bedroom is one of the best parts of moving into a new apartment.
Whether you've just moved in or you want a bedroom refresh, below you find 20 stunning cheap small bedroom ideas you can easily recreate.
Below you'll find:
Creative ways to use shelves in your bedroom
Boho decor ideas (think macrame hangers, neutrals, and burnt orange)
Ways to style a mirror
Creating a little desk space.
Make your bedroom look chic and stylish without spending a lot!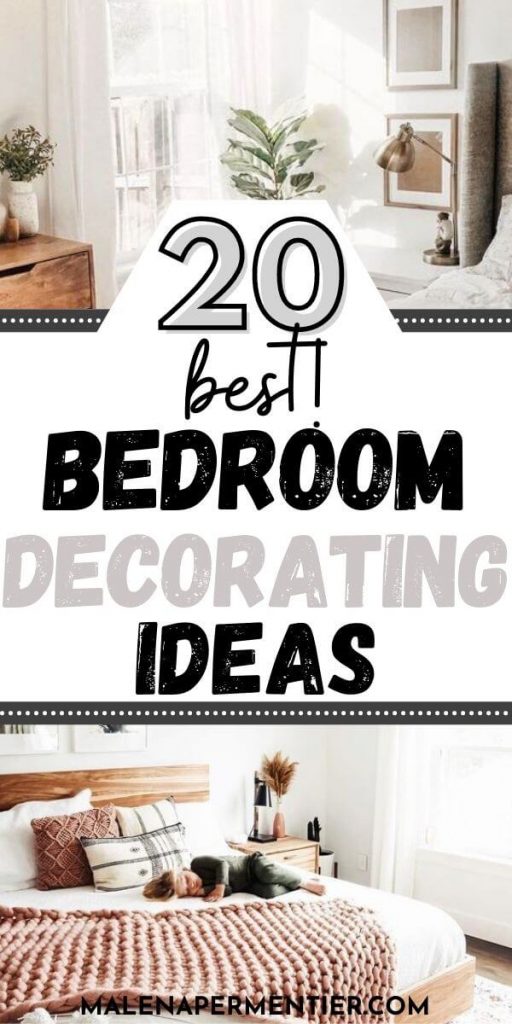 Small bedroom decorating ideas on a budget
1. Cute shelves above the bed
Utilize the space above your bed by hanging some cute shelves. Style these honeycomb shelves with string lights or a faux eucalyptus garland. This set of 3 shelves (see below) is far more affordable than you'd think.
Get honeycomb shelves:
2. Small desk in bedroom
If you have roommates or you live in a small apartment, you might want to squeeze in a small desk in your bedroom.
When I was living with roommates a few years ago, a tiny desk for my bedroom was one of the best purchases I made.
Recreate this:
3. Ladder shelf for decor and books
A metal and wood ladder shelf instantly upgrades your space. Plus, it looks mature and chic. If you like a neutral look in your bedroom, this piece of furniture will be a great addition.
Get ladder shelf:
4. White and green details
There's something about the combination of white and green that feels spacious and fresh. Go for green accents with plants and pillows, and add in some wood.

This color palette looks amazing when the rest of your bedroom is mainly neutrals and whites.
Recreate this room:
Velvet green decorative pillow covers
5. Room with wood and rustic details
Probably my personal favorite: I love combining neutrals with wood and some rustic (gold) details. Not the screamy gold but the toned-down gold!
The feeling of this bedroom, despite it being small, is simply amazing. Recreate this by carefully picking out your furniture and decor. Less is more.
Recreate this room:
Basket for plant pot
6. Long mirror
A long mirror definitely works its magic in a small bedroom. Mirrors add another dimension and make a small room feel much bigger.
If you live in a small apartment, the bedroom or your living room usually are the only places that fit a long mirror! I prefer mine in the bedroom because it's handy for getting ready.
Recreate this look:
7. Style a clothing rack
I've had an open clothing rack like this for many years and loved it. It's especially great to create a "mood board" for your personal style or highlight your current favorite items.
Color coordinate your clothing rack to match it with your apartment bedroom decor.
8. Use a dressing table
If you love makeup, then you need a (small) dressing table in your bedroom! This simple white one doesn't take up too much space.
I also like that the mirror is not attached, giving you more space to mix and match the decor.
9. Neutral room with a touch of burnt orange
Touches of burnt orange are a great choice for your apartment bedroom decor. They make it look warm and cozy without being overpowering.
I see many burnt orange decors that are boho, but you can also use this color in a simple bedroom with neutrals.
10. Decorate with framed prints
A carefully selected set of framed prints can do so much for a room! If you're like me, you probably want your apartment bedroom to have a calm, cozy feeling. Choose prints that make you feel peaceful.
Recreate this look:
11. Neutral decor with warm tones
One of the main reasons I like having a neutral bedroom is that you can always change it up. Exchange a green accent color for a light brown one, or mix both.

Plus, can we agree that ottomans are a great addition to any room? 🙂
Recreate this:
12. Bedroom with bohemian touches
For a neutral bohemian look in your bedroom, you need a macrame, fringe, and cozy ottomans. Boho Apartment decor can be as calm or colorful as you like it to be.
Recreate this:
13. Use a bar cart as coffee station
This is all sorts of genius! Especially if you live with roommates, staying in the zone and having your coffee in bed is that 5-star hotel experience you need.
Style a bar cart as a coffee station, and make it multipurpose by storing your books, alarm clock, notebooks, etc.
Recreate this:
14. Simple white shelves
Such a simple idea, but these white shelves above the bed really make this apartment bedroom decor look amazing.
Style shelves with monochrome prints carefully selected decor or books.
15. Platform bed with extra storage
A platform bed is a game-changer if you have a tiny bedroom. Most of us, at some point, have lived in an apartment where every inch of space counts.
This platform bed with drawers is handy for clothing, big items like winter coats, or books.
Recreate this:
16. Korean aesthetic minimal bedroom
I came across the Pinterest trend of Korean aesthetic minimal bedroom and loved what I found.
A mattress on the floor, bamboo everything, and calming neutral tones. This type of minimal bedroom isn't for everyone, but I personally love it.
17. Minimalist Nordic room
Light-colored wood, some metal lamps, and lots of whites summarize the minimalist Nordic bedroom.
Even if you only use neutrals, you can create interesting and warm decor by choosing different fabrics and textures.
Recreate this:
18. Neutral nightstand styling
Styling a nightstand is one of those super fun things to do. I like to keep it super simple with just a gorgeous lamp, the book I'm currently reading, and a candle.
Recreate this:
19. Cozy bedroom decor
You can easily create a super cozy bedroom for cheap by using lots of chunky throw blankets. Layer them, use different colors and textures, go crazy.
20. Swedish style bedroom
This white metal nightstand and lamp are such a nice combination to create your bedroom decor around. Simple, sweet, and stylish.
Brass tray
Gold candle holders
This post was all about the best apartment bedroom decor ideas on a budget.
You may also like: